Is there someone on your holiday shopping list who loves spending time by their swimming pool?
If so, there is a chlorinated ton of great gift ideas for them.
From pool storage and floating lights to goggles and pool slides, these gifts will make any pool owner happy.
Let's jump right in.
---
Speedo Vanquisher Swimming Goggles
Best pool gift for swimmers
Swim goggles are essential for lap swimming, whether that takes place at the neighborhood pool or in the backyard swimming pool.
There are tons of health benefits to swimming, and goggles help ensure that swimming is done safely and properly.
Speedo makes some of the best swimming gear on the planet, and the Vanquisher goggles are their top-selling swim goggles.
Made of silicone (which is hypoallergenic and lasts forever in the face of relentless exposure to chlorine), the goggles don't leak, have dual head straps for a custom fit, and are available in a huge range of colors and tints.
(They are available as prescription swim goggles, too.)
Vanquisherslook good, they work fantastic, and they will give the pool owner in your life the gift they want most—faster swimming and better health!
Swim Outlet, the leading swim retailer on the web, carries them for around $20.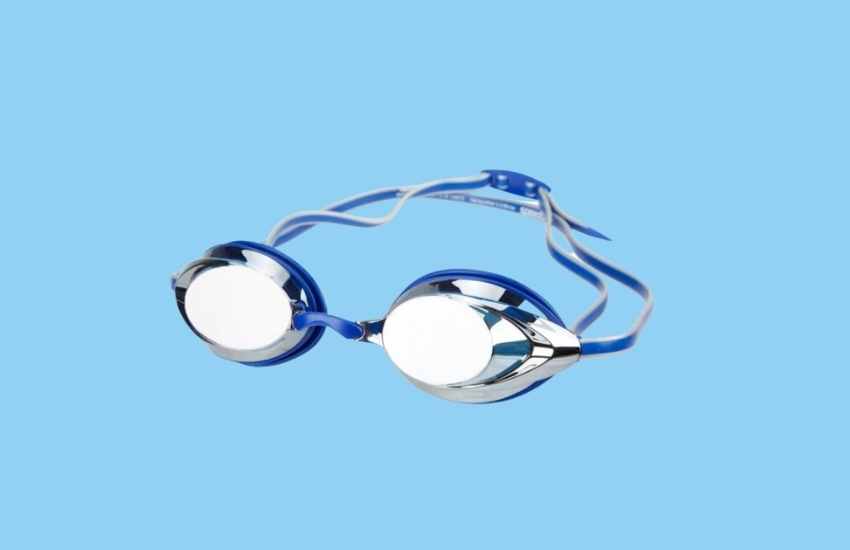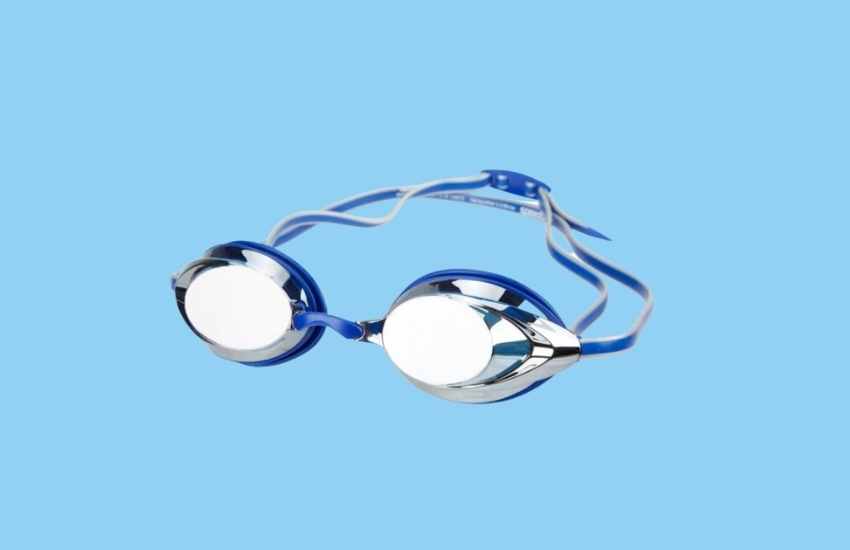 Esuper Inflatable Floating LED Pool Lights
There are lots of great pool gifts for under $50. One of my favorites are these floating LED pool lights that change color, are powered by solar, and can be programmed to create a custom light show on the surface of the water.
These floating pool lights are less than $40 (check Amazon for current pricing and shipping options), are inflatable (so you can also play with them), and last about eight hours on a full solar charge.
Easy to inflate, large (14" in diameter), and extremely affordable, your favorite pool owner will love this gift.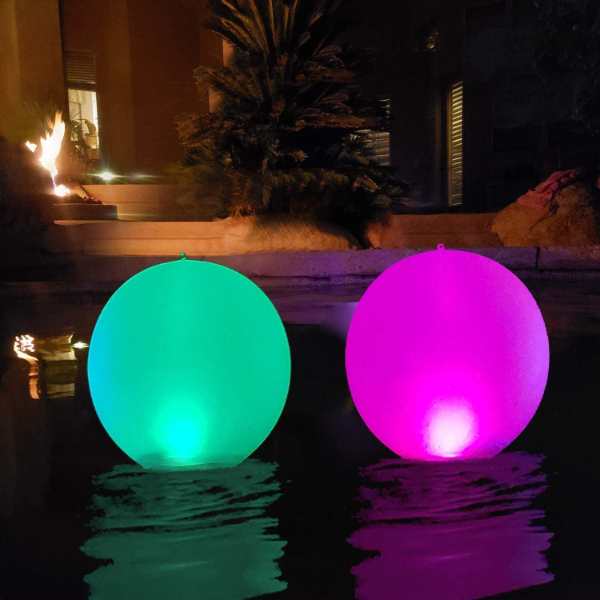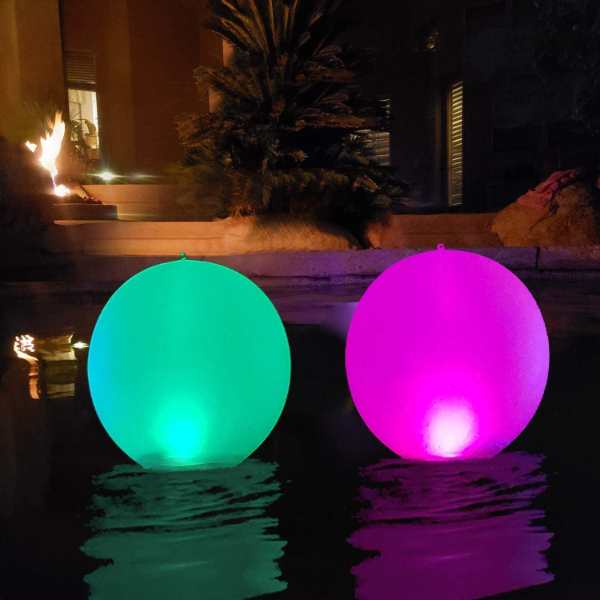 TYR Aquatic Fitness Kit
Best pool gifts for exercise buffs
Working out at the pool is the best. Exercising in the water works just about every part of your body without putting undue stress on joints. Water dumbbells are an essential piece of gear for the aquatic exercise enthusiast.
The TYR Aquatic Fitness Kit gives you everything you need for a full-body workout in the pool. Aquatic dumbbells for upper body resistance training. Webbed gloves for added shoulder and arm resistance training. And a water jogging belt for leveling up your cardiovascular health.
The kit is reasonably priced, with Swim Outlet carrying it for about $50. Give the gift of better health this year.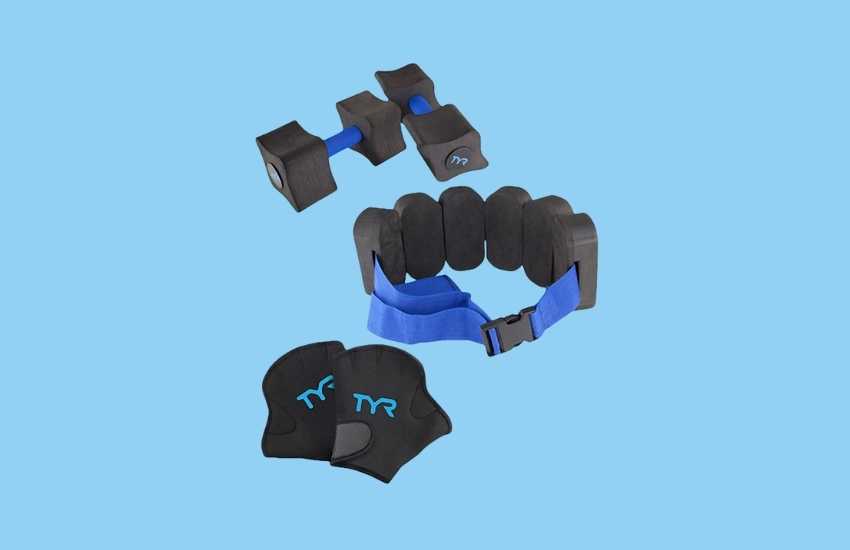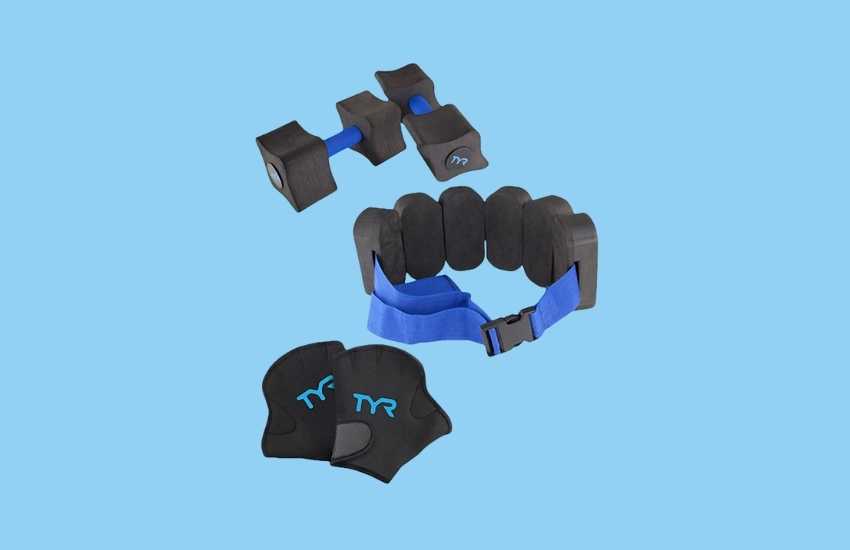 GoPong Beer Pool Pong Rack
Best pool gift for good times and cold drinks
Those with a more, ahem, sophomoric flair with their backyard swim pool will love this beer pong floatie. Unlike a fixed beer pong table, the GoPong Beer Pool Pong Rack has two floaties, each with five cup holders.
See also: The Best Floating Beer Pong Tables on the Market
The sides of the rack are high to avoid spillage and prevent water from splashing into the cups. This pong rack also pulls double-duty as a floating drink tray between rounds.
If you and your friends are down for a challenge—the current of the pool will cause the rack to move, so you're shooting at a moving target—and want a convenient way to store drinks while floating away, the GoPong Beer Pool Pong Rack is an excellent bet.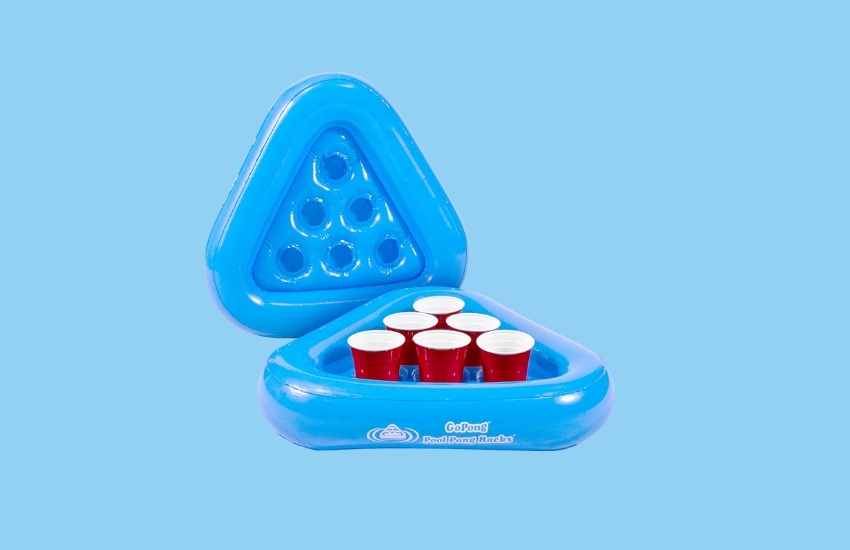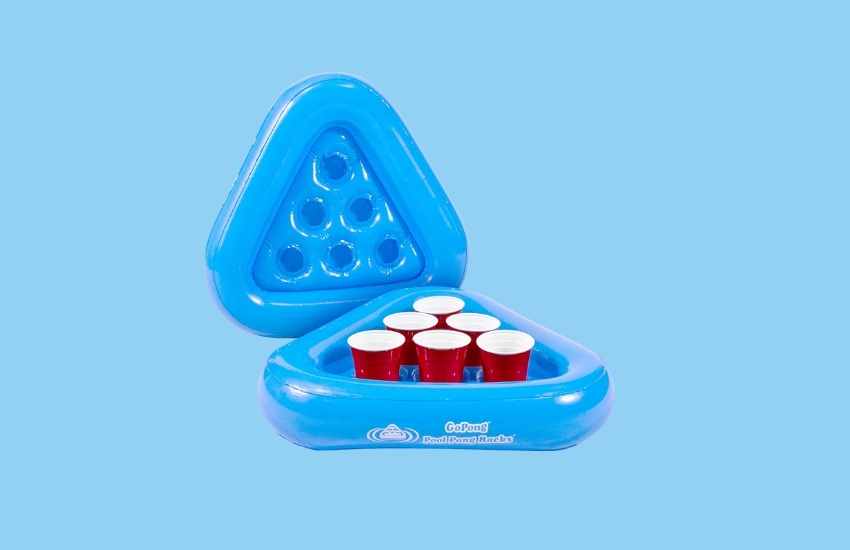 Blue Wave Floating Aqua Golf Green
Backyard pools don't just have to be for swimming—you can add golf to the mix with a floating golfing green.
Made by Blue Wave, who makes some of the best pool accessories and pool games on the market, this 32" x 45" floating green includes a dozen specialized golf balls.
Aim at the two flags on the green (clubs not included) from a rubber tee pinned on a 12" x 24" chipping mat. Blue Wave retails them for around $50, making this floating golf green an excellent gift for the pool and golf enthusiast.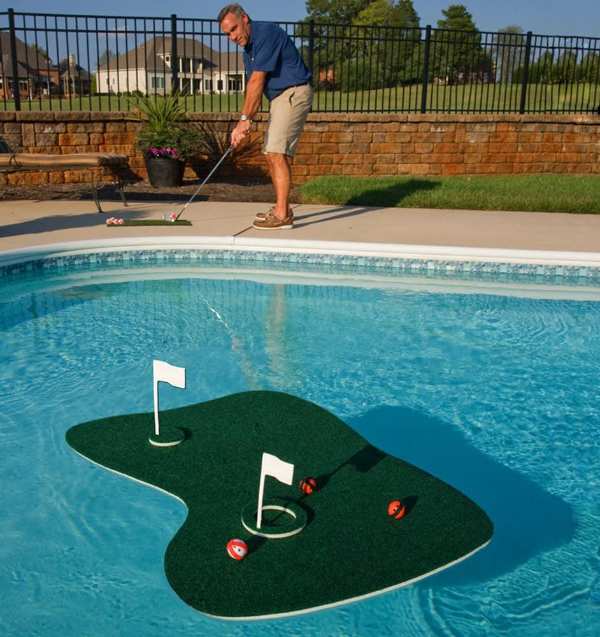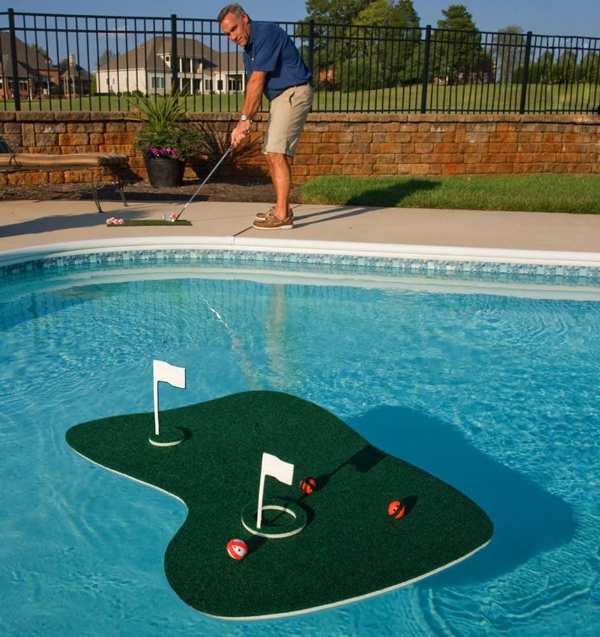 Essentially Yours Pool Organizer Storage Bin
Swimming pools are a lot of fun. You don't need me to tell you that. But what is maybe not so fun, and can often sink into downright frustration, is keeping all of your stuff organized.
Pool noodles. Kickboards. Pool basketballs. Floating rings. Aquatic dumbbells. Swim vests. And on and on.
That's where this handy pool organizer comes in handy.
Made of PVC pipe and blue mesh, this rolling storage bin is perfect for soggy pool toys and aids. Pockets made of mesh around the sides make it easy to pick and choose your toys of choice, the wheels have a parking brake, and the organizer can be assembled without any tools.
Available in two colors (blue or brown), and for around $60 (check Amazon for current pricing and availability), this pool organizer is perfect for the pool owner who wants the gift of a clutter-free pool deck this year.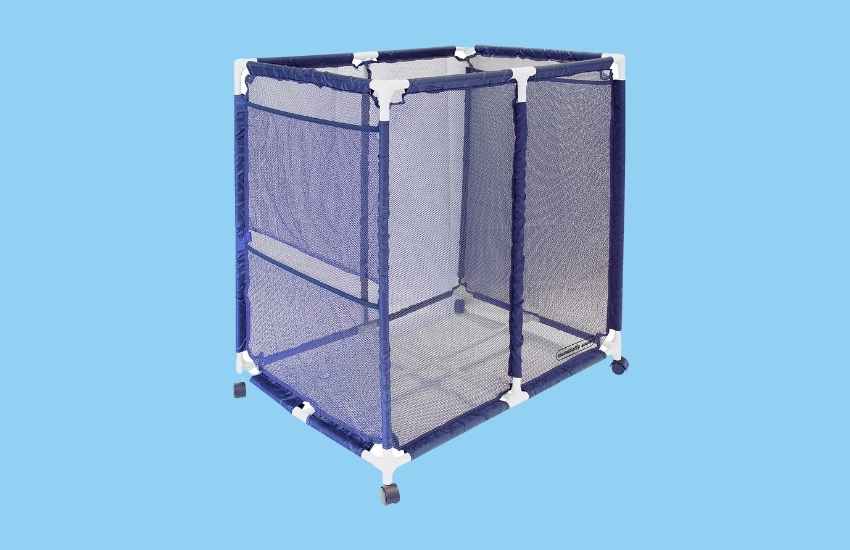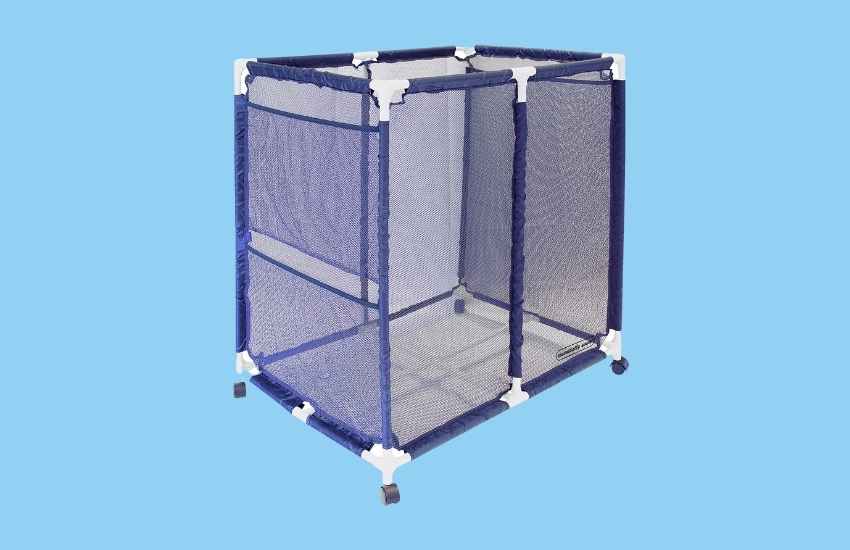 Poolmaster Splashback Poolside Basketball Game
Another game for the backyard pool, the Poolmaster Splashback Poolside Basketball Game is a fun way to crank up the activity level in the water.
Poolside basketball hoops are a great tool for the pool, as it can be enjoyed solo (work on those free throws) or with friends and family.
Made with a sturdy polyform base to withstand bricks and dunks (don't hang on it, though!), it comes with a 14" net, basketball (with inflation needle), and an all-weather backboard that won't rust or corrode.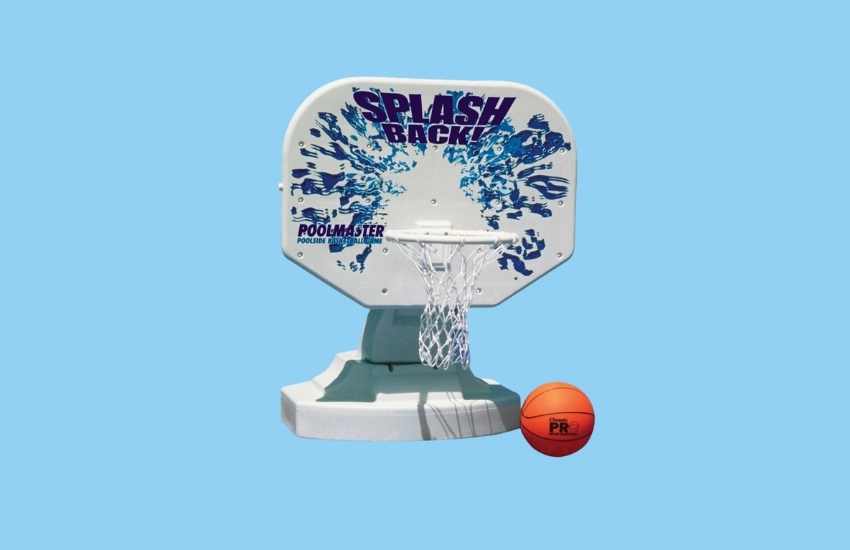 Intex Kool Splash Inflatable Pool Slide
Intex makes some of the best stuff on the market for swimming pools, including pool loungers, pool filters and pumps, and yes, those large, rectangular above-ground swim pools, too.
In other words, they know their stuff.
The Intex Kool Splash Inflatable Pool Slide is an excellent slide for above and inground swim pools, built to handle kids and adults of 6 years of age and older. Constructed with heavy-duty 20-gauge vinyl, the slide has an extra landing pad at the bottom of the chute for added safety and protection.
Handles on the side make it easier to climb onto, and five different air chambers help it last all summer long.
Generally well-reviewed on Amazon (click here for latest reviews), the Intex Kool Splash is a great way to spice up a backyard swimming pool.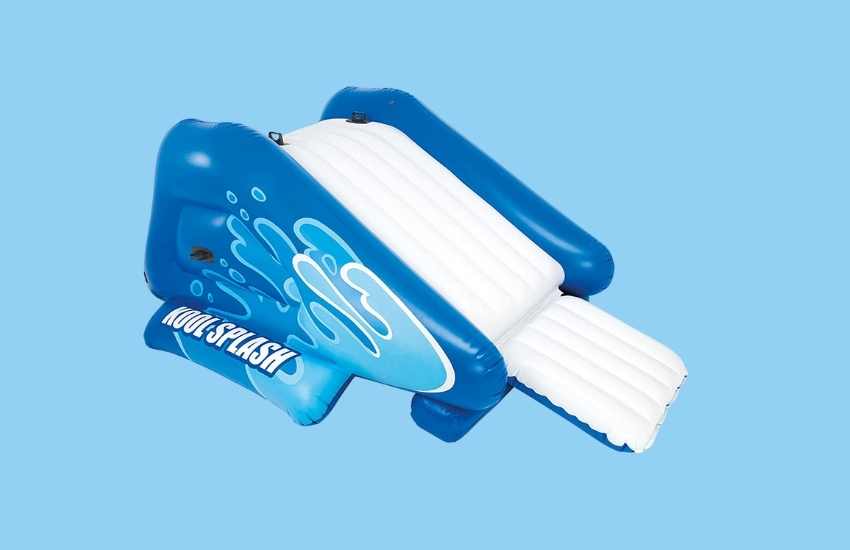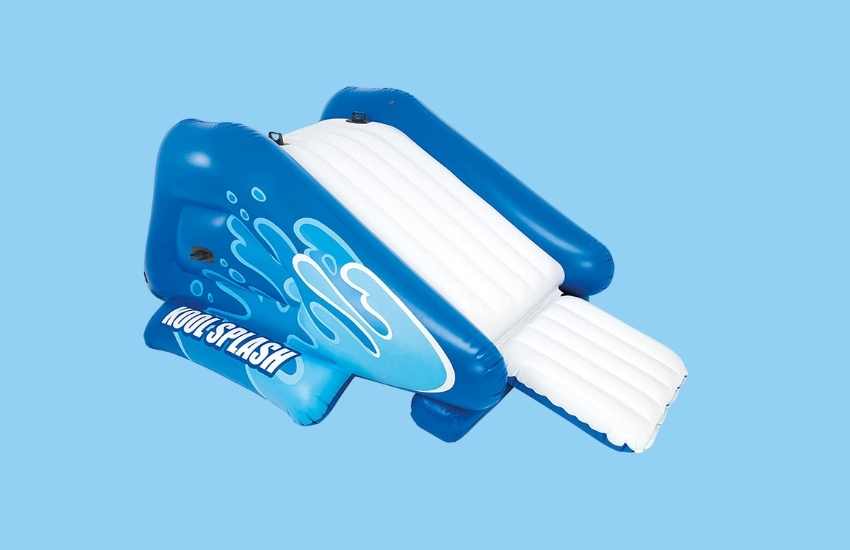 ---
Recommended Reading
7 Best Gift Ideas for Competitive Swimmers. Holidays, birthdays, swimming a new PB–do you really need a reason to pick up some new gear? Here is a collection of our favorite gifts for swimmers.
The 6 Best Gifts for Swim Coaches. Looking for a way to thank your coach for all of their hard work? Here is our list of awesome gift ideas for swimming coaches.