Want to get more time and use from your backyard pool? Here are our hand-picked selections of the best heaters for above-ground swimming pools.
The backyard pool is one of the staples of summer.
Splashing around under the sun and in the crystal-clear waters of your above-ground swimming pool is a great way to spend the long summer days.
One of the ways to make the most of your pool is a heater.
Having a heater for your above-ground pool is important for a few reasons:
You can use the pool earlier and later in the day. Whether sitting around in the water under the stars or first thing in the morning for a quick swim workout, the heater opens up the cooler hours of the day for pool use.
Use the pool earlier and later in the year. Some spring days aren't quite hot enough to swim, while some early fall days fall under the same category of being a little chilly. A good pool heater makes the water just warm enough to use during these warm-but-not-warm-enough days.
Makes it comfortable on cooler days. Summer isn't always blazing sunshine and rays. There are days when the wind is blowing a little, and the clouds are out. A pool heater allows you to comfortably use your pool these days too.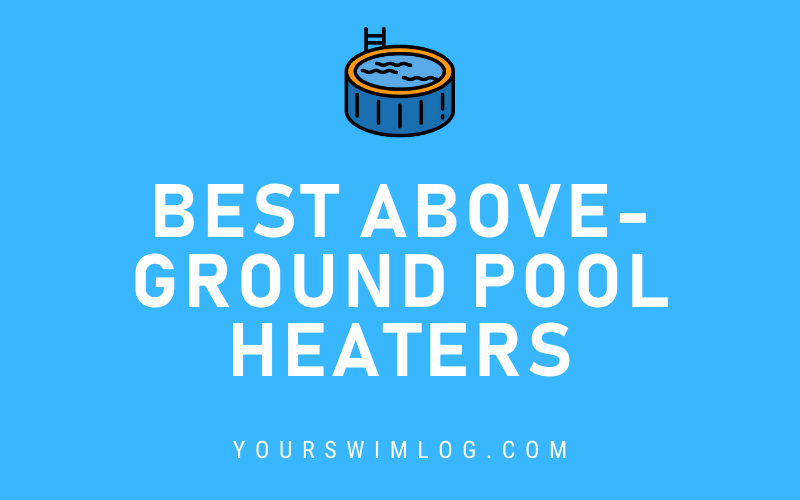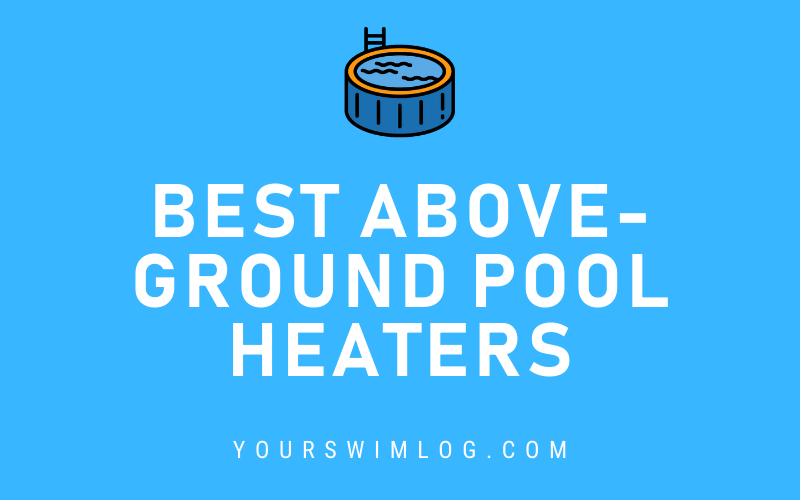 Let's assume you are properly using a cover for your above-ground swimming pool. Using a solar pool cover is crucial because it helps retain heat—whether the sun or your heater is doing the heating—when the pool is not in use, whether during the day or overnight.
Plus, no sense in heating up your pool and then having the wind blow the warmth off.
But where to start?
Which heater is the best for your above-ground pool?
Here is a breakdown of our hand-picked selection of the best heaters for above-ground swimming pools.
---
Best Heaters for Above Ground Swim Pools
SunHeater Solar Pool Heater for Above-Ground Pools
⭐ Best solar pool heater for above-ground pools
When it comes to using the endless heat of the sun to warm your backyard pool, no one does it better than SunHeater.
The dual panels can raise the pool temperature by up to 15-degrees, in a few days, maximizing pool use when the weather starts to chill. The polypropylene panels themselves are quite large—2-ft by 20-ft—and can properly heat even larger above-ground swim pools.
Reviewers note that even on cloudier days, the panels were able to soak up enough rays to warm their above-ground pool by several degrees, with several days of sunshine boosting pool temperature by 12-20 degrees.
Although some of the product shots feature a mounting rack for the panels, you will need to either lay it flat in an area where the sun is beating down (on the roof, for example) or construct a mounting platform yourself. Installation is easy, with the heater using your existing filtration system. SunHeater also packs its heater with plumbing fixtures to ensure a quick hook-up.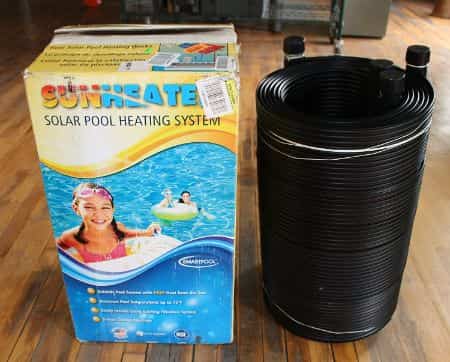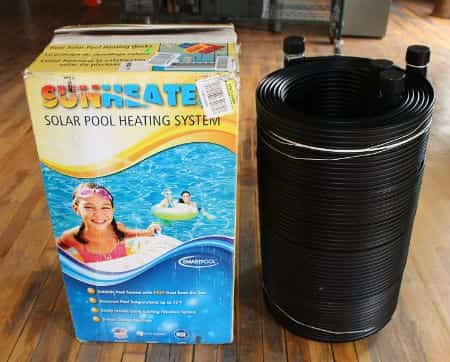 The main issue that most above-ground pool owners will run into with these solar paneled heaters—particularly those who have cheaper pools such as those made by Intex and Bestway pools—is that the pump won't be strong enough to move water through the panels.
Cost-wise, the SunHeater panels run for around $300 (check Amazon for current pricing and availability).
| | |
| --- | --- |
| ✅ PROS | ❌ CONS |
| Very effective at raising pool temp | Takes up a lot of space |
| Inexpensive; saves a ton of money on energy costs in the long run | Will likely require a pump upgrade |
| Easy to set up | Doesn't come with a mount or rack |
| Works relatively quickly | |
---
Intex Solar Heater Mat for Above Ground Swim Pool
⭐ Best budget-friendly pool heater for above-ground pools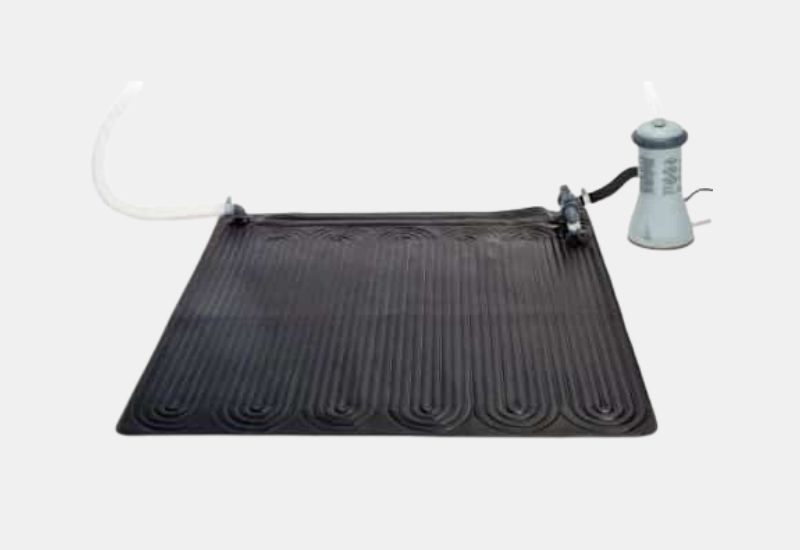 Intex's above-ground swim pools are fully legit, so it would make sense that they also produce heaters for backyard pools.
Designed specifically to work with Intex filter pumps, the solar mat is an efficient and cheap way to keep your pool running at a comfortable temperature.
Best suited for pools up to 8,000 gallons, the mat is hooked up in a matter of moments, and multiple mats are recommended for larger pools.
Intex says that you can expect an increase of 5-9 degrees Fahrenheit depending on the amount of sun and volume of your pool. That said, in my experience with Intex pumps and solar heaters you will require a stronger pump than what Intex recommends in order to get sufficient flow through the heater (this comes up frequently in reviews of this solar heater).
Intex's Solar Heater Mat is easy to hook up to your pool, and priced at just around $60 per mat (check here for current pricing on Amazon), providing a cost-effective way to keep your pool nice and comfortable this summer.
| | |
| --- | --- |
| ✅ PROS | ❌ CONS |
| Super inexpensive | Will likely require a stronger pump to function optimally |
| Hooking it up is a breeze | |
| Works with pools up to 8,000 gal | |
| Easy to store when not in use | |
---
GAME SolarPro Curved Solar Above Ground Pool Heater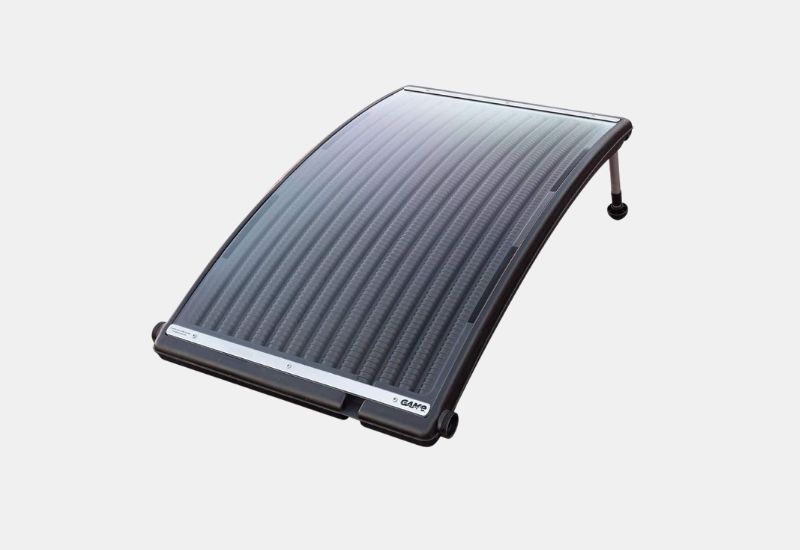 Designed specifically for above-ground swimming pools, the Game SolarPRO Curved Solar Heater pool heater is universal, meaning that no matter what model of pool you are rocking with, it helps warm the temperature a few degrees in a handful of days.
Designed for pools that are no larger than 8,000 gallons, the Game SolarPro soaks up the sun and transfers that heat to your pool. Reviewers found that the heater worked best when paired with a bypass kit (sold separately).
GAME has upgraded this solar panel system in recent years, adding multiple adapters for different pool sizes (this was a recurring issue with pool owners in the past), and as mentioned earlier, this curved solar panel can work with just about any kind of above-ground pool.
The panel has a mount and legs that can be adjusted to angle it optimally for maximum heat absorption from the sun.
The main downside is that the more compact design means that heating the pool takes longer compared to the longer and wider solar panels listed earlier. Ordering multiple of the panels requires a bypass kit that is also sold separately.
GAME's backyard pool heater and unique design aren't cheap, with a single panel retailing for $350-400 (check here for current pricing on Amazon).
| | |
| --- | --- |
| ✅ PROS | ❌ CONS |
| Installation is simple; can be done in about 15 minutes | Smaller surface area means it takes longer to heat the pool |
| Compatible with most popular above ground and inground pools | A bit pricey |
| Includes adapters for different hose sizes | Bypass kit required for multiple panels |
| Comes with a mount and legs to get that perfect sun-drenching angle | |
---
Raypak 106A Gas Heater for Above-Ground Pools
⭐ Best budget-friendly gas heater for above-ground pools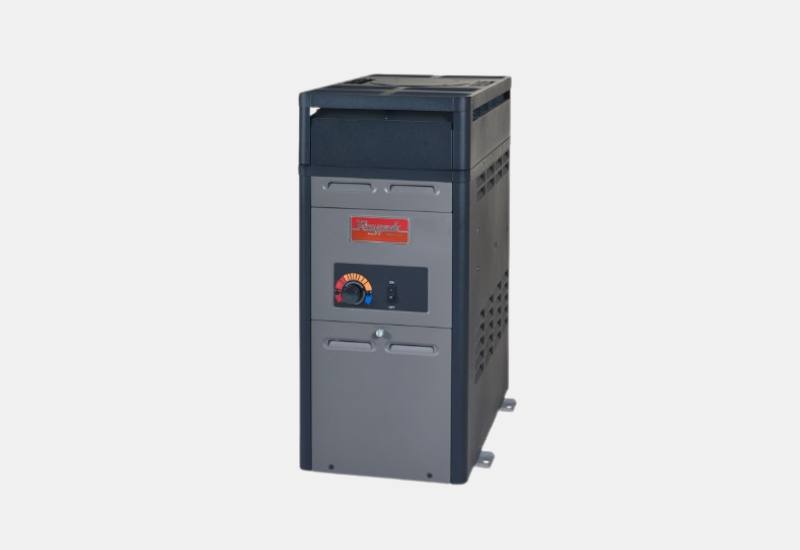 The Raypak 106A is a relatively low-frills gas heater that delivers a ton of heat quickly (105,000 BTU) and very efficiently. The heater is housed in a non-corrosive cabinet that can handle the elements and the headers are made of polymer, eliminating rusting.
The controls of the Raypak 106A are an analog dial which is about as simple as it gets for deciding on the temperature of the pool. Flip the switch on to turn on the unit, select the desired temperature, and the machine goes to work immediately, heating the water.
Raypak offers upgraded versions of this pool heater (the 106A is the smallest in their line-up of pool heaters) that have a more intricate LCD display and timers, but the 106A is going to be an easy choice for most pool owners.
When it comes to installation, the 106A works with both propane and natural gas, and Rayak's installation manuals are always super helpful when troubleshooting issues or questions I've had about their pool heaters.
If you want to hook up your pool to a gas heater, the RayPak 106A is our top choice, and it is not even really that close.
| | |
| --- | --- |
| ✅ PROS | ❌ CONS |
| Heats water much faster compared to solar | Too expensive for smaller above-ground pools |
| Built like a tank to withstand the elements | |
| Easy to set the desired temperature | |
| User manual is very detailed for troubleshooting and installation | |
---
Hayward HeatPro Pool Heat Pump
⭐ Best heat pump for above-ground swim pools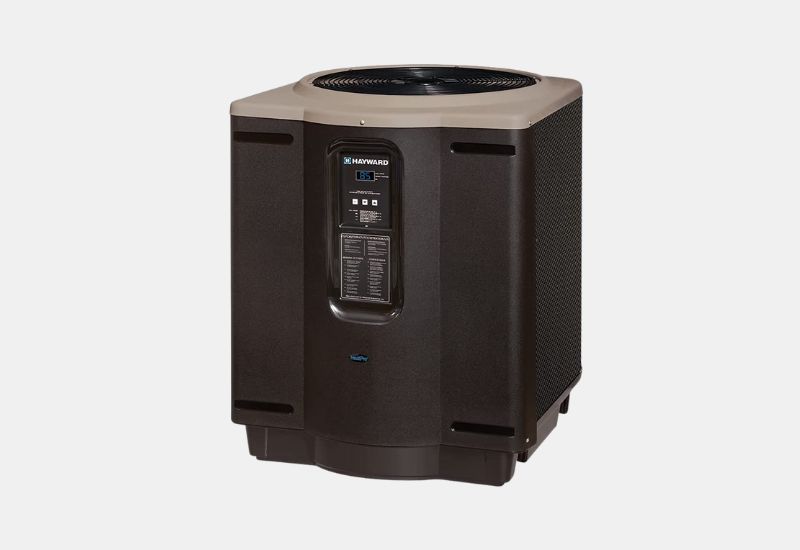 For slightly smaller above-ground pools, Hayward also produces a heat pump with models in the 90,000-140,000 BTU range.
Made with a profiled fan that is engineered to be quiet, and with a corrosion-free gold fin, the Hayward Pool Heat Pump is designed to withstand the elements while also being relatively quiet.
Note: Heat pumps work by using the ambient air temperature to warm the pool water, and as a result, are not ideally suited to areas where it is really cold. Heat pumps are typically cheaper to run compared to gas and electric pool heaters in warmer climates.
The heat pump is efficient, but best paired with an above-ground pool cover when the pool is not in use. As one reviewer notes, leaving the pool uncovered combined with a half-decent wind quickly robs a lot of the heat being generated by the pump.
These heat pumps are built heavy, with the 140,000 BTU model weighing a whopping 250lbs, so make sure to have your piping properly measured out before beginning the installation process.
Again, Hayward's stuff isn't cheap, with the 140,000 BTU model ranging in the $9k+ price range. With the explosion in backyard pools over the past couple of years, this has meant some models don't last long in stock (check Amazon to see pricing and availability).
---
Hayward Universal H-Series Above Ground Pool Heater
⭐ Best gas pool heater for larger above-ground pools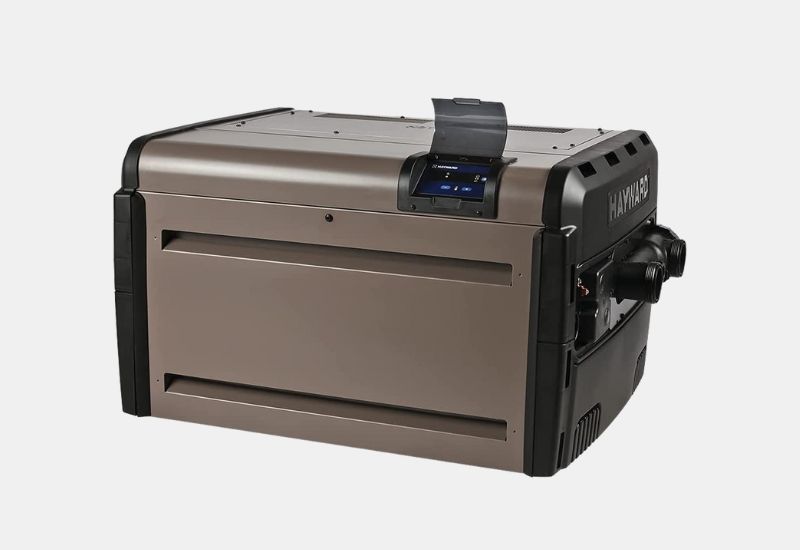 If you are looking for a more robust heater for larger pools, and something that is powered by natural gas, the Hayward Universal H-Series Heaters are your go-to pick.
The heat exchanger is made of durable nickel, protecting the unit from corrosion from unbalanced pool water. The Hayward unit has a front-mounted display unit for easy access to settings and operation.
Available in a variety of BTU (a handy rule of thumb is that to maintain ideal pool temperature, you will need about 10 BTU per square foot of pool surface), from 150,000 to 400,000 BTU, accommodating a wide variety of above-ground (and inground) pool sizes.
Hayward makes heavyweight equipment for backyard pools, making the H-Series a solid pick for the more serious backyard pools. These units reflect this seriousness in price, with the 150,000 BTU model costing $3,475.
---
Above Ground Pool Heaters — FAQs
What are the different types of pool heaters?
There are three kinds of pool heaters available for backyard swimming pools.
✅ Heat pumps.
Powered by electricity, heat pumps suck in air, and after a series of interactions with the evaporator coil, liquid refrigerant and the compressor, water is warmed and returned to the pool.
Heat pumps are best suited for warmer climates where the weather remains above 45-degree Fahrenheit. Any cooler and efficiency quickly drops.
✅ Gas heaters.
These types of pool heaters are powered by the same stinky gas that fuels your backyard barbecue—natural gas or propane.
Water is filtered through the pump and heated via gas being combusted before being circulated back into the pool.
Gas heaters aren't perfectly efficient, ranging in 60-95% efficacy. For example, if you are spending $100 on gas, and the heater is rated at 75% efficiency, you are spending $75 on heating the pool and $25 is wasted.
Gas pool heaters have ratings that indicate their efficiency that can be found on their nameplates.
Additionally, if you plan on running propane for your pool heater, there's the cost (and aesthetics) of having a big and ugly propane tank in your backyard.
✅ Solar pool heaters.
Finally, we have the most cost-effective heating solution (* for specific climates) for your swimming pool.
Harnessing the power of the sun, solar pool heaters collect sun through a collector, pumps water through to warm it up, and then sends it back to the pool.
Solar pool heaters take longer to warm the pool, and unlike gas or electricity, which heat reliably and consistently, they aren't as efficient in areas that don't get lots of sunshine.
They vary widely in price, with professional installations costing in the thousands of dollars, while backyard solar pool heaters for smaller above-ground pools can cost as little as $100.
Solar pool heaters are perfect for really hot climates as they can also be used to cool the water during epically hot streaks of weather. The cycle is reversed, with water flowing up to the panels when the sun is down, cooling the water.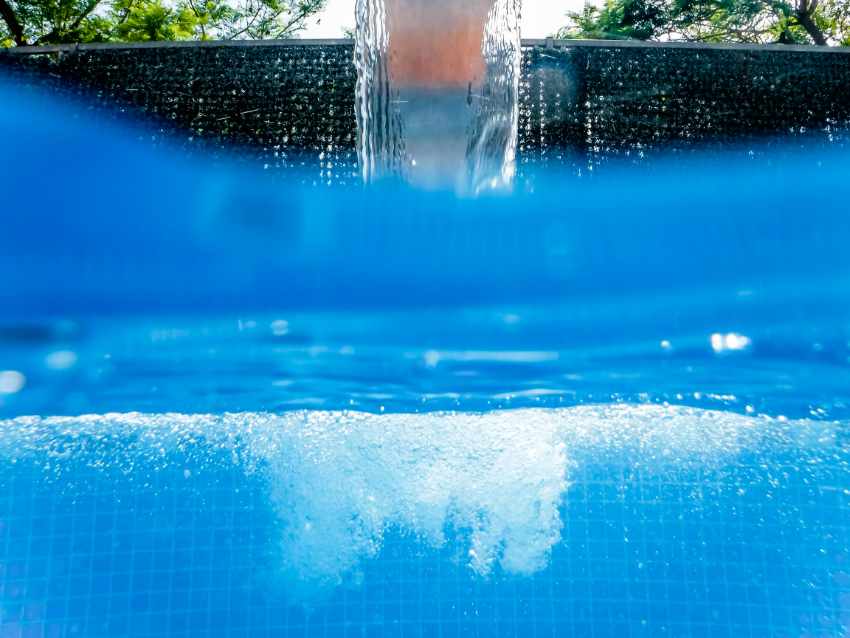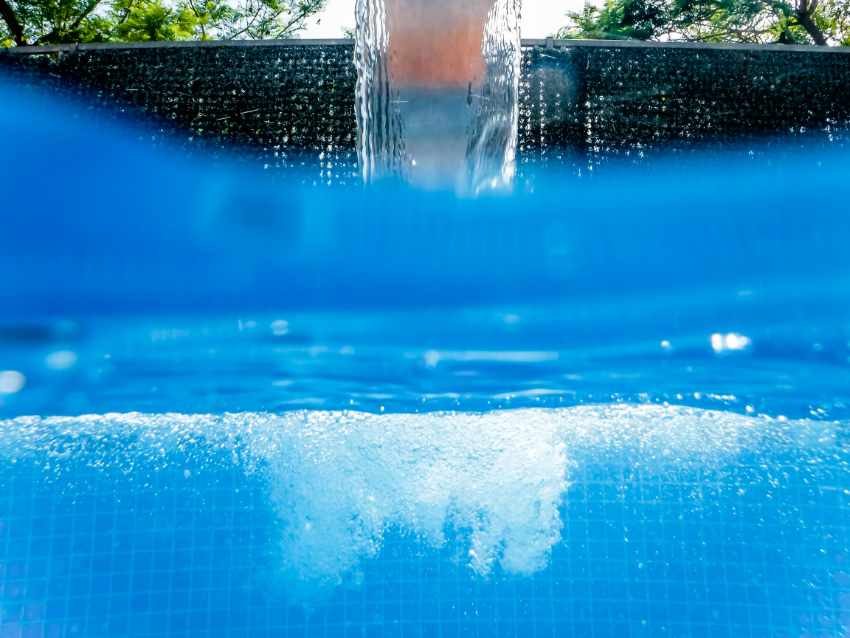 How long does it take to heat an above-ground pool?
Great question and there are a few different factors at play.
How long it takes for your pool to get warmer depends on:
✅ Size of the pool. Most backyard swimming pools fall in the 10,000 to 20,000-gallon range, and matching up your pool heater to the volume of the pool is crucial. A smaller heater will be "cheap" but will require longer run times in order to warm the water.
✅ Current temperature of the water. The amount of time it takes to heat the pool is influenced by how cold or lukewarm the water is right now. A covered pool will be quicker to warm as it retains heat and gives you a shorter jump to the desired water temp. Expect to require between 12-24 hours to warm a frigid pool that's been left uncovered to a more comfortable temperature.
✅ Type of pool. Inground pools are often faster to warm because the sides of the pool aren't exposed to the elements. Above ground pools—and we are talking strictly in generalities here—are a little slower to warm.
✅ Type of heater. And, of course, the type of heater you employ will play a huge role in how quickly the pool will be heated. Gas pool heaters are capable of increasing the water temperature by 6-7 degrees Fahrenheit in around six hours. In this case, researching each heater, your pool, and the climate of your neighborhood will be required for choosing the ideal heater. For example,  if you live in the cloudy Pacific Northwest, a solar pool heater is a less efficient option and will take longer the heat the water.
✅ Use of pool covers. Pool covers retain a lot of the heat that water will soak up over the course of the day. By covering the pool when it's not in use, you cut down on the amount of energy and time it takes to warm the water when you open the pool. Pairing your new above-ground pool heater with a solar cover will significantly decrease the amount of time it takes to heat the water.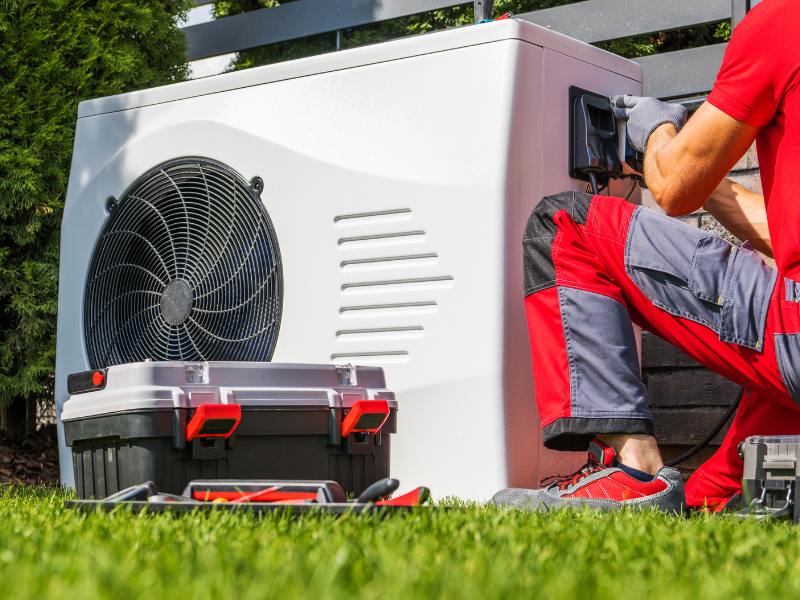 How can I save money running my above-ground pool heater?
The good news is that there are other ways to keep your pool temperature warm or at least close to warm, most specifically, the use of a solar pool cover, which can cut down on the amount of work your pool heater is being asked to do.
In fact, using a pool cover is far and away the best way to significantly cut down on pool heating costs.
According to the smarty-pants over at the U.S. Department of Energy, by using a heat pump a pool owner in Miami will spend $1,499 to keep their pool at 78-degrees.
But this is without using a pool cover.
When our hypothetical pool owner uses a cover, energy costs drop to just $2931.
This drastic difference in energy costs is similar to gas pool heaters2 ($2,910 versus $567).
Simply covering the pool when it's not in use will cut down on the effects cooler air has on your pool.
How do I properly size a pool heater?
The climate in your area and the size of your swim pool are the two main factors to consider when shopping around for a pool heater.
You can get a good idea of what you are going to need from your pool heater by looking at the average air temperature during the coldest month(s) that you plan on using the pool.
Take that number and subtract the target temperature of your pool. The result will be the number of temperature desired rise.
Average air temperature during cold months of pool use – desired pool temperature = Target temperature rise
Once you have the target temp rise, multiply this by the pool surface area (in square feet). From here, we can figure out the BTU requirements for your pool heater.
Pool area (square feet) x Target temperature rise x 12 = BTU range for your pool heater
The Bottom Line
Pool heaters are an excellent investment when it comes to getting more fun and splashing from your above-ground swim pool.
To recap our top choices:
⭐ The SunHeater Above Ground Pool Solar Panels are our favorite solar pool heaters thanks to the large size and ease of installation. Plus, saving money on energy bills is pretty awesome, too!
⭐ When it comes to heating smaller and mid-size above-ground pools, the Raypak 106A Gas Pool Heater is our top choice for pool owners who want to use natural gas or propane to heat their swim pools.
⭐ Hayward's HeatPro Pool Heat Pump is the perfect heater for pool owners in warmer climates who want to take advantage of this type of heater's efficiency.
Choose the best pool heater for your above-ground pool, extend the hours and days for swimming, and make the most of your backyard swim pool!
---
More Stuff Like This
6 Best Variable Speed Pumps for Swim Pools. Frustrated with big electricity bills from your backyard pool? Replace your standard pool pump with one of our favorite cost-saving variable speed pool pumps.
5 Best Above Ground Swim Pool Liners. Ready to fix and replace the pool liner in your above-ground swimming pool? Here is a collection of cost-effective and durable pool liners for maximizing the life of your pool.
5 Best Pool Thermometers. The right pool thermometer helps keep your pool running properly and comfortably. Here's a breakdown of the best ones on the market for backyard pools and hot tubs.
The 5 Best Pool Timers (and How Much Money You Can Save Using One). An awesome tool for cutting costs on operating your backyard pool is a swimming pool timer. Here is a detailed look at the best ones on the market right now and how much money you can save by using one.