Get the splashing and the fun of a backyard pool without having to build an above-ground or in-ground swimming pool. Here's a breakdown of our favorite inflatable pools for adults and families.
There are a lot of upsides to having a swimming pool in your backyard. It's a way to cool off. It's a way to get some sunshine. And it's a way to entertain yourself, your family, and your friends.
But let's be honest here…
Backyard swimming pools are expensive, and not just the up-front costs of installation and purchasing it, but the continuous cleaning and maintenance that is required. Using your pool vacuum to clean the bottoms and walls. Properly winterize your pool for the fall and winter months.
And on and on.
Inflatable swimming pools provide a nice middle-ground for those who want to be able to splash around in the backyard but don't want to install a permanent pool and deal with the hassle of year-round maintenance.
Although inflatable pools are generally thought of as being small and of low utility, there are some decent-sized inflatable pools that the whole family can enjoy.
Here's a breakdown of our favorite inflatable pools for your backyard.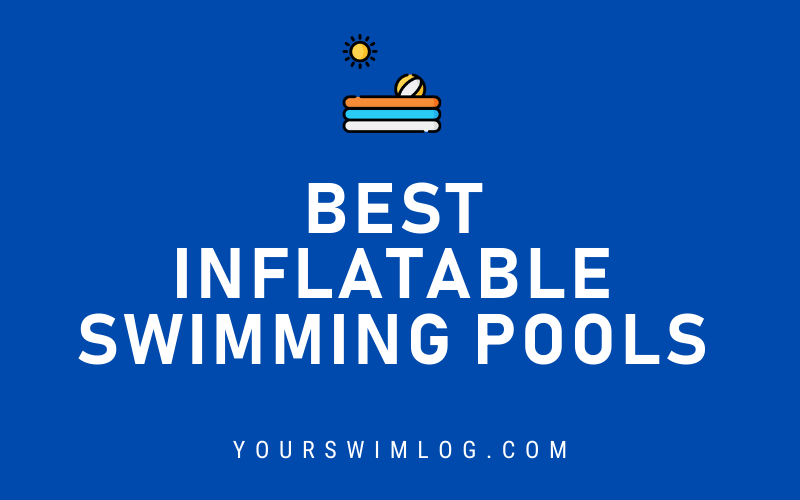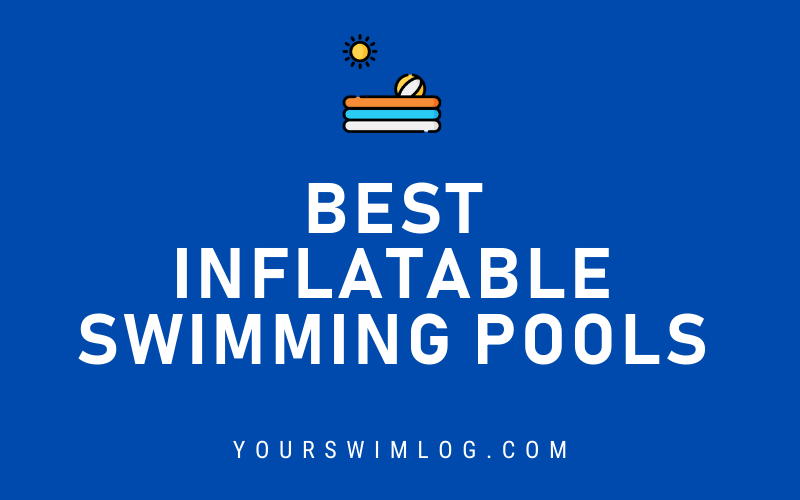 Intex Easy Set Inflatable Swim Pool
Intex is one of our favorite pool makers.
Their above-ground swimming pools are consistently ranked among the best, and their wide variety of pool accessories and even pool toys are also awesome.
The Intex Easy Set 10-Foot Inflatable doesn't require any tools to set up (hence the name "Easy") and takes about fifteen minutes to inflate the outer ring and fill the pool with water. The walls of the inflatable pool are constructed of two thick layers of PVC nylon, with a layer of mesh between them for extra durability.
See also: Intex Above-Ground Pools Compared — Which Pools is Best for You?
There are plenty of size options with this pool, from 10ft x 30-inches up to 18ft by 48-inches. A drain plug makes it easy to empty the pool at the end of the summer.
And the pool starts at just $90 (check Amazon for current pricing and deals) making it a cost-friendly option for a durable inflatable swim pool.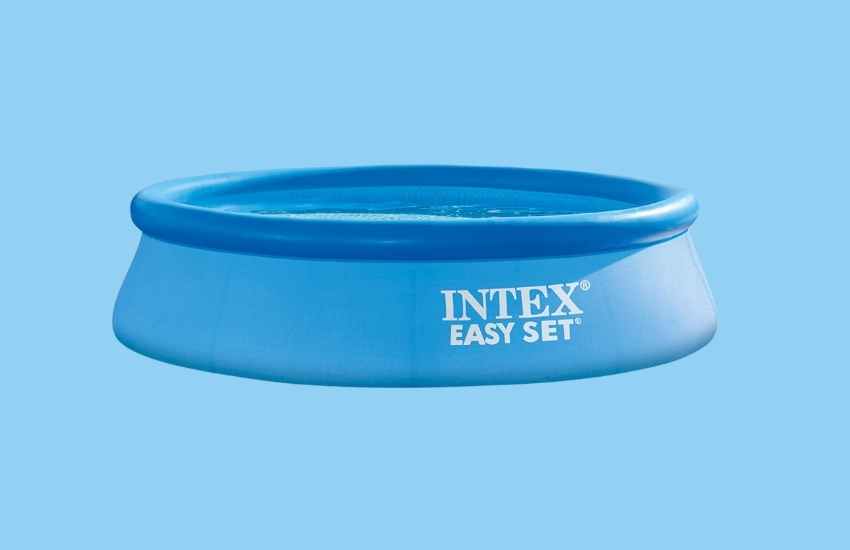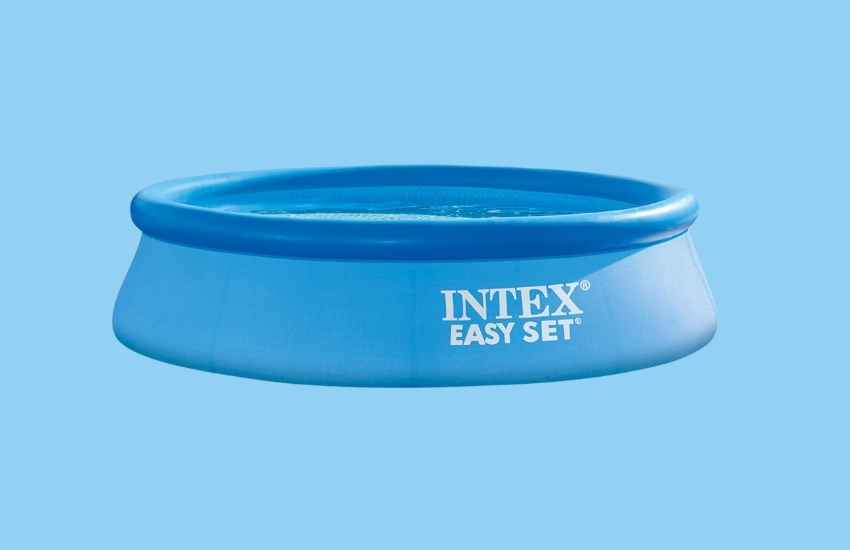 Bestway Fast Set Above Ground Inflatable Pool
Like all inflatable pools, you are going to want to set this bad boy up on level ground in your yard. Bestway is a major player in the backyard pool market, and their pools are always highly-reviewed, including the Fast Set as well as their rectangular above-ground swim pools.
See also: Bestway Pools Compared — Which One is Best for You?
This pool, like the Intex Easy Set-Up, is ten feet wide and 30 inches (or two and a half feet) high. Made with a lightweight and highly durable PVC material, the Bestway Fast Set Above Ground Inflatable Pool is very easy to assemble.
The Bestway Fast Set also includes a filter pump and cartridge to help keep your pool clean. (Consider adding a solar pool cover to your pool as well to keep it from collecting debris while not in use.)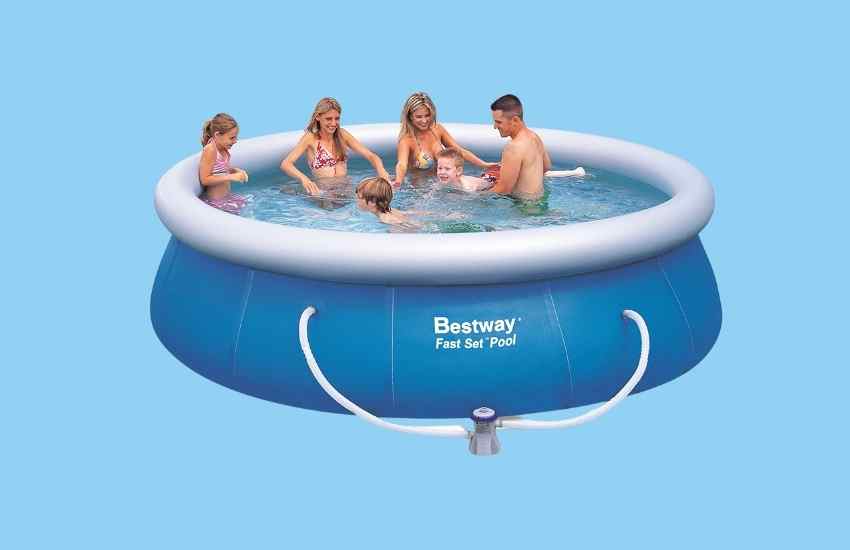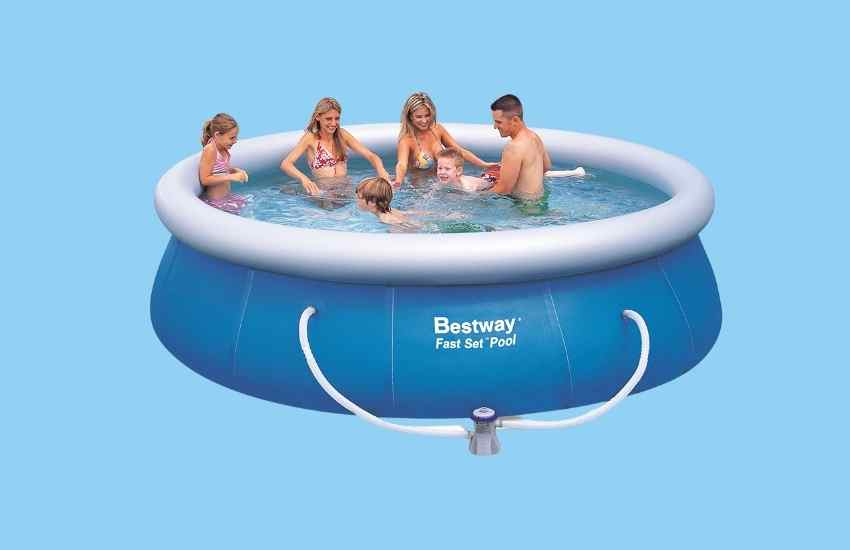 Summer Waves Inflatable Swimming Pool
Another relatively easy to set up inflatable swim pool is made by Summer Waves.
With a filer pump that circulates and filters the water, a capacity of over 2,400 gallons, and a tough and durable circular sidewall designed for summer fun, the Summer Waves inflatable is a quick and easy way to start splashing around in the backyard.
Recommended for kids over 6 years of age, after about ten minutes of setting up, the pool is ready for the water. Includes a pool chlorinator, filter pump, and D cartridge. Water wings, floating beer pong table and sunshine are not included, however.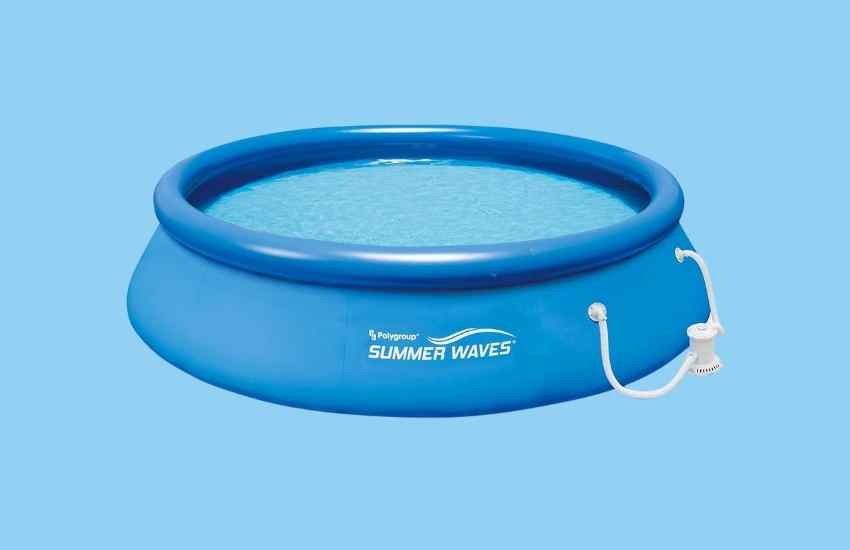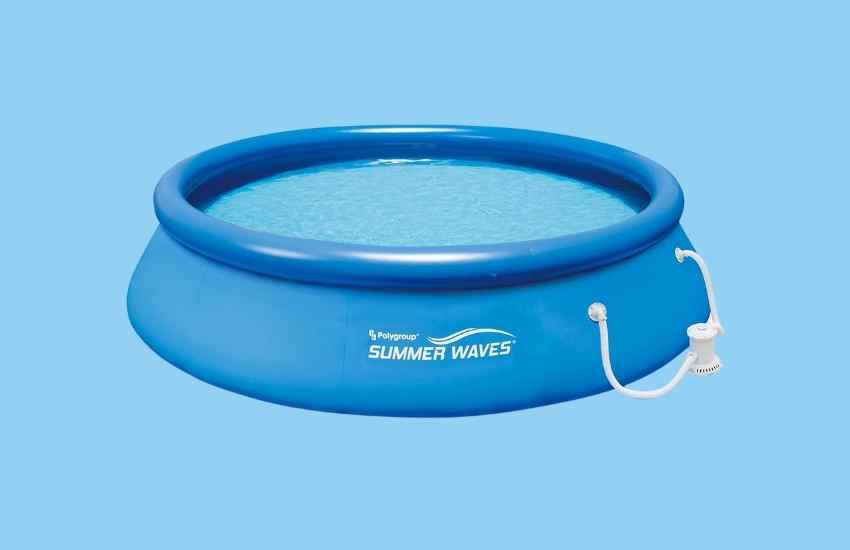 Intex Kiddie Pool
If you are looking for the best inflatable kiddie pool, Intex makes a great, no-frills, tri-colored pool that is perfect for the youngest swimmers in the household. Made by Intex, this well-priced little pool is about a foot high and the walls are constructed of heavy-duty PVC vinyl.
The bottom of the pool is padded to absorb any quick toddler spills and buffer the hard ground below the pool. When filled up, the Intext Kiddie Pool can take on about two hundred gallons of water, making it the perfect little inflatable pool for toddlers.
With nearly 8,000 five-star reviews on Amazon, and a price tag of around $20 (check Amazon to see reviews and current pricing), the Intex Kiddie Inflatable Pool is an awesome way for both toddlers and adults to cool off during the blazingly hot days of summer.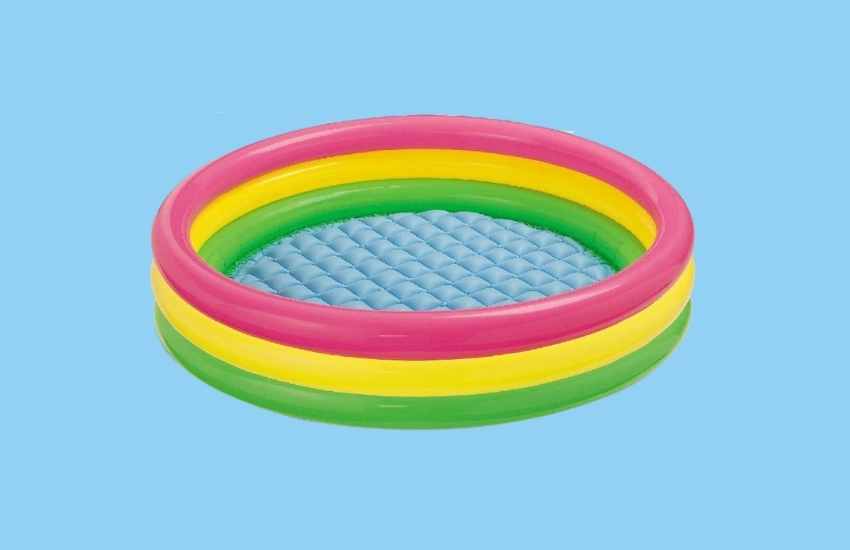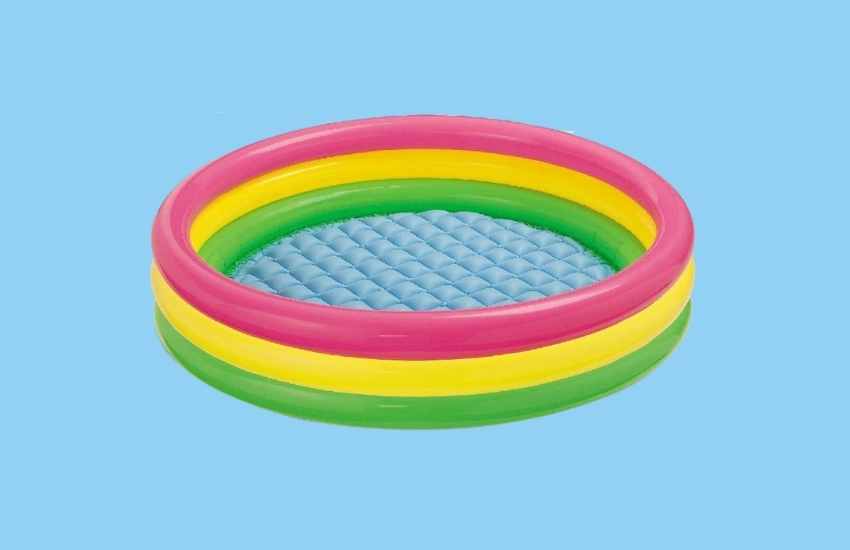 Intex Swim Center Inflatable Family Lounge Pool
I absolutely love this inflatable. It's part splashing around, part chilling, making it perfect for those lazy summer days when you just wanna lean back and kick your feet up.
With a large "deep end" for splashing around, ideal for the kiddos, a long bench, and a backrest for the adults, this inflatable pool is an awesome way to enjoy the backyard and sunshine. (And yes, it has two cup-holders ?)
Made with heavy-duty, 13-gauge vinyl, the inflatable lounge-pool has two air chambers, comes with a repair patch, and has a capacity 156 gallons.
Recommended for adults and kids 3 years and up and retails for around $45 (check Amazon for current pricing and deals).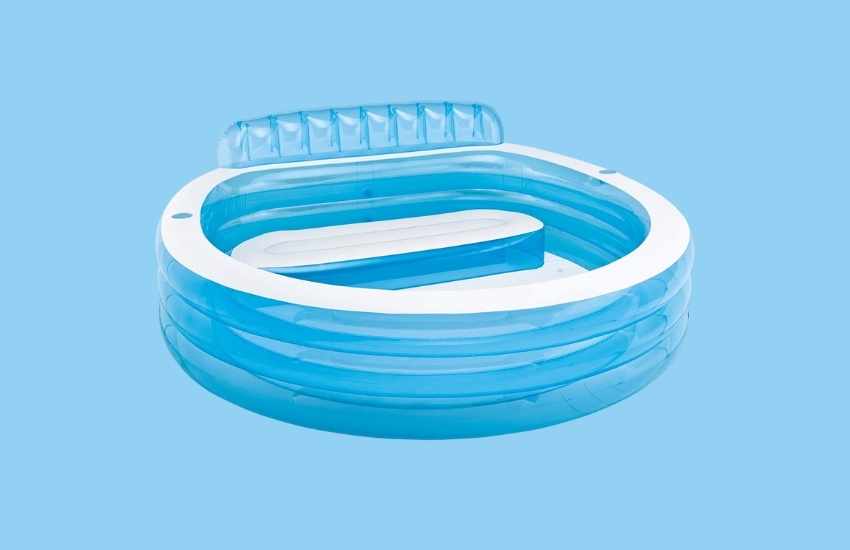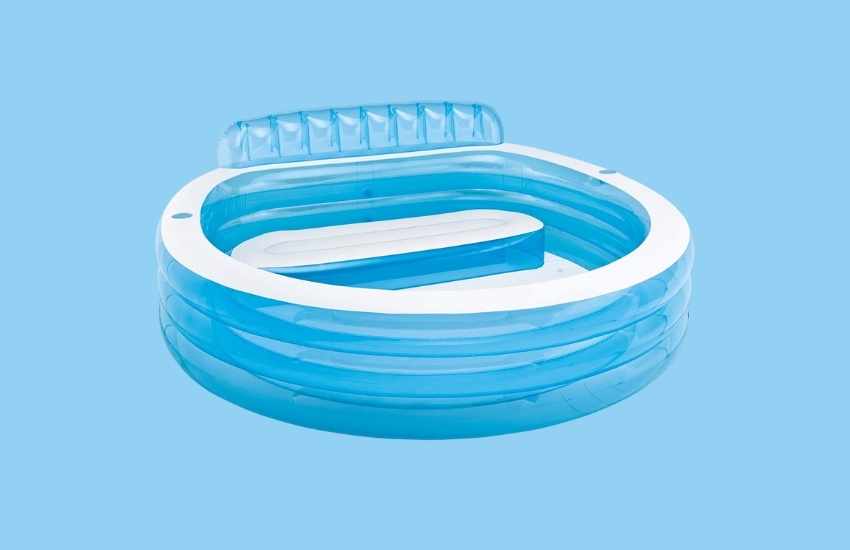 Lovinouse Inflatable Pool with Sunshade Canopy
The long days of summer also mean long days of sunshine. Soaking up the rays, even after while lathering yourself up in waterproof sunscreen, can result in fatigue and sunburns. Having a simple canopy shade on your inflatable pool is a way to protect yourself against the more harmful effects of prolonged sun exposure and extend the amount of time you spend in the water.
With the Lovinouse Inflatable Swim Pool, you get a removable sun canopy for those moments when you want to keep enjoying the water but want to take a break from the sunshine. Combine that with a three-chambered, heavy-duty PVC design, and you have a way to beat the heat and the sun.
The Lovinouse Inflatable can accommodate the whole family, features a one-button inflation feature, and a padded bottom that regulates the pool temperature and is comfortable to sit on.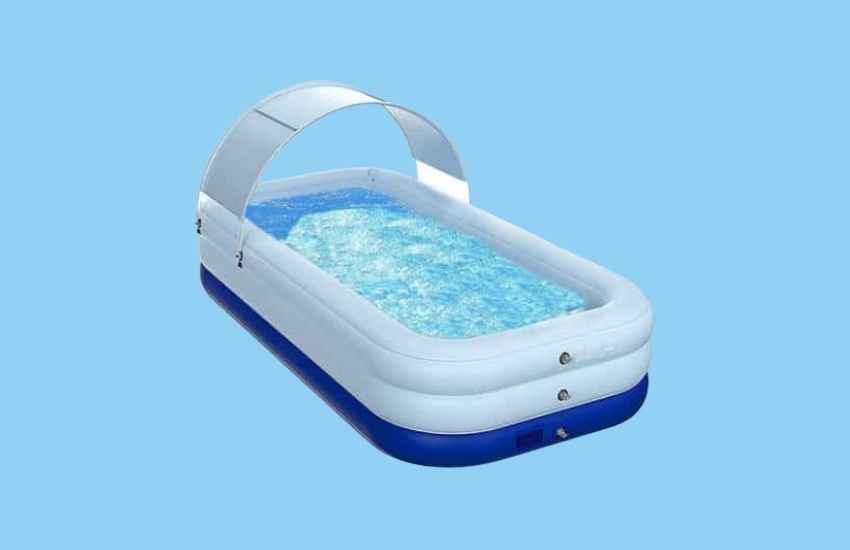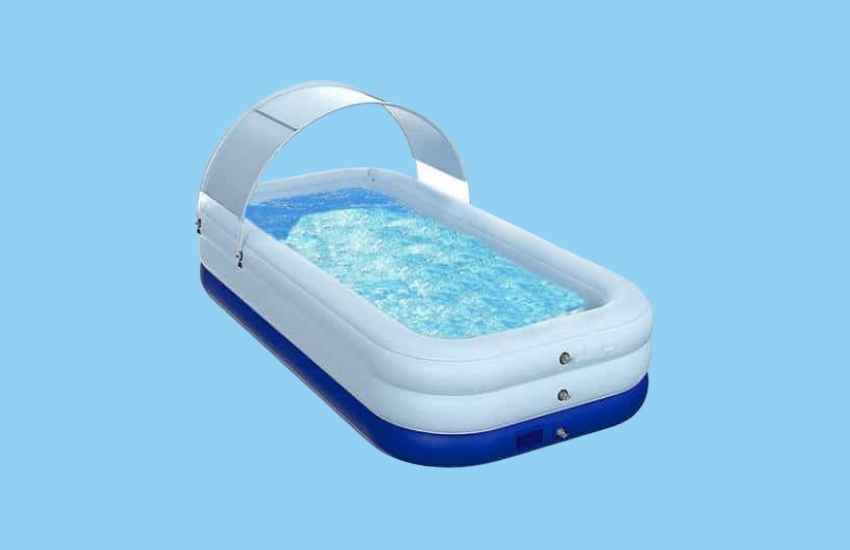 ---
Inflatable Pools – FAQs
Low-cost, easy to set up and take down, inflatable pools come in a wide range of sizes, colors and shapes.
So what's the best way to go about choosing the right one for you?
Let's take a deeper look at this form of swimming pool, what to look for when picking one, and how to make the most of it this summer.
Choosing the Right Inflatable Pool for You
Choosing the right inflatable pool for you and your backyard comes down to a few different factors.
Space.
Measure out the space you plan on using for your pool. Add extra room and clearance around the edges for getting in and out, a ground cloth, and a pool ladder (if you choose to get one).
Also make sure that you have access to water (via a garden hose, if necessary) and power (if you plan on using a filter or skimmer).
Size and shape.
Inflatable pools range widely in size and can come in surprisingly large sizes! After figuring out how much area you have for the pool you can start to break down a pool size that matches your space.
Inflatable pools can be as large as 10-ft across and come mostly in oval and round shapes, but also in rectangular shaped designs.
Use.
Beyond the size of the pool, consider how the pool is going to be used. For families with young children, you don't want an excessively deep pool. Pool depth should match the use and swimming abilities of pool users, both children and adult alike.
Equipment.
Larger pools require more maintenance and cleaning. Some inflatable pools ship with the main accessories for regular cleaning, like a pool cover, pump, and so on.
Often, pools are shipped as a set that includes a filter, pool ladder, and more.
Budget.
And of course, choosing the right inflatable pool often comes down to price.
Although they are by far the cheapest backyard pools on the market, you still need to factor in cleaning and maintenance costs associated with keeping the water clean (chlorine tablets, pool brush, etc).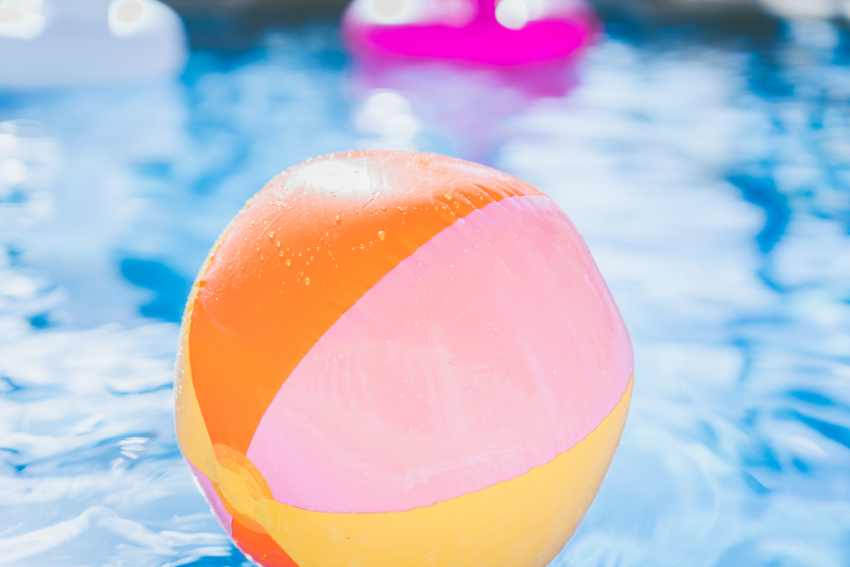 What are the different types of inflatable pools?
While inflatable pools can typically all be lumped into the same pile, there are two different kinds:
Standard inflatable pools have walls that are fully inflatable. These tend to be the smaller inflatable pools. They have multiple inflatable rings that make up the vertical structure of the pool. They can be set up quickly and easily.
Larger inflatable pools have a single inflatable ring at the top of the wall and liner from the ring to the bottom. These take a little more time to install and are designed for more heavy-duty use.
What are inflatable pools made of?
Generally, they are built with PVC vinyl. Thickness varies between brands and pools, but most land in the neighborhood of 0.2mm to 0.6mm thick.
Some of the larger inflatable pools have two layers of PVC with a mesh middle that provides a little extra protection and flexion in the pool walls (a little flex in the wall is good—it allows the pool to distribute stress and last longer).
Tips for Setting Up Your Inflatable Pool
Clear the ground.
Scan the ground for anything that will puncture or rip the bottom of your inflatable pool. Things like rocks, stones, broken bark, etc.
Clear the ground and consider using a ground cloth under the pool to provide an additional layer of protection for the vinyl liner on the bottom of the pool.
Under pool mats—whether it's a simple tarp, interlocking foam EVA tiles, or outdoor carpet—provide protection against accidental rips and punctures along the bottom of the pool. They also give extra padding on the floor of the pool.
Level the ground (if it isn't already level).
You should always set up your inflatable pool on level ground. There are two significant reasons for this.
First, the weight of the water will push against the lower wall of your pool, straining and stretching the liner. This will significantly cut down on the lifespan of the pool.
And second, water will pool at the lower end of the pool and spill out. Minor spills aren't a huge deal and will cost you only some more water to refill the pool.
But enough water being sent towards the lower end of the pool will spill over the edge and cause a ton of pressure and strain on the liner and inflatable ring. Inflatable pools aren't designed to take this kind of pressure, so make sure that the pool is level before you begin to fill it.
Cleaning and maintenance for your inflatable pool.
As you will quickly see, pools get dirty and they get dirty fast!
Staying on top of pool cleaning through the summer means you can spend less time cleaning and more time enjoying the water.
Here are some of the essential tools and accessories for your inflatable swim pool:
Under pool mat. Ground cloths protect the underside of your swimming pool when in use.
Solar cover. These types of pool covers keep the water temperature comfortable and reduce heating and energy costs. They are available in a standard blanket or as rings (more on solar pool covers here).
Pool test kit. Pool water can quickly turn green and algae-ridden when unattended. Simple test strips or more fancy-pants digital pool test kits can help you stay on top of pool chemistry.
Pool brush and skimmer. A pool brush is a simple and effective way to keep algae from taking hold in your swimming pool and a pool skimmer (pole and net) is a quick way to consistently keep organic debris out of the pool.
---
More Backyard Pool Gear Guides
7 Best Accessories for Above-Ground Swimming Pools. Outfit your backyard swimming pool with some of our favorite toys, games, floaties, and entertainment options made specifically for aquatic fun.
6 Best Inflatable Party Islands for Endless Summer Fun. Get your fun and splash on in the water with our hand-picked selection of the best floating party islands for all of the good times.
Intex Above Ground Pools Compared – Which One is Best for You? Ready for summer? Here's a detailed look at the best Intex Above Ground Pools, how they compare, and what you need to know before buying.