Hit the pool and beach in style with our collection of the best swim trunks for every activity, body type, and budget.
Look, I get it—Speedos (aka men's swim briefs) aren't for everyone. And maybe while you like the coverage that swimming jammers provide, you still want something that isn't so, well, snug.
Swim trunks, boardshorts, whatever you wanna call them—tend to provide a whole lot more coverage and provide more utility with pockets, clips for keys, and so on. Swim trunks feel you less, well, exposed when at the pool, jumping off the back of the boat, or lounging by the pool.
Typically made of long-lasting and durable polyester (much like most of our favorite swim training suits for men), which stands up to harsh pool chemicals and the sun's harmful rays, the best swim trunks combine the quick-drying nature of swimsuits with added durability and coverage.
Below is a collection of our favorite swim trunks for every occasion.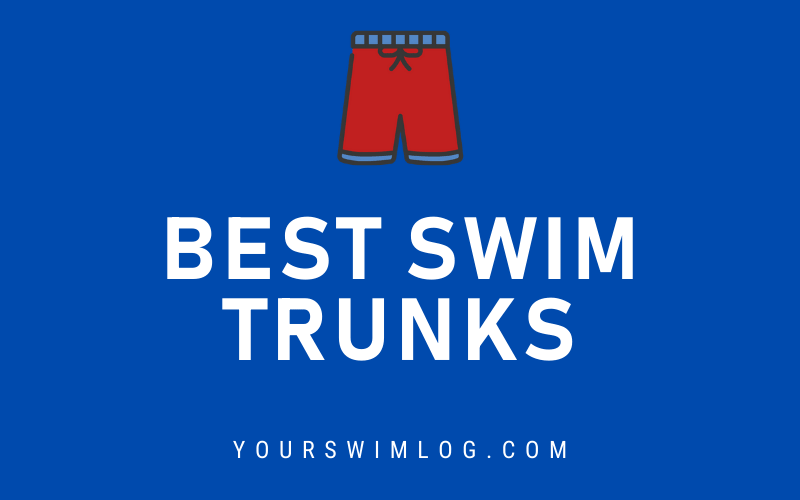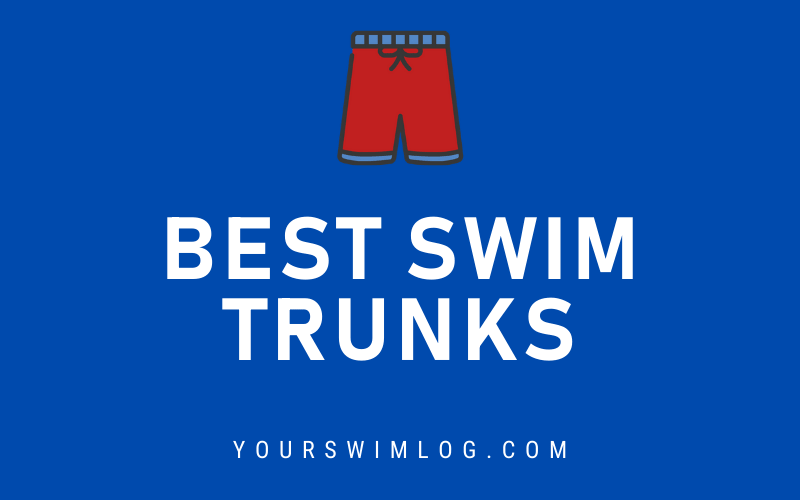 Speedo Marina Volley Knee Length Swim Trunks
Speedo makes a ton of different types of swimming gear, from swim shoes to swimming goggles.
One of the big perks of swim trunks—unlike the regular lap swimming suits that men wear at the pool—is that they can usually double as activewear outside of your aquatic adventures. With a polyester brushed microfiber fabric, the Speedo Marina Volley swim trunks bring a clean grey aesthetic that is quick-drying and looks great.
With an elastic closure, UPF 50+ protective fabric, and more than six color options, the Speedo Marin Volley swim trunks look great in and out of the water.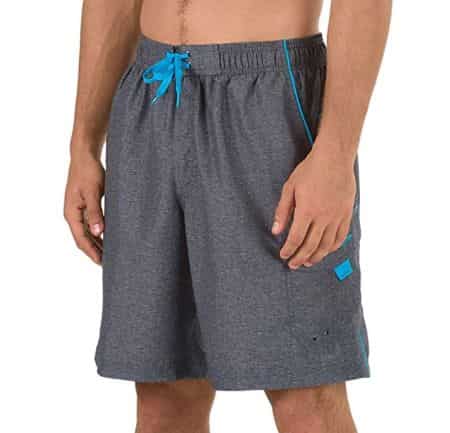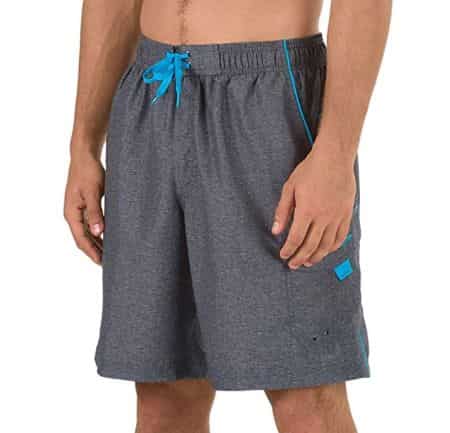 ---
SILKWORLD Men's Quick-Dry Swim Trunks
If you are looking for a pair of swim trunks that are simple in style but full of the usual features you expect for hitting the water-logged outdoors, SILKWORLD's basic trunks have you covered. With a soft mesh lining that keeps everything where it should be, the shorts are made of 100% long-lasting polyester that will stand up to the sun, saltwater, chlorinated pools, and whatever else you throw at them. Two deep pockets and an elastic waistband with a drawstring round out these bargain-priced swim trunks, that are available in two dozen different colors.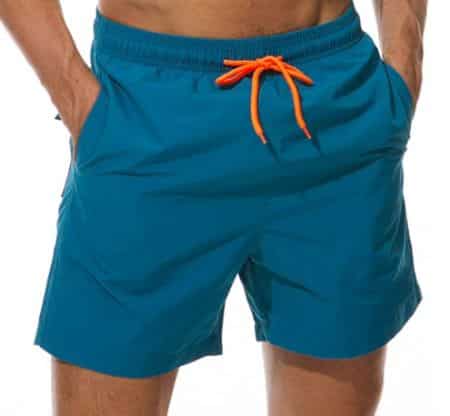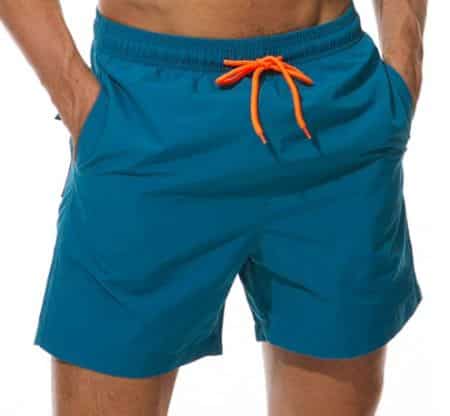 ---
Hurley One and Only Swim Trunks
Hurley is one of our favorite manufacturers of swim gear, including making some awesome rash guards for men. The Hurley One and Only Swim Trunks are 21" long and made of water-repellant polyester that helps you dry off quickly after being in the water.
The fabric of the swim trunks is made of recycled super-suede, and a Velcro EZ-fly and drawstring keeps the shorts secure no matter how hard you decided to hit the water activities. Available in ten solid colors from black to bright pink.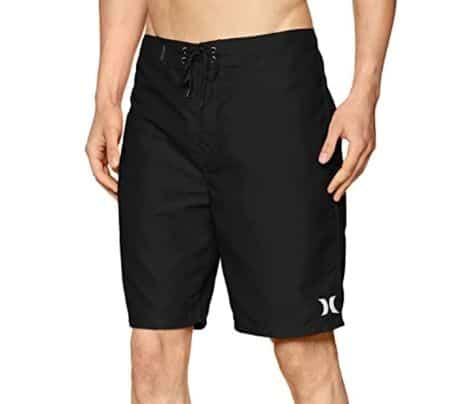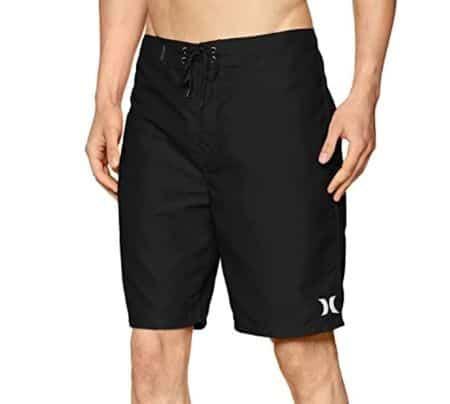 ---
Hurley Phantom Patriot Men's Swim Trunks
Made of 92% polyester (the durable fabric you want in your swim-related apparel) and 8% spandex (which gives the swim trunks a bit of a stretch so that it fits your body properly), the Phantom Patriot Swim Trunks are a comfortable and patriotic way to hit the water.
The shorts provide 20" of coverage down the leg, have a double-drawstring to keep the shorts snug and secure, and a closable back pocket makes these swim trunks a top pick for all of your swimming and water-based activities.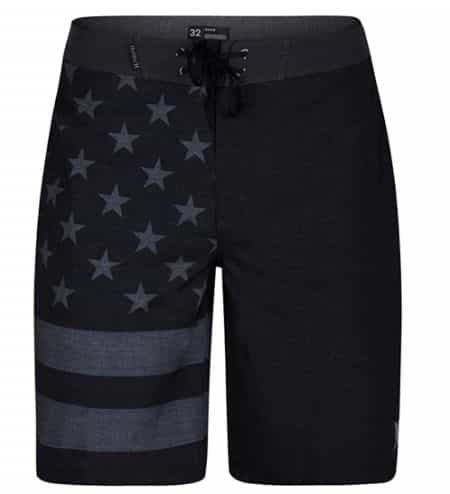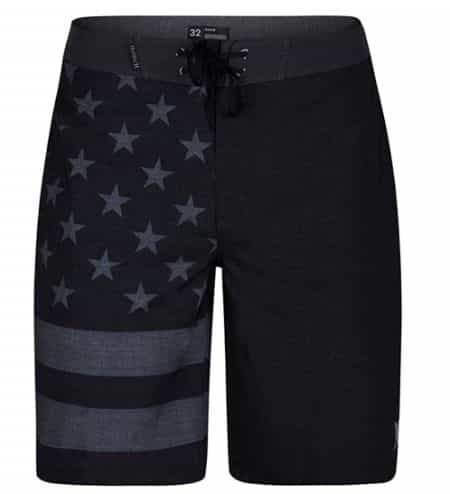 ---
Nonwe Retro Quick Dry Swim Trunks
For a brighter and bolder look in the water, Nonwe shows up on the scene with shorts that are sure to turn heads. With a retro pelican print, these polyester swim shorts are made of water-resistant material that dries quickly.
The inside of the shorts is fully lined, keeping your manhood snug, while two side pockets and a back pocket mean you can swiftly move from the pool to drier activities with all the storage you need. Available in over a dozen prints and color combinations, the Nonwe Retro Quick-Dry Swim Trunks fit true to size and provide about 19" of leg coverage.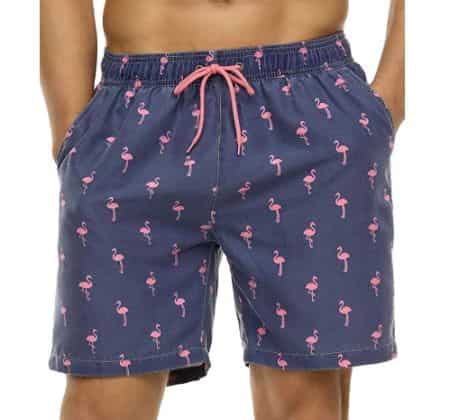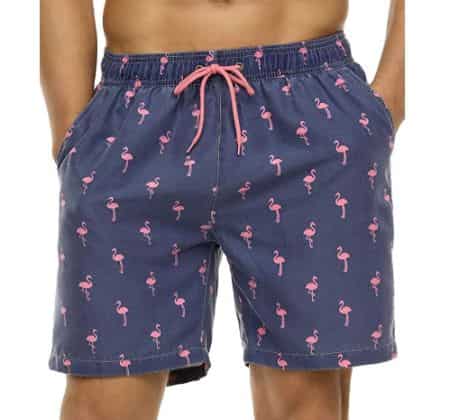 ---
Lacoste Classic Men's Swim Trunks
Lacoste is one of the premium clothiers for men, and their classic solid swim shorts do not disappoint. With their typical understated style, the shell of the Lacoste Swim Trunks is made with 100% polyester that dries fast when you step out of the pool.
Perfect for the backyard pool or hitting the beach at the resort, the Lacoste trunks are available in half a dozen colors and feature a shorter leg length. Machine washable, with adjustable drawstring, and deep pockets for quick and easy storage.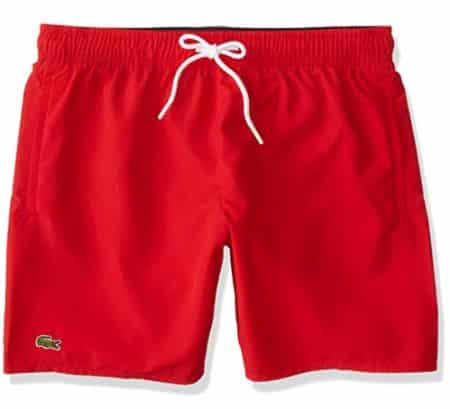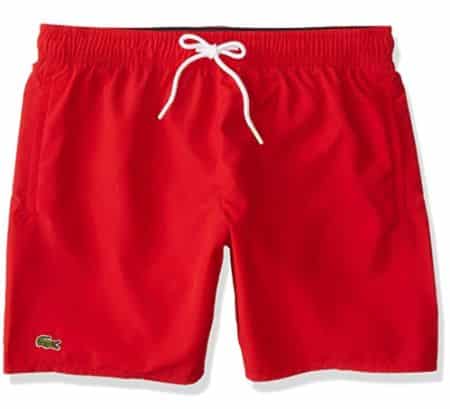 ---
Quiksilver Everyday Swim Trunks
Quiksilver is well-known in the outdoor sports world, particularly known for its deep roots in the surfing world. With decades of experience with outdoor athletes, it's not much a surprise that they produce some of the best-reviewed swim trunks. The Quiksilver Everyday swim shorts have an outer shell that is all polyester, keeping your thighs blocked from the sun and require minimal time to dry.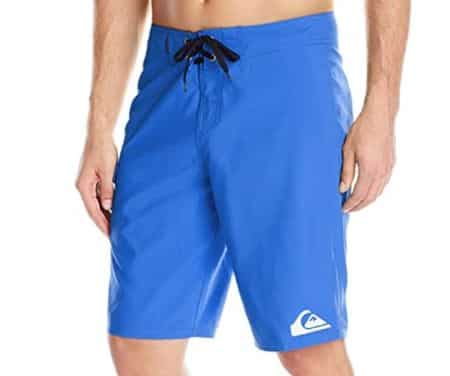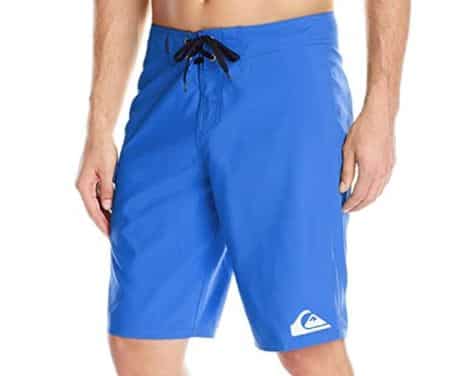 ---
Nautica Men's Tri-Block Series Swim Trunks
Nautica is a big name in the outdoor and water-sports space. Their Tri-Color Series Swim Trunks are a splashy and colorful pair of swim shorts that feature your typical polyester lining and nylon body.
Half a dozen colors, drawstring closure, and a leg seam of 19" gives you plenty of coverage while tackling the watery outdoors. Available in seven different color patterns and in sizes ranging from small to XX-large.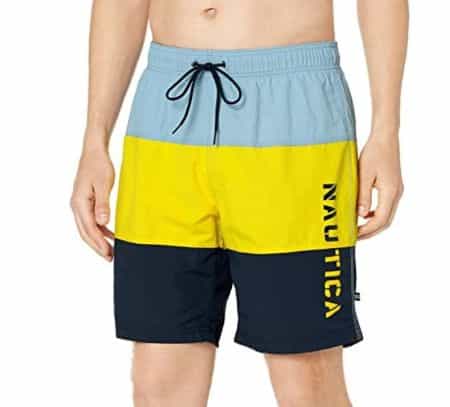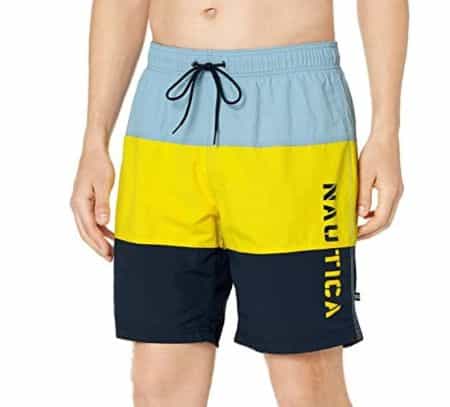 ---
Sporti Men's Solid Lined Swim Trunks
When it comes to swimming trunks, you don't need to break the bank to get a quality set that is comfortable and durable.
Sporti, online swim retailer Swim Outlet's inhouse brand, offers these shorts that are made of 100% polyester (with a poly-mesh liner) for a steal of a price.
The swim shorts have an internal drawstring to keep the shorts on your waist when diving into the water, an elastic waistband for a comfy fit, and side pockets for storing stuff when out of the water.
The shorts also have a 19" outseam and 7" inseam, dry quickly when out of the water, and are less than $20.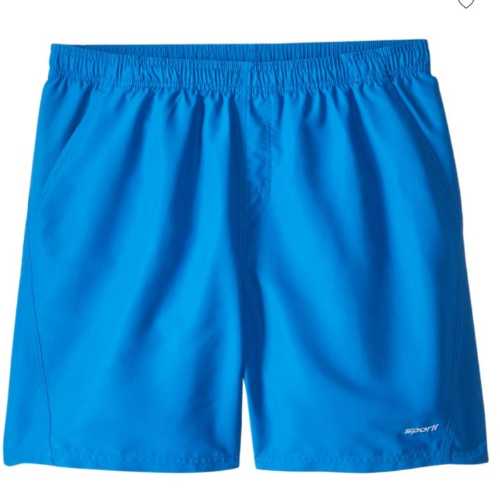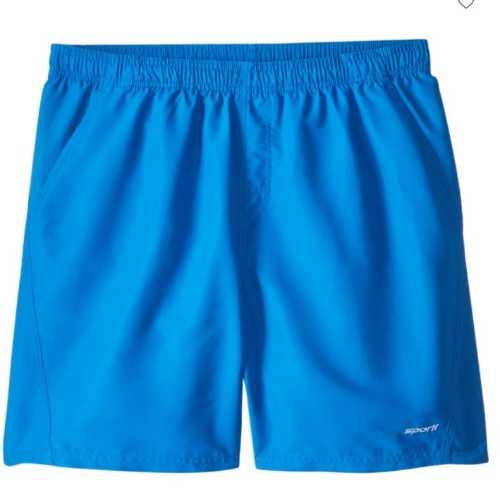 ---
Men's Swim Trunks – Tips for Buying the Right Shorts for You
There's plenty to choose from when trying to figure out the best swim trunks for you and your aquatic adventures.
Here are some of the key things to look out for, some terminology (promise there is no quiz at the end), and some helpful hints for choosing the right shorts for you.
Short length. Swim shorts vary in length. This is one of the big considerations to keep in mind when shopping around. Longer shorts are good for outdoor aquatic activities as they provide more coverage against the sun. Shorter, err, shorts, are ideal for lap swimming and for people who are confident their skin won't get razed by the sun when outside.
Fabric materials. Swimwear of all kinds primarily use polyester for the reasons that this material is extremely long-lasting, it's relatively soft on the skin, and it won't fade from extended wear, either from sun exposure or from repeated dunkings in chlorinated pools, which can quickly fade softer and more delicate swimsuit fabrics like elastane. Speaking of which, elastane isn't all bad—the fabric, along with its branded brothers, Spandex and Lycra, provide a little stretch in the swimsuit for an optimal fit. A lot of swimming trunks incorporate a blend of polyester and elastane, with polyester (and its oft-used substitute, nylon) making up a majority of the fabric.
Pockets and hooks. Swim trunks often have a lot of utility baked into them. Pockets that close with Velcro, keeping your valuables secure when splashing around. Hooks for attaching to your rash guard. Drainage holes in the trunks so that the pockets don't pool water. And so on. The bells and whistles vary by brand and short, so pay attention to these features.
Mesh liner. Swim trunks are often dual-layer, meaning that you have the exterior shell, usually polyester, and an inner layer, colloquially o known as "built-in underwear." This mesh lining inside the trunks can help your man baggage secure and in place and also prevents the shell of the swim trunks from tightly hugging your private parts when wet.
Patterns and colors. The primary aesthetic factor when choosing the right swim trunks for your aquatic activities comes in the form of the design of the swim shorts, including colors, patterns, and graphics. In this case, each swimmer has their own tastes and needs. Bright colors are great for maintaining visibility out on the water (you might be on holiday, but safety doesn't!). For work-related swim trunks, choose shorts that line up with relevant safety standards and dress codes. For example, if you are looking for a lifeguarding swimsuit, you will want that familiar emergency red color for your trunks.
Know your terminology. Swim trunks vary in length, and the two key measurements—besides your waist size, obviously—are the inseam and outseam lengths. Inseams are the length from the crotch to the hemline at the inner thigh. The outseam is the measurement from the waistline to the bottom of the shorts.
The Different Types of Swimwear for Men
There are lots of different kinds of men's swimwear on the market.
Each type carries its own performance benefits and is suitable (ha! Swimsuit pun!) for different activities.
Ultimately, the type of swimwear you choose should match your goals, activities, and comfort requirements when hitting the water.
Here is a quick look at the different kinds of swimwear on the market:
Speedos (men's swim briefs). Swim briefs are an excellent training suit for men as they provide lots of range of motion, they last forever, and they can be used as a base layer when using other swimsuits, including jammers and drag suits. They provide the least amount of coverage, and even though they are lined with an inner layer, they can make some guys feel a little, um, exposed.
Square-cut swimsuits. A balance between longer knee-length swimsuits like swim trunks and jammers, square-cut swimsuits are an ideal option for swimmers who want the range of motion of briefs with a little more coverage.
Drag suits. These specialty swimsuits are designed to increase resistance in the water and help swimmers develop power and strength in their swimming strokes. Drag suits for swimming aren't intended to be worn for extended periods of time in the pool as they can affect stroke mechanics and stroke rate, but for short burst power development training sets, they are awesome.
Training Jammers. Of all the swimsuits intended for swim training, these ones provide the most coverage while also retaining a lot of drag reduction. Training jammers are about the same length as swimming trunks but sit snugly on the surface of the skin.
Racing jammers (tech suits). Finally, we have the elite racing suits for competitive swimmers. Tech suits are expensive ($100-$400), they are designed for high-level racing, and did I mention they are expensive? Made to reduce every ounce of resistance in the water, men's tech suits are worn by Olympic champions and aspiring Olympians alike.
---
More Stuff Like This
5 Best Waterproof Duffel Bags for Keeping Your Gear Dry. Looking for a duffel bag that can take some punishment and that is waterproof? Look no further. Get squared away with our breakdown of the best waterproof duffel bags.
5 Best Waterproof Backpacks for Crushing Wet Conditions. Prefer a waterproof backpack to your waterproof duffel bag? We break down the best of the best.
Swimsuits for Lifeguards: The Best Trunks and Bathing Suits for Guarding. The right swimwear is essential when you are on the job at the pool or the beach. Here's a look at the best bathings suits for lifeguards for men and women.