Get some neoprene in your life and conquer the water with a full breakdown of the best triathlon wetsuits for men.
Swimming fast on race day means showing up to the pool or the lake and putting in the miles.
But it also means picking out a wetsuit that maximizes your hard work in the water.
After all, the right men's tri wetsuit helps you swim with better body position, keeps you visible, and encourages better technique and faster swimming.
When it comes to choosing the right wetsuit, things can quickly get complicated.
There are a lot of different factors that come into play:
Thickness. Wetsuits are all made principally of neoprene rubber. This material is buoyant and insulates the body, keeping you warm. Thickness does come with a cost, however, as a thicker wetsuit is stiffer and can restrict range of motion.
Easy transitions. Races are often won or lost in the transitions. Look for a wetsuit that is easy to get in and out of, with a zipper on the back and transition panels on the ankles to help you fly out of the transition area.
Visibility. For open water swimmers, particularly those who swim on their own, find a suit that has high-vis markings on it to keep yourself visible to others on the water.
Bells and whistles. There have been remarkable advances with wetsuits. My favorite is Orca's contactless tech that blasts out your location in the water.
Cost. And of course, there is your budget to consider. Triathlon wetsuits can get expensive quickly, with top-tier suits costing upwards of $1,000.
Finding the best men's triathlon wetsuit is easier than you think.
Read on, find the right wetsuit for your racing and ability, and dominate the swim of your next tri race.
Let's dive on in.
Orca Men's Smart Triathlon Wetsuit
⭐ Best overall tri wetsuit for men
I love Orca's stuff, whether it's their triathlon transition bags or their wetsuits, Orca is consistently at the forefront of fast and quality gear for open water swimmers and triathletes.
The Orca Smart Triathlon Wetsuit is a total game-changer with its Emerid System, a battery-less way to broadcast your position in the water. The device works via NFC, instantly giving your information. Perfect for swimmers who like to hit open water on their own. Additionally, the suit is extremely high-visibility with bright marking orange on the forearms and ankles.
The fit of the wetsuit is an excellent balance of flexibility and thickness. The suit is thicker around the front, giving your upper body and hips more buoyancy, promoting better body position and reducing drag in the water.
While not as thick (the suit is 3.5mm at its thickest), the Orca Smart Men's Triathlon Wetsuit is priced competitively (at $399, it's mid-range). Combining safety with a high-performance, this is my current favorite wetsuit for men.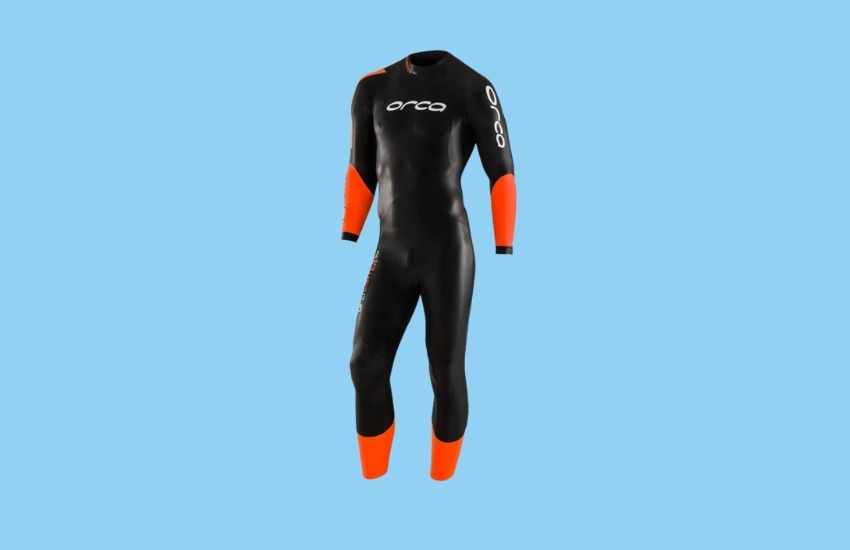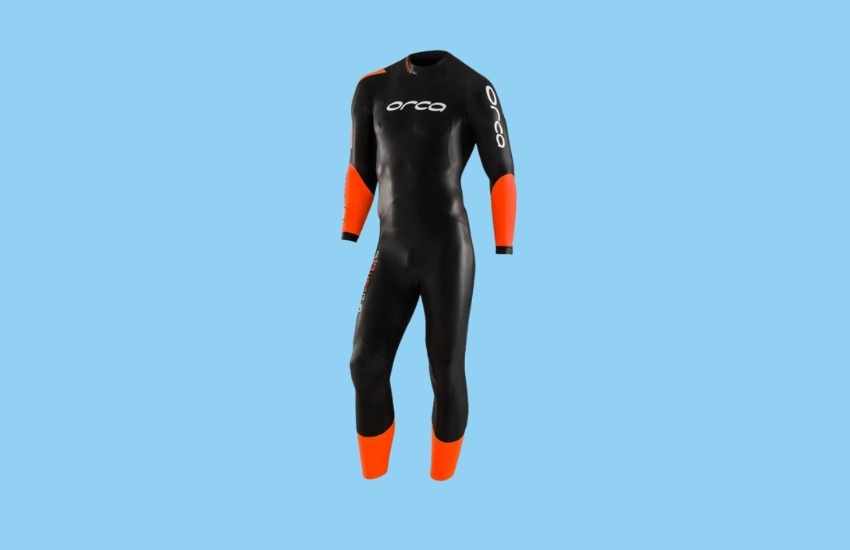 ---
XTERRA Men's Vortex Triathlon Wetsuit
One of the best-selling wetsuits on the planet, the XTERRA Vortex is tough, comfortable, and designed to help you swim fast.
The Vortex is built to be an all-around racing and training wetsuit for triathletes and open water swimmers, with a thick 5mm neoprene cage around your midsection for optimal buoyancy in the water. The thickness tapers off to 1.5mm around the shoulders and arms to promote proper range of motion when you are swimming.
The XTERRA Vortex Triathlon Wetsuit combines a low-drag neoprene coat, flexible seams, and construction for a custom fit, and lined with XTERRA's X-Flex Liner, you won't be struggling to wrestle out of the suit when you hop out of the water.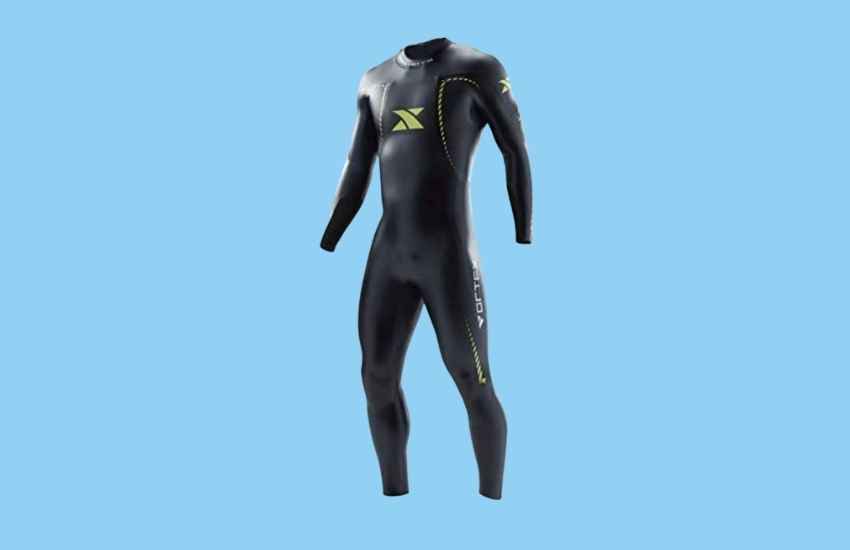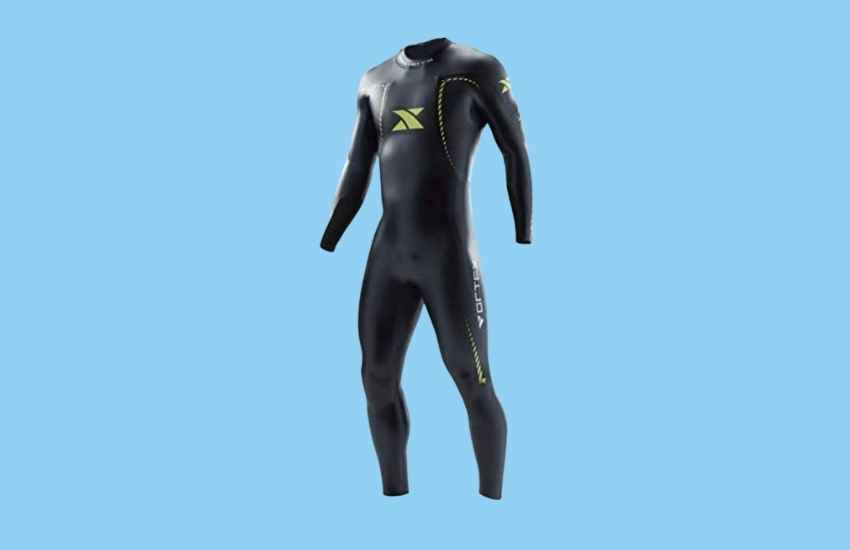 ---
TYR Hurricane Cat 1 Men's Triathlon Wetsuit
⭐ Best value pick for men's tri wetsuit
A lesson that new triathletes learn is just how expensive the sport can get. Whether it's getting a new bike or the travel required for races, triathlon is not a sport for the faint of wallet.
Fortunately, there are some high-quality pieces of gear on the market that don't require you to shatter your bank account.
The TYR Hurricane Cat 1 Men's Tri Wetsuit is a perfect example of this. Priced at around $200, the Cat 1 is one of my favorite all-time wetsuits and my top choice for best budget triathlon wetsuit for men and women.
Certified for WTC/USAT races, the Cat 1 can be used for both training and racing. The exterior is slick skin neoprene for a reduced drag profile in the water. A back zip closure with a lanyard makes it easy to get out of the wetsuit. Tapered wrist cuffs eliminate water from seeping into the suit, and quick-release ankle cuffs help you speed through transitions.
Available in a wide range of sizes, from X-Small to XX-Large, the Cat 1 is an excellent wetsuit that packs all of the high-performance features of more expensive wetsuits with a price point that is easy to swallow.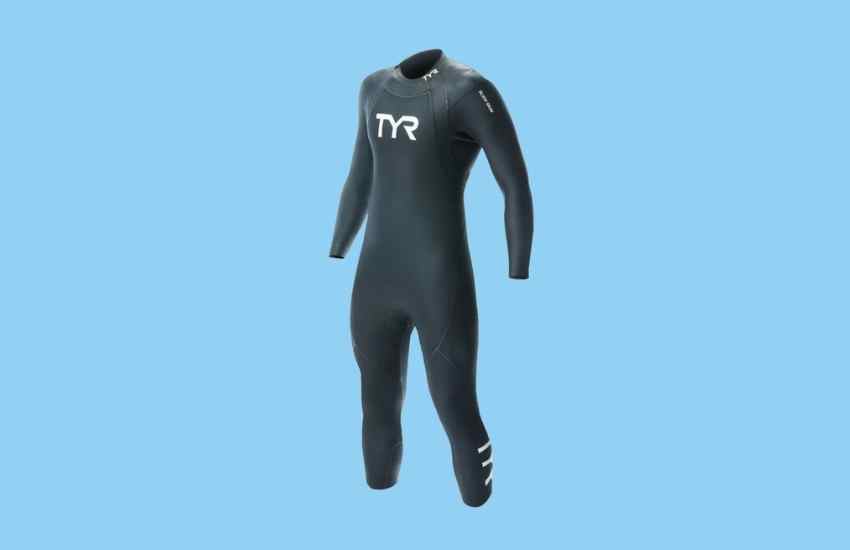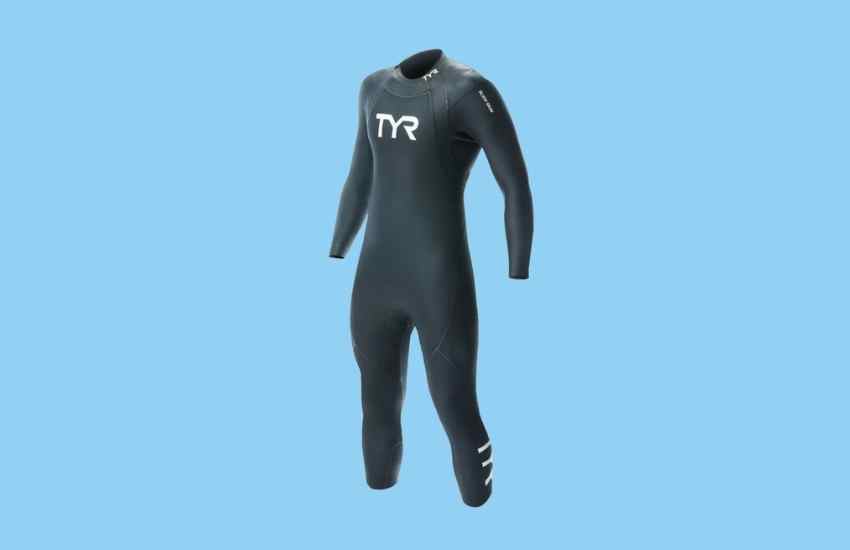 ---
Orca 3.8 Enduro Men's Triathlon Wetsuit
⭐ Best men's race day tri wetsuit
Want a wetsuit that has maximum buoyancy?
For swimmers who struggle with optimal body position when swimming, or for experienced swimmers who want to stay in a flat bodyline for longer when racing, the Orca 3.8 Enduro is probably the best wetsuit out there.
The Orca 3.8 Enduro is a full sleeve wetsuit that has a series of buoyancy panels across the front and sides of the suit that help you float better in the water. These panels help you sit higher in the water without compromising body roll. Additionally, the suit has panels around the elbow to promote a high elbow catch when swimming.
Made with Yamamoto 40-cell neoprene, the 3.8 Enduro is very light, with 1.5mm neoprene on the shoulders and 0.5mm in the underarms for maximum shoulder mobility.
Getting out of the wetsuit is straightforward, with a traditional top-down zipper on the backside. The interior lining is a fine wool-like fabric that is comfortable and easy to slide off at the transition.
The Orca 3.8 Enduro is an upper-tier wetsuit (not as premium as the Orca Predator, but close) and priced accordingly, with SwimOutlet carrying it for $599 (check SwimOutlet for current pricing).
If you haven't guessed by now, I really like Orca's wetsuits and gear, and this wetsuit is perfect for developing swimmers who want a fast wetsuit on race day that will help them swim more efficiently and cut valuable time off their swim leg.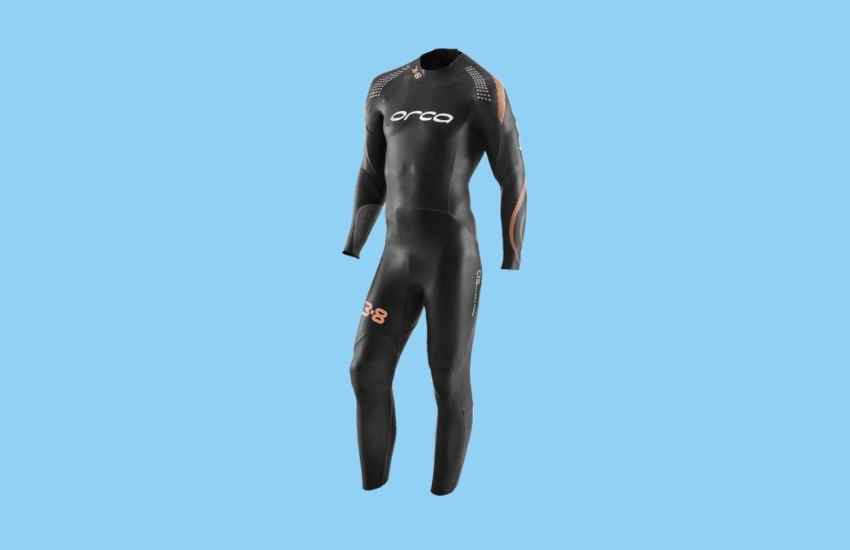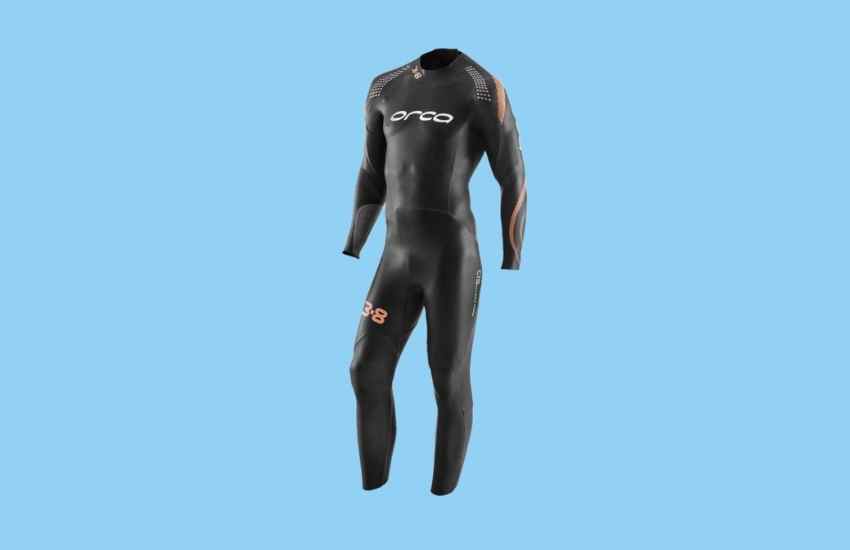 ---
Blueseventy Men's Reaction Triathlon Wetsuit
Blueseventy is one of my favorite makers of low-cost and affordable swim gear, from high-end tech suits for competitive swimmers to neoprene buoyancy shorts, Blueseventy makes great stuff for swimmers and triathletes.
The Blueseventy Reaction is one of their premium triathlon wetsuit for men, with a flexible paneling system around the shoulders and chest that promotes a full range of motion when swimming.
Tapered silicone cuffs reduce water entry in the ankles and wrists, even when wearing your favorite swim watch underneath. Thickness of the suit is 4-5-4 (making it an ideal cold water wetsuit) with 2mm ribbed panels around the knees that cut down on the annoying bunching that happens when running from the water into the transition area.
Available in a thermal version for an extra $100, the Blueseventy Reaction is an excellent wetsuit for men that want a comfortable, durable, and easy-to-get-out-of wetsuit for competing and training.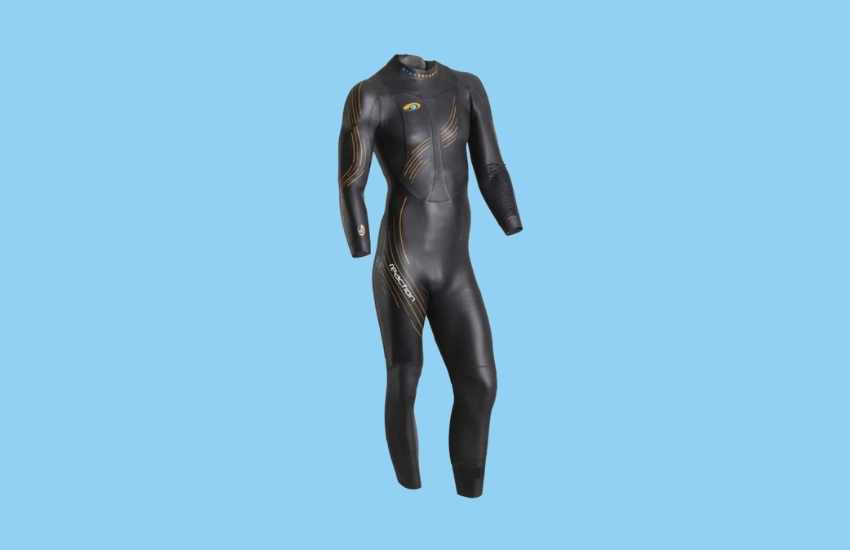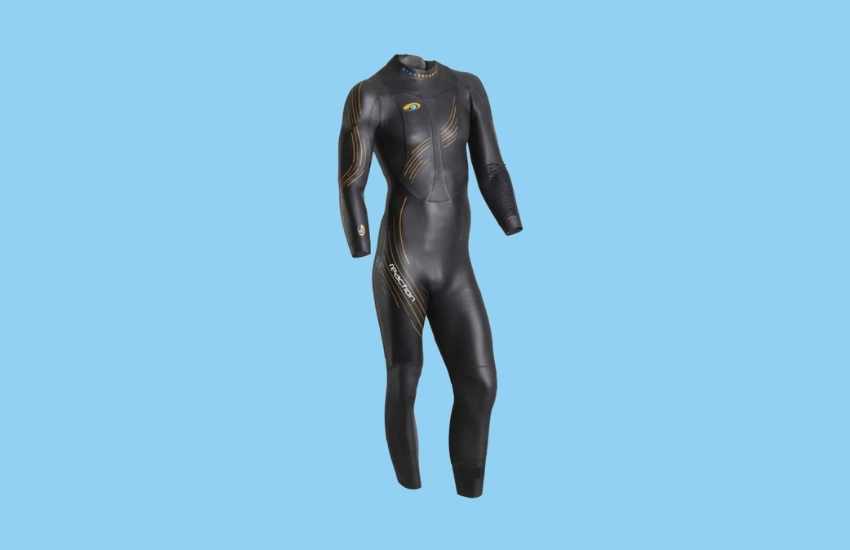 ---
More Guides for Dominating the Swim
5 Best Budget Triathlon Wetsuits for Men and Women. Below is a breakdown of the best budget triathlon wetsuits for both men and women. Read on, find the wetsuit that matches your budget and preferences, and get to conquering the swim.
5 Best Wetsuits for Open Water Swimming. Looking for the best open water wetsuits for swimming? We've got you covered with the top wetsuits for every kind of swimmer and budget.
The Best Swimsuits for Triathletes. Head to the pool or lake in style with this comprehensive buyer's guide to the top swimwear for triathlon training.
3 Swimming Workouts for Triathletes. Looking to throw down on race day? These three swim workouts for triathletes will help you dominate the swim leg of your next triathlon.