Tackle those hard to hit stains and algae growths with our hand-picked selection of the best pool brushes.
Cleaning your pool is part of the routine and process of keeping your pool clean and functioning at an optimal level.
Pool owners have a variety of tools at their disposal for cleaning the pool clean:
And so on!
The tasks that these devices accomplish can be generally automated. But for the harder to clean surfaces, both in and around the swimming pool, pool brushes (powered by good old-fashioned elbow grease) are a pool owner's weapon of choice.
Below is a list of our favorite pool brushes for keeping your in-ground or above ground pool nice and clean.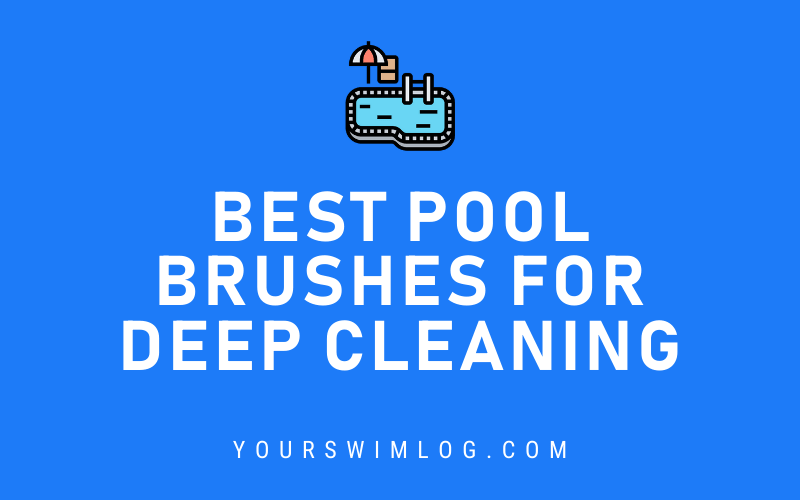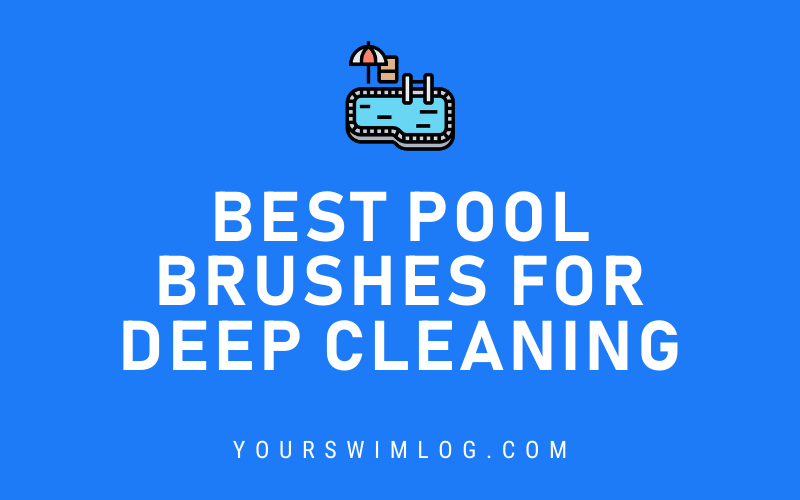 Lalapool Swim Pool Wall and Tile Brush
At 18-inches wide, Amazon's Editors choice is an aluminum swim pool brush that has a tough nylon plastic brush designed to bust dirt, stains, and algae.
The curved edges make hitting the corners a breeze, and an extra-wide 18" brush allows you to cover more ground in less time. The brush does not come with a pole, but it does fit most standard and telescoping pool extension rods. Reviewers applauded the softness of the bristles, making it suitable for sensitive vinyl pool liners.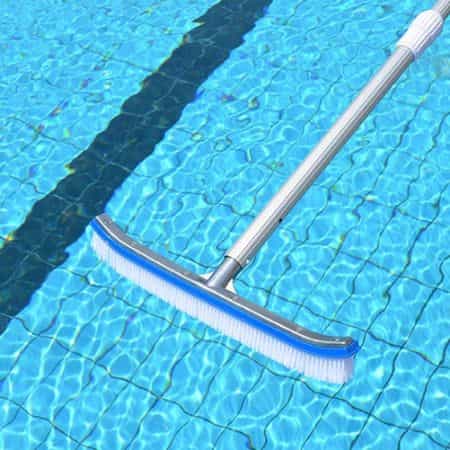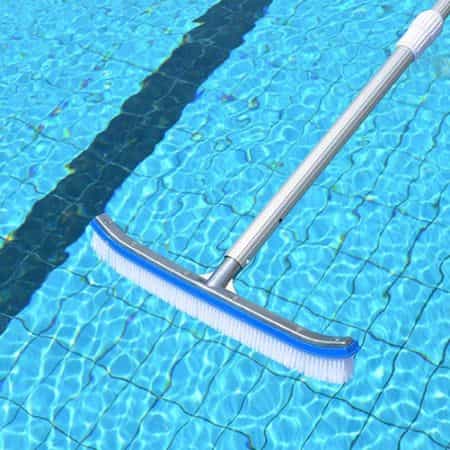 Wall Whale Classic Swimming Pool Brush
Yup, I know—at first blush, you might be a little confused looking at the Wall Whale Swimming Pool Brush. But when it comes to deep, powerful scrubbing, the odd looks you may get when pulling this brush out of the shed will be replaced with looks of wonderment.
The large piece of plastic sitting atop the brush, designed like a whale tail, allows you to exert significantly more force on the brush, helping you to hit those tough-to-clean problem spots with fury. The wait tail, just as it does for the mammal in the water, creates extraordinary force, pushing the brush into the pool wall.
Users can also adjust the amount of pressure being applied to the brush by changing the angle of the tail on the brush. A fantastically simple concept that delivers significant and game-changing results when it comes to cleaning your pool.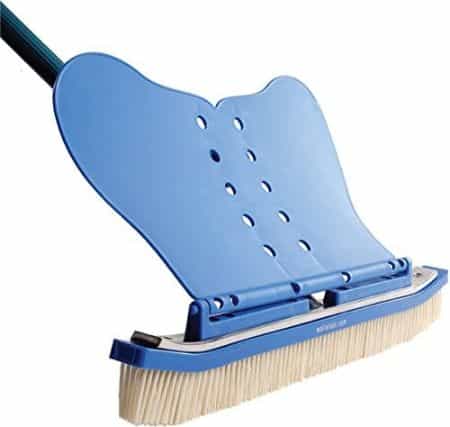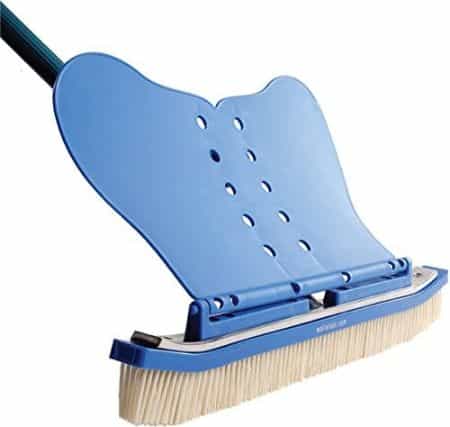 Milliard Nylon Pool Brush
Best for above-ground swimming pools
For pool owners who have an Intex, Bestway, or similar above ground swimming pool, you need a pool brush that is hard on stains but that isn't going to ear up your pool liner.
Another pool brush that is recommended for pools with softer and more delicate liners is the Milliard 17.5 Inch Nylon Pool Brush. The nylon bristles are tough enough to punch algae in the face, but soft enough not to damage above ground vinyl pool liners.
The brush handle is angled at a 45-degree handle so that you can angle yourself properly to hit stains with maximum power.
With a brush that is 17.5-inches wide, you are able to cover a lot of ground underwater without the burden of trying to wield an overly-large and heavy brush.
Like most pool brushes, the Milliard Nylon Pool Brush has rounded corners that help you target edges and corners, and the brush handle fits your typical pool pole. (Not included.)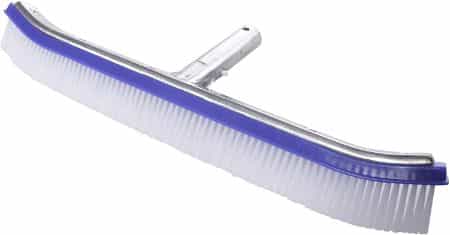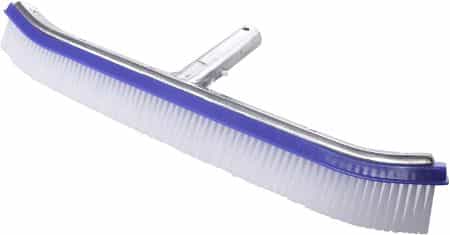 Milliard Heavy Duty Wire Pool Brush (5")
The Milliard Heavy Duty Wire Pool Brush is made for super hard-to-get stains, algae, and other growth on concrete and gunite swim pools. (This type of pool brush, with tough stainless steel bristles, will shred your soften above ground swim pools made of vinyl or even pool with painted concrete.)
Made from incredibly long-lasting aluminum and ABS plastic, the Milliard Stainless Steel Wire Pool Brush will stand up to the use of harsh chemicals and keep grinding away those pesky stains on the pavement in and around your backyard pool.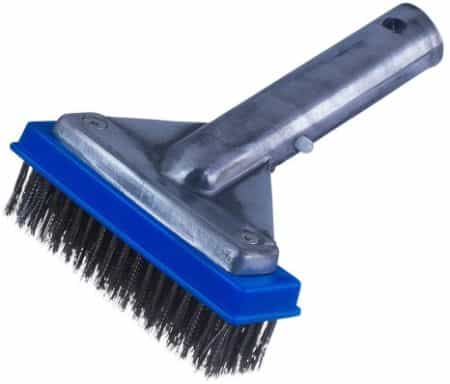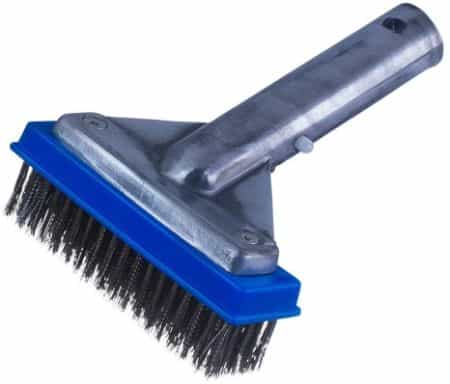 Milliard Heavy Duty Wire Pool Brush (10")
For larger pools and pool decks, Milliard makes a Stainless Steel Wire Brush that is ten inches in width, perfect for hitting those big stains. The aluminum handle is screwed on to the plastic blue brush and stainless steel bristles.
The handle is forged at a 45-degree angle to give you maximum torque when going to town on algae and dirt. Like the 5" model, this pool brush is not to be used on pools that have softer vinyl pool liners.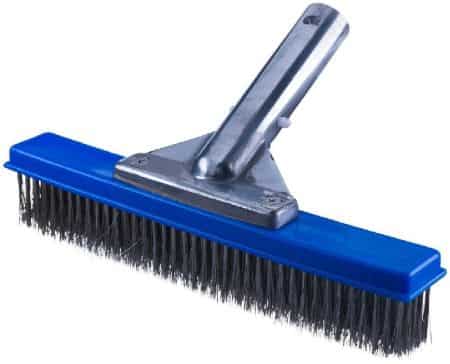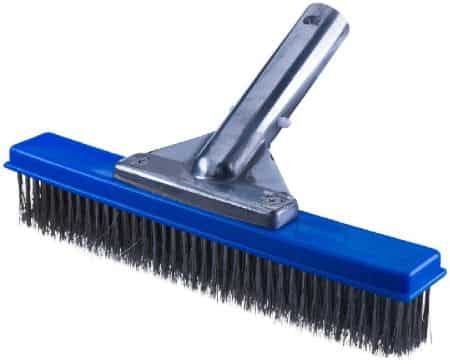 Oreq Animal Blended Bristle Pool Brush
While most pool brushes have bristles that are exclusively soft, synthetic materials or a rough, abrasive stainless steel, the Oreq Animal Plaster Pool Brush has a blended bristle that does the heavy lifting of a bristle brush without being overly abrasive.
At 22-inches wide, the Oreq Pool Brush is extremely wide (the widest on our little list, in fact), giving it top marks for the most coverage. The rounded corners on the brush make hitting rounded and sharp corners easier.