We looked at the top pool safety fences for your home to protect your children from drowning and found these six to be the best.
There's not much better than hanging out by the pool during the summertime. Long sunny days, friends and family, and games and fun splashing and sunning.
Having fun by the pool is fun, but safety is the most important issue you face as a pool owner.
Drowning is a leading killer of children in the United States, with the CDC noting that "more children ages 1-4 die from drowning than any other cause of death except birth defects." [1]
One of the ways you can reduce the likelihood of drowning (as well as unwanted animals and your pets from accessing the pool) is to install a fence around your pool.
Below is a detailed review of the best pool safety fences currently on the market.
Whether you have an inground swim pool or an above-ground pool, or you are in the market for a temporary fence or a more permanent solution, there is a pool safety fence for you.
Let's dive right in.
Life Saver Pool Fence with Self-Closing Gate
Water safety and protection is the number one priority with your backyard swimming pool. You want the peace of mind of knowing your little ones are safe when they're away from your side in and around water.
The Life Saver Pool Fence features 48-feet of steel mesh with a 4-foot height for pool protection that's easy to install and long enough to wrap around any residential swimming pool.
Included are four twelve-foot panels with a self-closing gate, deck sleeves, and built with industrial-strength black mesh. The self-closing gate is the most notable feature of this fence, making it stand apart from the others on this list.
Easy to customize to the shape of your pool, reviewers love how great it looks as well as the peace of mind that comes with having it protecting their little ones.
Key features:
Fence height: 4ft
Total length: 48ft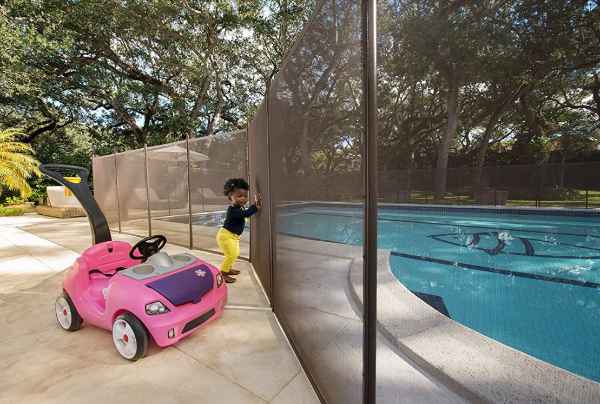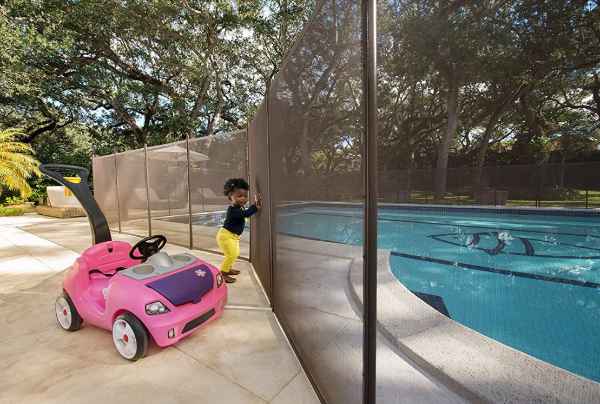 Giantex Safety Fence for Inground Swim Pool
Keep your in-ground pool safe and sound with the Giantex Splash Point In-Ground Pool Safety Fence. This safety fence, which features high-quality fabric and webbing for extra strength, is a great way to prevent small children from accidentally falling into an unguarded or improperly covered swimming pool.
Designed specifically for inground backyard pools, the fence is shipped with two different kinds of sleeves for hard and soft surfaces around your pool. The frame is made of durable aluminum, and the fence can be easily installed and removed as necessary.
Installation is straightforward, but you will need a specialized drill bit for harder surfaces like concrete.
Key features: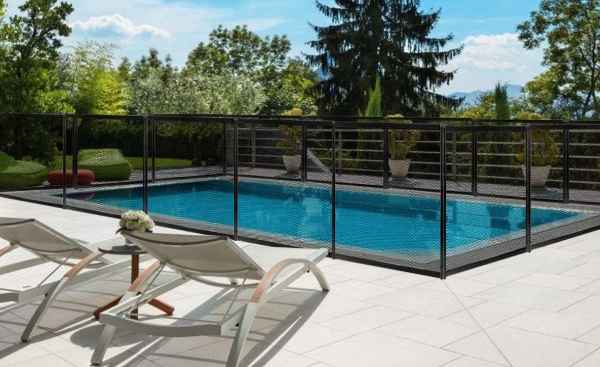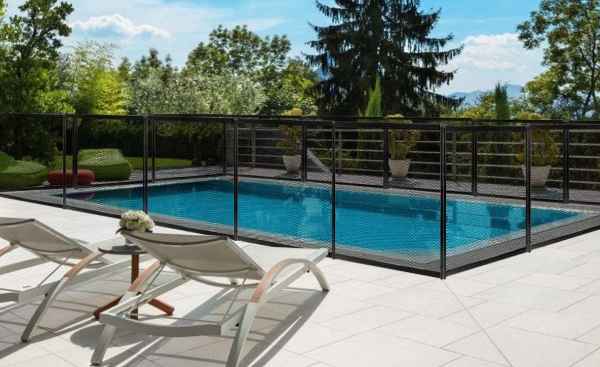 XtremePower Swimming Pool Fence
The name of this fence might be a little hyperbolic, but there is no arguing about the quality of construction and ease of installation with the XtremePower Swimming Pool Fence.
This fence isn't a metal mesh light most other fences but uses black mesh fabric to keep your children and pets from accidentally finding themselves in your swim pool. This makes the fence lighter and easier to take down between uses and season.
Each fence panel is four feet high (this is the recommended height for inground pool fences) and twelve feet long. Purchase the number of panels necessary to protect your pool (the panels can also be rolled up to create shorter panels for smaller pools, as well).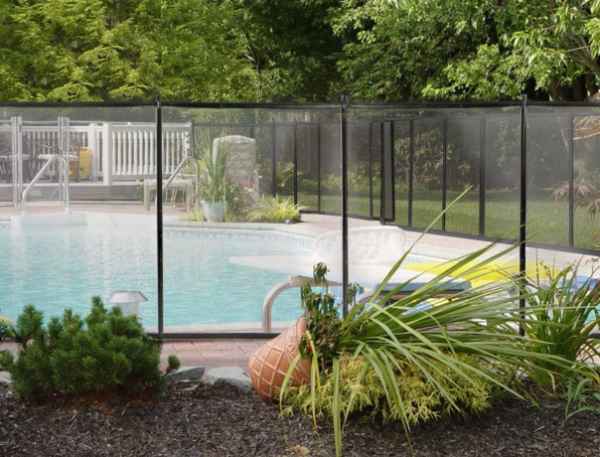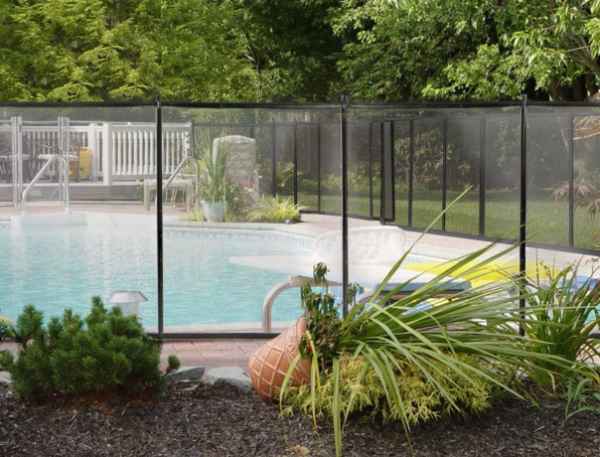 WaterWarden Pool Safety Fence
Water Warden is a popular maker of pool safety fences, and they produce several in different sizes, including this 5-ft by 12-ft fence that is ideal for larger pools or for pools that have odd shapes and require a longer fence perimeter.
Made with a strong interwoven steel mesh that is climb-resistant, you will have a strong barrier to accidental drownings. The fence is relatively easy to install, requiring 5/8 inch holes in your pool deck to erect the fence posts. The fence arrives pre-assembled, and WaterWarden offers an additional self-closing gate (sold separately), which is ideal for families who want to keep the fence up all summer long.
Key features:
Fence height: 4ft
Total length: 60ft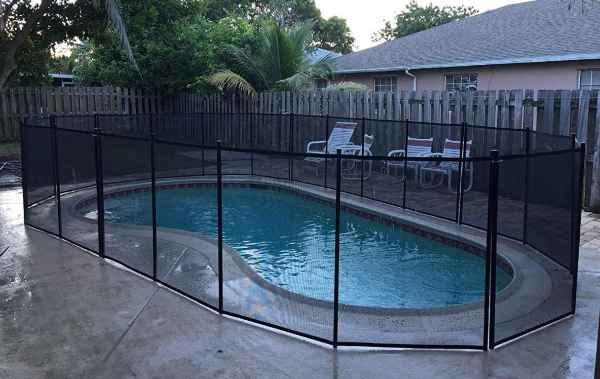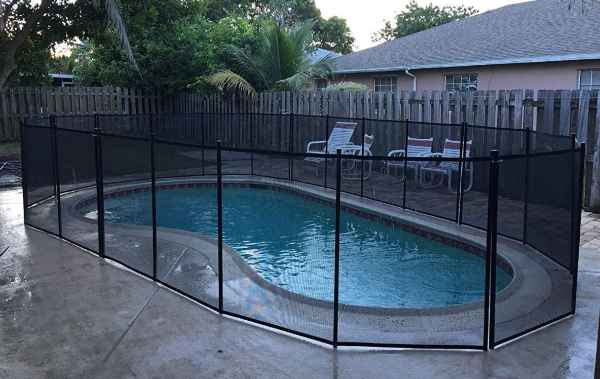 VinylWorks Above-Ground Swim Pool Fence Kit
For families who have an above-ground swimming pool and who want to prevent children and pets from hopping into the water, the VinylWork Above-Ground Swim Pool Fence Kit provides an attractive and easy-to-install fence.
Each 5ft section includes a sturdy bracket that can be adjusted to fit any Intex or above-ground pool. Decorative fence caps are included, and the pool fence is built with a heavy-duty UV-stabilized resin that holds up nicely under the hot summer sun.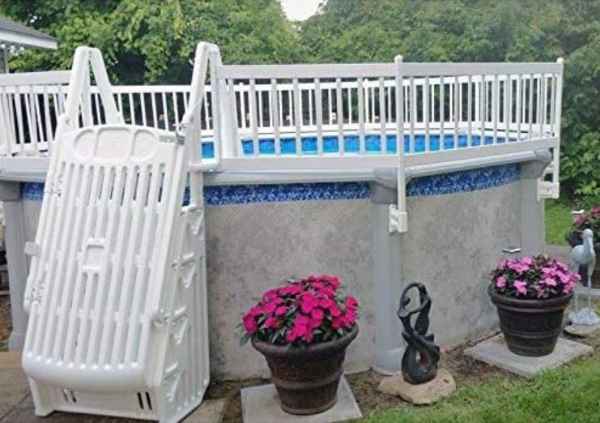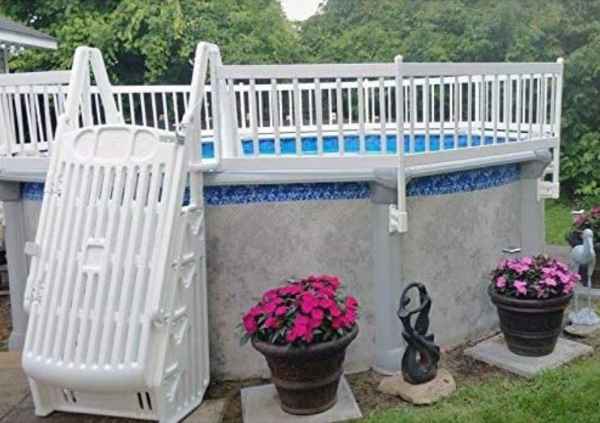 GLI Above Ground Swimming Pool Fence
Protect your children and improve your pool's safety with this solid pool fence. Another pool fence designed specifically for above-ground swimming pools, this one is made by the folks at GLI.
This simply designed, UV-protected pool fence comes in eight sections, with each panel measuring two feet in height and just over five feet in length. GLI includes all of the mounting hardware necessary to quickly get this protective fence around the side of your pool.
GLI also offers additional fence sections (sold separately) as necessary for larger backyard pools. The installation instructions for this pool fence are surprisingly clear (the instructions always seem to be the biggest source of frustration when it comes to the installation of pool fences).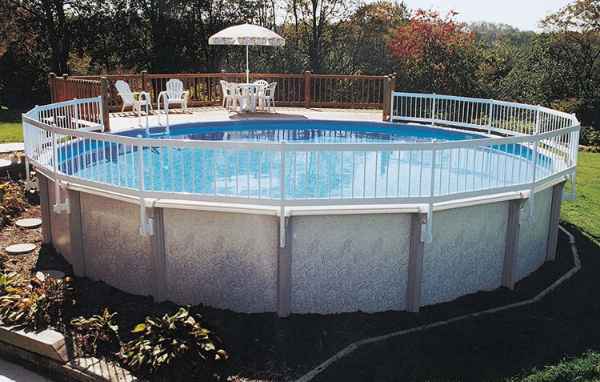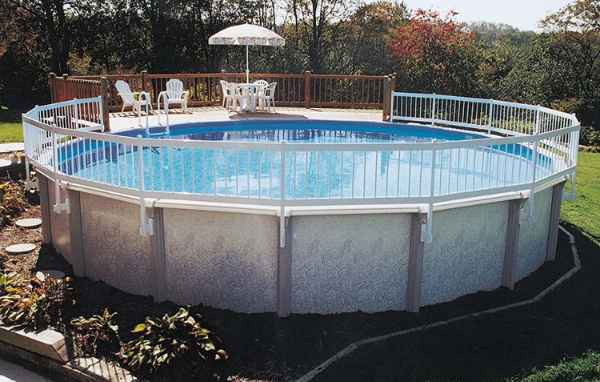 ---
Recommended Reading
7 Best Pool Alarms for Keeping Your Kids Water-Safe. Safety is the first priority with your backyard pool. Secure your pool and keep your kids safe with our hand-picked selection of the best swim pool alarms.
9 Best Swimming Aids for Toddlers and Kids. Looking to hit the water? Here is our curated list of the best swimming aids to take down with you to the local aquatic center for fun and safety.
5 Best Pool Ladders for Above Ground Swimming Pools. Curious about finding the right pool ladder for your above-ground swimming pool? Here's a breakdown of the best ones on the market, including key features, price, and more.