Catch some shade and enjoy your backyard pool for longer with our collection of the best pool umbrellas and accessories.
Pool umbrellas can spice up the aesthetics of your backyard swimming pool, but they are super functional in terms of extending the use you can get from your outdoor living space.
After all, nobody likes getting burnt to a crisp while enjoying the blue waters of their backyard swimming pool (for more sun protection, check out our guide to the best water-resistant sunscreens and sun blocks here).
Pool umbrellas can do a metric ton of stuff:
Protect you and yours from sun exposure. Wearing the right swim gear at the pool is crucial—whether it's wearing a swim vest, rash guard, or shades. Umbrellas double down your sun protection.
Extend your time by the water. Summer's hot! The shade from a pool umbrella gives you a respite from the heat where you can hopefully catch a little breeze and cool off.
They look great. Pool umbrellas are also a way to make your backyard swimming pool, whether it's an above ground swimming pool or an in-ground pool, better looking. Choose the colors, fabric and style that matches your outdoor oasis.
Pool umbrellas come in a variety of sizes, prices, and with different types of stands.
Below is a breakdown of the best of the best pool umbrellas for catching shade and getting more of your backyard and pool.
Muchengy Pool and Patio Umbrella
⭐ Best low-cost pool umbrella
Available in half a dozen different colors, from orange to dark grey, the Muchengy Pool Umbrellas are low-cost (the 7.5-foot umbrella costs just $36—check Amazon for current pricing), look great, and are easy to dial-up and down to generate lots of shade in moments.
The frame is made of durable alloy steel and is weather-resistant for those long hot summers (and windy wet falls and winters, too). A vent at the top of the umbrella generates a bit of airflow to keep you cool.
One thing to note, however, is that Muchengy does not ship these with a base, which you will have to shop for separately. (See my favorite pool umbrella weight bases below.)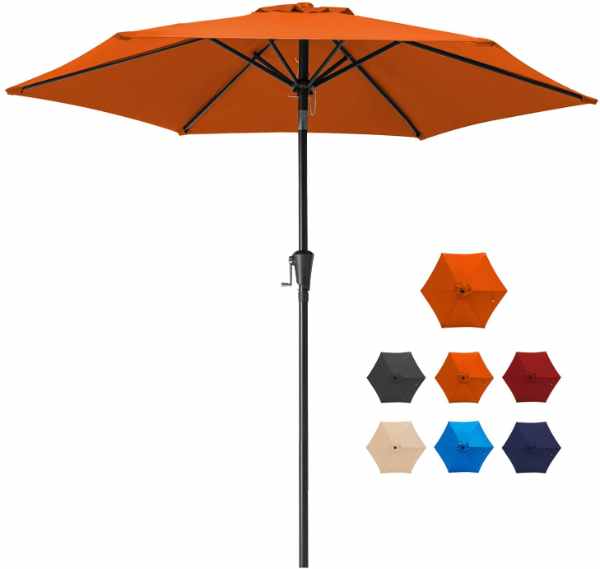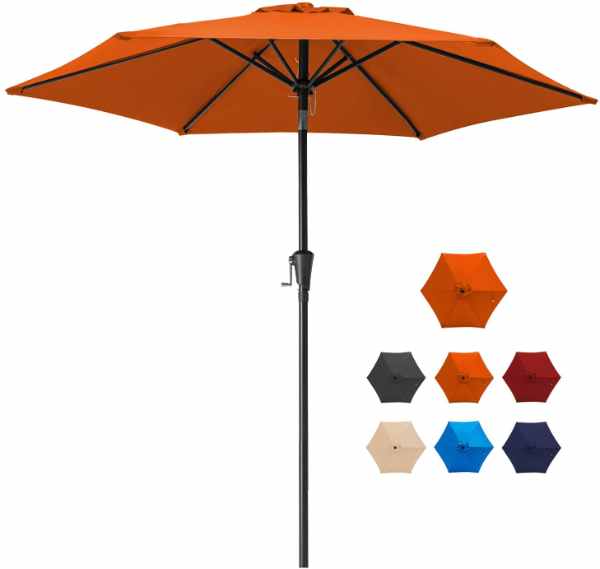 Jearey 15-foot Pool Umbrella
This bad boy is large—at fifteen feet wide it's the longest on our list of the best pool and patio umbrellas. Perfect for casting shade on a line of pool chairs, the Jearey Pool Umbrella will keep you comfortable and protected during those days when the rays are beating down and you need a hot minute.
The double-sided canopy has vents at the top to promote some air circulation, there are six different colors to choose from, and an integrated metal crank makes sliding the canopy up and down a breeze.
Price-wise, the Jearey is very competitive, with the added size not ringing up a big bill. Prices vary according to color and the third-party seller you purchase through on Amazon, but you're likely looking at a price tag of around $140 (check Amazon for current pricing and availability).
As with the Muchengy umbrellas, however, the stand for the umbrella is sold separately.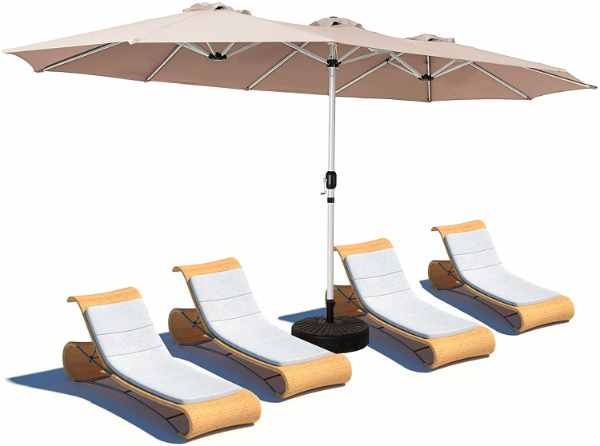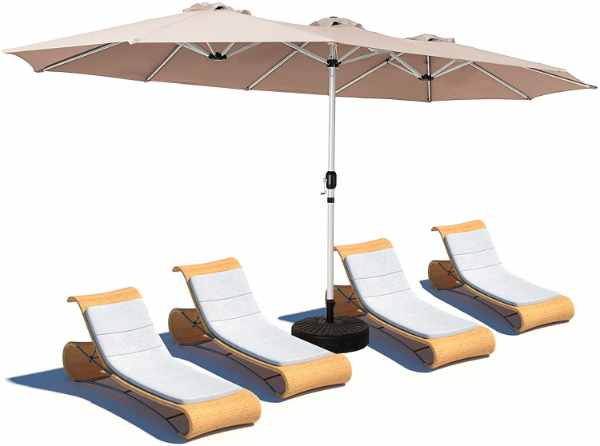 Purple Leaf Pool and Patio Umbrella
⭐ Best overall pool umbrella
Purple Leaf makes a wide range of patio and pool accessories, and their pool umbrellas are consistently loved by reviewers on Amazon.
People who purchase the Purple Leaf umbrellas rave about the quality construction, can be installed using a separately purchased weight base or into your patio concrete, and the umbrella can be moved around to provide shade as the sun dances around the sky.
The Purple Leaf umbrellas are available in a few different sizes, from 10 feet to 13 feet (in one foot increments) and come in a few different colors, giving you plenty of options for selecting an umbrella that lines up with the look you are going for with your backyard pool.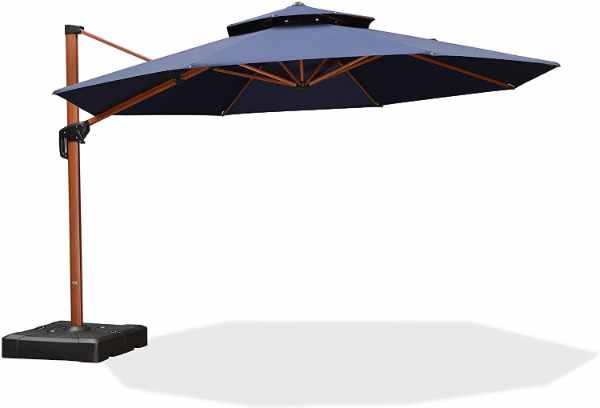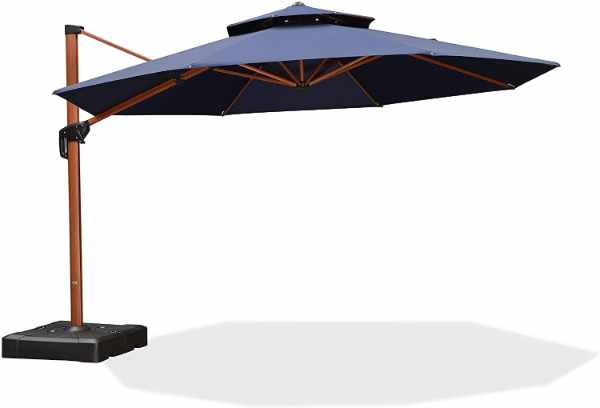 ---
Pool Umbrella Alternatives and Accessories
Pool umbrellas aren't the only game in town when it comes to creating an epic amount of shade in the backyard or pool area.
And if your umbrella doesn't come with everything you need to get going on day one, don't sweat it—below are all of the accessories you will need to get set up.
ShadeMart Outdoor Pool and Patio Canopy
⭐ Best pool canopy
While not a pool umbrella, a canopy can provide a lot of the same features and then some. A canopy can be installed to create shade on both the area around the pool as well as the water, giving you more options of places to beat the heat.
The ShadeMart Outdoor Pool Canopies are my favorite. Available in a huge range of sizes (seriously, there's like 50 different size options), from 10' x 10' x 10' to 32' x 32' x 32', and in an assortment of colors, ShadeSmart nails the canopy and nails it well.
Made of a permeable woven fabric that is breathable while blocking 95% of the sun's rays, the shade features sturdy D-rings that make putting the canopy up a cinch.
The best part about these kind of pool shades?
They are extremely low-cost, with each canopy costing as low as $19 (check Amazon for current pricing and availability).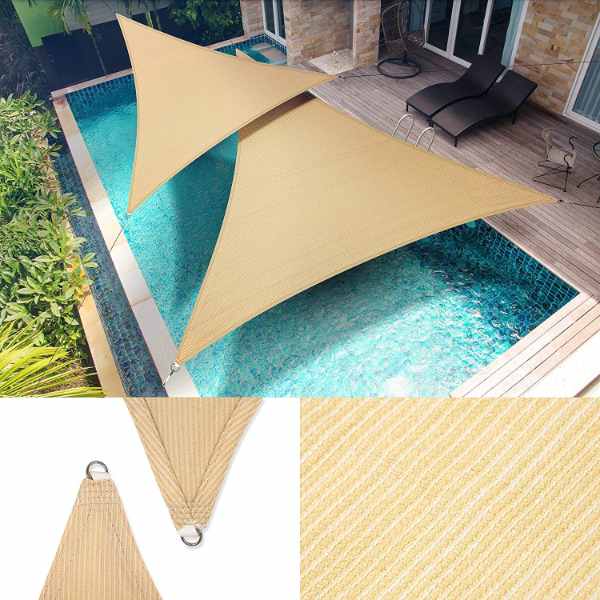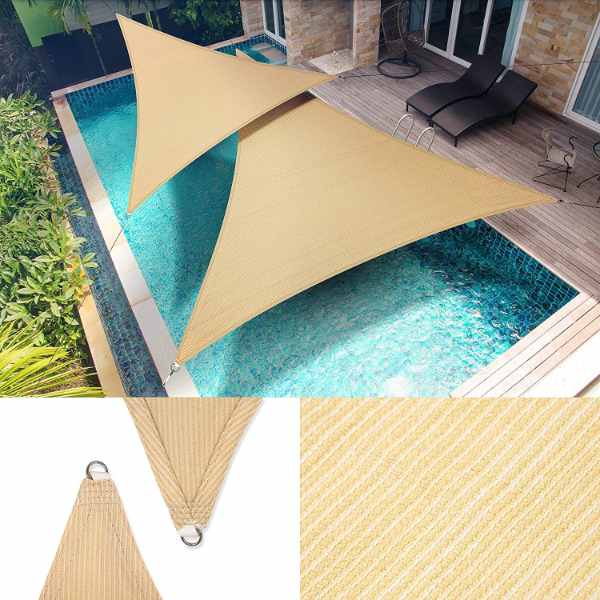 Intex Canopy for Rectangular Pools
Intex is probably the best known maker of backyard swimming pools, making everything from above ground pool heaters, winter pool covers, to above ground pool filters.
This canopy is an easy set-up and take-down designed for smaller backyard pools (nine feet in length and under) that are rectangular in shape like most inflatable backyard pools.
The canopy attaches easily with four clamps, immediately providing the same kind of coverage and shade you get from a pool umbrella.
Intex retails these for around $100 (check Amazon for current pricing and availability).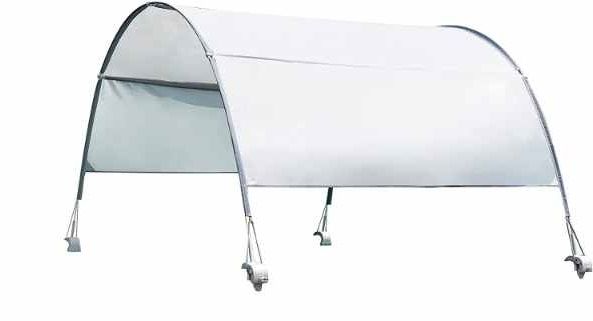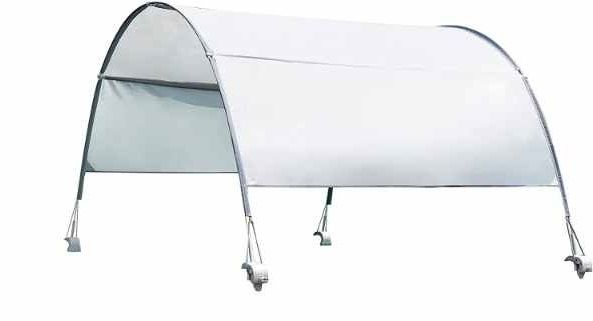 EliteShade Pool Umbrella Base
Okay, so you picked up a pool umbrella but need to pick up a heavy-duty base to keep it in place during those gusty days by the pool.
The EliteShade Pool Umbrella Base is made of steel and with 50lbs of weight will keep your umbrella locked in place. Easy to adjust, and available in two different colors (black and reddish-brown), the EliteShade is loved by reviewers with a nearly perfect five-star rating on Amazon.
Being a heavier item, shipping is a bit pricey, nearly doubling the cost of the pool umbrella base (it retails for $110 before shipping—check Amazon for current pricing and availability).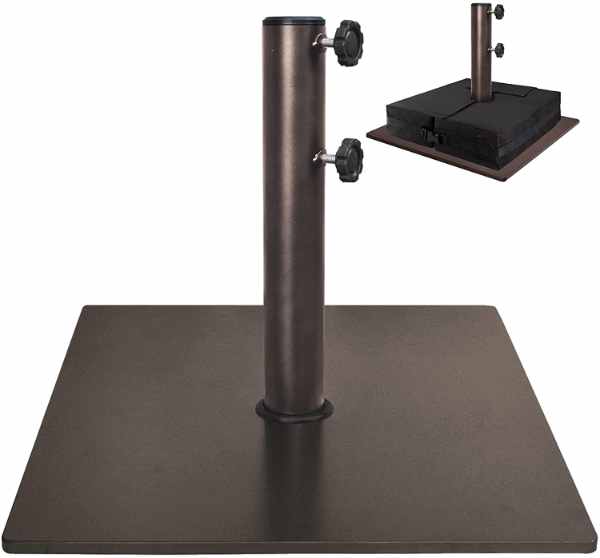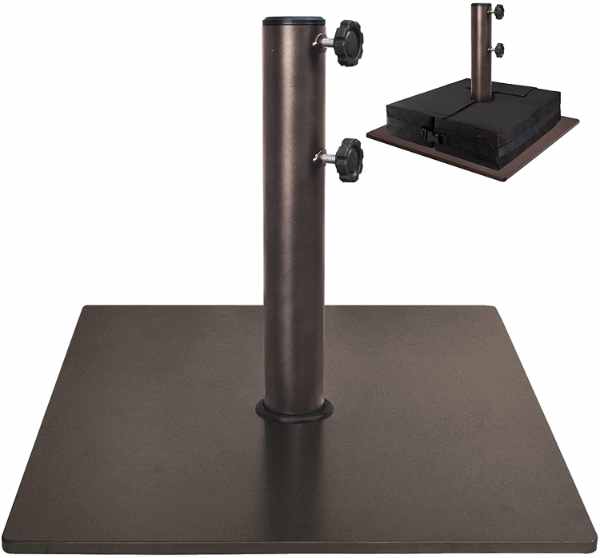 ---
Choosing the Right Pool Umbrella
Pool umbrellas come in as many shapes, sizes and prices as backyard pools. With all of the different options out there, you might start to feel a little overwhelmed.
Here are the key things to keep in mind when looking for the right pool umbrella for your aquatic paradise.
Size.
Pool umbrellas vary widely in shape, including height and the amount of shade that the umbrella provides. While some are ideal for covering a single person on their pool floatie, others can cast enough shade for a group of 4-6 people. The larger the area you want to create shade for, the larger the umbrella should be.
The measurement of the shade portion of an umbrella is measured from one edge to another. When an umbrella is listed as being 6-feet, for instance, this is the widest length of the shade.
Umbrella mechanism.
Umbrellas are only as useful as they can be opened. Pool umbrellas are opened in a variety of ways, but the three most common are crank, pulley, and manual. The pulley mechanism is the easiest one to open up, with just a rope being tugged in order to open it up.
Manual umbrellas require you getting your hand and arm up into the closed canopy to open. And the crank mechanism is just as you imagine—turn the crank and up the canopy goes.
Canopy fabric.
The material that makes up pool umbrellas are usually extremely durable and are used specifically for their ability to withstand relentless exposure to the elements.
The most popular types of canopy materials include canvas, polyester, acrylic and Sunbrella. The right canopy fabric is not only weather-resistant but is also adept at resisting stains.
Canopy color.
How you decide to outfit your backyard is ultimately up to you and the look and you are trying to achieve. Pool umbrellas come in a long list of colors and patterns.
Solid colors and neutral and light color tones have a more natural feel for the pool area. Umbrellas with splashy colors and patterns might look great, but unlike solid-color umbrellas, they will fade more quickly.
Clasps for closing.
Pool umbrellas can be a real fun-saver on days when the sun is coming down hot and heavy. The shade it provides gives us a respite and helps us enjoy the outdoors for longer.
But between sun-drenched days, and especially in moments when the weather gets ugly, being able to close and secure the pool umbrella is crucial. Not only to protect the umbrella, but also windows and furnishings in the vicinity.
Securing your outdoor umbrella is usually done with a Velcro strap that extends around the canopy and pole. Look for an umbrella that can be tightly closed between uses.
Base.
Pool umbrellas need to be parked in something sturdy in order to avoid toppling over or getting blown over during bouts of wind.
Bases vary in size and weight, with many of them being sand or water-filled. Pool umbrellas are sometimes shipped with one, sometimes not.
---
Finding the Best Pool Umbrella – FAQs
How do you clean a pool umbrella?
Your pool umbrella takes a lot of punishment in the course of keeping you shaded.
Not only are they being mercilessly stared at with the sun's death stare, but it's also getting blown around by the wind, water-logged from the rain, and absorbing a lot of the falling organic matter that would otherwise be hitting the ground (leaves, insects, etc).
In other words, they can get dirty.
Here's my favorite time-tested way to clean and condition my pool umbrella:
Remove the cover and lay it flat on the ground.
From there, mix up my favorite cocktail for a cleaner pool umbrella: 2 cups water, 2 cups white vinegar and a teaspoon or so of dish soap.
Grab a handheld brush and gently scrub the solution into the fabric.
Give it 10-20 minutes to do it's thing, give it a rinse, and repeat as necessary.
Some stains, like sunscreen and other oils, can take a few applications.
How can I make my pool umbrella last?
You can significantly increase the life of your pool umbrella with a few simple tips:
Wrap it up when not in use. Pool and patio umbrellas always come with a belt or fastening strap to securely close it. Use it. This will help protect the lever system from getting yoked around and damaged in the wind.
Store during the off-season. Sadly, summer doesn't last forever. When you winterize your pool, wrap up the pool umbrella and store it somewhere dry for the cooler months. Even if you plan on not using the pool for a week or two, consider removing it from the base and tucking it out of the way.
Apply a waterproofing spray. A waterproofing spray is an excellent way to apply a protective layer to the fabric of your umbrella. Look for a silicone-based spray—this Scotchgard Heavy Duty Water Shield Protector is only $10 at Amazon—that is designed for outdoor fabrics.
What is the best color for a pool umbrella?
Choosing a color choice is subjective. At the end of the day, it comes down to the look you are going for in your yard, how much shade you want, and how much of the sun's rays you want to block.
For the most part, pool umbrellas are offered in light and neutral colors. Beige, terra cotta and all of the grays are the most popular ones.
A darker pool umbrella will block the most amount of the sun's UV rays, but it will absorb them, radiating heat off of them like asphalt that has been getting baked by the sun all day.
Darker umbrella colors, like dark blue, deep red and black are better suited for regions where it's sunny but not super hot.