Snorkel fins are a great way to level up your time in the water. Here is our hand-picked selection of the best fins for snorkeling.
Unlike the type of swim training fins you are more likely to see on pool decks, snorkeling fins have a mid to long blade, adjustable heels, and are made of a sturdy rubber on the blade.
The blades on snorkeling fins make them ideal for splashing around closer to the surface without fatiguing the legs, allowing you to spend more time engaging in your aquatic adventures.
Snorkeling fins help you make the most of your time in the water. Not only do they help you to move faster and more swiftly through the water, they are important in terms of safety, helping you swim away from potential safety hazards, including crashing rocks, currents, and more.
Some things to think about when picking out a pair of snorkeling fins:
Short blade vs Long blade. Long blades provide more surface area and propulsion but tend to fatigue the legs more quickly. Short blades are obviously easier to stow and travel with.
Closed heel vs open heel. With open-heeled fins, size up so that you can pair the fins with foot booties to prevent blistering.
Split blade. Some snorkeling fins come with a split blade, designed to produce less stress and fatigue on your legs.
Here is a breakdown of our hand-picked selection of our favorite fins for snorkeling.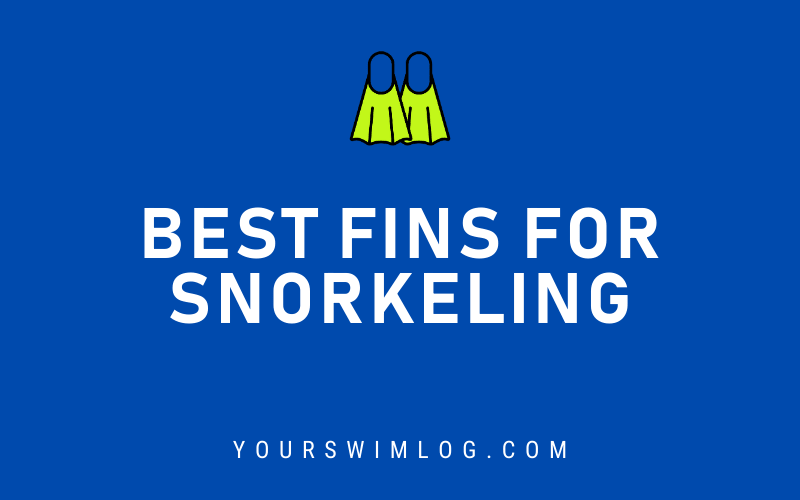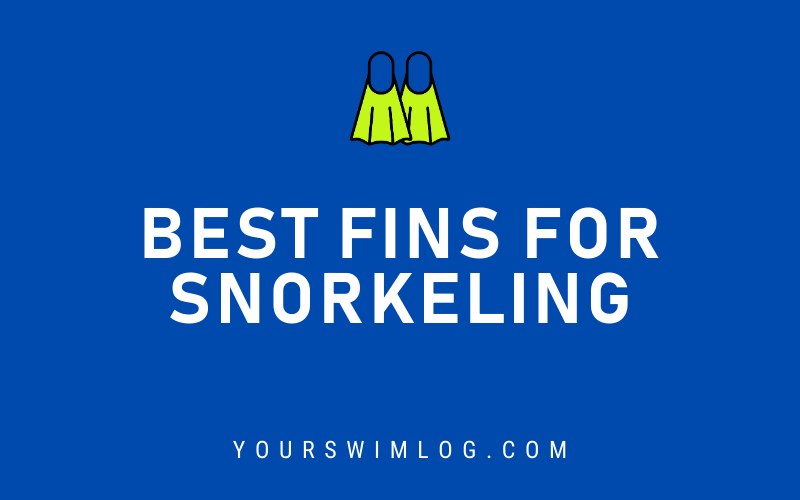 CAPAS Snorkel Fins
The CAPAS Snorkel Fins are comfortable, durable, and adjustable. Available in four different colors and three different sizes for kids and adults, they feature a mid-length blade and soft and adjustable heel strap that are easy to tighten on the fly.
A non-skid rubberized bottom gives your feet grip on the pool or boat deck.  They provide a fair amount of flex, which means your feet won't get blistered up like crazy during extended periods of use. Small, light, compact, and easy to travel with, the CAPAS Snorkel Fins are an excellent and highly-rated pair of fins for your adventures in the water.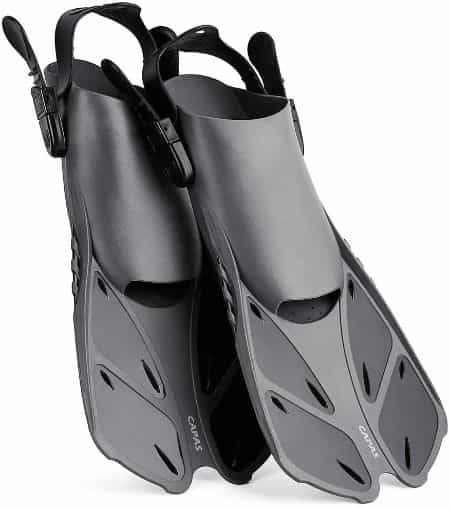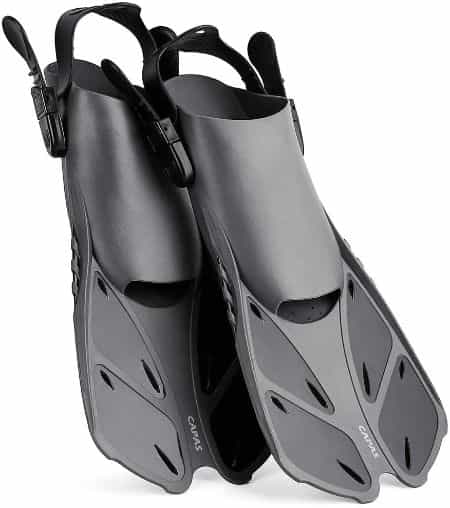 FINIS Long Floating Fins for Snorkeling
FINIS is a well-known maker of gear for competitive and lap swimmers. Their long floating fins are perfect for recreational snorkeling as well.
Available in ten different color combinations, and coming in a wide variety of size ranges, from XS (male size 1-3) to XXXL (male size 13-14), the FINIS Long Floating Fins are excellent dual-purpose fins that you can use in the pool and out in open water.
The rubber is soft and sits snugly on your heel and the top of your foot. The blade itself is very flexible, yet still providing enough stiffness for added propulsion. The result is a kicking motion that mimics the natural arc of your foot.
With a closed heel, the FINIS Long Fins for Snorkeling and Swimming are buoyant, which gives your hips and feet a better body position when snorkeling, and will float when you take them off, handy in the event that you drop them in the water.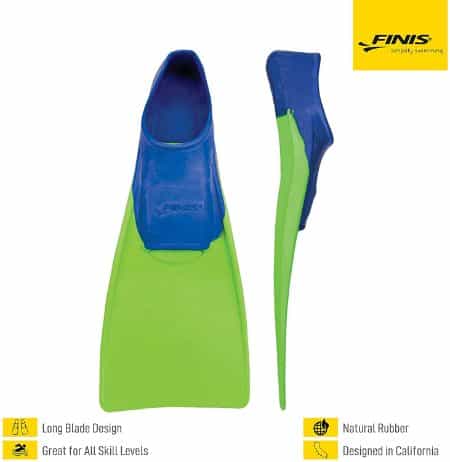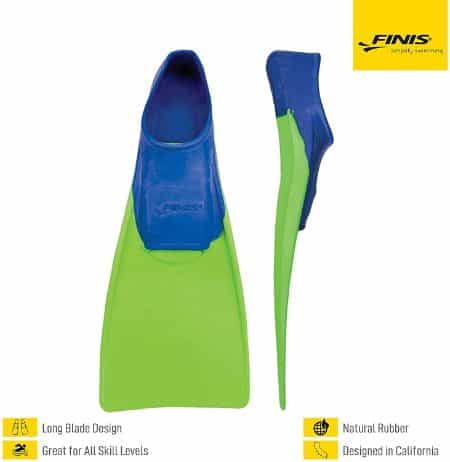 ---
Cressi Full Foot Snorkeling Fins
The Cressi Full Foot Snorkeling Fin is a long-blade fin. The pocket of the foot is interwoven with the blade to make the kicking motion feel more natural and place less stress on the top of the foot.
The blade itself is longer than most fins, making it ideal for getting that extra bit of propulsion while you are out exploring in the water. Made of soft polypropylene, the blade is surprisingly soft.
Available in four different colors, and a large variety of sizes for adults, the Cressi Full Foot Snorkeling Fins, with their open toes and closed heel are easy to slide into, making them ideal for snorkeling, long-distance swimming, and free diving.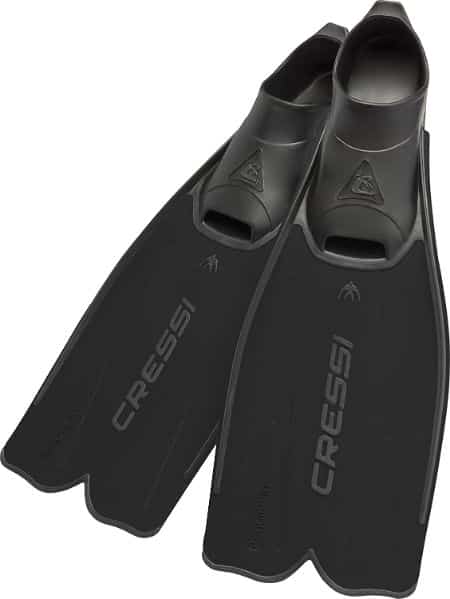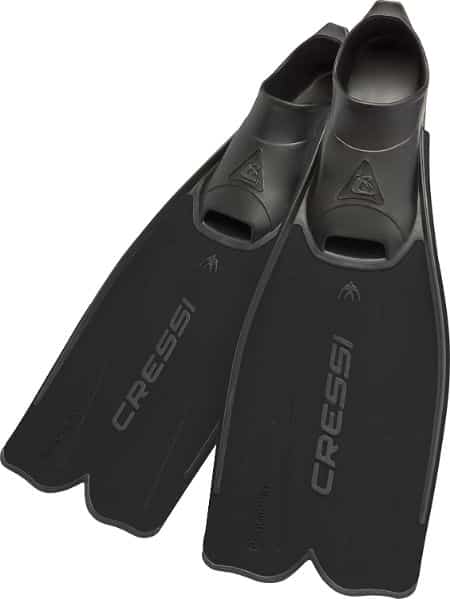 ---
BPS Short-Blade Fins for Snorkeling
I have always been a big fan of short-bladed fins, because they allow you to kick at a faster tempo compared to the big and long bladed-fins. The BPS Short-Blade Fins are another excellent choice when it comes to this type of snorkeling fin. An open-heel and strap and buckle system mean you can secure the fins properly and snugly.
An anti-slip sole gives you all the stability you need on dry land. Made of durable polypropylene and thermoplastic rubber, the BPS Short-Blade Fins are comfortable, long-lasting, and will have you swimming around like a champion.
They come in a dozen different colors, ship with a mesh bag, and are backed by a 12-month guarantee.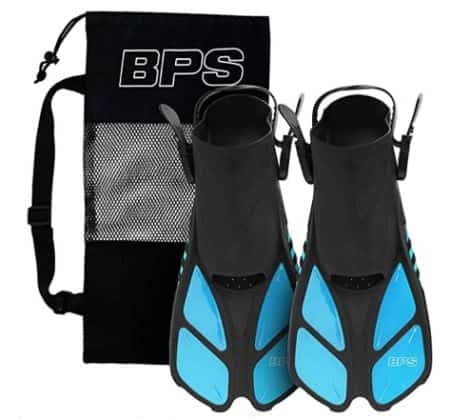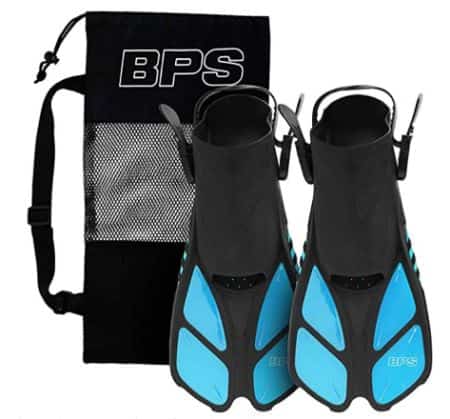 Atomic Aquatics Split Fin for Snorkeling
The first thing you will notice about the Atomic Aquatics Snorkeling Fins is the split long blade. A split fin produces less strain and fatigue, allowing snorkelers to spend more time getting their snorkel on and less time stopping to catch their breath.
The foot pocket on the closed heel of the Atomic Aquatics fins is very comfortable, wrapping softly and securely around your feet. The blade itself is long, but the split design produces are a surprising amount of flex.
For snorkelers and swimmers who find that their legs are constantly getting fatigued, or are consistently experiencing muscle cramps in their legs, the Atomic Aquatics Split Fins are a great way to experience the benefits of long blade fins without the exhaustion.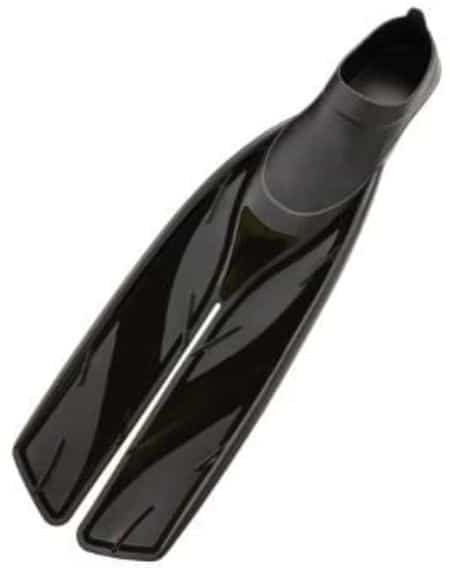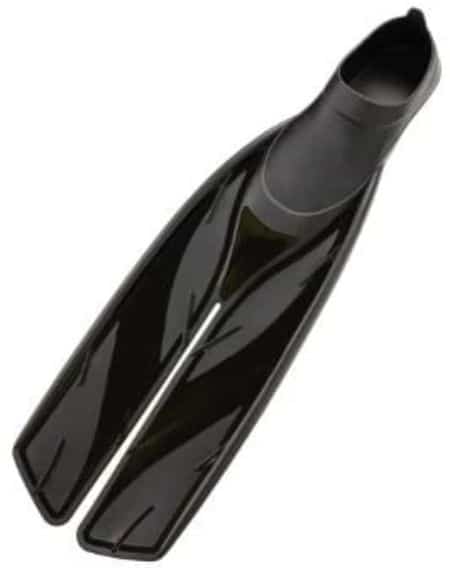 Aqua Lung Stratos Snorkel Fins
Aqua Lung makes some quality kit for those into aquatic sports and activities, including one of our favorite snorkel masks. Their closed-foot long blade fins, the Stratos, is an awesome set of snorkeling fins for both the beginner and experienced snorkeler.
These fins feature sturdy side wings that help you feel more stable in the water. A soft, reinforced foot pocket secures your foot, and a four-channel series of canals on the surface of the fins improve hydrodynamics versus traditional fins
Of course, safety is paramount, and this is why the bottom of the Aqua Lung Stratos fins have rubberized grips for enhanced stability on boat and pool decks. The Stratos comes in four bright colors and a variety of sizes for adults and juniors.