Handling your solar pool cover can be a real pain. Spend less time wrestling with your solar pool cover and more time enjoying the water with our top picks for the best solar cover reels for every kind of pool.
Solar pool covers are an excellent investment in your inground or above ground swimming pool.
For a simple piece of fabric, they provide a lot of value in terms of regulating the temperature of the water (saving you lots of $$$ on heating the pool).
That said, they can be a hassle to pull out of the water and store.
Solar covers for your pool, although they are basically tarps, are not immune to being torn and degrading when tossed and folded around. Rips, frays, fold marks from being balled up like a snowball—they all add up to a damaged cover that doesn't do its job effectively.
Enter the solar cover reel.
Pool solar cover reels help keep your pool area organized, protect your pool cover, and make it easier to position and store the cover.
Below is a breakdown of the best solar cover reels on the market, including key features (like price).
Read on, find the right solar cover reel for your pool, and spend more time in the water enjoying your pool than fighting with your solar cover.
Let's do this!
VINGLI Pool Cover Reel Set
⭐ Best solar pool reel for inground pools
It's not often you find that people go ga-ga over something as simple and as functional as a solar cover reel, but that's typical of pool owners who choose a VINGLI Pool Cover Reel Set.
With over five hundred five-star reviews on Amazon (click here to read them and see current pricing), the VINGLI reel sets feature a one-hand wheel crank, full solid tires, handles to make positioning the reel easier, and anti-slip legs so that you can crank the pool cover quickly and orderly.
VINGLI offers these in two different pool sizes, including 14- and 21-foot models (the 21-foot model is pictured below). The thick tires on the reel mean you can also quickly store and move the reel as necessary.
They can fit different-sized pools as well, including bean-shaped, rectangular, Oyster shaped pools, and more. The cover simply has to be cut to fit the orientation of the pool and the straps on the VINGLI reel are long enough to take care of the rest.
Well-priced, well-reviewed, and adaptable to just about any kind of inground pool shape there is, the VINGLI is our top pick for best solar pool cover reel.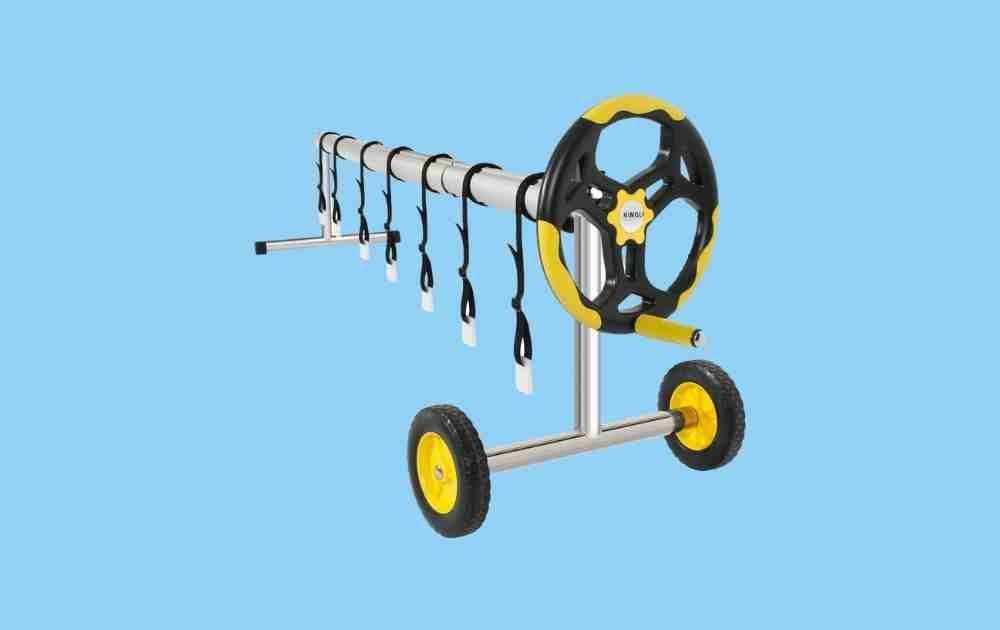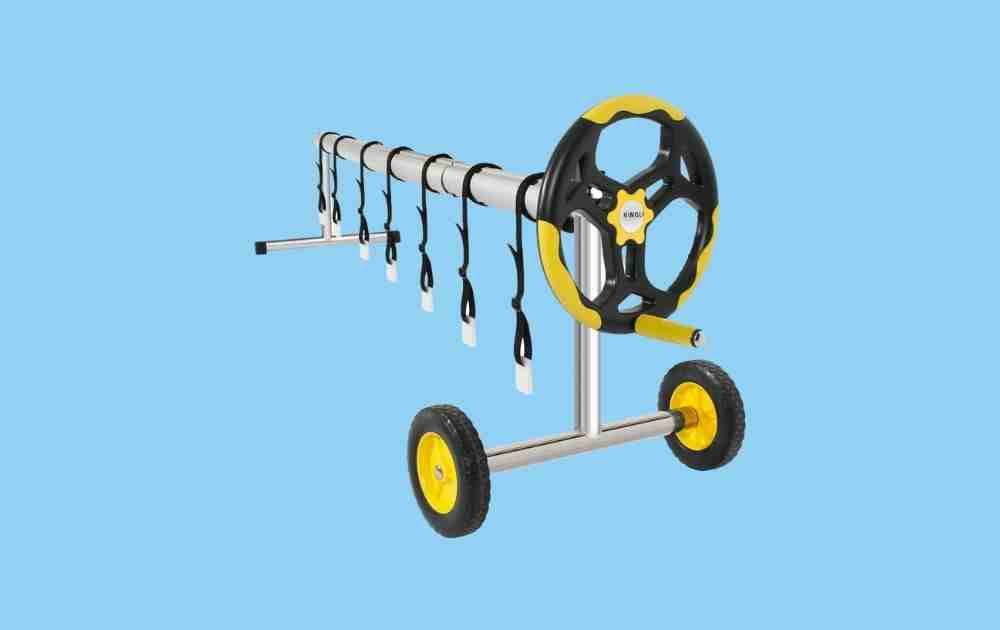 HydroTools Above Ground Pool Solar Blanket Reel
Designed specifically for above-ground swimming pools, the HydroTools reel is paired with Swimline poles (sold separately, unfortunately) that you use to create a custom-width reel set for your solar pool cover.
This reel is meant to be installed next to your pool with the attached base and crank wheel. Straps and hooks are included to hook up to your pool cover.
Although it doesn't have the same versatility as the VINGLI reel—most notably the portability—this reel is very budget-friendly, costing under $50 (check Amazon for current pricing and availability).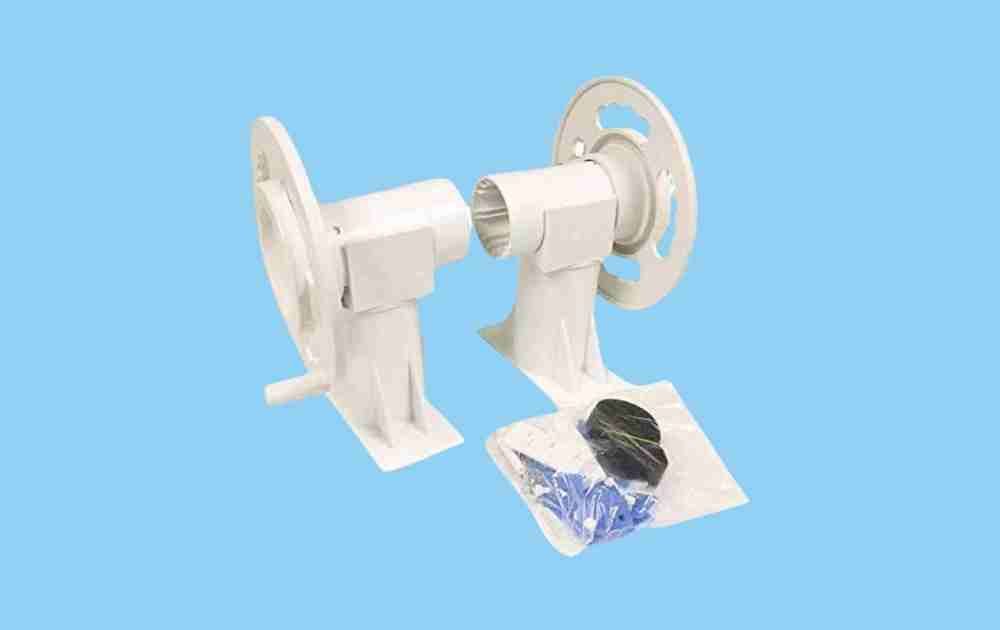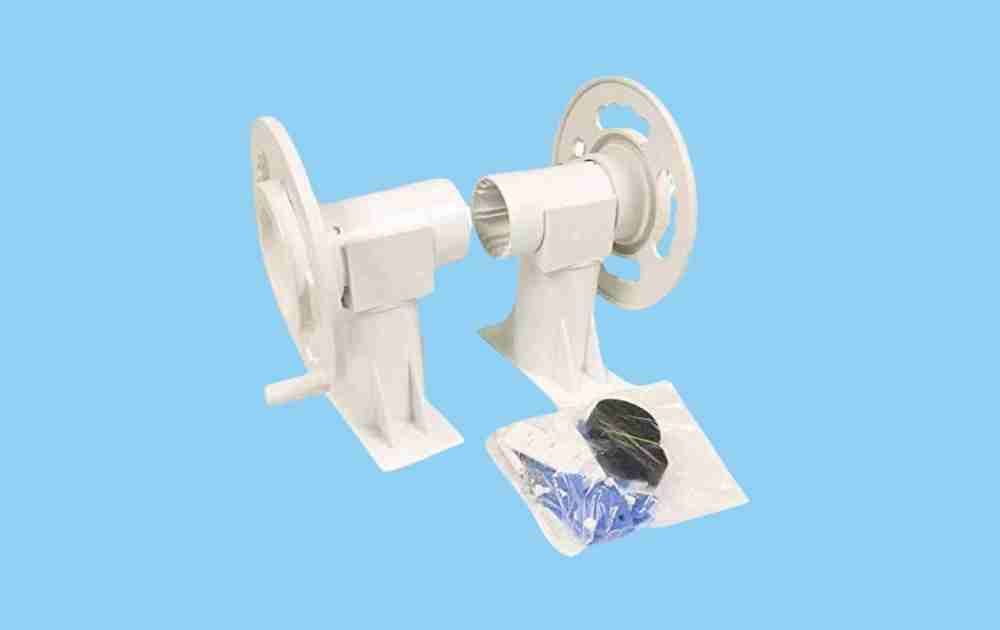 Intex Solar Cover Reel
⭐ Best solar cover reel for Intex swim pools
Intex is one of the leading names when it comes to backyard swimming pools.
They make everything for endless water-based fun, including inflatable swim pools and pool floats for adults, as well as cleaning and maintenance tools, like pool filters and pool vacuums.
The Intex Solar Cover Reel is a perfect example of a brand that knows its stuff—the reel is a breeze to install, with two clamps that are attached to one end fo of your pool. A small hand crack makes retracting the cover simple and fast.
The clamp system means it is only handy for rectangular above-ground swim pools (it's attached to the side of the pool), but is great for pools between 9' and 16' in width.
When you combine Intex's legacy in the pool biz, a tool-less installation, and a heavy-duty aluminum shaft that won't corrode or buckle, the Intex Solar Cover Reel is a no-brainer for Intex (and rectangular) pool owners.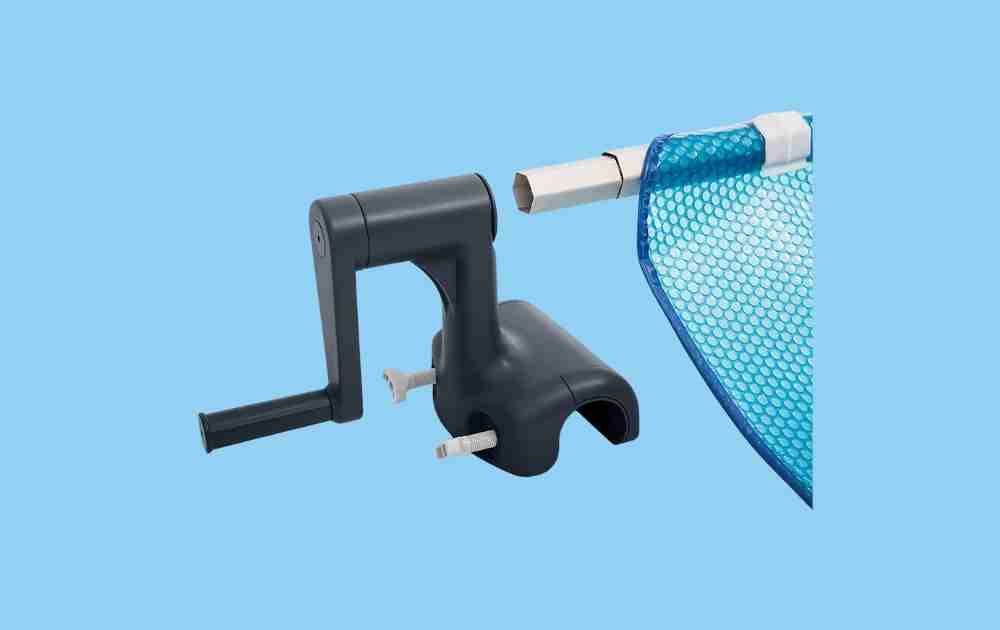 NSdirect Pool Cover Reel
⭐ Best for larger inground swim pools
Another inground reel comes our way from the folks at NSdirect, with a reel that is heavy-duty and perfect for inground swim pools up to 22.5 feet wide.
The diameter of the shaft on the reel is a solid 3", which won't buckle or bend under the weight of your soggy pool cover. Treaded, non-slip wheels help you keep the reel steady and also mean you can store the cover away from the pool when it's in use.
These kinds of heavy-duty reels are priced reasonably, ranging in cost from $159-179 depending on the color you choose (check Amazon for current pricing and availability), and are easy to assemble out of the box.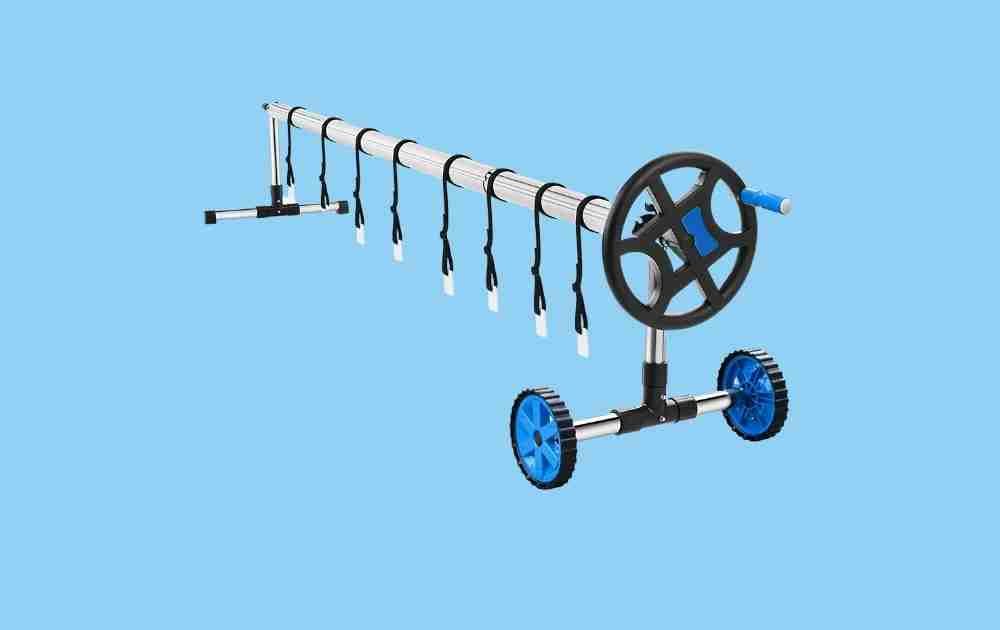 ---
How to Choose the Right Solar Cover Reel
When trying to figure out what kind of reel to get for your swimming pool, there are a few key things that you should keep an eye on.
Here are the main decision-makers with solar cover reels.
⭐ Tube construction.
The primary materials used to build the tubes that hold the covers on reels are usually aluminum or stainless steel.
Both materials are really tough and will stand up nicely to the elements, whether we are talking about lots of rain, UV rays, or even the pool chemicals like chlorine and bromine that will inevitably coat the reel.
While both are exceptionally sturdy, for heavier pool covers and bigger pools, stainless steel might be a better option.
⭐ Portability.
Reels come either on wheels or mounted to your pool deck.
Having a reel with wheels has some pretty obvious benefits, including being able to angle it to make pulling the cover out easier. The reel can also be tucked off the pool deck when not in use.
Mounted reels have more stability, but as you can imagine, there isn't the portability of a reel on wheels.
⭐ Reels on wheels.
Speaking of wheels, if you decide to go for a reel that has a base with wheels, it's worth considering whether you want wheels that are built with plastic or a rubber wheel.
Plastic wheels are tough, but like any kind of plastic, with enough time they will start to chip and crack. They are also more prone to sliding across wet pool decks.
Rubber wheels are more expensive, but they give you that tread that sticks to the pool deck that keeps the reel stable. And because they are more durable, you can avoid the headache of having to replace the wheels sooner than later.
⭐ Blanket depth.
Cover reels, unlike the big, wagon-wheel reels that are used for lane lines, are not very high off the ground. The reason for this is simple—it's not usually necessary to have a solar reel that is five feet off the ground.
The only reason I bring this up is that some solar pool covers are quite thick (this thickness is typically measured in mil, with solar covers ranging in thickness from 8 to 16 mil) and can quickly fill the reel.
Double-check with your reel of choice that it is compatible with the thickness of your cover.
⭐ Straps.
Finally, the last thing to key in on is the strap hook-up that connects the reel to the cover itself.
There are two types of connectors:
Hook and loop straps work with a Velcro strap that tightens the cover around the reel. These are ideal for lighter and smaller solar covers.
Embedded straps are a much more secure option, perfectly suited for larger and heavier covers, and connect the cover to the reel via drilled and embedded straps.
Do I need a solar cover reel?
Solar cover reels increase the safety of your pool, reduce damage to the cover itself, and also protect your pool from unwanted debris from getting into the water.
Look, there is always the option of hand-pulling a solar cover on and off your swimming pool.
Elbow grease is free, after all.
But removing the cover yourself and leaving it in a jumbled mess can create a series of problems.
For starters, the cover is more likely to get damaged, whether that means getting blown around, caught on something sharp near the pool and tearing, or getting blown into the blades of a hungry lawnmower.
(Okay, that last one is unlikely. Probably.)
Secondly, folding up a solar cover and leaving it on the pool deck creates a safety hazard for you and your pool guests, blocking access to and from the pool.
Lastly, the cover will get dirty when left unattended, whether you are putting it on the grass next to your pool or on the deck.
When you pull the cover back on, you are bringing a host of new unwanted guests into the pool along with it.
The guest list includes pebbles, dirt, grass, and so on, adding more work to your pool filter.
Reels keep your pool deck organized, protect the cover, and even keep pool water clean.
Are there any alternatives to solar cover reels?
For smaller above-ground pools, there are other options out there that don't require you to mount a reel on the pool deck or purchase a mobile reel.
Probably the best is solar hooks.
These are exactly as they sound—several PVC hooks that are mounted on the exterior edge of the swimming pool.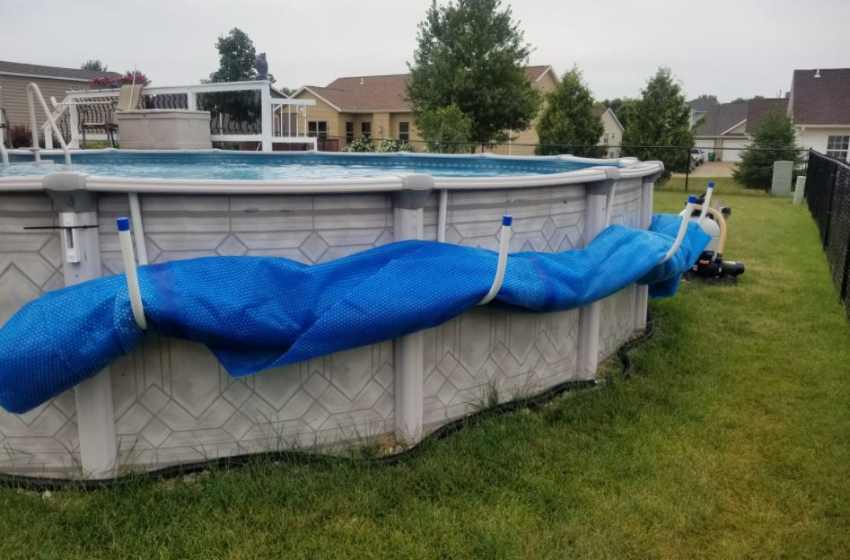 Pull the cover off, drop them into the hooks, and this way the cover can be stored and out of the way.
Keeping the cover off the ground reduces the amount of dirt and grass get on the pool (which means cleaner pool water) and using solar hooks takes just a few minutes to retract the cover.
The folks over at In the Swim make a quality set that includes five hooks and mounting hardware.
Do solar cover reels work for every kind of pool?
Solar cover reels are specialty tools. By that I mean they have to be compatible with the size of your solar cover and the shape and size of your swimming pool.
Reels are built with a specific type of pool in mind, whether that means we are talking about above-ground or inground pools.
Some solar cover reels are adjustable, however, giving flexibility for swim pools that aren't rectangular.
Where do I put my solar cover reel?
This primarily depends on what kind of swimming pool you have.
If you have an above-ground pool, placing a reel next to it can often be more trouble than it's worth. (Of course, if your pool deck is flush with the water line, you are good to go.)
That said, there are some pretty sneaky ways to mount a reel cover next to an above ground pool that has no surrounding structure.
Where you put your cover reel ultimately depends on the size and shape of your pool, the type of mounting you prefer, and the deck and structures surrounding the pool.
---
Recommended Reading
Below is a curated list of recommended resources for pool and spa owners, covering more of your pool cover and pool heating needs.
6 Best Solar Swimming Pool Covers. A solar pool cover saves energy, keeps your pool clean, and regulates the temperature of the water. Here is a breakdown of our favorite solar swim pool covers.
5 Best Pool Ladders for Above Ground Swimming Pools. Looking for the right pool ladder for your above-ground swimming pool? Here's a breakdown of the best ones on the market, including key features, price, and more.
5 Best Heaters for Above Ground Swimming Pools. Want to get more time and use from your backyard pool? Here are our hand-picked selections of the best heaters for above-ground swimming pools.
5 Best Above Ground Swim Pool Liners. Ready to fix and replace the pool liner in your above-ground swimming pool? Here is a collection of cost-effective and durable pool liners for maximizing the life of your pool.
6 Best Winter Pool Covers. Whether you have an in-ground pool or an above-ground pool, here is our selection of the best winter pool covers.