Ready to take your little one to the pool or beach? Here is a breakdown of what you need to know about picking out the perfect reusable or disposable swim diaper.
Getting toddlers and newborns into the water at an early age is a great way to get them comfortable and confident with the water.
The benefits of getting kids swimming at an early age have also been shown to produce significant improvements in motor skills.
One wide-ranging study of 7,000 kids under the age of five found that kids who started baby swim lessons had as much as a two-year advantage when it came to motor skills compared to non-swimmers.
Getting toddlers in the pool (or to the beach) means also being mindful of the messes that they can leave behind. No parent wants to be the one that gets the pool closed for "maintenance" when their kiddo takes a doo-doo in the water while they are playing around with their friends and favorite swimming aids.
This makes one of the essentials for baby swim gear for your little guy or gal a waterproof diaper.
Choosing the Best Swim Diaper for Your Little Swimmer
Swim diapers can be worn as a bathing suit or can be worn under a baby's swimsuit. Swimming diapers for newborns come in reusable and disposable suits and all have generally the same construction.
Elastic linings around the waist and top of the thighs to prevent leakage and keep the swim diaper in place. While the outside of the swim diaper is made of a durable polyester or cloth, the inside is softer mesh or cloth that is comfortable against the skin of your toddler while also soaking up any messes he or she makes while in the water.
Although swim diapers do a generally good job of, well, containing things, for maximum confidence in the water I'd recommend using one of the recommended swim diapers below with a regularly-lined swimsuit.
Pull down swim diapers vs. Snaps on the side.
In the same way that your dry-land diapers have snaps on the side to make changing baby mess easier, check to see if the swim diaper can be detached from the side.
While fit and protection from messes in the pool won't change, being able to open up a sopping diaper full of #2 from the sides, instead of pulling it down and leaving a horrific mess, is a clear advantage.
Disposable vs. Reusable
Reusable swim diapers are cheaper over the long term, are usually made of polyester, and come in both pull-down and with snaps or Velcro. Using a reusable diaper means packing along a wet sack for post-swim transportation back home for cleaning. Most pools are (understandably) strict about reusable swim diapers not being cleaned in the sinks at the facility.
This is the obvious advantage that disposable swim diapers, such as Pampers Splashers, which can be worn under a regular swimsuit and be thrown out after each use. For the very casual little swimmer, this makes for a quick and easy solution.
Will they hold in pee?
Generally, no. Swim diapers are made of material that allows some passage of water, which means that pee will seep out of the diaper while in the water.
Okay, with the basics behind us, let's get into a breakdown of the best swim diapers for your newborn or toddler.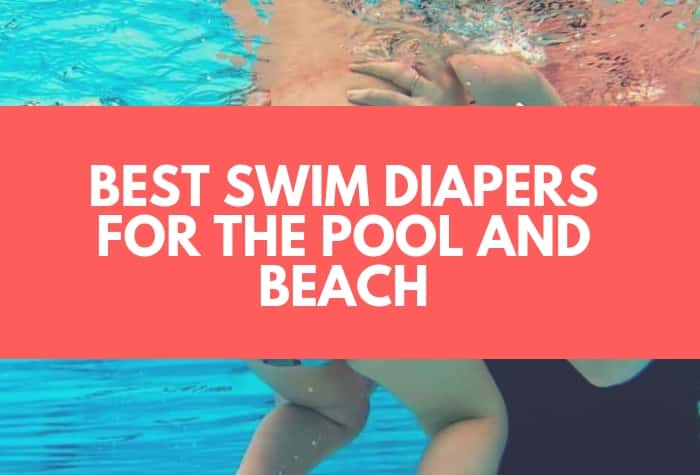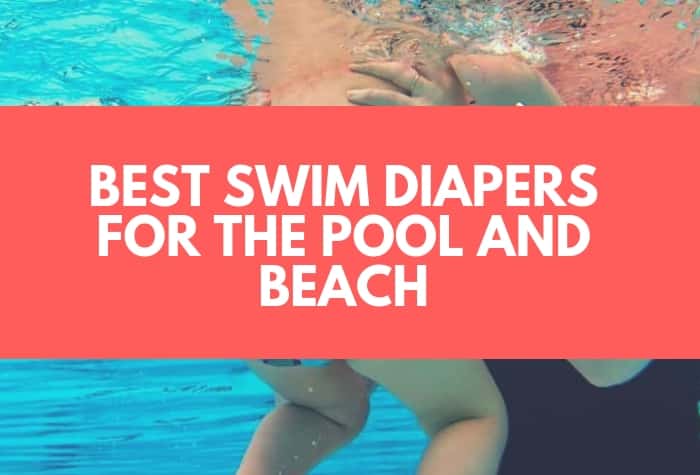 iPlay Baby Snap Reusable Swim Diaper
Comfortable, easy to pull in and off, and well-priced, the iPlay Baby Snap checks all the boxes when it comes to fit and ease of use. The iPlay swim diapers have three snaps on the left side of the diaper which make them easy to remove.
The one catch? (There's always a catch…) They tend to run a little small, so it is worth nothing that you will very likely have to size up when picking up these particular swim diapers.
Reusable
Snaps on left side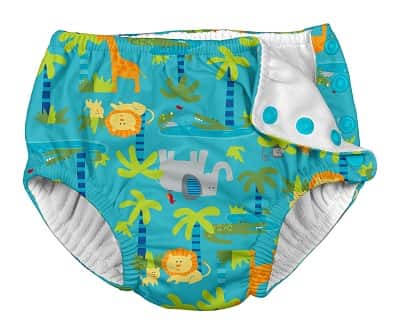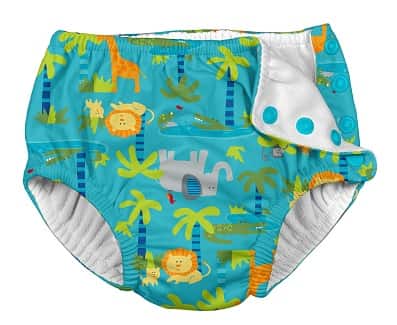 ---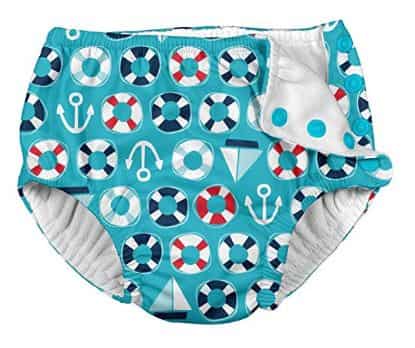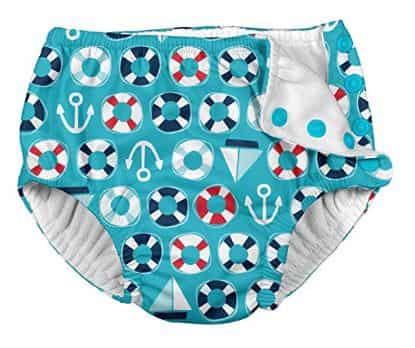 ---
Alva Baby Reusable Swim Diapers
These swim diapers are fantastic, but sadly, are only designed for swimmers under the age of two. The thing I liked most about the Alva Baby reusable diapers (besides the price—two of them for around $15) is that they are totally adjustable.
Alva Baby diapers have the usual bells and whistles that you would expect: a waterproof polyester outer shell, elastic Lycra leg cuffs for adjustable fit, and snaps that can accommodate babies of any size and shape. (Under two, of course.)
Reusable
Fully adjustable with snaps on both sides of the diaper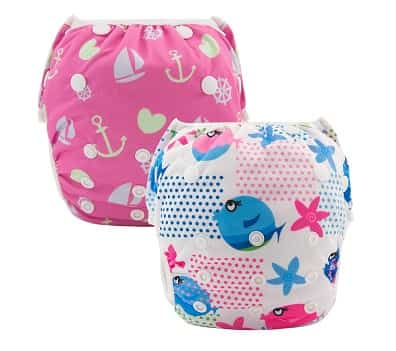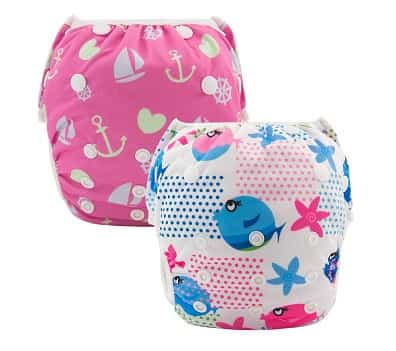 ---
FINIS Swim Diaper
FINIS Swim makes a whole bunch of awesome swimming gear and accessories for the chlorinated athlete, whether it's their Dart swim goggles or their waterproof mp3 player, the FINIS Duo.
They also make a line of reusable diapers for the youngest swimmers in the pool. The FINIS Swim Diaper comes in nine different color combos, and a wide variety of sizes, fitting 3-6 month old newborns up to 4 years old toddlers.
The FINIS swim diapers are made of 100% polyester, ribbed elastic waist and leg holes for a secure fit. The FINIS diaper is a pull-down swim diaper.
Pull-down
Reusable
100% polyester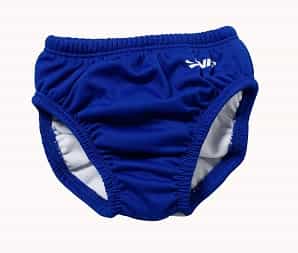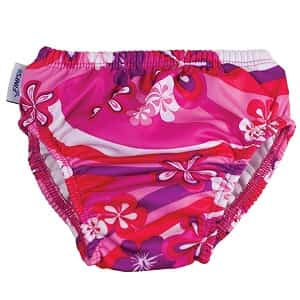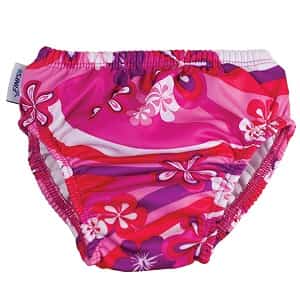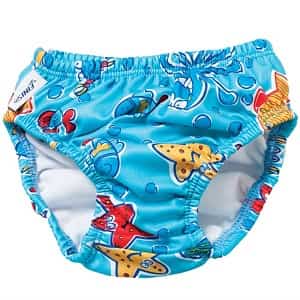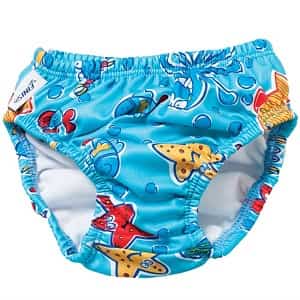 ---
Pampers Splashers (Best Disposable Swim Diaper)
Pampers is one of the big players in the diaper market, so it's no surprise that they have a version for the pool and beach.
Unlike the diapers designed for everyday use, the Pampers Splashers are disposable swim diapers for toddlers that won't swell up like a balloon when soaked in water. The Splashers feature an extra thick, double-layered cuff to help keep things in place and come in a variety of fun designs and colors.
Disposable
Tear-away sides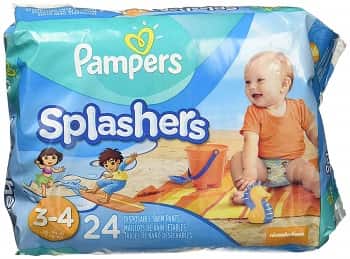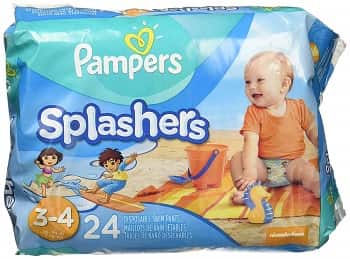 ---
Beau & Belle Littles Reusable Swim Diaper
The Beau & Belle Littles reusable cloth swim diapers are an excellent option for budding swimmers and parents who want a good-looking diaper that is also adjustable.
The shell of the swim diaper is made with a breathable polyester cloth that doesn't soak up water, turning the diaper into an anchor when wet. The inner liner is a soft mesh that is easy on baby skin and is designed to be washed easily.
Snaps on the side of the diapers can be fitted for babies between 8-36lbs. Snaps also mean that the diaper is easy to take off after an accident.
While a little pricier, reviewers love the durability and adjustability of these reusable pool diapers for their little ones.
Reusable
Snaps and tear-away sides
Adjustable for babies from 8-36lbs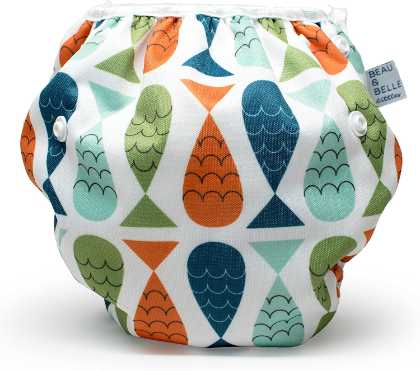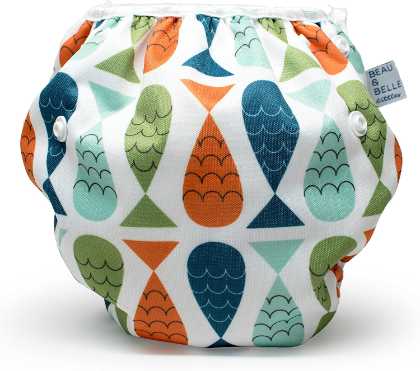 ---
Key Features to Look for with Swim Diapers
Getting your baby into the water early is an excellent way to generate confidence around the water. It's also a lot of fun. But for many parents, the nervousness around a potty accident stops them short.
Swim diapers are specially constructed to not balloon when wet, remain in place when soggy, and prevent the leakage of fecal matter into the water.
These kinds of diapers are designed to not absorb water (unlike regular diapers), are easy for parents to remove when wet, and typically have playful aqua-focused (dolphins, waves, etc) designs and patterns.
Within the realm of swimming diapers, there are two different kinds. Here are the main benefits of each:
Reusable swim diapers
A blend of the fabric of swimwear and utility of diapers
To be replaced off of the pool deck/area.
Should be cleaned as soon as possible.
Requires packing additional diapers in the event one is soiled.
Cheaper in the long term
Better suited for babies who are at the pool and beach very often
Have sturdy fasteners (snaps, for example)
Disposable swim diapers
Very similar in build to regular disposable diapers
Usually come in packs
Can be disposed of after each use
Absorbent core that doesn't balloon when wet
Tear-off sides that make it easy to remove and throw away
Ideal for babies who swim intermittently
In both cases, swim diapers should be snug, fit comfortably, and have options to remove that doesn't require pulling the diaper down, as this tends to smear the accident down the child's legs.
Additionally, and this comes up often, remember that swim diapers are meant to catch solids. They aren't meant to soak up urine (just as water can permeate the diaper, pee can escape) or diarrhea.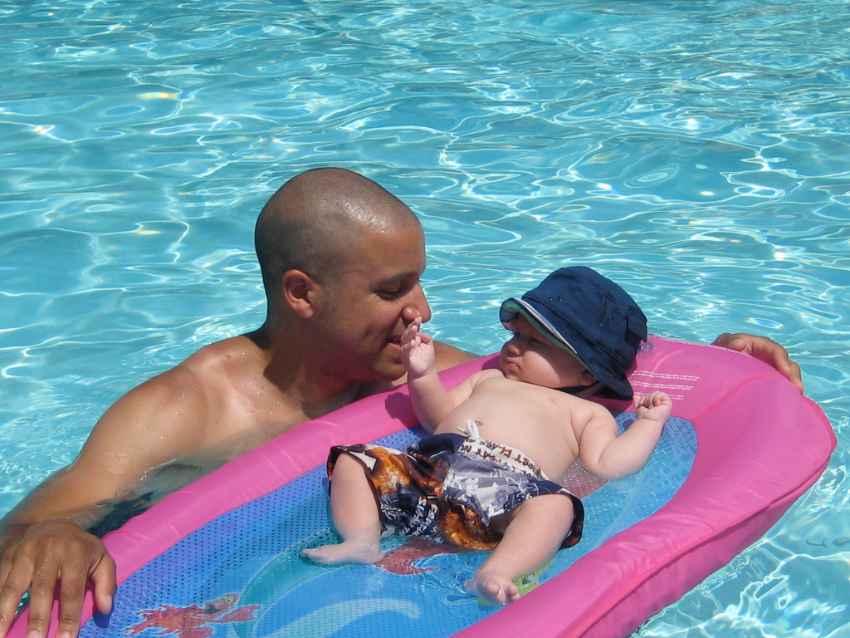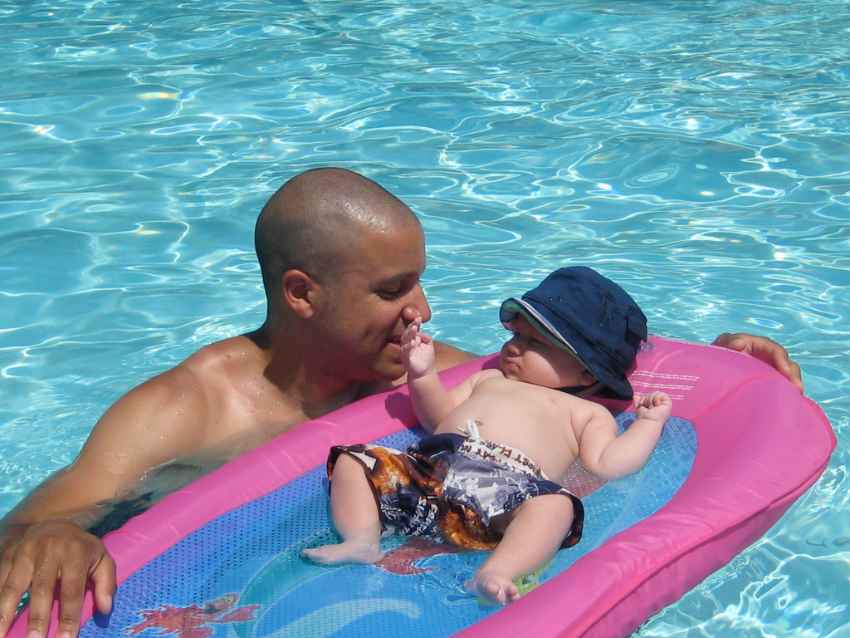 Check with the swimming pool first
Pools often have guidelines that dictate babies require protection in the form of a diaper to keep the pool water clean and protect the filtration system.
The time-sink of an accident can be costly for large public pools.
My local pool, which features a play pool with a wave pool and slide, requires a 30-minute shutdown period after fecal contamination so that the water can be properly shocked (the chlorine levels are temporarily increased by a factor of 10) and to allow for the pump to fully circulate and filter the water.
Larger recreational public pools can take up to 24- to 48-hours to fully disinfect and cycle through all of the pool water after an accident.
Each pool is different in what they expect from babies in the water, so make sure to call ahead and ask. Also, colder pools are not recommended for newborns, so double-check with your local pool about guidelines and pool temp.
What happens if there is an accident in my backyard pool?
Great question! Even though it is a situation no one wants, accidents do happen.
For backyard pool enthusiasts, whether you have an inground or above-ground pool, nothing quite cuts the fun short than someone leaving an O'Henry bar in the water.
But fret not.
There are a lot of tools at your disposal here, from using a basic pool skimmer (net) to fish out the offending doo-doo to balancing the chemicals in the water to nuke bacteria and organic waste.
Once you've gotten as much of the turd(s) out as possible, the CDC recommends shocking the pool by raising the free chlorine concentration to 2ppm and keeping the pH at 7.5 or less for around thirty minutes.
Regular levels of chlorine won't do the job required to nuke things like hepatitis A, E Coli, giardia, and other bacterial parasites that get into the water when doo-doo is present.
In the event of diarrhea, your pool closure will be extended significantly, as the parasite Crypto (usually found in loose stools but not in formed ones) is a lot tougher to kill and requires a substantially higher level of chlorine (20ppm).
This higher level of chlorine concentration needs to be maintained for at least 12-14 hours. The pool is not swimmable during this time frame.
(You can also drop your pool skimmer to disinfect it in the pool during this stretch of time.)
Related:
---
See Also:
9 Best Swimming Aids for Toddlers and Children. Looking to hit the water? Here is our curated list of the best swimming aids to take down with you to the local aquatic center for fun and safety.