Looking for the best swim kickboards for kids and toddlers? Here is a complete breakdown of the top kickboards for every kind of kid.
Kickboards have come a long way in recent years.
Back when I was a young tadpole (late 80's) the only option for kickboards was a one-size-fits-all, large tombstone-style board.
Now, there are different sizes, colors, grips, and materials, with kickboards for all levels of youth swimmers, from toddlers just getting wet to more experienced kids who want to take their swimming to the next level.
Kickboards for Kids vs Kickboards for Adults
Youth/junior kickboards for kids are smaller to account for their shorter arms and smaller hands.
Junior-sized kickboards are easier to grip and provide an ideal amount of buoyancy in the water for children and toddlers.
Kickboards for kids are also softer and more flexible than the stiffer kickboards adults use to help show young swimmers how to kick and float properly.
Junior kickboards are smaller than the ones designed for adult swimmers. Kickboards for kids are usually around 14" long and 10" wide, while adult kickboards and kickboards for older kids are just under 20" in length and 12" wide.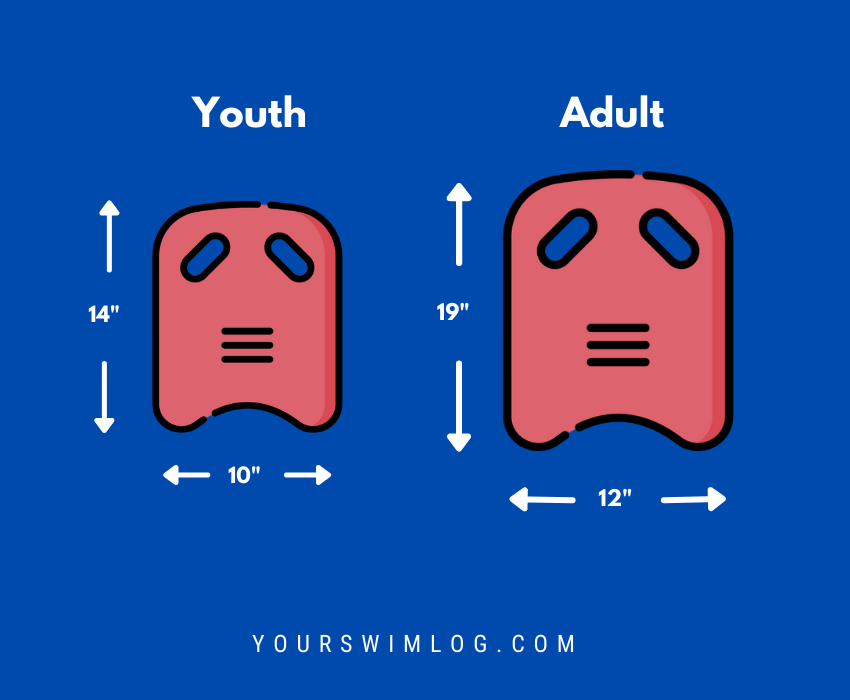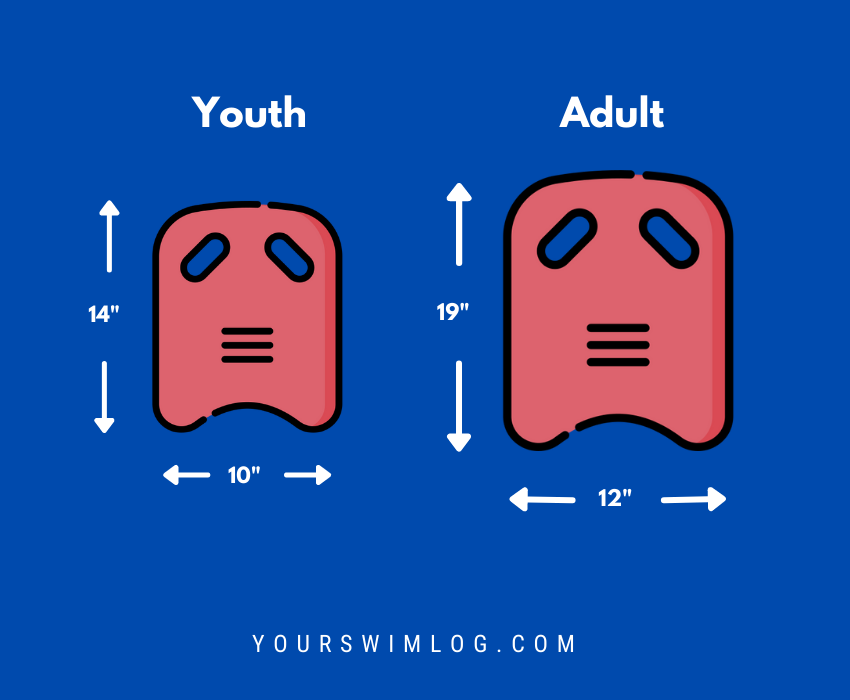 Below is a breakdown of the best kickboards for every kind of young swimmer, from boards for playing around in the backyard pool to boards for the most serious of youth swimmers.
Let's dive right in!
Kickboards for Toddlers
Swimming is one of the best activities and sports young kids can pick up.
I know I'm biased, having been around the pool for 30+ years, but swimming is an excellent tool for developing motor skills, cardiovascular strength, pulmonary capacity, and of course, being able to swim is a life-saving skill.
(Here are nine reasons why swimming—in my chlorinated opinion—is particularly awesome.)
When kids are just getting used to the water, they will want to use a kickboard that is small, soft and flexible.
Toddlers are just getting comfortable with the water and learning how to move their bodies in it, and kickboards for swimmers this age are an excellent swimming aid.
Kickboards help toddlers focus exclusively on the kicking motion so that they can incorporate it into their full swimming motion as they progress through the strokes.
Kickboards also teach young swimmers—particularly toddlers who are just beginning their journey in the water—the importance of keeping their hips up when swimming.
Melissa & Doug Learn-to-Swim Dolphin Kickboard for Toddlers
Don't let the long name dissuade you from these kickboards. They are extremely well-loved by reviewers, who gush over the playful patterns (there is also a shark-themed kickboard) and durable design.
The kickboard is Styrofoam wrapped in nylon cloth, which is extremely durable and is resistant to both UV exposure and pool chemicals like chlorine, which can quickly degrade most fabrics and materials.
Toddlers will love the playful look of these kickboards while learning to motor around the backyard pool.
These boards are available individually for under $10 or as a pair for around $17 (check Amazon for current pricing and availability).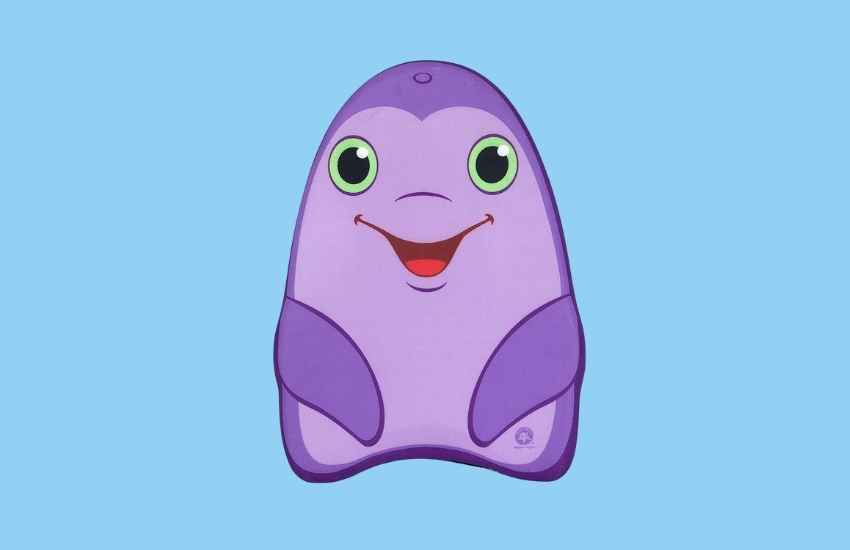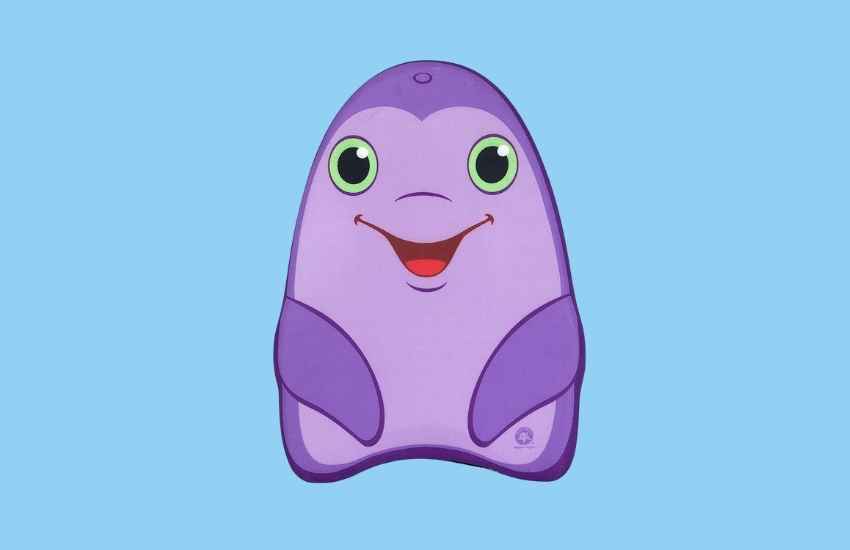 ---
Kickboards for Youth Swimmers
As kids get more comfortable in the water, or they are progressing within the ranks of competitive swim team groups, they will want a kickboard that helps them to get comfortable kicking across the length of the pool.
Here are some of the top kickboards for youth swimmers.
TYR Junior Kickboard
TYR is one of the better-known names in the swim gear market, making excellent wetsuits for kids, swim goggles for toddlers, and much more.
The TYR Junior Kickboard is a great choice for younger swimmers, both competitive and those simply learning the sport.
The board is soft and flexible, made with two-inch thick EVA foam that won't soak up any water, helping maintain good position in the water while your young swimmer motors across the pool.
The kickboard is chlorine resistant and is sized for kids, making it a great tool for learning how to kick with gusto a the pool.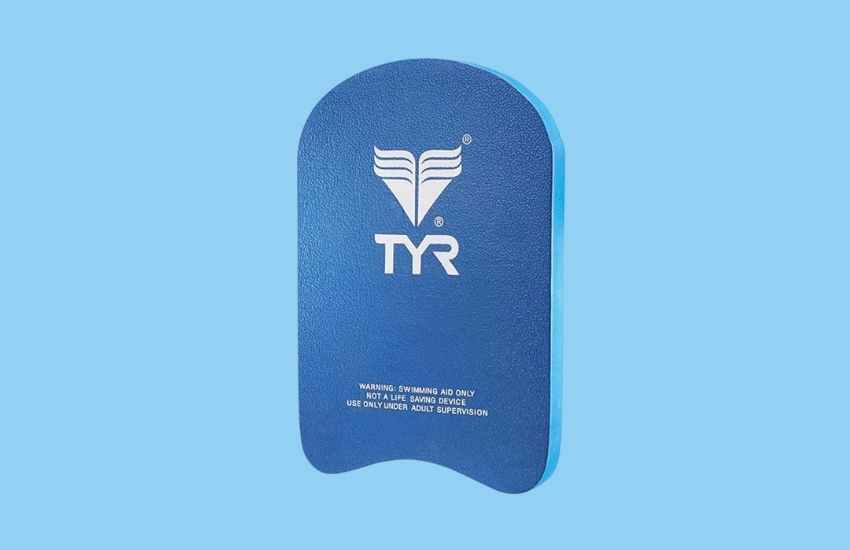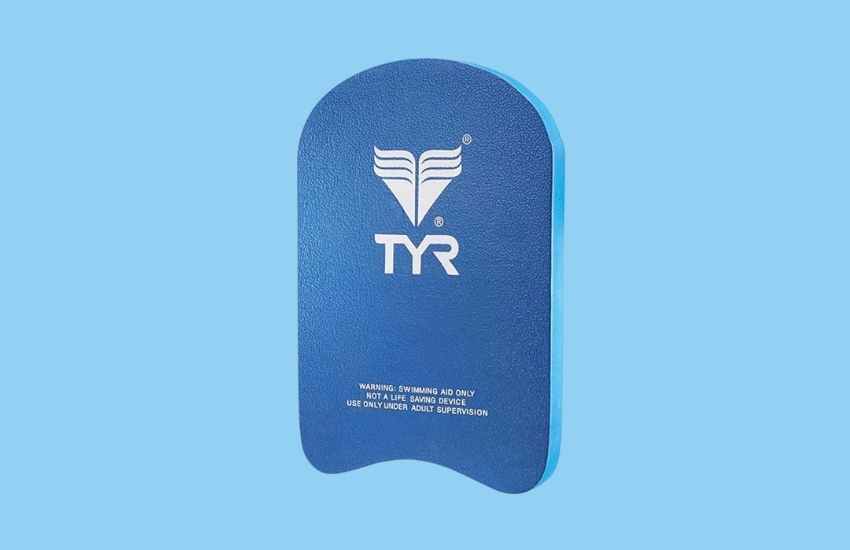 FINIS Junior Foam Kickboard
FINIS is another one of my favorite brands for competitive swimmers, the original makers of such essential tools as the swimmer's snorkel, the FINIS Duo, and more.
The FINIS Junior Foam Kickboard (which also comes in an adult size), is an ideal kickboard for children.
Sized appropriately, at 10" by 14", with a 1.5" thickness (perfect for children to be able to hold onto), the FINIS kickboards are made of 100% EVA foam that doesn't chafe the skin and provides an ideal amount of flex and sturdiness.
For children that have experience with kickboards, and even for more serious young swimmers who want to take their kicking to the next level, the FINIS Junior Foam Boards are a durable and high-quality choice.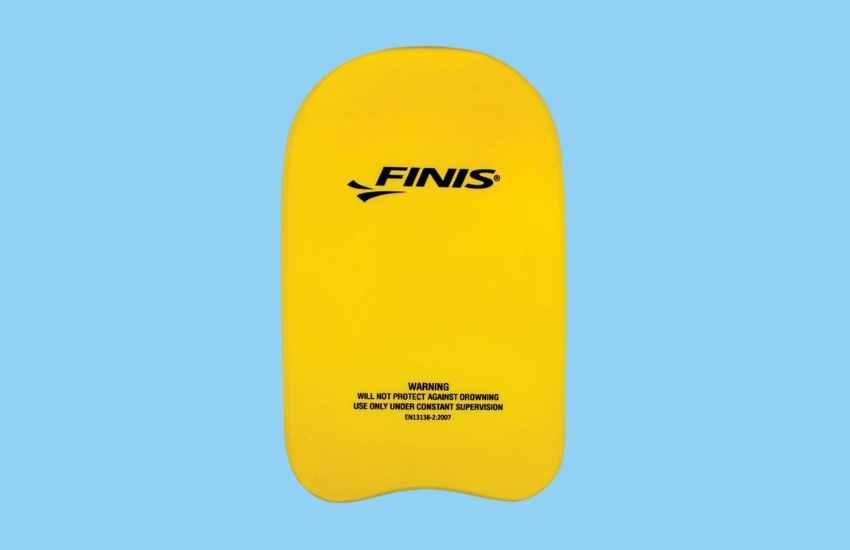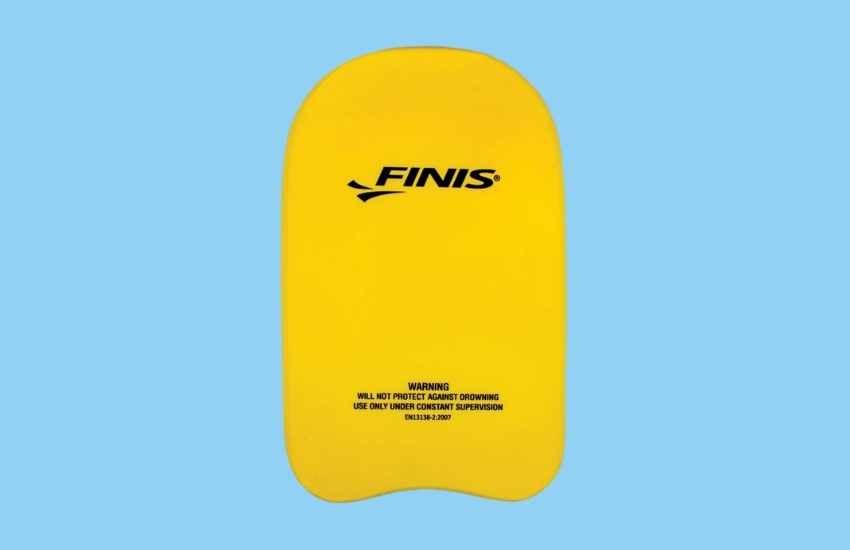 Sporti Junior Kickboard
Smaller kids will love and appreciate the Sporti Junior Kickboard, which is a tad smaller than the other Junior kickboards on this list.
With a length of 13", width of 9", and a thickness of 1.25", it's perfectly suited for children who struggle with the larger kickboards that tend to be strewn across the deck at local pools.
The Sporti Junior Kickboards have a contoured bottom that allows children of almost every size to comfortably rest their chest against the board, and the EVA foam construction provides an ideal amount of buoyancy so that children can focus on improving their kick instead of bobbing too high in the water.
Sporti offers these boards in a wide range of colors, and Swim Outlet exclusively carries them for around $12 per board (check Swim Outlet for current pricing and availability).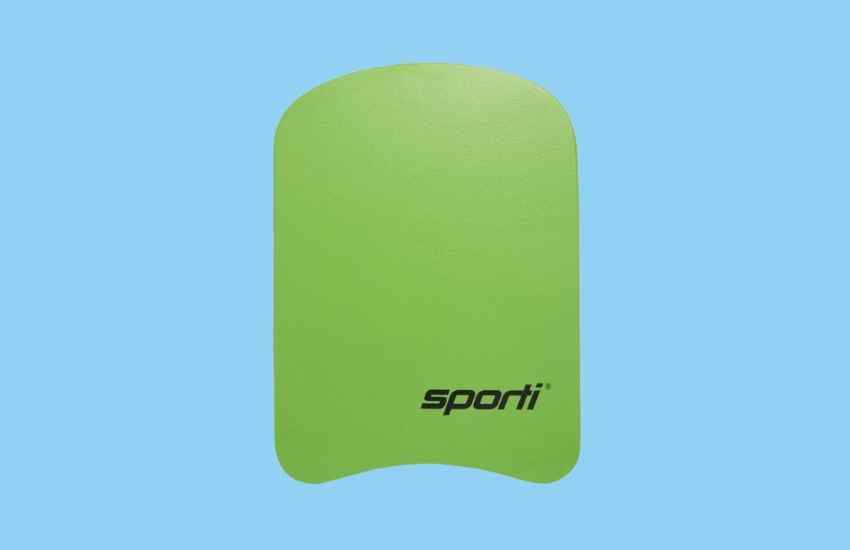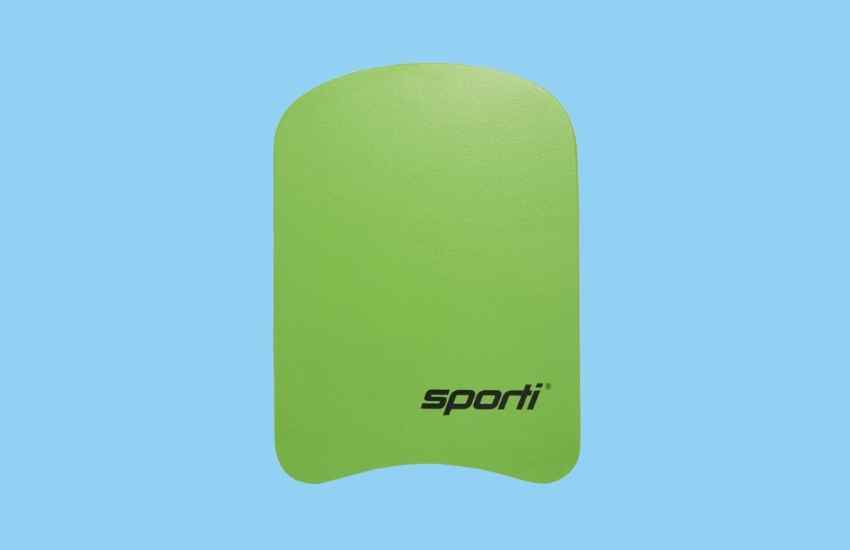 ---
Speedo Jr Team Kickboard
Speedo is the best recognized name in the swim equipment game, making a wide range of swim vests for kids, boys swim briefs, swim caps for children, and so on.
The Speedo Jr Team Kickboard is for the experienced child swimmer who is looking to get the most of their time kicking at the pool.
The board features many of the usual ergonomic features competitive swimmers expect, including a contoured bottom and rounded edges for a neutral hand grip.
The board also has a U-shaped groove on the underside of the board for finger placement and removing friction and drag in the water. There are also more finger grooves on the side of the board, but this is basically for making it easy to carry as no one grips a kickboard with their hands facing outwards.
Light, at just 0.1 pounds, and made of durable, chlorine-resistant EVA foam, the Speedo Jr Team Kickboard is an excellent kickboard for older kids looking to take their kicking to the next level.
---
Kickboards for Advanced Youth Swimmers
As mentioned at the top of this guide, kickboards have come a long way in terms of shape and design from my days as a pain-in-the-butt age group swimmer.
FINIS Alignment Kickboard
The best example of how much kickboards have progressed and improved is with my favorite kickboard for competitive swimmers, the FINIS Alignment kickboard.
While a traditionally shaped kickboard has a place in every swimmer's training regimen, the FINIS Alignment Kickboard cuts down on the awkward shoulder impingement that can happen when using a big tombstone-style board.
This unique kickboard also shows kids and youth swimmers how to maintain better body positioning in the water, which ultimately helps kids do what they want more than just about anything—to swim more efficiently and faster.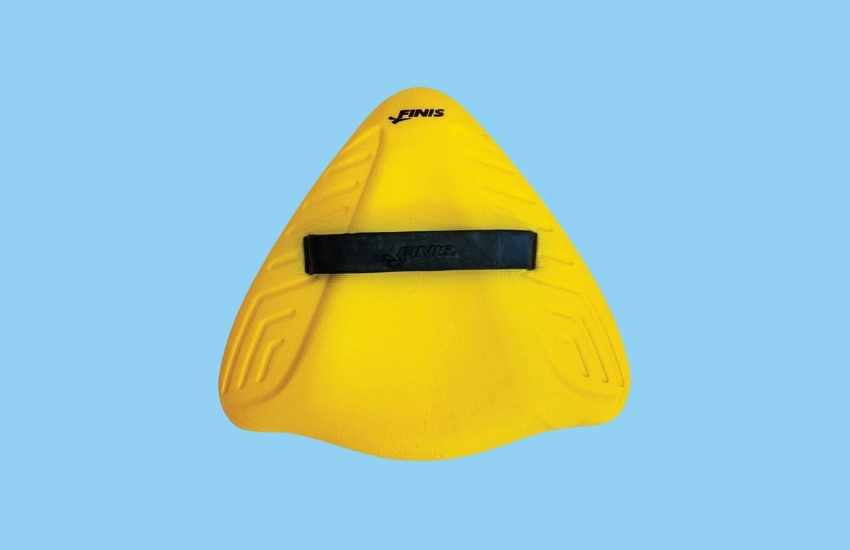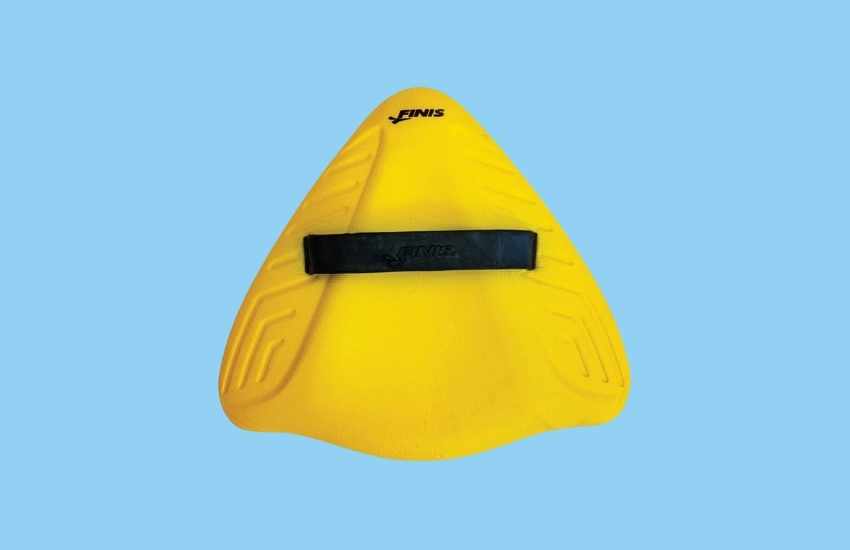 ---
More Stuff Like This
9 Best Swimming Aids for Toddlers and Kids. Looking to hit the water? Here is our curated list of the best swimming aids to take down with you to the local aquatic center for fun and safety.
The 9 Best Kickboards for Swimming. Itching to get your kick on? Here's a full breakdown of the best kickboards for swimming.