Looking to hit the water? Here is our curated list of the best swimming aids to take down with you to the local aquatic center for fun and safety.
Water safety is one of the most important skills that children learn. Drowning is one of the leading causes of accidental death in the United States, with one in five people who drown children under the age of 14 [1].
Learning how to swim and feel comfortable in the water is a big part of helping youngsters achieve "aquatic literacy", and swimming aids are tools to help ease the transition to being safe and comfortable in the pool.
There is no shortage of different types of swimming aids for toddlers and children:
Life vests. The most visible swimming aid is the old school life vest, something that doesn't go out of style even as we become boat-faring adults. A life vest is an arms-free flotation device that keeps your developing swimmer buoyant without having to worry about clinging onto something. Life vests also force users to float on their back, keeping them afloat in the case of exhaustion.
Water wings. Also known as arm bands or floaties, water wings are inflatable rubber bands that are wrapped around the arm. Water wings are a good segue to more independent swimming and are available in a wide variety of colorful patterns and styles.
Kickboards. As your little swimmer gets more comfortable in the water, they will eventually graduate to the use of a kickboard. Made of a durable EVA foam, kickboards are helpful in teaching stroke mechanics, body position, and help improve kicking and swimming strength and stamina. Choosing the best kickboard for your swimming or swim development depends on how far along you are. They are also a lot of fun to stand on in the water and pretend you are surfing.
Pool noodles. Lastly, pool noodles. Like kickboards and life vests, pool noodles are used by children for play and safety, just as they are used by adults for basic flotation. Although most kids will tend to slap each other silly with them, they are great introductory aids for better swimming. Wrap the noodle around your chest and you can use the buoyancy of the noodle to learn better body position and keep afloat.
Related: The Best Pool Noodles for Swimming, Playing, Aquafit and More
Here is an assortment of our favorite swimming aids for toddlers and children (and one for bigger kids and adults):
Zoggs Armbands (Water Wings)
Zoggs' line-up of superhero-flavored water wings are designed for kids learning to swim that range between 2 and 6 years of age. They are constructed of a durable material called Vylux and have two chambers and an easy inflate valve to quickly pump up and deflate the arm bands.
Zoggs Arm Bands Batman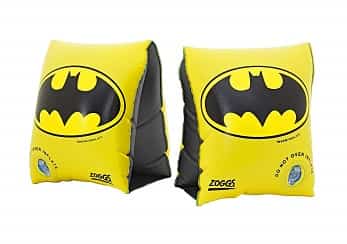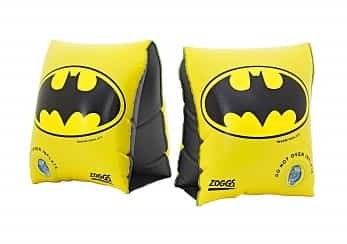 Zoggs Wonder Woman Water Wings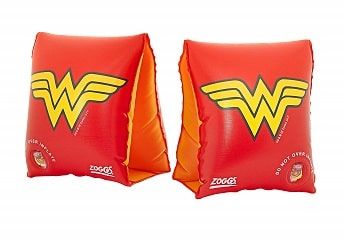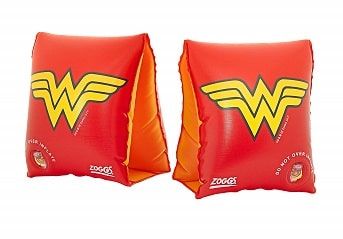 Speedo Kids Swim Vest
Constructed of neoprene, the same material that your typical wet-suit is made of, the Speedo Kids Learn-to-Swim Vest zip on easily, is nice and bright, and has a safety strap with a buckled closure. Speedo makes a metric-ton of gear for the swimming toddler, including swim goggles for kids, baby swimsuits, and even sturdy waterproof shoes for toddlers.
The inside of the toddler swim vest is lined with soft polyester for comfort. The vest comes in two different sizes. Medium is designed for children 2-4 years of age and larges are for toddlers of 4-6 years.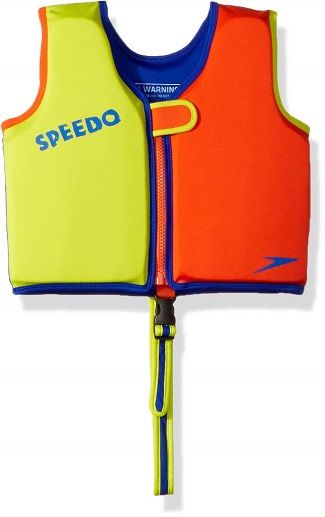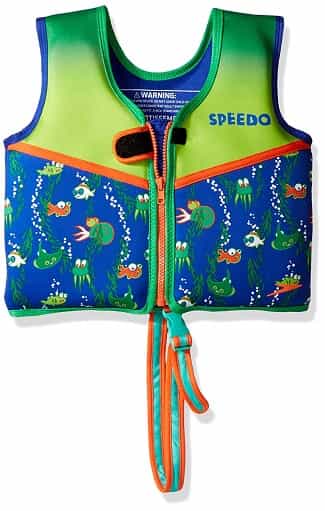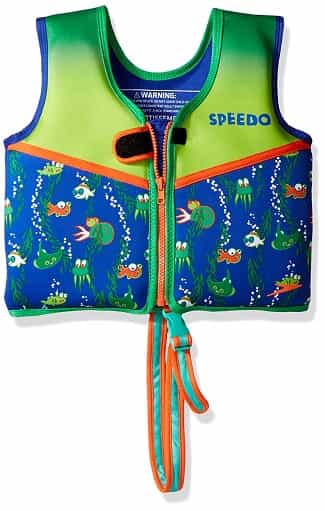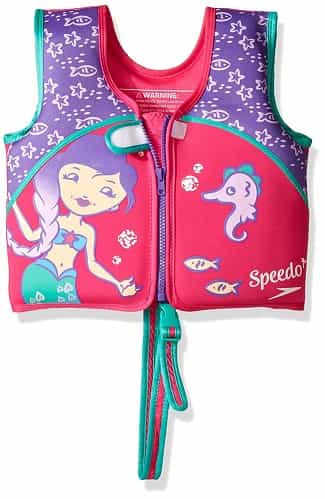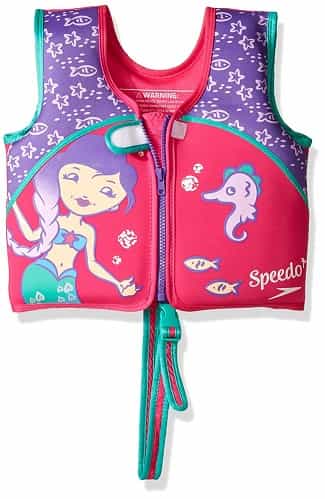 ---
Kickboards for Kids
Continuing with the superhero theme ("I'm Batman!") are kickboards for kids made specifically for those who are just learning to find their way in the water.
These kickboards are made of durable EVA foam and come in a "junior" size, making them about 2/3 of the size of a regular kickboard. The Zoggs kickboards are recommended for children between the ages of 3-12 years.
Zoggs Wonder Woman Kickboard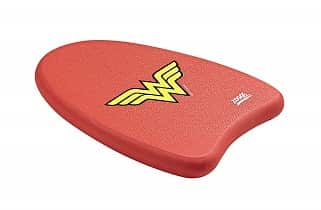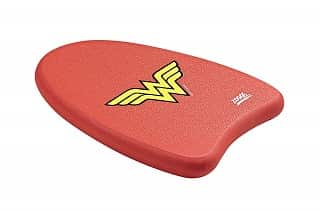 Zoggs Superman Kickboard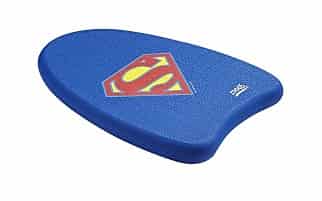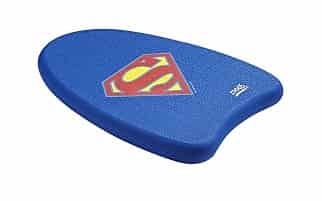 SwimSchool Inflatable Tube Swim Training Aid
Some of my fondest memories are floating down local rivers in the summertime while sitting butt-first in an inflatable tube. The SwimSchool inflatable tube is basically a toddler's version.
Attached to a soft fabric vest and a harness to keep them standing upright in the tube, the swim training aid keeps the child's arms and legs free so that they can splash and swim around while staying at the surface of the water. The tube is made of durable PVC. The makers designate the swimming aid for kids between the ages of 2 and 4 years.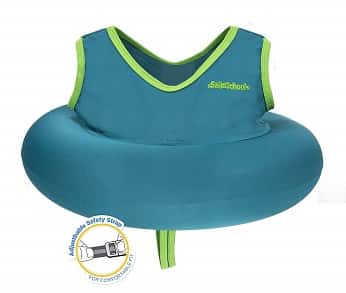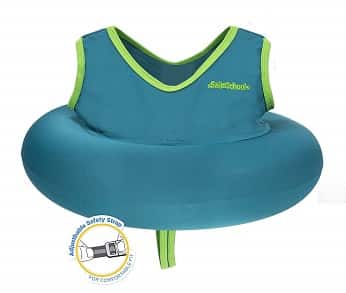 Best swimming aid for big kids and adults
Looking for something to lounge on at the pool? Here's our favorite swimming aid for big kids (and adults).
Although the manufacturer lists the recommended age as "12 months and up", this bad boy is for kids who are comfortable in the water, and for adults who want to lounge in the backyard pool or at the lake.
After all, who doesn't want to ride a unicorn?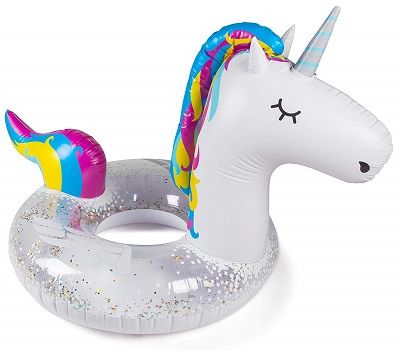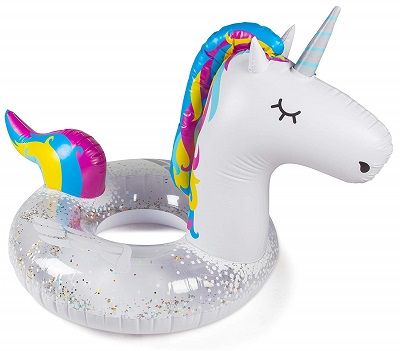 ---
More Swim Gear Guides for Kids:
8 Best Swim Goggles for Kids. Give your child the gift of being able to see under the water with our collection of the best swim goggles for children.
7 Best Swimsuits for Babies and Toddlers. Getting your baby comfortable in the water means using the right swimsuit. Here's a breakdown of our favorite swimsuits for babies.
7 Best Swimming Caps for Toddlers and Children. Swim caps protect your toddler or child's hair from harsh pool chemicals, helps them stay safe in the pool, and keeps their hair out of the pool. Here are our top picks for the best swimming caps for toddlers and children.
6 Best Waterproof Cast Covers for Swimming. Frustrated with being dry-docked with a broken arm or leg? Here's a breakdown of the best waterproof cast covers for swimming and showering.
7 Best Swimming Diapers for the Pool and Beach. Ready to take your little one to the pool or beach? Here is a breakdown of what you need to know about picking out the perfect reusable or disposable swim diaper.