Protect your pool, extend the life of the liner of your swimming pool, and keep the splashing going all summer long with the right under pool mat. Here's a look at the best mats to place under your swim pool.
Backyard pools are one of the best things you can add to your home.
Being able to cool off with friends during those long, hot summer days just steps from your home is hard to beat.
But first, install your new pool!
And figuring out what to put under your above-ground pool.
Here's a look at the best under-pool mats on the market, the different types, and the benefits of this simple and relatively inexpensive piece of pool equipment.
Let's jump right in.
---
Best Pool Mats for Under Your Swimming Pool
Intex Pool Ground Cloth
⭐ Best Intex above-ground pool mat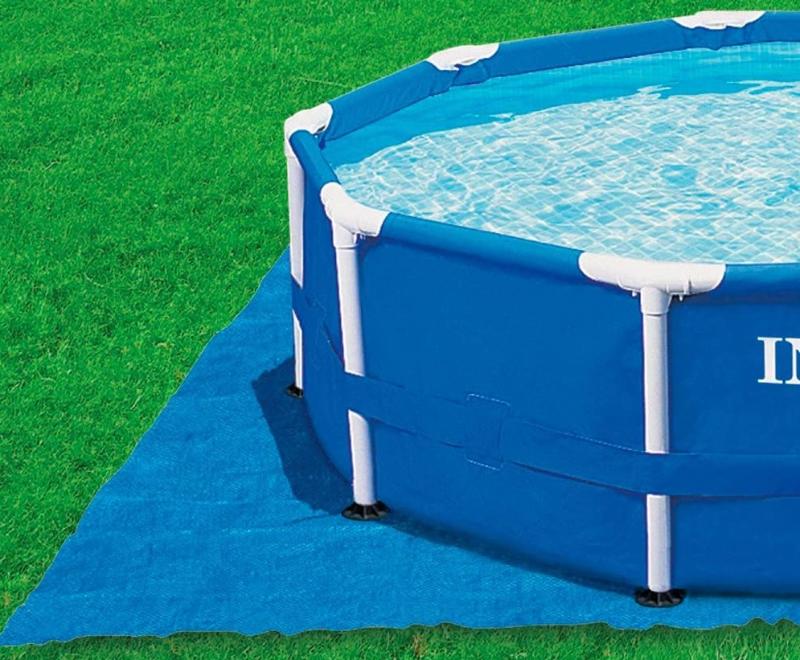 Intex is one of the leading makers of backyard swimming pools.
The Intex Ultra XTR is my top-ranked above-ground pool on the market right now (the Ultra XTR includes its own ground cloth).
For Intex above-ground swim pools that don't ship with a ground cloth, they offer a pool base that is designed to work under their above-ground pools. This cloth (let's be honest here though—it's a glorified tarp) has a surface area of 15.5 sq feet, which works for 8-15ft round pools.
Priced at around $30 (check Amazon for current pricing and availability), the Intex Pool cloth does not provide padding; it is strictly a mat to protect the bottom of the pool.
---
Blue Wave Round Pool Liner Pad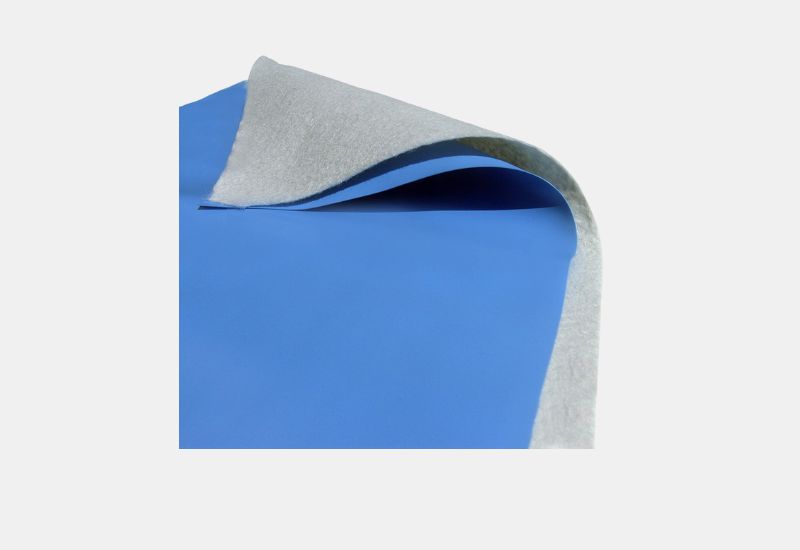 Blue Wave is another popular maker of swimming pools and pool-related accessories. Whether you are looking for a winter pool cover, an above-ground pool ladder, or a solar pool cover to cut down on energy costs over the summer, Blue Wave makes good stuff.
The Blue Wave Round Pool Liner Pad is different from the usual tarp or foam padding alternatives in that it is cut to size for your round above-ground pool. Designed to extend just beyond the edges of your pool, it has enough stretch to cover the full area of the bottom of your swim pool.
Under pool mats are often glorified tarps or foam padding which can be a pain in the butt to cut to size for your specific pool, but the Blue Wave pad provides a little bit of padding as well as protection to the bottom liner of your pool.
The pool mat is made of a heavy-duty felt that is puncture-resistant and is available in a huge array of sizes, from 18-ft pools all the way up to the largest round above-ground pools on the market at 33-ft.
---
BalanceFrom EVA Locking Foam Tiles
⭐ Best interlocking foam mats for under pool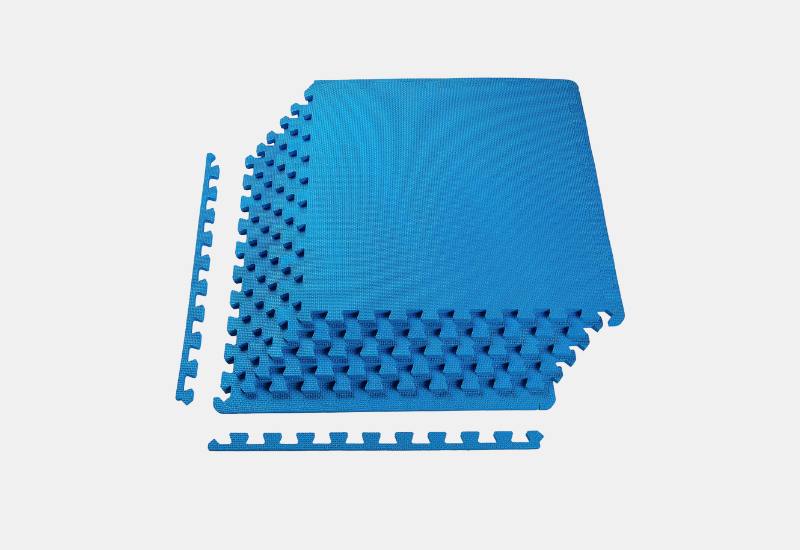 Looking for an extra soft landing for your pool bottom and the feet of you and your fellow swimmers? EVA foam tiles provide an additional option to protect your pool. They are inexpensive, easy to customize to the shape of your pool, whether it's round, rectangular or oval-shaped.
Another side benefit of using interlocking foam tiles for the pool ground mat is that they make the pool bottom nice and level, which is far easier to vacuum compared to pool bottoms that are "wrinkled."
Interlocking foam tiles are exceptionally easy to set up, taking no more than a few minutes to put down and line up the teeth of each tile. Pool owners installing their above-ground pool on a hard surface like concrete will appreciate the padding this kind of foam tile provides.
The BalanceFrom EVA Locking Foam Tiles are a low-cost option for this kind of pool mat. They are also the same ones I installed under the squat rack in my garage when I started building out my home gym in 2020.
Available in three different colors, you can even get different thicknesses (from ½" to ¾" thick), with each tile covering 24" by 24" (check Amazon for current pricing and availability on these tiles).
---
Under Pool Mats: Why You Should Always Use One
A backyard swim pool is a big investment.
Both in terms of the upfront cost for the pool itself, but factor in the cleaning and maintenance equipment and the time spent looking after the pool (vacuuming, skimming, balancing pool chemicals, etc.), and your time and energy quickly begin to pile up.
Placing a mat under your pool, however, is one of the easiest and less time-intensive ways to ensure the longevity of your pool.
When you put the right mat under your above-ground pool, some pretty neat-o things happen:
Protect the pool liner.
The thin vinyl liner of the pool isn't just along the walls but runs on the bottom. A mat under your pool protects it from tears and rips from roots, rocks, and whatever else is on the ground.
Keep in mind that the fabric on the bottom of the pools can shift, whether because you want to pull it over a couple of inches closer to your deck, or from large bursts of physical activity in the pool (i.e. three kids cannon-balling into the water at the same time).
A mat under the pool provides an added layer of protection to avoid punctures and rips.
Cuts down on mold.
Mold, algae, and mildew are your worst enemies as a pool owner. They can quickly blossom into unsightly patches of bacteria-ridden yellow and green clouds in your pool that also make the water unsafe to swim in.
Because of all the moisture in the area—we are talking about a pool, after all!—mold is a constant threat, especially with the lack of air flow under your pool.
Placing a mat under the pool gives an added layer of protection between morning mildew and natural moisture and the fabric and lining of your swimming pool.
Keeps grass and insects at bay.
Even though we've somewhat tamed mother nature, she's relentless.
Depending on the area you live in, your pool faces a variety of curious onlookers, including beetles, moles, and even aggressive forms of weeds like nutsedge.
Placing a mat under your above-ground pool gives you peace of mind.
Easy on the feet.
For pool owners who want to place their swimming pool on a harder surface, like concrete, gravel, or dirt, an under-the-pool mat that extends out from the edges of the pool gives your bare feet something to walk on besides hard ground.
This benefit extends to swimmers in the pool, too. A soft pad underneath the pool gives a "soft landing" to people in the water.
---
More Above-Ground Pool Guides
5 Best Above-Ground Pool Liners. Getting ready to fix and replace the pool liner on your above-ground pool? Extend the life of your backyard pool with our hand-picked selection of the best above-ground pool liners.
7 Best Accessories for Your Above Ground Pool. Level up your above-ground swimming pool with our favorite accessories for maximum fun and utility.