Whether you have an in-ground pool or an above-ground pool, here is our selection of the best winter pool covers.
In this comprehensive guide, we are going to get into everything you need to know about buying the ideal winter cover for your pool.
Why a winter pool cover is so critical
The best winter covers for in-ground pools
Which winter covers work best for above ground pools
And more.
Let's do this!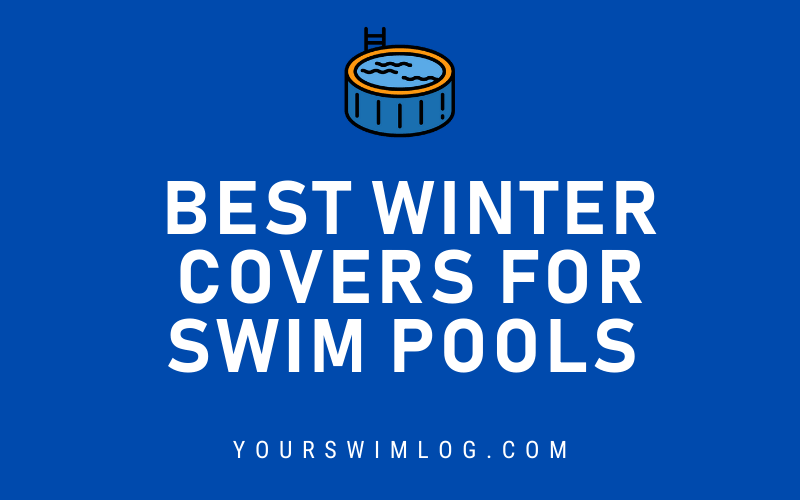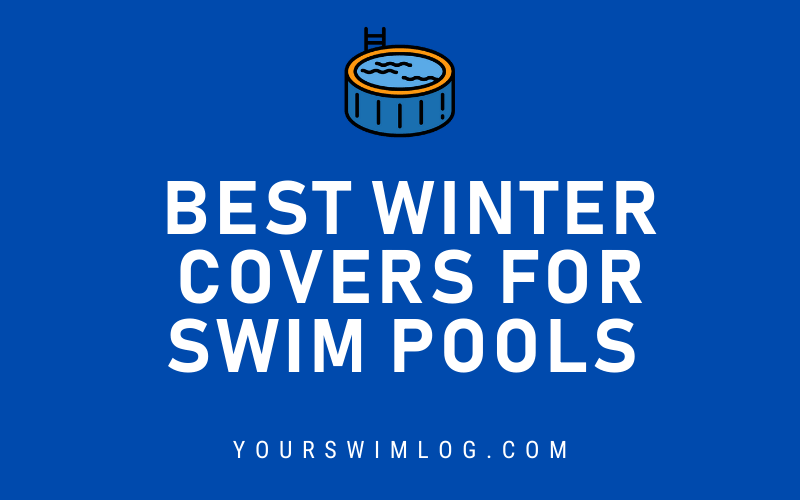 You put a lot of time, energy, and money into your swimming pool.
Whether it's adjusting the pool heater to keep the water at a comfortable temperature, using a pool vacuum to keep the water pristine, or stocking with all of your favorite pool toys, your swimming pool is a big investment.
One of the best things that you can do to protect your pool is to wrap it up over the colder months of the year with a winter pool cover.
Why You Should Use a Winter Pool Cover
As the weather cools, and the backyard pool starts getting frequented much less, it is tempting to go into "out of sight, out of mind" mode with your pool.
But taking the simple step of properly covering your pool during the winter months means you will have less maintenance (both in effort and cost) when the weather warms back up.
Pool covers:
Keep debris out of the pool. Leaves, twigs, branches, bugs, animals, and so on. Organic matter can quickly turn your pool into a bacteria farm, making reopening the pool in the spring a costly and lengthy project.
Reduces the risk of accidental drowning. An open-covered pool is a risk. End of story.
Savings on pool chemicals. Because the pool water isn't being blown off by the wind, there are fewer chemicals you need to properly balance the water.
Unlike solar swim pool covers, which are relatively thin and designed to keep small debris out of the pool and retain water heat while the pool is not in use, winter pool covers are thick, designed to fit comfortably over the lips and edges of the pool, and are fastened securely to resist the worst that winter has to offer.
In-Ground Pool Winter Covers
Water Warden Pool Safety Cover
** Our top pick for in-ground winter pool covers
The Water Warden Pool Safety Cover provides a series of differently shaped winter pool covers, from rectangular pools to center, left, and right step pools.
Included with the cover, which has a break-strength max of 4,000-lbs thanks to 2-ply strap webbing, is all the hardware you are going to need to put the cover securely into place.
The brass anchors can be left in year-round and won't interfere with your use of the pool during the summertime, and the Water Warden covers are available in a variety of colors, including blue, green, tan, and more.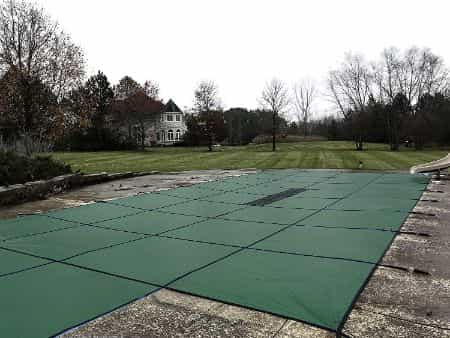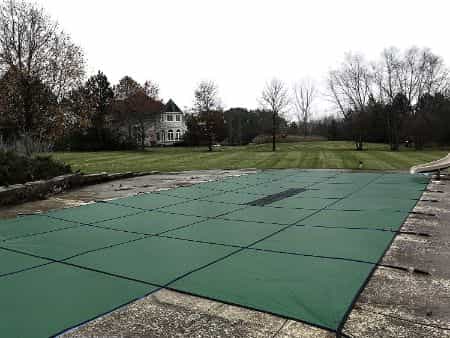 Blue Wave Rectangular In-Ground Safety Cover
The Blue Wave Rectangular In-Ground Safety Cover is a durable solution for your winter pool needs. It comes with a drill and anchor set-up that attaches to the concrete around your pool.
Included are all the brass anchors, steel springs, buckles, and tools you will need for installation. The cover itself is made of polyethylene and a scrim mesh allows water to drain through while stopping debris.
Available in a variety of rectangular sizes, from 14×28 feet to 20×40 feet. The cover is designed to be two feet wider and two feet longer than the actual dimensions of your pool.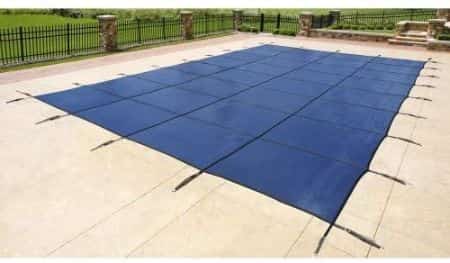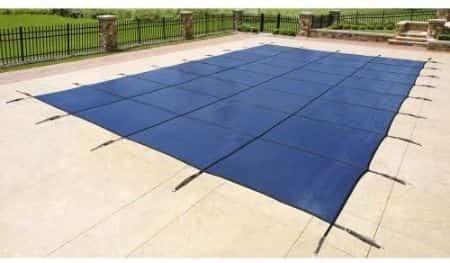 Pool Mate Heavy Duty In-Ground Pool Cover
Pool Mate is one of the well-known players in the backyard pool market, and their Heavy Duty In-Ground Cover is a budget-friendly option.
Available in a dozen sizes, from 12×24-ft to 30×50-ft, the heavy-duty polyethylene cover overlaps the surface of the water and is heat-sealed to prevent leakage and algae growth in the pool.
One complaint that users frequently had was that the Pool Mate covers didn't tend to last more than a couple of seasons.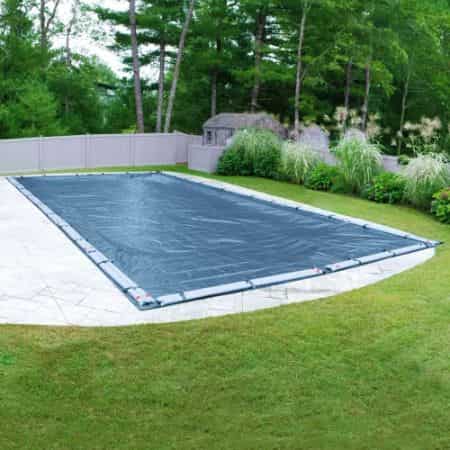 Best Above Ground Winter Covers
Robelle Dura-Guard Above Ground Winter Pool Cover
Made of heavy-duty scrim (12×12), the Robelle line of winter pool covers are excellent picks for wrapping up your above ground swimming pool.
Available in a large swath of sizes and colors to match your backyard and pool, Robelle's Dura Guard, one of the sturdiest fabrics available for outdoor pool protection, includes an additional four feet of overlap.
A cable and winch are included to fasten the cover securely around the perimeter of your pool, locking out debris and the elements.
Robelle fully backs these covers with a 15-year warranty.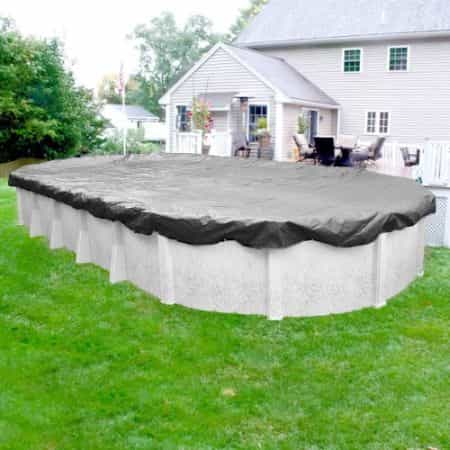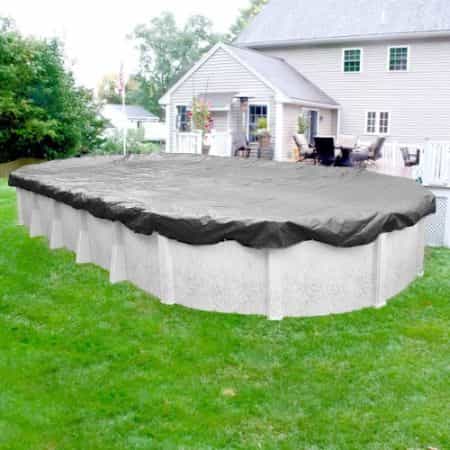 Intex Deluxe All-Weather Pool Cover
The Intex Deluxe Pool Cover is perfect for Intex pool owners who want to wrap up their pool. This cover can be used both in the summer and winter.
Because the material isn't as thick as the other covers on this list (it's basically a fitted tarp for your pool), it is easier to fasten and remove from your Intex round pool.
This particular model is designed specifically for 18-foot Intex round pools, but the cover is available for other pool sizes as well.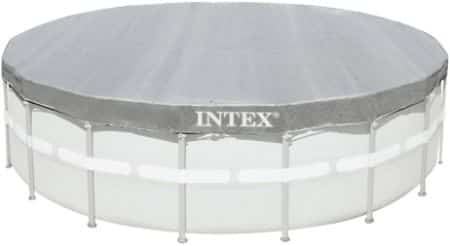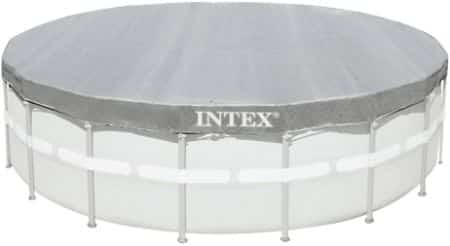 Pool Mate Winter Pool Cover for Above Ground Swim Pools
Unlike their in-ground winter cover, the Pool Mate Above Ground Cover has a nearly perfect five-star rating on Amazon.
It comes in a range of sizes, from 10×15-ft to 21×41-ft. The covers are intended to have some additional slack in order to properly wrap and secure the cover to the pool. The seams are heat-sealed, the cover is made of long-lasting polyethylene, and it is priced very competitively.
Pool Mate backs their winter pool cover with a 12-year warranty.



---
More Stuff Like This:
5 Best Pool Heaters for Above-Ground Swimming Pools. Regulate the temperature of your above-ground swimming pool with our collection of the best pool heaters. No one likes jumping into a pool of freezing water!
7 Best Pool Alarms for Your Backyard Pool. Safety is the first priority with your backyard pool. Secure your pool and keep your kids safe with our hand-picked selection of the best swim pool alarms.
6 Best Pool Cover Pumps for Protecting Your Swim Pool. Looking for a pump for clearing water off your pool cover during the winter months? Here's a detailed look at the best swim pool cover pumps on the market.