Success in the pool is not always predicated on meters swum, talent, or genetics.
Often, it's simply the athlete who stuck it out a little bit longer, who was able to sustain the hard work, who refused to give up.
After all:
Out-smarting hard work is an illusion.
The idea that we can out-smart the process of having to work hard for something we really want is a popular one.
It's why we are constantly on the search for a sneaky new training technique that we can "hack" that will sneak us around having to struggle and periodically fail in the pool on our way to success.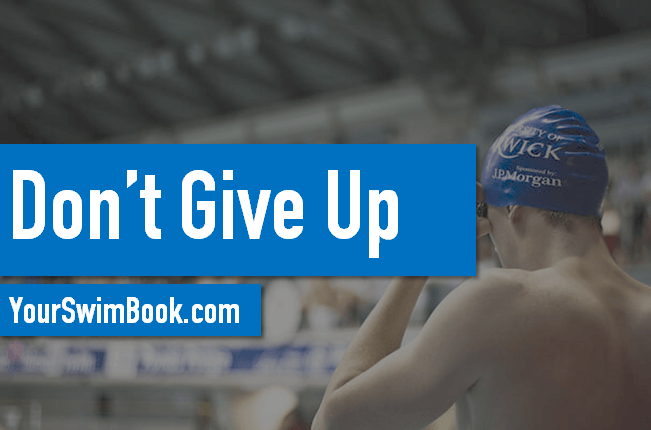 You can't outsmart hard work.
The reality is this:
The swimmers who are doing really well in the pool aren't just working hard. They are also working smart.
For this reason, don't give up.
It will always be hard to be optimistic in the face of difficulty.
You know that swimmer in your lane that complains non stop, that is sure that life has it out for them, and feels simply that everything is just sooo not fair?
Yeah, that swimmer.
We've all trained with these athletes, and even though they don't realize it, they are sucking the optimism and passion out of the room faster than they could possibly imagine.
To be optimistic, to have faith in your abilities, to choose to see past the struggle right before you is hard.
It's not easy.
And it's not for everybody.
For this reason, don't give up.
Regret will always be worse than the struggle.
I get it…
It's frustrating not seeing the progress that you so badly crave happen fast enough.
I've been there. Heaps of times. (And still.)
You want success from the work you have put in, from all the yards and meters you have patiently and deliberately put in, and you want it now.
Only it doesn't happen as fast as you would like.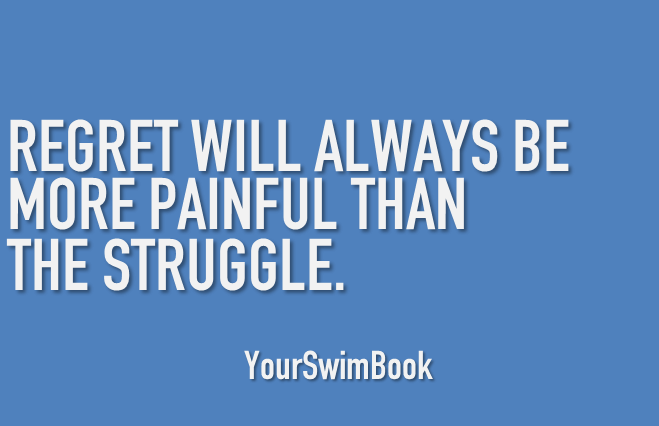 But if it is something you really want, something you are unendingly passionate about…
Than it deserves your full and complete effort.
Yes, waiting for the rewards of your hard work is trying. Especially on days where you feel like you are stuck in place, or even sliding backwards.
But the regret of not giving it your full effort will hurt much more than the frustration of not seeing enough progress.
For this reason, don't give up.