Hit the water with confidence with this breakdown of everything you need to know about how to choose the right swim goggles.
Swimming is one of the best activities and sports on the planet.
The health benefits of swimming are legit: It's low impact, allows you to unplug from your smartphone, and it's a full-body workout that is at the front of the pack when it comes to cardiovascular exercise.
But before you hit the pool, it's important to have the right swim goggles strapped to your head.
Proper swim goggles protect your eyes from getting red and itchy, allow you to see other swimmers and approaching walls, and when swimming outdoors, protect your eyes from UV exposure.
But if you've ever searched "best swim goggles" in Google, you've no doubt seen a huge array of goggles. It can be hard to wade through all of the options out there.
Fret not—in this guide to choosing the right swim goggles, we'll walk you through everything you need to know.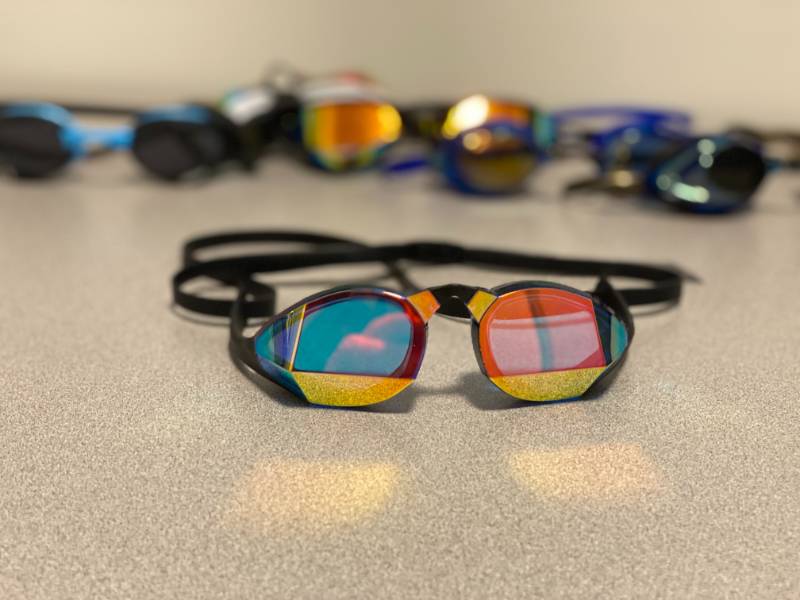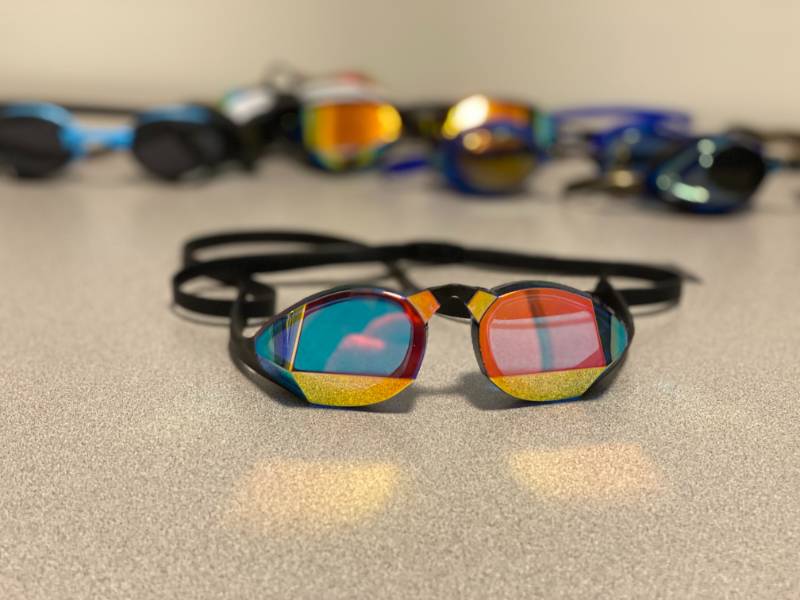 We've spent the better part of 35 years swimming, from age group swimming days to being Olympic Trials qualifiers to hitting the noon lap swim on the daily, so we know swim goggles.
By the end of this article, you will be fully armed with the knowledge and confidence to choose the perfect set of swim goggles for you and your goals.
Let's dive right in.
Choosing Swim Goggles – Type of Swimming
The type of swimming you plan on doing play a huge role on the swim goggles you ultimately choose.
Lap swimming.
Whether you are a novice lap swimmer or an experienced competitive swimmer, the right swim goggles help you swim those laps in comfort and safety.
Lap swimmers will primarily want durability, performance features, and lots of adjustability for extended wear.
Racing.
Swim goggles designed for competition have a low drag profile, side arms for increasing lens stability under speed, and tend to be pricey, with some racing goggles–such as the Speedo LZR Pure Focus Swim Goggles pictured below–costing as much as $90.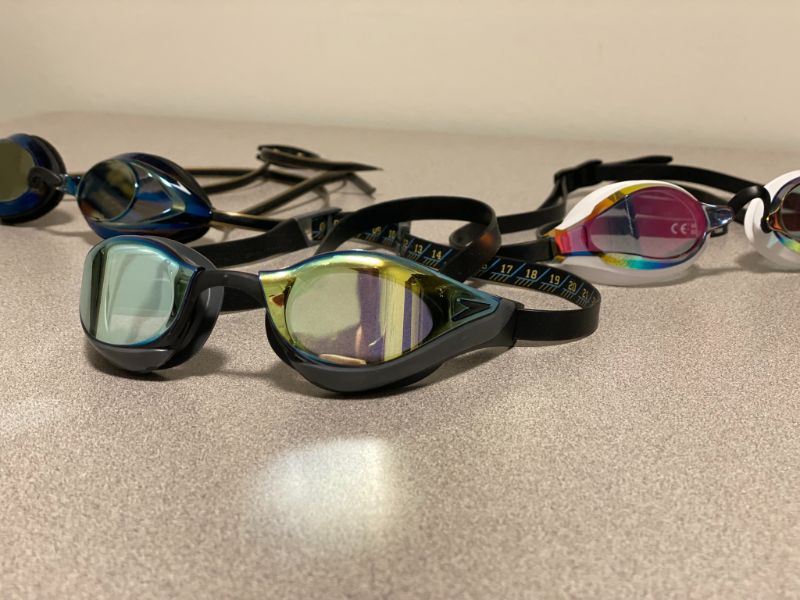 Open water swimming.
Look for goggles with a darker or mirrored tint and with lenses that are polarized for eliminating glare on the water.
Open water swim goggles have a larger goggle frame, allowing for better peripheral vision and making it easier to sight.
Splashing around.
If you are simply looking to protect your eyes at the pool, or increasing the confidence of your kiddo so that they can dunk their head under the water, "splash around" swim goggles are very inexpensive and have playful designs and colors.
Comfort and Fit
The main function of swim goggles is to allow you to see under the water, and this is difficult if they are constantly letting in water.
Swim goggles are almost universally adjustable and can be customized to the size and shape of your face.
The key things to look for when it comes to comfort and fit include:
Nose piece.
Swim goggles have two lenses that are connected with a nose piece.
Most quality goggles, like the Speedo Vanquishers 2.0, come with multiple nose pieces to allow for a perfect lens fit.
Additionally, more experienced swimmers will appreciate the total customization of the nose piece with Swedish goggles.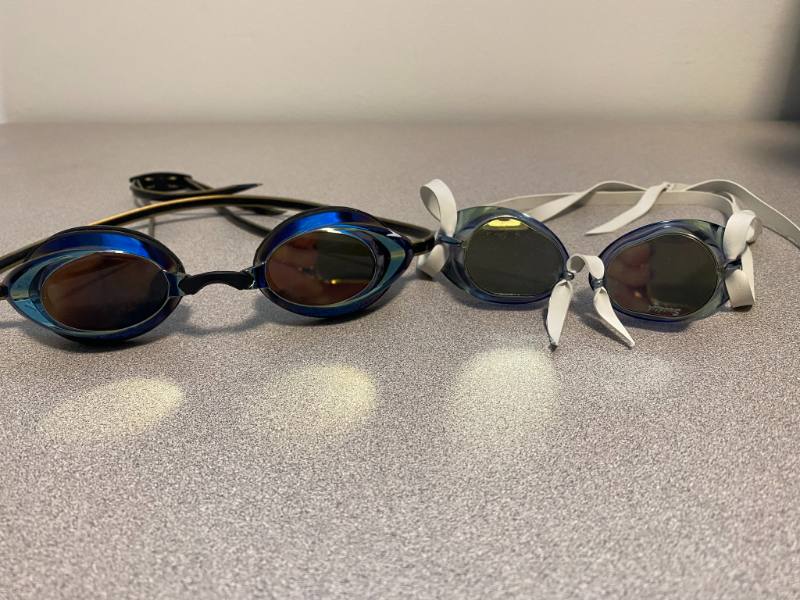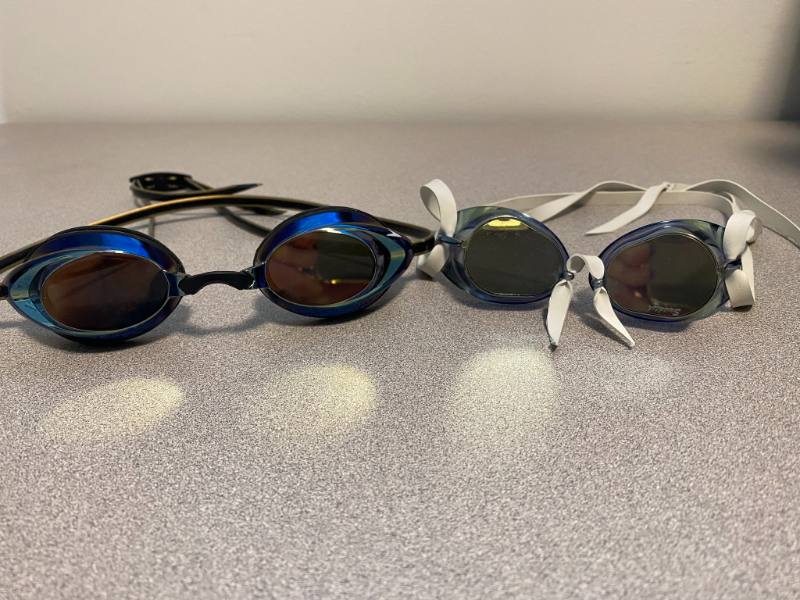 Swedish goggles, also known as "Swedes," have small inserts on the inside of the gaskets where you can thread string, or my preferred option, a couple of inches of the goggle strap.
Head straps.
Goggles are kept on your head via head straps. They have a small plastic buckle on the back or at the sides that adjust length. The straps—especially when worn at a 45-degree angle from your eyes—keep the goggles in place.
Gaskets.
If leaky goggles are the bane of your existence, make sure to choose swim goggles that have a silicone or rubber fold lining the goggle. These gaskets create light suction on the skin, creating a seal and helping to keep water out.
Custom swim goggles.
Finally, I will mention that there is also one goggle manufacturer that 3D builds custom swim goggles based on a digital face scan of your face (seriously!) for a truly custom fit.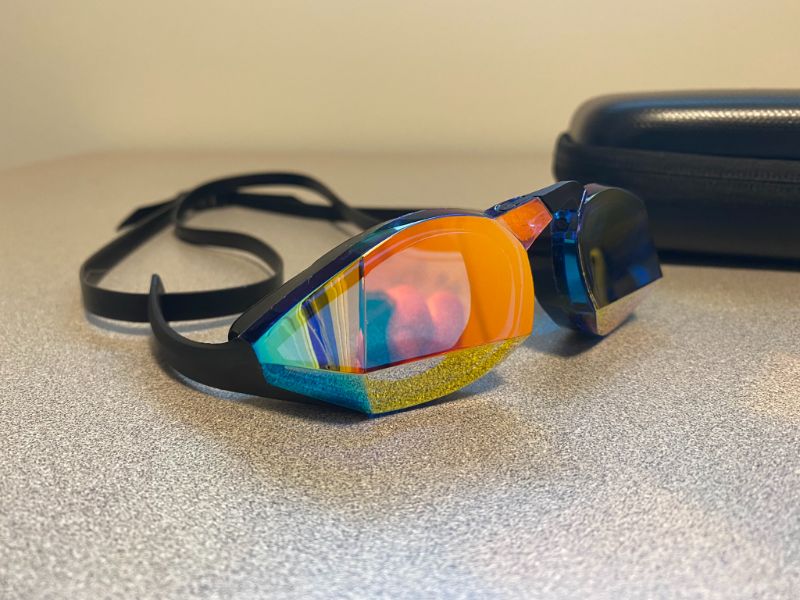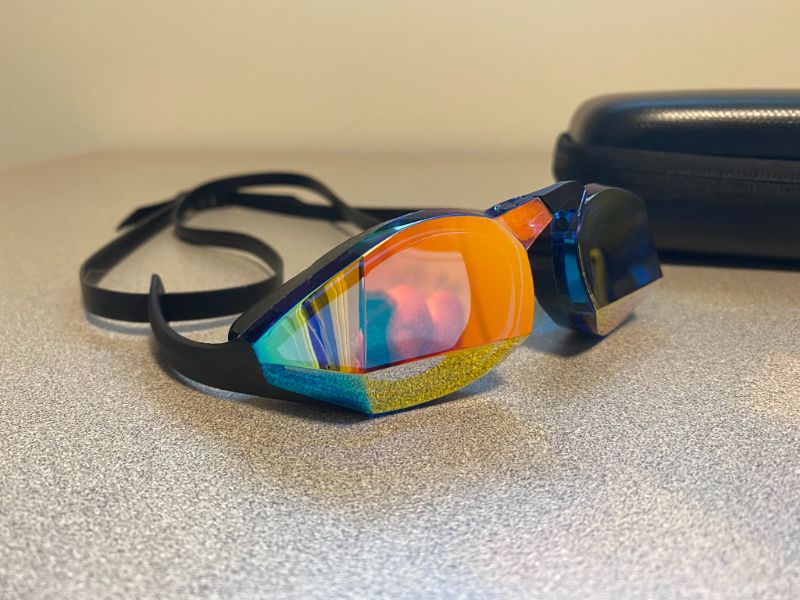 The Magic5 Swim Goggles are a unique goggle for people with really hard-to-fit faces or for swimmers who get headaches from traditional swim goggles.
Choosing the Right Swim Goggles for Performance Features
For more advanced swimmers, there are some features and things-to-look-for beyond the basics:
Low drag profile.
Competitive swimmers looking for the perfect set of racing swim goggles should look for goggles that have a slim profile.
Not only does this reduce drag in the water, but the slim profile also sinks deeply into the face, keeping them firmly in place when you dive into the water.
Smart goggles.
The swimming community has caught up to our land-dwelling athletes in terms of tech in a big way.
We now have the options between several smart swim goggles that show workout metrics (time elapsed, splits, distance, etc) inside the lens of the goggles.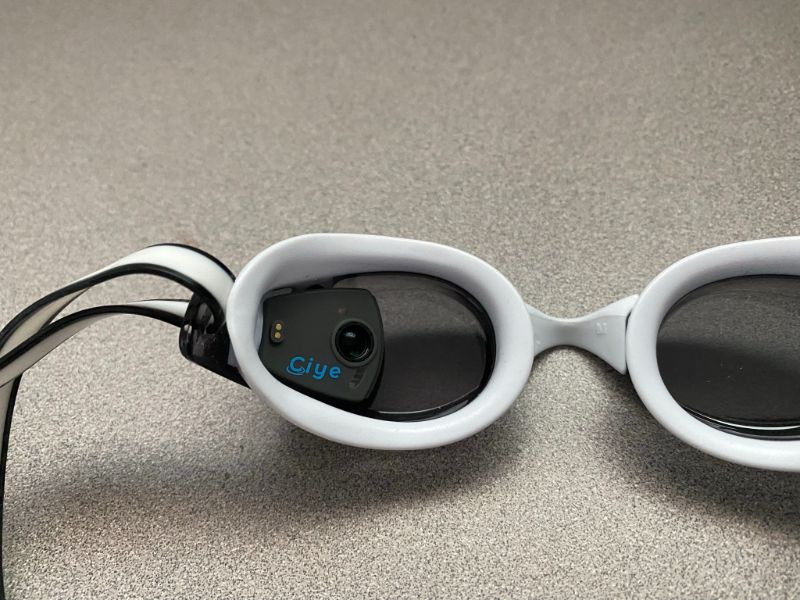 The FORM Swim Goggles and FINIS Smart Goggle are the two best smart swim goggles on the pool deck and are a dream for data nerds sick of using the analog pace clock at the pool.
Lens options
The lens of the swim goggles should line up with the environment and the unique needs of your eyes.
Key things to be on the look-out for include:
Clear and brightly colored lens for indoor pools.
Dimly-lit swim pools, like my local YMCA, require a lens that is lighter, from completely clear to colored (blue and orange help make shapes "pop" in darker pools).
Mirrored lens for privacy and looking badass.
Mirrored swim goggle lenses not only look particularly awesome, but they are also perfect for brighter swim pools and swimming outdoors.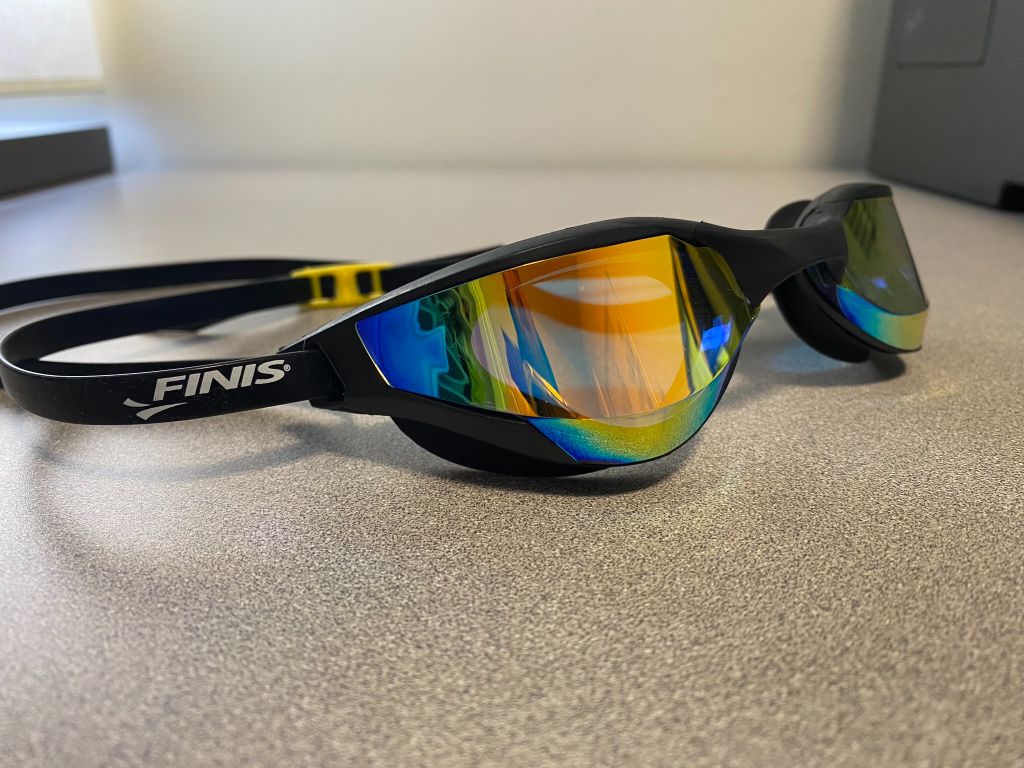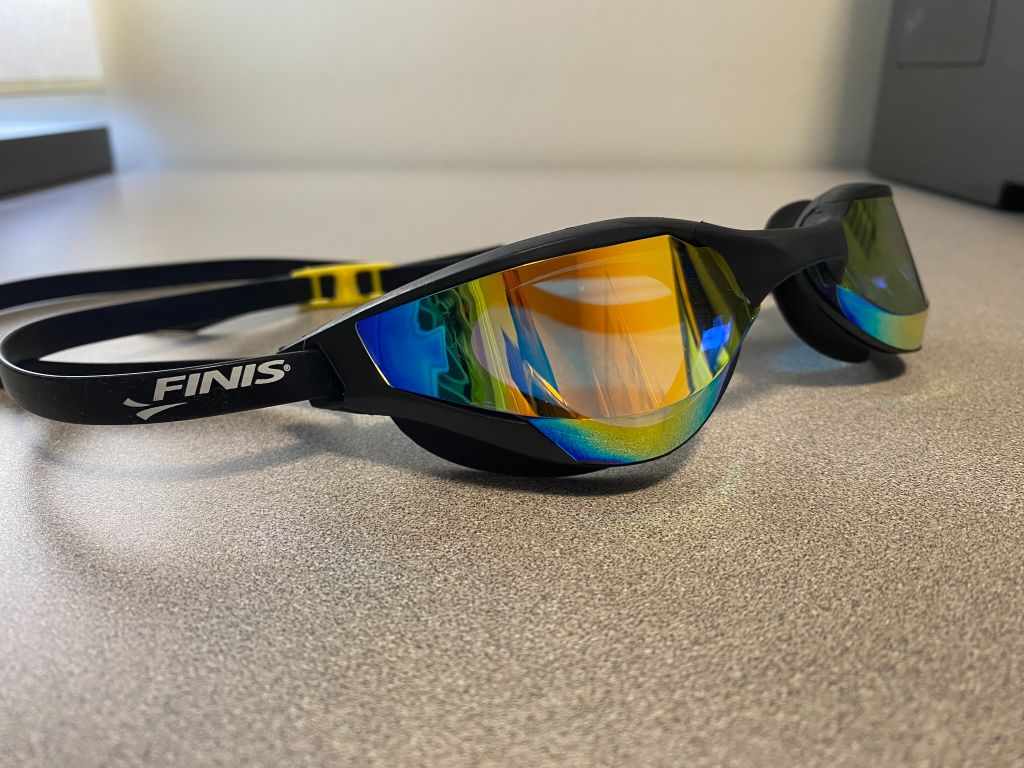 Polarized lens for outdoor and open water swimming.
Swimmers lucky enough to have access to an outdoor lap pool will want a goggle with polarized lens to help reduce the eye strain from excessive glare.
Prescription lenses.
While the number of prescription swim goggles doesn't come close to what's available with non-prescription lenses, there are still some quality picks out there.
Speedo makes an optical version of their best-selling Vanquisher 2.0 goggle, for example.
Durability
And finally, you want a swim goggle that is going to work as hard as you in the water.
Here are the main things to be aware of when it comes to making your swim goggles last:
Anti-fog properties.
Goggles that perpetually fog up are a perpetual pain-in-the-butt. No one wants to stop every length to wipe the inside of the lens clear so they can properly see where they are going.
Swim goggles almost universally come with an anti-fog coating applied inside.
The best anti-fog swimming goggles, the Arena Cobra Ultra Swipe Goggle, takes it to the next level with a proprietary anti-fog that resets when you gently wipe the inside of the goggle with your finger (I kid you not!).
Consider investing in an anti-fog spray for your swim goggles as well. They are dirt cheap and can significantly extend the life of your goggles.
(For more on foggy goggles, check out this article: How to Keep Swim Goggles from Fogging up and Why They Get Foggy in the First Place.)
Goggle case
Swim goggles are designed to handle business, but they aren't indestructible.
Consider investing in a swim goggle case to help protect the goggles while they are getting bounced around in the depths of your swim bag.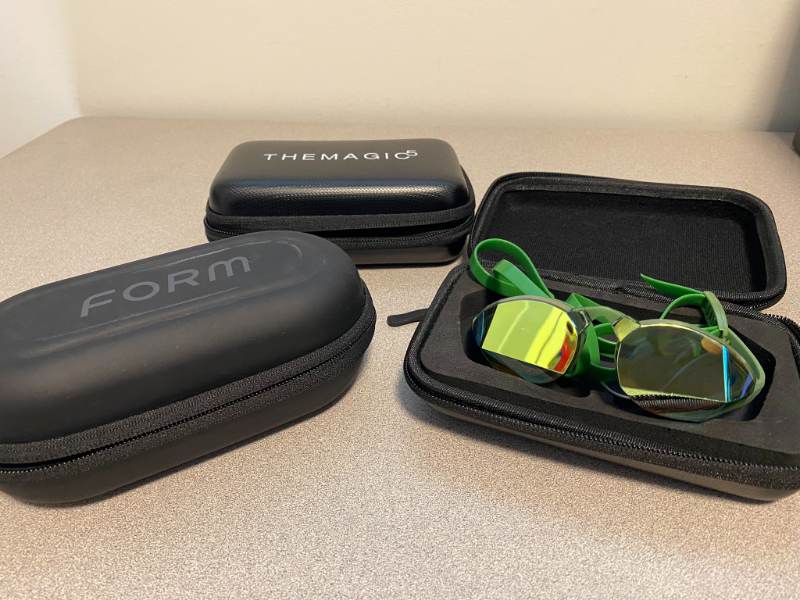 A case will keep your fancy-pants new swim goggles from getting scratched or damaged and help to extend the life and use of the goggle.
(A case also makes it easier to dig your swim goggles out of the bottom of your swim gear, too.)
Silicone Construction
Silicone is the most durable material there is for swim goggles (and swim caps).
Unlike the swim goggles of yore, which primarily had head straps made of latex, which degraded and corroded quickly from UV and chlorine exposure, silicone lasts just about forever.
When choosing a swim goggle, look for silicone head straps and a silicone gasket for maximum durability.
The Bottom Line
Swim goggles are an essential when in the water.
They keep your eyes from getting all itchy and red from chloramines, protect your eyes from the sun, and simply allow you to see what's around you, whether it is the other swimmers in the lane or the touchpad at the end of a race.
Finding the right swim goggle is a total game-changer, as well.
When you know what works for you, what's comfortable, and what won't leak, then you are simply more likely to hit the water again.
Choose the right swim goggles for you and your goals, and get your butt in the water!
---
What are the Best Swim Goggles?
We've put together the most comprehensive list of reviews and roundups on different swim goggles on the internet.
They include:
The Best Swimming Goggles for Every Kind of Swimmer. Confused about what kind of swim goggles to get? Here's a breakdown of the best swimming goggles for every kind of swimming.
5 Best Prescription Goggles for Swimming. Ready to take on the pool, but want to be able to take your prescription with you? Here are the best prescription goggles for swimming.
8 Best Swim Goggles for Women (for Laps, Open Water, and Racing). Looking for the best women's swim goggles for conquering the water? Here's a look at the best goggles on the pool deck, how to find the right pair for you, and more. Swim on!
8 Best Swimming Goggles for Kids. Looking for the best pair of swim goggles for kids? From backyard splashing to competition, we break down the top goggles for kids to splash around in the pool in 2019.
5 Best Goggles for Open Water Swimming and Triathlons. Ready to dominate your open water race? Here's a breakdown of the best swim goggles for open water swimmers and triathletes.
The 2 Best Smart Swim Goggles on the Market. Tech has come to swim goggles and it has come in a big way. Here's a detailed look at the top smart swim goggles on the market right now.