Looking for the perfect pair of swim leggings for working out in the water? Here is our hand-picked selection of the best swim leggings and pants.
Wearing pants in your aquatic adventures might sound a little silly, but we promise that swim pants (or swim leggings) are absolutely a thing.
When it comes to swimming and your favorite water sports, throwing on a pair of swim pants can help protect your legs from the sun, keep you warm in cooler pools, and provide coverage and privacy.
Made of water-resistant fabrics like spandex and nylon, swim pants are typically made of the same material that you find in your favorite swimsuits for lap swimming or a rash guard.
Unlike cotton-based garments, swim pants are quick-drying, made to fit a little snug, and stretches both vertically and horizontally for maximum range of motion.
The best part about swim pants and leggings is that they are comfortable and durable enough to wear during activities on the dry side of life as well, whether it's running, yoga, or relaxing on the couch after a long day.
Choosing the best swim leggings for the pool or your outdoor water activities means finding pants that are water-repellent, UPF 50+ proof, and of course, comfortable! Below is a breakdown of our favorite swim pants and swim leggings.
Let's get into it.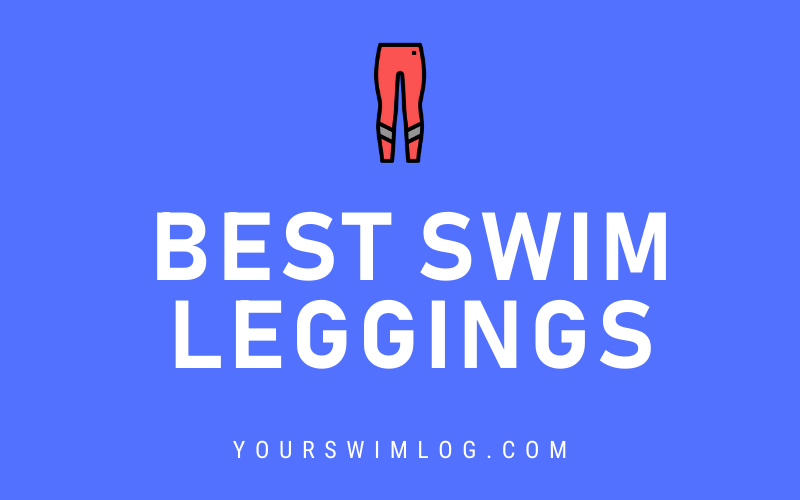 Body Glove Women's Surf Capri Swim Leggings
Body Glove is one of the most well-recognized names when it comes to outdoor water sports. That familiar hand-print is found on beaches and pools across the planet.
Their Surf Capri Swim Leggings are a simple and clean-looking swim pant that delivers on versatility and comfort.
Available in a dozen colors, they are made of 80% long-lasting nylon and 20% spandex, which gives the pants the four-way stretch you want from swim leggings for a comfortable and secure fit.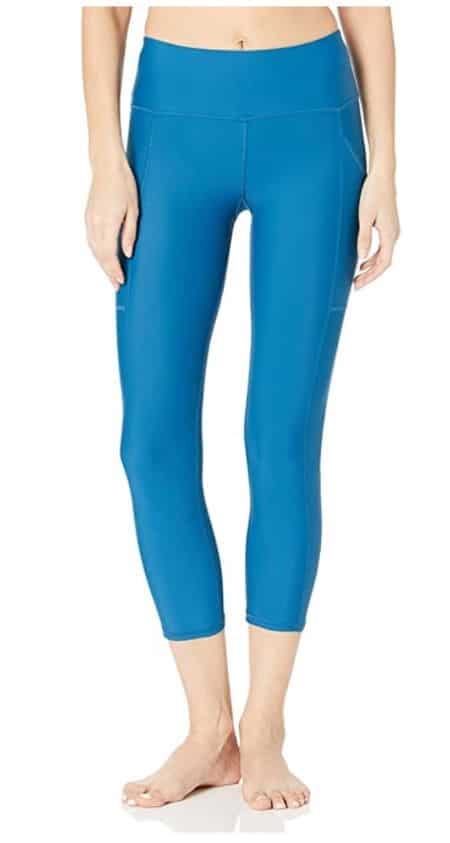 ---
Seaskin Neoprene Swim Leggings
Best swim leggings for cold water
Plan on hitting some chillier waters, whether it's the chilly competition tank at your local aquatic center or open water? The Seaskin Neoprene Swim Leggings are specifically designed for cold water.
The 2mm nylon-neoprene fabric is the same stuff that a triathlon or open water swimming wetsuit is made of. The lightweight swim pants are full-length and high waisted, built with a flatlock stitching that reduces painful stitching from repetitive movements like kicking.
Part wetsuit, part swimsuit, the Seaskin Neoprene Swim Leggings are an awesome way to stay warm in cool waters without having to fully commit to a full-body wetsuit.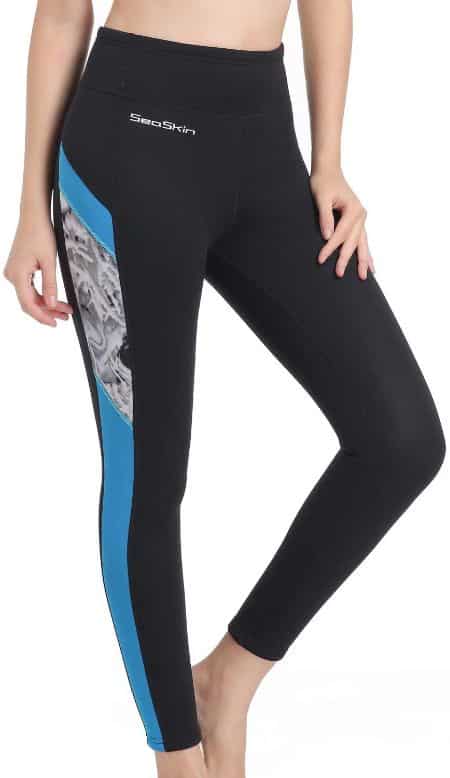 ---
GoldFin Women's Wetsuit Swim Leggings
Another wetsuit-type set of swim leggings come to us via GoldFin. Made of 70% neoprene and 30% nylon, the pants are an excellent combination of heat-retention and durability.
The seams and stitches are constructed to minimize rubbing and skin irritation while also giving you enough flexibility and range of motion to engage in your favorite water-based activities, whether it's water aerobics at the pool or jumping on the jet ski and taking it for a rip out on the ocean.
The GoldFin Swim Leggings, with their three-layer elastic fabric, are comfortable, will keep you warm in the water, and are breathable enough that you won't get overheated when working out in the water.


---
Coolibar Women's Deep Water Swim Tights
If you've ever spent time swimming laps at your local swimming pool, odds are very high that you used a swimsuit that was made entirely of polyester. This material is perfect for standing up to harsh pool chemicals like chlorine and bromine, protects you from the sun, and is still breathable and comfortable on the skin.
The Coolibar Women's Deep-Water Swim Tights are made 100% of polyester, making them essentially a training swimsuit for your legs. With an elastic closure and internal drawcord that keeps the pants securely in place, these fitted swim pants are awesome in the pool and out in open water at protecting your legs from the elements.
Quick-to-dry and hilariously durable, the Coolibar swim pants won't fade and is available in three different solid colors.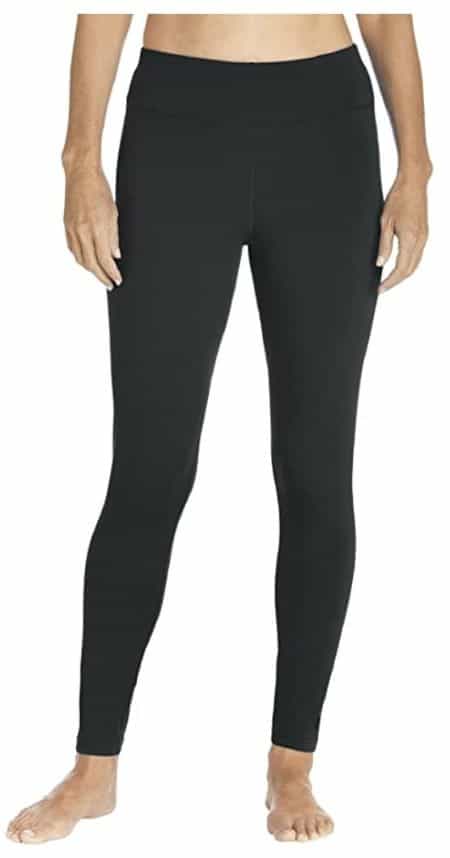 ---
Hurley Women's Quick Dry Swim Leggings
Hurley is one of the more recognized names in outdoor water sports, and with a long list of water and sun-resistant gear, they consistently rank as favorites for active women.
The Quick Dry Swim Leggings they make are a hybrid composition of performance fabrics that keep you warm while working out while providing a comfortable amount of coverage.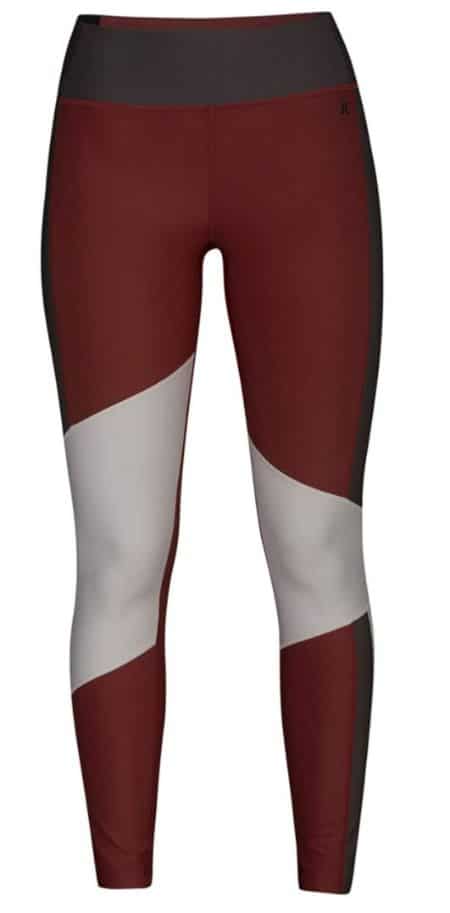 ---
Body Glove Surf Capri Swim Pants
Another entry on our little list comes from the folks at Body Glove. These swim pants offer a bolder design, sure to turn heads while still giving you the comfort and protection you expect from your swim pants.
Made of 80% nylon and 20% spandex, the pants provide an awesome balance of durability and flexibility. The pants feature mesh panel inserts, 50+ UPF protection from the sun's harmful rays, and with flatlock seams the pants will sit comfortably on your skin without rubbing or chafing.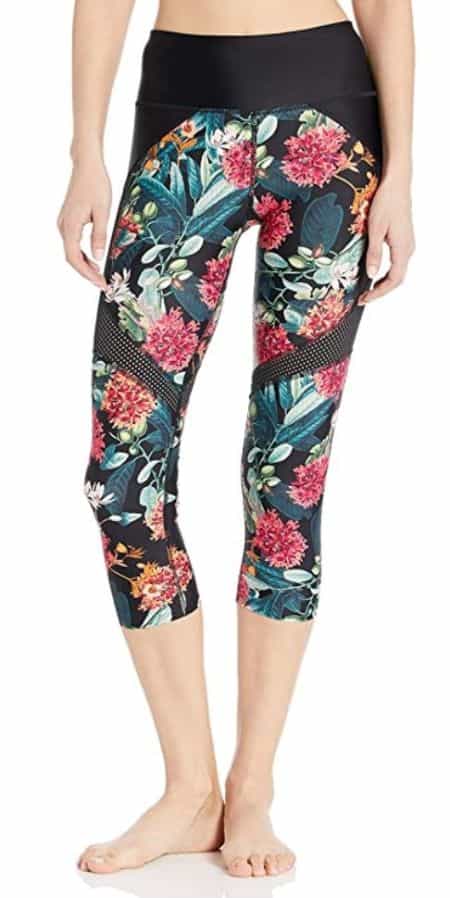 ---
Volcom Women's Day Tripper Swim Leggings
Volcom is well-known for producing gear for the outdoor athlete, whether it's snowboarding gear or rash guards. The Day Tripper Surf Swim Leggings are a great-looking set of leggings that give you the comfort and durability to hit the water and the sun with confidence. Made of 82% nylon and 18% elastane, the leggings have an extra-wide waistband to give you a secure fit.
The fabric composition hits both the durability needs and provides a horizontal and vertical stretch for a superior fit. Available in a couple of different color patterns, the Volcom Day Tripper Swim Leggings are at ease in the water and on the dry land side of life.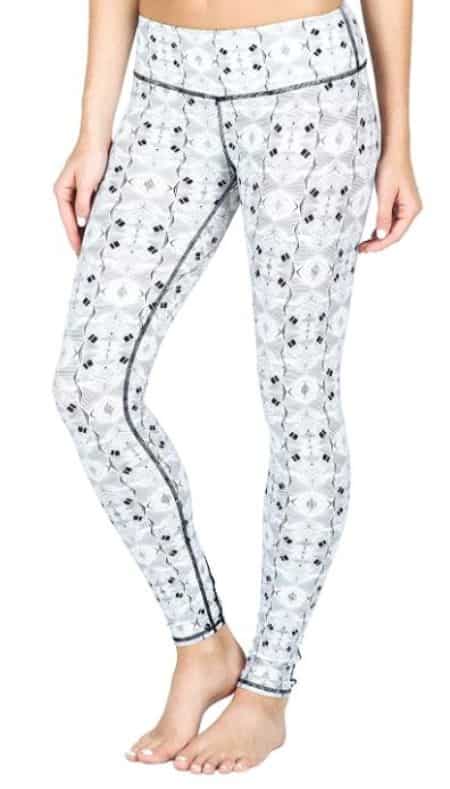 ---
More Stuff Like This:
6 Best Swimming Suits for Aqua Aerobics. Hitting your local pool for some water aerobics? Here is a breakdown of our favorite swimsuits for water aerobics.
12 Best Cheap Swimsuits for Women. Check out our weekly round-up of the best deals on swimsuits for women.