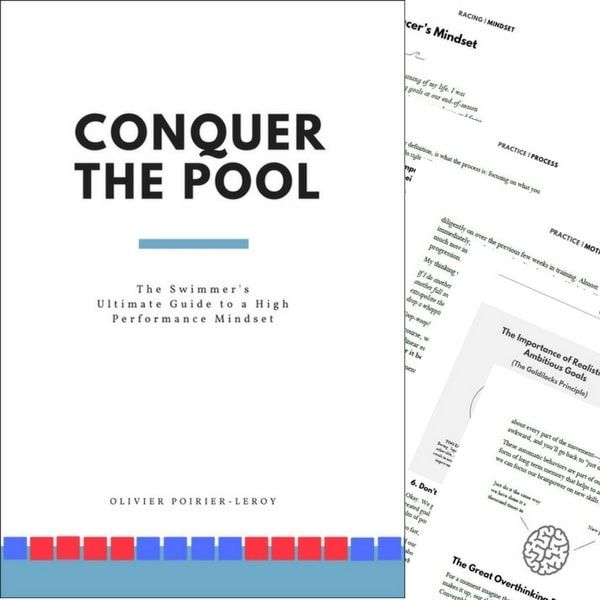 Do You Ever Get the Feeling Something is Missing From Your Swimming?
After all, you've been putting in the work at practice. You are showing up to those early morning workouts. Staying late and doing extra.
But then, when it comes down to it…
You just aren't performing as well as you think you should be.
You know you could be faster. And you know that you could be mentally tougher, both in practice and competition.
You know there is greatness there.
And you're looking for a simple, powerful and proven step-by-step way to master your mindset because you know a stronger mindset will give you supercharged swim practices, more confidence, earth-rumbling motivation, and most importantly…
Explosive and PB-smashing performances in competition.
If that sounds like something you might be interested in…
Then hang on to your butt and let me to tell why you need to get your hands on a copy of "Conquer the Pool: The Swimmer's Ultimate Guide to a High Performance Mindset" today.

---

---
"There's a Better and Smarter Way to Train and Race…"
Swimmers train hard. There are the two-a-days, the long training camps, and the countless hours swimming up and down the pool.
But if you are fed up and frustrated with…
Training your butt off in practice and then not having the results you want in competition,
Being a "flash in the pan" swimmer, where you swim crazy-fast one day and slow as mud the next,
Struggling to stay focused and optimistic when things get tough;
Feeling like a nervous and anxious mess in the pool,
Not knowing what it takes to perform at your very best,
And you've had it up to your ears with collapsing and choking under pressure at the big meet…
Then this book is going to knock your chlorinated socks off…
---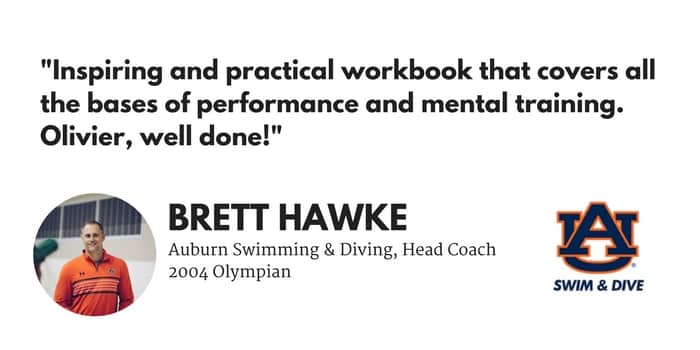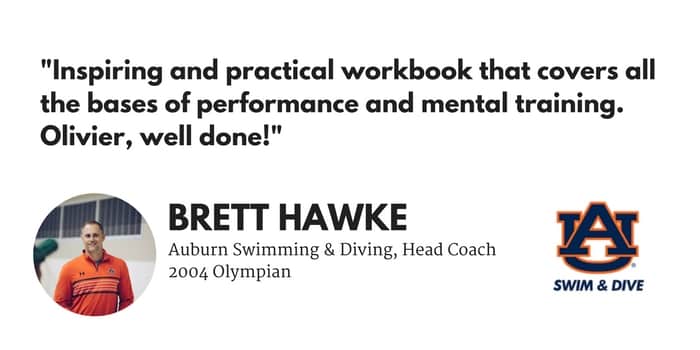 ---
"Finally…Mental Training for Swimmers Made Simple…"
Introducing Conquer the Pool, a mental training workbook designed specifically for competitive swimmers.
Made with the input of 200+ USA Swimming and NCAA head coaches, built on a steaming pile of research and studies, and accented with the stories of Olympians past and present, Conquer the Pool takes the most confusing aspect of our swim training—that often contradictory, paradoxical brain of ours—and breaks things down so that you can finally get on track towards achieving the big, hairy goals you have in the pool.
The book features 290+ pages of techniques, tips and lessons on how to finally get achieve the hardest thing of all…
The mindset you desperately need to help you perform like a total boss both in practice and on the blocks.
---
"Here's How Conquer the Pool Will Help You

Swim Like Your Hair is on Fire…"
With Conquer the Pool you will learn everything you need to know about developing a bulletproof mindset both in practice and on the blocks.
The book is broken down into three parts…
---

PART 1: Goal Setting
You've got a goal…but beyond dreaming about it, what steps have you taken to conquer it? Dreaming about our big goals isn't that hard.
But why haven't you accomplish them, then?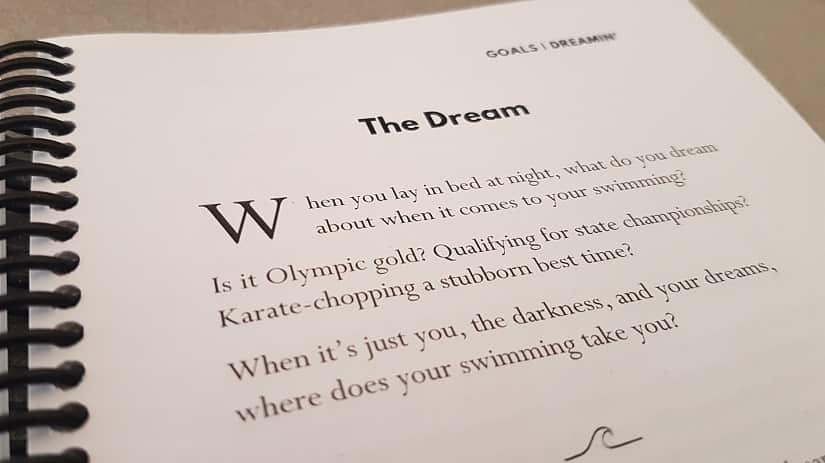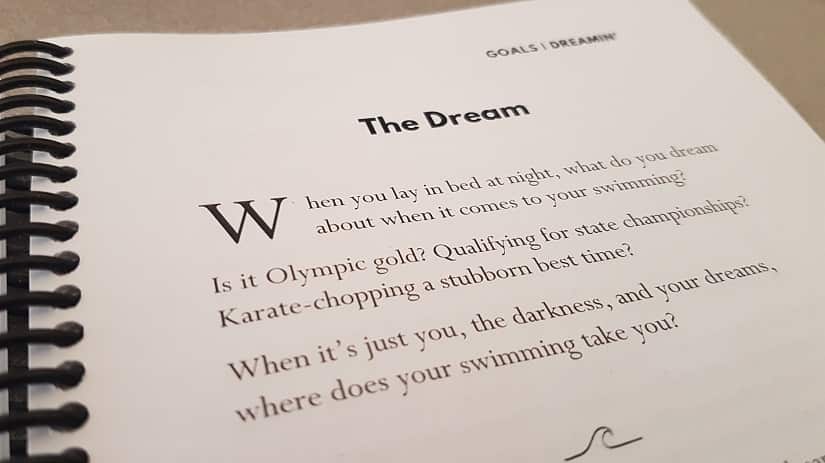 Instead of continuing to swim over and over again into the bulkhead, put the latest research into goal setting to work for you so that you can start kicking a metric ton of butt in the pool.
With Conquer the Pool, you will learn:
The best techniques for goal setting rooted in science and research.
For example, how this one goal setting trick will double your chances of success.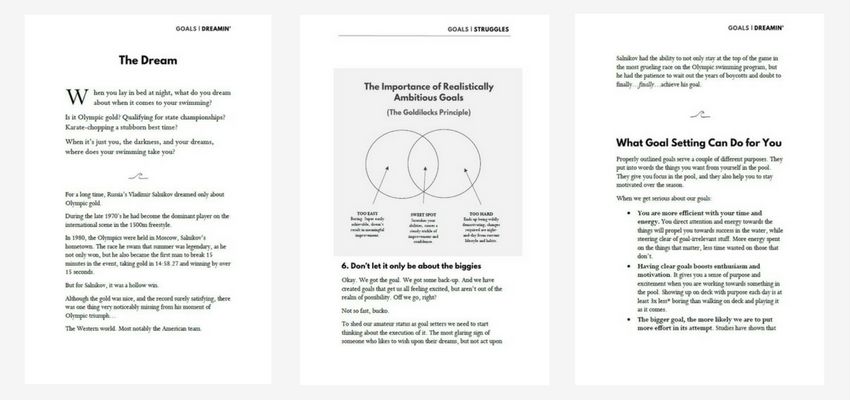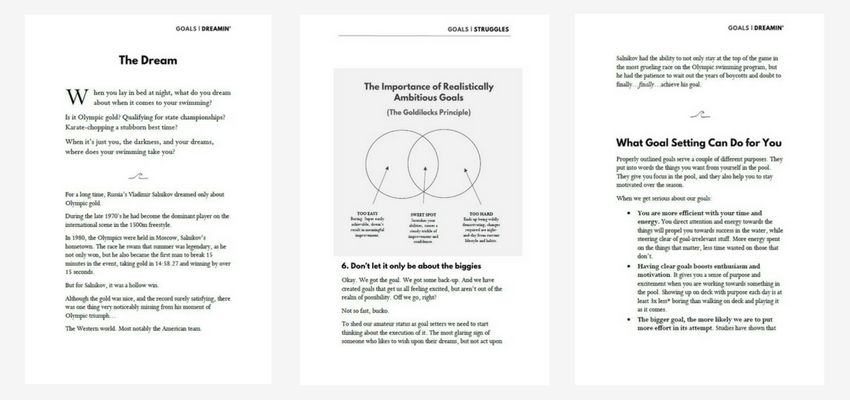 Why it's important to have ridiculous goals. Just how ridiculous? You'll learn that too.
Why low expectations are not the answer to your motivational woes.
A step-by-step blueprint for creating killer goals that will set your swimming on fire.
Worksheets to help you create goals for this season, your career, and practice.
And a whole lot more!
---

PART 2: Practice
Swim practice. For most of us, it's something that we have to suffer through in order to get to the fun stuff–racing!
But it's where we spend a majority of our time—how much of it can you say is helping you swim faster?
Are you going to your workouts and dominating them, or are they dominating you, leaving you stressed, anxious and uncertain when the big meet comes around?
With Conquer the Pool you will learn how to take control of your swim practices from beginning to end.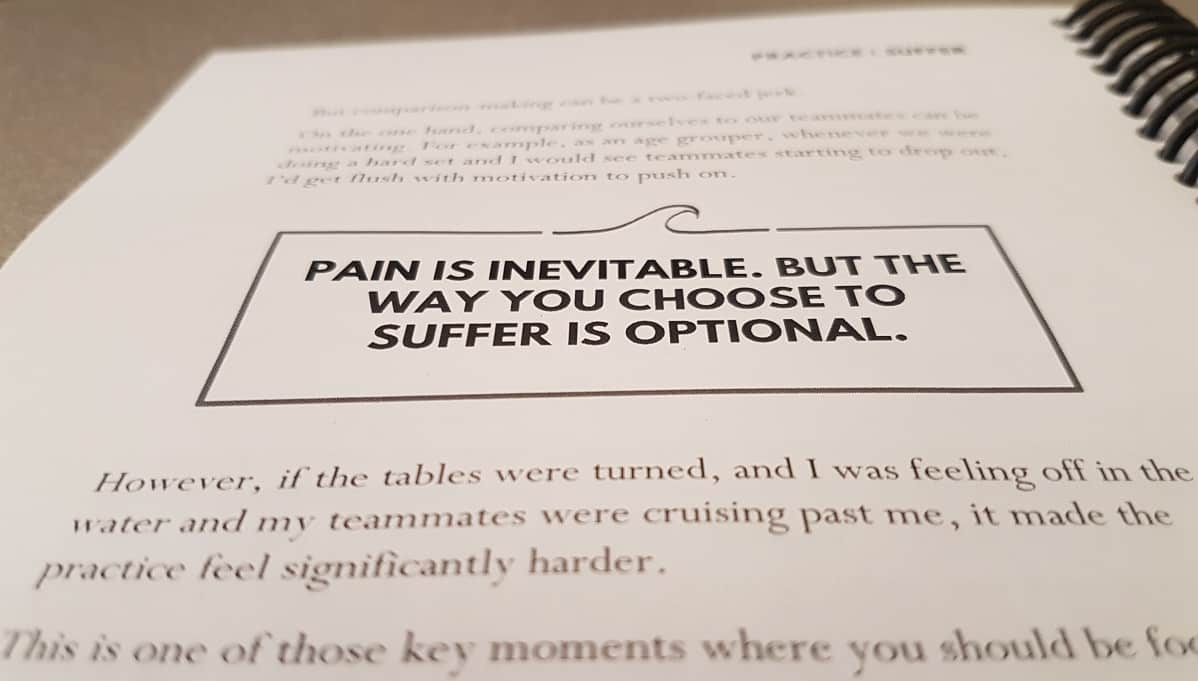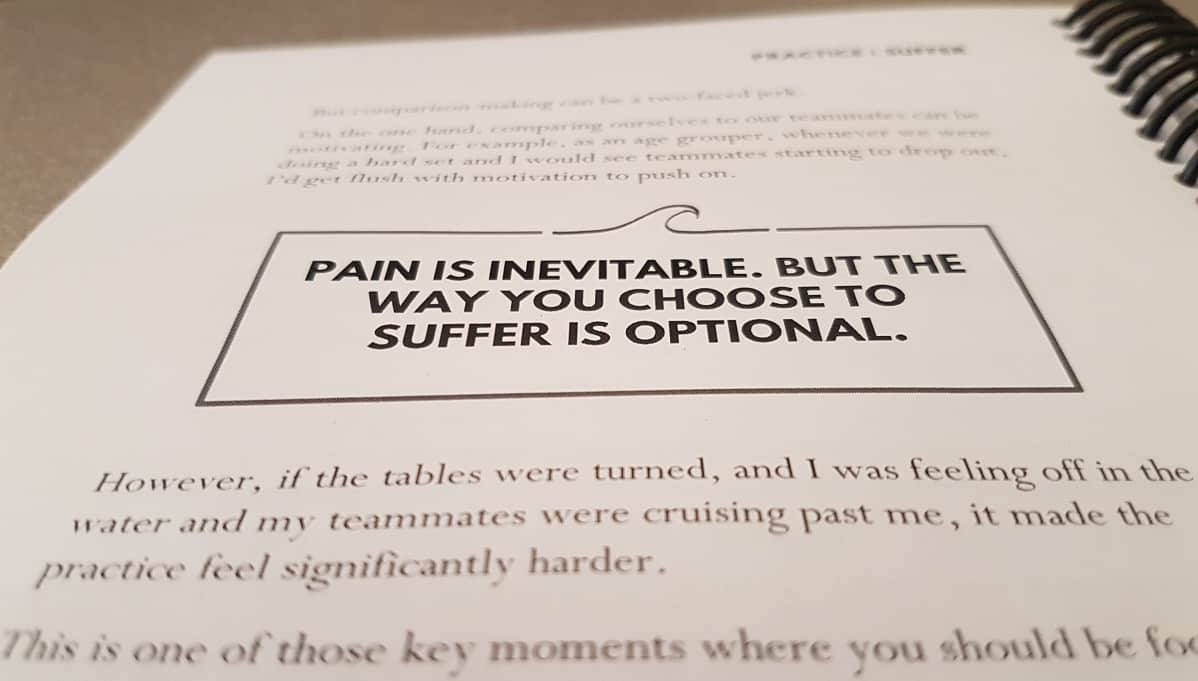 Just some of the things you will pick up:
The truth about motivation, and why the way you have been approaching it is all wrong.
The unconquerable value of mastering the process. This is one of the biggies of a master mindset, and something so many swimmers ignore. You will learn how to build one, why it is so utterly fundamental to becoming an elite swimmer.
The right way to focus in practice (there's different types of focus?).
How to suffer like a champion. Swim practice is hard, but pain can be your ally. You will learn how to suffer the right kind of pain with a series of pain-coping tricks and strategies.
Try this little visualization trick to immediately boost your in-practice results.
Strategies for improving your times and performance in practice starting today, including visualization techniques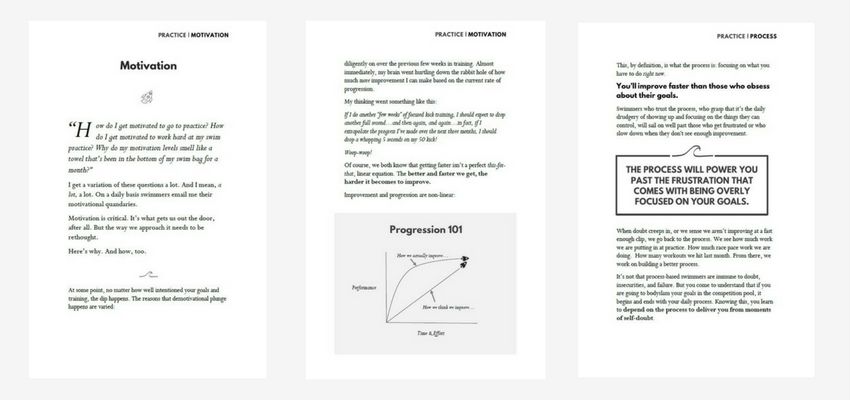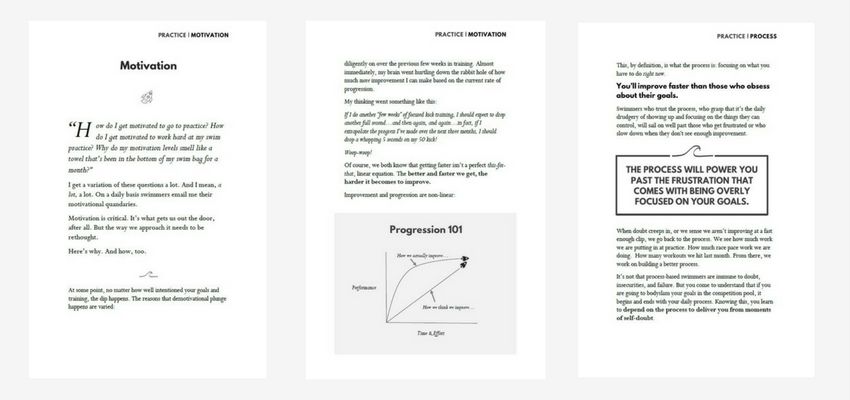 Mental toughness level 9000: fast swimmers are invariably the mentally tough ones. They are able to push through the frustration and agony of hard training, and this epic level of mental toughness starts with your self-talk.
Unlock pro mode on your mindset by conquering your self-talk. You will learn what kinds of self-talk to use, when to use them, and see how effective it is for crushing not only your practices, but more importantly—your races.
A group of techniques for improving your self-talk. Powering up your self-talk is pound-for-pound the best thing you can do for your swimming, and you will learn how to take yours to the next level.
Put together, you will get more from the time you are already spending in the water.
You will be able to train smarter. And do so with less anxiety, more focus, and less wasted effort.
Most importantly, you will have the rock-solid confidence and tenacity to know that you are fully prepared to unleash an avalanche of pain on your personal best times at the big meet.
Speaking of which…
---

 PART 3: Racing
Finally, we have the thing that causes us so much confusion and anxiety…
Putting all of our hard work together on race day and launching off the blocks like an intercontinental ballistic missile with full confidence and clarity.
After all…
Is there anything more infuriating than training your butt off at practice and then having your performance crumble when it matters most? Maybe swimming head-first into a bulkhead, perhaps?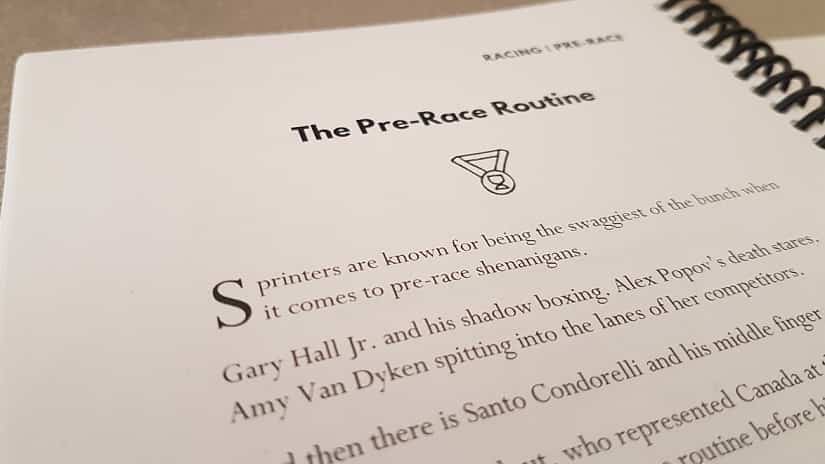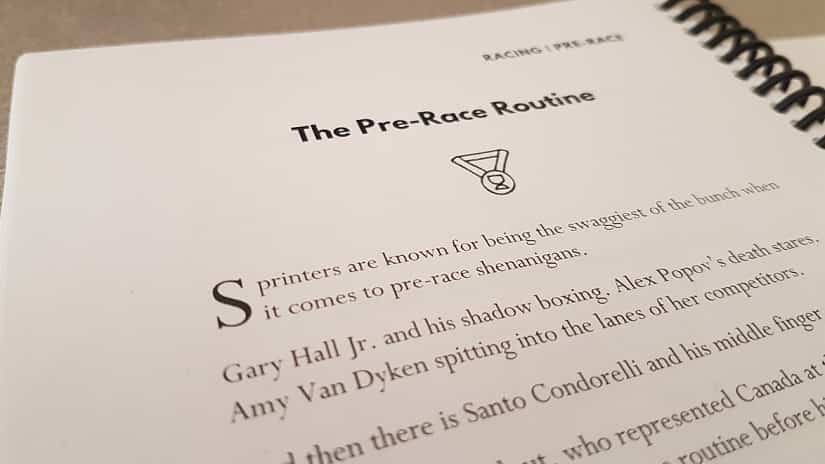 Imagine how much faster you could race if you knew exactly what it takes to decimate your PBs? For a moment think how awesome it would feel to step up on the blocks with the calm, rock-solid confidence of knowing you will race at your best?
This is the kind of feeling you will experience when you are able to master the mindset of an elite racer.
In this section you will learn strategies and information for:
What kind of mindset you need when you step up on the blocks. (Hint: it's completely different from the one you use in practice.)
How to deal with every swimmer's biggest nightmare–choking. You will get a list of tools and strategies that will help you keep calm and poised and be prepared to lock and load on your personal best times.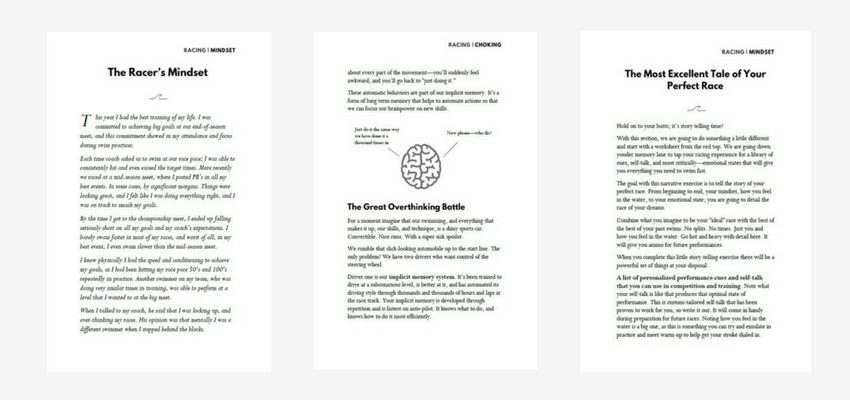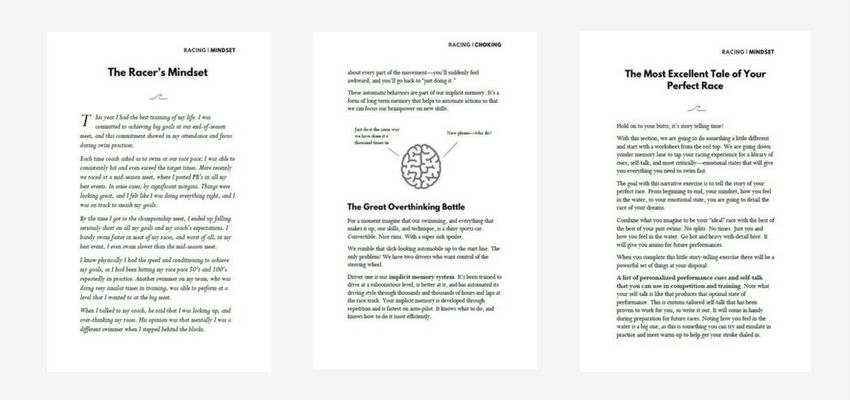 How to build a pre-race routine that will give you epic levels of confidence on race day.
Exercises and techniques proven to help squash race-day anxiety so that you can perform your best when it matters most.
How to get psyched-up properly so that you can perform fast during prelims and other low-excitement races. You'll learn what getting psyched-up entails, and the one thing that is actually more powerful than using aggressive psych-up talk.
You will learn exactly what it takes for you to perform at your best. Not your teammate, not the competition–you and you alone.
And much, much more.
---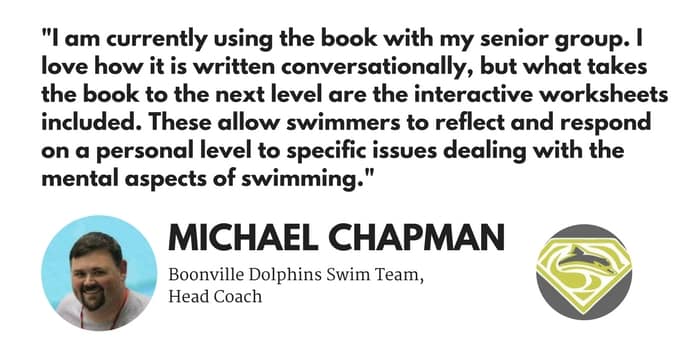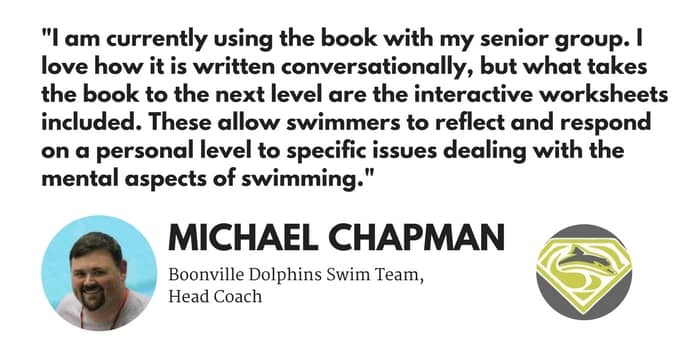 ---
FAQ
Sounds cool so far? Got some questions though?
Here are some of the common ones:
Do you do team orders? Bulk discounts?
Absolutely. There are some cool things we can do with team and group orders. Discounts of up to 25%, and we can even add your club logo to the cover of the book at no additional charge.
Here are just some of the teams that are using Conquer the Pool to help their swimmers crush it…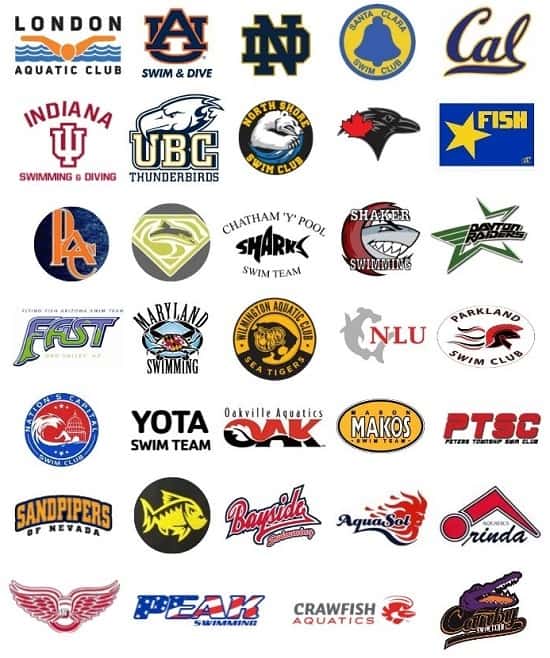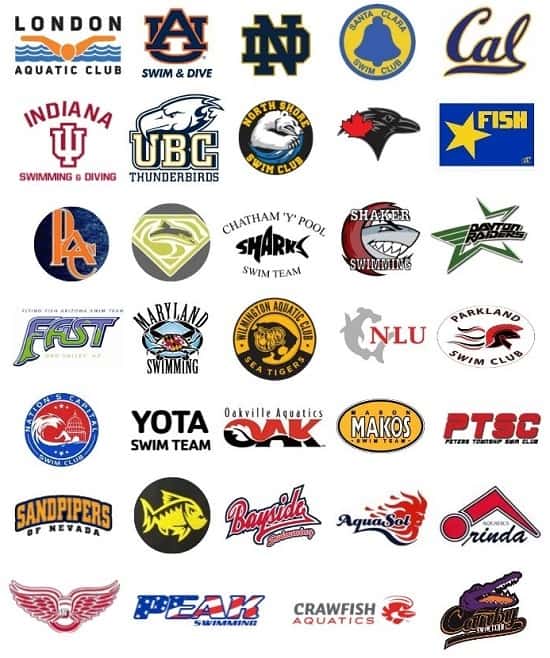 Interested in learning more? Fill out the form on this page or drop me an email at olivier@yourswimbook.com and I can give you the full details.
Is this just a 292-page listicle on how to get motivated?
Nope. All the concepts are based in research and science. Nearly a hundred different papers and studies are referenced. The bibliography alone is 12 pages long.
Also, there are worksheets with every key section and chapter. This is a participatory book. Sure, there are some monologues here and there, and plenty of anecdotes from Olympians past and present, but at the end of the day, this is a workbook.
Am I going to need to be a space scientist to understand all this stuff?
Everything is broken down so that you can easily digest everything I'm throwing at you. It was important to me that anyone could read this book and take away some career-changing information and knowledge.
Additionally, if you've read my work before, whether here or on SwimSwam, at USA Swimming, or elsewhere, you know that while I am seriously passionate about this stuff, I'm also down to have a good time with it. Getting hysterically better should be fun, after all!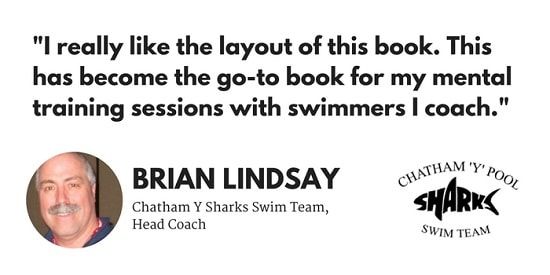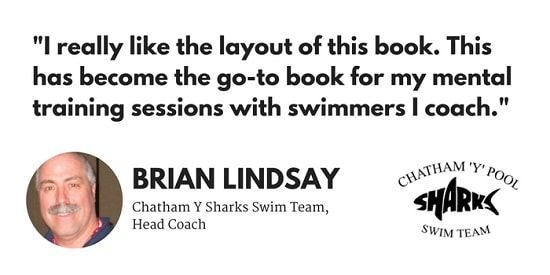 Are there any extras?
Yes. The book comes with bonus online worksheets and resources. There wasn't enough room in this book for all of the information and worksheets, so we created an online section where you can access extra copies of the worksheets, and access an ever-growing library of resources to help you stay on top of your mental game into the future.
Who is this book for?
Whether you are an age grouper or hitting your sixth Olympics, this book will have something to offer you. Lots of the research featured hasn't been covered extensively, especially as it relates to swimmers. So basically if you want to achieve some hairy goals in the pool, this bad boy is right up your alley.
When will I get my copy?
We ship via Small Packet Air; this means that for US/Canada orders take between 5-7 business days, and Internationally 5-15 business days, depending on how far it's going. Space station orders take a little longer.
Alrighty then…how much is this book of saucy awesomeness?
It's $39 plus shipping.
Does it Come With a Money Back Guarantee?
Absolutely. I want you to be 100% satisfied with Conquer the Pool. If not, send it back to me and I'll refund ya immediately. You have 30 days to become a faster swimmer totally risk-free.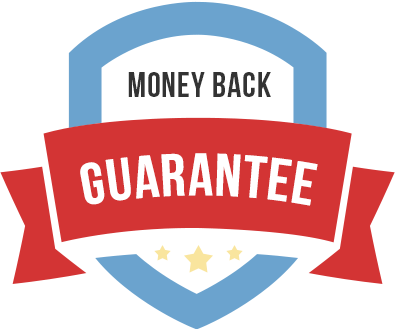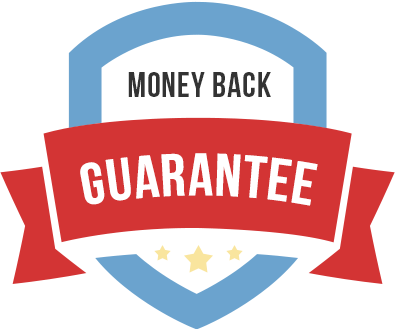 ---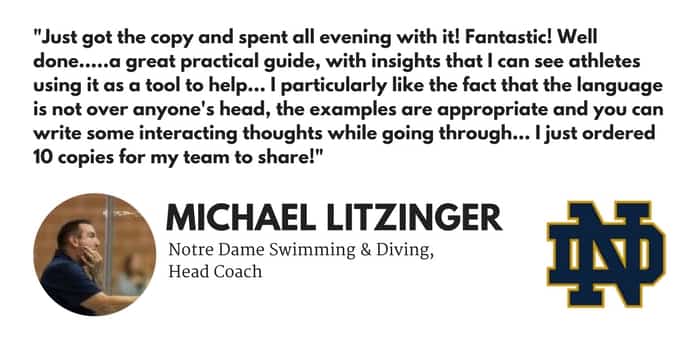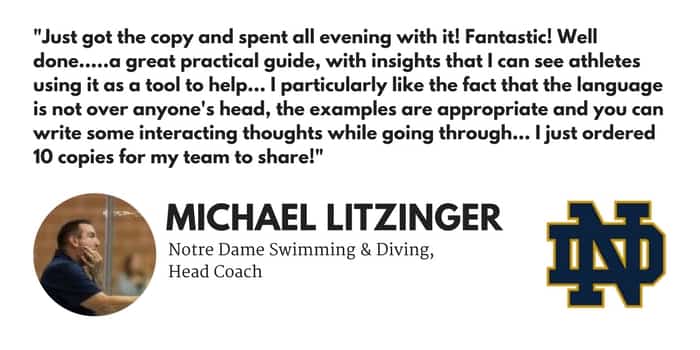 ---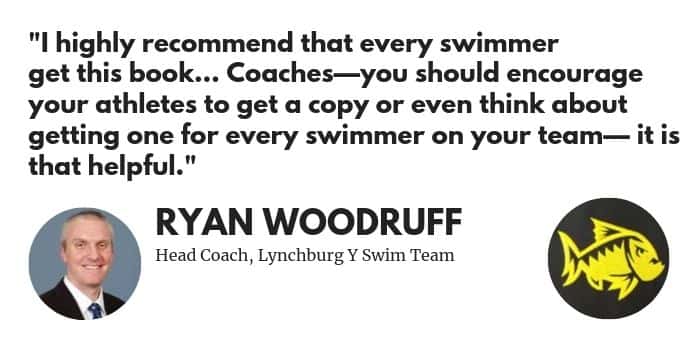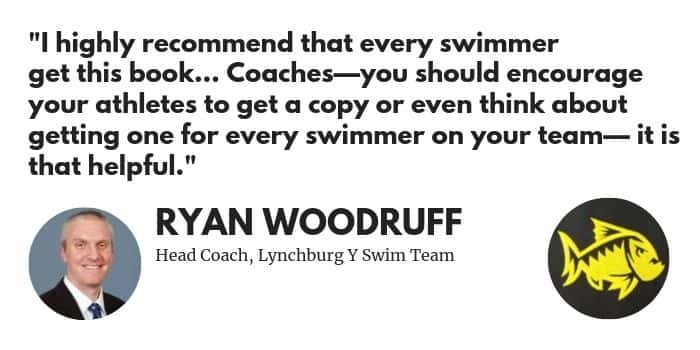 ---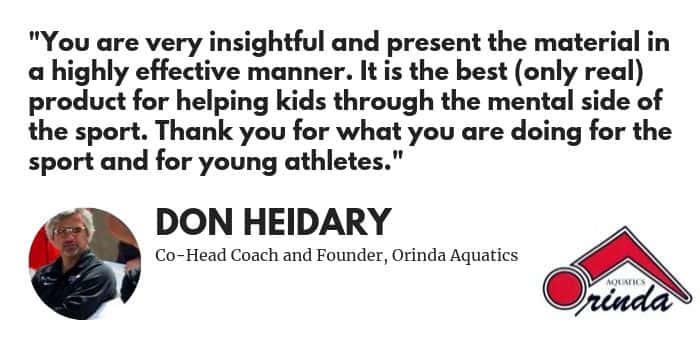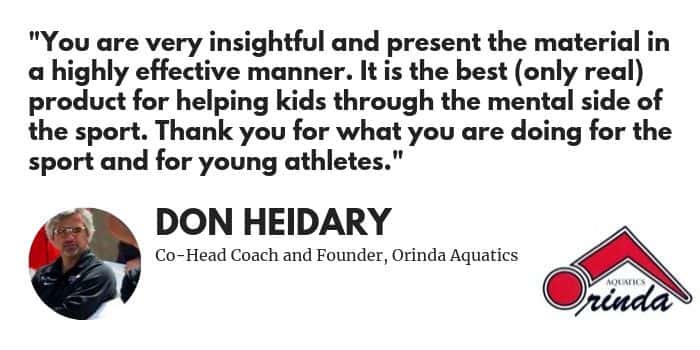 ---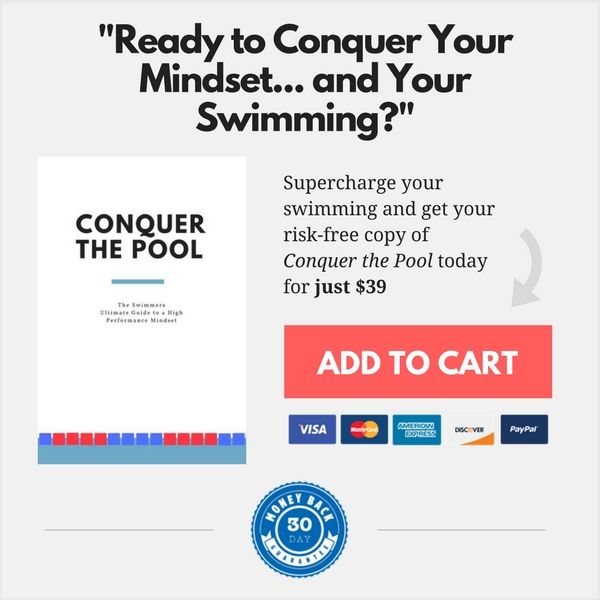 Talking a big game about the things you want to accomplish in the pool is easy. You see it all the time with swimmers who talk big about what they could do. That's easy. Anyone can do that.
It's those that take those big dreams and work towards it with unrelenting determination. And just like the lactate threshold sets, the race pace reps that leave you gasping and wanting to hurl into the gutter, working on your mindset requires work and training.
It's not a band-aid. Or a quick fix. But a set of extremely powerful tools and techniques that will help you be mentally bulletproof.
When you are ready to take your mental game—and your swimming—to the highest levels, click on the "add to cart" button below and let's get things rolling.
–Olivier
---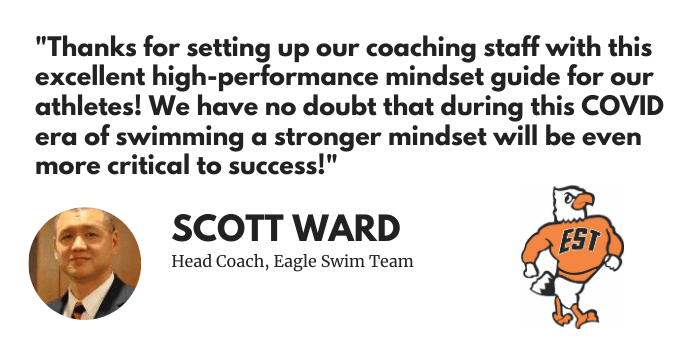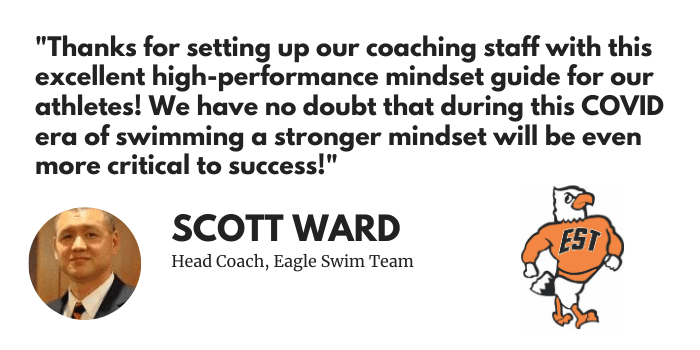 ---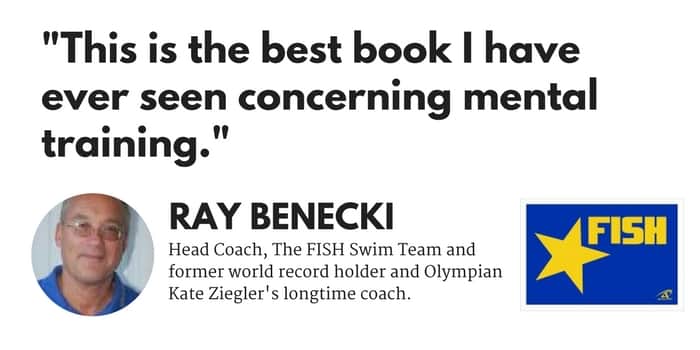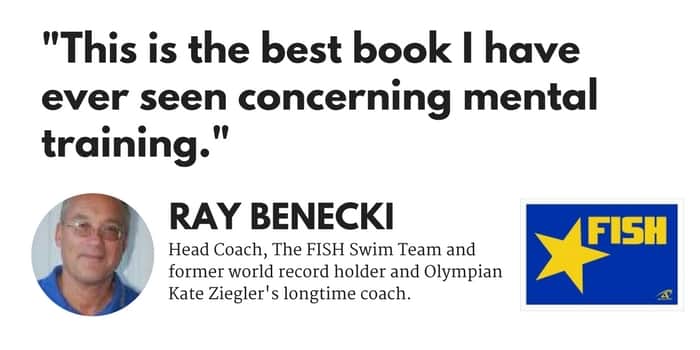 ---
P.S. Your purchase is 100% guaranteed. If, after 30 days of playing around with Conquer the Pool you aren't feeling mentally tougher, more confident, and you aren't swimming faster, return for a no-question refund. And yes, we can still be friends.