THE BOOK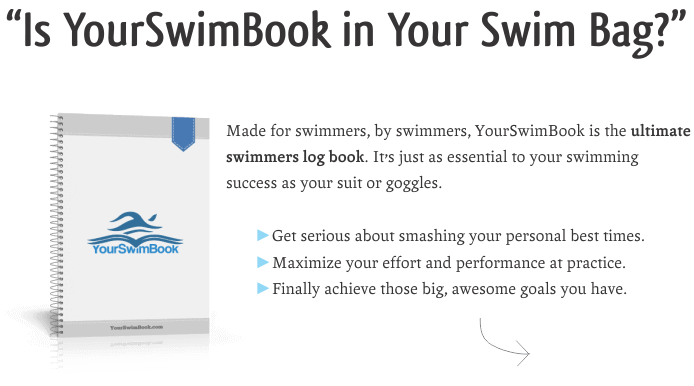 Is This an Actual Book?
Yes, paper and all. This isn't software, or a flimsy spreadsheet, or even an app. It's an actual physical product! Cause we are old school like that.
Will You Ship it to Me First Thing Tomorrow Morning?
You bet your butt. Unless it's Friday or Saturday. At which point it'll have to wait until Monday morning to get shipped out.
Speaking Of Shipping, How Much?
Shipping is a flat rate of $8 for US & Canadian orders, $12 for international orders. Note: Shipping is flat rate, so if you buy 1 or 5 books the shipping is the same, which can save you quite a bit of money if you buy more than one.
Why Did You Create This Paper-Coated Bundle of Goodness?
Frankly, if I was swimming still (and yes, watching the Olympic Games in London did get the gears turning for a minute or two…) this is the tool I would take with me to battle. I always wanted something exactly like this when I swam, but it never existed.
When is the Best Time to Use YourSwimBook?
Record your workouts immediately afterwards! That way you can remember as many details as possible about your results. I'd recommend drying your hands first though.
Do I Have to Fill in All of the Fields for Every Workout or Competition?
Nope. But generally the more info you fill in, the more you have to look back on down the road. That being said, regardless of how detailed you keep your log book, fill in as much as you feel will be helpful to you swimming well more consistently.
Should I Share All of This Information with My Coach?
Certainly. Then again, it's up to you. If you don't want to share your repeated scribbles of "I reallly hated this set" with the person who is creating them that is also your prerogative. It's your book. (Haha get it? YourSwimBook. Whammy!)
Who Else is Using YourSwimBook to Swim Faster?
Some of the world's best swim programs use YourSwimBook, including…

Do You Offer a Discount on Multiple Orders?
Heck yes! If you're thinking on a group or team order, click here and fill out a request for a complimentary estimate.
Does it Come With a Money Back Guarantee?
Absolutely. I want you to be 100% stoked on YourSwimBook. If not, send it back to me and I'll refund ya immediately.
Do I Have to Be a High Level, Olympic Athlete to Use This?
Nope. Whether you are a weekend warrior swimmer, or heading into camp for your first international games event, this book can help you swim faster.
Will YourSwimBook Make Me Better Looking?
Undoubtedly.*
*Individual results may vary.