The Beijing Olympics held some stunning moments in the pool. Of course, the big story through the 8-days of racing that summer in 2008 was Michael Phelps and his quest for 8 gold medals.
The 4x100m freestyle relay had been viewed to be as the biggest hurdle in going 8 for 8, but with Jason Lezak swimming a race that is so unbelievable that it still boggles the mind 8 years later, the Americans kept Phelps' hopes alive.
While the rest of the races were not necessarily a cakewalk for Phelps he was the overwhelming favorite in the IMs, the 200 freestyle, the other two relays, and of course, the event he first qualified for the Olympics for in 2000, the 200m butterfly.
And then there was the 100m butterfly.
It was the only individual event where he wasn't the world record holder. That distinction belonged to his American teammate, Ian Crocker.
In addition to the threat posed by Crocker, the fastest qualifier leading into finals was an American-trained Serbian named Mike (Milorad) Cavic.
In this short doc produced by Omega—who provided the timing system that would become a focal point of the outcome of the race—Phelps and Cavic are interviewed years after the race.
For those who don't remember, Phelps came back to out-touch Cavic by the slimmest margin imaginable—one one-hundredth of a second. Cavic had been leading from the start, and looked to poise to take gold until Phelps swooped in with a half-stroke right at the finish.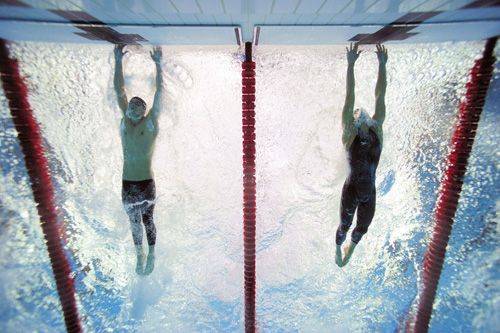 A finish that was so close the Serbian delegation lodged a formal protest, which they would eventually withdraw after FINA officials and staff manning the Omega timing equipment concluded that Phelps had indeed touched first.
"I knew I was destined for this race," said Cavic says in the mini-documentary. Thinking back to how he felt getting up on the blocks, staring down Phelps in lane 5. "This was my moment."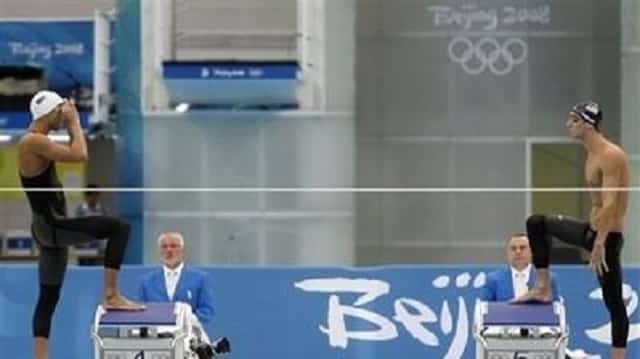 "The results don't lie," Phelps says with a smile.
Here is the video. Enjoy:

Up Next: