Tech suits are racing suits for competitive swimmers. Here's a look at what makes a tech suit so "techy", why swimmers wear them, and how they differ from regular swimsuits.
The swimsuits that competitive swimmers have used over the years have progressed significantly from the days of the "Speedo" (aka a swim brief).
In this article, we will look at tech suits, examine what make them "tech", the benefits of wearing them, and more.
Let's dive right in.
What is a Tech Suit?
Tech suits, or technical suits, are racing swimsuits for competitive swimmers made with water-repellant fabrics and designed in such a way to reduce drag in the water, thereby increasing speed and performance.
Often made with the help of Olympic champions and with a great deal of effort (Speedo uses NASA scientists to help make their tech suits more hydrodynamic, for example), tech suits are worn on race day to give swimmers an edge.
Tech suits are expensive, with top-tier suits costing $600, and are worn exclusively in competition due to the shortened lifespan of the fabrics and materials used during construction.
Why Do Swimmers Wear Tech Suits?
When it comes to swimming their best on race day, swimmers rely on tech suits to help them make the most of their hard work at swim practice.
Here are the key ways that tech suits help swimmers perform better:
Compression.
Tech suits are sized small. This is to help "compress" your body into a hydrodynamic position and also promote blood flow to target muscles. Tech suits have panels on them that are specifically designed to support muscles in your hips and glutes, providing a gentle compression that helps performance.
Water-repellant fabric.
The fabric and materials used in the making of a tech suit are "dry" fabrics—they repel water and reduce drag in the water.
Compared to training suits, which are mostly made of polyester or nylon, which absorb a lot of water, tech suits use a lot of Lycra (or elastane or Spandex). This material repels water, reducing drag in the water1.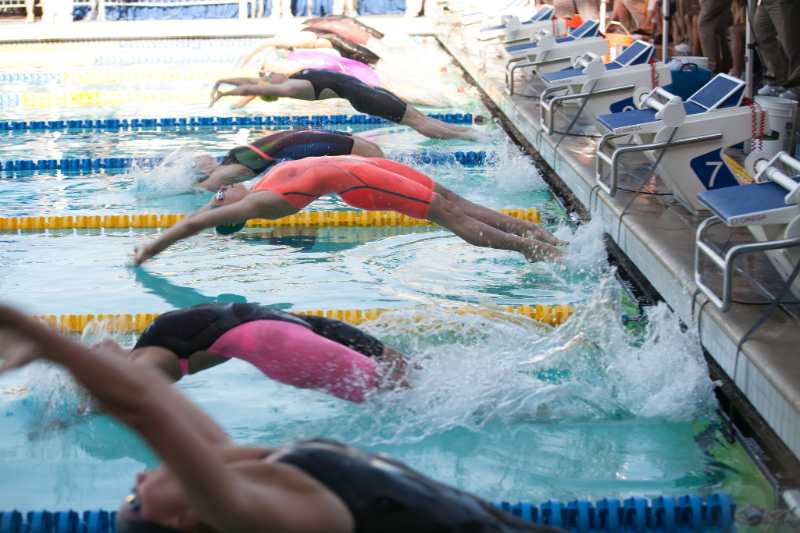 Increased speed in the water.
Tech suits work. There's no doubt about that.
The world-record binge that happened at the 2009 FINA World Championships, where 43 world records were broken (with many of those records still in existence today2), were because of increased swimsuit technology.
FINA has tightly regulated tech suit fabrics and shape since then, but the advantages of these fabrics are still undeniable.
Mental benefits.
For a lot of swimmers, a tech suit is their cape and shield, a piece of swimwear that gives them confidence on race day.
The psychological effects are difficult to quantify, as you can imagine, but having a shiny and expensive suit on that you know is hyper hydrodynamic can give you a mental boost on race day.
What is Considered a Tech Suit?
There are two things that make a tech suit a tech suit:
Fabric.
Tech suits are made with woven fabric with bonded seams. Training suits are made with thicker textiles that have sewn seams.
Coverage.
Per FINA's regulations, tech suits are not allowed to go above the navel or below the knee for men. For women, tech suits cannot cover the neck and are not allowed to go past the shoulders or below the knee.
Tech suits are evaluated by FINA and are given their stamp of approval for competition.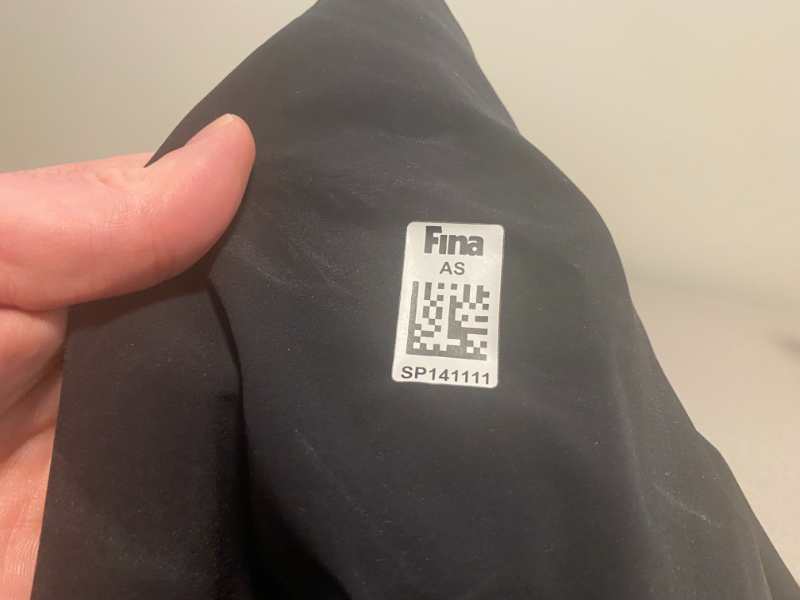 When you see a swimsuit that is "FINA Approved", or you see a small FINA QR code on a sticker on the back of a swimsuit, this means the suit has been tested to make sure it falls within acceptable parameters for coverage, thickness, and materials.
USA Swimming has forbidden technical suits for swimmers under 12 years of age due to their cost and limited benefit of younger age group swimmers.
What are the differences between tech suits and regular training swimsuits?
Here are the key differences between the swimsuits you wear at swim practice and the ones you should wear at swim meets.
Materials.
Training swimsuits are made primarily with polyester, which is an extremely durable fabric that doesn't stretch or fade when exposed to chlorine or UV rays.
Polyester is an excellent fabric for practice as it can withstand the hours and hours in the pool without tearing and falling apart.
This increased durability comes with reduced hydrodynamic properties—polyester absorbs a lot of water and increases drag in the water.
Polyester is the main fabric when it comes to drag suits for swimmers, suits that are designed to increase resistance in the water.
Tech suits are made with a blend of water repellant fabrics, with the two primary materials being polyamide (nylon) and elastane (also known as Spandex).
Although excellent for reducing drag in the water, these fabrics are fragile and don't have a long lifespan, with tech suits lasting only around 12 to 15 wears depending on how well you take care of the tech suit.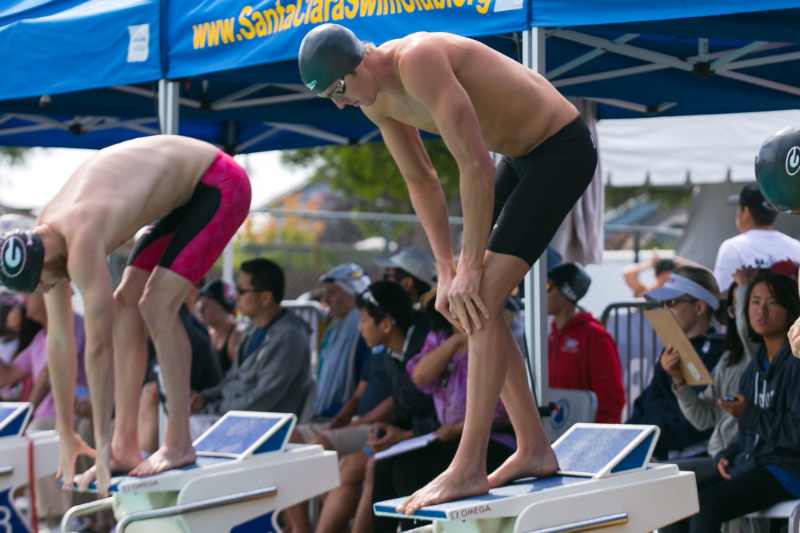 Use
Training swimsuits, thanks to their stronger construction, are best used in training situations. They are designed to hold up and not stretch and fade when submerged in chlorinated pools for hours on end.
Tech suits are designed specifically for use in competitive situations. More experienced competitive swimmers will have "suit up" sessions in training where they temporarily put on a tech suit at practice to do an all-out effort for time.
The rest of the time, tech suits are used for swim meets to help swimmers make the most of their training and taper so that they can swim their best.
Shape
Men's training swimsuits can take several different shapes, including the "Speedo" (a swim brief), square cut, or training jammers, which are knee-length.
Men's tech suits cover from the hips to the top of the knees. FINA, the governing body for aquatic sports, limits the amount of coverage men can have with tech suits. Gone are the days where you could race head-to-toe in performance-enhancing fabric.
Women, similarly, are limited by how much coverage they can have with tech suits to have them legal for competition.
Think of a women's tech suit, also known as a kneeskin, as a regular women's swimsuit paired with a jammer. The suit can extend to just above the knees, similarly to a jammer.
When it comes to training swimsuits for women, suits come in a wide variety of shapes and fabrics, including two-piece training suits.
Price
Tech suits are not cheap.
Top-tier racing suits made by powerhouse brands like Speedo and Arena can cost upwards of $600, with most tech suits in the $300 range.
There are some excellent budget tech suits on the market that stay under $120 and provide many of the same performance-enhancing features as the elite suits. Racing suits for younger age group swimmers are also significantly cheaper, with USA Swimming mandating in September 2020 that "elite" tech suits were not appropriate for 12-and-under swimmers.
To see which suits are legal for younger swimmers, check out this article on the best 12-and-under tech suits.
Training suits are much more affordable, retailing from $20 for a basic men's swim brief up to $80 for some of the more popular one-piece swimsuits for women.
The Final Lap
Technical suits are one in a long line of innovations designed to help swimmers perform faster than ever at swim meets.
Made of water-repelling fabrics, designed for compression and increasing blood flow, and retailing with a hefty price tag, tech suits are a sizable investment in your swimming.
Ultimately, whether you choose to race with a tech suit at your next swim meet should come down to how well you prepared, how much money you are willing to spend, and finding the right tech suit for you.
---
More Tech Suit Guides and Articles
How to Put a Tech Suit On. Here are some best practices for getting into your new tech suit is a little easier, while also protecting the suit from accidental tears and rips.
The Best Tech Suits for Sprinters. Looking for a tech suit that will unleash serious speed on race day? Here is a detailed look at the best tech suits for sprinters to dominate the competition.
6 Best Tech Suits for Breaststrokers. Whether you are a breaststroker, or an IM specialist looking for a tech suit that provides compression and lots of mobility, here is a breakdown of the best tech suits for breaststrokers.