Whether you are a breaststroker, or an IM specialist looking for a tech suit that provides compression and lots of mobility, here is a breakdown of the best tech suits for breaststrokers.
You've done all the training, ate like a champion, and completely nailed your taper.
Know it's time to step up on the blocks and unleash a hurricane of fury on the competition and your personal best times.
For the breaststroker and individual medley specialist, being fully prepared to swim fast on race day means picking out the right suit for racing.
What breaststrokers need in a fast tech suit:
Hip mobility. Because breaststrokers kick out, instead of up and down like in the other three strokes, a high degree of flexibility is required in the suit to breaststroke kick properly.
Compression. Tech suits are meant to be tight and snug. The compression promotes blood flow to the hips and glutes, helping speed recovery and keeping your hips high in the water. Unlike tech suits for sprinters, which are high on compression, racing suits for breaststrokers have a higher degree of flexibility.
Tech suits are not cheap. The higher-end brands charge $400+ for a jammer and $600+ for a kneeskin. How much you are willing to invest in your suit depends on how many times you plan on using it and the level of competition you are swimming in.
Although tech suits are highly personal, there are certain suits that are tailored more specifically for breaststrokers and medley swimmers.
Here's a breakdown of the best tech suits for breaststrokers.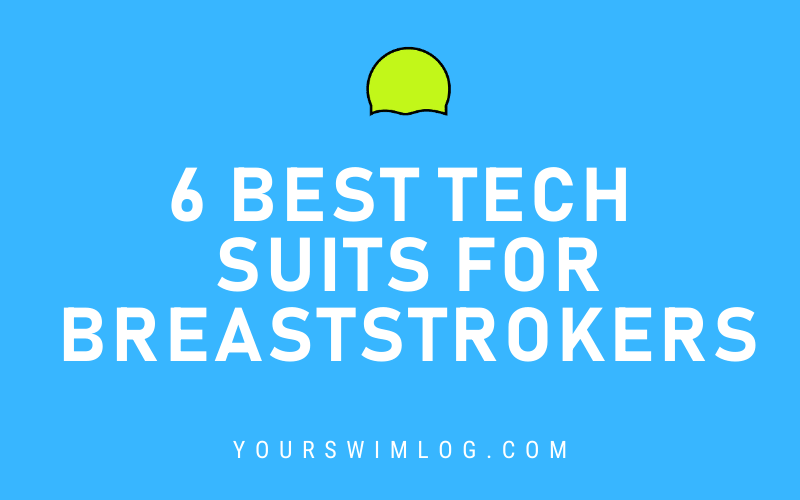 TYR Venzo Genesis
** Our top pick for tech suits for breaststrokers
TYR is one of the more popular gear makers for competitive swimmers. Their stable of swimmers is very impressive, including Katie Ledecky, Simone Manuel, and Ryan Lochte.
But it's their core of breaststrokers that make them stand apart from other tech suit manufacturers:
Lilly King, world record holder and Olympic champion in the 100-meter breaststroke (who refers to the Venzo as the best kneeskin for breaststrokers)
Olympic bronze medalist in the 100-meter breaststroke, Cody Miller.
Ian Finnerty, American record holder in the 50-meter breaststroke.
Molly Hannis, 2016 Rio Olympian, 200-meter breaststroke.
The Venzo, like most high-performance racing suits for swimmers, is made carefully with two goals in mind: compression and reduction of drag.
The suit is made of 70% nylon and 30% spandex, is built without seams, and is highly water-repellant.
The TYR Venzo is available in a variety of colors and backs for men and women. Although it ranks as our favorite, it does land on the higher end of the spectrum when it comes to price.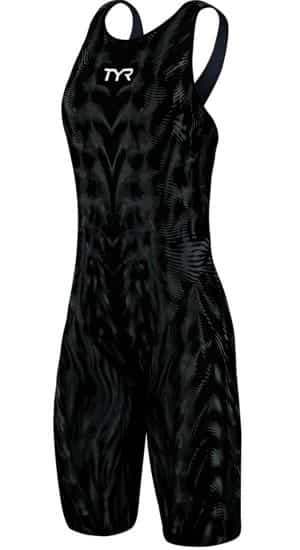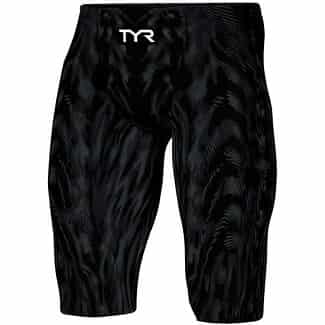 ---
Arena Carbon Core FX Tech Suit
Arena has built up an impressive portfolio of racing suits over the past few years, with the Carbon Pro and Carbon Flex both ranking as favorites. (Additionally, the Arena ST 2.0 is my favorite all-time cheap tech suit.)
The Arena Carbon line gets a new addition this year with the Carbon Core FX Racing Suit.
The Carbon Cage technology works by providing compression both vertically and horizontally, giving you that familiar "locked-in" feeling when you slide into the suit. The horizontal compression makes it an ideal racing suit for breaststrokers, as you get the full benefits of compression with the range of motion necessary to breaststroke kick like a boss.
Along the back of the legs, the suit is twin-taped for maximum buoyancy in the water. The Arena Carbon Core FX comes in open- and closed-backs for girls/women, and is made of 52% polyamide, 47% elastane, and 1% carbon fiber.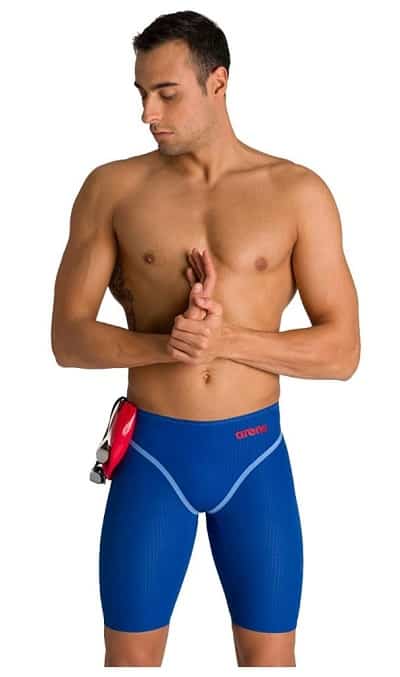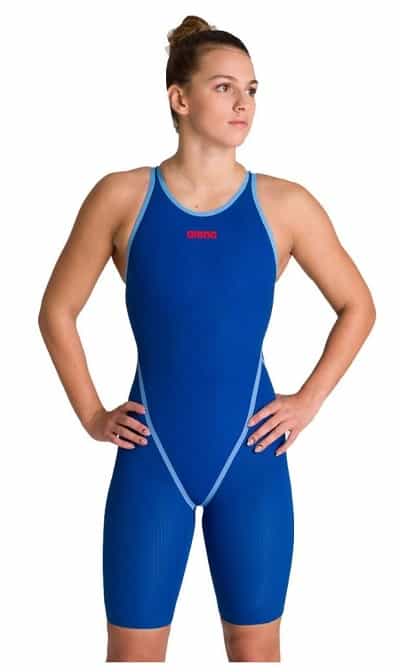 ---
Arena Powerskin Carbon Flex XV
One of the legacy suits of Arena's is the Carbon Flex. This suit has been wildly popular with breaststrokers and individual medley specialists over the years, and with good reason: The Flex lives up to its name by being highly compressive and highly flexible.
Constructed with a carbon-thread shell, and supported with internal tapes and seams that are bonded to reduce drag as much as possible, the suit's "Flex Lines" maximize support of target muscles.
The Carbon Flex suit comes in over half a dozen color combinations and in closed and open-backs for women, and is the suit of choice for the fastest male breaststroker on the planet, Adam Peaty.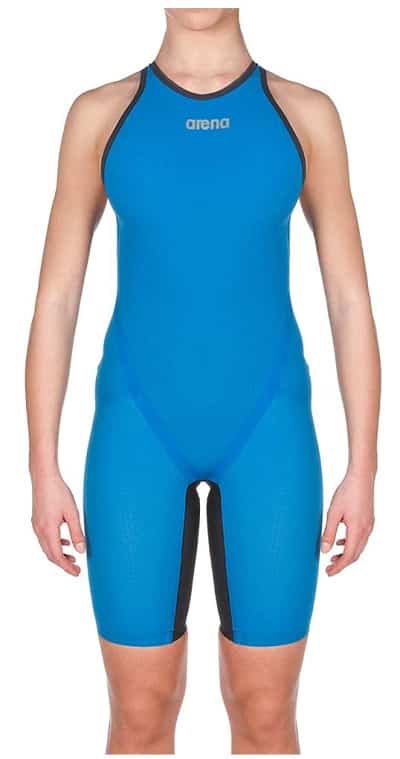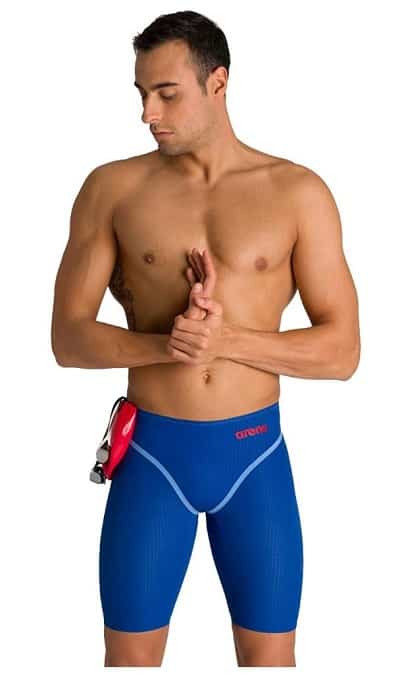 ---
Speedo LZR Pure Valor
The Speedo LZR's and Fastskin's have been around for a while now, and are the flagship racing suits that the world's most well-known swim gear manufacturer produces.
The Speedo LZR Pure Valor, one of the two latest iterations of the LZR suits (the other is the Pure Intent), was developed with the feedback of hundreds of high-level swimmers. The suits were tested and retested to ensure maximum compression and flexibility.
Caeleb Dressel, one of the best swimmers on the planet, has this to say about the suit: "It works with your stroke. You're one with the suit."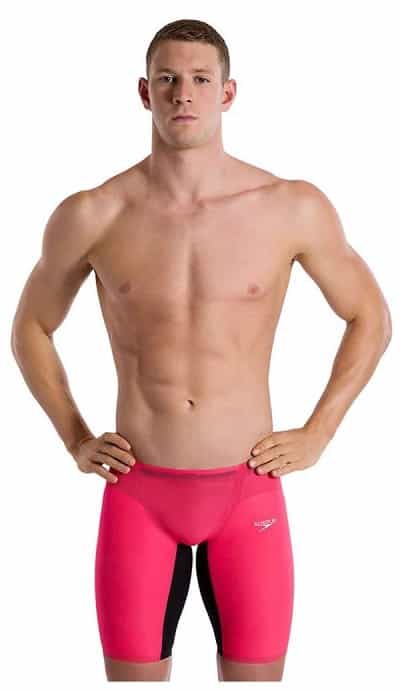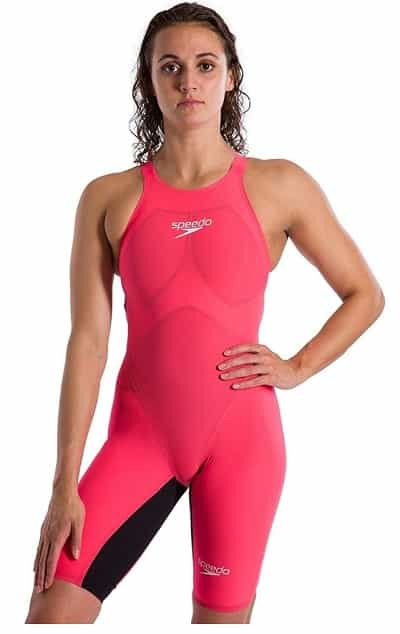 ---
FINIS Vapor PRO
FINIS makes some truly epic swim gear. From their swimmer's snorkel to Tempo Trainer, FINIS is on the leading-edge when it comes to developing high-performance kit for serious swimmers.
(The Vapor Pro is also one of my top-ranked tech suits for men.)
Their tech suit, the Vapor PRO, is a solid mid-range suit that is made of 80% polyamide and 20% elastane. The back of the legs features dual paneling that gives you that secure feeling of compression and buoyancy in the water.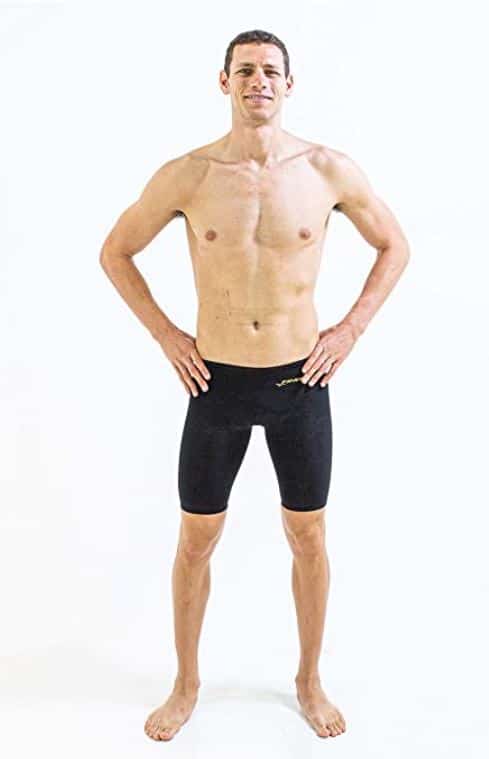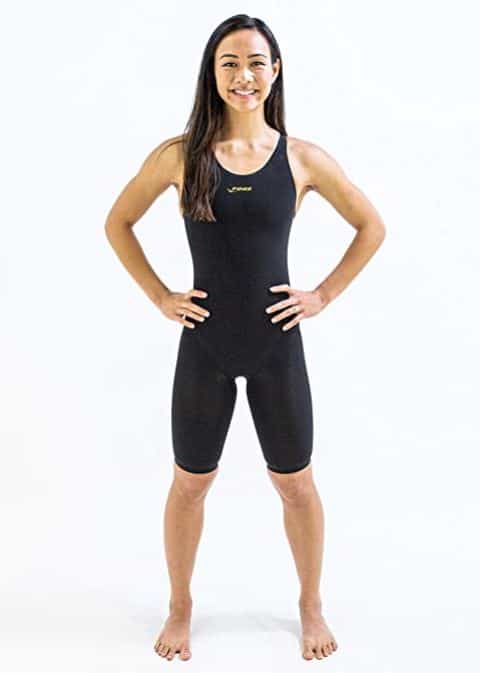 ---
Arena Powerskin ST 2.0 Racing Suit
** Best Cheap Tech Suit for Breaststrokers
There are plenty of value-priced options when it comes to racing suits for breaststrokers.
My all-time favorite suit for racing-on-a-budget is the Arena Powerskin ST 2.0. (See a more comprehensive review of the Powerskin ST 2.0 here.)
It costs around $100, is durable, and provides a solid amount of compression. Whether you are a breaststroker or not, the Powerskin ST 2.0 is an awesome budget tech suit for swimming fast on race day.
While it's not as fast and as water-repellant as the high-grade racing suits, it does provide an economical option for those in-season meets and preliminary sessions, allowing you to save the limited uses you get out of your elite suits for your most important races.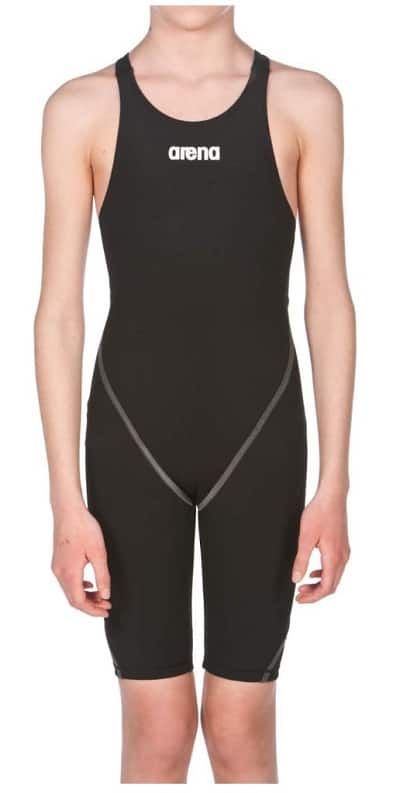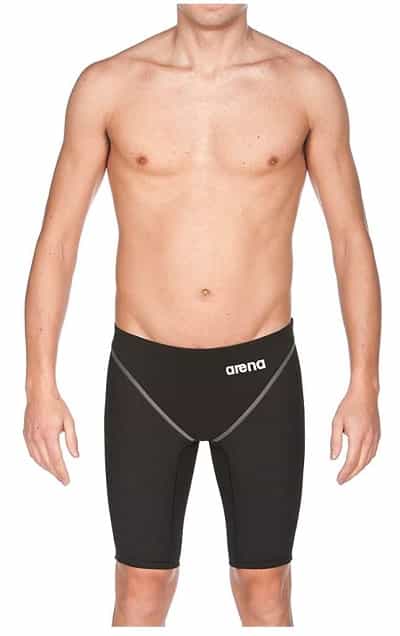 ---
More Tech Suit Resources
9 Best Tech Suits for Crushing Your Best Times on Race Day. Competitive swimmers are always looking for the best tech suit to swim faster and more efficiently. Here is a detailed look at the top tech suits on the market that will help you demolish your PBs and the competition!