Looking to suit up and hit the pool? Here's a breakdown of the best women's swimsuits for lap swimming and training.
Having the right swimsuit at the pool can make or break your swim workout. A women's practice swimsuit needs to durable, comfortable, and of course, should look good.
Fortunately, there are plenty of options when it comes to women's swimsuits that will align with your goals in the pool and your body type.
Most women's swimsuits designed for swim practices and lap swimming are constructed of a blend of durable and high-performance fabrics. But the biggest thing to consider when picking out the right swimsuit is finding the right fit.
When your suit is too constrictive, it hampers your ability to execute your swim stroke, streamline, and use a full range of motion. Conversely, a swimsuit that is too big or baggy will chafe and slow you down.
Below are our favorite swimsuits for women according to experienced competitive swimmers, recreational swimmers, and reviewers.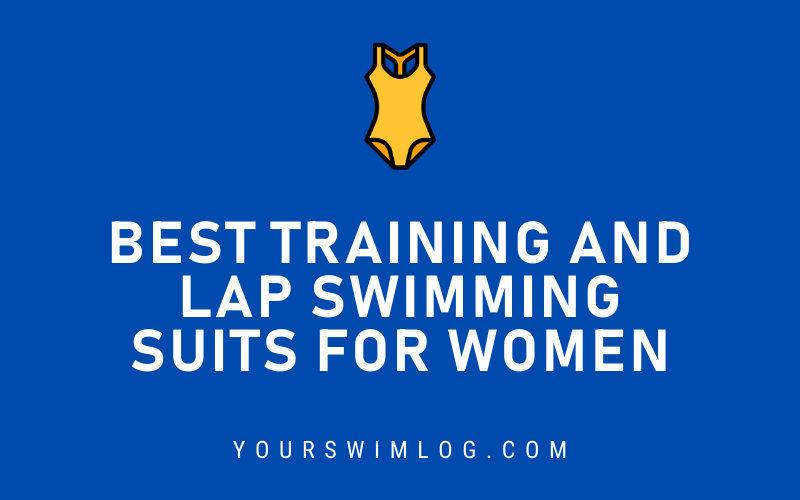 Speedo Endurance+ Women's One Piece Swimsuit
Best overall women's swimsuit for swimming
Speedo is one of the biggest names in the swimwear market. They produce all sorts of gear for the aquatic enthusiast, including some of our favorite swim goggles and men's swim briefs (colloquially known as "Speedos"). Speedo's line of athletic swimwear for women is extensive, from two-piece training suits to tech suits for women competing at elite swim meets.
for the fastest swimmers on the planet.
With their long history of creating superior products for swimmers, we had to rank the Speedo Endurance+ One Piece as our favorite training swimsuit for women.
Made with a blend of polyester (50%) and PBT (50%), the Endurance+ is designed to do just that, endure. The swimsuit fabric prevents pesky pilling and a four-way construction ensures that it fits according to your body type.
The Endurance+ dries quickly and is available in a wide variety of color combinations and sizes.
---
Speedo PowerFlex Ultraback Swimsuit for Women
Best women's training suit with a conservative cut
The Speedo Powerflex Princess Seam Ultraback is a lap swimming suit that provides a conservative leg cut. This offering from Speedo features their lowest leg cut.
Made of 76% polyester and 24% Spandex, the Powerflex is an excellent combination of chlorine-resistant durability and stretchiness for a durable and comfortable fit while in and out of the water.


---
Speedo Women's Super Pro ProLT One Piece Training Suit
For added durability, the Speedo Super Pro ProLT suit is a one-piece that is made of 82% polyester. The proprietary ProLT fabric gives a comfortable and secure fit while you swim, all at a very budget-friendly price point.
Because the suit has 18% Spandex, there is a fair amount of stretch that hugs your skin and body. With wide straps for all those overhead strokes (reduces chafing), five different solid color options, and the highest leg cut available from Speedo's line of training suits for women, the ProLT is an excellent training suit that will help you crush laps in comfort.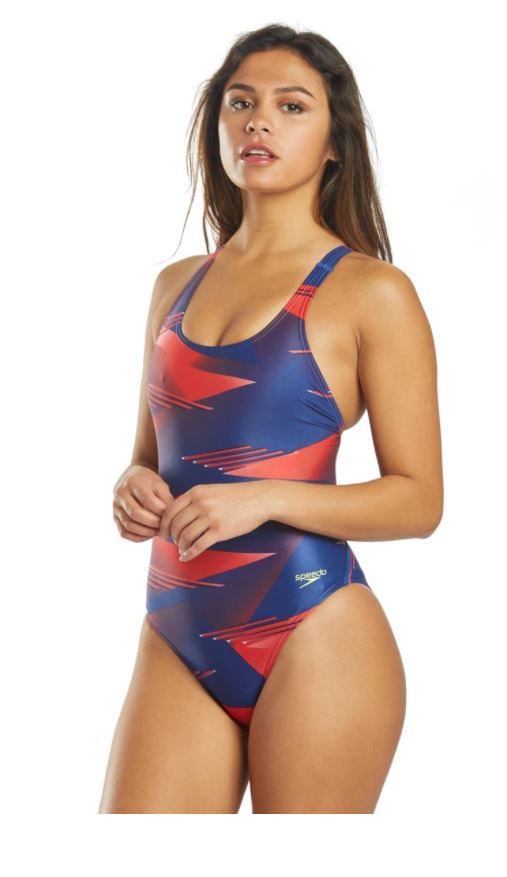 ---
TYR Women's Hexa Maxfit Swimsuit
TYR is one of the big players in the competitive swimwear market, with some of the top swimmers on the planet rocking their swimsuits, including Olympic champion and world record-holder Katie Ledecky.
The TYR Hexa Maxfit Swimsuit is their most durable suit for swimming laps. Made with their longest-lasting fabric, Durafast Elite, a blend of polyester and spandex, the Hexa Maxfit features a medium neckline, thicker shoulder straps, keyhole back, and a bold print.
Available in over a dozen colors, the Hexa Maxfit is a well-reviewed, durable, and comfortable swimsuit for training and lap swimming.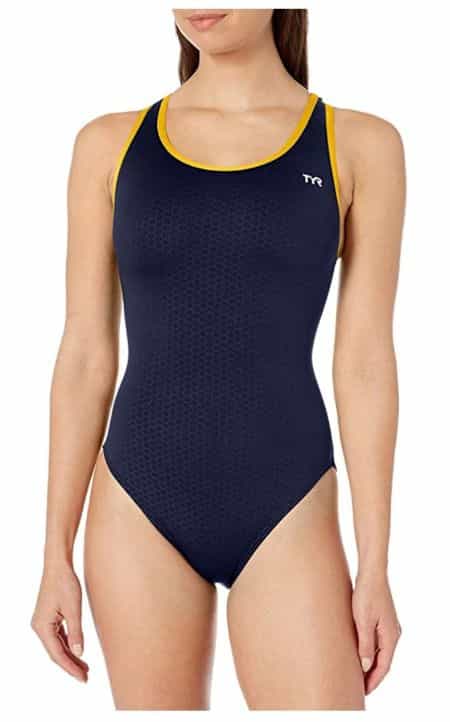 ---
TYR Sport Women's Solid Maxfit Swimsuit
A slightly more stretchy and water-repellant training suit is the TYR Sport Solid Maxfit.
Spaghetti straps give your neck and shoulders a generous range of motion, a high leg cut ensures maximum hip and leg flexibility, and the 20% elastane component gives that stretchy and snug feel that hugs your body.
TYR's suits are made with recycled fabric, meaning you can feel good about your purchase while comfortably churning around the black line at the pool. Available in eight solid colors.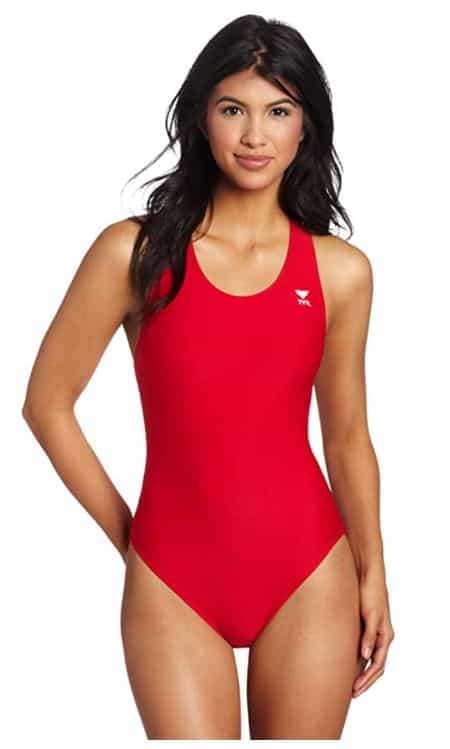 ---
TYR Sport Women's Durafast Two-Piece Swimsuit
Best two-piece suit for lap swimming
For you swimmers lucky enough to be stacking the laps in an outdoor pool, the TYR Sport Durafast Two-Piece is a fully-lined two-piece swimsuit that provides an exceptional range of motion.
Available in four colors, the TYR two-piece swimsuit is made of long-lasting polyester and PBT, keeping it from fading from chlorine and sun exposure. Because of this one-two punch, consider rinsing your suit out in the shower or in the sink after use to maximize its shelf life.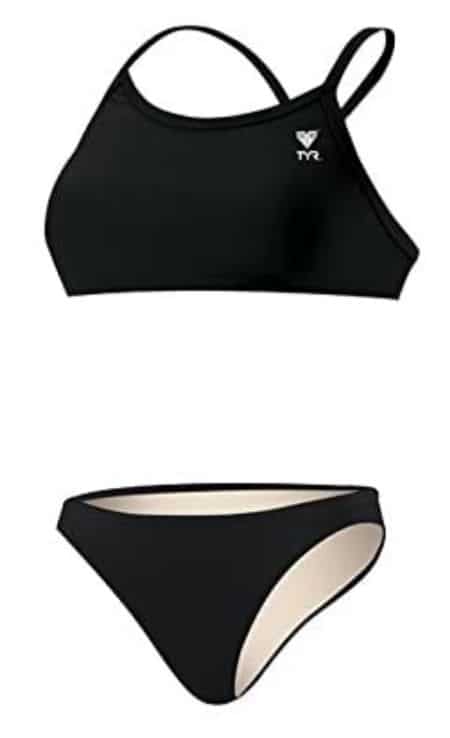 ---
Nike Swim Poly Core Cut One-Piece Swimsuit for Women
Although Nike isn't traditionally knows as one of the power players when it comes to competitive swimwear, they do make some pretty decent kit. The Nike Swim Pol Core Women's Swimsuit is a highly-durable one-piece.
Made of 100% polyester with a V back and thin straps, Nike's entry into our list of the best women's swimsuits is a durable and comfortable one. Available in seven solid colors.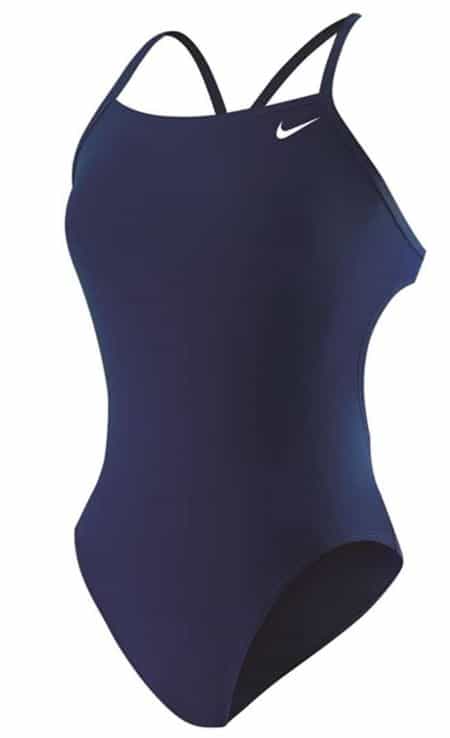 ---
More Stuff Like This
6 Best Water Aerobics Swimsuits. Looking to jazz up your fitness routine with water aerobics? Here is a breakdown of our favorite swimsuits for water aerobics.
7 Best Rash Guards and Swim Shirts for Women. Protect yourself from the sun and water with our collection of our favorite rash guards and swim shirts for women.
12 Best Cheap Swimsuits for Women. Check out our weekly round-up of the best deals on swimsuits for women.
11 Best Lifeguard Bathing Suits for Women and Men. Searching for a swimsuit for your next shift at the pool or beach? Here's a detailed look at the best swimsuits for lifeguards.