Each week we feature our favorite swimsuits that are on sale across the web. Here are our favorite 12 cheap swimsuits for women.
No matter what kind of swimming you are into, whether it's hitting the water aerobics classes at the local pool or grinding out laps in the competition pool, there is no shortage of swimwear out there for women.
Below is our hand-picked collection of the best 12 cheap swimsuits for women out there, from training and lap swimming suits, the suits for plus-size women, to our favorite cheap racing swimsuits.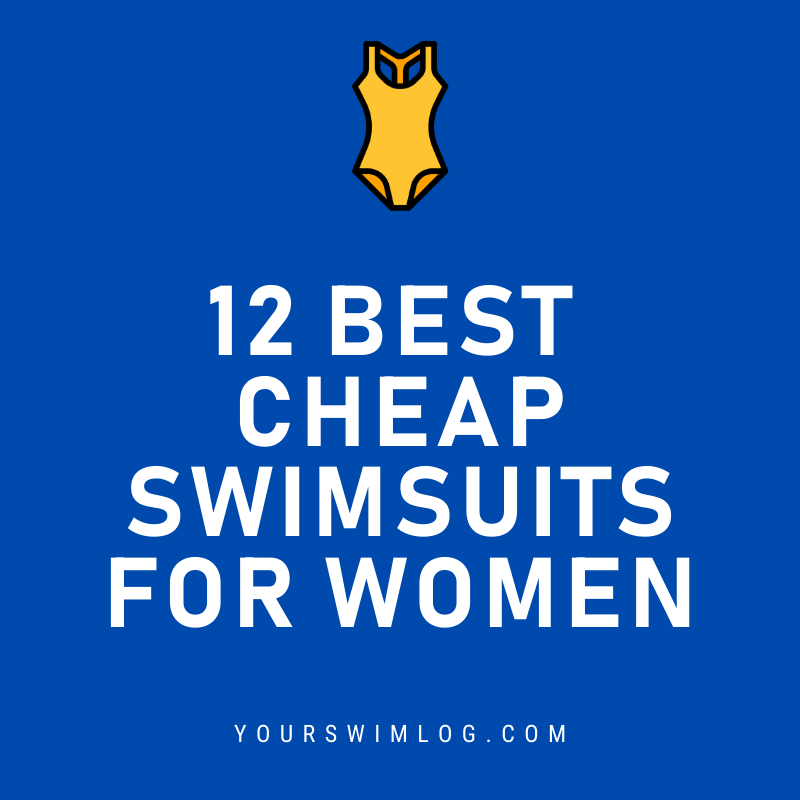 Sporti Women's One-Piece Grab Bag
Sporti is one of our favorite manufacturers of swimsuits for active women. They make a variety of quality and durable swimsuits for lap swimming. SwimOutlet features a one-suit grab bag that is usually up to 30% off regular price (under $20 per suit). You select your size, and you are sent a one-piece swimsuit that is made for training.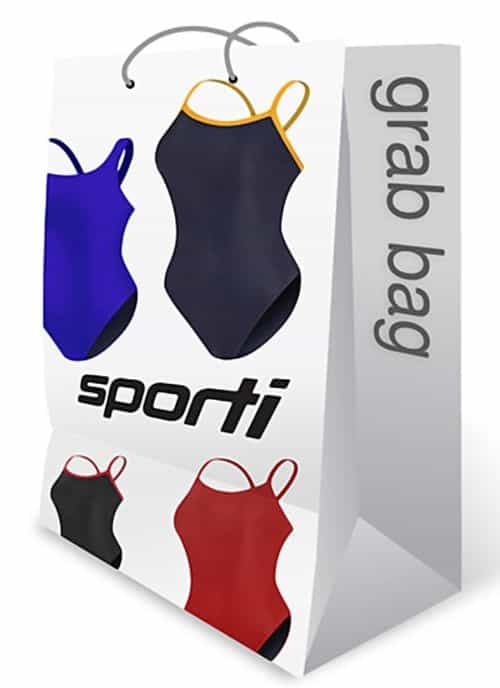 Dolfin Alero Reversible String Back One-Piece Swimsuit
Dolfin is another under-rated maker of swim gear for competitive and lap swimmers. They make a colorful line of swimsuits for men and women, and the Alero String Back One-Piece is a perfect example of why we love their suits so much. The reversible suit means you get a bright and bold pattern on one side, and a solid back on the other. Made of 80% long-lasting polyester and 20% XtraLife Lycra the suit is a perfect blend of durability and water-repellant stretch.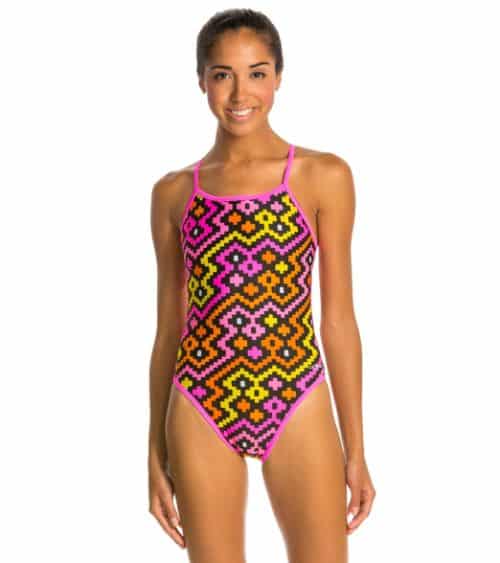 Arena Mast MaxLife Thin Strap Swimsuit
If you are looking for something simple, with solid colors, and thin straps for maximum range of motion, the Arena Mast MaxLife swimsuits are another solid bet from one of the most popular swimsuit makes for swimmers. MaxLife is Arena's proprietary fabric specifically developed for maximum durability against harsh pool chemicals and the sun's rays. The Arena Mast MaxLife, currently nearly 40% off, is available in over a dozen bold colors and in both girls and women's sizes.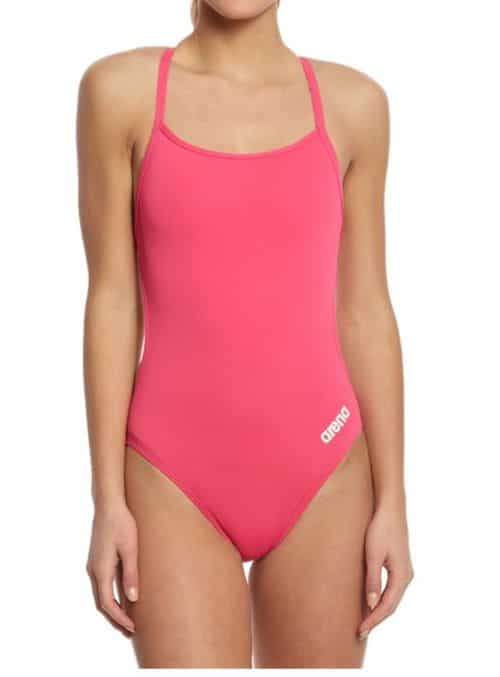 Speedo Women's Wrack It Up Flyback One-Piece Swimsuit
Anyone who has ever gone within 100-yards of a swimming pool has heard of Speedo. They have become so synonymous with the sport that swimsuits are often referred to simply as "Speedos." The Wrack-it-Up Flyback One-Piece swimsuit is a bargain suit that combines bright color patterns, tons of color options, a wide range of sizes, and Speedo's industry-leading fabrics. These swimsuits are made of 50% polyester and 50% PBT, are chlorine resistant, and with a fly-back backstyle, will keep you comfortable and covered while you churn up and down the lap pool.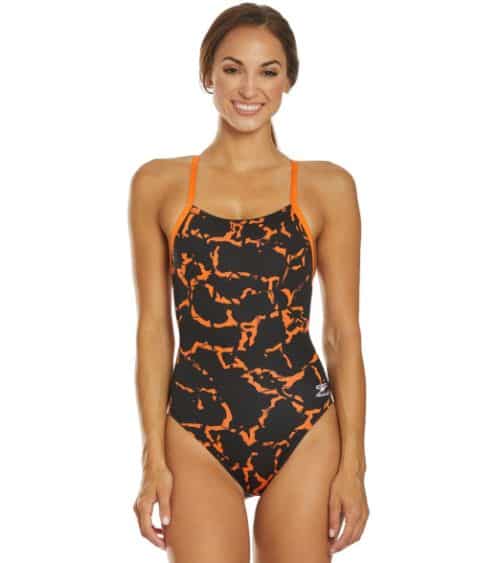 Speedo Warped Wave Flyback One-Piece Swimsuit
With a scoop neckline, colorful abstract prints, and Speedo's trademark Endurance+ fabric, the Warped Wave Flyback is a cheap swimsuit that delivers with full-price results. The swimsuit provides UP 50+ protection from the sun's harmful rays, is constructed with 50% polyester/50% PBT, and backed by Speedo's decades of excellence in the pool, the Speedo Warped Wave Flyback is a cheap swimsuit that brings comfort, durability, and speed to the pool.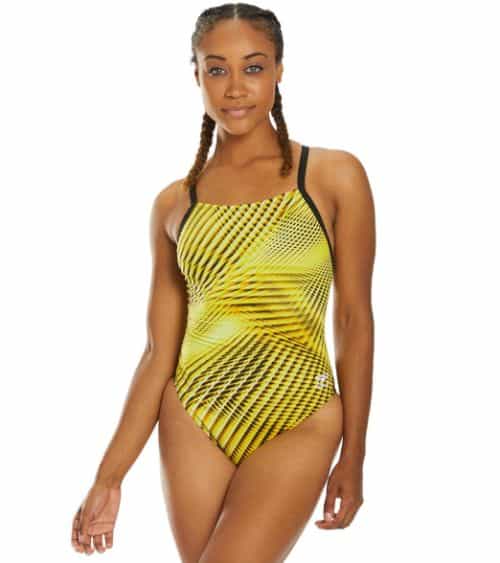 The Finals Women's Omega Wave One-Piece Swimsuit
The Finals is a brand that us older swimmers might more readily recognize than younger swimmers (dating myself a little here), but they have always made terrific gear for competitive and recreational swimmers. The Finals Omega Wave One-Piece Swimsuit retails for less than $40. It is made of almost 90% polyester, which is among the highest on our little list of cheap swimsuits.
Polyester is the most durable fabric you will find in the pool. The Omega Wave contains 12% spandex, which takes that durability and combines the elasticity and stretch of spandex to provide a secure and comfortable fit in the water.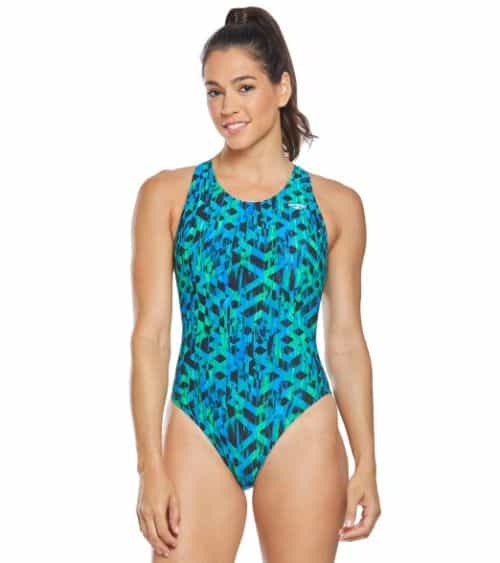 Sporti Plus Size Gianna Blossom One-Piece Swimsuit
Sporti adds another entry on our list of the best cheap swimsuits with this plus size suit. The suit is made mostly of durable polyester, making it chlorine-resistant, giving you a sense of confidence during the long sessions in the water.
The fabric of the suit is anti-piling and the suit is fully lined with 100% polyester. A soft and wire-free cup provides support and coverage, supported by an elastic underband for maximum comfort.
Wide shoulder straps keep the suit in place while you are swimming, and a scoop neckline and back do an excellent job of maintaining coverage while also contouring the body.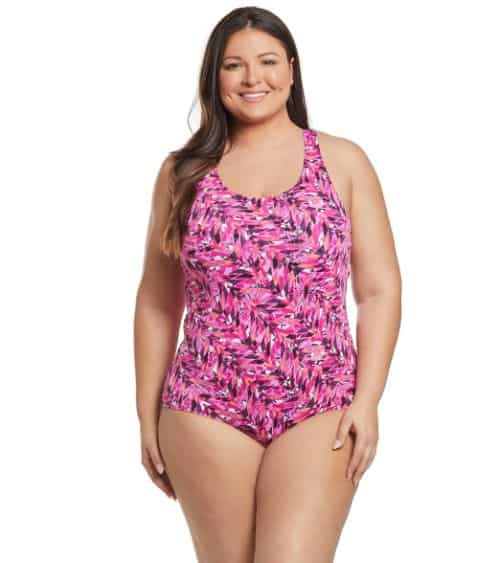 Speedo Turnz Women's Solid One-Piece Swimsuit
For a simple and timeless look, the Speedo Turnz One-Piece features a soft, anti-pilling fabric that is highly resistant to chlorine. Lined along the front and back, the Turnz Women's swimsuits come in over a dozen solid covers, have thin straps for enhanced mobility, and with a high leg cut, is made for swimmers who are serious about speed in the water. The Turnz Swimsuits are currently up to 25% off over at SwimOutlet, and available in sizes 24-40.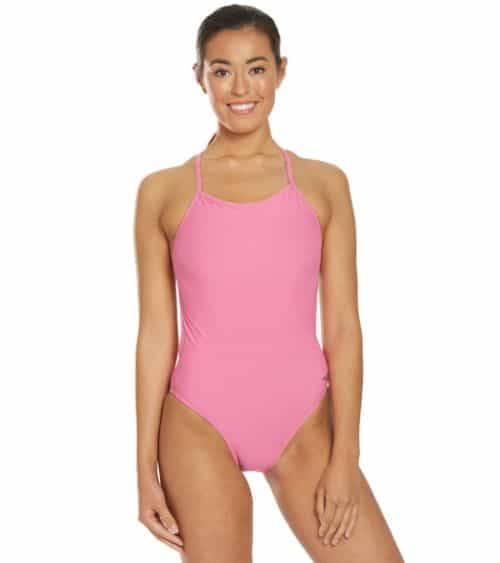 Arena Women's Multicolor Stripes Lights One-Piece Swimsuit
Arena combines heavy-duty fabric and construction with hard-to-miss color patterns that will have you swimming with confidence and durability. Available in five different color sets, and suitable for girls and women with sizing ranging from 20-40, the Arena Multicolor Stripes is currently 25% off at SwimOutlet.
With a moderate amount of coverage on the butt, and full lining along the front of the suit, the Arena Multicolor Stripes Lights One-Piece is a bargain swimsuit that delivers bright colors and high levels of durability and comfort.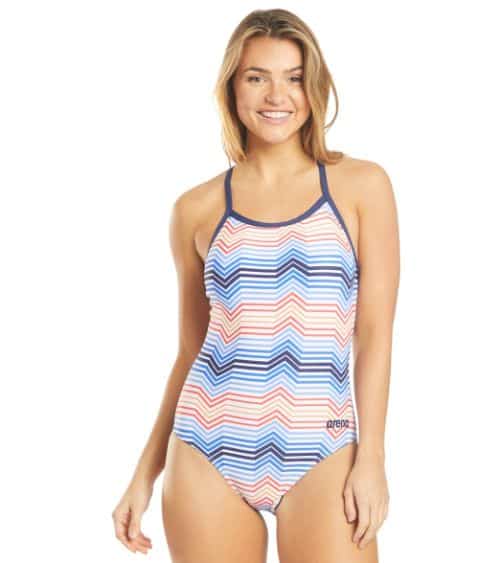 Nike Swim Nylon Core Solids Fast Back Swimsuit
Nike might not be the most popular name in the swim game, but with their worldwide domination of athletic apparel you just know that they are going to bring it when it comes to making durable athletic swimwear.
The Nike Swim Nylon Fast Back Swimsuit is the toughest and most durable training suit that Nike wears, and at up to 40% off on select colors, it is also an absolute steal. Available in half a dozen colors, and in sizes from 20-32, Nike delivers on a swimsuit for lap swimming that is exceedingly durable and also cheap.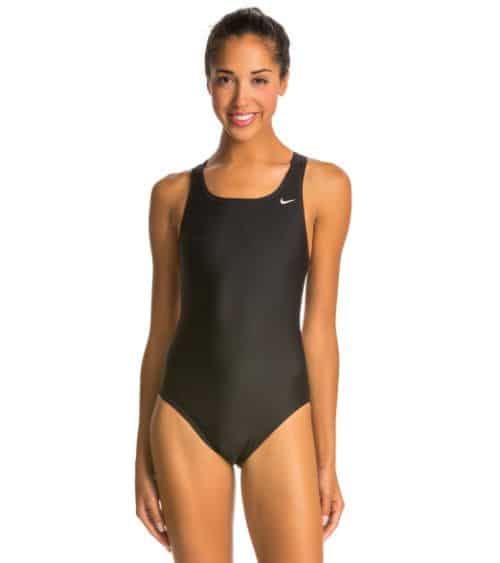 TYR Women's Plexus Cutoutfit One-Piece Swimsuit
Ever heard of Katie Ledecky? Sure you have! She rocks TYR swimsuits, and if they are good enough for one of the best swimmers in history, they are good enough for the rest of us (especially when the suits are on sale!). The TYR Plexus Cutoutfit One-Piece is a swimsuit that is designed to be extremely durable (at 94% polyester, it's one of the longest-lasting on our list) while also providing enough stretch and comfort (with 6% Spandex).
Chlorine-resistant, with a four-way stretch and antimicrobial lining, this suit is 25% off over at SwimOutlet and available in five different color combos and select sizes for girls and women.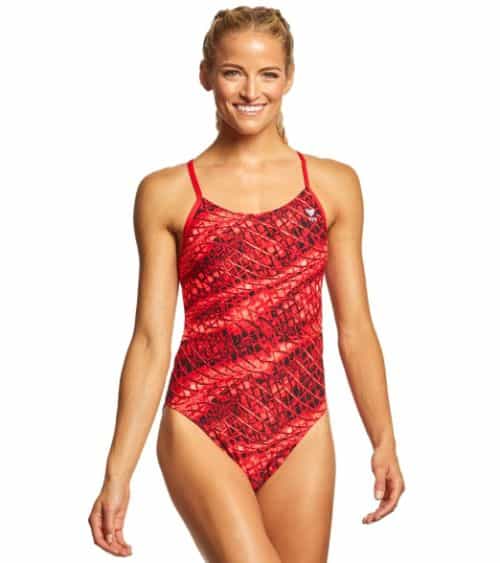 Funkita Women's Apex Stealth Women's Tech Suit
For girls and women who are looking to get a little more serious with their swimming, and want a cheap(ish) swimsuit to take with them to swim meets, Funkita has you covered. Available in four different color patterns and sizes from 20-30, the Funkita Apex Stealth is a high-performance kneeskin for women at a bargain price.
Made with Funkita's Carbon Core Fiber, this suit is sonically bonded for minimal seams. Combining a water-repellant outer layer with maximum compression for buoyancy and recovery, the Apex Stealth swimsuit is currently 25% off at SwimOutlet.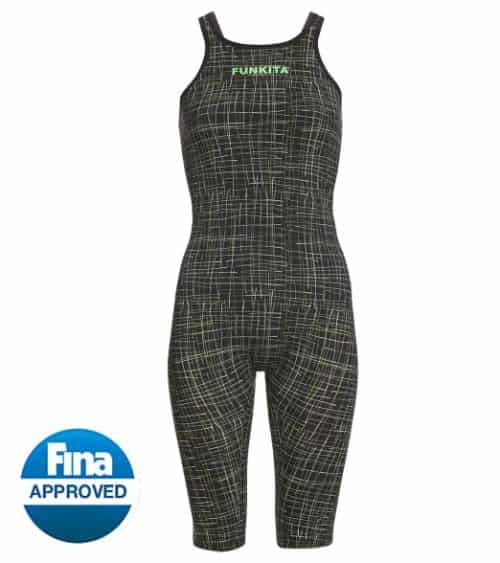 More Stuff Like This:
6 Swimsuits for Water Aerobics. Get your water aerobics on with our list of the best and most durable swimwear for water aerobics.
7 Best Rash Guards and Swim Shirts for Women. Protect yourself from the sun and water with our collection of our favorite rash guards and swim shirts for women.
9 Best Tech Suits for Crushing Your Best Times on Race Day. Here is a look at the best of the best racing suits for competitive swimmers, including key features, price points, and more.