Ready to conquer the water? Here is a breakdown of our favorite rash guards and swim shirts for women.
Swim shirts or rash guards are an excellent way to block the sun and increase body coverage when you are out in the water.
While there are plenty of awesome waterproof sunscreens and sunblocks, the best way to truly limit your exposure to the sun, and forego the constant reapplication and stickiness that comes with sunscreens, is to wear a swim shirt or rash guard.
Whether you are swimming laps at the local outdoor pool, hitting the beach, or just splashing around in the water, a swim shirt can protect your screen without weighing you down like a traditional short or long-sleeved shirt will.
Made with quick-drying materials, whether it's polyester, Spandex, or thicker and cold-water-busting neoprene, rash guards are designed to protect you from the elements while keeping you comfortable.
Here is a breakdown of our hand-picked favorites of the best swim shirts and rash guards for women.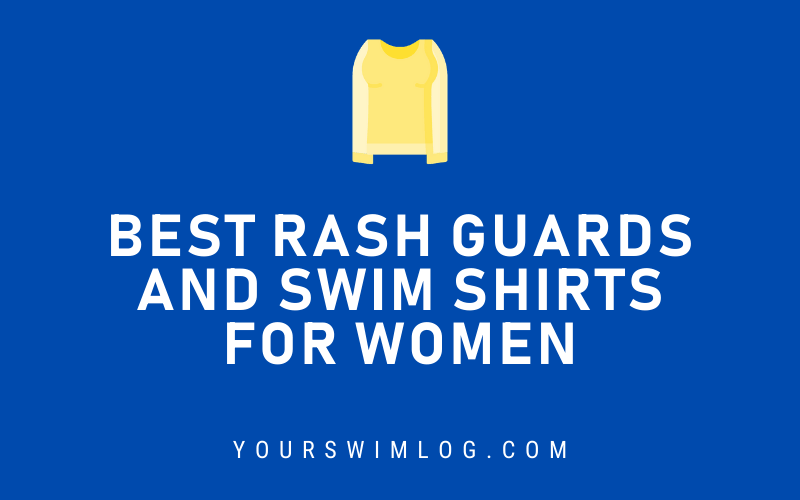 Speedo Uv Long Sleeve Swim Shirt
Best swim shirt for women
Speedo is one of the big players in the swimwear market. Their line of lap swimming suits for women and two-piece swimsuits are extremely popular, and their rash guards for women are comfortable, quick-drying, and come in bold colors and patterns.
The Speedo Uv Long Sleeve Rash Guard is made of highly durable polyester, which is the material you want to look for when it comes to resisting harsh pool chemicals.
The fabric is made to avoid pilling and blocks up to 98% of the sun's rays. This means that you can spend more time in the water and less time hiding from the sun.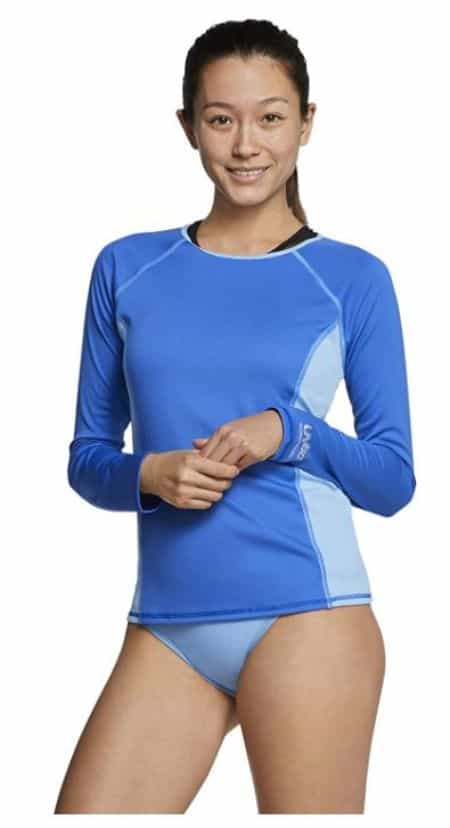 ---
Speedo Uv Short Sleeve Swim Shirt
Another entry by Speedo is the short-sleeved version of their popular Uv Swim Shirt. Made with 100% polyester, the Speedo Uv Short Sleeve Swim shirt provides an excellent balance of coverage with a range of motion.
Made of the same anti-pilling fabric as it's long-sleeved sister, the short sleeve version is available in half a dozen colors and color patterns, provides UPF-50 protection, and dries quickly between swims, keeping you comfortable and protected from the sun.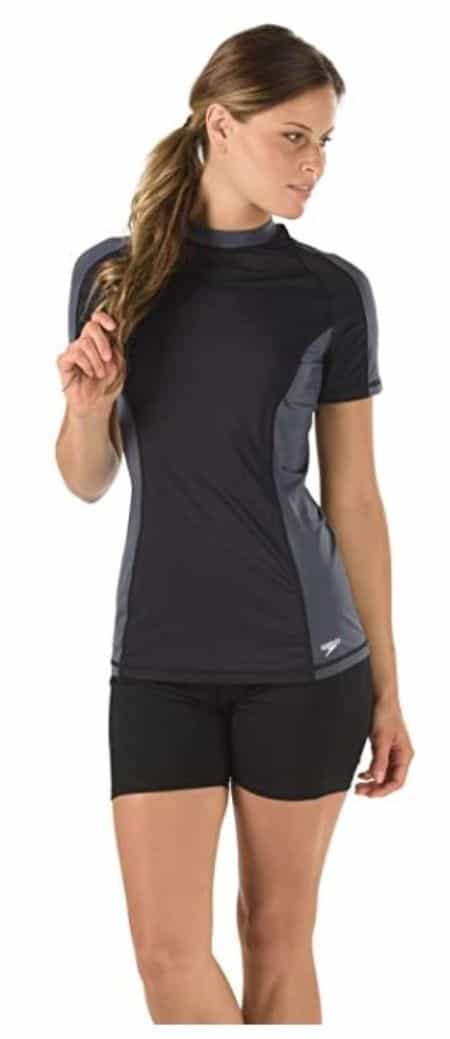 ---
Roxy Women's Long Sleeve Rash Guard
Best surfing rash guard for women
One of the most popular surf brands for women on the planet, Roxy makes an absolute beauty line of rash guards and swim shirts. If you are looking for bright and bold coolers, that unmistakable Roxy logo on the front, and durable and comfortable protection from the elements, the Roxy line of rash guards is your ticket.
The Roxy Whole Hearted Rashguard is made of 92% polyester and 8% elastane. Elastane is a stretch, water-repellant material that helps the shirt to gently hug your skin, reducing excess fabric from flopping around and soaking up more water than necessary.
Available in almost a dozen different colors, the Roxy Whole Hearted Rash Guard gives you the UPF-50 protection from the sun while also bringing a high degree of comfort during all of your aquatic activities.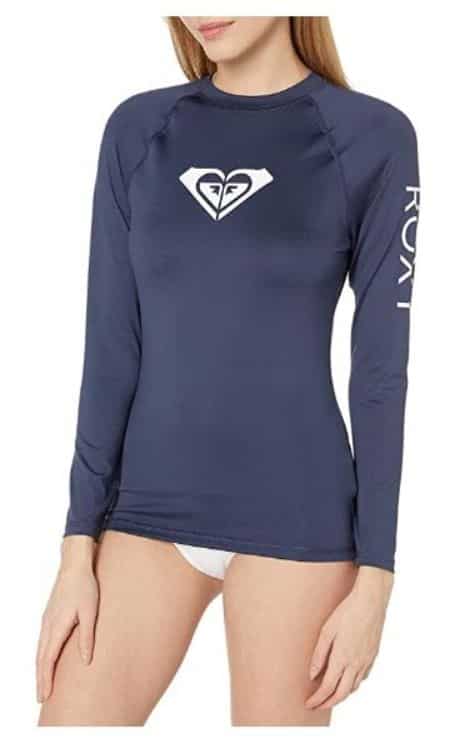 ---
Roxy Women's Whole Hearted Short Sleeve Rashguard
Obviously, after going on and on about how much we love the long sleeve version, you knew the short sleeve Roxy Whole Hearted Rash Guard would make an appearance as well.
Available in even more colors, and in sizes ranging from extra small to extra large, this best selling swim shirt and rash guard has that same soft and flexible fabric that you want from your swim shirt.
Quick to dry, easy to pull on and off, and exceptionally comfortable, the Roxy Women's Whole Hearted Short Sleeve Rash Guard is one of our favorite ways to protect ourselves from the sun while playing in the aquatic outdoors.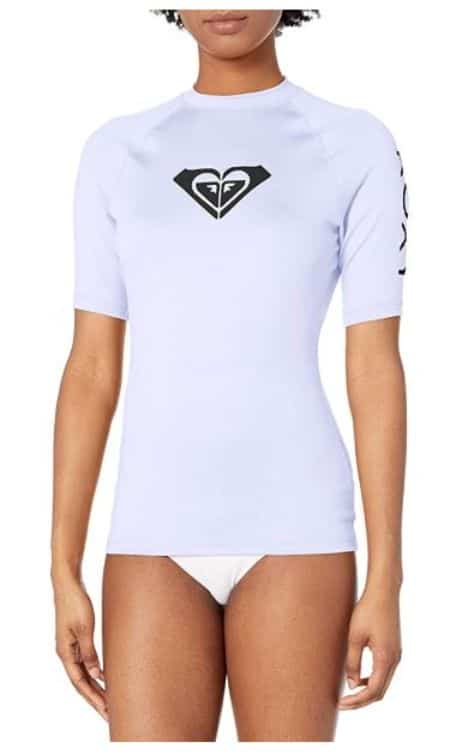 ---
O'Neill Basic Skins Rash Guard for Women
O'Neill is another popular surf gear manufacturer that produces exceptional rash guards and swim shirts. The Basic Skins is a simple, soft, and comfortable rash guard that does everything you need it to do when out in the water and sunshine.
The shirt is very light, weighing just 6 ounces, and is constructed of a highly durable blend of polyester and spandex. The spandex stretches slightly, helping the shirt to fit to your body's unique contours and curves. The shirt comes in a variety of solid colors, from your standard black to harder-to-miss pink.
With a minimal amount of seams for maximum protection from rashes, and UPF-50+ protection, O'Neill's Basic Skins are a killer rash guard and swim shirt for dominating the water.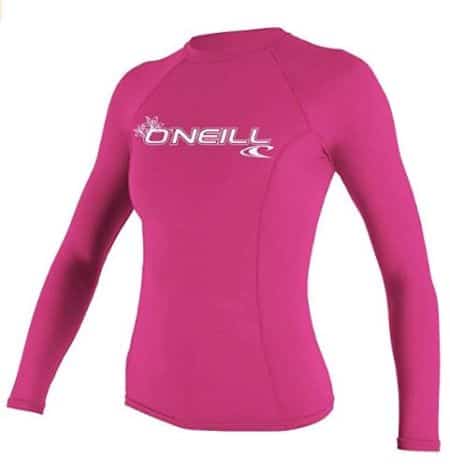 ---
Sociala Women's Plus Size Rash Guard and Swim Shirt
Best rash guard for plus size women
If you are looking for a plus-sized rash guard that fits more like a t-shirt and doesn't cling tightly, the Sociala Women's Plus Size Rash Guard is an incredibly well-reviewed shirt for swimming and the outdoors.
Made of 82% long-lasting polyester and 18% soft and stretchy Spandex, the Sociala rash guard provides a high degree of comfort and coverage. It can be used for swimming and surfing, or just a day out at the beach. The fabric is designed to dry quickly between swims and provides maximum protection against the sun with UPF-50 blocking from the sun's rays.
The Sociala is available in four different "X" sizes and comes in almost ten different color combinations. With a slightly loose crew neckline, the Sociala rash guard will keep you comfortable, covered, and protected from the sun while down at the water.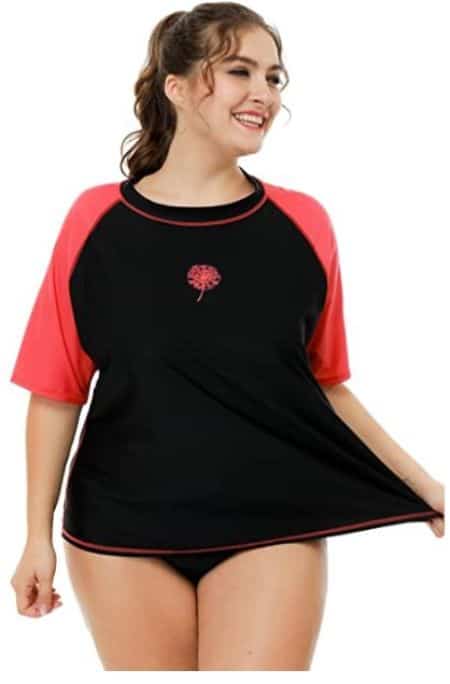 ---
Scubapro Women's Everflex 1.5mm Long Sleeve Rash Guard
Best neoprene rash guard for women
For swimmers, snorkelers, and divers heading out into cooler waters, the Scubapro Everflex provides wet-suit levels of warmth without the hassle of having to climb in and out of a full head-to-toe wet-suit.
The Scubapro Everflex is made with 1.5mm neoprene, which is the same material that open water swimming wetsuits, buoyancy swim shorts, and open water swimming caps are made of. The added benefit of this kind of material is that it is very buoyant, helping you float across the surface while strapped to your snorkel mask or your open water swimming goggles.
With a zip-up front, fleece-lined interior for added comfort and warmth, and a construction that is done with solvent-free glue, the Scubapro Everflex is our favorite neoprene rash guard for women looking to conquer cold water.