Looking for the best swimming app to maximize your time and effort in the water? Here's a look at the top swim apps for conquering your swim workouts.
As technology continues to make strides in the sport and fitness market, swimmers, both competitive and recreational, have not been left behind.
Swimming apps have emerged as invaluable tools for tracking swim performance, helping swimmers monitor what matters most.
Whether it's heart rate, average pace, SWOLF score, or simply how far they've swum, there are plenty of killer swim apps on the market for every kind of swimmer.
🥇 In a hurry? The FORM Swim Goggles are the best swimming app in the pool. The app tracks every data point imaginable, from stroke rate to average pace, and the FORM goggle's revolutionary heads-up display means you can stay on top of the metrics and data that matter most to your swim workouts. Shop the FORM Swim Goggles here.
In this guide, we will take a look at the best swimming apps in the pool so that you can take your swim performance to the next level.
We'll examine the pros and cons of each, what kind of data you can track with each one, and answer some common questions when shopping around for a data-driven swimming app.
Smarter and faster swim workouts await.
Let's jump in.
The Best Swim Apps for Swimmers
The right swim app can be a game-changer for all types of competitive swimmers. In this section, we will take a deep dive into the top swim apps available, exploring standout features, potential drawbacks, and more.
The best swim apps are:
FORM Swim Goggles – Best overall swim app for swimmers who want real-time data, comprehensive training programs, and highly accurate results.
Apple Watch Workout App – The best free swim app for Apple users, the Workout App covers all of the essentials for tracking swim workouts.
Swim.com – Compatible with both Apple and Android devices, the Swim.com swim app has lots of community features and no membership fees.
TritonWear – An advanced swim app and tracking device that is ideal for more experienced competitive swimmers and teams who want maximum performance data.
MySwimPro – The MySwimPro is a great option for beginner swimmers who want full access to workouts, training plans, and technique videos.
Next, we will examine each swim app in more detail.
1. FORM Swim Goggles
🥇 Best overall swim app for tracking workouts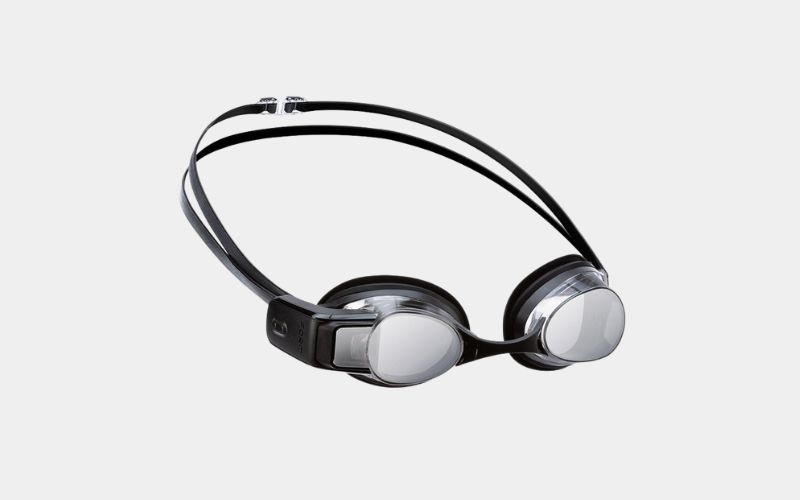 Key features:
Heads-up-display that shows stats in the goggle lens.
$19 per month for premium swim app features.
Almost 2,000 workouts that can be paired to the swim goggles.
Over 30 training programs for different goals (open water, sprint, technique, etc.).
Custom workout builder.
Open water feature (pair with Apple Watch or Garmin).
The FORM Swim Goggles are the best swimming app on the pool deck, and the fact that it comes with a set of swim goggles with a heads-up display means the competition is not even close.
Inside the lens of the FORM Swim Goggles is a revolutionary digital display that shows your time elapsed, splits per lap, heart rate (when paired with a watch or heart rate sensor), and just about everything else you can imagine.
The swim app itself is highly intuitive.
The amount of data the FORM swim app pulls is almost overwhelming. Whether we are talking about pace per 100m, distance per stroke, SWOLF score, or tracking average speed, the FORM swim app monitors it.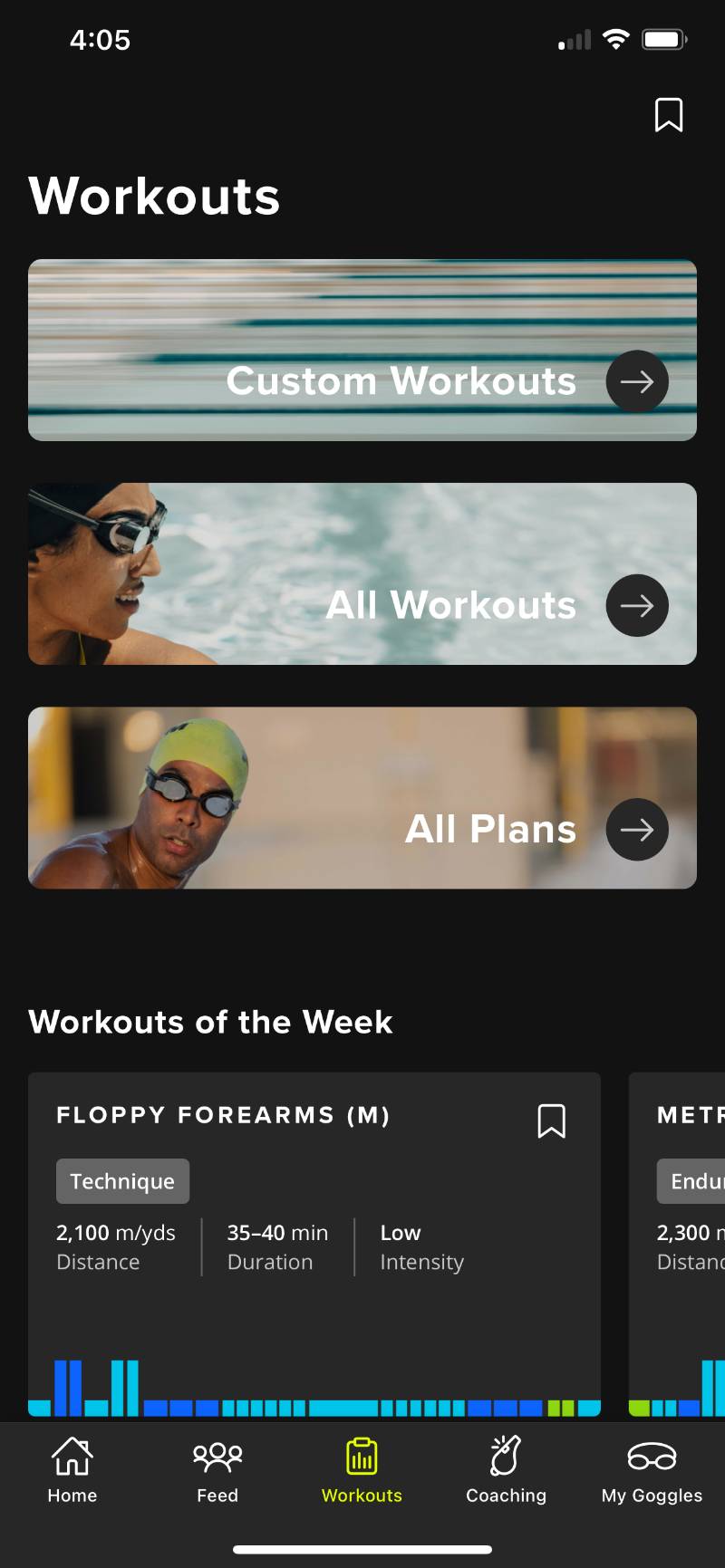 Additionally, and this is where the FORM Swim Goggles really take things to yet another level, are the custom and programmed workouts that can be uploaded to the swim goggles.
Choose a swim workout based on your goals and abilities, and follow along at the pool. No guesswork. Hop in the water and go.
(The programmed swim workouts, created by Olympic coaches and swimmers, do require a monthly membership, however.)
The FORM Swim Goggles last around 15-16 hours on a single charge, good for about a week's worth of swim workouts in my case, and the fact it can be paired with your Apple or Garmin watch for live data streaming during open water swimming makes it a killer choice for triathletes and open water swimmers.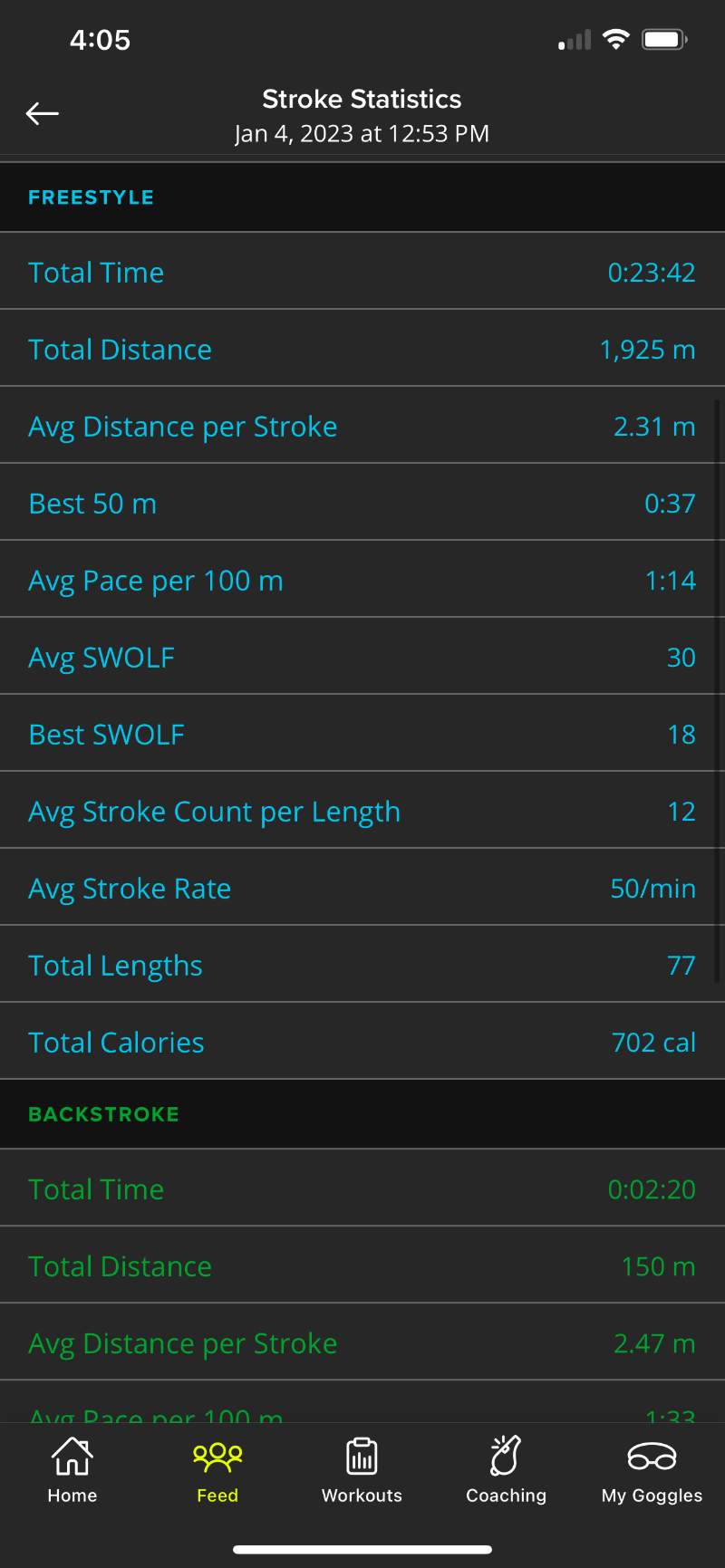 The main downside of the FORM Swim Goggles isn't the swim app, but rather the heads-up display that does take away some of your peripheral vision in the water. This is a little disconcerting at first and it takes around 200-300m of swimming to habituate yourself to.
But when you consider the gain in actionable training insights compared to the slight loss in peripheral vision, you gain more than you lose.
The FORM Swim Goggles and its swim app are easily the best swimming app and "all in one" swim training solution for athletes serious about swimming faster.
| | |
| --- | --- |
| ✅ PROS | ❌ CONS |
| Best swimming app overall | Small loss of peripheral vision |
| All-in-one solution—no need for a separate watch or tracker | Training programs require monthly subscription |
| Works awesome in open water swimming | |
| The app has tons of actionable data for better swim workouts | |
| Heads-up-display is customizable | |
| Online swim coaching feature | |
2. Apple Watch Swim App
⭐ Best free swim app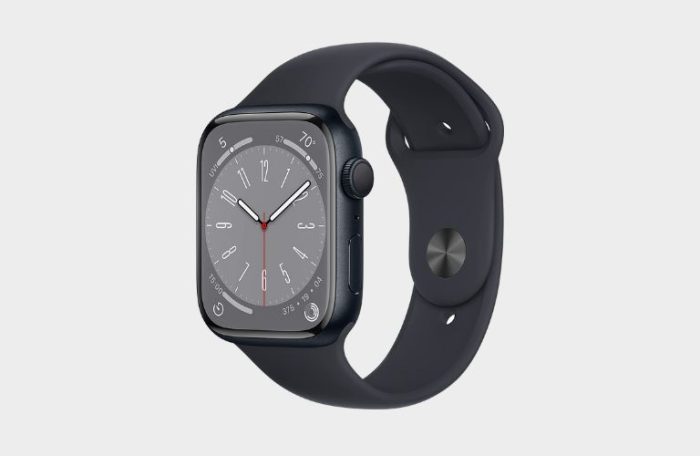 The Apple smartwatch is the best watch for swimmers, and the competition isn't even really close. The slim case, beautiful display, and legendary Apple quality helps it swim laps around the competition.
But what makes the Apple Watch even better for swimmers is the on-board swimming app that provides detailed tracking of swimming workouts.
The swim app, which is technically the Workout App, on the Apple Watch offers complete customization, allowing you to tailor the dashboard to display the swimming metrics that matter most to you.
Additionally, it offers the convenience of quickly adjusting the pool length for precise tracking.
See also: Apple Watch for Swimming—A Review from the Lap Pool
This swimming app is also one of the very few I've ever used that can accurately monitor when swimmers are doing kick on a kickboard. As someone who routinely performs up to half of my swim workouts on a kickboard, this is an essential feature.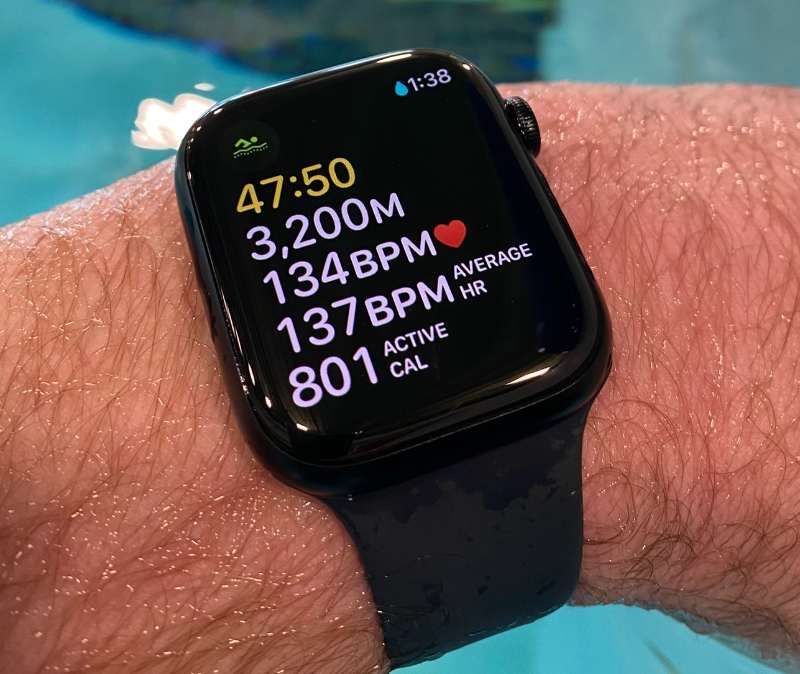 The Apple Watch and the swim app are also among of the most accurate waterproof fitness trackers I've ever used.
The Apple Watch's swim app is exhaustive in the metrics it monitors, including all of the usual suspects: time elapsed, distance swam (highly accurate), stroke detection, heart rate, splits, and more.
However, if you're seeking community features and swim training plans, you may want to explore other options. And I find it is inaccurate when measuring sprint efforts (25m fast, for example), having difficulty getting those minute splits.
On the other hand, if your goal is straightforward tracking of distance, heart rate, stroke count, and average pace, the Apple Swim app is the ideal choice – and it comes at no extra cost with your Apple Watch.
| | |
| --- | --- |
| ✅ PROS | ❌ CONS |
| Free with Apple smartwatch | Splits aren't always accurate |
| Tracks kicking on a kickboard | No community features or training plans |
| Easy to change pool sizes | |
| Customizable dashboard for tracking what matters most to you | |
3. Swim.com
⭐ Best free swim app for Android users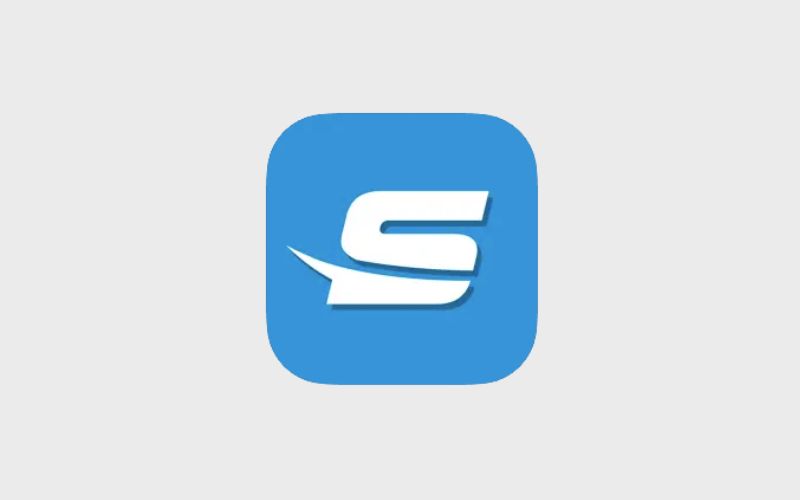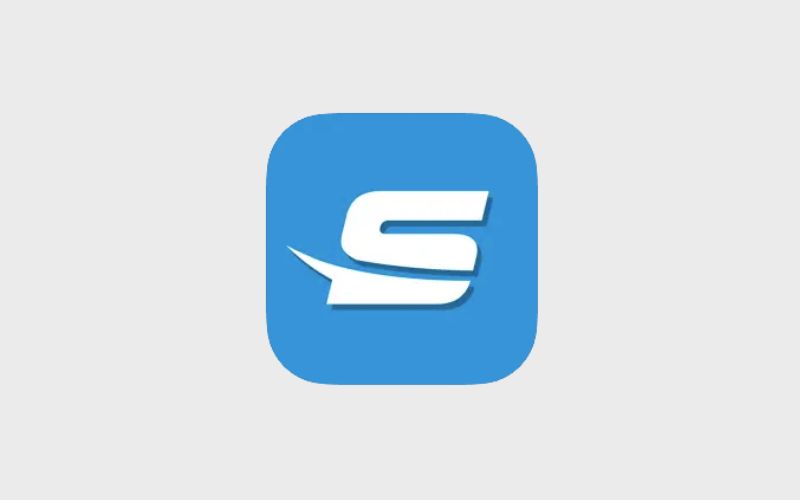 Swim.com is a smartphone app developed by former national-level swimmers. The swim app tracks all of your workouts, with advanced swim tracking and tons of data for staying on top of your swims. While it has versions for both Apple and Android devices, it rivals the Apple Watch Workout App in terms of functionality and price point.
The Swim.com app comes with a large variety of swim workouts that can be adjusted and selected according to your specific goals in the water. For example, the app has distance swim workouts, fly-centric swim workouts, and so on.
One of the main strengths of the Swim.com swim app is the community features. The app has different leaderboards, challenges, achievements (unlock different badges, for example), and you can network and connect with other swimmers across the globe.
Similarly, if you are just looking for a swim app to monitor the essentials of a good swim workout, including heart rate, distance swum, and more, the Swim.com swim app nails all the basics.
| | |
| --- | --- |
| ✅ PROS | ❌ CONS |
| Community and social features | Some reviews note that it can be buggy when syncing data |
| Works with Android and Apple devices | |
| Tracks tons of swim workout metrics | |
| Tracks open water swims | |
4. TritonWear
⭐ Best swim app for high-performance swim teams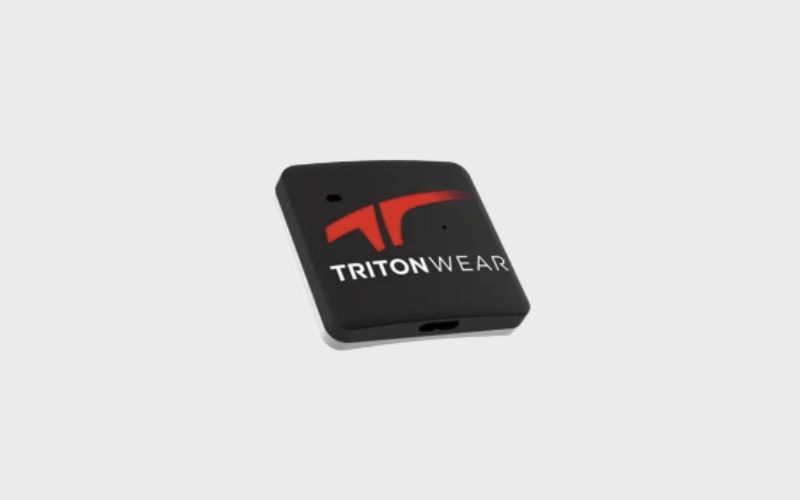 TritonWear is an advanced swim app and hardware for tracking tons of data points in the pool. Paired with a poolside tablet or smartphone, the TritonWear device, which is clipped to your swim goggle straps on the back of your head, monitors every aspect of your performance in the pool.
Whether it's time elapsed, stroke rate, distance per stroke, or splits, the TritonWear swim app covers it all in granular, almost exhaustive detail.
TritonWear monitors several performance metrics I haven't seen in any other swim app on the market. These include speed underwater, push-off depth, and the percentage of your swims done underwater.
This can be extremely helpful for seeing how fast your breakouts and underwater dolphin kicking are in comparison to overwater speed.
TritonWear is primarily marketed to swim teams, with several big-name programs using the swim app and hardware to track the performance of groups of swimmers at one time.
For individual swimmers, the sheer data that comes out of the swim app is obviously awesome, but you can only view it after your swim practice or if you have a tablet at the end of your lane. The hardware is also a bit pricey, with an annual membership cost attached to it.
I tried the TritonWear swim app and hardware when it first came out several years ago, and while I loved the premise behind the device, and how it's out of the way (as opposed to a swim watch or heads-up-display), it wasn't super comfortable on the back of my head under a swim cap and the data was a little buggy.
| | |
| --- | --- |
| ✅ PROS | ❌ CONS |
| Highly detailed analytics and stats | Pricey |
| Ideal for group and team use | Not very comfortable device placement |
| Tracks speed under water | |
| Shows trends over time | |
5. MySwimPro
⭐ Best swim app with technique videos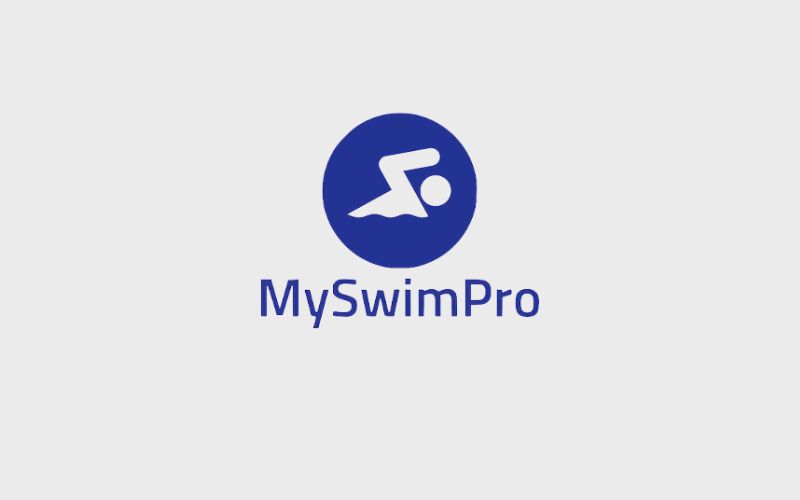 MySwimPro is a standalone swimming app for Apple and Android devices that started as a logging platform to track swim workouts, but has now evolved into a complete training library including guided swim practices and technique videos.
The MySwimPro app is the best swimming app for beginners and people who want a little more guidance with their swim training. The swim app has a ton of pre-made workouts and more detailed training plans for people with short to medium-term goals in the pool.
One huge benefit of the app for newer swimmers are the detailed technique videos that help you dial in your technique.
MySwimPro logs and tracks a ton of data, giving you a rich and immersive analytics tool for monitoring the things that matter most in the pool, whether that's heart rate training, distance, SWOLF score, and so on.
The MySwimPro app also includes some dryland training workouts, although they are fairly simple and generalized and not ideal for more specialized athletes.
MySwimPro offers a free trial before moving into a monthly charge (between $9 and $20 per month) for access to the library of workouts and training plans.
| | |
| --- | --- |
| ✅ PROS | ❌ CONS |
| Technique videos and guided workouts | Paid membership after free trial |
| Data-rich dashboard for tracking all of your swimming stats | |
| Works with Apple and Android devices | |
| Optional personal training option | |
| Offers free trial | |
How do swim apps track my swimming?
Swim apps work through a series of motion detection algorithms in the tracking device.
Devices like the Apple Watch have an accelerometer and gyroscope that track your movement, filtering it through a series of algos that correlate to specific types of movement.
Swim apps are programmed to see the difference between when you push-off and when you are at rest, or when you are doing butterfly but not freestyle, and so on.
While they aren't perfect, swim apps, swim watches and other waterproof fitness trackers are highly accurate at counting laps, figuring out what swimming stroke you are doing, heart rate, and more.
What are the benefits of swim apps?
Swim apps can improve the performance of swimmers by measuring the things that matter most to you.
Swim apps log all sorts of performance data, including time elapsed, distance swam, stroke rate, stroke count, SWOLF score, heart rate, average pace, and more.
Whether you like to swim for distance or are more specific about heart rate zone training or want to increase your efficiency in the water, a swim app can help you accomplish your goals.
How accurate are swim apps?
Swim apps are fairly accurate, but they are not perfect. Accuracy comes down to several factors, including consistency of movement and proper biomechanical stroke technique in the water.
Doing things like bobbing in the water, sculling, stopping mid-length, changing strokes while swimming, and irregularly sized swimming pools can make totally accurate record keeping challenging.
Evaluate your swim workouts to see where the swim app struggles to understand what you are doing in the water and try and help it "get" what you are doing the next time you swim.
More Articles Like This
5 Best Ways to Track Swim Workouts. Looking to track your swim workouts? From swim watches to logbooks, here are the best ways to monitor your swim training.