Looking to track your swim workouts? Here are the five best ways to monitor your swim training.
Tracking your swim workouts are a great way to increase motivation, monitor improvement in the water, and set smarter goals with your swimming.
Whether you are a beginner or an experienced swimmer, pool or open water, there are lots of ways to track your swimming so that you can focus on improvement each time you dive into the water.
Below are my favorite ways to track swimming workouts, from your basic logbook to more granular tracking devices that can count and track every last data point in the water.
Let's dive right in!
How to Track and Monitor Swim Workouts
There are plenty of different ways to track and monitor your swim training, including smart swim goggles, swim watches, swim apps, logbooks, and the old-school approach, printing off your swim workout.
Smart Swim Goggles: Smart swim goggles are wearable devices that provide real-time data on a swimmer's performance, such as lap times, distance swum, and heart rate, often displayed within the goggles' lenses.
Swim Watches: Swim watches are waterproof timepieces equipped with features designed specifically for swimmers, including lap counting, stroke detection, and GPS tracking for open water swimming.
Swim Apps: Swim apps are mobile applications designed to help swimmers track and analyze their workouts, offering features like workout logging, stroke analysis, and training plan management.
Logbooks for Swimmers: Logbooks for swimmers are physical or digital journals where swimmers record details of their workouts, including date, distance, stroke type, and performance metrics, to track progress and training history.
Document Files: Swimmers can also track swim progress by inputting workouts in a document, like the notepad app on your smartphone, spreadsheet, or word processing document.
Each tool features its own pros and cons, including pricing, features, and the type of swimming you are doing.
Next, we will take a closer look at each one, including our top recommendation for each swim workout tracking tool.
1. Smart swim goggles
Smart swim goggles are a new addition to the world of swimming equipment, and they are one of the most exciting things to hit the pool since uber-fast tech suits.
Smart swim goggles, like the one by the industry-leader, FORM Swim Goggles, have heads-up displays inside the lens of the swim goggle to give you live and accurate information about your swim workout.
Smart swim goggles are perfect for swimmers who train on their own and don't have a coach on the pool deck to help them monitor the performance of their swim workouts.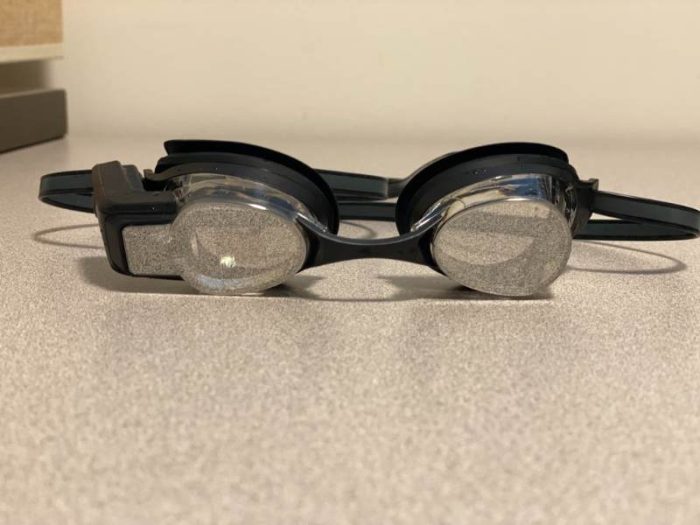 Additionally, the heads-up-display eliminates a lot of the uncertainty about splits and results when swimming solo at the pool.
While every swimmer should learn how to use an analog pace clock, especially in team training situations, if you need results that are accurate and down to the hundredth or tenth of a second, smart swim goggles are where it's at.
Our top recommendation:
The best smart swim goggles on the market are the FORM Swim Goggles.
They were the first of its kind when they took the swimming world by storm in 2019, and they continue to lead with ever-improving features.
The FORM Swim Goggles are also perfect for open water swimmers who want to track their open swimming workouts without having to stop every so often to look at a watch.
2. Swim Watch
Swim watches have become an ubiquitous part of each swimmer's workout tracking in recent years.
With a slim design, easy-to-read displays, and in-depth monitoring, swim watches represent a killer way to track swim workouts.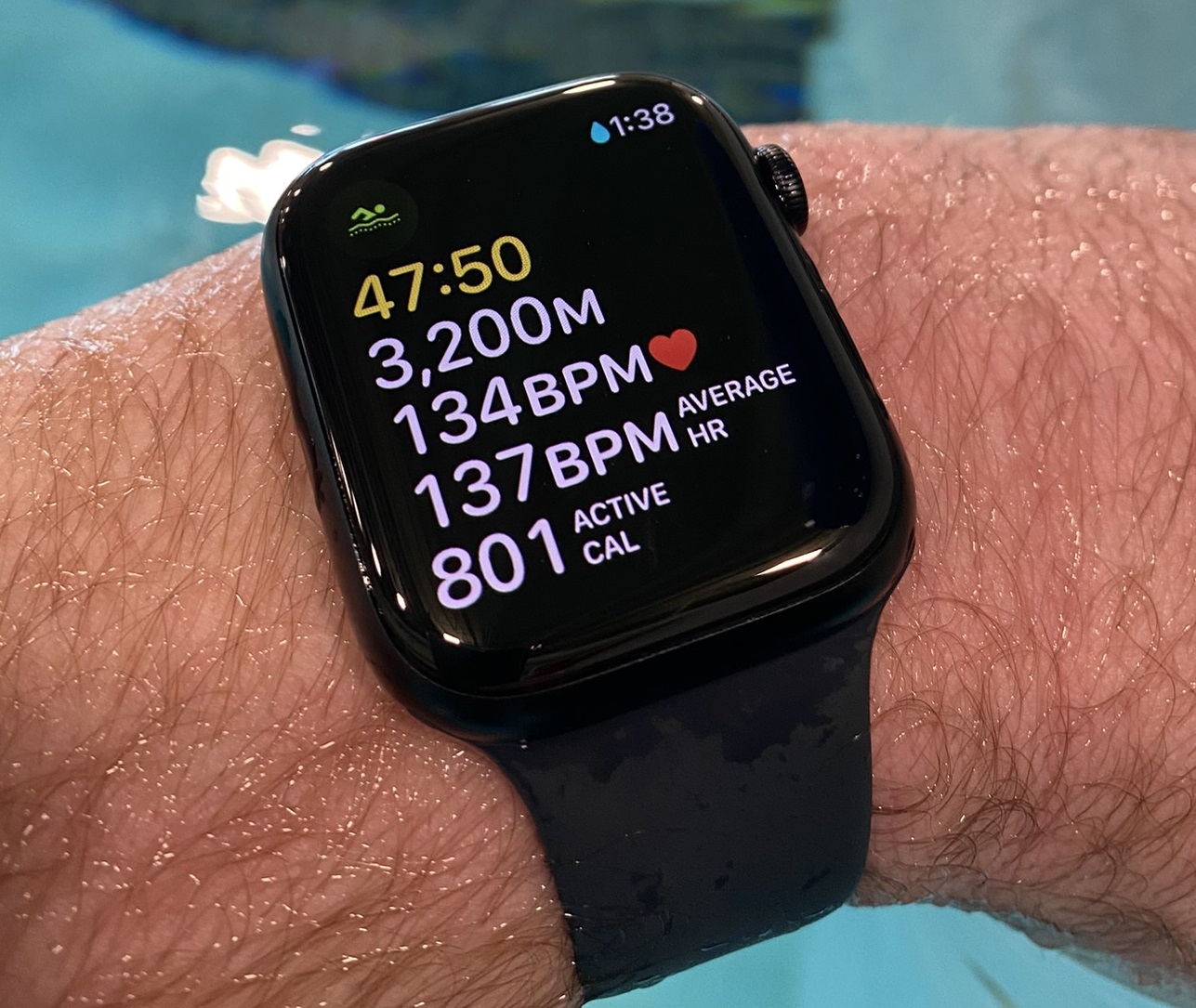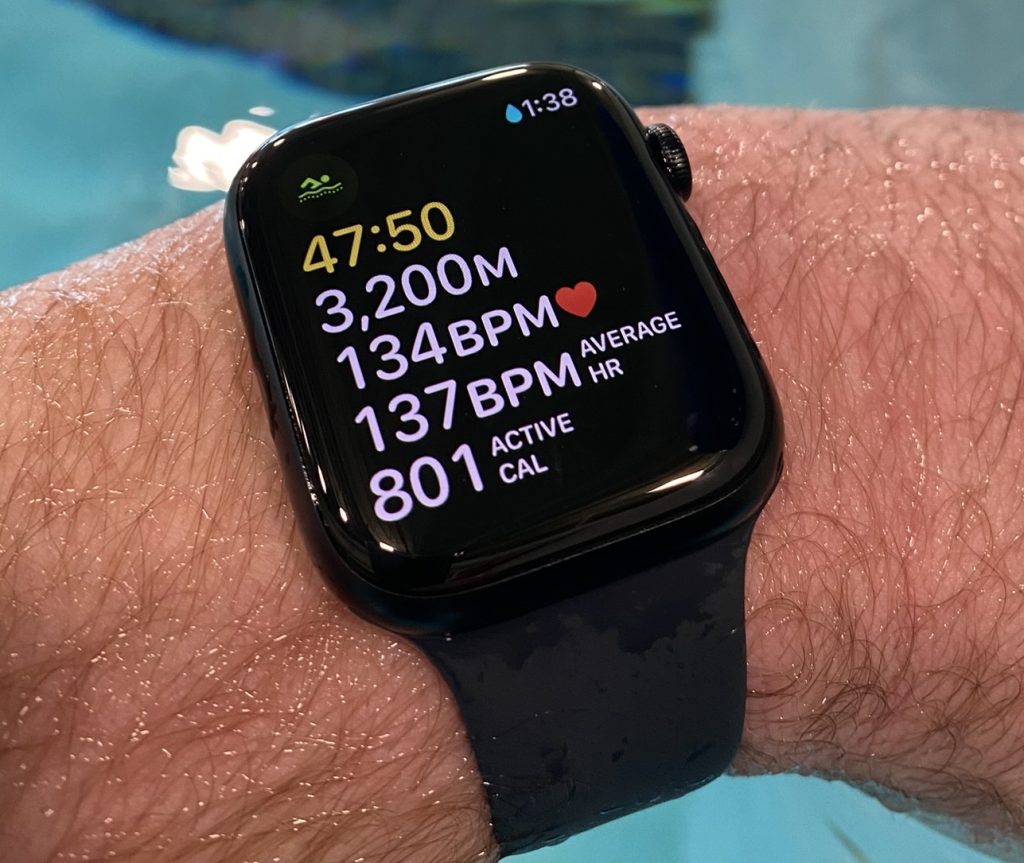 Swim watches can be used to strictly track your swim workout as you go along, generating a detailed run-down after your swim where you can review time elapsed, stroke rates, SWOLF score, and so on.
Additionally, some swim watches—when paired with third-party swim apps, which we will examine next—feature the ability to upload custom or programmed swim workouts for you to follow along with.
Our top recommendation:
The Apple Watch is excellent for swimming for a variety of reasons, including it's beautiful, easy-to-read display, excellent swim workout tracking (it's one of the only waterproof fitness trackers I've used that accurately track kicking with a board), and third-party swim apps.
The Apple Watch is one of the more pricey options for tracking a swim workout, but the slim casing and heavy versatility, from uploading custom swim workouts in third-party apps to open water swim tracking with the watch's GPS, make it the best swim watch on the market.
3. Swim apps
Swimming apps are designed to help swimmers track and optimize their swim workouts.
Swim apps are awesome for providing real-time data and performance feedback. Swim apps allow swimmers to store historical training data, giving you a bird's eye view of your performance and progress in the pool.
Swim apps cater to various types of swimmers.
Beginners can take advantage of programmed workouts specifically designed for swim workouts. Some swim apps, like MySwimPro and the swim app packaged with the FORM Swim Goggles, include technique videos to help swimmers master proper technique in the water.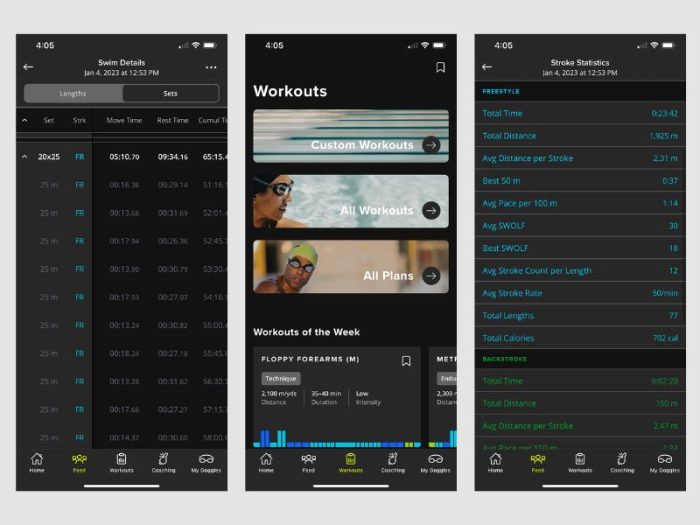 More advanced swimmers can dive deep into the vast amount of data swim apps generate from each swim workout. Swim apps, paired with your tracker of choice, whether a watch or smart swim goggles, measure and track every aspect of your swimming.
Time elapsed, distance swum, average pace, SWOLF score, heart rate—whatever your primary goal in the water, swim apps can help you track what matters most.
Swim apps are also excellent swim workout tracking tools for people who like community features, customized training programs, and connecting with like-minded swimmers.
Our top recommendation
The best swim app for tracking swim workouts comes with the FORM Swim Goggles. The app was designed by former elite swimmers, so the layout and design are highly intuitive.
The app tracks all the typical things, like distance swam, heart rate, splits, stroke detection, and more. But where the swim app on the FORM Swim Goggle crushes it is with the pre-programmed workouts and training plans.
The FORM swim app allows you to choose a swim training plan based on your goals and abilities, with workouts and training plans crafted by former Olympic swimmers and coaches.
4. Swimmer's Logbook
The swimmer's logbook is an old-school tool for tracking swim workouts. A logbook can be a simple notebook where you write the date, length of the pool, your sets and results, and comments on your workout.
Caeleb Dressel, Olympic champion and world record holder has long kept notebooks for journaling his swim workouts. Katie Ledecky, during his ascent to her first Olympic gold medal at the London Olympics, also used a logbook to track her swim workouts.
It can also be a pre-formatted logbook, like our swimmer's logbook, YourSwimBook, which is templated to track and monitor everything that matters most in the pool.
Writing out your swim workouts to track them is a decidedly old-school method, but there is value in taking the time to write out your swim practices by hand.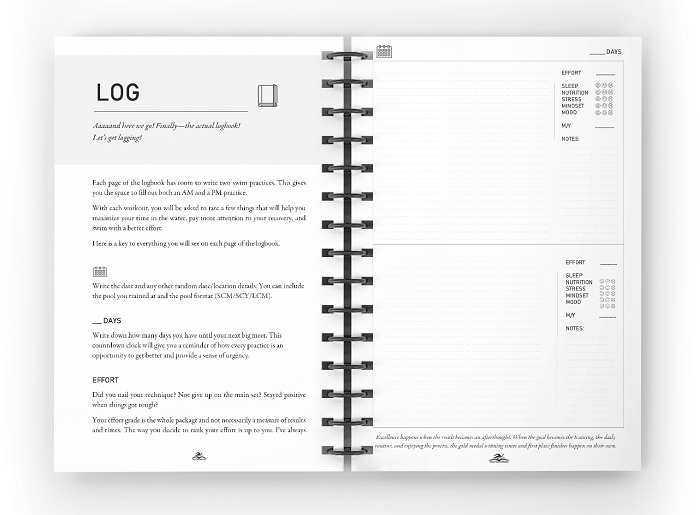 This tactile connection to a swimmer's training progress helps swimmers can gain a deeper understanding of their progress, strengths, and areas that need improvement.
Tracking swim workouts with this introspective approach can be particularly valuable for novice swimmers, as it encourages them to pay close attention to their technique and overall performance.
Additionally, swimmer's logbooks are a cherished keepsake, serving as a touchstone of your personal journey in the pool. The logbook is essentially the story of your swimming.
Our top recommendation
Naturally, we are going to go with YourSwimBook, our in-house swimmer's logbook.
It was designed by competitive swimmers, for competitive swimmers, and it's been used by countless swimmers and teams across the globe, from NCAA programs to gold level USA Swimming clubs.
YourSwimBook helps you to track everything relevant to improved swimming performance, from total meters, sleep, stress levels, and also helps you craft and monitor your goals over the course of the season.
5. Notepad or Word document
Another simple and free solution for tracking swim workouts is logging your workouts in a spreadsheet or document file. The document file can be the Notepad app on your smartphone or a digital Word document.
These options for tracking swim workouts offer a flexible and easily accessible way to record and analyze swim sessions. Hop out of the pool, fire up your smartphone, and quickly log the key details of your swim workout for maximum accuracy.
Tip: To follow along with a pre-determined swim workout, print it out, and when you get to the pool, moisten it and slap it to a kickboard for easy referencing. You can also drop the sheet into a Ziplock baggie if you want to preserve the paper.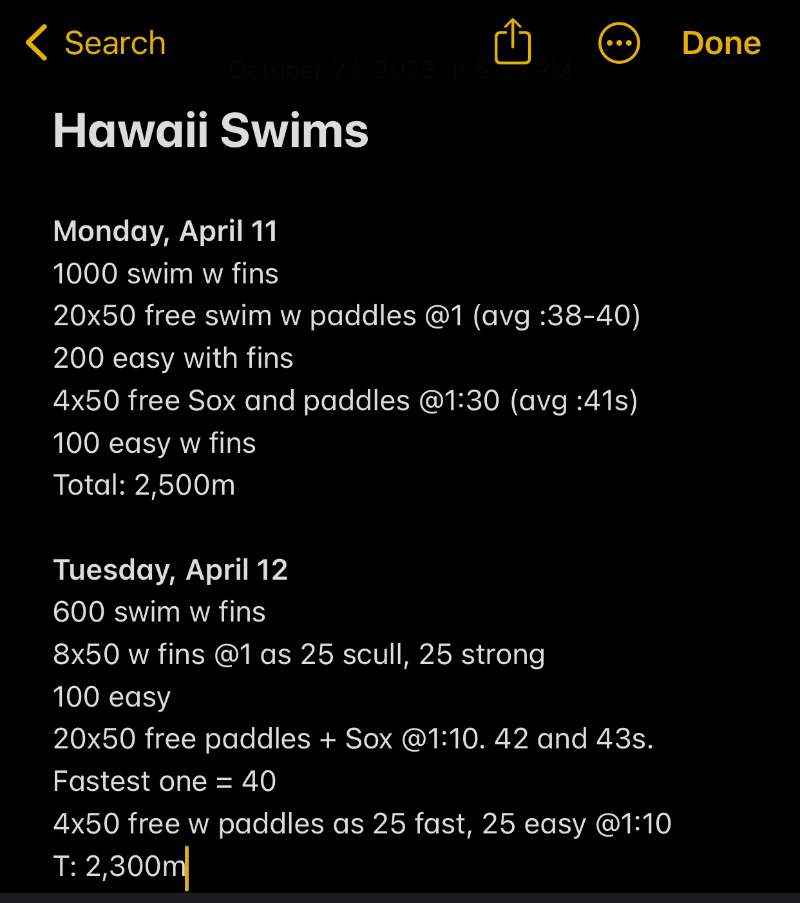 Tracking swim workouts this way is ideal for more experienced swimmers who either know ahead of time what they are going to do in the water or who trust themselves enough to remember the details of each swim workout.
And, of course, this is a super budget-friendly option, as Notepad apps are typically free and found on all smartphones and you can use Google Docs to track swim workouts online.
What are the key benefits of tracking swim workouts?
Tracking swim workouts provides valuable insights into performance, progress, and training effectiveness.
Key benefits of tracking your swimming include setting and achieving goals, monitoring improvements in speed and endurance, preventing injuries through balanced training, maintaining motivation, and refining training plans for optimized results.
Tracking swim workouts also enables data-driven decision-making and fosters a sense of accountability, all contributing to becoming a more proficient and goal-oriented swimmer.
What are the most important metrics to track when monitoring swim workouts?
The most important metrics to track with swim workouts are the statistics that matter most to your swimming.
For swimmers looking to lose weight and burn fat, calories burned are the most important metric. Open water swimmers will want a swim-tracking device that has GPS functionality. And sprint-focused swimmers will want the ability to track splits and results accurately to the hundredth of the second.
Ultimately, tracking swim workouts should serve your goals in the swimming pool.
What is the best way for open water swimmers to track swim workouts?
Open water swimmers face the unique challenge of not having a pace clock or visual representation of the distance they swim.
Swim watches with GPS tracking are essential for open water swimming as they can effectively track the distance swum and show you on a map how straight (or not) you are swimming.
For open water swimmers who want real-time data without having to stop to reference their watch, the FORM Swim Goggles can be paired to your Garmin or Apple to stream workout statistics to the heads-up display in the goggles.