How neat-o is the Apple Watch for Swimming? It's super neat-o, actually. Here's a review of what swimmers need to know about crushing it with an Apple Watch in the pool.
Unless you live under a chlorinated rock you've heard of the Apple Watch. Like it's brother and sister products the iPad, iPod and iPhone, it's a ground-breaking piece of electronic gear that made smartwatches mainstream.
Since then other players have jumped in, including Garmin (and their Garmin Swim watch as it related to swimmers), along with FitBit and their waterproof watches, and others including Speedo (and their MisFit Shine 2).
The Apple Watch, however, is a true smartwatch for swimmers: a device that runs as a digital home on your wrist for everything from playing tunes, sending and receiving text messages and adding third-party apps that can do just about anything you can think of.
As it relates to swimmers and crushing their swim workouts, the Apple Watch is also a massively powerful tool for measuring and tracking your swimming.
Whether you use the native app that comes bundled with the smartwatch, or pick up one of the popular third-party apps that add workouts and videos to the logging features, the Apple Watch is one of the best waterproof fitness trackers for the casual and competitive swimmer.
The first Apple watch was announced in 2014 and launched in the spring of 2015. New editions have followed since then, with the most recent Apple Watch being the Series 3.
The Apple Watch is a fancy-pants smartwatch. There's no question about that. We could get endlessly lost in its capabilities and features.
Instead, we will talk exclusively about how powerful the Apple Watch is for swimming laps.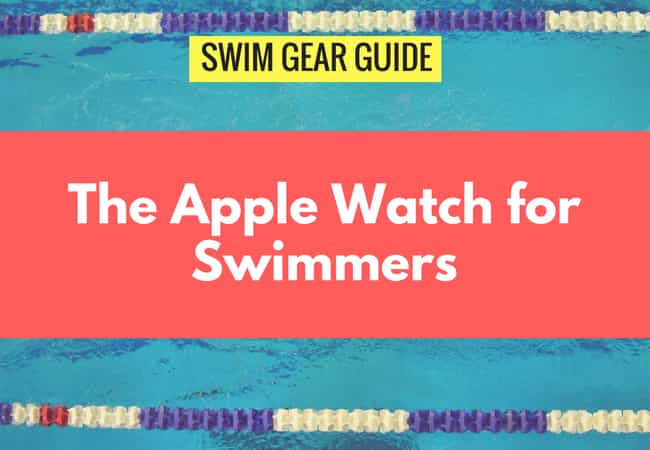 The Apple Watch Series 3 for Swimmers
It's surprising to think how long it took most of the wearable makers to show up when it came to creating devices and apps for swimmers. With the millions of people that hit the pool every day, from casual lap swimmers to triathletes to competitive swimmers, the market for this audience is massive.
The first edition of the Apple Watch was not made for swimming: the Series 2 and Series 3 editions, however, are not only water-proof but come fully loaded with their own app for swimmers.
The Apple Watch Series 3: What Does It Track?
The fancy-pants engineers at Apple installed an accelerometer and gyroscope to capture all the rollicking and rolling we do in the water with our wrist, and as a result can quickly figure out what we are doing (backstroke, freestyle, breaststroke) and quantify it.
While the accelerometer tracks velocity and motion, the gyroscope helps figure out what stroke you are doing judging by the angle of your wrist. The gyro also helps to figure out when you are doing a flip-turn.
The Apple Watch will track total time swum, the number of meters or yards completed (all you have to do is input the pool size before getting in the water), how many strokes you are taking per lap (a barometer for efficiency), the type of stroke you are doing, lap time, and somewhat (but not really) heart rate data.
Critically, it can also sense when you start and stop and will keep track of your bouts of rest.
Fun Facts About Swimming with Your Apple Watch
The app provides all the basic features you would expect from a waterproof fitness tracker: you get your total time elapsed, splits, stroke count
The screen locks once you start a workout. When you kick off a swim practice your Apple Watch screen locks. The reason for this is that you will register fewer disruptions in the monitoring of your session in the water from unintentional tapping of the screen against the water.
Set pool distance before you start. Seems obvious but plugging the length of the pool before you start swimming will give you more accurate results. If you are unsure, ask a lifeguard or the fast swimmer in the pool—they'll know.
How do you pause the workout mid-swim? Because the screen is locked when in waterproof mode, the normal way to pause a workout is out the window. Apple has thought this through—pressing on the side button and the crown at the same time will pause your practice.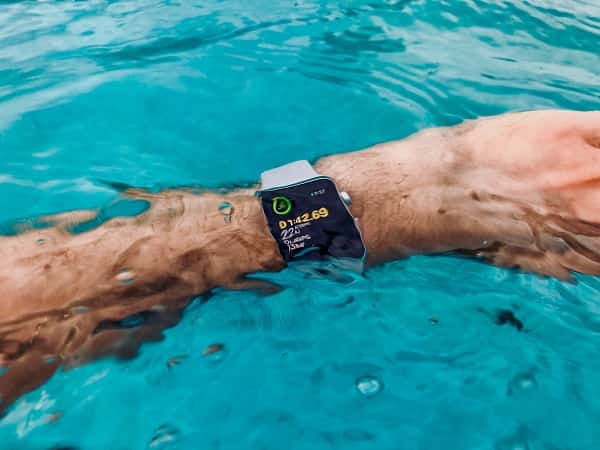 It will try to measure your heart rate. Like most fitness smartwatches the Apple Watch struggles to measure heart rate while swimming.
Although a lot of waterproof fitness trackers have leaned away from having a heart rate monitor (the Garmin Swim does away with this feature completely, for example) the Apple Watch measures your heart rate in the water. Just don't expect the results to be perfectly accurate.
Water inevitably slides between your watch and your wrist, making detection difficult. Apple themselves note that this feature doesn't work that well ("Water might prevent a heart-rate measurement"). If you are really serious about tracking heart rate while swimming check this guide to water-proof heart rate monitors.
It will track pool length of any type. And I mean any type. You can set the pool length to be as short as 1m. Which is great news for all you bath-tub athletes who are crushing laps in the bathroom.
But in all seriousness, this would come in handy when swimming in random hotel pools, which come in all shapes, sizes and lengths. Before you get in fire up the swim app and you will be prompted for a pool size. Punch it in, and off you go.
It'll GPS your butt in open water. Fancy yourself some open-ended swimming in your local lakes and ocean? The Apple Watch can track you while you do that too.
Although the GPS chip doesn't broadcast through water, once your arm breaks the surface it will ping the satellite signal each time you perform one of those majestic arm strokes.
Third Party Logging Apps
One of my favorite features of the Apple Watch is the availability of third party apps. Swim logging apps like MySwimPro and Swim.com can give you much more information than the workout app that comes stock.
If you are using your Apple Watch for straight bouts of freestyle swimming these added features won't matter much, but if you are doing different strokes, drills, kick, and want more flexibility in your workouts and want to try some expertly-crafted sets, than the added features of the third-party apps can come in handy.
MySwimPro and Swim.com come packaged with workouts and sets. You can upload your own favorite sets and workouts to the watch as well. This is probably the best feature, particularly for you swimmers who train on their own and like to have a clear idea of what's being served at practice when you step onto the pool deck.
The Apple Watch for Swimming: In Conclusion
The one thing I will say about the logging and tracking abilities is that the Apple Watch is highly, highly accurate. Probably the best I've seen among the smartwatches, and even when compared against the swim-only wearables that are available.
I love the third party apps—both outstanding in their own right and developed by former competitive swimmers, making them intuitive as well as feature-rich.
The only downside to the watch?
If you are buying it solely for swimming it's a bit of a kick to the teeth when it comes to cost. It retails for $300-400, which makes it the second most expensive watch I've tried out (the Garmin Fenix 5 being the priciest at $600+).
If you plan on wearing it outside of the pool (and why wouldn't you—it's a badass watch), then it's a bit of a no-brainer.
Where to buy the Apple Watch Series 3: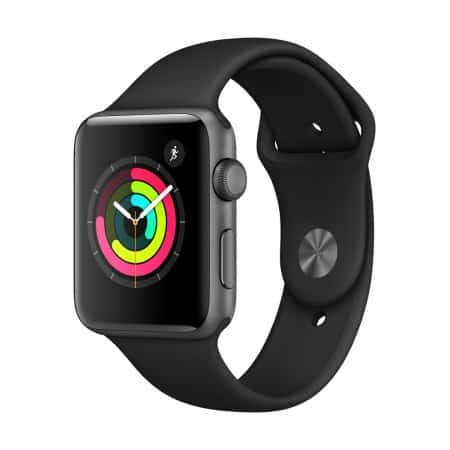 ---
More Stuff Like This:
Swim Gear Guide: The Best Waterproof Fitness Trackers. Ready to take your swim workout to the next level? Here's your guide to the best waterproof fitness trackers for swimming.
The Best Waterproof iPod Shuffles for Swimming. Ready to hit the pool with some tunes? Here is a breakdown of the best waterproof iPods for crushing your swim workouts.