Ready to take your swimming to the next level? Here's an expert look at the best waterproof watches and smartwatches for swimming.
Swimming is one of the best activities to get and stay in shape. Cardio, meditation, muscle building, stronger lungs—you name it, swimming will help you do it.
For those who like to take the power of traditional fitness trackers and use that supercomputing power on their wrists to measure and monitor their activity levels, whether it's heart rate, distance, or even time spent in different energy zones, there are a variety of swim watches available for the aquatic athlete.
And fortunately for you, over my 30+ years as a competitive swimmer, 2x Olympic Trials qualifier, and now 6x a week semi-competitive lap swimmer, I've tried them all.
Ultimately, each swim watch comes packaged a little differently.
Every watch and smartwatch for the water-bound athlete covers the basics—distance and time—but if you want to take your swimming to the max, there are a bunch of other metrics to track and measure, including:
Lap counting
Splits
Stroke Count
Stroke Detection
GPS for open water swimming
Easy to access screen to check splits, time, etc
SWOLF scores
And so on.
Here is a breakdown of the best watches and smartwatches for swimmers of every level and for every budget.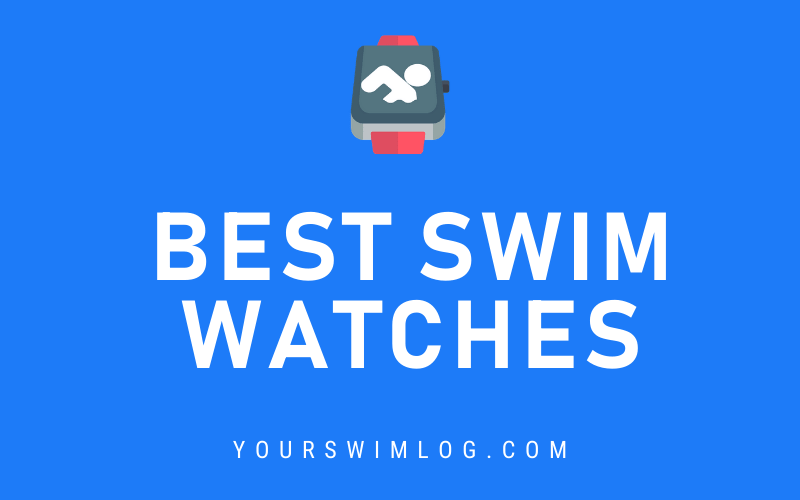 Apple Watch Series 8
✅ Best-in-Class: Smartwatch for swimming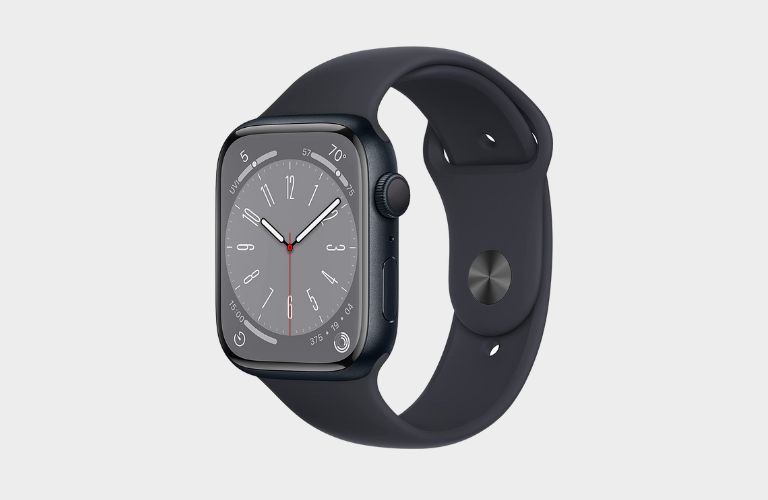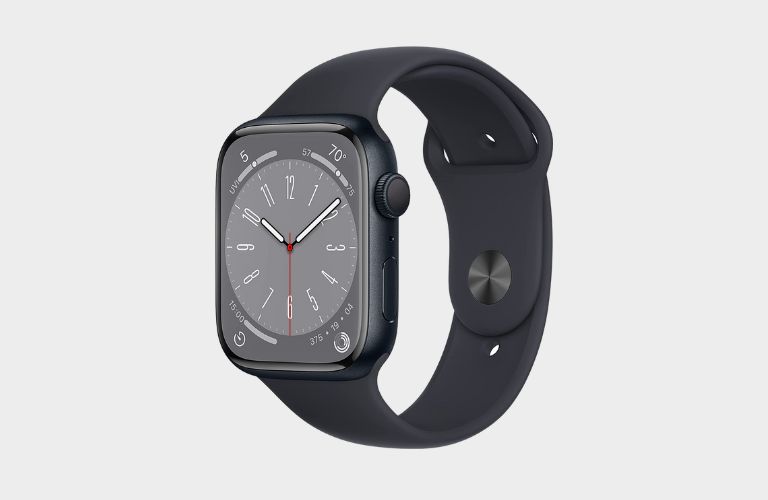 Apple makes exceptional gear, and while they aren't known specifically for being swim or multiport tech makers, the Apple Watch Series 8 does everything that those watches do and more.
The Apple Watch (now into its Series 8) is water-resistant to 50-meters, and has a built-in swim app that covers everything from splits, volumes, what stroke you are doing, pace, and stroke count. For the open water and triathlete swimmer, when GPS-enabled, the app can also paint your swim out on a map.
Apple's add-on app called Water Lock allows you to lock the screen when you are in the water to prevent accidental touches and clean out the watch's speakers when you are finished in the water.
(Tip: To end your swim workout, press and hold the dial and let the Water Lock feature unlock the screen so you can end and save your swim.)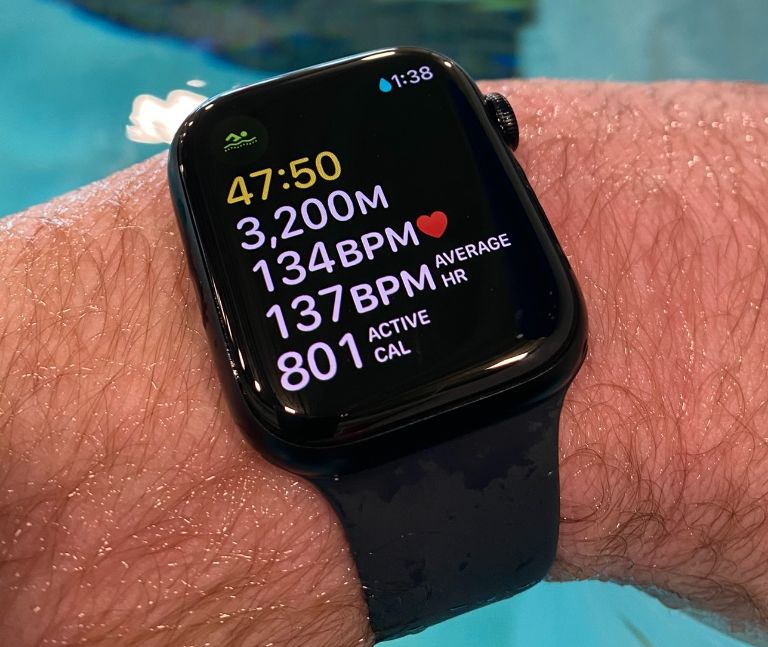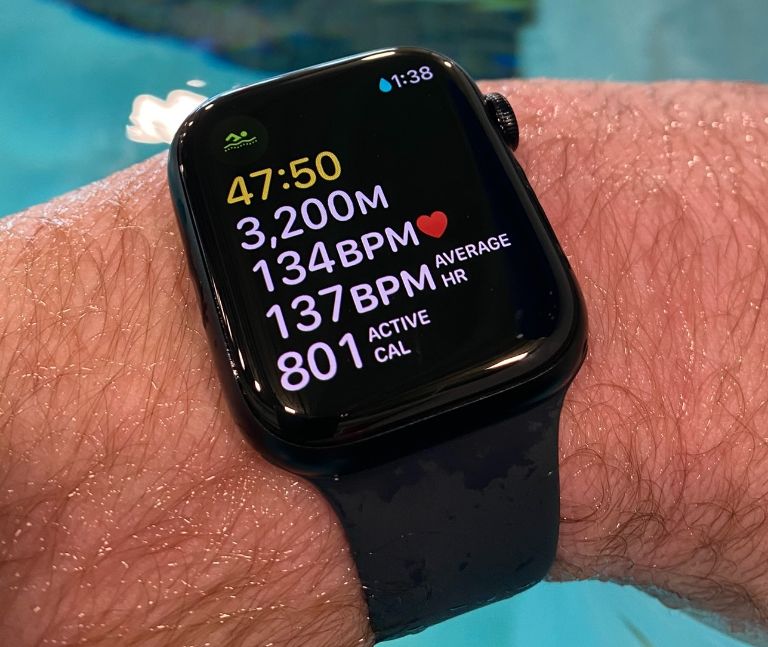 The Apple Watch Series 8 includes all the other features of a smartwatch that make it awesome for the pool and your dryland workouts, including optical and electrical heart sensors, a beautiful retina display, and endless customization options in terms of wrist bands and apps.
For swimmers who want more ideas, more metrics, and more flexibility in uploading their own swim workouts, there is an abundance of third-party apps, including Swim.com and MySwimPro, which have a deep library of workouts, drills, training videos, and much more.
Beyond the insane accuracy of the Apple Watch, it's also the only smartwatch for swimming that tracks kick without you having to go back into the app and make manual edits.
(For more information on how rad this watch is for swimming, check out my in-depth review here: Apple Watch for Swimming — A Review from the Lap Pool)
This is the only tracker or smartwatch I've ever used (or heard of) that has this feature, and it was a software update at the end of 2022 that now makes tracking kick possible.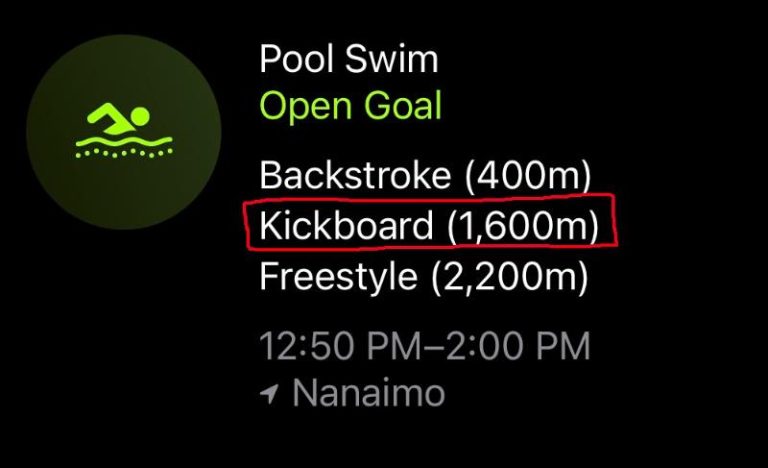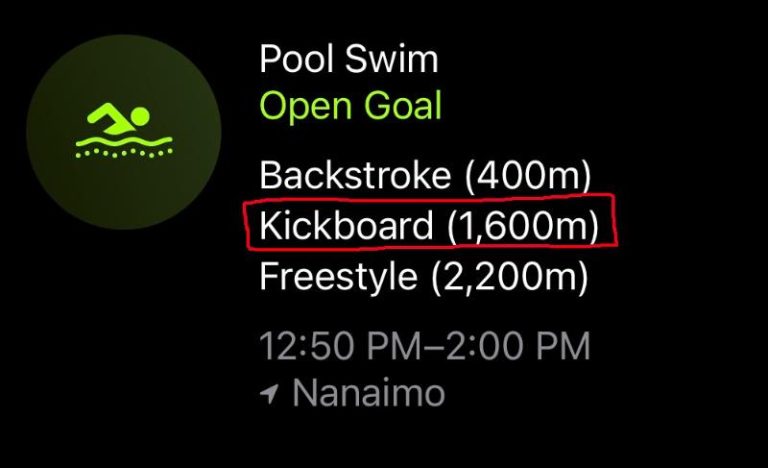 My Apple Watch has taken over daily driver duties of being my workout tracker of choice. Its thin profile is barely noticeable on my wrist while swimming (particularly when compared to bulkier watches and trackers I've used in the past–ahem, Garmin Fenix), and as mentioned, it's far and away the best at tracking laps and distance accurately during my swim workouts.
While the Apple Watch Series 8 is among the most expensive swim watch on our list, its accurate native app, easy integration with top-tier third-party swimming apps, peak accuracy, and the fact that it tracks kick sets have it firmly at the top of my list.
| | |
| --- | --- |
| ✅ PROS | ❌ CONS |
| Only smartwatch that automatically tracks kicking | Battery life is fairly short |
| Excellent lap counting and distance accuracy | |
| Customizable dashboard to see the stats that matter most to you | |
| Thin casing; barely notice it on your wrist when swimming | |
---
Garmin Forerunner 945 Smartwatch
✅ Best multisport swim watch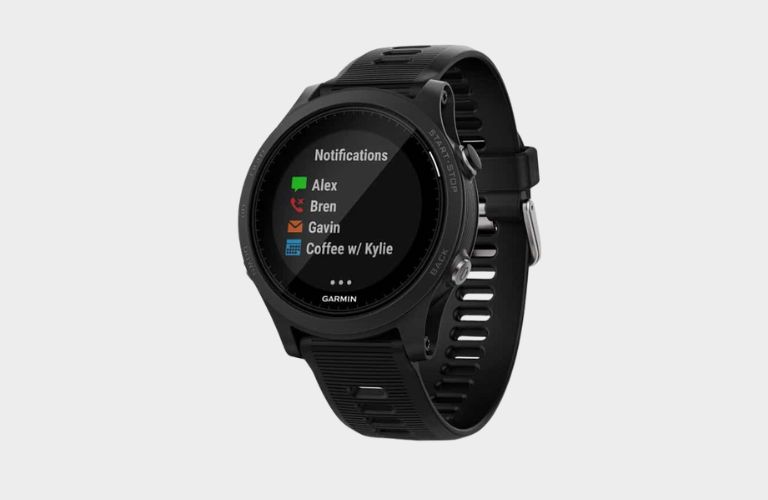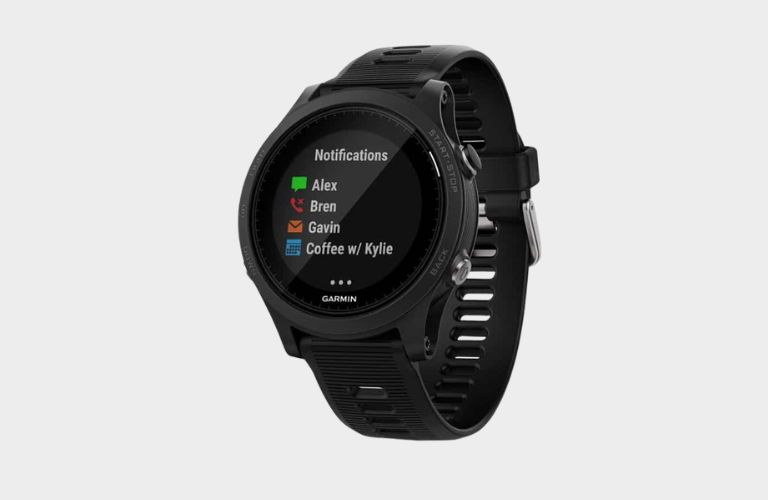 Yup, another swim watch by the folks over at Garmin! Unlike the Garmin Swim 2–which we will cover shortly–this bad boy brings the noise for athletes who spice up their swimming with other outdoor activities, including running, cycling, snowboarding, rowing, and just about every other sport and activity you can think up.
With Garmin's industry-leading GPS, and a native swim app that can be easily uploaded to popular tracking platforms like Strava, the Forerunner 945 is an exceptional piece of wrist-based hardware that will help you thoroughly dominate the water.
The Forerunner 945 produces a real-time bread crumb trail that pinpoints your exact journey during open water swims. Detailed SWOLF and lap times are meticulously logged while training in the lap pool.
With a slim profile, you will hardly feel the swim watch on your wrist while churning around the black line and charging your way to new personal best times.
---
Samsung Galaxy Watch Active2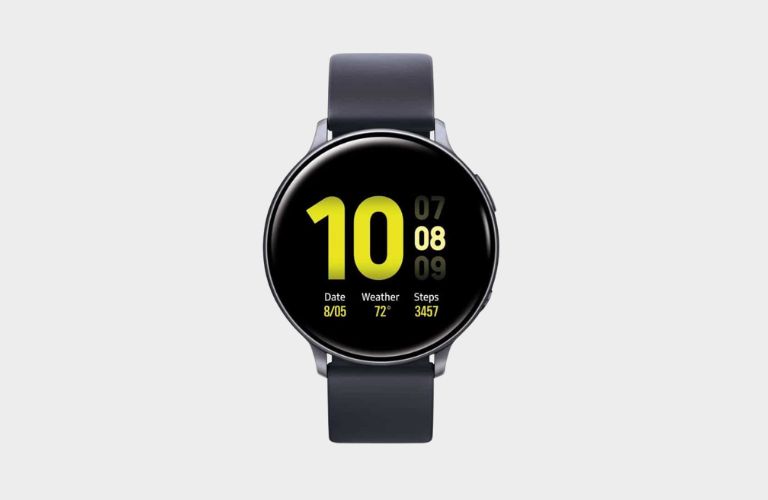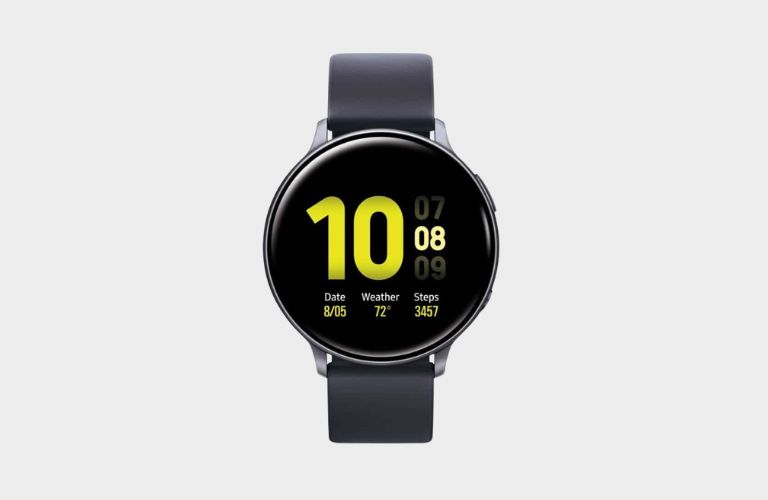 Samsung is one of the biggest makers of personal electronics. The computer monitor I am using to write this is a Samsung, and so is the TV in my living room that is my partner-in-crime for procrastination and Netflixin'.
Their smartwatch, the Samsung Galaxy Watch Active2, is the latest in a long line of Samsung smartwatches centered on fitness that provides most of the bells and whistles that swimmers expect in a smartwatch.
While it doesn't come quite near the level of the Versa or the Apple Watch, it does make a valiant effort. It has an optical heart rate monitor on the back of the device, which is *moderately* accurate and unlike the Apple Watch, the screen turns off when you don't press a button on the side or raise your hand.
Additionally, open water swimmers will find the GPS frustrating and not nearly as accurate as the Apple Watch, making the Galaxy Watch Active2 definitely not our favorite multisport watch for open water swimmers and triathletes.
When it comes to the pool, the watch will count your strokes, detect what stroke you are using, and because the screen turns off, you won't be able to see the read-out when pushing off or turning.
The biggest limitation with lap swimming with the native swimming app comes with detecting sets and workouts. If you plan on using this smartwatch for your swimming, consider using a third-party app that can better plot out sets, intervals, and workouts, and most importantly, you will be able to get your workout data pulled off the watch for monitoring.
On the plus side, the Active is significantly cheaper than the Apple Watch. Overall, it's a fantastic smartwatch with a lot of bells and whistles that still has some ground to make up when it comes to the best watches for swimmers.
---
Fitbit Versa 2 Smartwatch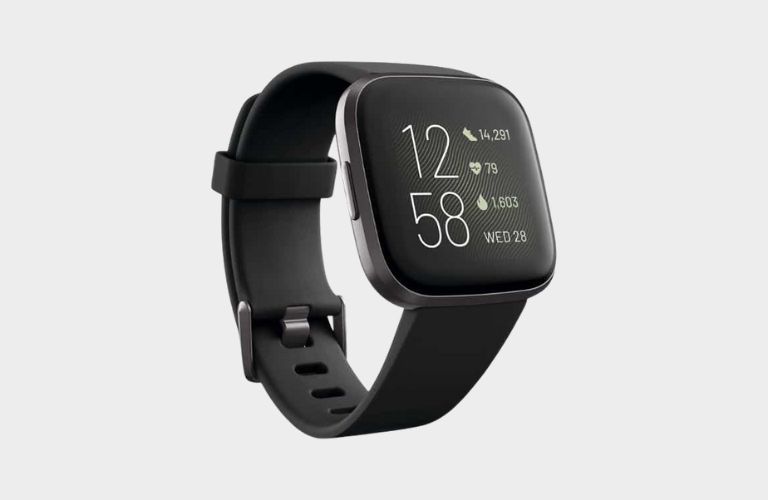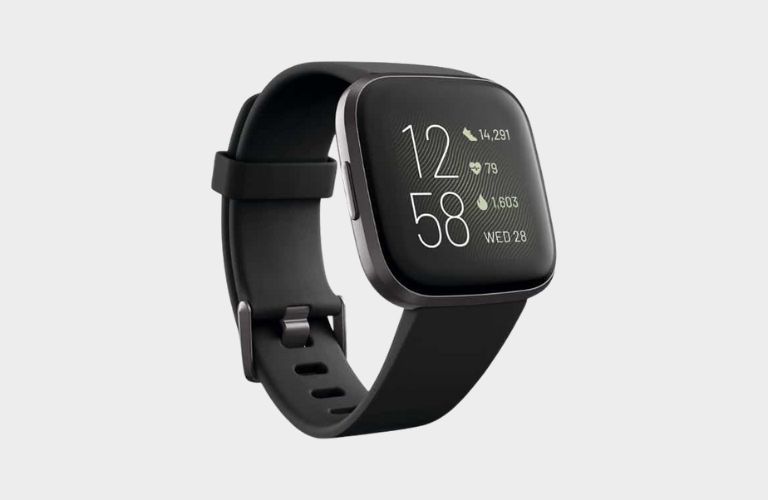 Fitbit has been a big player in the wearable market for a while now, with a popular and best-selling line of smartwatches and watches for every budget and age group. With 5ATM waterproofing, the Versa 2 logs and displays your swim workout with crystal-clear precision.
One of the key features of this watch is the display that is clear and easy to read under the water. On the flip side, one of the big downsides of this watch is that it doesn't have GPS, making it kinda pointless for swimmers who get their strokes in at their local outdoor body of water. The data that you get from the fitness app is also not exceptionally detailed.
For more casual lap swimmers, who maybe aren't obsessed with splits and stroke counts, the Fitbit Versa 2 is a powerful and reliable smartwatch for tallying up and tracking your time in the water.
---
Garmin Swim 2 Watch
✅ Best swim watch for open-water swimming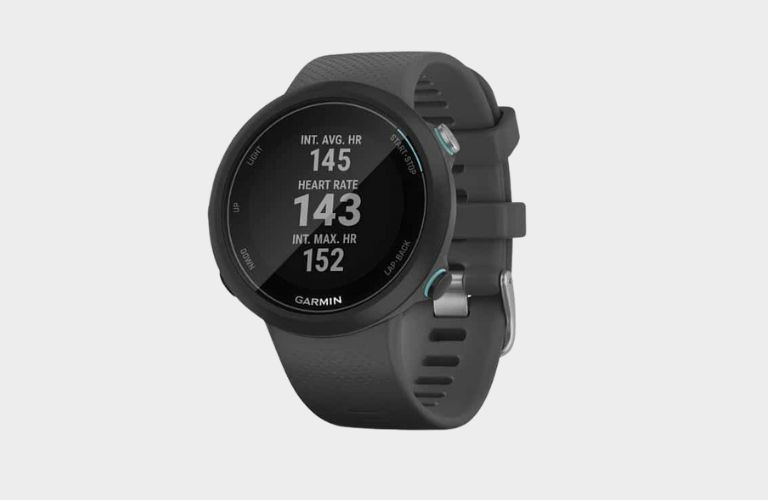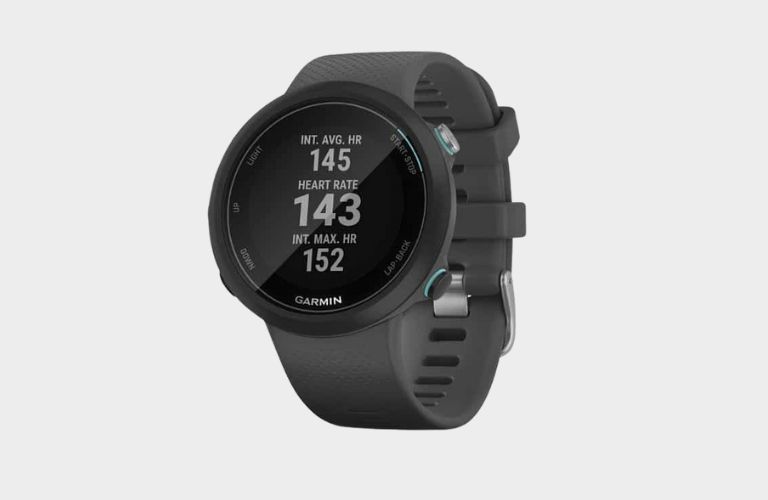 Garmin is one of the big players when it comes to producing smartwatches for athletes of all kinds.
The Garmin Swim 2 is a dedicated swim watch that combines Garmin's legendary GPS performance and a bottomless list of bells and whistles for the pool and open water swimmer.
First off, Garmin's GPS tracking is consistently highly ranked. They work hard to be the name that outdoor athletes rely on for tracking their workouts, whether it's on the trail, on the bike, or on the water. The Garmin Swim 2 hits the usual features of stroke counting, stroke detection, SWOLF score, and more.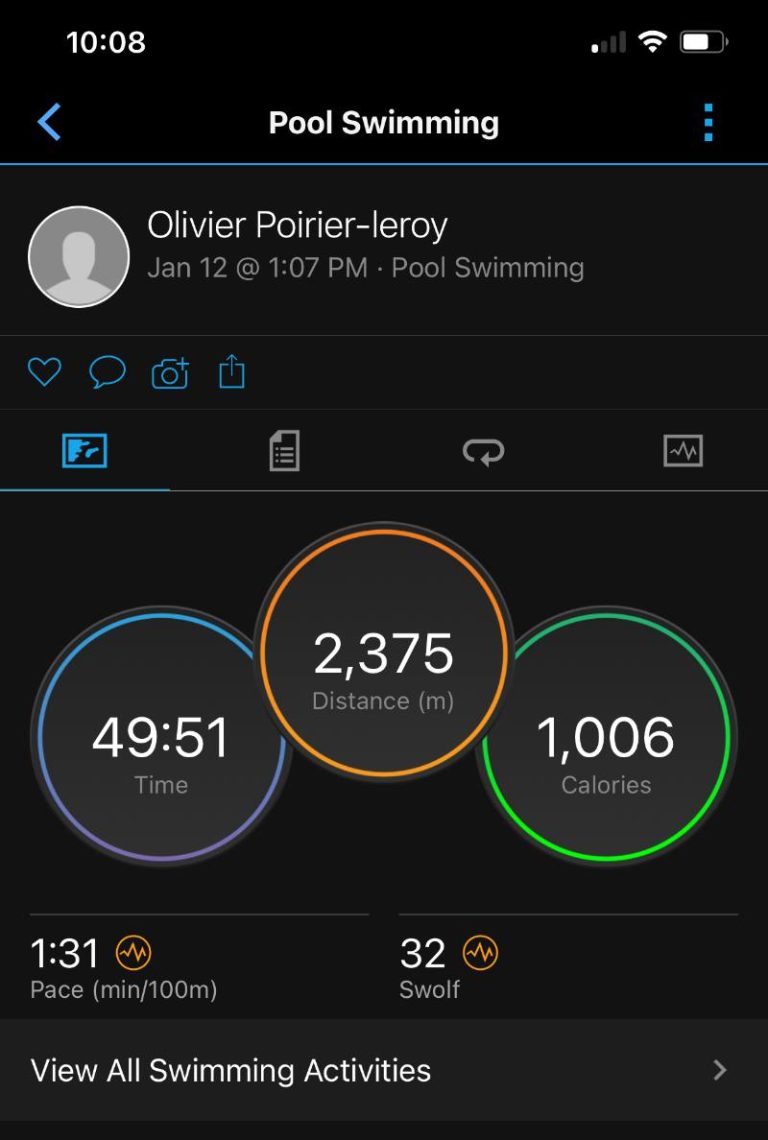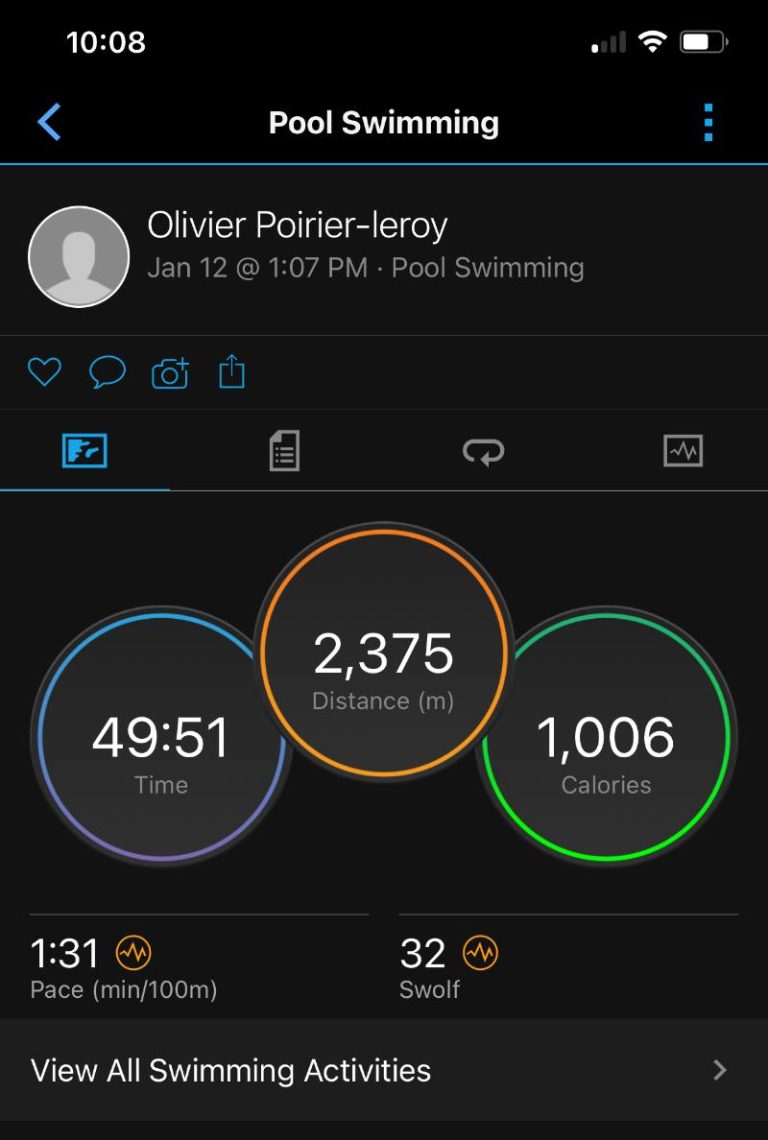 Basically everything the swim nerd needs to break down their swimming workout to find room for improvement.
The original Garmin Swim was only capable of tracking pool and open water swims, but with the updated Garmin 2, it's become more of a multisport watch, able to track a wide variety of sports and activities out of the water.
It now tracks ALL of the stuff you'd expect from a smartwatch, including sleep, steps, a Body Battery feature that gives you a snapshot of how gassed you are based on the day's activities, and constant heart rate monitoring.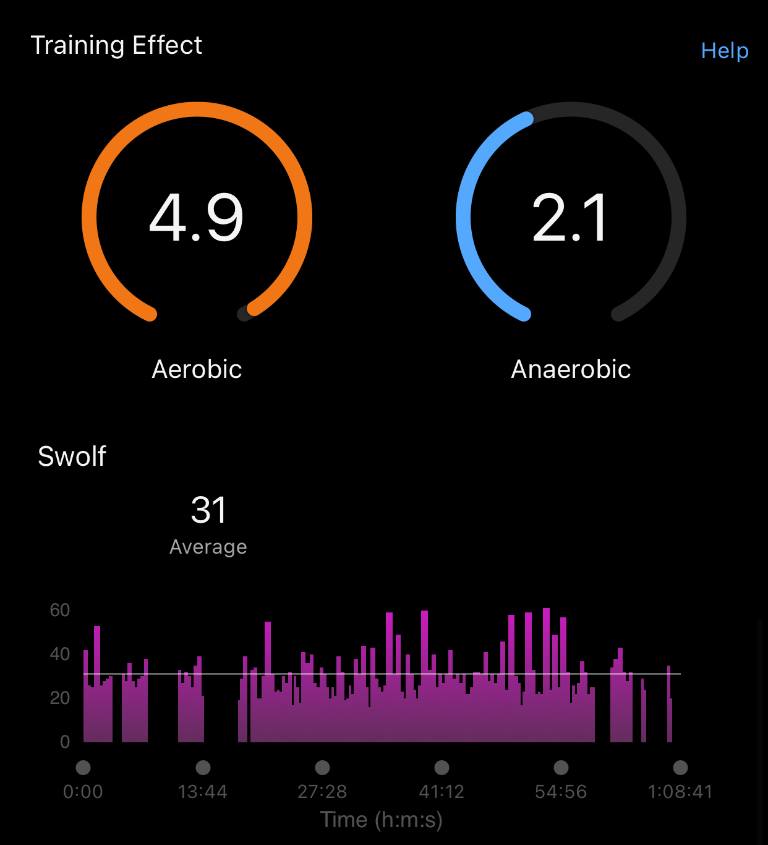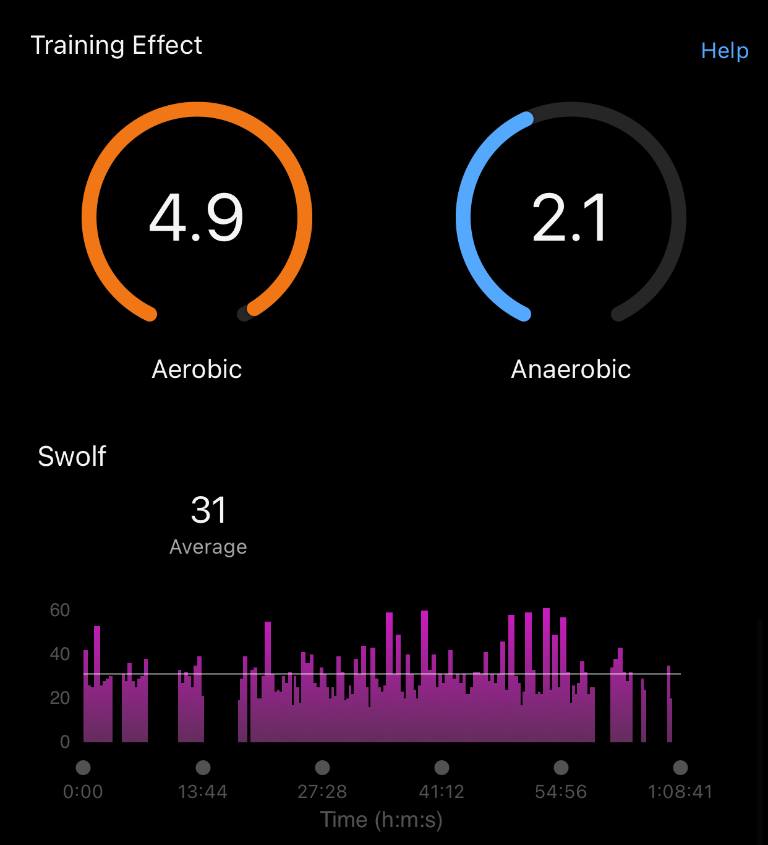 The Garmin Swim 2 also pairs with Garmin's connectivity app, which allows you to download custom watch faces, apps, and more.
The Garmin Swim 2 holds a charge for around ~3 days, significantly longer compared to an Apple Watch, and its unparalleled GPS accuracy, and full array of data the watch logs make it one of my favorite swim watches of all time.
The only bone I have to pick with the Garmin Swim 2 is that it doesn't track kicking on a kickboard–this needs to be done manually on the watch instead of being automatically detected (which the Apple Watch does).
---
Timex Ironman Classic Watch
✅ Best watch for swimmers who take their own splits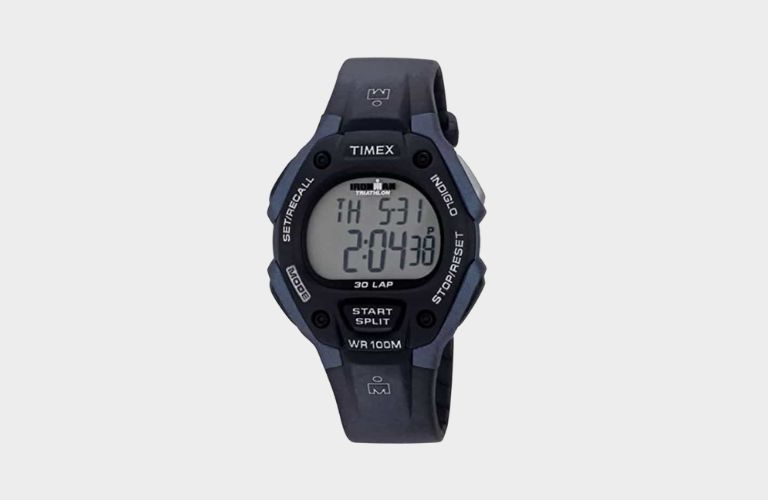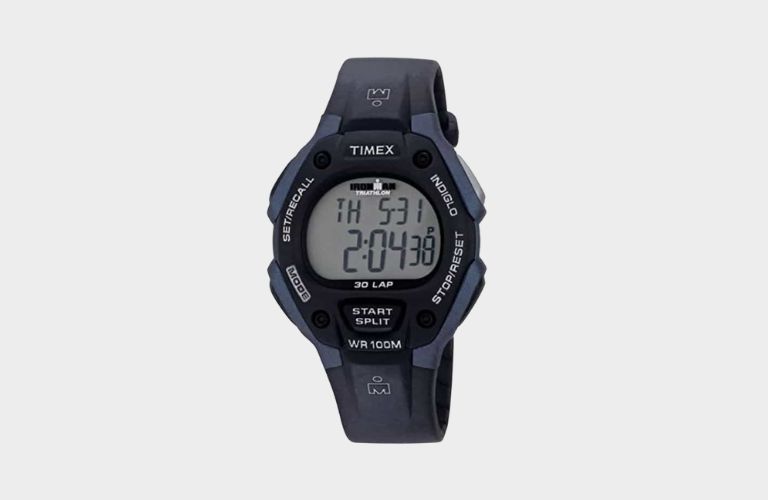 The Ironman watch has been around for as long as I can remember. For years, it was the preferred watch of swimmers, triathletes, runners, and so on.
Of course, with the massive surge in computing power and features in the most recent smartwatches, the Timex Ironman can seem quaint, a relic of the past to be left with dial-up internet and VHS tapes.
But if you want a simple, no-frills watch for your lap swimming, and don't mind hitting the buttons on the side of the watch at the end of each lap, then the Timex Ironman watch serves up an equal dose of wrist-based split keeping and nostalgia.
Water-resistant up to 100-meters, with a 100-hour chronograph and 30-lap memory, the Timex Ironman is a great and simple watch for swimmers who want the timeless look of a Timex with basic functionality.
---
What to Look for in a Swimming Smartwatch
Swim watches have come a long way in recent years, and with each passing year, there seems to be a fresh wave of performance upgrades.
Which can make sorting through all of the options, which are constantly changing, a little tough.
Here are the key things to look out for when choosing the perfect swim watch for you:
⭐ Waterproof rating.
All of the watches on this list are rated water-resistant in varying degrees. The Apple Watch, Samsung Active2, for example, can be submerged into 50m depth of water which is more than enough for swimmers.
⭐ Tracking.
Laps, distance, turns, strokes, splits—can the smartwatch track all of the essentials when it comes to nailing your swim workout?
Each swimmer values different metrics and rates their swim workouts by different stats. While time and distance are the two big obvious metrics, there are tons of new data sets that swimmers can use to measure and motivate performance in the water.
Time spent in specific training zones, training effects, and more. SWOLF is a popular new metric that is almost standard in most watches designed for swimming laps.
(More on SWOLF here: What is SWOLF in Swimming?)
⭐ Heart rate monitoring.
Wearables, and swim watches are no different, primarily use optical heart sensors to see how fast your blood is moving, producing heart rate data. While fairly accurate, optical heart rate monitoring isn't perfect.
For peak accuracy, invest in a chest strap—a study1 done by the American Medical Association found wearables were not nearly as accurate as a chest strap for accurate heart rate tracking.
⭐ GPS.
Open water swimmers looking to track their swim workouts, whether it's time, distance, or just seeing how straight (or not) they are swimming will want to opt for a swim watch with GPS.
Pro Tip: For maximum GPS accuracy during open water swim, put your smartwatch in a swim buoy. Sounds silly, but the constant connection to the satellites above gives you a more detailed and accurate mapping of your swim.
⭐ Lap and distance counting accuracy.
The accuracy of swim watches and trackers is paramount. After all, if it's miscounting (or worse, not counting at all), much of the value in wearing one goes out the window.
In my own testing, the Apple Watch is the easy winner for accurately counting how many laps I've swum over the course of a workout.
The Apple Watch also gets HUGE bonus points for the fact that it's the only swim watch that can track kicking on a board.
⭐ Third-party apps.
While many swim watches have native apps for measuring and logging your swim, watches like those made by Apple, Garmin, and to a lesser extent, Samsung, offer third-party apps.
These can be great for loading workouts to your watch and joining an online community of swimmers.
---
The Bottom Line
You and I both know that swimming is one of the best activities on the planet. Nothing quite beats a good swim, except for the feelings of accomplishment when we get out of the water.
Adding a quality swim watch to the mix can help take your swimming even further.
By being able to measure and track your performance in the water, you have a blueprint moving forward and a source of motivation for days when you aren't quite "feeling it."
Among the best swim watches on the pool deck, the Apple Watch Series 8 stands out for its beautiful screen, exceptional accuracy, the fact that it can track kicking on a board (!), and its sleek casing. The Apple Watch also gives you more data than you could ever dream of, from stroke counts to splits to heart rate tracking.
While the battery life isn't so great (it requires a daily charge), it's heads and shoulders above the competition.
Choose the swim watch that is perfect for you, and take your swimming to new heights.
Happy swimming!
---
More Stuff Like This
7 Best Waterproof Fitness Trackers for Swimming. Ready to take your swim workout to the next level? Here's your guide to the best waterproof fitness trackers for swimming.
The Best Waterproof Heart Rate Monitors for Swimming. Looking for an accurate way to measure heart rate while in the water? Here is a breakdown of the best waterproof heart rate monitors to take with you to the pool.