Ready to take your swimming to the next level? Looking for an accurate way to measure heart rate while in the water? Here is a breakdown of the best waterproof heart rate monitors to take with you to the pool.
Pushing yourself in the pool is hard. Particularly for those who train on our own. By ourselves with the black line and the pace clock we circle round and round, crushing lap after lap.
The volume and monotony can lull us into complacency, however. Luckily, there are countless ways to progress in the water: intervals, stroke rates, splits, goal times, volume, and of course, heart rate.
By measuring and tracking our heart rate we have a fool-proof way of making sure that we are doing the right kind of training while in the water.
The benefits of training with a waterproof heart rate monitor are legit:
It keeps you honest about how hard we are actually working. Sure, the workout might "feel" hard, and it's easy to say that we are "working hard" in the water—but without an objective measure of our effort it's pretty easy to sandbag our reps. Heart rate tells us with cold precision how much exertion we are truly throwing down.
Helps you stay in your prescribed training zones. This is particularly useful on recovery days, where the goal is to keep your heart rate low. We've all had situations where the momentum of the workout led us into pushing ourselves when we were supposed to be taking it easy. Conversely, a heart rate monitor is there to let us know that we are also not pushing ourselves enough on days when high intensity is called for.
It's another way to measure progress in the pool. One of the cool things about tracking your training, whether it is with a waterproof fitness tracker or an old-fashioned log book, is seeing improvement first-hand. Those moments when you are able to swim at a faster speed while maintaining a lower heart rate than the last time around provides you a critical jolt of confidence and motivation that keeps you coming back for more.
The Challenges with Trying to Measure Your Heart Rate While Swimming
It's likely that you learned the old-school method of checking your heart rate at some point during your swim career: Stick to fingers against the side of your neck, and count the pulses of blood for six seconds, and then multiplying that number by 10 (for example, if you counted 13 "beats" over a six-second period, your BPM is 130).
While this method can give us a fairly decent approximation, it's not entirely accurate.
Along came the wearable companies, from the waterproof Fitbits to the Garmin Swim watch, with wrist-strapped devices that purported to be able to tell you your heart rate at any given time while wearing it. While all of them will measure heart rate on land, not all of them will be able to measure heart rate in the water.
And the reason for this is that wrist-based fitness trackers use that flashing green LED lights (called optical heart rate sensors) to measure blood volume against your skin to generate a heart rate reading.
But doing this in water is very difficult.
Water literally gets in the way, the wearable slides up and down, or otherwise gets jostled, and ends up producing unreliable data (when it manages to produce data at all).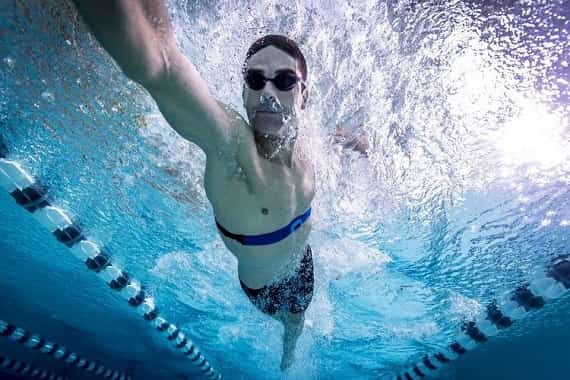 Although wearable companies will happily tell you how accurate their optical sensors are, this is only in a best case scenario (i.e. when you are dry and barely moving your arms).
And even then, the results aren't that great.
The Journal of the American Medical Association, in their own research, found that the wrist-strapped wearables they tested weren't able to produce a reliable heart reading during moderate exercise.
In fact, none of the four devices that they tested, which included popular wearables such as the Apple Watch, Fitbit Charge and Mio Fuse, were able to come close in terms of heart rate accuracy compared to a chest-strap.
This is why—if you are serious about measuring your heart rate while you are swimming—you should be using a chest-strap to record your BPM.
Instead of a flashing light that requires constant contact against the skin and almost perfect laboratory-like conditions to work even moderately well, with chest straps, your heart rate is measured via the small electrical bursts that are given off by your heart as it contracts and sends blood hurtling to your muscles.
Moral of the story?
If measuring and target heart rate zones is a key part of your training program, a chest-strapped heart rate monitor is going to be your best bet for getting the best and most accurate results.
The Best Heart Rate Monitors for Swimmers
Okay, so we've beaten the drum on how much better chest-strapped heart rate monitors are for swimming.
Now for a breakdown of the best ones, including our favorite waterproof heart rate monitor watch, ranked in terms of awesomeness.
1. Polar OH1+ Optical Heart Rate Sensor
⭐ Best heart rate monitor for swimmers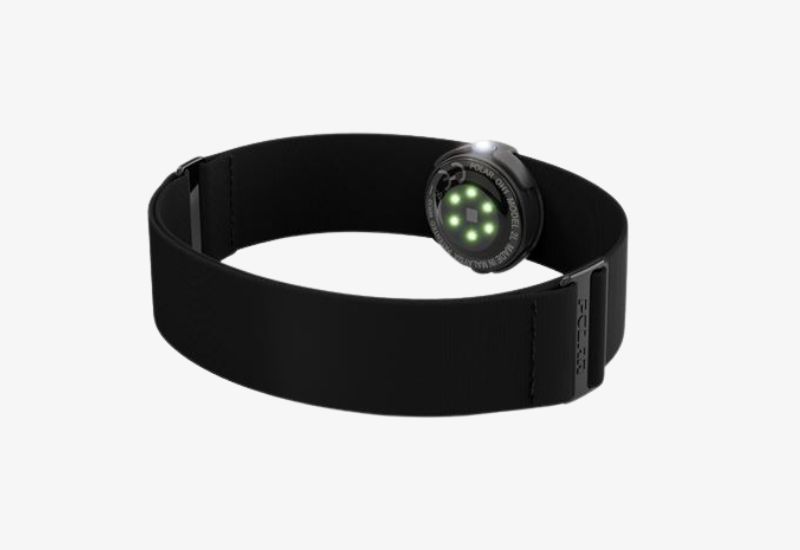 The Polar OH1+ is the best waterproof heart rate monitor for swimmers, and the competition isn't even that close if you are looking for a standalone way to track HR.
At first glance, it looks like a chest strap heart rate monitor, and it is, but where it really kicks butt is the removable sensor that can then be clipped onto your swim goggles. The sensor then collects data from the side of your head instead of from the chest or wrist.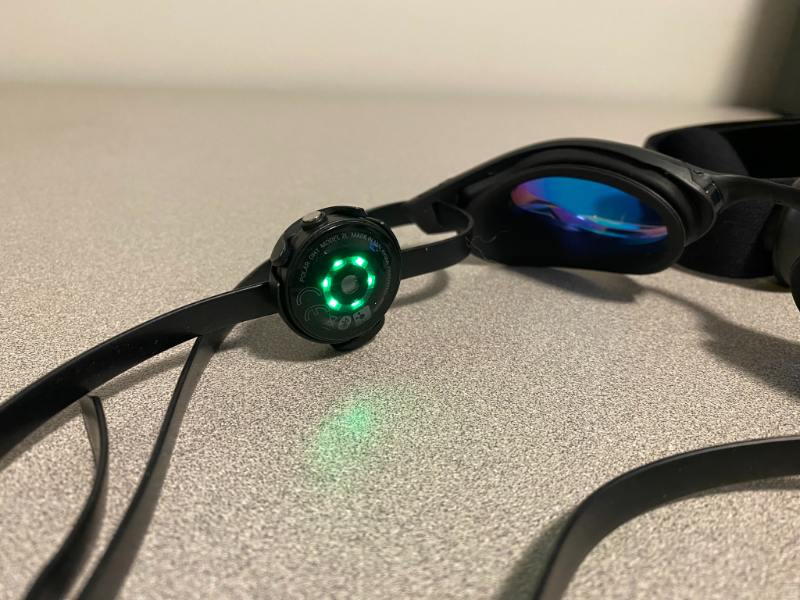 This is absolutely awesome for swimmers who don't want to use a chest strap or get their heart rate from a wrist-based sensor, both of which can feel intrusive in the water.
A chest strap can move around, especially with all of the overhead movements typical of swimming and can intrude on your arm stroke technique.
Swim smartwatches can be a little bulky, and swimming purists tend to avoid them as it throws off their feel for the water and stroke.
When swimming, the sensor OH1+ collects the data from your workout and then pairs it to the Polar app on your smartphone when you have completed your swim.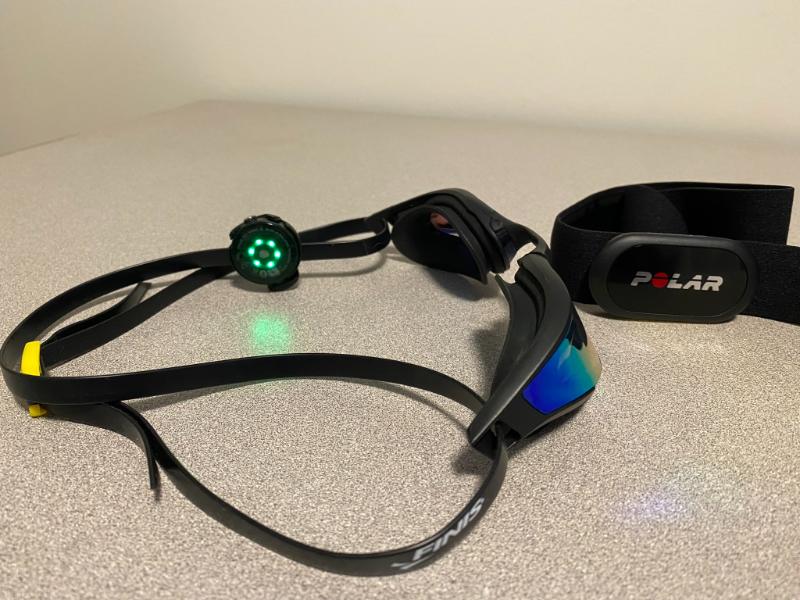 The main drawback of this setup, obviously, is that you cannot see your heart rate to know if you are in the proper energy zone while you are swimming without smart swim goggles or having your smartphone parked at the end of the lane.
Used on its own, the Polar OH1+ is more of a recording tool than a monitoring tool in the water.
If you want to see your HR while swimming with the OH1+, you can pair it with a set of smart swim goggles, such as the FORM Swim Goggles or FINIS Smart Goggles.
Connecting the goggles allows you to view HR on the heads-up display on each set of goggles, along with other training data like time elapsed, splits, and so on.
| | |
| --- | --- |
| ✅ PROS | ❌ CONS |
| Clip it onto your goggle strap; super unintrusive | Can't view HR data while swimming |
| Inexpensive | |
| Can be connected to smart swim goggles | |
| It can be used on the arm or chest, too | |
| The Polar app is very intuitive and easy to use | |
---
2. Garmin HRM-Swim
The Garmin Swim topped our list of best swim watches, so it is no surprise that the Garmin HRM-Swim slides into the DMs when it comes to the best waterproof heart rate monitors.
There are two versions of this particular heart rate monitor, the Garmin HRM-swim, which is designed for pool use, and the Garmin HRM-tri, which, as you can probably guess, is designed for the full spectrum of triathlon and open water swimming disciplines.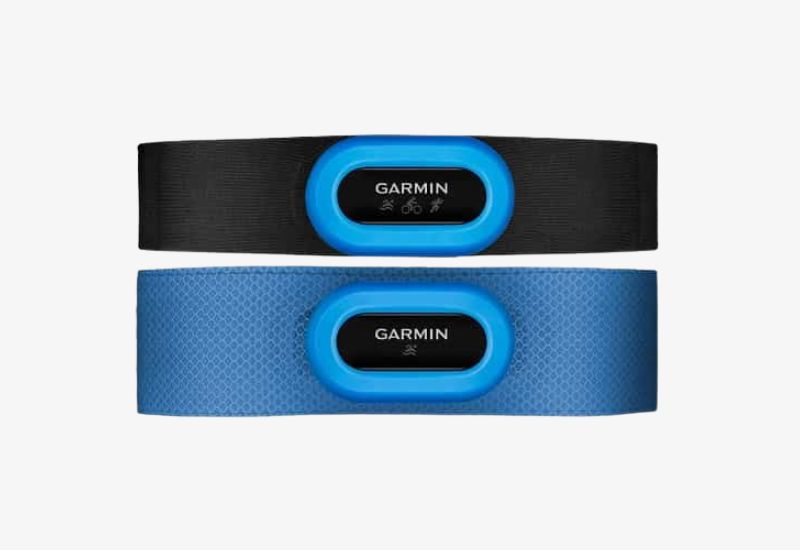 The HRM-swim is thicker compared the HR-Tri, which helps to reduce the likelihood of sliding off while you are swimming. To further ensure that the strap doesn't slide around, the inside of the heart rate monitor is made of a sticky, silicone-ish material that sucks up onto your skin.
Additionally, Garmin designed this bad boy to withstand the corrosive chemicals that our neighborhood pools are frequently treated with.
It transmits data wirelessly to your Garmin watch—note that you can't just download heart rate results to your computer, it has to be synced up to a compatible device (Garmin Swim, Fenix, etc.), and has a battery life of 235 hours according to manufacturer's specs.
The Garmin HR-swim retails for around $100.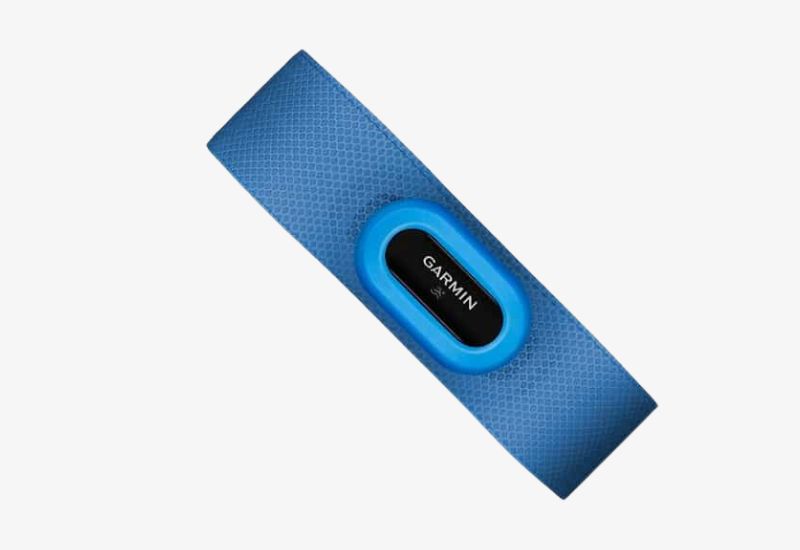 ---
3. Polar H10 Waterproof Heart Rate Sensor
Polar is one of the longtime heavyweights in the wearable category, and their heart rate monitors have been best-in-class for years.
The Polar H10 is their most recent waterproof heart rate monitor. The strap is made of a soft textile, with silicone-framed electrodes dotted along it to get the most accurate measurement possible. (The silicone helps keep the electrodes from sliding while you are stroking along.)
Some of the best triathletes in the world swear by the Polar H10, including Ironman champion Sebastian Kienle. The Polar H10 is accurate, comfortable, and can be synced up against one of the Polar smartwatches or via the Polar app that is free to download and use. (This is a big plus compared to the Garmin strap, which is only usable with Garmin watches.)
The biggest improvement that the H10 features compared to its predecessor, the Polar H7, is battery life, with the H10 coming in at a hefty 400 hours compared to 150 hours for the H7.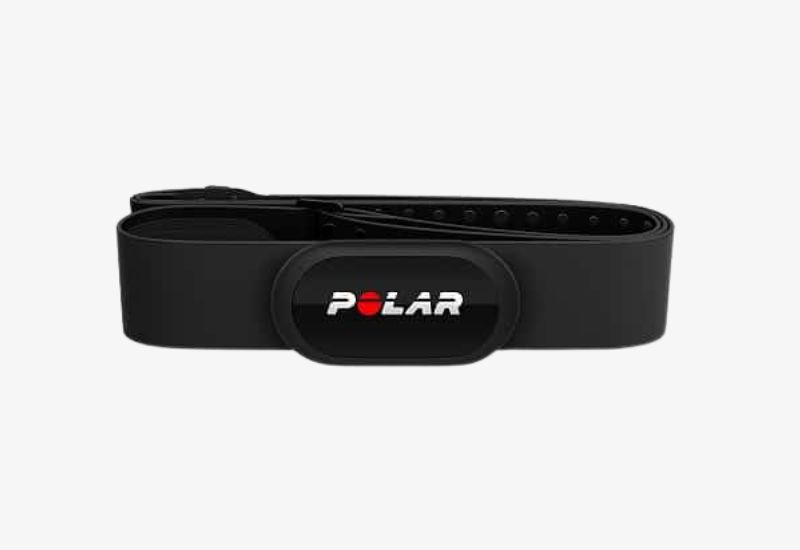 ---
4. Suunto Smart Sense Heart Rate Monitor
Our final chest-strap is the Suunto heart monitor, made by multisport specialist Suunto.
Unlike the Garmin heart rate monitor, with the Suunto you can transfer data to a Suunto smartwatch or to the Suunto Movescount app. This chest strap is small, and it is versatile, as it can be used on dryland as well with comfort (the sticky insides of the other two chest straps make running and biking a tad uncomfortable).
You can play around with different colors as well, and the strap is good to use up to 30m in depth.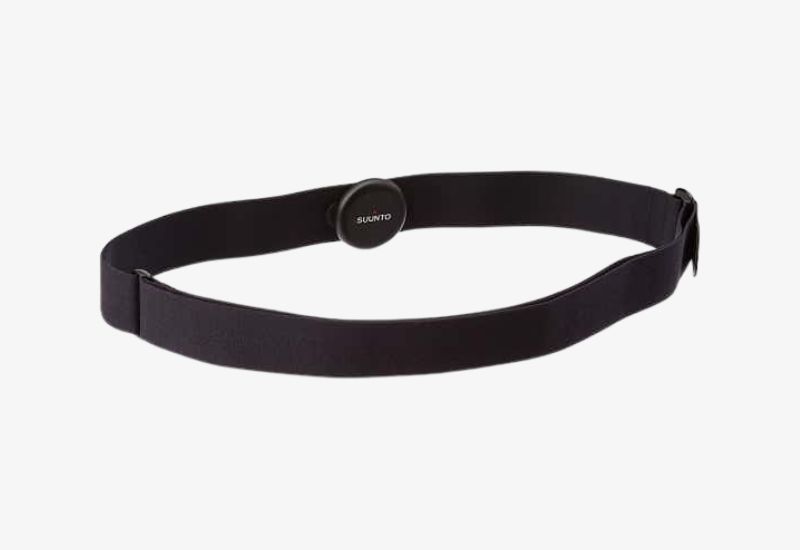 ---
Apple Series 8 Watch
⭐ Best swim watch with heart rate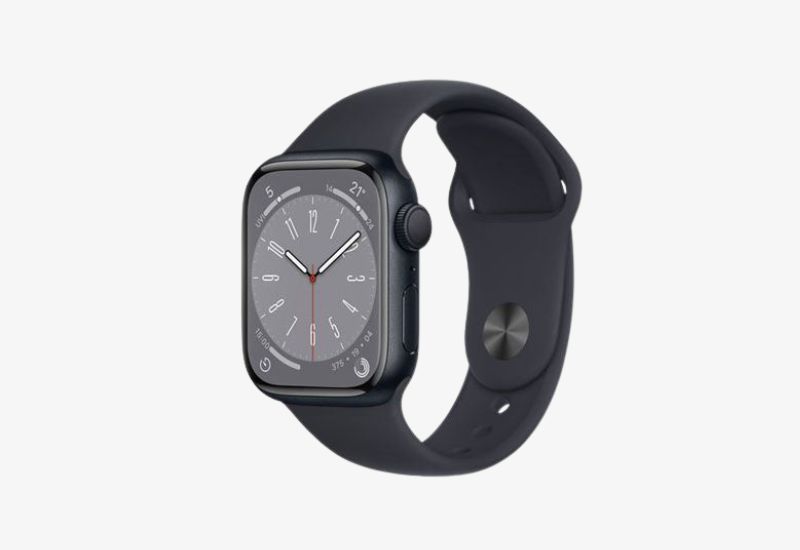 If you want an all-encompassing swim watch with heart rate that is also awesome at tracking your laps in the pool, there is no better swim smartwatch than the Apple Series 8 Watch.
Apple watches have been water-resistant up to 50m since the second generation, and the watches have only gotten better since then when it comes to accuracy in all things: counting your laps and counting your heart rate.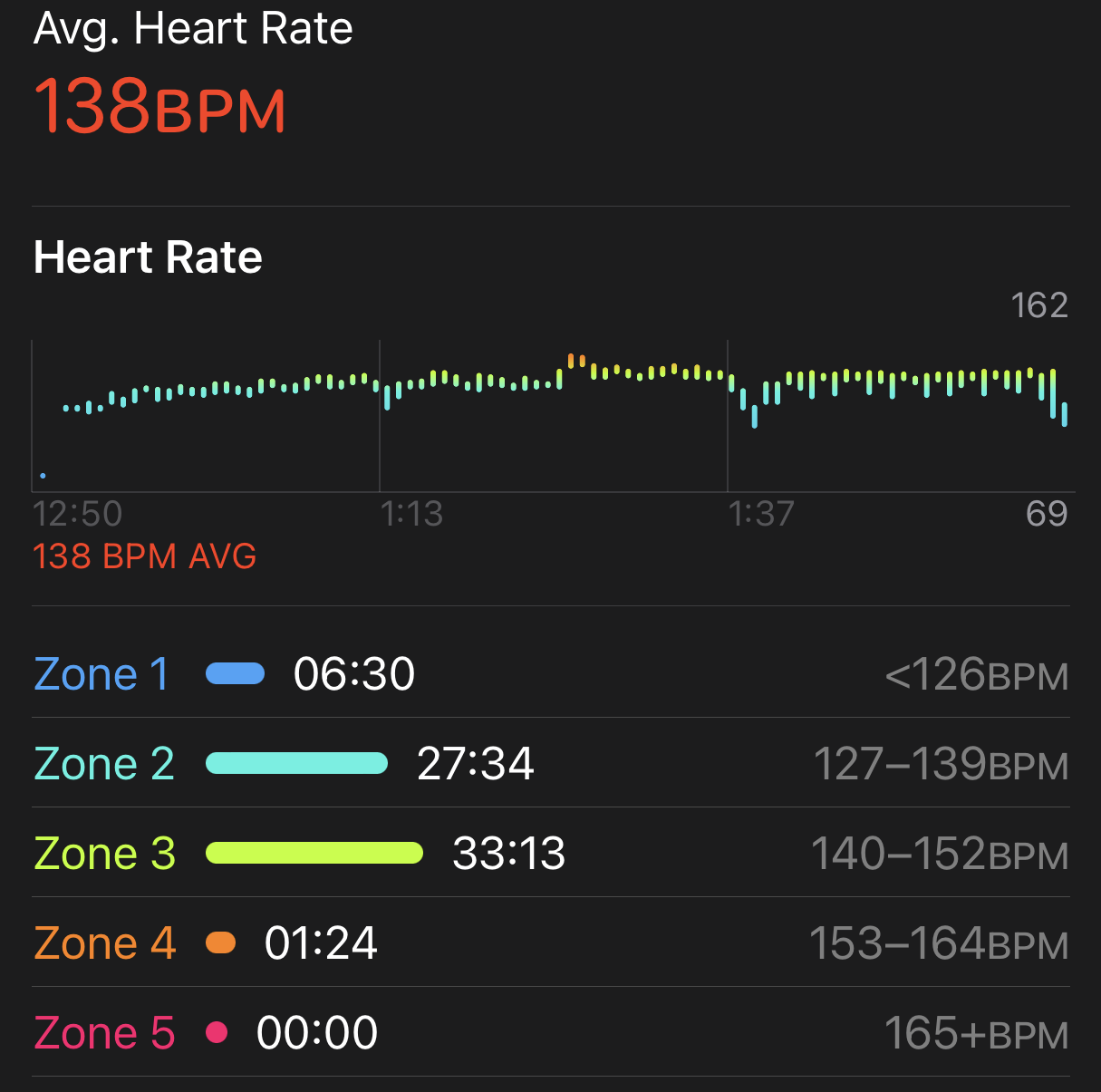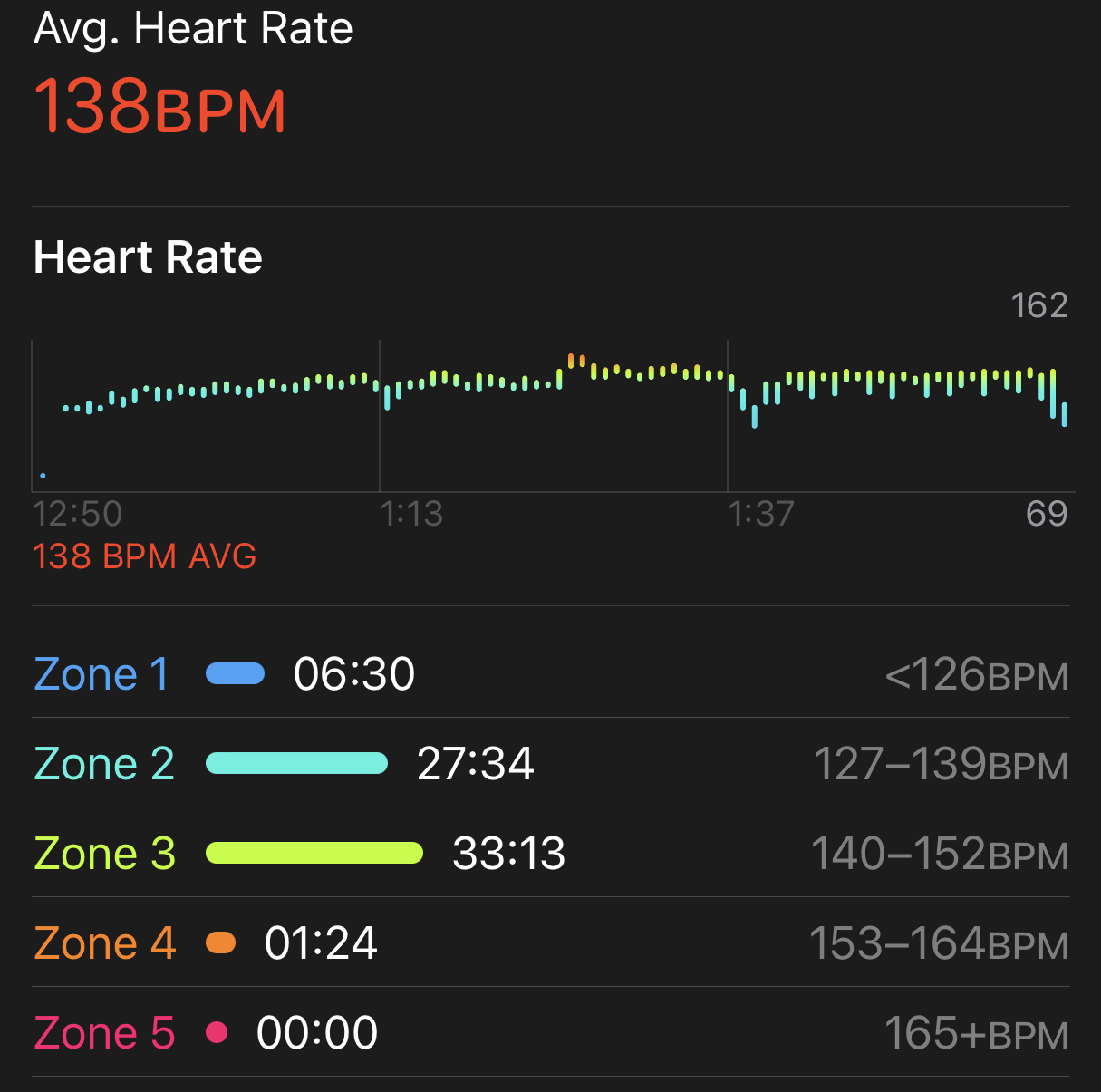 The onboard swim app is robust, and you can edit the dashboard on the watch to show the things you care about most (in our case, your heart rate). This makes it easy to quickly glance at the watch face between laps to see where your heart rate is.
When it comes to counting your swim laps, using the Apple Watch for swimming is by far the most accurate of any waterproof fitness tracker I've ever used (even my $700 Garmin Fenix). The Apple Watch can even tell when you are doing kick on a kickboard!
While the Apple Series 8 Watch is not cheap—especially if you get the cellular version—they are incredibly durable. To get the best from them, rinse your Apple watch after swimming to protect them from chlorine and salt.
| | |
| --- | --- |
| ✅ PROS | ❌ CONS |
| Most accurate swim watch on the market | Not cheap; especially you are strictly looking for a HR sensor |
| Large display; makes it easy to see HR | |
| Adjustable dashboard to prioritize HR when swimming | |
| Excellent multi-function watch | |
---
The Bottom Line
Monitoring and tracking your heart rate while swimming is one of the best ways to get more from your time in the pool.
Waterproof heart rate sensors give you the immediate feedback to know whether you are pushing too hard or too slow so that you can hit those optimal heart rate zones to push you closer to your goals in the water.
To recap our top choices for waterproof heart rate monitors and sensors for swimming:
⭐ The Polar OH1+ Optical Heart Rate Sensor is our runaway favorite. It can be used on the chest or arm, but most importantly, it can be clipped to your swim goggles so that you can focus on your technique unimpeded by a strap or watch.
⭐ For swimmers who want that instant feedback of their HR in the pool, the Apple Watch Series 8 is our top choice. The Apple Watch is almost hilariously accurate in tracking laps, and that big, beautiful 45mm screen is easy to see through foggy swim goggles.
At the end of the day, a waterproof heart rate monitor is a tool for helping you progress and improve in the water.
Choose the right sensor for you, your budget, and your swimming, and take your workouts in the pool to the next level!
---
More Stuff Like This:
The Best Waterproof Fitness Trackers for Swimming. Our comprehensive breakdown of the top wearables and fitness trackers for swimmers.
Waterproof Fitbits for Swimmers. Fitbit—one of the most popular wearables on the planet—have two waterproof fitness trackers for swimmers. Here are reviews of both of Fitbits waterproof trackers for swimming.
The Top Underwater and Waterproof MP3 Players for Swimming. Ready to level up your swim workouts with music? Here's a breakdown of the most popular underwater and waterproof iPod/mp3 players on the market today.