The DMC Elite fins are high-performance training fins for competitive swimmers. Here's a review of why these fins are flat-out awesome.
If you ask any swimmer what their favorite piece of swimming gear is, whether they are a three-time Olympian or a casual lap swimmer, they will almost invariably bring up training fins.
The perks of wearing fins while swimming are fairly obvious: you get a free speed injection, giving you a glimpse of what it feels like to swim at turbocharged pace.
Of course, fins also have other functions, from teaching you to better focus on your up-kick, improve overall leg strength, and even help you improve your ankle flexibility.
But when it comes to picking out the best pair of fins for you and your swimming, there are reasons why the DMC Elite Fins are the best out there.
Here's a review of why I love these fins so much.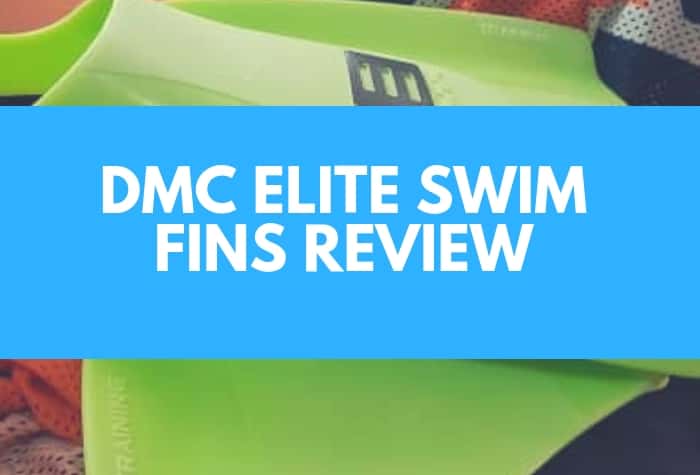 The DMC Elite Fins are made of silicone, instead of hard rubber.
Why does silicone matter?
As longtime swimmers who have trained with those inflexible red Zoomers will tell you, flexibility and softness of the fin is critical in avoiding getting the top and heels of your feet cut up like crazy.
I shudder thinking back to my age group swimming days and using those red Zoomers, which were made of a hard plastic that rubbed and cut the chlorinated crap out of my feet.
The blisters were legendary. And kind of the worst.
DMC fins are made from silicone, which makes them seriously comfortable for extended wear. No matter how hard you kick, they won't crack or rub the surface of your feet.
I've worn them countless times for all-out reps of kick to long unbroken swimming and kicking while wearing them, and no blistering or cuts.
These bad boys are durable.
Pictured below are my own pair of DMC Elites.
I've had them now for well over three years, and they basically look brand new. They get used nearly every single day, and there is not a tear or scratch in them.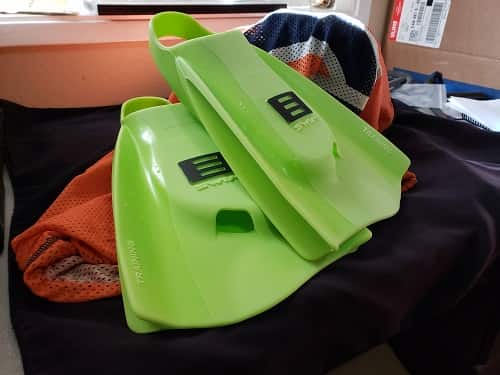 I definitely cannot say that there is a lot of swim gear that could take the kind of abuse I've given them over the past few years, in addition to being exposed to harsh pool chemicals each day.
While more expensive than your typical rubber fins, the DMC Elite Fins will make back anything you save by buying cheaper fins over the long run.
DMC Elite fins are short blade fins.
Although long fins look like they will help you go faster, there is a reason swimmers should avoid them.
Short fins are better for competitive swimmers as they more closely mimic the natural kicking tempo that happens when you are swimming.
Wearing long blade fins is similar to wearing hand paddles that are three sizes too big; all you end up doing is sending your tempo crashing through the floor.
Short blade fins provide a good balance of added surface area to work speed and power while also being small enough that you can come close to matching your natural or desired kick tempo.
The DMC Elite fins are cut with a short blade, giving you power and tempo.
The shape of the Elites is designed to replicate your natural kicking motion.
Every swimmer, at some point, has tried fins that were too stiff, too flexible, or shaped weird. The result was that the kicking motion while wearing these fins created a kick that didn't match your normal kick.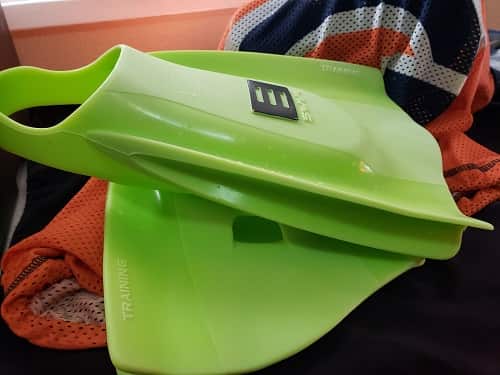 The DMC Elites have an asymmetrical design that allows you to kick without kicking your feet into each other, a toe hole that is angled to mimic your natural foot position when kicking, and the rails along the side help to maintain stiffness and help water go smoothly by the fins for added speed.
How do DMC Elite Fins size?
The DMC Elite fins aren't snug. I have fairly large feet (size 14), and the XL's were still quite generous in their fit, which was okay with me.
Because of the soft silicone, some looseness isn't going to cause you problems with blistering.
Where to buy DMC Elite fins
There are two generations of the Elite fins available. Both provide the same soft silicone along with the super fast cut and design.
DMC Elite Fins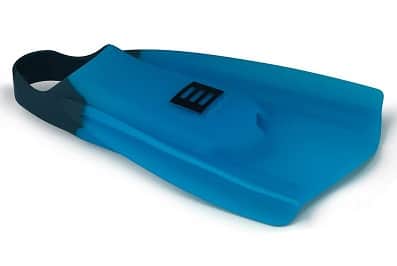 DMC Elite II Fins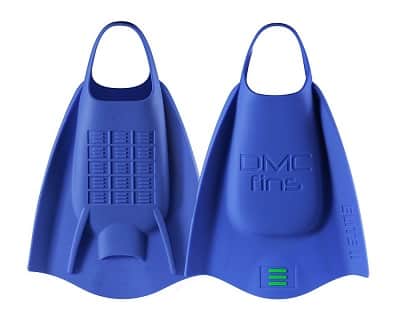 ---
More Swim Fin Guides
The 5 Best Swimming Fins for Kids and Toddlers. Looking for the top swim fins for kids? Below is a detailed look at the top swimming fins on the market right now.