DMC's swim fins are the best for pool and open-water swimmers. Here's a review of why these fins are flat-out awesome and which DMC fins are right for you.
If you ask any swimmer what their favorite piece of swimming gear is, whether a three-time Olympian or a casual lap swimmer, they will almost invariably bring up training fins.
The perks of wearing fins while swimming are fairly obvious: you get a free speed injection, giving you a glimpse of what it feels like to swim at a turbocharged pace.
Of course, swim fins also have other functions, from teaching you to better focus on your up-kick, improving overall leg strength, and even helping you improve your ankle flexibility.
But when it comes to picking out the best pair of fins for you and your swimming, there are reasons why the DMC Elite Fins are the best.
Here's a review of why I love these fins so much.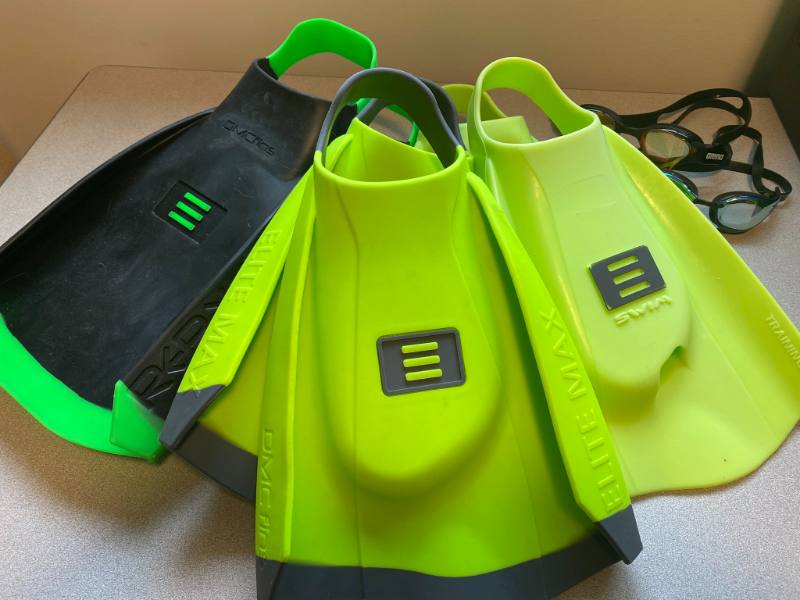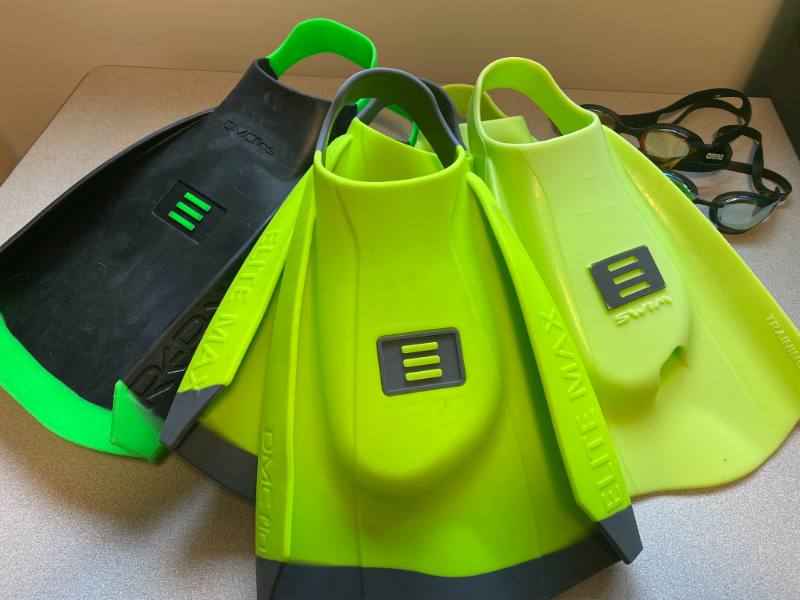 DMC Swim Fins — The Pros
✅ DMC fins are made of a soft silicone instead of hard rubber
Why does silicone matter?
As longtime swimmers who have trained with those inflexible red Zoomers will tell you, flexibility and softness of the fin is critical in avoiding getting the top and heels of your feet cut up like crazy.
I shudder thinking back to my age group swimming days and using those red Zoomers, which were made of a hard plastic that rubbed and cut the chlorinated crap out of my feet.
The blisters were legendary. And kind of the worst.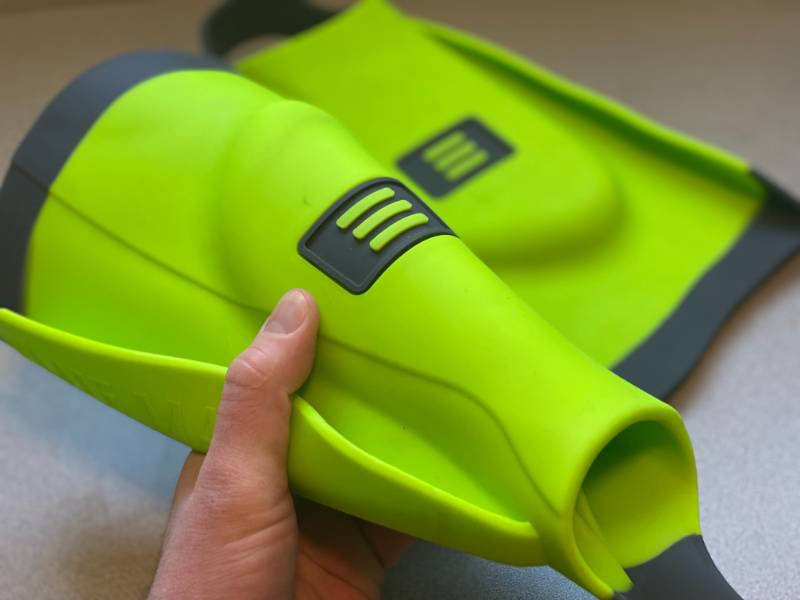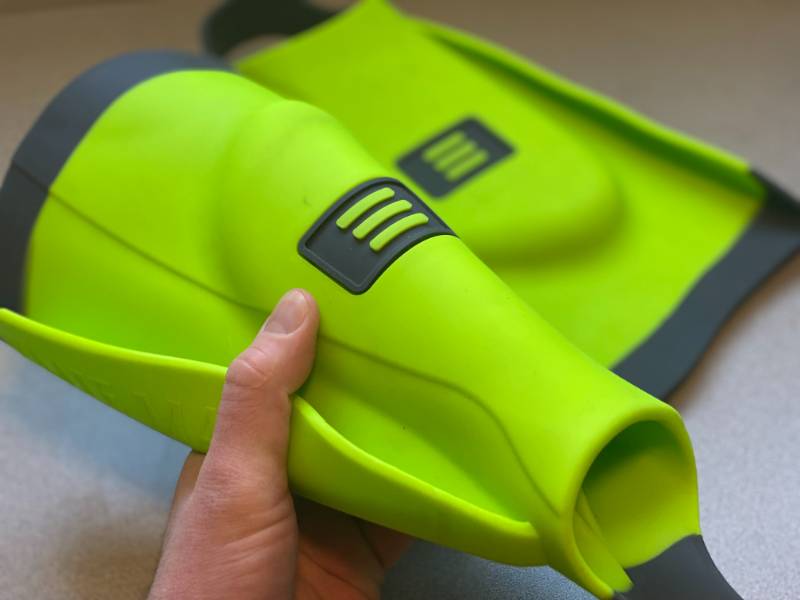 DMC fins are made from silicone, which makes them seriously comfortable for extended wear. No matter how hard you kick, they won't crack or rub the surface of your feet.
I've worn them countless times for all-out reps of kick to long unbroken swimming and kicking while wearing them, and no blistering or cuts.
Even compared to other silicone swim fins, like the Arena Powerfins Pro, or the TYR Strykers, the DMC fins standalone with an extremely soft silicone construction.
DMC uses a silicone polymer that is almost unbelievably soft, completely eliminating blisters and chafing, even during extended use.
✅ These bad boys are durable.
Pictured below are my own pair of DMC Elites.
I've had them now for well over seven years, and they look brand new.
They get used nearly every single day, and there is not a tear or scratch in them.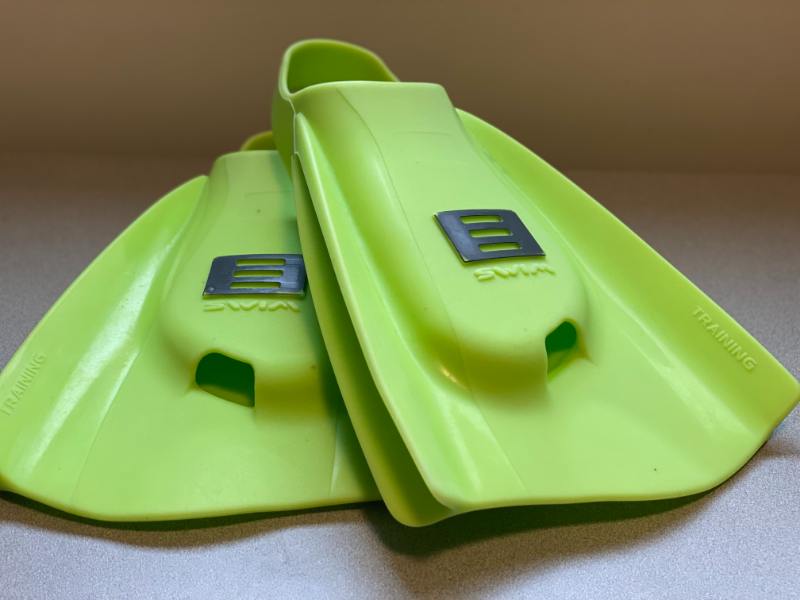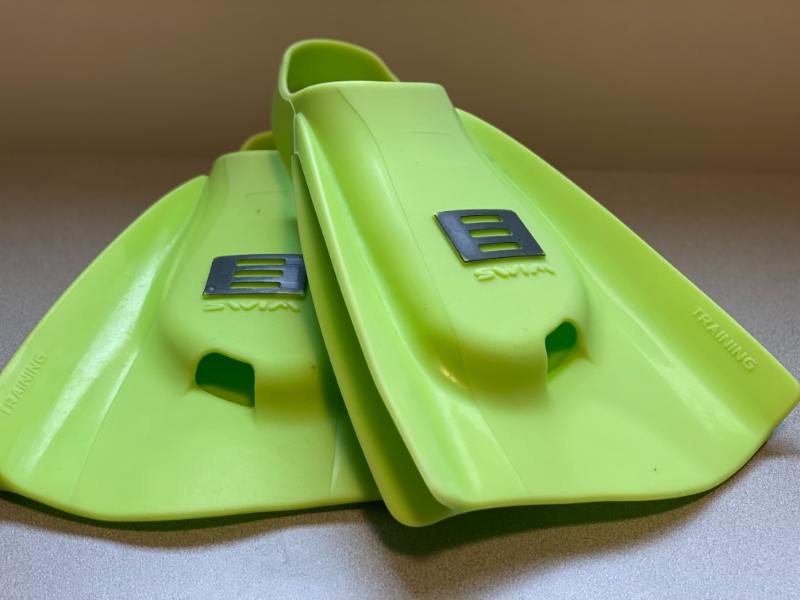 I definitely cannot say that there is a lot of swim gear that could take the kind of abuse I've given them over the past few years, in addition to being exposed to harsh pool chemicals each day.
While more expensive than your typical rubber fins, the DMC Elite Fins will make back anything you save by buying cheaper fins over the long run.
✅ DMC Elite fins are short-blade fins.
Although long fins look like they will help you go faster, there is a reason swimmers should avoid them.
Short fins are better for competitive swimmers as they more closely mimic the natural kicking tempo that happens when you are swimming.
Wearing long blade fins is similar to wearing hand paddles that are three sizes too big; all you end up doing is sending your tempo crashing through the floor.
Short blade fins provide a good balance of added surface area to work speed and power while also being small enough that you can come close to matching your natural or desired kick tempo.
The DMC Elite fins are cut with a short blade, giving you power and tempo.
✅ The shape of the swim fins replicate your natural kicking motion
Every swimmer, at some point, has tried fins that were too stiff, too flexible, or shaped weird. The result was that the kicking motion while wearing these fins created a kick that didn't match your normal kick.
The DMC Elites have an asymmetrical design that allows you to kick without kicking your feet into each other, a toe hole that is angled to mimic your natural foot position when kicking, and the rails along the side help to maintain stiffness and help water go smoothly by the fins for added speed.
DMC Swim Fins — The Cons
❌ These swim fins are not cheap
And I mean that in every regard.
DMC fins cost around $99, which is far more than you are going to pay for a "regular" set of swim fins, some of which can retail for as low as $25.
But make no mistake; the fins will last you a lifetime.
When you consider that a standard rubber set of fins will crack over time, both from chlorine exposure and stress from use, in the long run you are likely saving money.
But there's no getting around the fact that the sticker shock will dissuade more casual swimmers.
---
DMC Swim Fins Compared
Over the years, DMC has evolved its line-up of fins for swimming.
The Elite fins (that I first purchased back in 2015) have graduated to the Elite II and the Max Elites. And DMC has an open water and surf swim fin, called the Repellors, which is hands-down the best swim fin for swimmers hitting the surf and open water.
Here is a more detailed comparison of the DMC fins, including where to buy them.
DMC Elite Max Swim Fins
⭐ Best swim training fins for competitive swimmers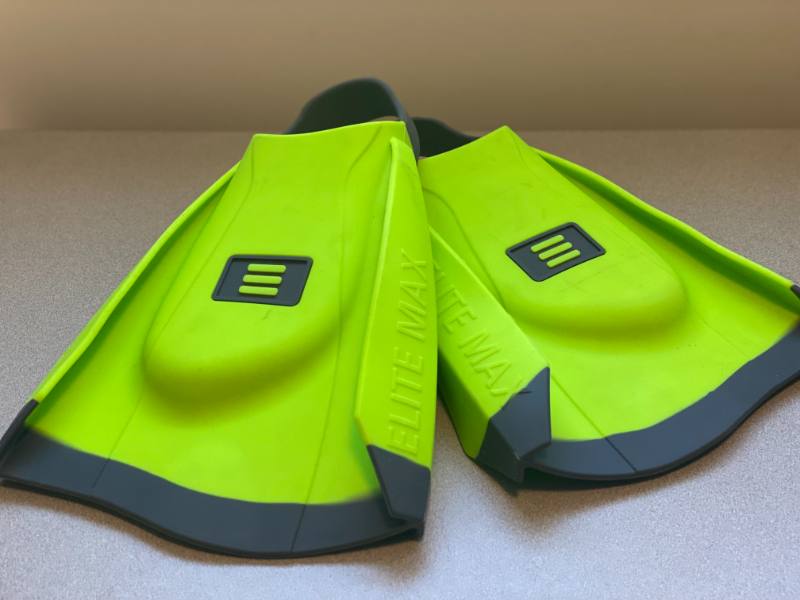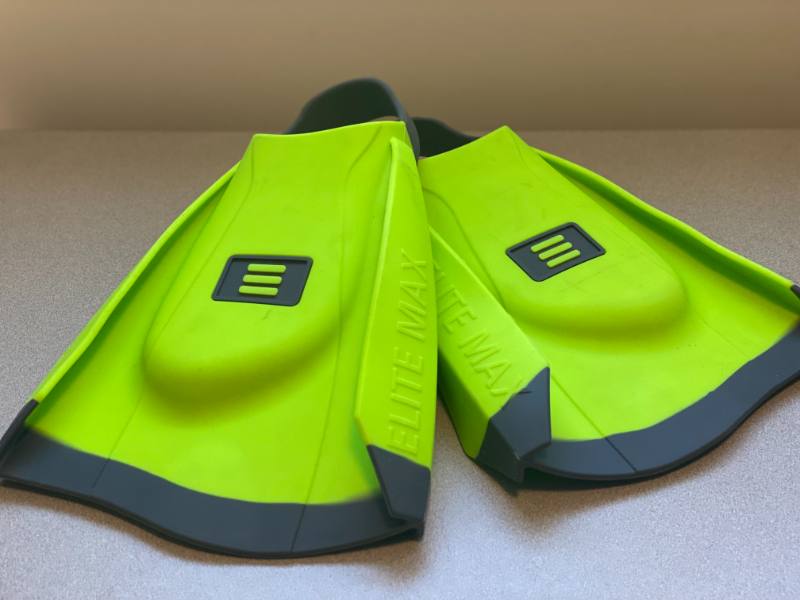 These are the best swim fins on the planet for pool training, and in my opinion, it's not even close.
Compared to other swim fins that I've used over the years, including the TYR Strykers, FINIS Zoomers, and even the Arena Powerfins, the Elite Max is the best.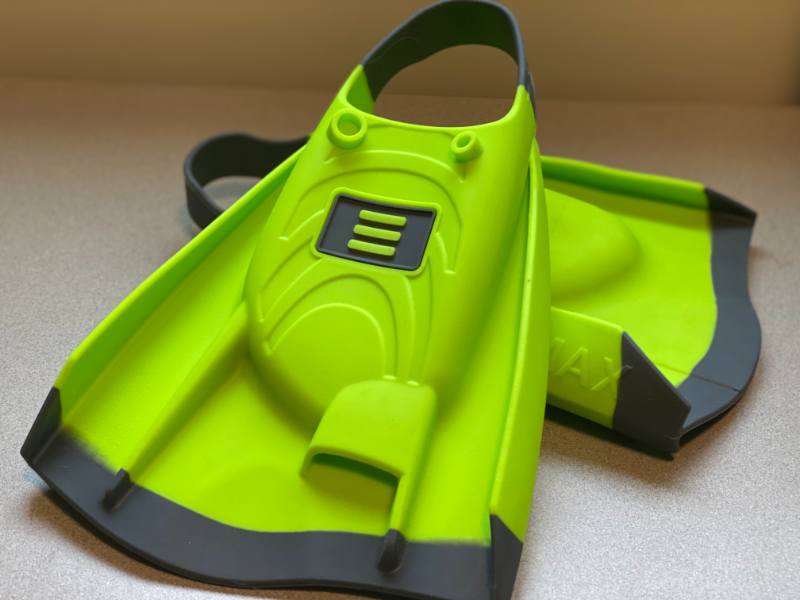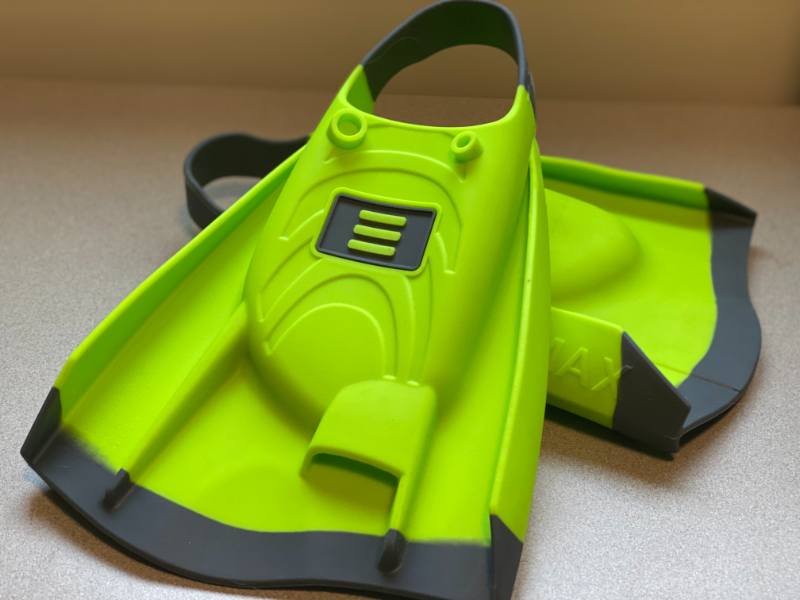 They are wildly durable, designed for maximum speed, have an open heel, and the soft silicone will never chafe or blister your feet, no matter how fast you are hauling across the pool.
This means you can really let loose on those underwater dolphin kicks or when doing a monster kick set or swim workout with fins.
The Elite Max fins are designed for swimmers who kick like a dynamo, with each fin flared "out" so that you aren't kicking the fins into one another when doing flutter kick.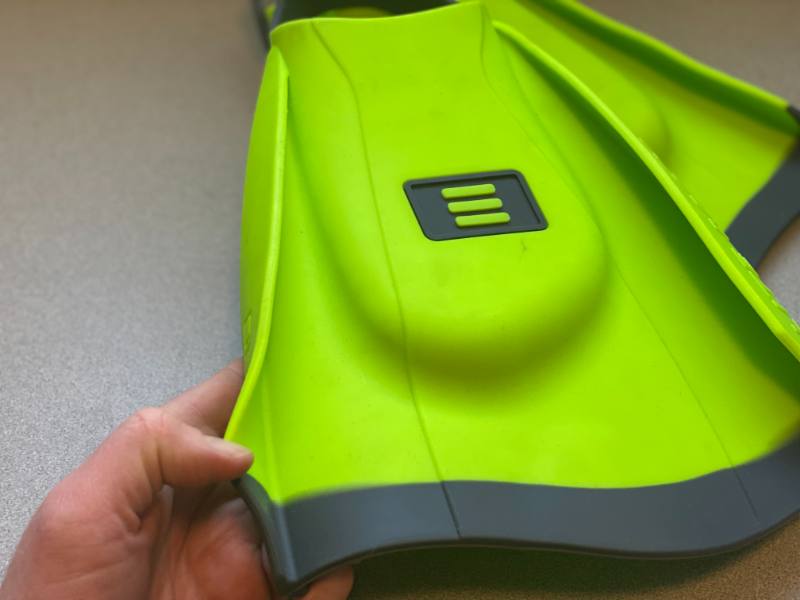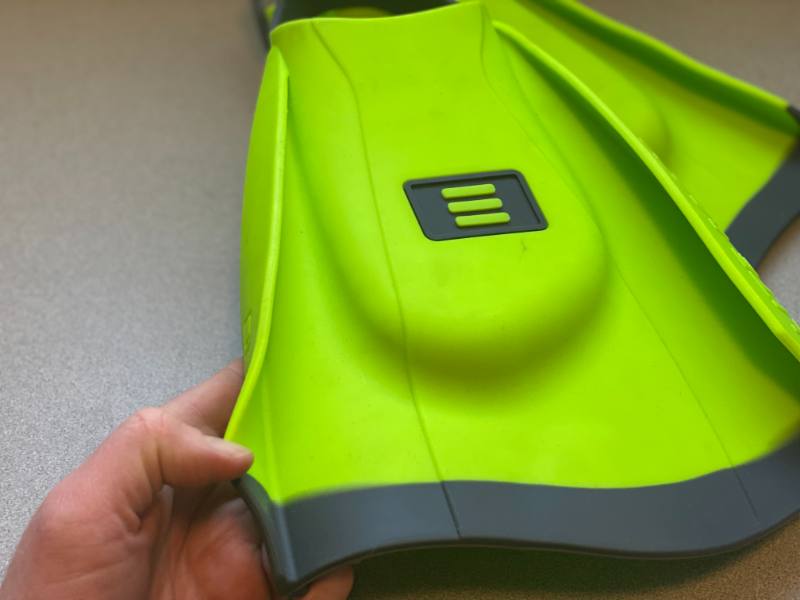 The DMC Elite Max are an excellent training fin for taller, big-footed swimmers as well. I'm a size 14 shoe, and the XL Elite Maxes are even a little bit loose on my feet (which is okay).
---
DMC Repellors
⭐ Best for open water swimming and bodysurfing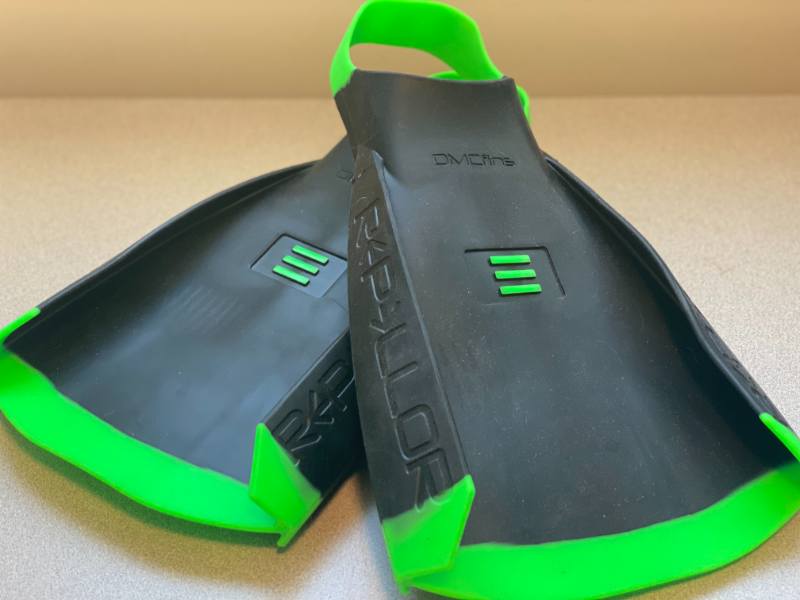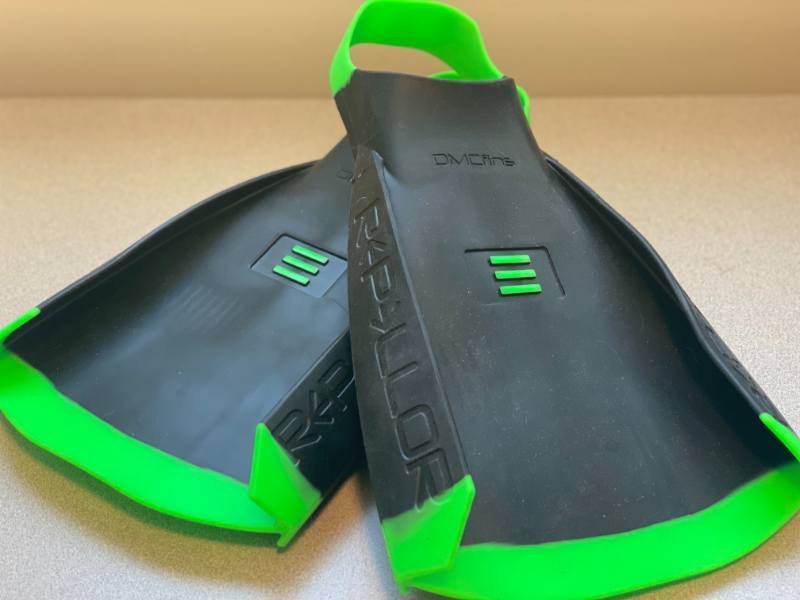 The Repellors are DMC's open water swimming fins that are also excellent for body surfing and other ocean activities. (I also use mine for snorkeling as I like the soft "flex" in the fins compared to the stiff, long plastic fins typically used with diving and snorkeling.)
Although they look very similar to the pool fins, there are two things that make the Repellors stand apart.
First, they are longer than the other DMC swim fins by about 1" to 1.5". This gives you a little more surface area and power in the water.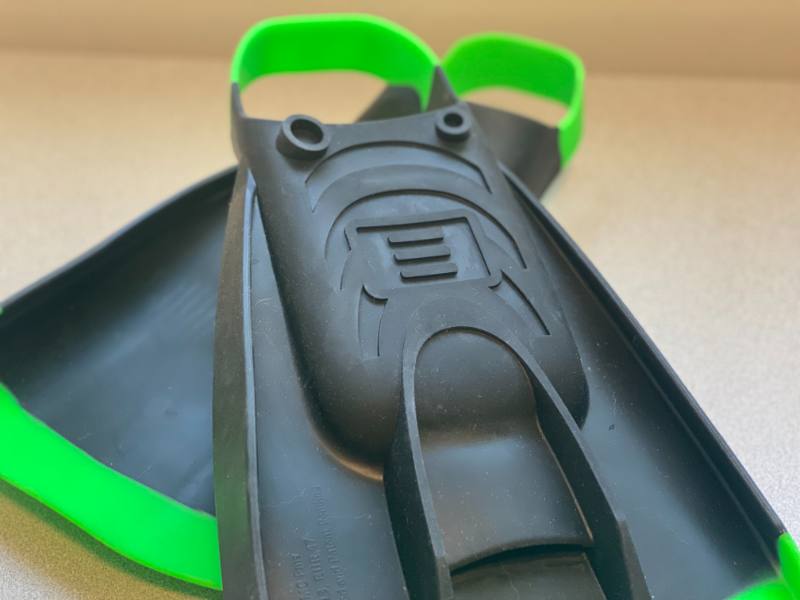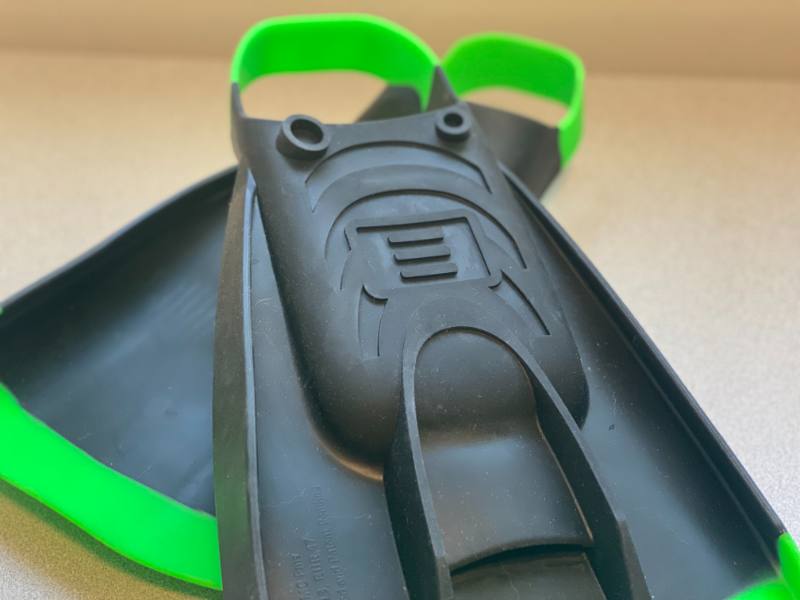 Second, they have an extra wide chute at the bottom of the fins. These are in place to help any sand or grit that gets into the fins to be expelled from the fins.
And thirdly, the fins actually flex out when you kick down, catching more water and helping you develop more power and speed in the water.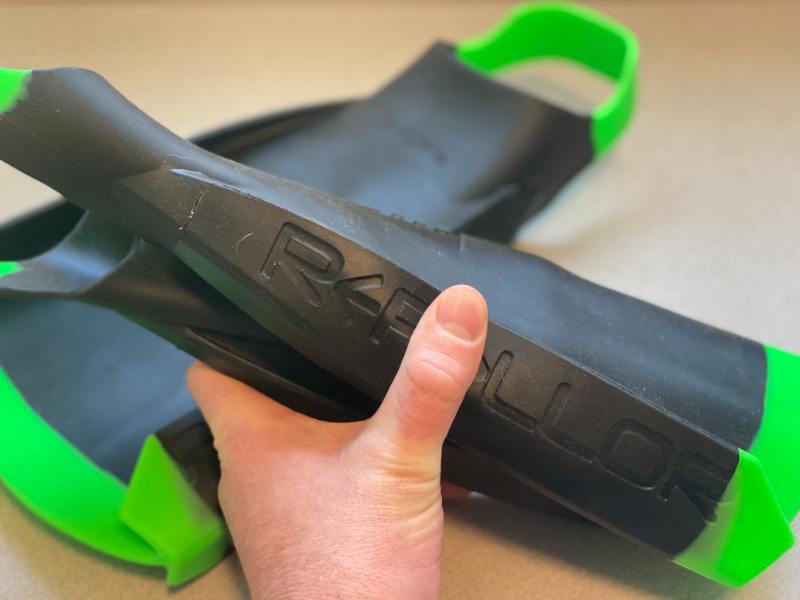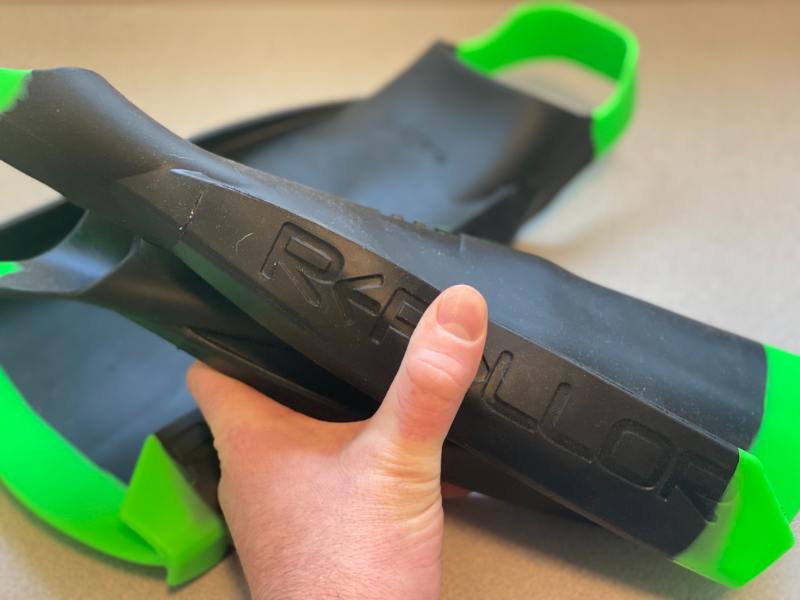 Tip: DMC offers a set of ankle leashes to keep your fins from disappearing in the surf in the event one or both fins slip off. They are sold separately, but I would highly recommend them for people who spend tons of time splashing around and getting tossed in the surf.
The DMC Repellors are made of the same buttery soft silicone as the Max Elite and Elite II's, making them awesome for extended wear (ahem, no blisters).
Additionally, you won't have to wear socks with this to reduce chafing as they are so soft.
---
DMC Swim Fins — FAQs
How does DMC swim fins size?
The DMC Elite fins aren't snug. I have fairly large feet (size 14), and the XL's were still quite generous in their fit, which was okay with me.
Because of the soft silicone, some looseness isn't going to cause you problems with blistering.
What makes DMC swim fins different from other fins?
DMC swim fins are made with a silicone-based polymer that is soft all over. The DMC fins are very flexible—the point that you can fold them up, unlike traditional rubber fins, which are significantly stiffer.
According to DMC, this silicone polymer is a unique material to their swim fins, to which I would add that I agree as I've never come across fins as soft and comfortable as these.
In comparison, other fins like the TYR Strykers, FINIS Zoomers, and even the Arena Powerfins are noticeably stiffer.
Should you wear socks with DMC fins?
One of the main issues with stiffer swim fins is that they don't move naturally with your ankle and foot in the water, thereby rubbing and chafing the skin. Wearing socks is a way to add a protective layer between the skin and fins that are less flexible.
With DMC swim fins, because they are so soft, you don't need to wear socks. The soft silicone is throughout the fins, from the heel strap to the lining that meets the top of your feet, ensuring a blister-free experience in the water.
How durable are DMC swim fins?
DMC fins are the most durable swim fins I've ever purchased or used. I bought my first set in 2015 (the DMC Elite I's) and to this day (this was written in 2023) they have never cracked, split, or otherwise disintegrated.
Other fins I've used and tested have split and ripped after several months of training (rubber fins, in particular, are prone to tears as over time).
Considering that I've used my Elites over hundreds of thousands of kilometers of training over the years, and even snorkeling off the coast of Hawaii and Mexico, it's quite staggering how well they've lasted.
---
More Articles and Guides Like This
6 Best Swim Fins for Kids. Looking for the top swim fins for kids? Below is a detailed look at the top swimming fins on the market right now. Read on, and let's get to swimming!
9 Pieces of Swimming Gear Every Swimmer Should Have. Ready to take your swimming to the next level? Here is the swimming gear every serious swimmer should be rocking in their swim bag.