Looking for the top swim fins for kids? Below is a detailed look at the top swimming fins on the market right now. Read on, and let's get to swimming!
Swim fins are an excellent tool for swimmers, young and old, to improve leg strength in the water, swim with better technique, and learn how to move through the water more efficiently.
When it comes to swim fins for kids, you want something that is long-lasting, comfortable on your swimmer's feet, and floaty enough that they promote great body position and more efficient swimming.
But when it comes to choosing the perfect set of kids swim fins, there are a lot of things to consider: blade length, material, heel type, and much more.
If you are starting to feel a little overwhelmed, don't sweat it!
Take advantage of my 30+ years of swimming up and down the pool to make the right choice for your little swimmer.
Below is a breakdown of the best swim fins for kids on the market right now.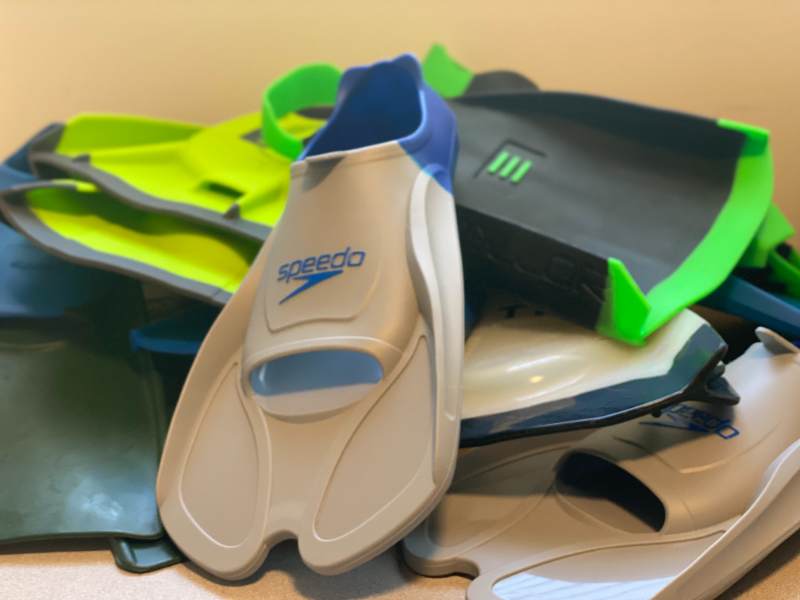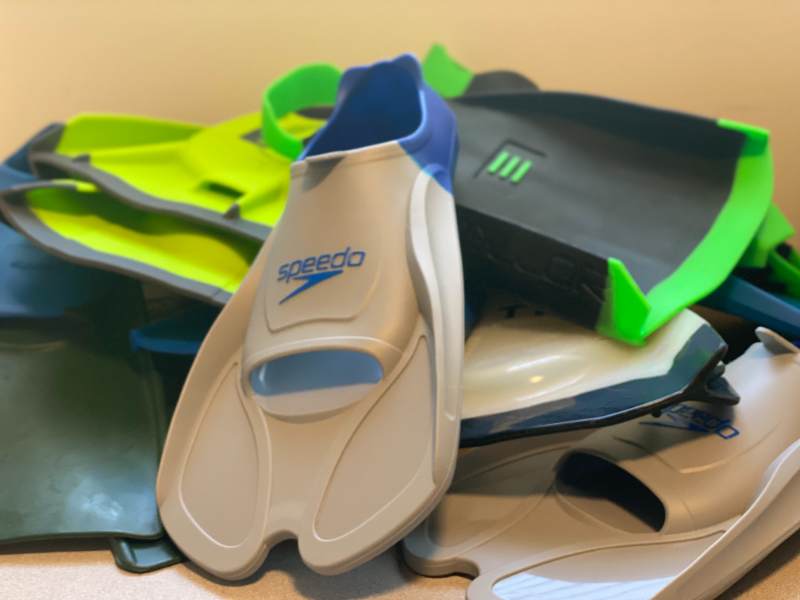 ---
Best Youth and Kids Swimming Fins
FINIS Floating Youth Swimming Fins
⭐ Best overall kids' swim fins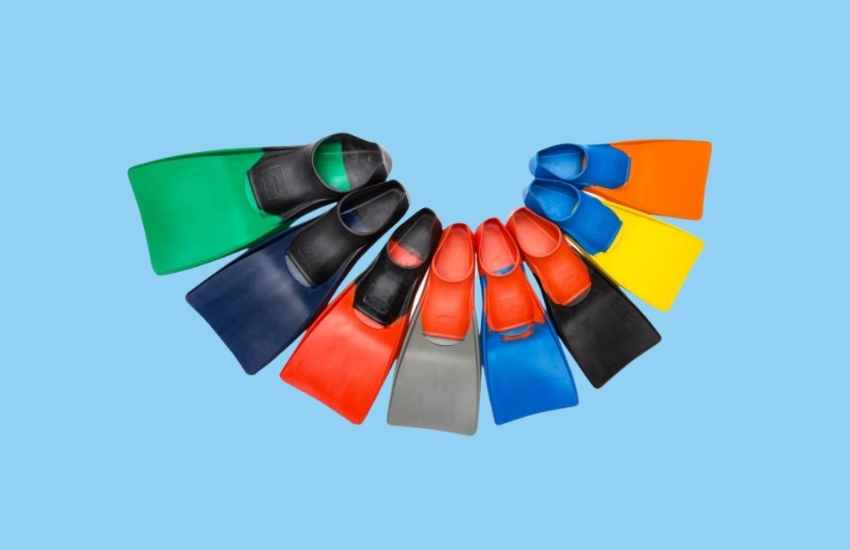 Made by FINIS, one of my favorite all-time swim brands, the FINIS Floating Youth Swimming Fins are our top selection for best kids swim fin.
They check all of the boxes for an excellent swim fin: They come in a huge variety of kid sizes, are made of soft rubber for reduced chafing and blistering, and the long blade helps kids to motor across the water like a speedboat.
Related: 7 Best Swim Training Fins for Competitive Swimmers
These FINIS fins are color-coded by size, and with FINIS' rich history in the sport (one of the company's founders is Olympic gold medalist swimmer Pablo Morales), you know that you are going to get a pair of swim fins that are comfortable and will help your child zip through the water.
As you can guess from the name of the product, the FINIS Floating Swim Fins won't sink, which is perfect whether you are using them at the pool or swimming and splashing around at the lake.
---
DMC Elite Max Swim Fins
⭐ Best high-performance youth swim training fin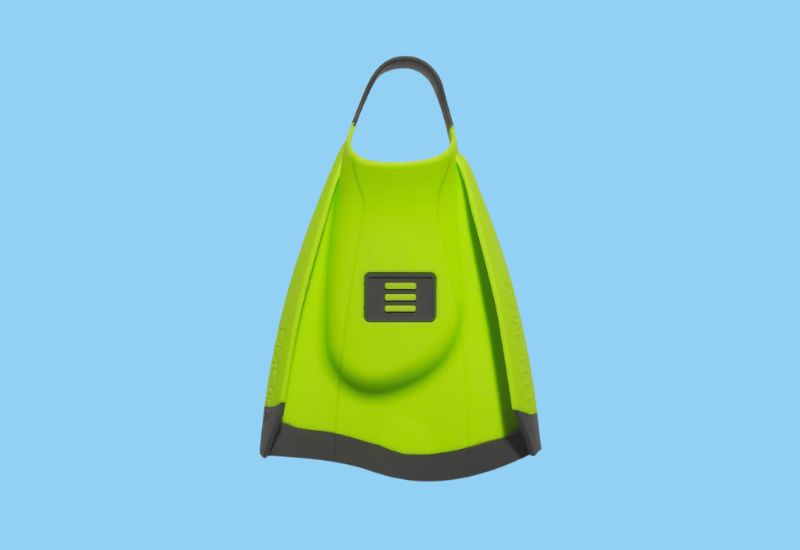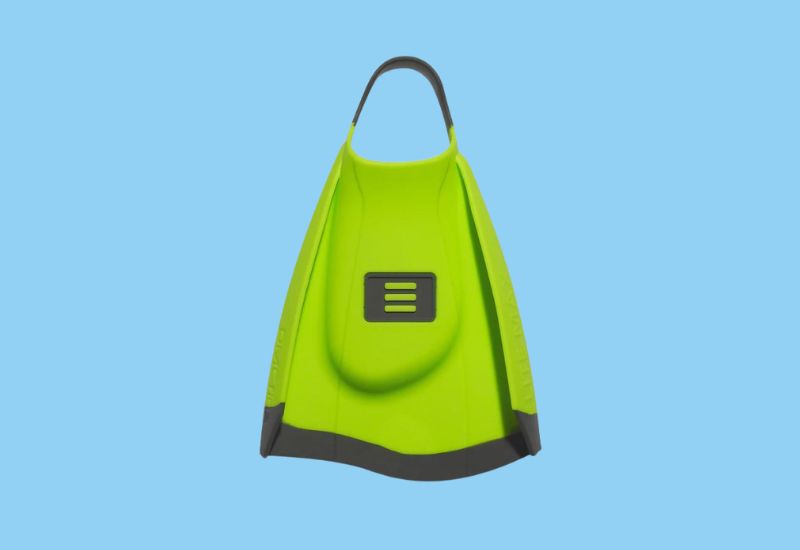 These swim fins are very much a premium swim training fin.
At nearly $100 per set, they are not for the casual youth swimmer. And the only way to get them is through DMC's official website.
But in terms of performance, comfort, and durability, you won't find a better swim fin for lap swimming.
I've been using (and recommending) DMC fins since buying my first set back in 2014 thanks to their unrivaled silicone polymer construction, which provides exceptional flexibility and "softness", completely eliminating blistering and chafing that comes from extended swimming with fins.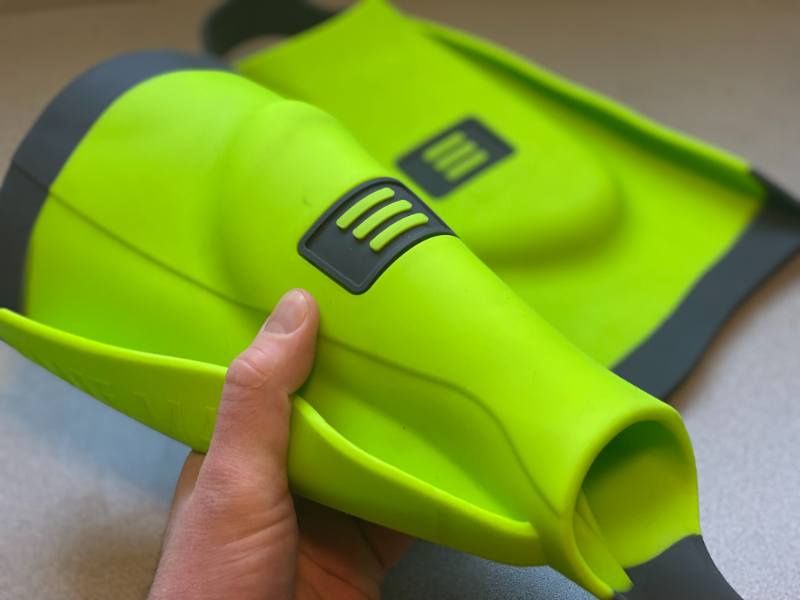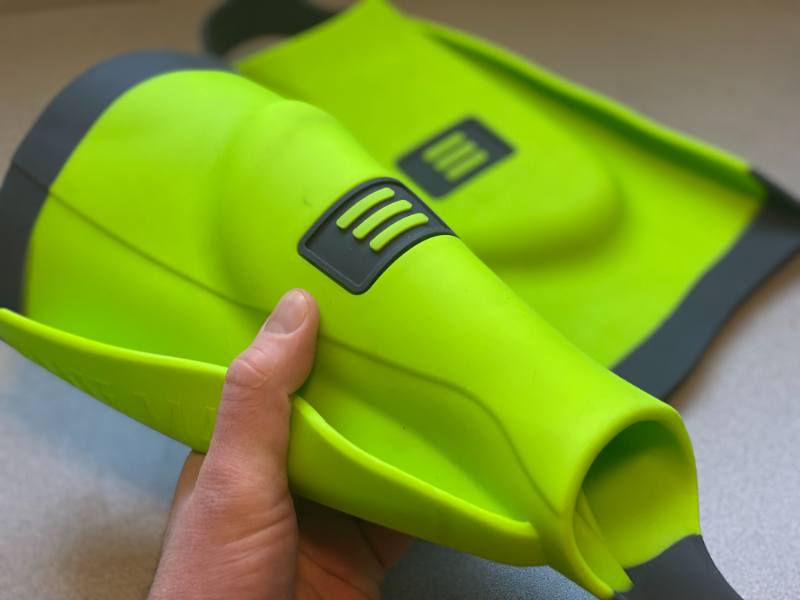 They are so soft that they can be folded in half, and DMC offers the fins in a wide variety of colors and sizes, from XXS (men's 3-4 or women's 4-5) all the way up to extra-large foot sizes for older youth swimmers.
Again, the DMC Elite Max fins are not cheap—both in terms of price and quality—and you won't find a more comfortable and long-lasting kid's swim fin for lap swimming.
For swimmers who want the absolute best in the water, the DMC Elite Max are it, and it's not even really close.
---
TYR Stryker Silicone Swim Fins
⭐ Best beginner youth swim fin for competitive swimmers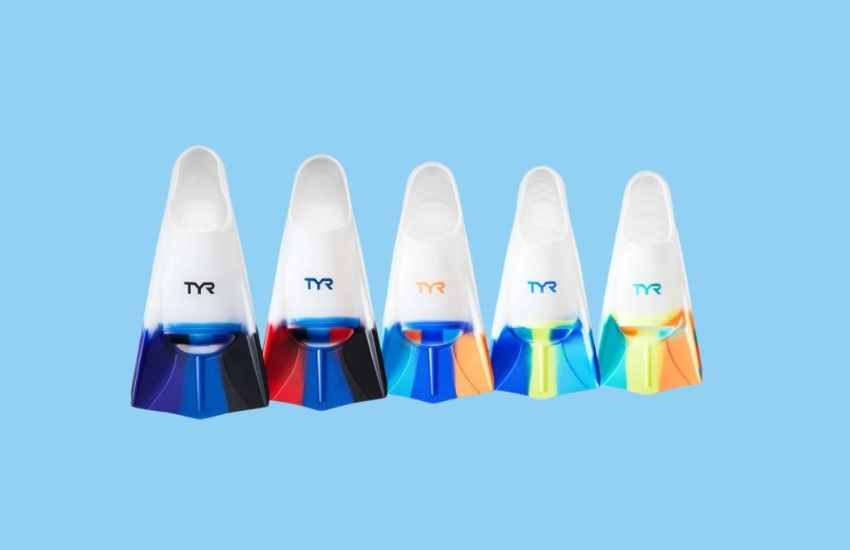 More experienced swimmers will love the TYR Stryker Silicone Swim Fins. With a short blade, open heel, vibrant colors, and somewhat stiffer silicone construction, your kick will get tested and your swimming will improve as a result.
Silicone is an excellent material for chlorinated environments, whether we are talking about head straps for swimming goggles or in our case in this round-up, swimming fins. Silicone has another advantage over rubber in that it won't chafe or blister your feet as much as rubber fins will.
The Stryker Swim Fins come in smaller sizes (5-6), have an open heel for maximum ankle range of motion, and the shorter blade more accurately reflects the kick tempo you do when swimming, making it a perfect swim fin for younger competitive swimmers.
---
DMC Repellor Surf Swim Fins
⭐ Best kids swim fins for open water swimming and bodysurfing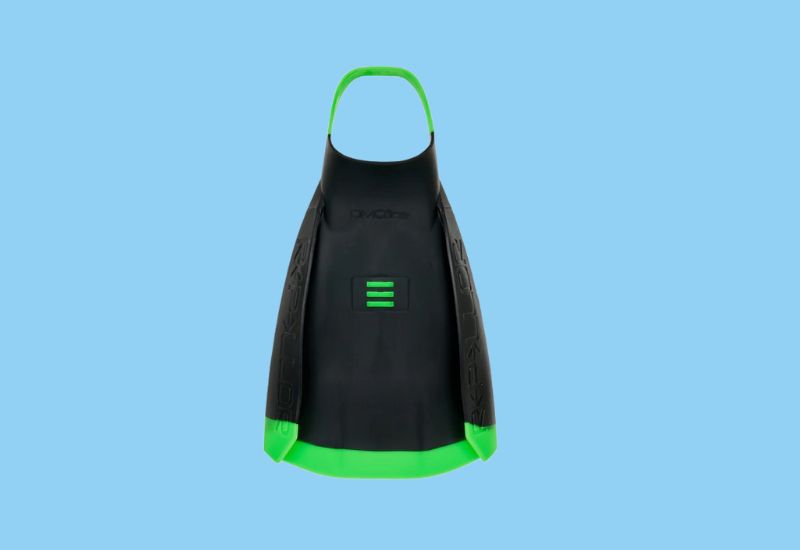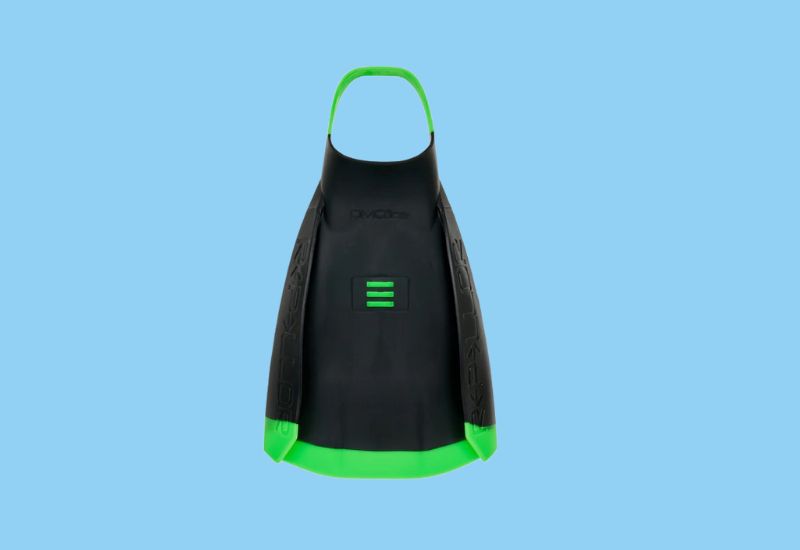 Looking for a youth swim fin for hitting open water? Whether it's longer open water swims, bodysurfing, or snorkeling around, the DMC Repellors are the best kids swim fins for these activities.
Like the Max Elites, they are made of a soft–buttery soft—silicone polymer that flexes easily while also catching a lot of water, generating a lot of propulsion in the water quickly without blistering the feet.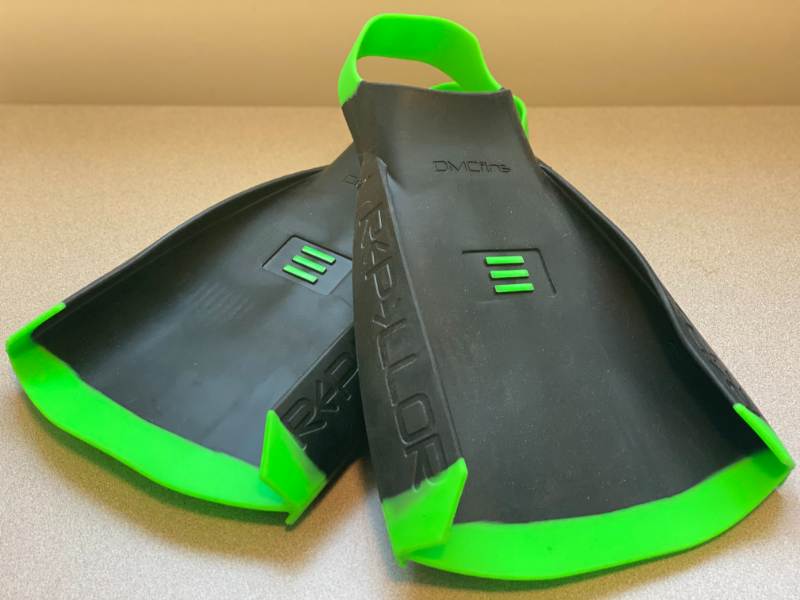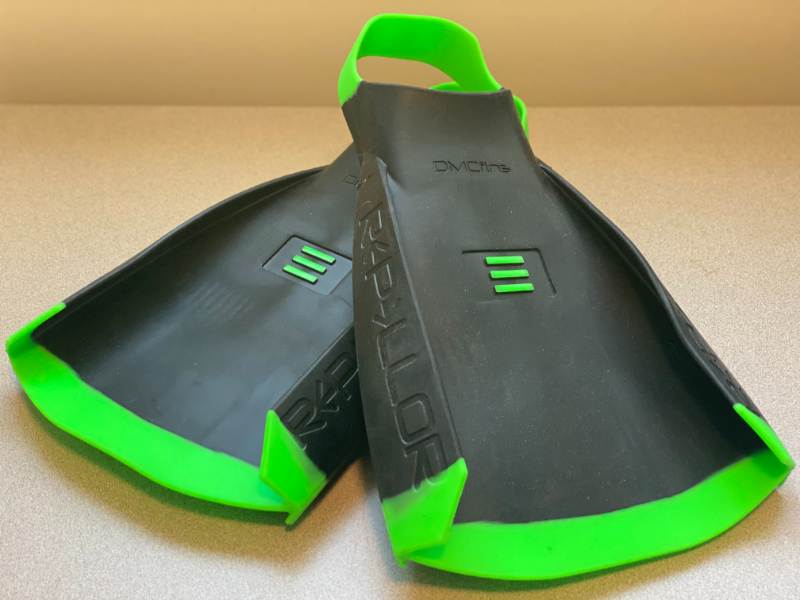 The V-rails flare out when kicking, which help swimmers create a more powerful kick. The open heel design is crucial for maximum range of motion when kicking, and the Repellors have an extra-wide chute underneath the fin to clear water and sand from the fin.
The DMC Repellors are not inexpensive, retailing for just a hundred dollars, but they are hands-down the most comfortable and durable swim fin for splashing around in the surf and open water swimming.
Note: DMC offers a set of leashes that you can use to lasso the fins to the ankles. Highly recommend these (they are an added $25) if swimming around in heavy surf.
---
Sporti Essential Floating Swim Fins
⭐ Best swim fins for toddlers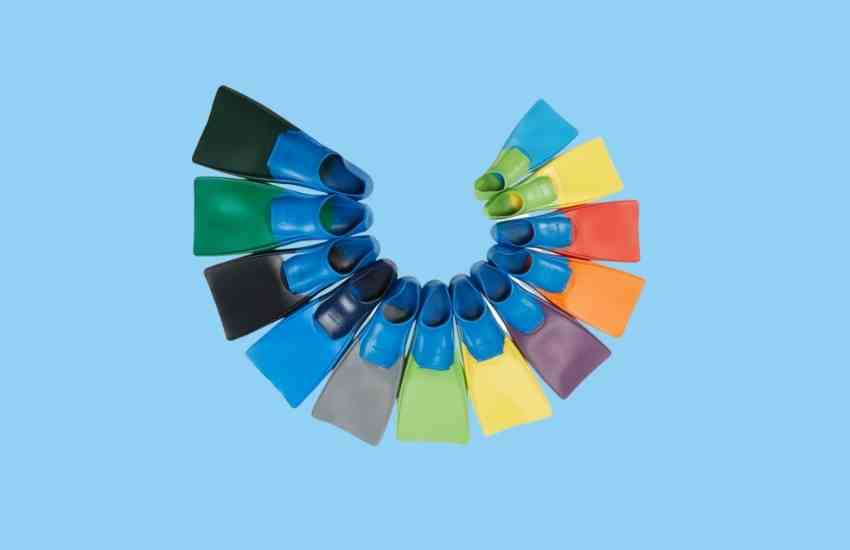 Sporti is a low-cost swim brand that makes high-quality stuff for reasonable prices.
The Sporti Essential Floating Youth Swim Fins are a two-toned, all rubber, long-blade swim fin that is soft on the hells, firm enough to provide excellent propulsion, and available in a wide range of toddler, youth and adult sizes.
As you can guess by the name of the swim fins, they float when not in use, and the longer blade helps you to really get the most of each kicking motion in the water.
---
FINIS Booster Kids Swim Fins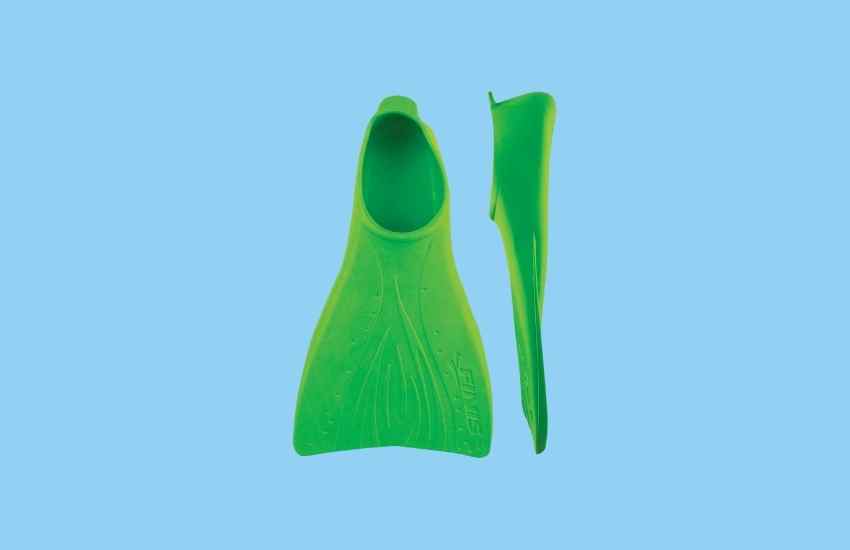 Available in three different colors, the FINIS Booster Kids Swim Fins are a closed-heel, short-bladed swim fin with a large open hole toe. The fins are long enough to provide buoyancy and encourage better body position in the water.
These fins are made of natural rubber that floats, which means your kiddo's fins won't float off into the depth of the pool when they accidentally slide off (after thirty-five years of swimming laps, this still happens to me on occasion!).
These fins also have something I wish more adult-sized fins had—a heel tab that makes it easy to pull the fins on and off.
---
Speedo Trialon Youth Swim Fins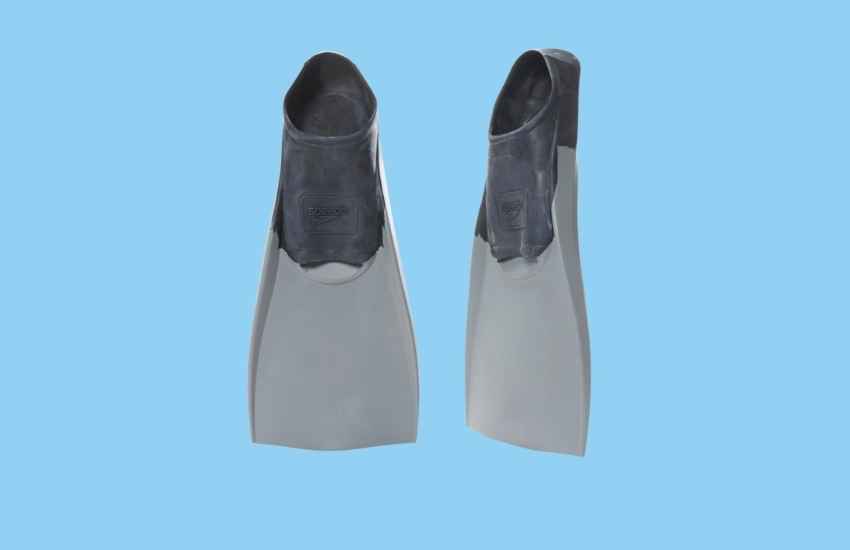 Nope, that's not a spelling mistake, these things are called Trialon's (as opposed to "Triathlon's"). Designed for extended use in the pool, the fins have soft and curved blades that reduce chafing and blistering on your feet and ankles.
Made with 100% natural rubber that provides a decent amount of flex, helping you generate a ton of propulsion. The Speedo Trialon Youth Swim Fins are color-coded for size, with both adult and youth sizes.
Whether you are looking at powering up your leg strength and endurance, or want fins that will help you swim with a more efficient body position, the Trialon's are an excellent choice for both beginner and experienced swimmers of all ages.
---
Best Swim Fins for Kids — FAQs
What should I look for when choosing the right swim fins for kids?
Key things to look for include:
Silicone vs. Rubber.
Rubber fins tend to float while silicone fins sink. Silicone is also a more durable material and tends to chafe less against the skin during extended use.
Silicone is exclusively found with shorter fins designed for lap swimming, while rubber fins are longer.
Closed vs. Open Heel.
Both are relatively easy to get in and out, but open-heeled swim fins promote a little better range of motion with your ankle and feet when kicking.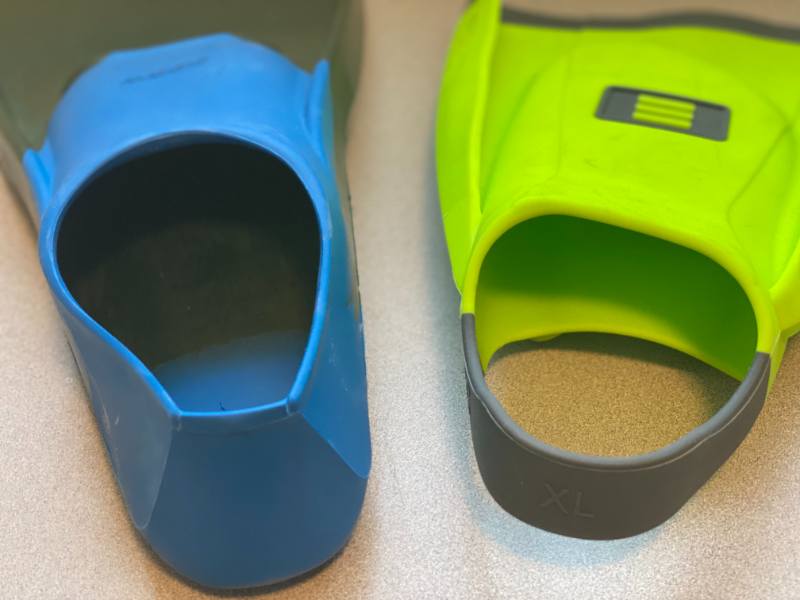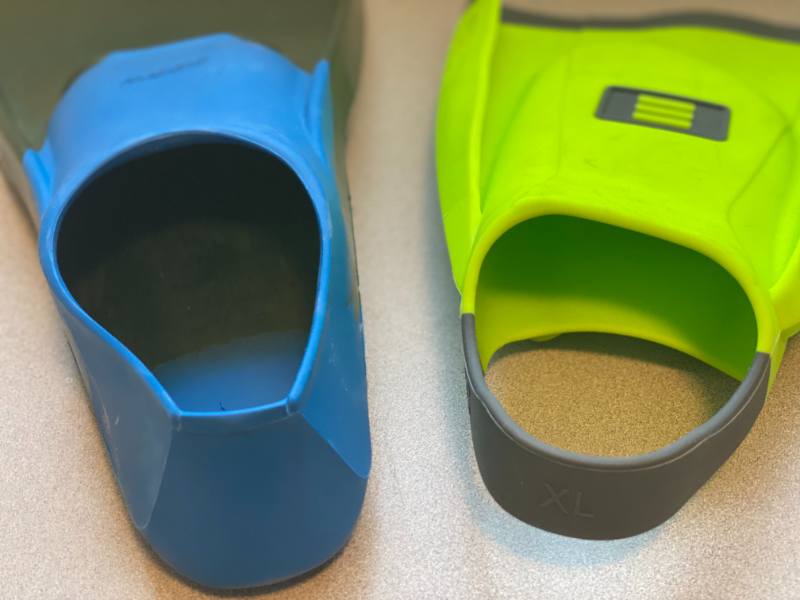 Short blade vs. Long blade.
Short blade fins are better for serious swimmers who want to better imitate the natural tempo and flow of regular swimming and are better for most forms of lap swimming.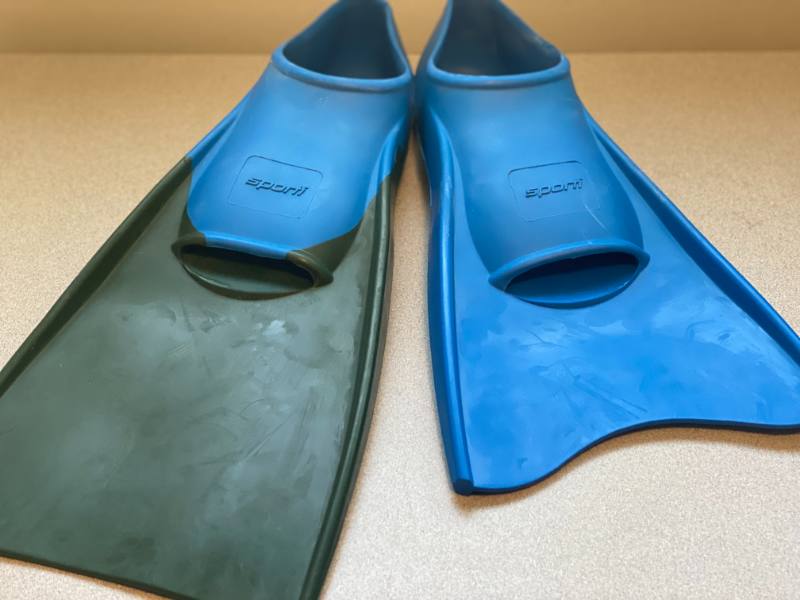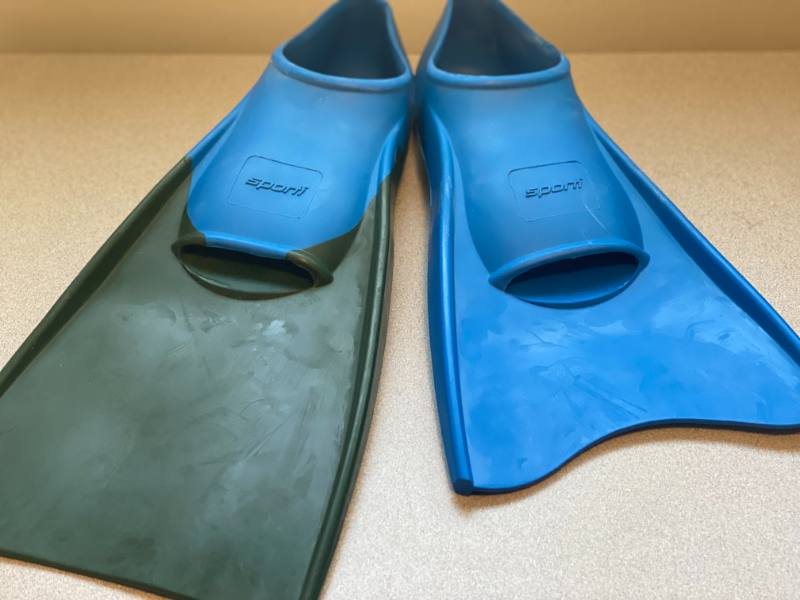 Long blade fins, while they provide superior surface area for more propulsion, slow down kick tempo a lot. Longer fins are also better suited for beginner swimmers as they provide extra buoyancy in the water.
Why should kids use swim fins in the water?
There are many excellent reasons for kids and youth swimmers to use swim fins, including encouraging better body position, fine-tuning technique, learning how to move more efficiently through the water, developing stronger legs, and improving ankle flexibility.
Additionally, for swimmers who have shoulder injuries, using swim fins can be a way to train around those issues and also lessen the strain on the shoulder joints.
But perhaps the best reason kids should use swim fins is that they are fun–there are fewer things more enjoyable in the water than going faster than regular swimming speed.
The Bottom Line
Youth swim fins, like any other kind of swimming gear, exists to help build confidence and skills in the water.
To recap:
⭐ The FINIS Floating Youth Swim Fins get our top pick. Comfortable, durable, and available in a wide range of sizes, these fins are made of a soft rubber that sits comfortably on the feet.
⭐ TYR's Stryker Swim Fins are a short blade, silicone swim fin perfect for more advanced youth competitive swimmers.
⭐ And Sporti's Essential Floating Swim Fins are a budget-friendly long-blade youth fin that comes in sizes for young kids.
Choose the right youth swim fins for your kid and level up the fun and speed in the water!
---
More Articles and Guides Like This
9 Pieces of Swimming Gear Every Serious Swimmer Should Have. Ready to take your swimming to the next level? Here is the swimming gear every serious swimmer should be rocking in their swim bag.
5 Swim Workouts and Sets with Fins (for a Stronger Kick and Faster Swimming). Fins are a great tool for improving your swimming. Here are some sets and workouts to do with swim fins for maximum improvement.