Looking to get a new set of fins? Here are reviews of the best swim fins available for competitive swimmers.
Is there anything more enjoyable than training with swim fins? If there is—I don't know what it is.
After all, you get to cross the pool at light-speed, experiencing speeds that you dream about. For a few moments you get to experience what it's like to swim like the top swimmers in our sport. For a brief sliver of time, we are that Olympic champion.
Choosing the best pair of swim fins can be a little tricky, however. Our first instinct is to buy the biggest, baddest pair available. But there is a problem with getting long-blade fins—they slow down your kicking tempo so much that they no longer replicate your natural kicking motion.
Why is this important? Because the goal with wearing fins is to not only go really, really fast, but to produce the same motor patterns that you would use in regular swimming. Wearing fins while swimming can teach you to reduce excess knee bend, and help you develop power in the water.
Here are the best swimming fins out there that will help you crush it in the pool this season:
1. Arena Powerfin Pro Fins
I'm a big fan of Arena products, in particular their jammers and these fins. They rank at the top because (1) I use and abuse them and (2) they are durable as heck. They get daily thrashings, and haven't aged a day.
Another big side benefit is that for heavy-fin users these bad boys don't cause blisters. One of the main problems with fins are when they cut into your skin with use and force, meaning you have to pair them with socks or booties.
Because these fins are made with silicone (compared to rubber), they have soft edges that don't cut into your foot. The short blade is perfect for retaining a high kick tempo.
In the below video you see Brazil's Bruno Fratus finding a unique way to train with his Powerfin Pro fins, incorporating vertical kicking, sprinting and a medicine ball for a throttling power and speed routine:
The Arena Powerfins are available in a variety of colors, from your standard black, to bright neon green and pink.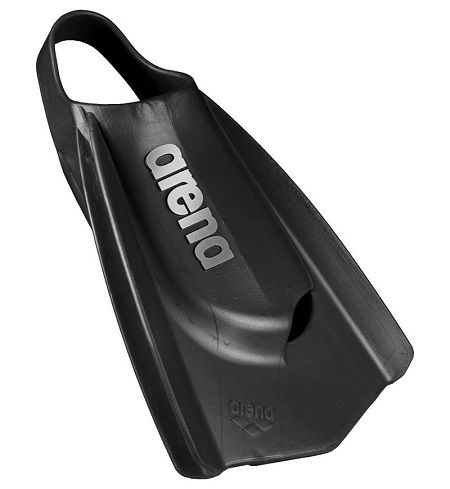 ---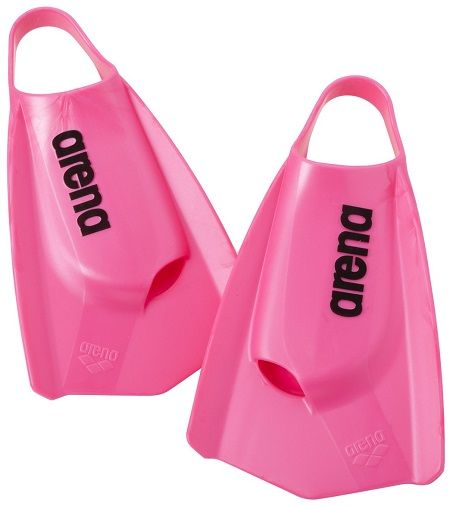 ---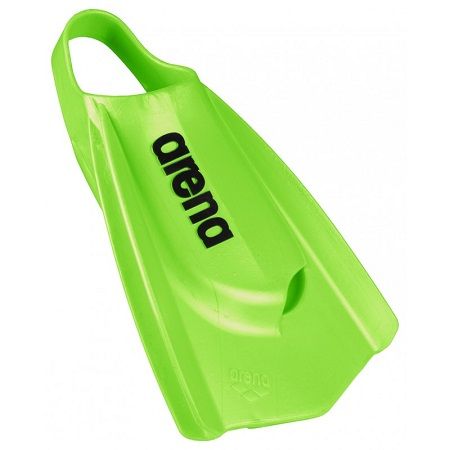 2. FINIS Zoomers
The original short-blade fin for swimmers is the FINIS Zoomer. Until these fins came along during my age group days we would buy long fins and cut off most of the blade.
For veteran competitive swimmers these things can be nostalgic for all the wrong reasons—the red Zoomers are so stiff that it would leave your ankles and feet sore and blistered.
Fortunately, Zoomers (we are talking about the Gold Zoomers now) have gotten a little softer and more flexible over the years, which is good news for our feet. They come with a closed-heel design, and the fin is built with an enough flexion that it doesn't feel like the top of your foot is being ripped apart when you kick with max power and tempo.
While I have seen other swimmers tear their Zoomers (almost always down the middle of the heel), I've never had a pair snap or break on me. Make sure you get an appropriate size so that you aren't stretching the heel out slipping your feet into them and they will last you a long time.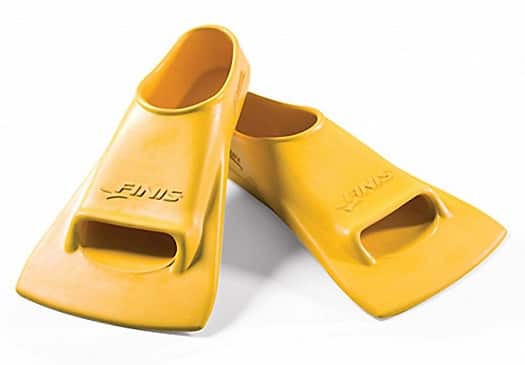 3. TYR CrossBlade Swim Fin
I've used a few pairs of these fins, and I have liked them. They are a soft rubber, and are somewhere between being a short blade and a long fin. The length of the blade makes them more ideal for middle and distance swimming, where kick tempo isn't that much of a priority.
The TYR CrossBlade comes in larger sizes, which is what drew them to me in the first place. (A lot of fins only go so big as 12 or 13.)
While these fins are comfortable, they are the least durable of the swim fins on this list. I have purchased three pairs of them over the years, and every one of them split down the top of the foot or in the toe hole after about 5-6 months of regular use.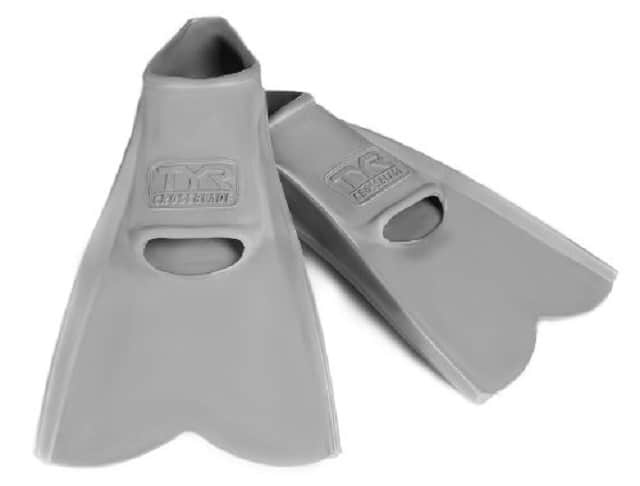 4. MP Michael Phelps Alpha Pro Fins
Let's be honest here, these fins aren't the best looking of the bunch. Compared to the Arena fins or the Hydro Tech fins (#6), their design leaves a lot to be desired.
But there are some things about the MP Michael Phelps Alpha Pro fins that I really do like.
For starters, the relative unsightliness is with reason—they are supposed to give you an enhanced surface area that is more natural and mimics the shape of your feet compared to most fins. They are also considerably lighter than most fins out there, sometimes as much as 70% lighter.
Plus they have the GOAT's name on them, so you know they have to be at least mildly legitimate.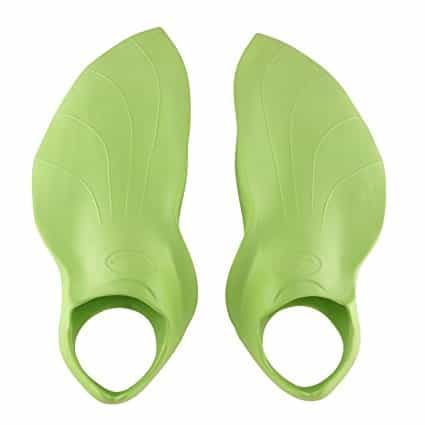 5. FINIS Edge High Velocity Fin
FINIS swim gear makes a second appearance on this list with their Edge High Velocity fin. FINIS basically took a pair of Zoomers, gave them a Batman-esque look, swapped rubber for silicone, and blew out the heel.
The Edge fins comes with vents on the sides of your feet that are designed to help reduce drag and give you a boost of speed. I don't know about all that, but the fins are among the most comfortable that I've ever tried.
The best compliment I can give these fins is that I felt 100% comfortable in doing all-out kick work knowing that they wouldn't cut up my feet or slip off.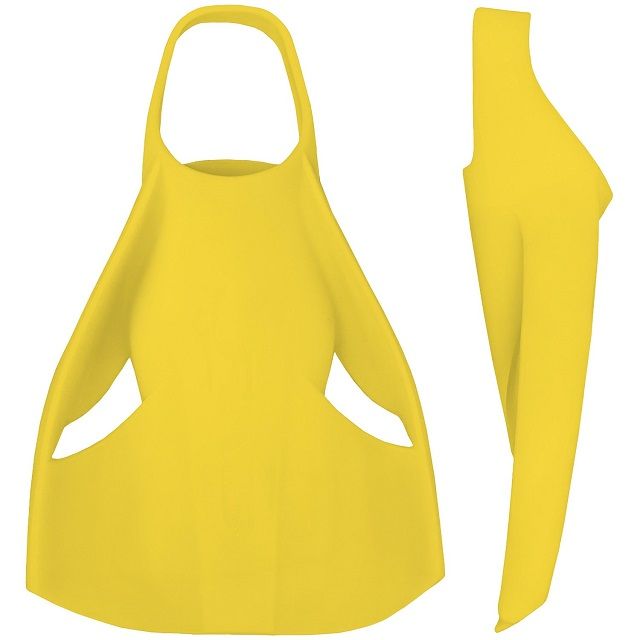 6. Hydro Tech 2 Swim Fins
Lastly, we got these bad boys. The Hydro Tech 2 swim fin seems to have been designed for ocean sports, but it's got a metric ton of application in the pool. There are a few reasons I have been using these swim fins over the past few months…
First, they look gangster. We like to look good while we are swimming like our hair is on fire in the pool, and these fins look great and come in a variety of different color combinations. (The black and orange are my favs.)
Second, they are durable as heck. I have been using them almost daily, for long bouts of straight swimming as well as some full blast swimming, and they haven't aged a minute. There's not a chance these things are going to split unless I swim into Edward Scissorhands.
Third, like the Arena Powerfin and the Edge fins the Hydro Tech 2 are made of silicone. I can't say enough about this type of construction–it almost completely removes blisters from the equation (I've yet to get one wearing these).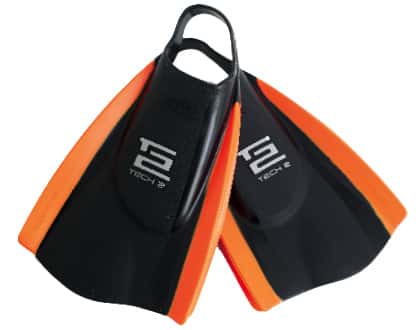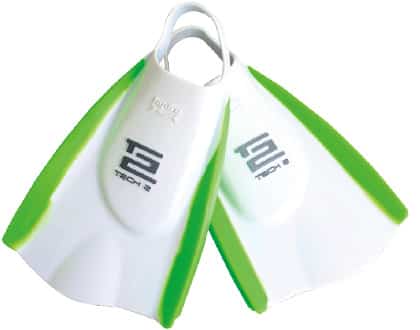 ---
More Swim Gear Guides: