Looking to get a new set of training fins? Here are reviews of the best swimming fins for competitive and lap swimmers.
Swim fins are one of my favorite tools for improved swimming at the pool.
The right pair of fins help improve your technique, teach you better body position, and strengthen your legs and kick.
But with all of the different swim fins on the market, it can be hard to figure out which ones are right for you, your feet, and your goals in the water.
Based on our extensive experience with swim fins, we've compiled the best swimming fins for training and swimming laps.
Let's dive right in.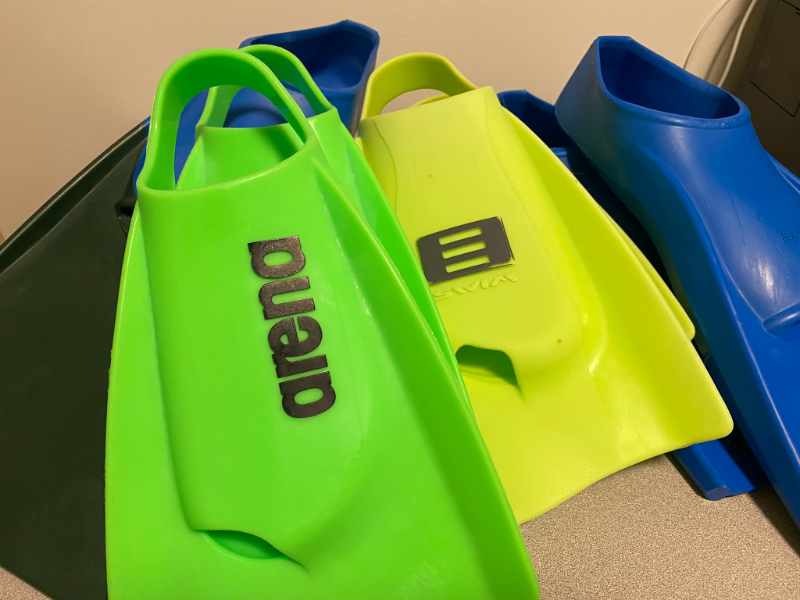 Why Trust Us
After countless meters and yards swimming up and down the pool over the years, and purchasing and churning through just about every swim fin on the pool deck, I've put together a guide to the best swim fins for swimmers.
This guide includes everything you need to know about choosing the right swim fins for you, and is based on our decades of experience using swim fins, both as national-level swimmers and now as more recreational-speed swimmers.
Combine that with our hands-on (or rather, feet-on) testing process, and we've put together the most complete guide to the top swim fins you'll find on the interwebs.
Whether you are a beginner/youth swimmer, an experienced competitive swimmer, or someone who wants a pair of swim fins to take on open water swims, there is a training fin for you.
Here are the best swimming fins that will help you crush it in the pool (and open water!) this season.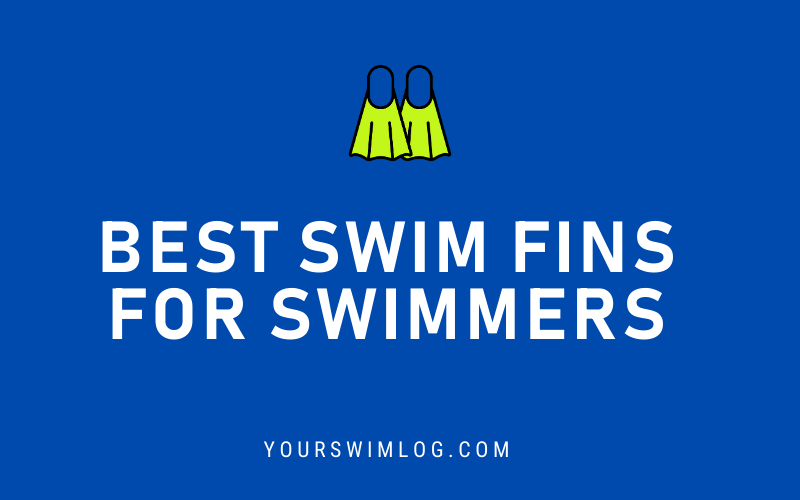 1. Arena Powerfin Pro Swimming Fins
⭐ Best Overall fins for competitive swimmers
I'm a big fan of Arena products, in particular, their jammers and these fins. They rank at the top because (1) I use and abuse them and (2) they are durable as heck. They get daily thrashings and haven't aged a day.
Another big side benefit is that for heavy-fin users these bad boys don't cause blisters. One of the main problems with fins are when they cut into your skin with use and force, meaning you have to pair them with socks or booties.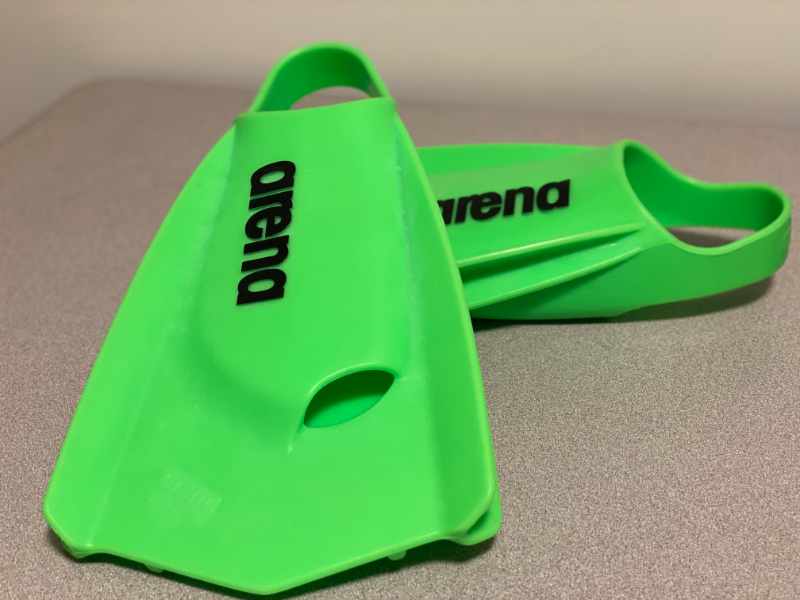 Because these fins are made with silicone (compared to rubber), they have soft edges that don't cut into your foot. The short blade is perfect for retaining a high kick tempo.
In the below video you see Brazil's Bruno Fratus finding a unique way to train with his Powerfin Pro fins, incorporating vertical kicking, sprinting and a medicine ball for a throttling power and speed routine:
The Arena Powerfins are available in a variety of colors, from your standard black, to bright neon green and pink.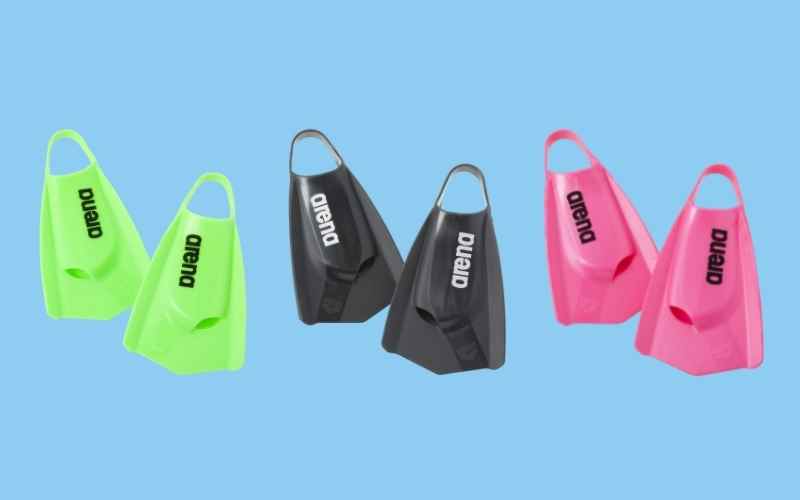 ---
2. DMC Elite Short-Blade Silicone Swimming Fins
⭐ Best fins for experienced competitive swimmers
The DMC Elite Swim Fins have found a regular spot in my rotation in my swim gear bag (you can read a more thorough breakdown I did of these fins here).
The DMC Silicone Swim Training Fins are a short-blade swim fin made with soft silicone. They have a "V" rail along the side that helps make your feet more hydrodynamic, giving the fin a sense of flexible rigidity, if that makes sense.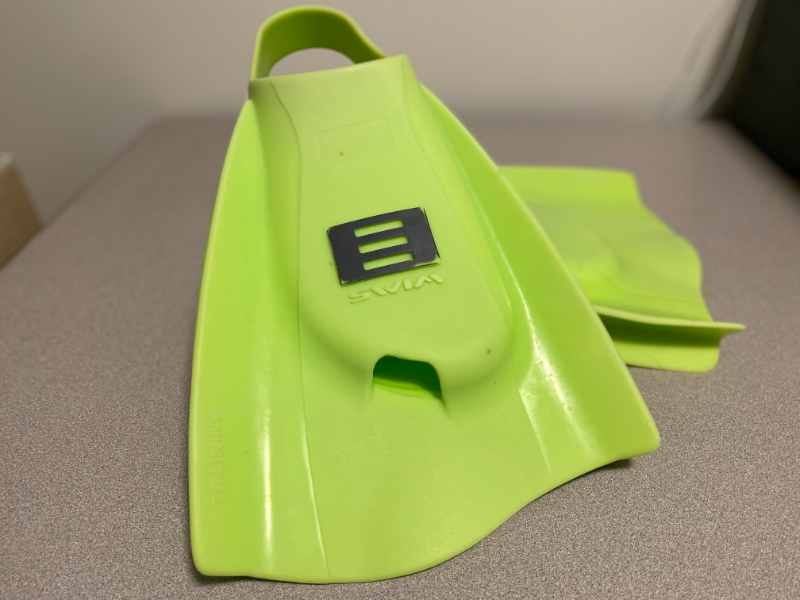 In terms of resiliency, the DMC Elite Swimming Fins are among the toughest I have ever worn.
I have purchased just one set over the years, and I can count how many blisters they have given me over the years on one hand. They have never shown a hint of cracking, and I have worn them for extended (and by extended, I am talking like 7,000m) swim practices in full comfort.
Available in a variety of sizes and colors, the DMC Elite fins are absolutely one of the best fins out there for competitive and recreational lap swimmers looking for durable and comfortable fins for swimming.
Pros:
Silicone construction that won't chafe or blister
Open heel for added foot range of motion
Extremely durable
Works great for speed work and extended wear
Cons: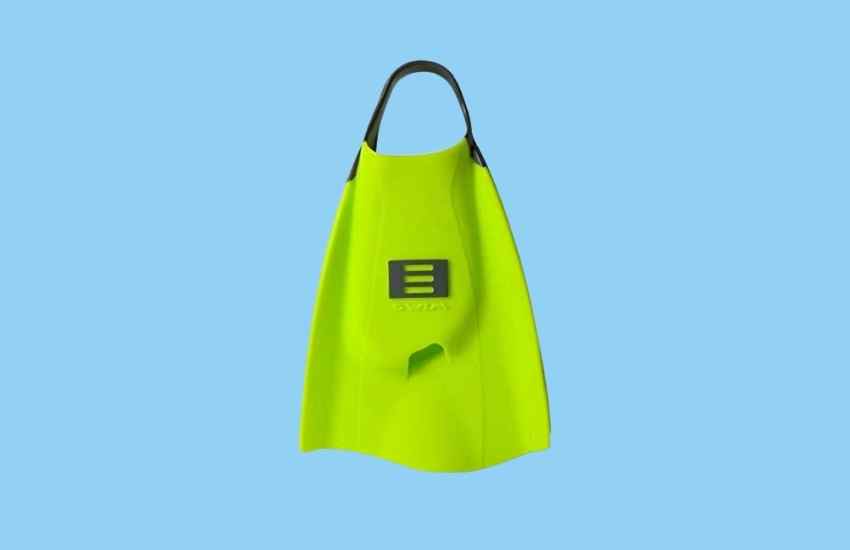 ---
3. FINIS Floating Youth Swimming Fins – Best Fins for Kids
Long blade fins definitely have a place in your swimming bag, especially for younger and beginner swimmers. The added length is ideal for building leg endurance and teaching good kicking fundamentals.
The FINIS Floating Youth Swimming Fins are my top recommendation for the best swim fins for kids.
With a long history in the sport, an excellent and durable design, and lots of colors and sizes to choose from, these FINIS fins won't sink between, sit comfortably on the feet, and have a closed heel for extra support on the foot.
Made of rubber, these long blade training fins are relatively low-cost (Swim Outlet carries them for around $25—check here for current deals) and will have your swimmer zooming across the pool in style and comfort.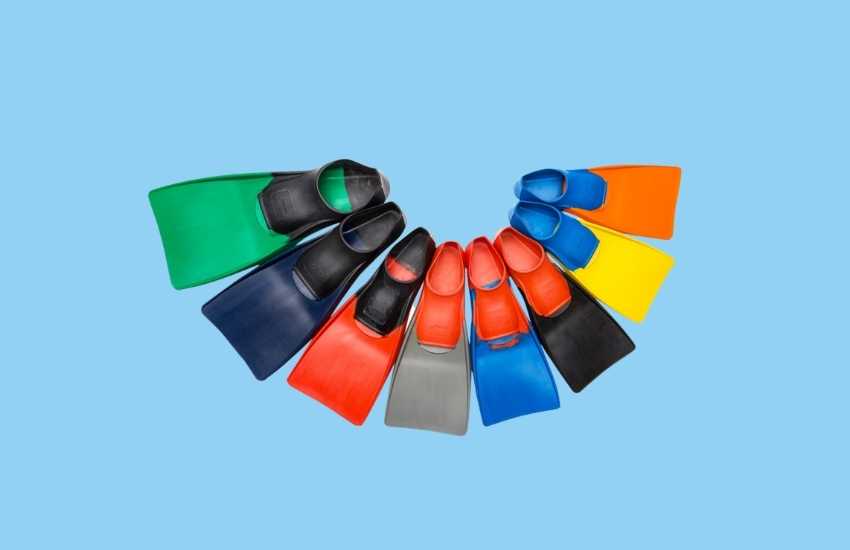 ---
4. DMC Repellor Swim Fins
Best open water swim fins
Looking for a pair of swim fins that you can use in open water? The DMC Repellor Swim Fins are my top pick for fins that you can use for ocean swimming (or bodysurfing or snorkeling for that matter).
The Repellors have a very comfortable (and wide_ foot cavity that allows for extended use. Made with silicone, these fins are ideal for open water swims as they have an easy slip-in design and an ankle leash to secure the fins while out on the water.
Like the DMC Elites, the Repellors use a patented rail design that maximizes torque without causing undue fatigue while swimming.
While not adjustable, the DMC Fins are so soft that if you go a size larger you don't really need to worry about the "loose" fit causing blisters and chafing during your longer swims.
While they are a little pricy (they retail for about $80—check Swim Outlet for current pricing and deals), DMC fins are probably the most durable brand of fins I've ever used.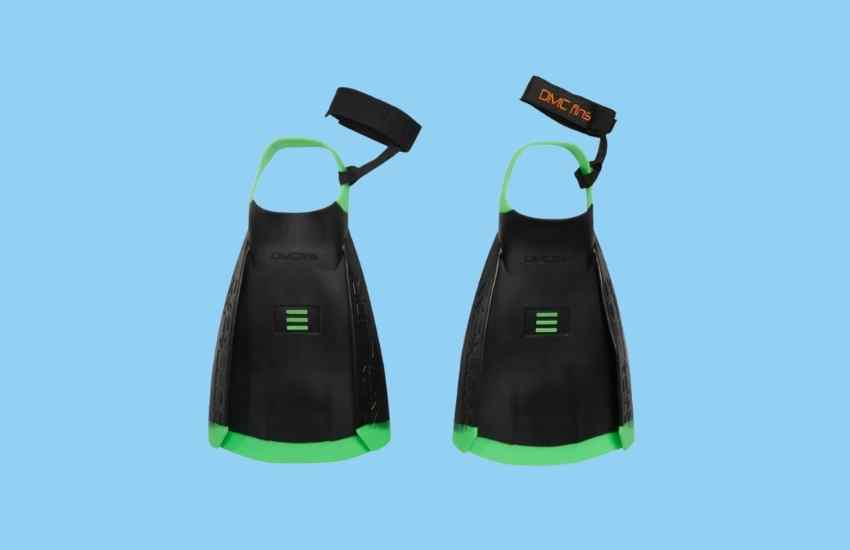 ---
5. FINIS Zoomers
Best old-school swim fins
The original short-blade fin for swimmers is the FINIS Zoomer. Until these fins came along during my age group days we would buy long fins and cut off most of the blade.
For veteran competitive swimmers, these things can be nostalgic for all the wrong reasons—the red Zoomers are so stiff that they would leave your ankles and feet sore and blistered.
Fortunately, Zoomers (we are talking about the Gold Zoomers now) have gotten a little softer and more flexible over the years, which is good news for our feet. They come with a closed-heel design, and the fin is built with enough flexion that it doesn't feel like the top of your foot is being ripped apart when you kick with max power and tempo.
While I have seen other swimmers tear their Zoomers (almost always down the middle of the heel), I've never had a pair snap or break on me. Make sure you get an appropriate size so that you aren't stretching the heel out slipping your feet into them and they will last you a long time.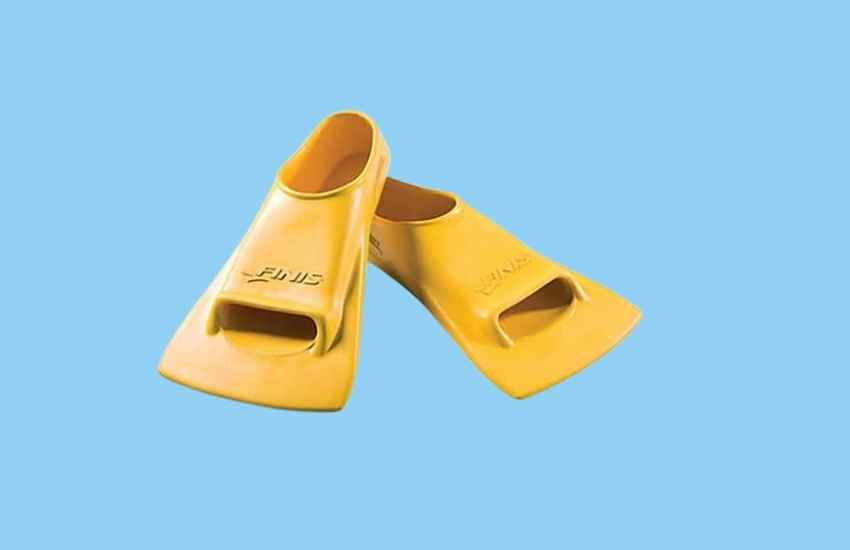 ---
6. TYR CrossBlade 2.0 Swim Fin
I've used a few pairs of these fins, and I have liked them. They are a soft rubber and are somewhere between being a short blade and a long fin. The length of the blade makes them more ideal for middle and distance swimming, where kick tempo isn't that much of a priority.
The TYR CrossBlade comes in larger sizes, which is what drew them to me in the first place. (A lot of fins only go so big as 12 or 13.)
While these fins are comfortable, they are the least durable of the swim fins on this list. I have purchased three pairs of them over the years, and every one of them split down the top of the foot or in the toe hole after about 5-6 months of regular use.
(Update: The 2.0 version of the CrossBlades has thicker foot pockets that cut down on cracking and splitting, a much-needed improvement on the original version of these swim fins.)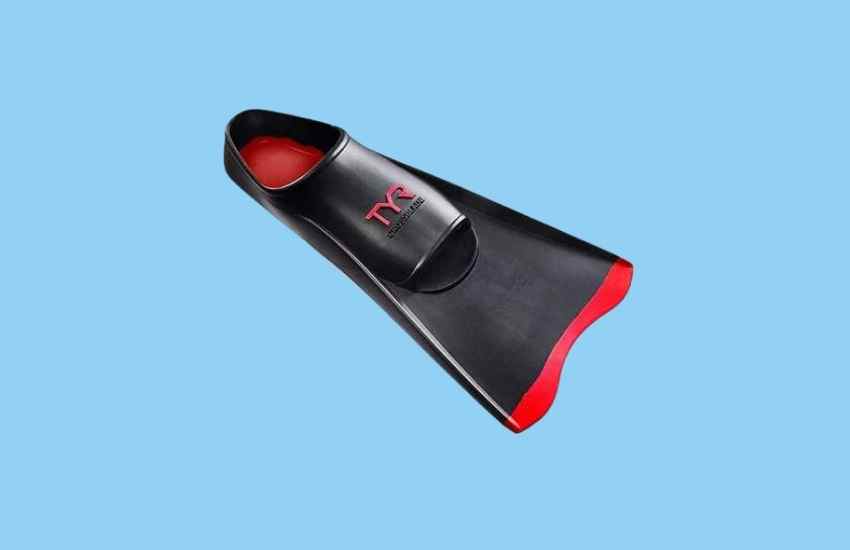 ---
7. MP Michael Phelps Alpha Pro Swim Fins
Let's be honest here, these fins aren't the best looking of the bunch. Compared to the Arena fins or the Hydro Tech fins (reviewed below), their design leaves a lot to be desired.
But there are some things about the MP Michael Phelps Alpha Pro fins that I really do like.
For starters, the relative unsightliness is with reason—they are supposed to give you an enhanced surface area that is more natural and mimics the shape of your feet compared to most fins. They are also considerably lighter than most fins out there, sometimes as much as 70% lighter.
Plus they have the GOAT's name on them, so you know they have to be at least mildly legitimate.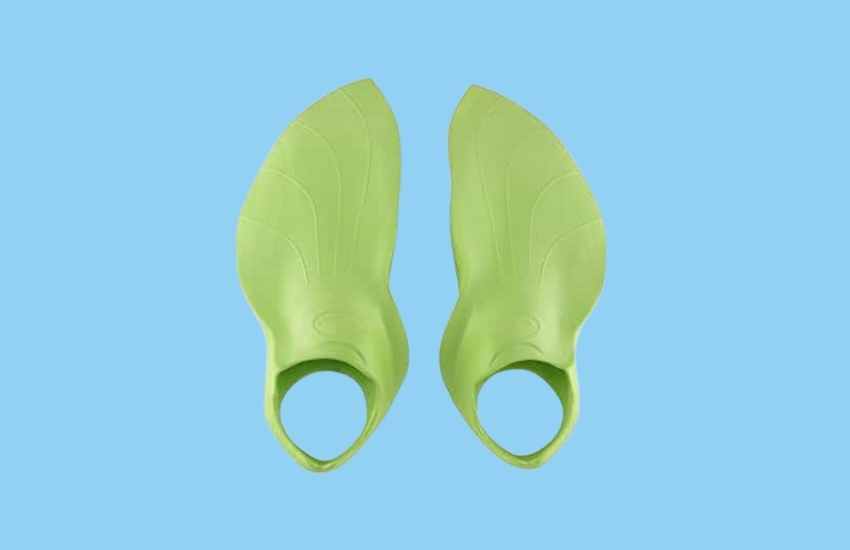 ---
8. FINIS Edge High-Velocity Fin
FINIS swim gear makes a third appearance on this list with their Edge High-Velocity fin. FINIS basically took a pair of Zoomers, gave them a Batman-esque look, swapped rubber for silicone, and blew out the heel.
The Edge fins come with vents on the sides of your feet that are designed to help reduce drag and give you a boost of speed. I don't know about all that, but the fins are among the most comfortable that I've ever tried.
The best compliment I can give these fins is that I felt 100% comfortable in doing all-out kick work knowing that they wouldn't cut up my feet or slip off.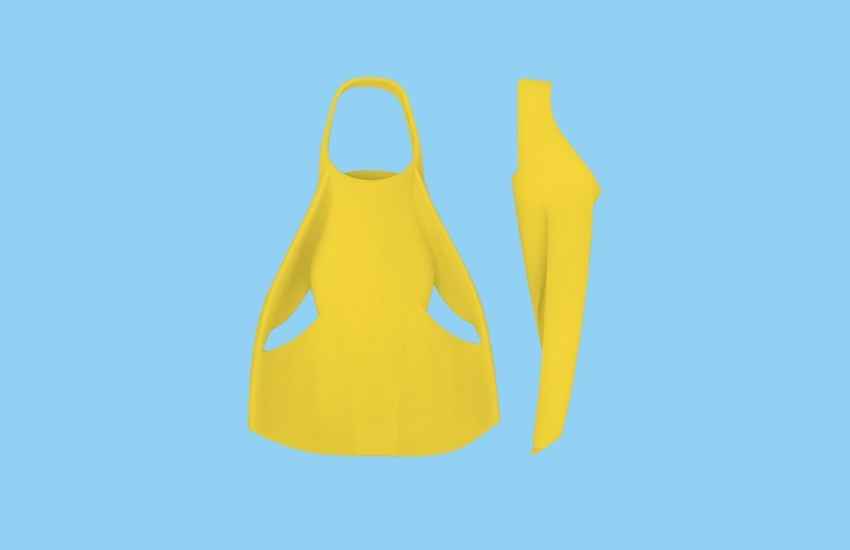 ---
9. Hydro-Tech 2 Swim Fins
Lastly, we got these bad boys. The Hydro-Tech 2 swim fin seems to have been designed for ocean sports, but it's got a metric ton of application in the pool. There are a few reasons I have been using these swim fins over the past few months…
First, they look gangster. We like to look good while we are swimming like our hair is on fire in the pool, and these fins look great and come in a variety of different color combinations. (The black and orange are my favs.)
Second, they are durable as heck. I have been using them almost daily, for long bouts of straight swimming as well as some full blast swimming, and they haven't aged a minute. There's not a chance these things are going to split unless I swim into Edward Scissorhands.
Third, like the Arena Powerfin, the DMC Elite fins (which these are essentially a knock-off of), and the Edge fins, the Hydro-Tech 2 are made of silicone. I can't say enough about this type of construction–it almost completely removes blisters from the equation (I've yet to get one wearing these).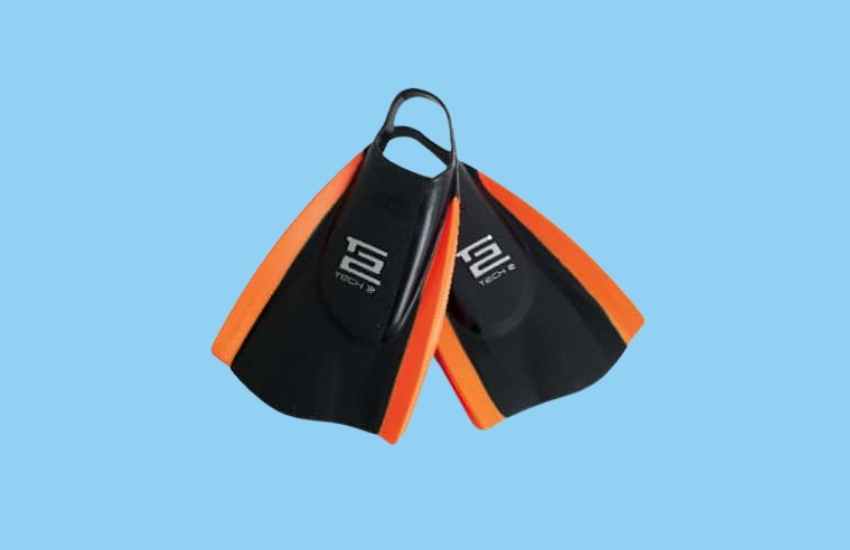 ---
🏊 How to Choose Fins for Swimming
The material, size, and shape of the swimming fin you choose make a big difference in the way your swim fins help you improve in the water.
Here are the main things to be on the lookout for when shopping for your next pair of training fins.
Short Fins vs. Long Fins.
Training fins come in a variety of lengths and shapes, but the two main categories are short blade training fins and long blade swim fins.
Longer fins mean your legs have to work harder (with all of the added surface area on the fins, there is more water to "push") and your legs will tire sooner.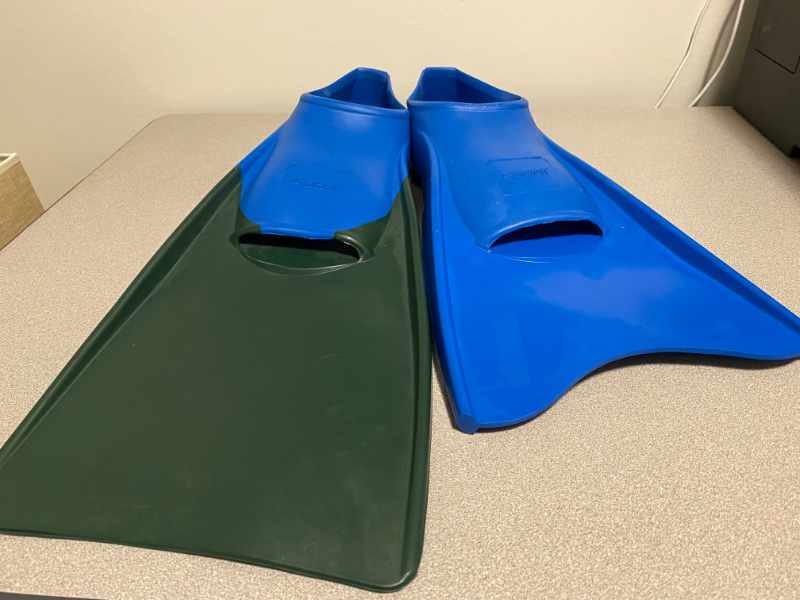 Short blade fins mimic our natural kicking tempo and technique, making short fins a better training tool for swimmers looking to get faster in the water.
That said, long fins do have a place for lap swimmers, particularly younger and beginner swimmers who are just getting their footing in the water.
Open Heel vs Closed Heel
Swim training fins come with either a closed heel (which has rubber wrap around the back of the foot) or an open heel, which keeps your feet locked in place solely with a strap that goes around the back of your feet.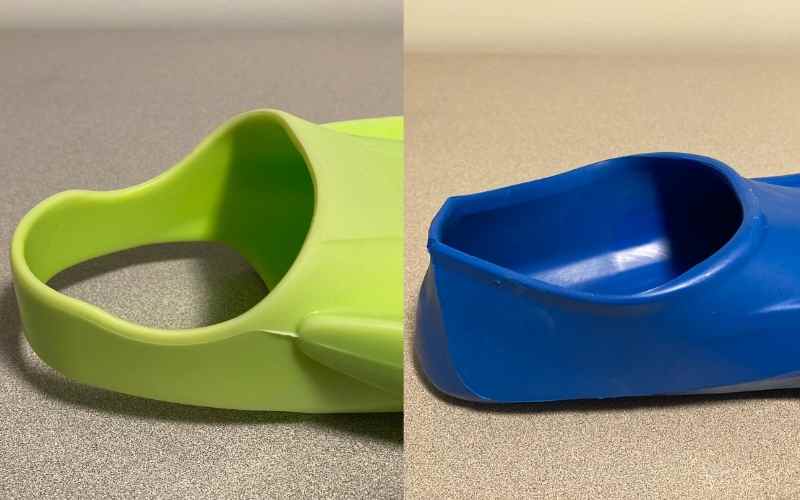 An open-heeled fin tends to be more comfortable and can provide a better range of motion, making it a better option for most swimmers. That said, beginners and even some intermediate swimmers will favor the closed-heel as it creates a more snug and secure fit on the feet.
Flex of the blade.
Blade stiffness is something else to consider.
The more rigid the blade, the harder it is to move the blade through the water. If you've ever tried to swim fast with snorkeling fins you know what I mean.
Stiffer fin blades also require a higher degree of ankle mobility as they place more pressure on the foot. In my own personal experience, stiffer fins also lead to blistering and cramping during heavy use.
Softer blades are better suited for lap swimmers as the natural flexion is more akin to how our feet move through the water.
Fin material.
When I was an age group swimmer in the 1990s, fins came in rubber and rubber only. This meant lots and lots of blisters on the top of my feet over the years.
Thankfully, in recent years swim brands have been moving to silicone for the main material in training fins.
Silicone doesn't rub on the skin in the same way as rubber, which chafes and blisters over time. Silicone also doesn't crack and warp over time.
The main drawback with silicone is that the fins are a little heavier and they cost more in price.
For long blade fins, the material is almost exclusively rubber. Short blade fins are made in both silicone and rubber.
---
🏊 Why Use Training Fins for Swimming
Swim fins have a wide variety of functions in the water, from helping you develop leg strength to improving ankle flexibility.
Here are some of my favorite benefits of strapping on a pair of fins at the pool, and how you can make the most of this swimming tool.
Swimming with fins is fun.
Using fins is a lot of fun. There it is. I'll admit it. After all, who doesn't like going faster than their normal swimming speed?
For a few fleeting moments (or at least until our legs die) we are swimming at elite speeds. As the old adage goes, fast swimming makes for happy swimmers.
Fins are a great way to inject some speed and enjoyment into your swim practice.
Cuts down on excess shoulder strain.
One of the key habits I picked up over the years is using fins for most of my warm-up. As a bigger fella, it takes me a while to get my shoulders warm and loose in the water (especially on those cold winter morning swims).
Using fins means I am logging fewer yards with excess stress on the shoulders.
Swimmer's shoulder is a real concern for swimmers, both recreational and competitive, and using fins for "off" sets like warm-ups and even parts of your main set can reduce excess fatigue on the shoulders.
Efficiency and technique.
Technique is everything in the water. Fins naturally raise your hips in the water, which improves your body position and makes you more efficient.
Additionally, the added speed that fins provide shows your body how to move through the water at speed, building the neural pathways for future improvement and speed.
Fins have a great way of over-exaggerating the resistance you experience in the water and can point you in the direction of more efficiency and speed.
Doing turns and finishes at race speed (or faster).
One of the underappreciated benefits of training fins is that they help you master the timing required to turn at high speeds in the water.
After a successful taper, and strapping on our favorite tech suit, swimmers feel like they have been shot out of a cannon, and those walls and finishes arrive much faster than anticipated.
Doing these technical aspects of your races with fins on teaches you to master the timing to nail your turns and touches at high speed so that you don't get caught off-guard on race day.
Great for ankle mobility.
Kicking fast in the pool requires good ankle flexibility. There's no getting around this.
Fast kickers have a narrow profile in the water because they "catch" more water with the top of their feet. There are lots of ways for swimmers to improve ankle mobility out of the water, but fins are a tool for doing so while in the pool.
The added surface area of the fin blade creates a gentle stretch on the ankles, improving the range of motion.
---
More Swim Gear Guides: