Here is the swimming gear every serious swimmer should be rocking in their swim bag.
Even though the sport of competitive swimming looks like all it would require is a swimsuit brief and a pair of swim goggles, if you take one glance at a pool deck during a swim practice you will quickly learn otherwise.
The end of the pool or the bulkhead is littered with mesh swimming bags that are bursting with equipment. From water bottles, paddles, fins, spare goggles, caps, and miscellaneous snacks (hey, we get hungry!) your local pool deck can begin to resemble a yard sale.
Whether you are looking for a gift for the swimmer in your life or shopping for yourself, here are 7 pieces of swimming gear should be packing in their swim bag:
1. Tempo Trainer Pro.
There are a few different ways coaches and swimmers use the Finis Tempo Trainer Pro, but the one I like most is setting the desired stroke rate into it and then doing quality reps in the pool at my goal stroke tempo.
This is race simulation at its peak and is the kind of mega high-grade training that will best prepare you for competition. After all, if you have belted out a million 25's at your desired stroke tempo you can feel pretty confident that your body and stroke will be ready to perform at the big meet.
Moreover, when you dive into the water on race day you will be able to swim on virtually auto-pilot because your body has already done the target swim and tempo so many times. So yeah, in terms of prepping for fast racing the TTP is pretty much a no-brainer.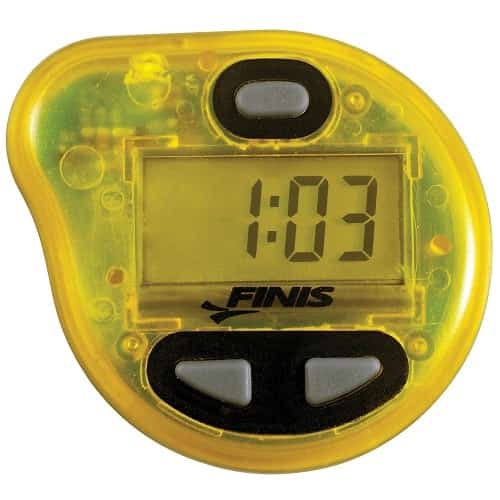 ---
2. Swimmer's snorkel.
Watching a local swim practice recently the swimmers were freestyle kicking back and forth without any splash, the only sign of disturbance in the water the brightly-colored snorkels that cut silently through the water.
Although they have been patented since 1994 (by FINIS), the front-mounted snorkel only recently exploded in popularity across pool decks. These days you would be hard pressed not to find one in an athlete's collection of swim gear.
I wield mine with kick sets (particularly when doing long course swimming), and find that it is particularly helpful for developing a more balanced and full stroke. Why does this matter? Because muscle imbalances are one of the leading causes of swimmers shoulder. An easy way to combat this–short of mercilessly breathing bilaterally during training–is to strap your face up to a swimmer's snorkel.
The swimmer's snorkel can be used to improve just about anything you can think of in the water—from developing a more balanced stroke, to doing kick work that mimics proper body position, to doing sculling properly (and not with your head up).
They are cheap, versatile, and will help you become a better swimmer.
The best swim snorkel on the market is the FINIS Original Swimmer's Snorkel: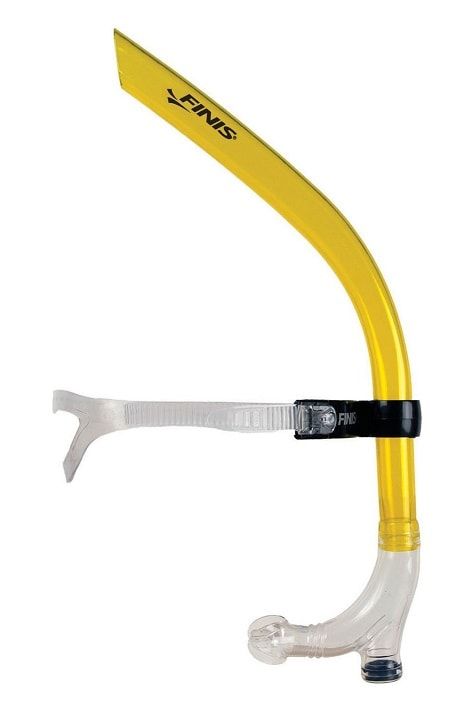 ---
3. Kickboard.
Now that I have talked about how I love kicking with a snorkel, I should probably mention that my first love is my green, borderline-decrepit kickboard whose logo is so faded I cannot tell up from down anymore.
She ain't pretty, but she gets the job done.
Spending more time on your kickboard will help you build a bigger overall motor. Why is this? Because your legs are the biggest muscles in your body, and as a result suck up a whole lot of oxygen.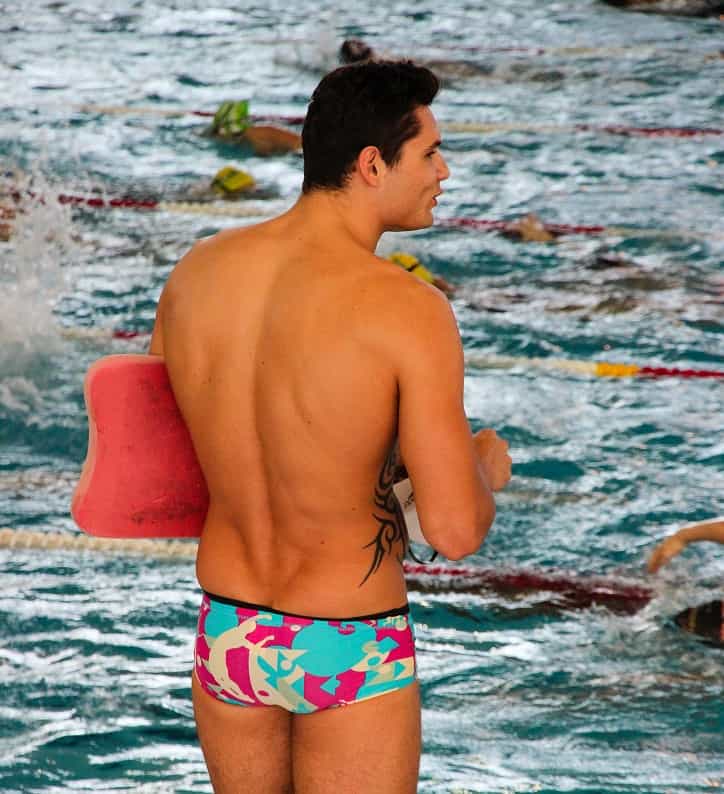 Having good kick fitness—you can't fake a good kick with lots of dryland workouts, just ask any triathlete—is imperative towards the end of the races.
Although having a really powerful kick might not directly give you a metric-ton of added propulsion, better leg fitness will help you maintain better body position, improve your ability to finish, and even execute a more powerful pulling motion.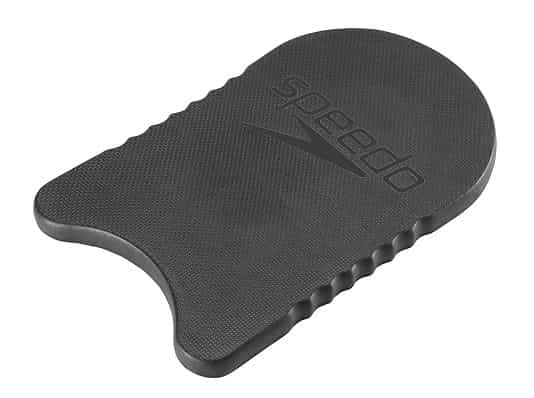 4. A Training Journal.
Every athlete with big goals tracks and evaluates their training. At its core, a training journal helps you figure out what's working, what's not, and how quickly or how slowly you are achieving the ultimate goal–progression.
Olympian and freestyle demi-god Katie Ledecky uses a logbook to keep a little gratitude list and grade her workouts.
50-yard freestyle record smasher and two-time Olympic gold medalist Caeleb Dressel used his log book to deeply detail how he felt in the water, often jumping in the middle of practice to write a thought or idea.
Janet Evans, the American distance queen at the Seoul, Barcelona and Atlanta Olympics, kept a near legendary logbook that detailed her marathon workouts.
At the end of the day, what gets measured gets focused on.
It's not enough just to write out your workouts, use it as a platform to target the things in your swimming that you know will yield the biggest improvements.
Go the Ledecky route and grade your workouts—it will force you to stay honest about your effort during practice. Track how many meters you are swimming at your goal race pace. Or see how many morning practices in a row you make.
Whatever it is that matters to you, whatever it is that will get you to where you wanna go, a logbook is the tool to help you stay consistent and accountable to your goals.
5. DragSox.
If you've never heard of DragSox, here is a quick summary: they are basically little mesh nets you strap to your feet that allow you to increase resistance and drag in the water.
The purpose of this particular piece of leg muscle-building swim equipment? To develop leg power and endurance in order to power up your swimming.
Anytime I wear my DragSox at the local YMCA I get quizzed looks until finally—"What are those?"
DragSox are great to improve overall leg power and conditioning, but it goes even beyond that. They also have the remarkable effect of increasing your foot's feel for the water.
Sounds silly, but the moment you take them off and do a fast effort you will know exactly what I am talking about—it's like instantly shaving down and tapering without the cuts and two weeks of jitters. You've been warned–throwing on a pair of these will make a 50m kick take about twice as long.
The versatility with these are awesome too: when the pool is too crowded I grab 'em and head to the deep end and do some resistance-based vertical kicking. You can do sprinting and regular swimming with them on as well, as their design allows you to swim with proper technique and a full range of motion.
6. Band.
As far as low-tech goes, a simple little rubber band is as Flintstone as it gets. If you want to add some serious power and torque to your pulling motion, this super simple addition to your arsenal is your go-to.
There is a reason that most swimmers groan when coach writes up a set with a band—it's hard.
It forces you to keep your arms moving at a balanced and even rate (no resting with an over-glide, in other words), and it will make your legs sink, so you have to be much more cognizant of keeping your hips high in the water and your face down.
However, keep in mind that using a band while swimming should be avoided if you are suffering from a rabid case of swimmer's shoulder, and it should be progressed into. Think of a band as high level resistance training—any deficiency in your stroke will only be made worse by its use.
Outside of the power benefits, swimming with a band around your ankles will help balance out your stroke, increase your stroke rate, reinforce the critical need of having a high elbow during your catch, and will be a stark reminder to keep your hips nice and high in the water.
FINIS produces an ankle band that is durable that has found its way into my own swim bag, and is less than $10.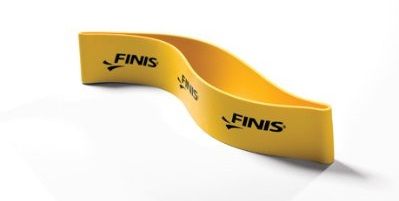 ---
7. Fins.
Lastly, we have what I generalize to be the swimmer's favorite piece of equipment: fins!
Strapping on a pair of swim fins can do a few different things to make you a better swimmer: They will help you develop more flexibility and range of motion in your ankles and feet, can help sensitize you to swimming at race pace or faster, and can teach you how to breathe properly and maintain proper technique while swimming at high velocity.
Swimming and kicking with fins is something else too—a whole lot of fun.
The temptation is to get bigger when picking out a pair of fins (check out our buyer's guide to swimmer's fins here), but shorter is actually better. Why? Because when you get the massive diving fins with a two-foot blade it slows down your kicking RPM way too much.
You want a quick kick, but with just enough of a blade to give you a boost. Arena makes an awesome set, called the Powerfins that are durable and used by elite swimmers including Sarah Sjostrom of Sweden and Bruno Fratus of Brazil.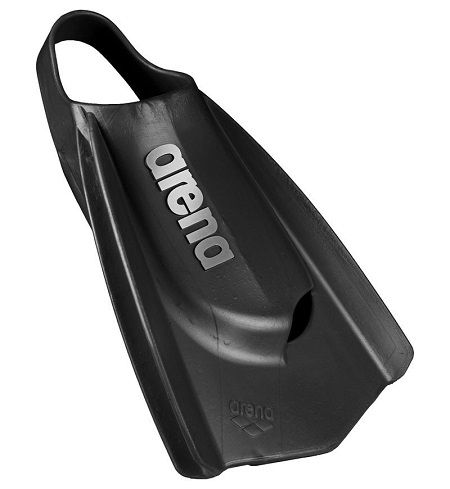 ---
More Stuff Like This: