The meters and the yardage have been completed. The hard work, the early mornings, the long training sessions have been invested, and now, it is time to unleash all of that focused effort on the competition.
The following is your guide to preparing to swim fast at the big meet.
Before the Big Meet
Get your gear in order.
On the day of the big race you don't want to be scrambling around trying to find your racing gear. Make sure that you have all the essentials the night before the big meet kicks off.
Your racing suit. Goggles. Caps. Double up on these items if possible. (If flying I would recommend you stock the critical items in your carry-on bag.)
Stock up on dry towels, snacks for after warm-up and between races, water bottle, and extraneous items like sunscreen for those long outdoor meets. Dress warmly to keep your core temperature raised between races.
Visualize in advance of how you want to perform.
I know that you are already dreaming about how you want to perform during your races, so take it a step further and spend a few minutes each evening visualizing how you want to race. You can also use visualization in the minutes before your race to further use this high-performance mental technique.
Get a lay of the land.
If you can, check out the pool the next before the meet. Check out the starting blocks, figure out where the marshalling areas will be, where your squad is going to see, where the change-rooms are, and so on. Spend a few minutes walking around the facility so that on race day you will be familiar with it.
On the Day of the Big Race
Get there early.
Showing up to the pool a little bit early provides you the opportunity to loosen up before the full brunt of the swimmers attending the meet show up, and gives you a chance to check out the pool set-up (if you haven't already). If seating is at a premium, getting there early also means first shot at squaring away a decent spot.
Manage expectations.
Remember that rarely do things ever go perfectly, much less according to plan, so go into your day of racing with the mindset of being flexible with distractions. Being able to stay focused in the face of unexpected circumstances is one of the hallmarks of elite swimmers.
Develop a routine for before you get up on the blocks.
Michael Phelps has done the same set of arm swings on the blocks since he was a kid. Everything before the big race is planned and done the same. The warm-up. The arm-swings. The stretching. Even the characteristic bent-over arm swings. For Phelps, this routine helps to keep himself calm and focused. Build a pre-race routine of your own.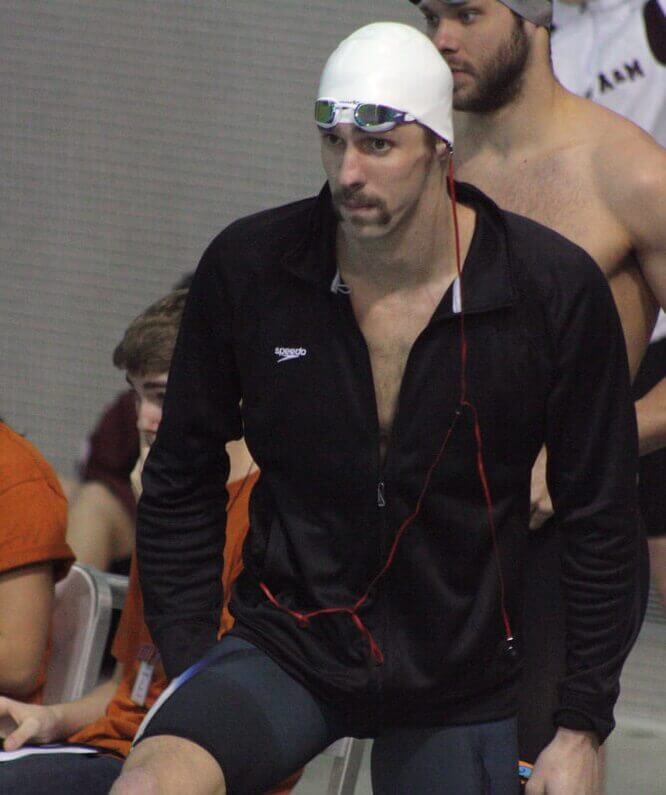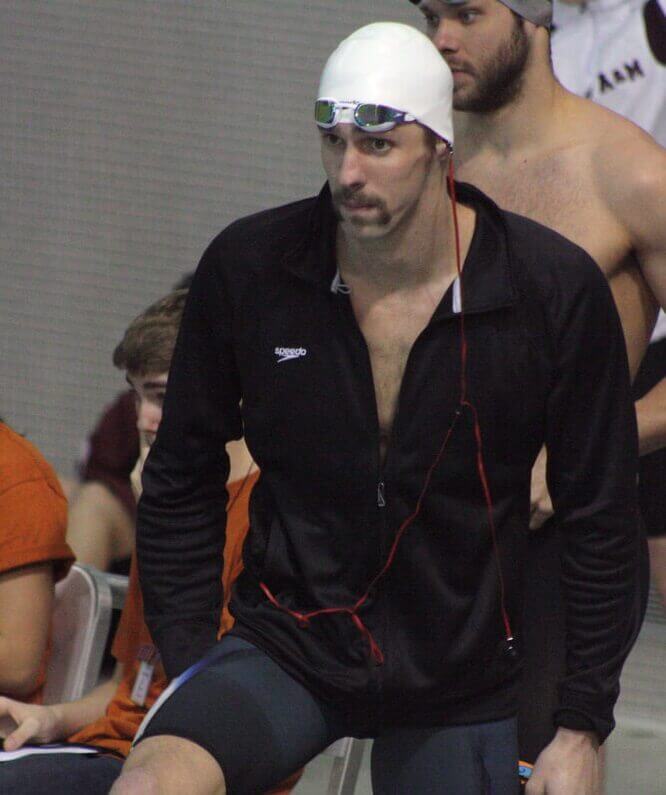 Note your event and heat numbers.
There is no greater panic in the world than suddenly realizing that your heat is the next one up on the blocks. Instead of asking your coach every five minutes—"When am I up?"—write out your events and keep note of where the other events are at in relation to your races.
Keep surprises in your diet to minimum.
The last thing you want is your stomach doing a backflip in the moments you are standing behind the blocks. This may mean you have to do some planning in advance in terms of meal preparation. Or drinking lots of water. Or passing when your hotel roommate decides to make a late-night candy visit to the convenience store down the street.
Avoid last minute technical changes.
Wanna play around with a new variation of your technique? Great, that's what practice is for. When you are standing up on the blocks you want to be able to let go, so to speak, and let your body do what it has repeatedly done in practice. (Yet another reason to train like you wanna race.)
Plan your warm-ups properly.
Your swim meet warm-up shouldn't be too different from the way you warm-up in practice. Why? Because it gives you a sense of the familiar in unfamiliar circumstances. You should have a dryland routine that you can use in the inevitable scenario where the pool is so packed during warm-up that you can't find a sliver of pool space. (Have your swim meet warm downs in order as well.)
Relax and have fun!
Being nervous is fine, but getting overly stressed and burnt out on anxiety is a performance killer.
Remember, this is supposed to be fun, so if you have to, take a big breath, lean back, smile, and have a great time doing some fast swimming.