Ready to pick up a new set of paddles? Confused about kind to get? Here's a breakdown of the best paddles for swimmers.
From beginner to elite, swim paddles are among the favorite pieces of equipment on the pool deck.
The reason is simple: Similar to using fins or flippers on our feet can help develop strength and power in our lower body, strapping on a set of paddles along with our favorite pull buoy can give our upper body a power-based pounding, helping strengthen our stroke and pulling motion.
For a few fleeting moments we get to experience increased levels of speed, while also doing swim-specific strength building.
Based on my nearly three decades in and around the pool here are is my list of the best swim paddles out there for the chlorinated athlete.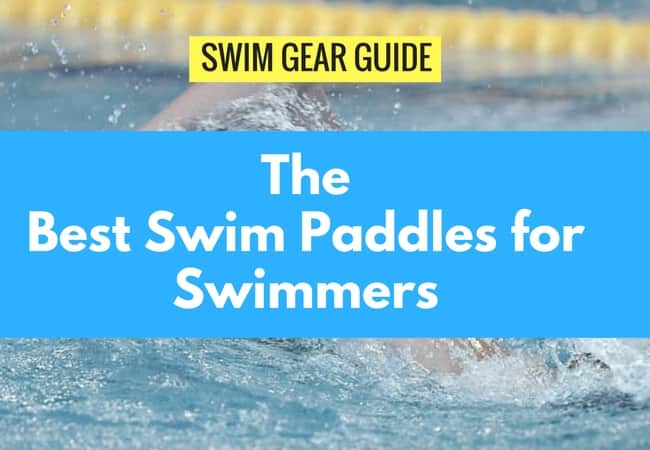 1. Speedo Power Plus Paddles
I have a black set of these paddles in my swim bag, and have been using them regularly over the past three years. The straps on them have not disintegrated whatsoever, which is remarkable given their daily use and my complete lack of care (you should rinse your swim gear from time to time) for them.
Nearly daily I use them for pull work (I eat up paddle/band/pull buoy sets like dessert). These paddles have served me well over the years, and will continue to do so.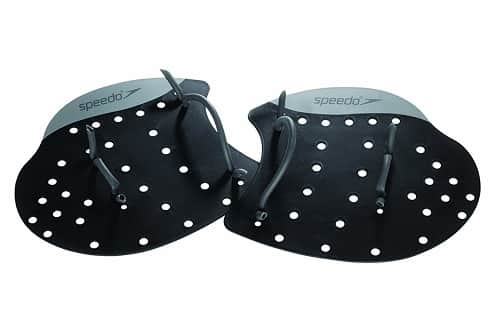 2. FINIS Agility Paddles
While Speedo is the big name in swimming equipment, whether it's with caps, goggles or suits, FINIS has quietly become the pioneering swim brand. From their snorkel, to the Tempo Trainer Pro, to their Monofin, FINIS produces a line of bad-ass swim gear developed for high performance in the water.
The FINIS agility paddle is no exception. The first time you look at them you can be forgiven for being confused—they look more like a pair of plastic plates than paddles.
The Agility paddles' biggest feature is that they come without straps to keep the paddles attached to your hand. Instead, there is a small hole to slide your thumb.
Good technique—the paddle will fly off with an improper hand entry—ensures that the paddle stays on your hand as you swim. (And yes, you can easily swim all four strokes with these paddles.)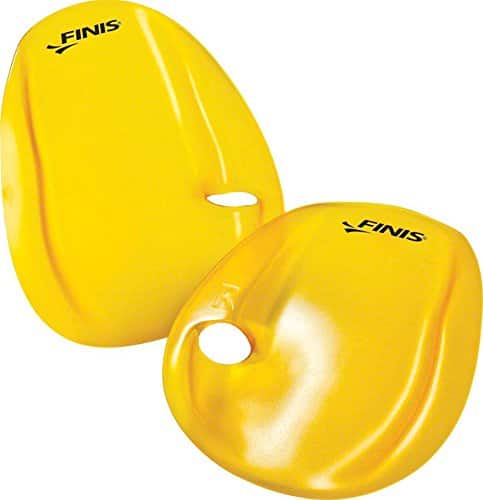 How large should I go with my paddles? The natural instinct is to get the biggest of the big paddles—the more surface area on the paddle, the faster we can hurl ourselves through the water. But a massive paddle slows down your stroke tempo so much that it becomes counter-productive. Select a paddle that is just slightly larger than your hand.
3. MP Michael Phelps Strength Paddle
When Michael Phelps and Speedo parted ways in 2014 we all knew that Phelps would come out with a line of gear of his own. Since then there have been the MP Michael Phelps Xceed goggles, his Xpresso tech suit, and of course, a set of swim paddles.
The paddle's design mimics the structure of the human hand, has an elevated palm for better ergonomics, and vents that simulate water rushing between your fingers to make the added propulsion as natural as possible.
The MP Michael Phelps Strength Paddles come with a finger and wrist straps (the latter of which you can easily remove if you want to place more emphasis on a clean hand entry), and are available in different sizes.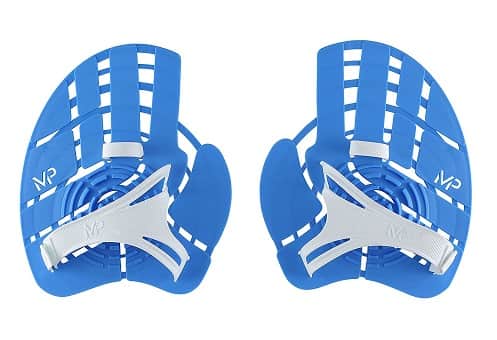 4. Arena Flex Paddles
Departing from the usual plastic dinner plates that swimmers strap to their hands is the Arena Flex paddle, which is a mesh paddle that doesn't provide the same amount of propulsion, but they are also not as hard on the shoulders as your traditional plastic paddle.
These swim paddles are more for technique improvement, as the added resistance of the mesh and the fact that water flows through the mesh will really force you to focus on achieving a better early vertical forearm. The Arena Flex paddles can be interchanged with your regular plastic paddles which are more suited for power and strength development.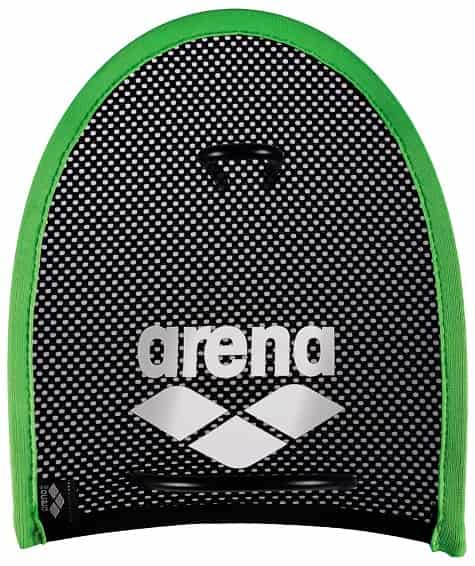 When should I use my paddles? If you are experiencing shoulder pain, or swim with brutal technique, you shouldn't use paddles. In the case of the latter, using paddles is like using weights when you are injured. In the case of the latter, building a stronger stroke is only as useful as long as you have a strong technical foundation. Otherwise, you are simply further engraining bad technique and form.
5. FINIS Freestyler Paddles
As you can probably guesstimate by the name of the paddle this one is made for you freestylers out there (present company included). I've found that they are especially popular with triathletes, who train a majority of freestyle in the pool.
The Freestyler is designed in such a way that it encourages a longer stroke and proper hand entry. Because there are no wrist straps, a poor hand entry will leave the paddle twisted on your hand. The shape of the paddle also pushes you to really reach at the beginning of your stroke, extending distance per stroke.
Fun facts about the FINIS Freestyler paddles:
They have adjustable rubber straps for your fingers.
They come in only the standard FINIS-yellow (seriously, all of FINIS swim gear is made in this same shade of yellow).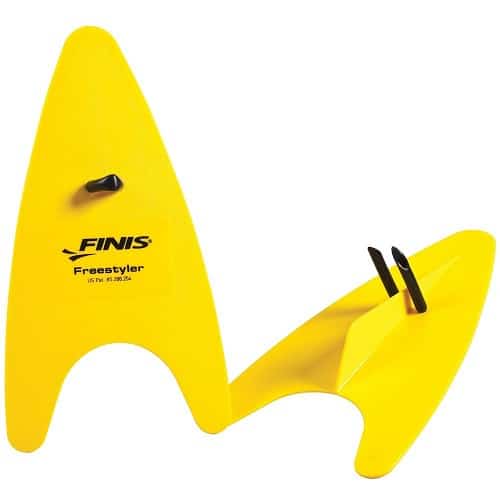 6. Arena Finger tip Paddles
Lastly, we have a specialized paddle that won't really give you the standard benefits of using paddles (building strength and swimming really, really fast).
The purpose of finger paddles is to help you power up the farthest reaches of your stroke—the point where your finger tips begin the pull. The small surface area of the paddles highlights the "feel for the water" in your fingers.
Finger tip paddles will also help you emphasize a "fingers down" pulling motion and help you avoid pushing down on the water, and instead pulling it back. Fingertip paddles are also ideal for doing sculling work.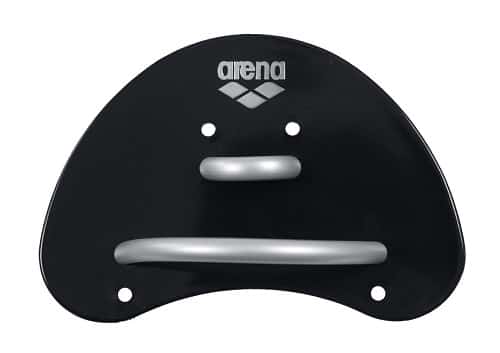 ---
More Swim Gear Guides:
The 7 Best Goggles for Swimming. Confused about what kind of goggles to get? Here's a breakdown on the best swimming goggles for fast swimming.
The Best 6 Swim Fins for Swimmers. Looking to get a new set of fins? Here are reviews of the best swim fins available for competitive swimmers.