Confused about what kind of swim goggles to get? Here's a breakdown of the best swimming goggles for every kind of swimming.
The swim goggle is one of the most critical pieces of swimming gear.
It allows you to properly see the walls, backstroke flags, and other swimmers and also keeps your eyes from getting red and irritated.
Based on 25+ years of experience in the pool, below are my best swimming goggles out there for competitive swimmers.
They are separated into two categories, training and competition, but these are only suggestions based mainly on price, as competition goggles can quickly get pricey.
Additionally, there is a detailed guide at the end that lists all of the major things to look for when choosing the right swim goggles for you.
Let's dive right in.
---
The Best Training Swim Goggles
There are hundreds of different types of goggles for swimming laps. They come in all shapes and sizes, and over my years churning around the black line I've had a chance to try just about all of 'em.
Here are my top picks for the best goggles for swimming laps and training.
1. Swedish goggles
Swedish goggles, or Swedes, are among the most popular swimming goggles for competitive swimmers, and for good reason.
The pro list for these goggles is long: They are highly customizable. They provide a terrific field of vision. They are among the cheapest swim goggles on the market. They are comfortable, once you get used to the plastic eye socket. And they make you look like a bad-ass in the water.
On the downside, they aren't ready to plug and play out of the box unlike some other goggles (some assembly required), and the latex straps do degrade rather quickly compared to goggles with silicone straps.
The Swedish goggle is available in a variety of different shades and tints, with Speedo selling a two-pack that includes a set of mirrored goggles and a pair of clear blue lenses for less than $20.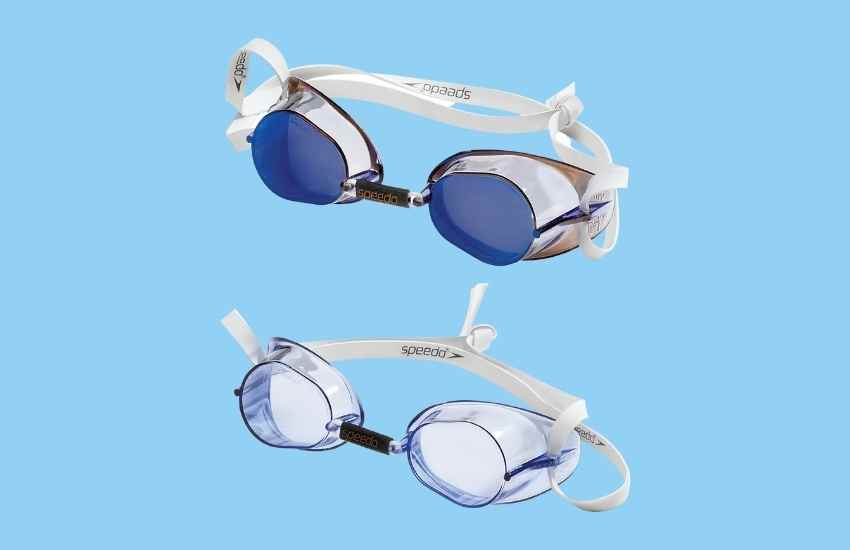 ---
2. Speedo Vanquisher 2.0 Swim Goggles
Speedo is one of the superpowers when it comes to equipment for swimmers. Over the years they have had countless Olympic and World champions in their roster, from Michael Phelps (his very first sponsorship), Nathan Adrian, Missy Franklin, Florent Manaudou, and many more.
The Speedo Vanquisher 2.0 is their most popular mid-range goggle, and the first time you put them on you understand why. The rubberized gasket ensures a very comfortable fit. The silicone straps are basically indestructible. And the adjustable nose bridge means you get a leak-proof fit.
These Speedo goggles also come ready to wear. Put em over your head, adjust the strap, and it's go time.
The two things I don't like about these goggles: the mirrored tint edition of the Vanquishers are very dark. This becomes a problem once the anti-fog begins to fade, especially if you go for a dark lens and swim indoors. The second issue is that the peripheral vision isn't as good as the Swedes.
That said, the Vanquishers are among the most popular swimming goggles in the pool for their durability, comfort, and the fact that they've never leaked water on me while swimming with them.
(They are also available in a prescription version.)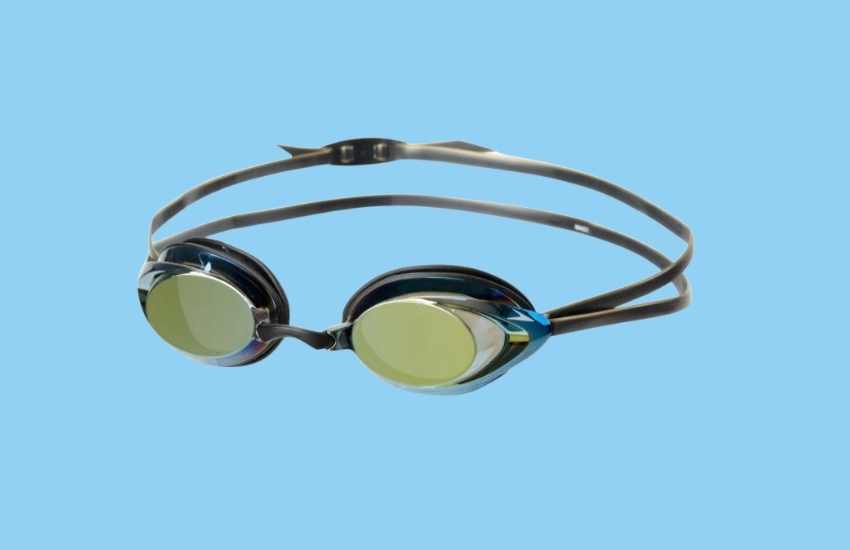 ---
3. TYR Socket Rocket Goggles
The TYR Socket Rocket goggles have earned a place in my rotation of goggles based on the fact that they've combined some of the best features of the Swedes and the Vanquisher.
They feature a sleek look that is reminiscent of the Swedes. There is an adjustable nose piece that you can use with the packaged string and silicone tube, or you can use the goggles "as is" with a piece of strap for the nose bridge.
The goggles are also lightly rubberized on the gasket, like the Vanquishers 2.0, which make them comfortable and also leak-proof.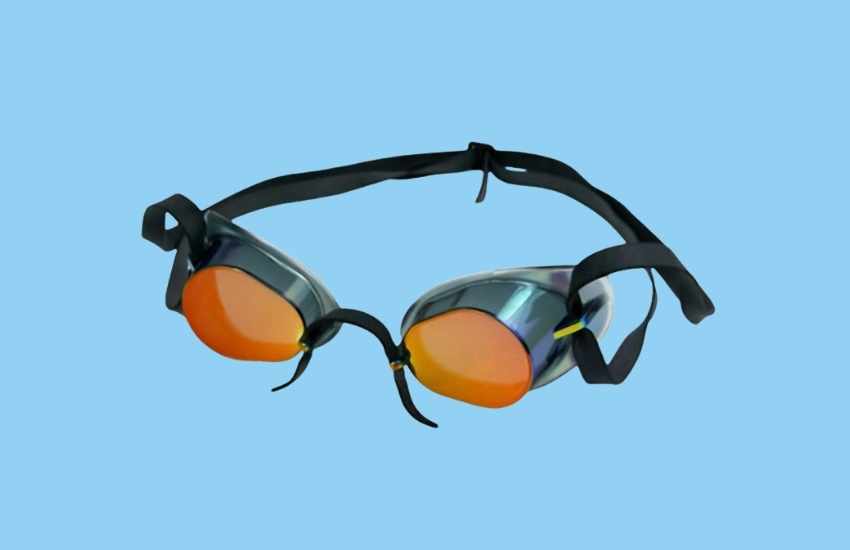 ---
4. The Speedo Speed Socket 2.0 Swim Goggles
There aren't many truly hybrid goggles on this list, but the Speedo Speed Socket 2.0 (fully reviewed here) is one of them. It's equally at home in training and competition.
The Speed Socket 2.0 goggle has been well represented in international competition, with sprint phenom Caeleb Dressel wearing them, most notably during the FINA World Championships in Budapest in 2017 where he won 7 gold medals. This goggle was formerly worn by Michael Phelps in competition before he moved on to his own brand of goggles.
The goggle has a slim profile, but unlike the Vanquishers, has better peripheral vision. The Speed Socket and the Vanquisher share a lot of features that I really like, including silicone straps, different-sized nose bridges, and a rubberized gasket that helps to suction your goggles to your face for a leak-proof fit.
The Speed Sockets are durable goggles that are excellent for extended use in practice while also sporting a slim profile that makes them ideal for race day as well.
Speed Sockets are also priced super reasonably (especially compared to some of the high-end racing goggles) with the Sockets half the price of its more expensive older brother, the Speedo Fastskin Hyper Elite Goggles.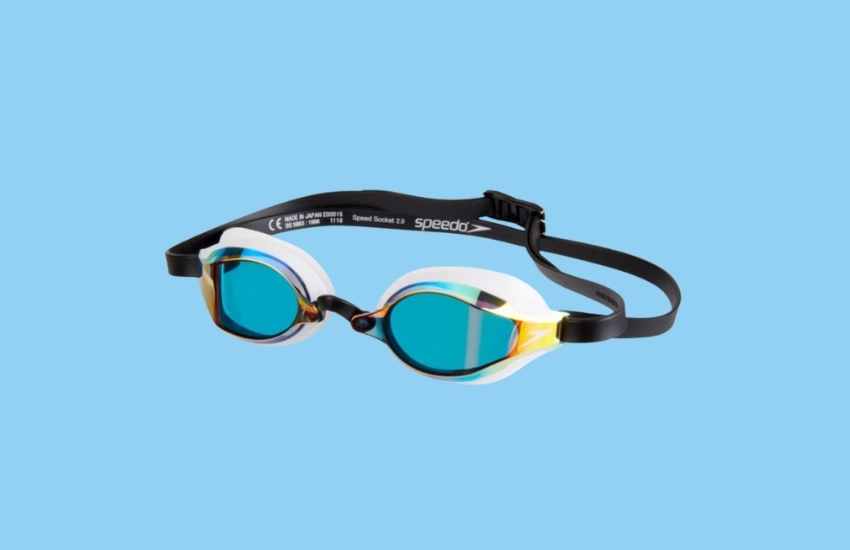 ---
5. FINIS Smart Goggles
⭐ Best smart swimming goggles
Technology in the pool has come a long way in the past few years, and nowhere is this most apparent than with the first generation of smart swimming goggles.
The FINIS Smart Goggle is a game-changer for swimmers, with a heads-up display that sits in the corner of your swim goggle that tracks time, intervals, how much rest you have taken, number of laps, splits (per lap and per repetition), and more.
There are a couple of reasons the FINIS Smart Goggle is currently the best type of this swim goggle on the market.
For starters, when the goggles eventually wear out, you only need to replace the goggles (FINIS sells them for $35) and not the HUD unit, which can be detached from your old goggles and plopped into the new set.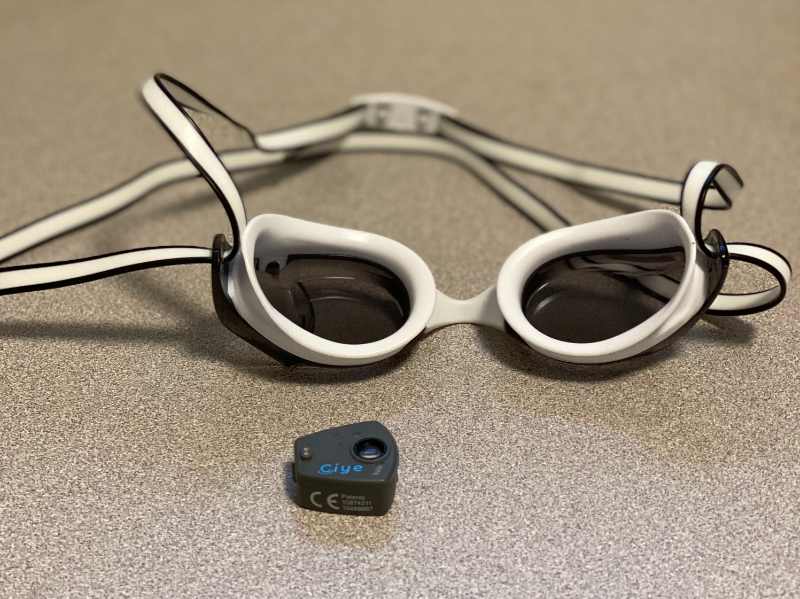 This is a major benefit compared to its main competitor, the FORM Swim Goggles, which were the first smart goggles to hit the pool and require you to re-buy the whole set (at a cost of around $200).
Additionally—and this is a personal preference—the HUD doesn't dominate the full goggle lens. Unlike the FORM goggles, which perpetually have a digital display on the goggle lens, with the FINIS Smart Goggles, you simply look to the left with your left eye to catch a glimpse of the digital display.
I like this "choose when to see the info" approach as I can spend more time focusing on my technique than reading numbers.
The FINIS Smart Goggles are certainly not for everyone, especially at a price tag of around $235, but for swimmers who train on their own, want to track their swimming (the app for the goggles is excellent), or who want the added push that comes from seeing your pace, these swim goggles are an awesome long-term investment in your training.
The FINIS Smart Goggle comes in two different tints (blue and smoke), a carry case, charging cable, and six different nose bridges for a custom fit.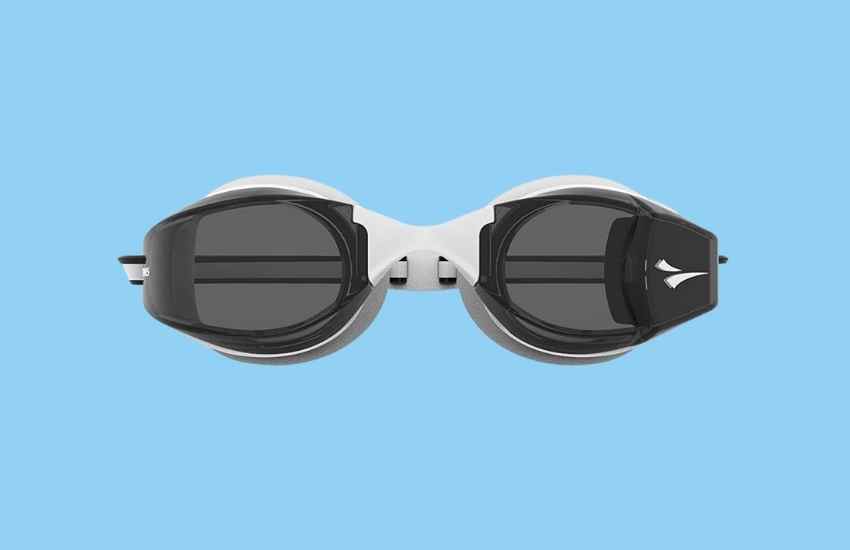 ---
The Best Competition Swim Goggles
1. Speedo FastSkin Hyper Elite Goggles
One of the biggest fears competitive swimmers have is of their goggles springing a massive leak off the dive of an important race. It happened to Michael Phelps in the 200m butterfly at the Beijing Olympics, leaving the champion swimmer effectively blind for the final 150m of the race.
🏊 Want even more racing goggles for swimming? I've put together a comprehensive of the best swimming goggles for competition and racing here.
Speedo, and the latest generation of their Fastskin Goggles, have sought to quell this particular anxiety with something they call IQ Fit 3D, which is something they came up with after scanning thousands of faces and heads at their research facility in the United Kingdom, fittingly called Aqualab. The result is a seal that hugs the socket of the eye, giving it a tight, comfortable fit.
These goggles are also designed with a slim profile, have silicone straps that won't slide around under your swim cap, and are designed to be a part of the FastSkin racing system, including Speedo's elite tech suits.
The Speedo FastSkin Hyper Elites are definitely a premium goggle, costing over $70 (check SwimOutlet for current deals and pricing) and come in your choice of three different colors.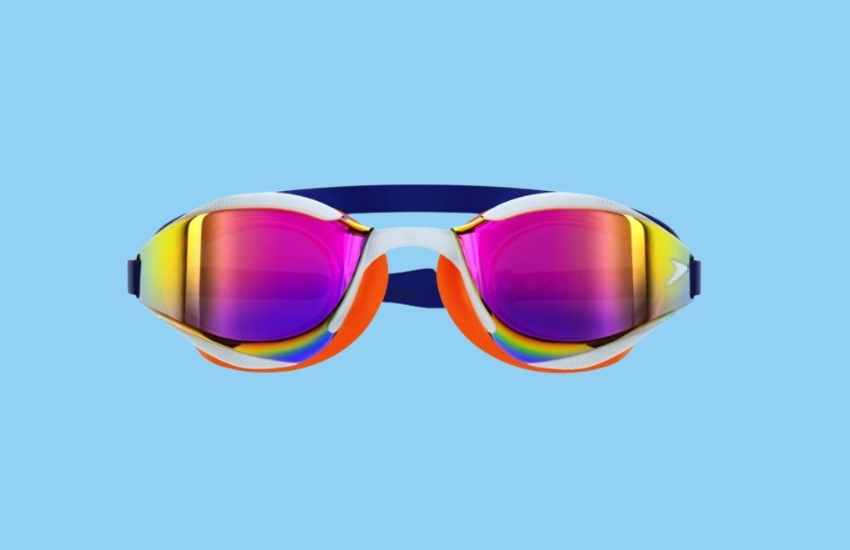 ---
2. Arena Cobra Ultra Goggles
I love the look and comfort of these goggles. (See also: 5 Reasons I Love My Arena Cobra Ultra Goggles.)
They are mega low-profile to give you a hydrodynamic edge in the water. The lenses are made with a hard polycarbonate for durability, and they come with silicone straps, which means that they will last for a long time while also providing a very secure and comfy fit on your head.
Because of the low profile design of the goggles, and this is a common issue with these types of goggles, including the FastSkin goggle, is that swimmers with particularly long eyelashes will find them brushing against the inside of the lenses.
Adam Peaty, the man who has been completely rewriting the record books in the sprint breaststroke events, has long worn these goggles. They come in a variety of colors and tints.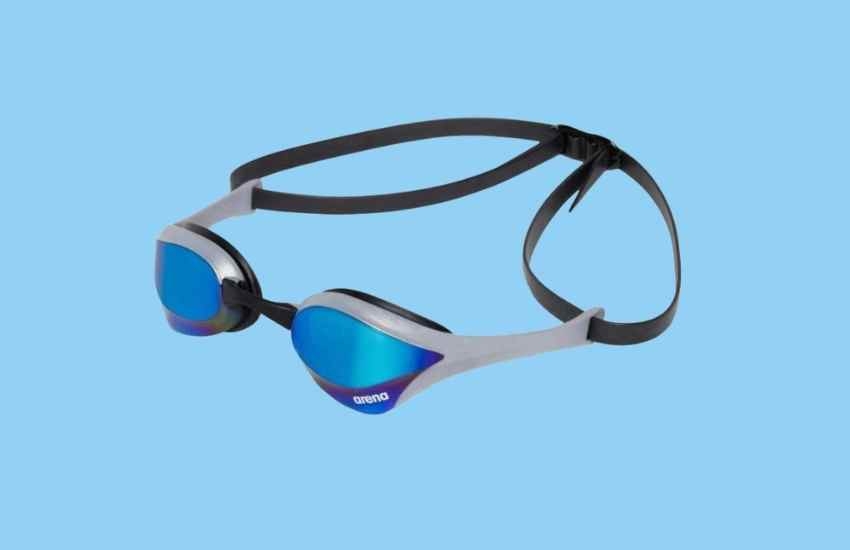 ---
3. MP Michael Phelps Xceed Goggles
When Michael Phelps and Speedo part ways in 2014 you just knew that the GOAT would come out with a product line of his own. The following year he partnered up Aquasphere and launched the MP line, featuring a snorkel for swimmers, swim fins, and yup—swim goggles!
The MP Michael Phelps Xceed Goggles are the high-performance goggle offering from the MP brand and were the same goggles that Phelps wore during his final Olympic performance in Rio during the summer of 2016.
Major features of the goggles: they have an awesome field of vision, which is handy during those really busy meet warm-ups, and for checking on the competition mid-race without turning your head. They are also available in a wide variety of colors and lenses.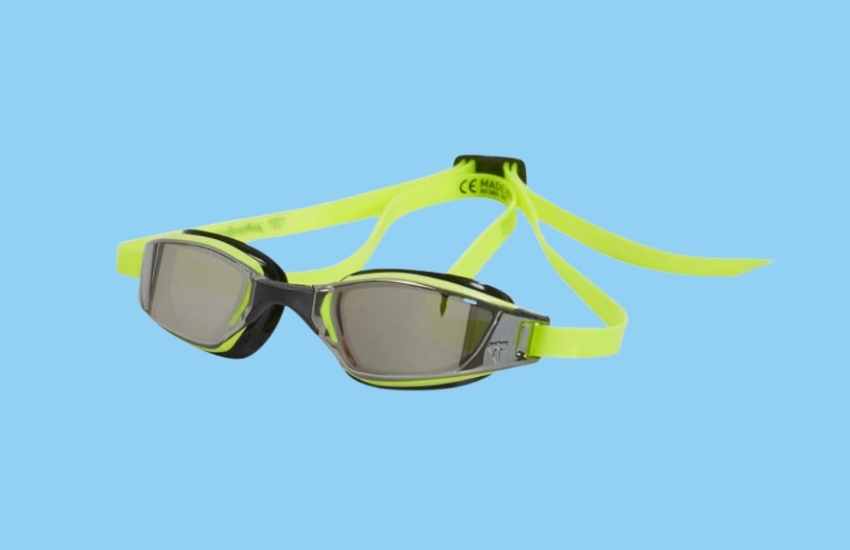 ---
Tips for Choosing the Right Pair of Swimming Goggles
Swim goggles are surprisingly simple when it comes to what we want to be able to do with them.
To be able to see while we are swimming.
Simple enough!
But there is a surprising number of factors when it comes to choosing the perfect set of swimming goggles.
Here are the biggies:
🏊 Gasket vs no gasket.
Most popular swim goggles have a rubber gasket on the ocular lens. The Vanquishers, Speed Sockets, and so on all have these silicone folds that buffer your eye socket and the goggle.
The reason for this is two-fold.
First, rubber or silicone gaskets are more comfortable on the face than hard plastic (old-school Swedish goggles have a hard plastic that can leave your face feeling a little sore).
Second, the gasket also compresses slightly into your skin, creating a suction that keeps water from seeping into the lens.
🏊 Silicone vs Latex rubber.
Not too long ago, most swimming goggles transitioned to silicone for the head straps, and soon after, the goggle frames and gaskets.
Silicone is a hypoallergenic material that is soft and extremely durable. Compared to latex rubber, silicone doesn't degrade and fade when exposed consistently to chlorine and the sun.
While a majority of today's swimming goggles are primarily built with silicone, there are a few hold-outs that use latex, including my favorite training goggles, the old-school Swedes.
🏊 Head straps.
A dual-strap is helpful for getting a leak-free experience when swimming, allowing you to set the straps to a height and angle that keeps your swim goggles firmly in place.
Some head straps split in two at the back of the head, while others have two straps all the way around.
Choose a head-strap that will make you feel comfortable and secure so that your goggles don't move around and spring a leak when swimming.
🏊 Nose pieces.
We all have different-sized faces, which means that goggles need to be adjustable!
Generally, popular swim goggles ship with up to five different nose bridges, while others have string so that you can set the distance between the goggle lenses to your liking.
Swim masks and some open water swimming goggles have a one-piece goggle frame that doesn't give you this adjustability.
🏊 Lens tint.
A major consideration is the tint of your swim goggles.
Swimmers who do laps in a darker pool will want to lean towards a lighter lens tint to maximize sight, something that becomes especially important when the interior of the goggle lens fogs up during strenuous swim workouts.
Darker tints and mirrored lenses are best suited for outdoor pools to protect your eyes from the sun and keep you from squinting like crazy from the glare on the surface of the water.
🏊 Lens size.
The main function of swim goggles is to help you see in the water! Seems super obvious, but this basic point can get lost in our search for stylish swim goggles.
Competitive swimmers will want a goggle lens that is smaller, low-profile and allows them to see clearly to the front and to the sides.
Open water swimmers, and more casual swimmers, might be more comfortable with a larger, wider lens that broadens vision.
🏊 Cost.
Racing goggles, with their slim profile, are at the high end of pricing, with top-tier goggles costing $70 or more.
Most swimmers will be pumped on a hybrid goggle like the Speed Sockets 2.0, which are an excellent balance of low profile, comfort, and price.
---
Other Swim Goggle Guides:
Didn't find the goggles you were looking for in this fancy-pants little list?
Welp, I've got ya covered.
There are a few other serious swim goggle guides on our website that cover every kind of chlorinated goodness, from you open water swimmers to the best goggles for kids and toddlers.
Here they are:
5 Best Prescription Goggles for Swimming. Ready to take on the pool, but want to be able to take your prescription with you? Here are the best prescription goggles for swimming.
8 Best Swimming Goggles for Kids. Looking for the best pair of swim goggles for kids? From backyard splashing to competition, we break down the top goggles for kids to splash around in the pool in 2019.
5 Best Goggles for Open Water Swimming and Triathlons. Ready to dominate your open water race? Here's a breakdown of the best swim goggles for open water swimmers and triathletes.
5 Best Anti-Fog Sprays for Swim Goggles. Extend the life of your new swimming goggles with an anti-fog spray to help you keep your vision crystal-clear and fog-free in the water.