Ready to take on the pool, but want to be able to take your prescription with you? Here are the best prescription goggles for swimming.
As someone who wears prescription glasses (or contacts) you already know how important it is to take care of your eyes.
This care and attention extends itself to the pool as well—swimming goggles are important from a safety perspective—they allow you to correctly judge walls and avoid other swimmers, but also keep harmful irritants and chemicals like chlorine and its nasty step-brother chloramines from causing itchiness and bloodshot eyes.
While you don't get the same selection of goggles as those without prescription vision, there are lots of options out there.
Here's a breakdown of the 5 best prescription swim goggles for all your swimming needs.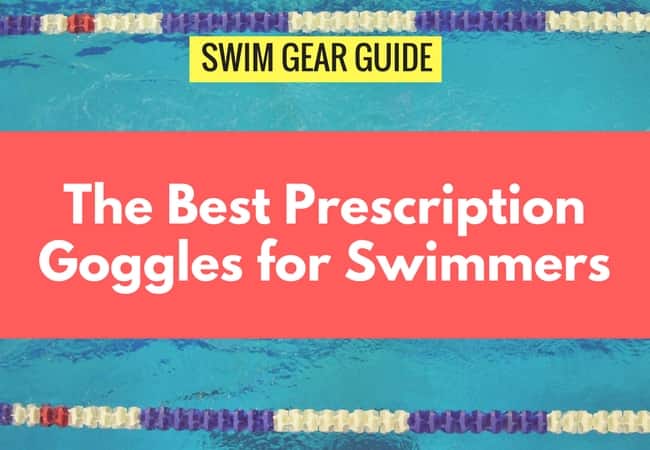 1. Speedo Vanquisher Prescription Goggles

(TOP PICK)
The Speedo Vanquishers are one of my favorite pair of goggles.
They are durable as heck with their silicone straps (compared to the latex head straps older goggles come with—they fade crazy fast!), they are stylish, and in the years of wearing countless pairs of them, they have never sprung a leak on me. On top of all of that, they are Speedo goggles, which is good enough for me, regardless of what kind of goggle we are talking about.
The prescription Vanquisher comes with four different nose pieces, ensuring that you get the perfect fit for your particular face (mine fit right out of the box), and the goggles are polycarbonate and shatter-proof.
The goggles are anti-fog (for a while at least—all goggles say this but the anti-fog inevitably wears off) and even offer UV protection making them ideal for outdoor swimming.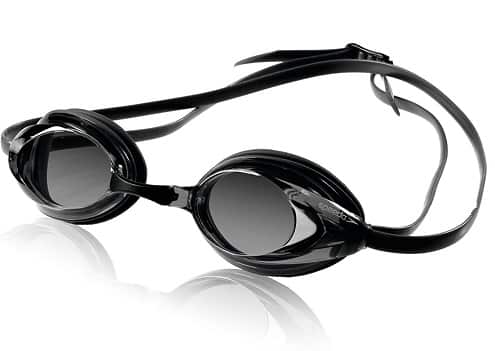 ---
2. TYR Corrective Optical Goggle
The only other representative of the main competitive swim gear brands is TYR's prescription goggle.
Because you can easily disassemble these goggles, it is a suitable set for swimmers who have different RX in each eye. Simply buy one pair at each prescription, take them apart and reassemble so that each lens matches up with the designated eye.
This option is hilariously cheaper than buying a pair of custom-made goggles, which usually runs in excess of $200 per pair.
They don't leak, they are comfortable, and with the old school adjustable nose piece you can find a good fit to your face.


---
3. WAVE Prescription Mirrored Goggles
Mirrored goggles are a popular look in the pool. And this tint of goggle is practical for those of us who are lucky enough to get to do our laps out under the sun. The WAVE swim goggles are one of the prescription goggles that feature a mirrored lens.
The WAVE goggles are covered under a lifetime warranty, and the silicone eye gasket provide a comfy, leak-proof fit.
The only thing I didn't like with these goggles is that the gasket frame is really thick, so peripheral vision isn't all that great in comparison to the Vanquisher.
---
4. Splaqua Clear Prescription Goggles
While trying to pronounce the name of this particular goggle maker is difficult (Splah-qua?), being able to see out of them certainly is not.
Clear lenses are excellent for the simple reason that once the anti-fog in your swim goggles wears off (and I promise you that it will–it's just a matter of when), you will still be able to see comparatively well compared to darker and mirrored tint goggles.
The straps and gaskets are made of silicone, and the lenses are made of shatter-proof polycarbonate (handy for those moments you step on your swim bag). Diopters go all the way up to 10.0.
The design and look of these goggles are simple, which is what I like most about them. They are available in the blue (as shown below), as well as in black.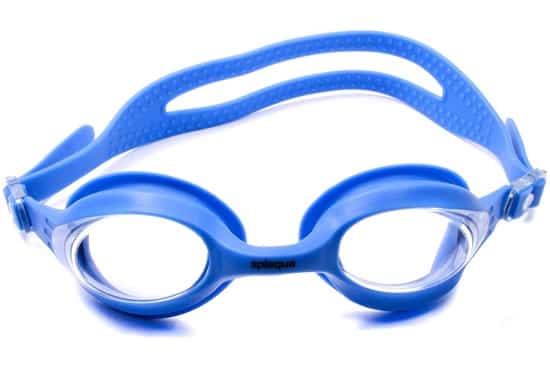 ---
5. Dr. B Barracuda Optical Swim Goggles
Lastly, we have the Barracudas.
I'll admit–they are a unique set of goggles (and I mean that in a good way).
The field of vision is quite good, particularly when looking to the sides. The goggle straps are made of silicone, and the rubberized gaskets are comfortable against your face, making them great for those longer swims.
The mirrored look is a solid bonus–especially for you open water and outdoor swimmers. And they have the same bracket and strap system that I thought only the Arena Cobra Ultra goggles featured (the straps meet the "bracket" halfway around your head instead of the straps looping into the gaskets).
With all these features I suppose it's not a surprise that they are more expensive. In fact, they are easily the most expensive goggles on this list, available for around $45-50 per pair.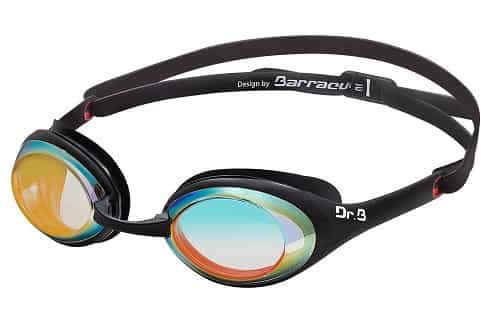 ---
More Swim Gear Guides Kinda Like This
The 7 Best Goggles for Competitive Swimmers. Our breakdown of the best training and competition goggles. Includes goggles from SPeedo, MP Michael Phelps, Arena, and more.
Swim Goggles: Everything You Ever Wanted to Know. From the history of swim goggles (we "borrowed" motorcycle goggles at the beginning), to the reasons why it's so important that you wear them in the water.