Frustrated with foggy goggles interrupting your swim practices and races? Here's a detailed look at the best antifog swim goggles for clear vision and fast swimming.
Your swim goggles are a critical part of your swim practices and racing.
But there's probably nothing more frustrating than when they start fogging up.
Instead of focusing your energy and concentration on your workout or race, you are counting down the seconds to the next wall so that you can wipe away the fog and regain some vision.
Almost every pair of swimming goggles worth their salt has some sort of anti-fog coating on the inside of the goggle lens.
How long the anti-fog lasts depends on a few things:
✅ Tint of the lens. A darker goggle lens has the double-whammy effect of making your vision cloudy and dark when the anti-fog inevitably fades. This problem compounds in darker, indoor pools.
✅ Not rubbing. Swimmers instinctively use their fingers as windshield wipers on the inside of the lens to remove water, sweat, and fog. I'm super guilty of this. Doing this might clear the fog in the moment, but it also wipes away that delicate layer of anti-fog.
✅ Use of anti-fog sprays. There are lots of cheap anti-fog sprays on the market that are effective at extending the life of your goggle's anti-fog protection. Other homemade remedies include spit (seriously).
While most swimming goggles have some measure of anti-fog protection, there are a couple of goggles that truly stand apart from the rest of the crowd.
Here's a look at the top antifog goggles on the market, key features, price, and more.
Let's dive right in.
Arena Cobra Ultra Swipe Anti Fog Swim Goggles
⭐ Best overall pick for top antifog swim goggles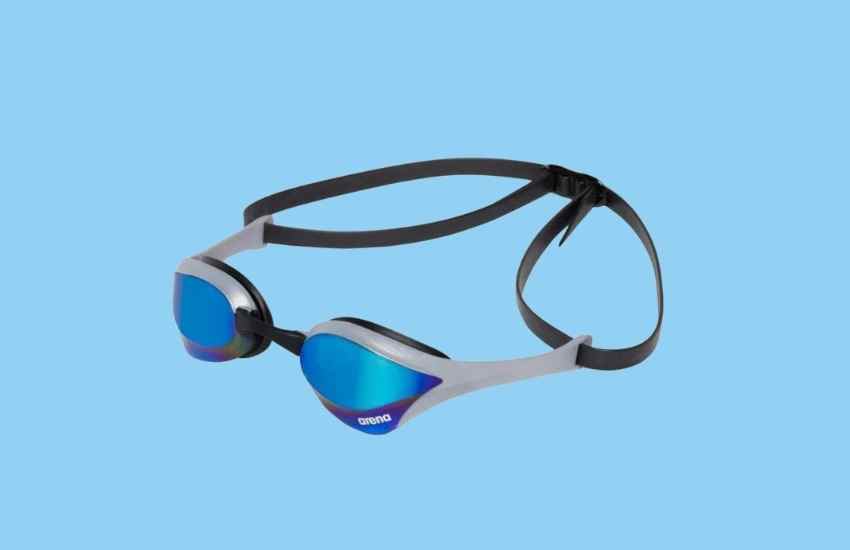 Foggy goggles have been around as long as there have been swimming goggles, and with all of the tech and advancements in goggle construction, it's shocking that it took this long for a swim brand to build a goggle that is truly anti-fog.
Meet the Arena Cobra Ultra Anti Fog Swim Goggles.
As impossible as a promise as it sounds, they are truly an anti-fog swim goggle.
When your goggles start to fog, gently wipe the inside of the lens while the goggles are submerged and the film inside the lens is "activated" to remove fog.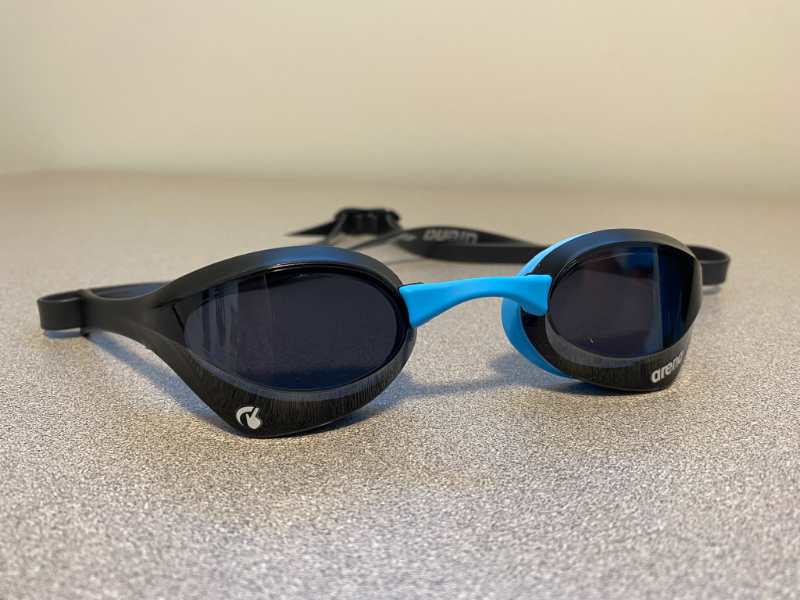 That simple and that awesome.
The Arena Cobra Ultra Swipes are also one of the best racing swim goggles on the planet. They have a very low profile, dual silicone head straps for a custom fit, and a variety of colors and tints to choose from.
Only downside is the price—the Arena Cobra Ultra Swipes are at the high end of the spectrum when it comes to goggle pricing, retailing for around $65-70.
That said, if you want a truly anti-fog swim goggle, there is nothing else on the market remotely like them.
---
Magic5 Swim Goggles
⭐ Best (and only!) custom anti-fog swim goggles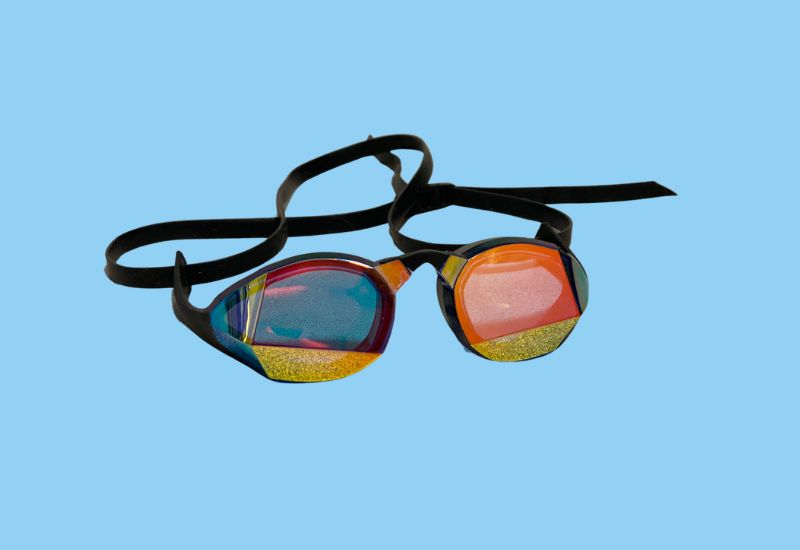 The Magic5 Swim Goggles are one of the coolest advances in swim goggles in recent years (along with the smart swim goggles on the market including the FORM Swim Goggles and FINIS Smart Goggles).
They are specifically built for the unique shape and contours of your face.
How do the Magic5 Swim Goggles perform this space magic, you ask?
With an app that you download to your smartphone, and using the camera, the app performs a 3D scan of your face. A week or two later, a brand-new set of swim goggles land on your doorstep.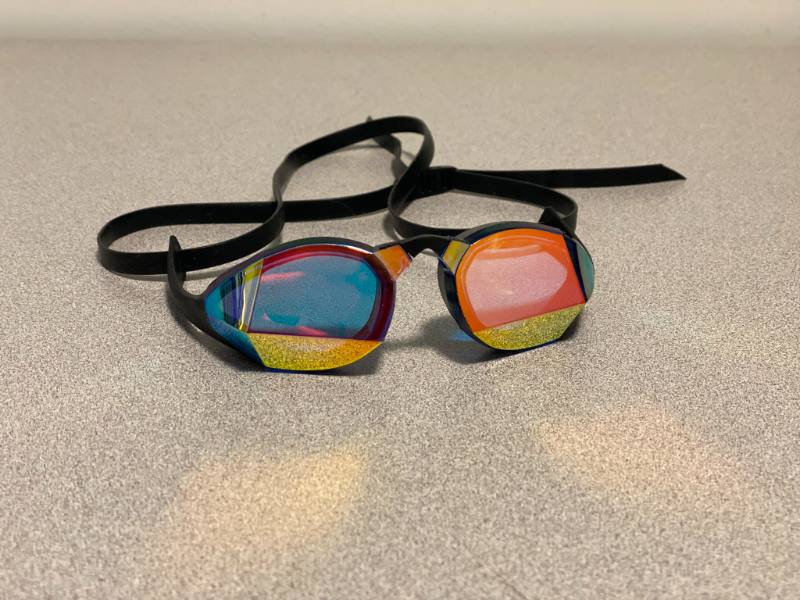 The customized shape of the gasket and lens ensures a secure and comfortable fit that is unique to you. And because you don't have to squeeze the swim goggles deeply into your face to "lock" them into place, the goggles can be worn a little looser, helping to eliminate headaches from goggles and those bright goggle marks after a long swim in the pool.
The anti-fog coating is legit, as well, and Magic5 offers an anti-fog spray (for an additional $15) that can extend the life span of the anti-fog properties of the goggles.
The custom aspect of the goggles drives the price up compared to traditional swim goggles, with the Magic5 goggles retailing for around $90 (discounts available for bundles, so that's one way to drive down the price).
That said, the Magic5 Swim Goggles are in a league of their own, and rightfully so when it comes to comfort and a leak-free fit.
---
Arena Cobra Swipe Tri Swim Goggles
⭐Best anti-fog swim goggles for open water and tri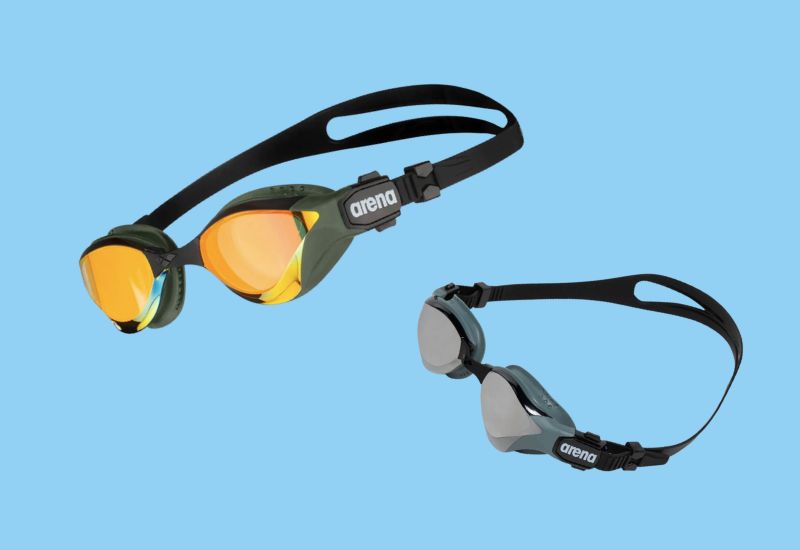 When Arena released the original Cobra Ultra Swipe, the response was so overwhelming that they quickly committed to an open water and tri swim goggle.
Hence, the Arena Cobra Swipe Tri Swim Goggle.
It has the same anti-fog technology that extends goggle clarity by a factor of 10* compared to regular swim goggles.
Once the goggle lens develops that familiar and frustrating fog of condensation, gently rub the inside of the lens and whammy, clarity restored.
Besides the fact that the Arena Cobra Swipe Tri Goggle has—hands-down—the most effective anti-fog of any open water goggle, these goggles perform like a total champ.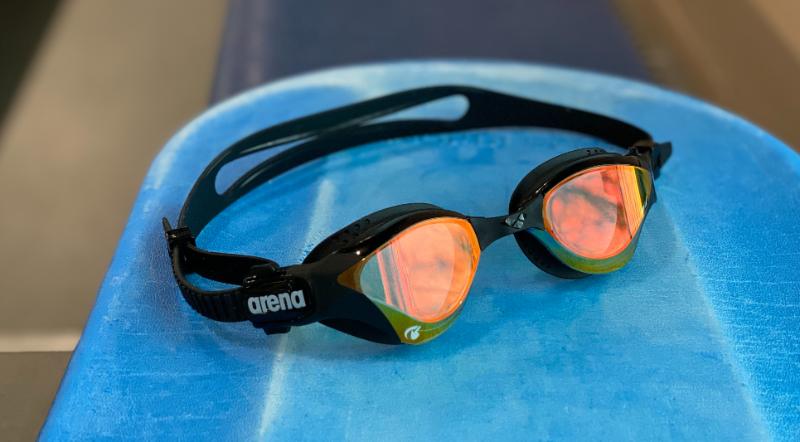 For starters, the gasket and lens are nice and thin, sinking gently into your face, creating and almost impenetrable seal. The head straps can be adjusted from the sides. And the lens is wider compared to the pool version for enhanced peripheral vision.
The Arena Cobra Ultra Swipe Tri Goggles are a mouthful to say, but with three color options to choose from, best-in-class anti-fog, and the cobra look to the frames, you can hit the water with confidence and speed.
*Rough guesstimate based on my experience. So take that for what it's worth.
---
Speedo Swedish Swim Goggles
⭐Best old-school anti-fog training swim goggles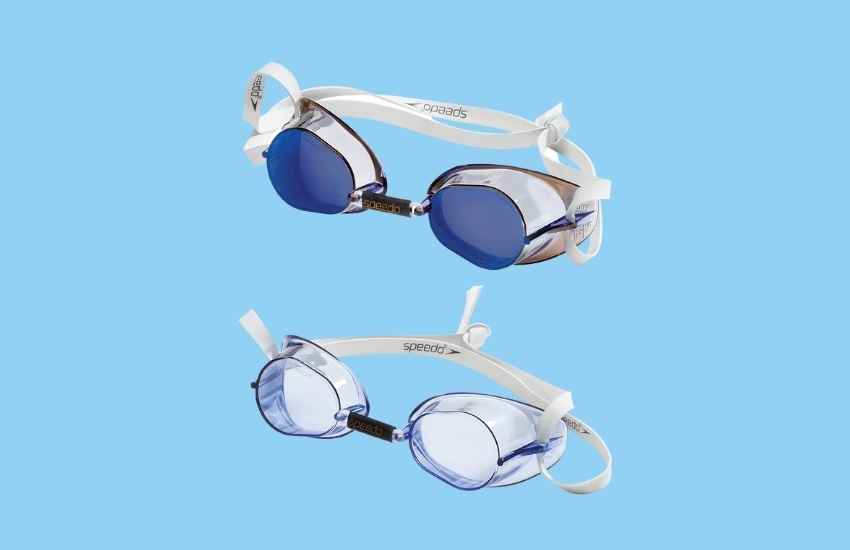 Swedish goggles are a favorite among many swimming purists (including me), and there are a lot of great reasons why, from affordability to customization. Swedes, or Swedish goggles, provide the longest duration of clarity that I've ever experienced with a swim goggle.
Even after the anti-fog has completely evaporated, the mirrored version of this goggle still provides more clarity than more expensive and newer swim goggles.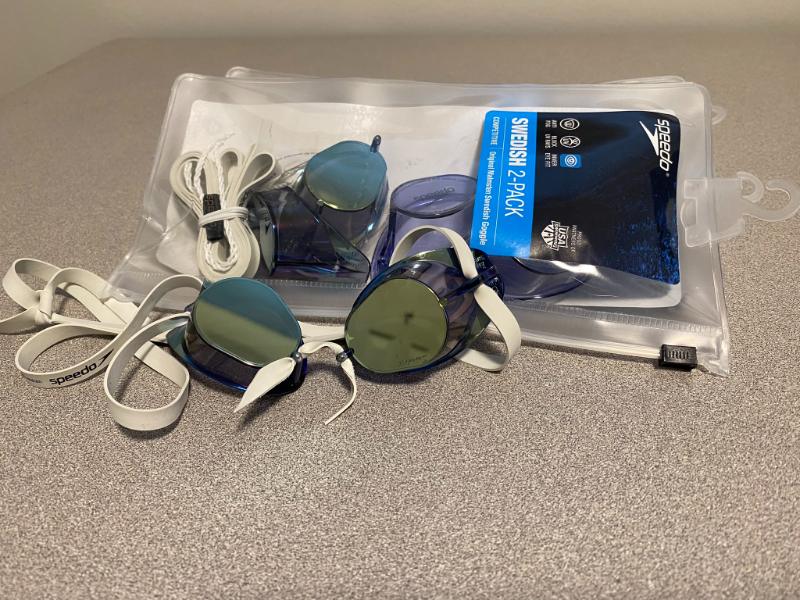 Related: Swedish Goggles – One of the Best Swim Goggles on the Market
These goggles aren't for beginners, with a lens that is hard plastic and may leave your eye socket feeling a little sore after initial use. Also, they use latex straps, which degrade much faster than silicone straps.
But for me, and countless other swimmers who swear by these goggles, they are one of the best anti-fog swim goggles on the market.
The coolest thing about these goggles is that they are exceptionally bright, even though they have mirrored lenses. This is because there is no plastic or silicone frame surrounding the lenses.
Speedo sells these in a 2-pack (mirrored and a regular light blue tinted lens) and they retail for less than $20, making them an exceptional deal and a great way to see clearly for longer in the water.
---
Sporti Antifog S2 Swim Goggles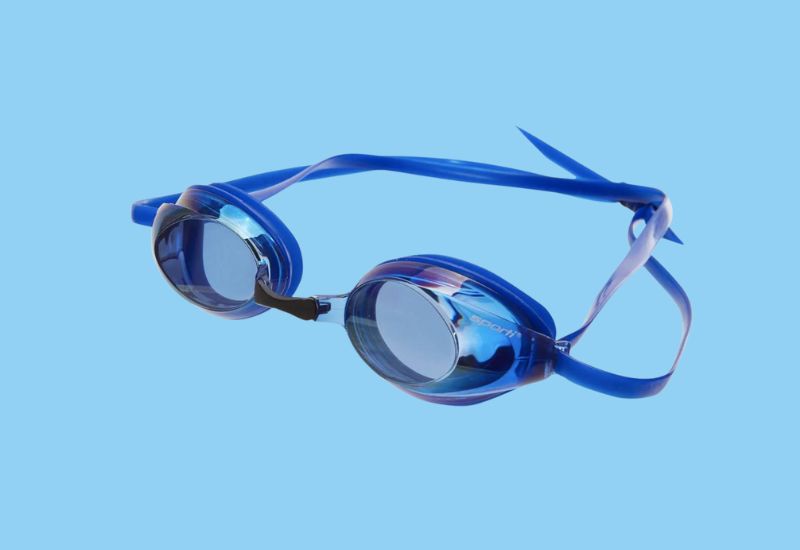 Sporti is a low-cost maker of swim gear. With a line-up of budget swimsuits for women, water ankle weights, mesh bags, and more, Sporti makes gear that is comparable to the big names with a smaller price tag.
Their lineup of swimming goggles has antifog in each goggles' product name, but the antifog technology is similar to most other goggle makers, with a thin layer of protective coating applied to the inside of the lens.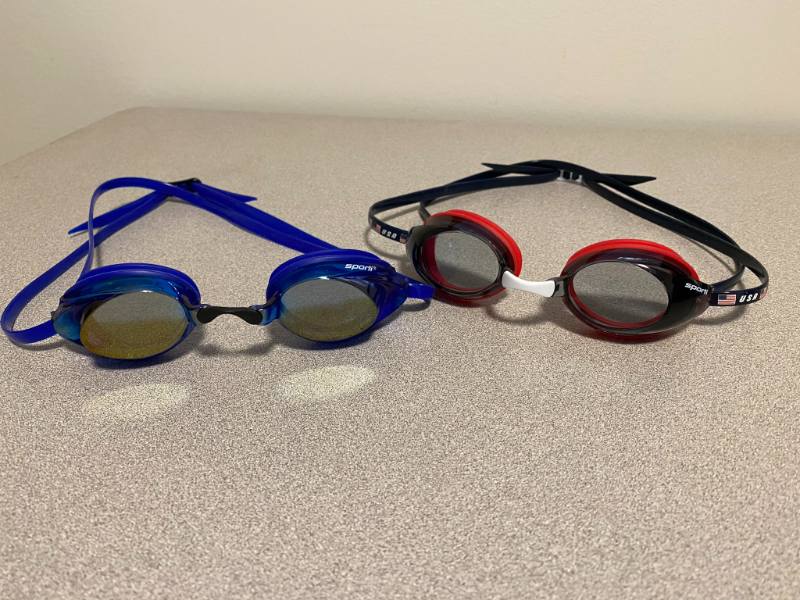 Also shatter-resistant, and with straps that are made of durable silicone that won't fade and break quickly, the Sport Antifog S2 Swim Goggles come in a wide variety of colors and color combinations.
The big benefit to the Sporti goggles is their price point, with a set of goggles costing just around $6-7 (check SwimOutlet for current pricing and deals).
---
Speedo Speed Socket 2.0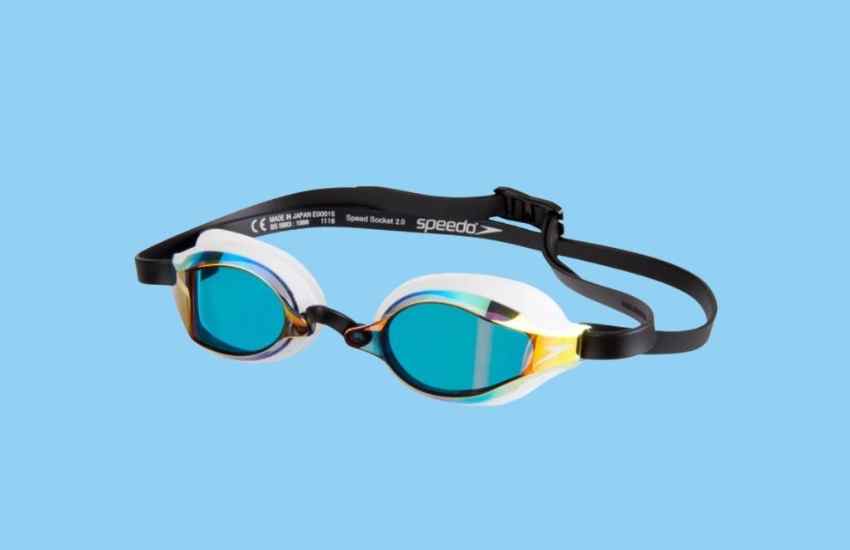 I really like the Speedo Speed Sockets, which are one of Speedo's best-selling goggles. (Caeleb Dressel, Olympic gold medalist and world record holder swears by these goggles, too.)
While they aren't as popular as the Speedo Vanquishers, they do provide longer-lasting antifog protection. Why this is, I am not sure, but after having these goggles on and off for years, as well as Vanquishers, I've noticed that when it comes to Speedo goggles and antifog, these ones simply last longer.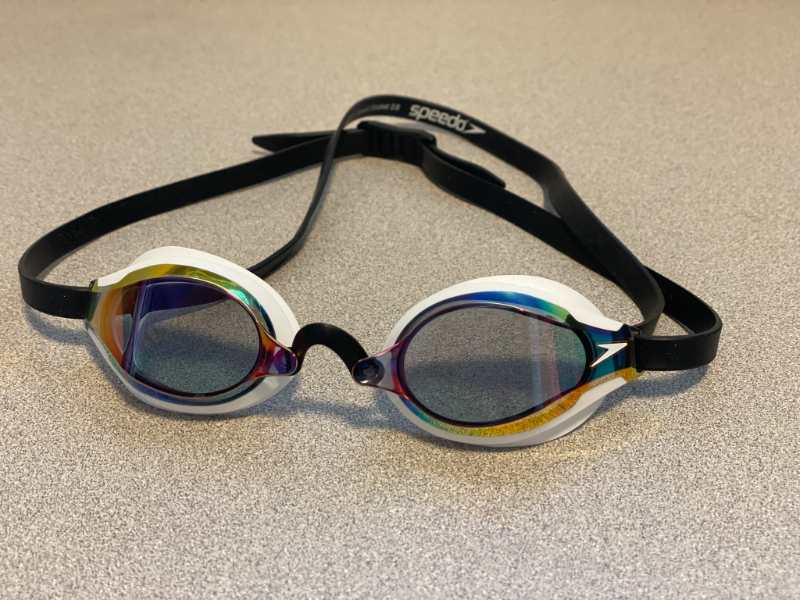 The Speedo Speed Socket 2.0 is a high-performance goggle that can be easily used both in competition and at swim practice. The newest version of the goggle has increased peripheral vision and hypo-allergenic gasket seals that sit comfortably on your face during those long swim practices.
Available in a variety of different colors and tints, featuring long-lasting silicone straps, an adjustable nose piece, and a very approachable price (around $25-30—check SwimOutlet for current pricing and special offers), the Speed Sockets are an excellent goggle for new swimmers and Olympic champions alike.
---
More Swim Goggle Resources and Guides
Didn't find the goggles you were looking for in this guide?
I've written about tons of other goggles on this website.
Take advantage of my 30+ years in the sport to find the perfect set of goggles for you.
7 Best Swimming Goggles on the Market. Confused about what kind of swim goggles to get? Here's a breakdown on the best swimming goggles for every kind of swimming.
5 Best Prescription Goggles for Swimming. Ready to take on the pool, but want to be able to take your prescription with you? Here are the best prescription goggles for swimming.
8 Best Swimming Goggles for Kids. Looking for the best pair of swim goggles for kids? From backyard splashing to competition, we break down the top goggles for kids to splash around in the pool in 2019.
5 Best Goggles for Open Water Swimming and Triathlons. Ready to dominate your open water race? Here's a breakdown of the best swim goggles for open water swimmers and triathletes.
Best Racing Goggles for Dominating the Competition. Looking for some high-performance swim goggles for crushing it on race day? Look no further.