Ready to dominate your open water race? Here's a breakdown of the best swim goggles for open-water swimmers and triathletes.
For swimmers and triathletes who compete out in open water, a lot of attention and focus in placed on gear (especially you triathletes!). There is a reason that the triathlete's bag is typically filled to the brim with equipment.
While goggles can seem like a basic piece of swim gear (also doubling as probably the cheapest part of your race and training kit), they can make or break your swim.
The wrong pair or fit will leave you stopping and treading water, trying to adjust and clear the lenses. The right pair sticks to your face as planned and helps you sight and stroke your way to a bad-ass swim.
In this guide to picking out the best open water and triathlon swimming goggles, we will cover some of the things to consider while going through the purchasing process, some good goggle habits to keep with you after buying, and of course, a list of top goggles for open water swimming.
Let's get after it.

---
Best Goggles for Open Water Swimming and Triathlons
1. Magic5 Swim Goggles
🥇 Best custom swim goggles for open water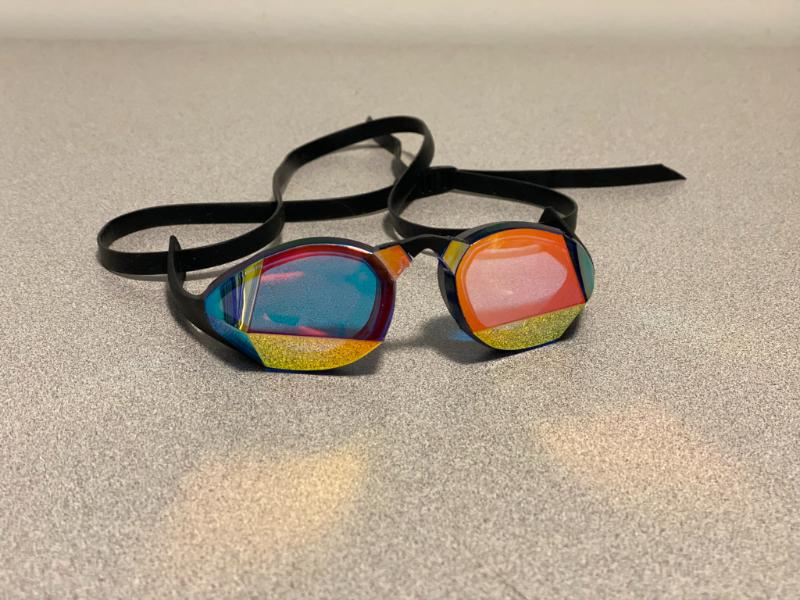 The Magic5 Swim Goggle lives in a category of its own… it is a pool and open water/tri swim goggle uniquely designed for the shape and contours of your face.
Literally.
When you order a pair of the Magic5 Swim goggles—yes, they were actually on Shark Tank—you download their app, scan your face ,and a week or so later, a set of custom swim goggles based off the scan shows up on your doorstep. Crazy!
Because the swim goggles are custom fit to your face, they are exceptionally comfortable for long stretches and don't require being stuffed into the face for a leak-free fit.
This is great news for open water and tri swimmers, who let's face it, put in long sessions at the pool or out on the water (or at least, should ?).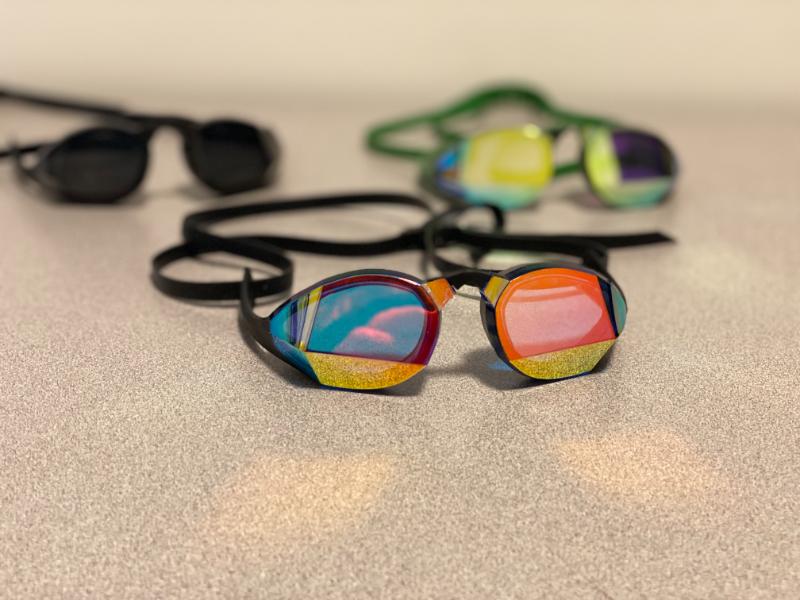 The design of the Magic5's makes them ideal for open water and tri swimmers as they have excellent peripheral vision, one of the slimmest gasket profiles in the water (just 0.5", which is the thinnest I've ever seen on swim goggles), and the polarized lens eliminates glare and the eye strain that comes with it.
The Magic5 Swim Goggle, being a truly unique and custom-ordered swim goggle, isn't exactly cheap, with the goggle ranging in price from $85 to $95 (you can make them cheaper by ordering multiple goggles at a time).
But for swimmers who have a hard-to-fit face when it comes to swim goggles, or swimmers who get headaches from standard swim goggles and are fed up with having to smush goggles into their face for a leak-free fit, the Magic5's are a total game-changer.
| | |
| --- | --- |
| ✅ PROS | ❌ CONS |
| The world's only custom swim goggles | Pricey for one set of goggles |
| Perfect for "hard-to-fit" swimmers | |
| Ideal for long-term wear | |
| Lots of color and tints to choose from | |
| Discounts for bulk orders | |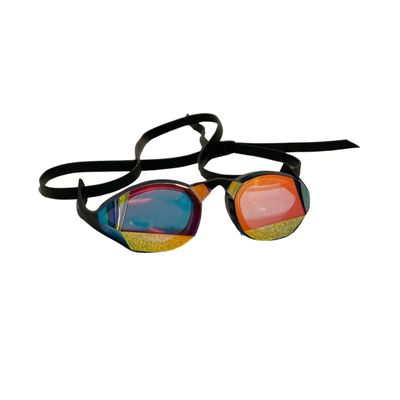 ---
2. FORM Swim Goggles
🥇 Best Swim Goggles for Tracking Open Water Swimming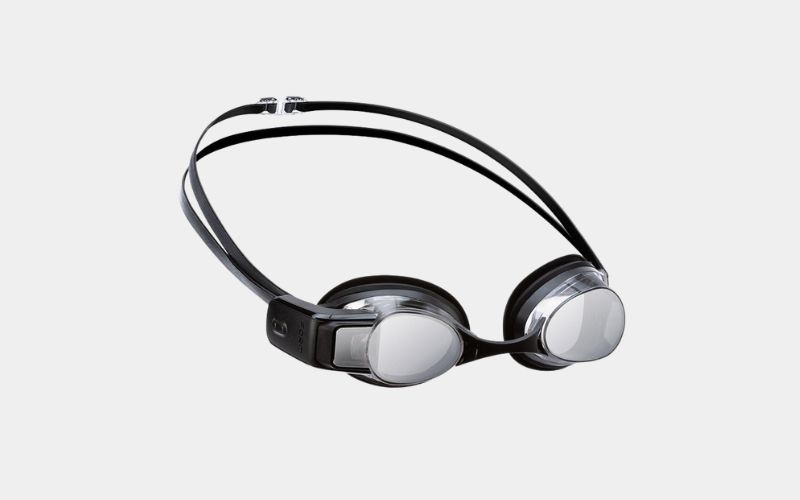 Swimming technology has come a long way in recent years. The problem is that it was mostly limited to swim watches and other tracking technologies designed for pool use.
That all changed when the FORM Swim Goggles came on the market in 2019, however.
The heads-up-display in the FORM Swim Goggles now allows swimmers to track distance, time, splits, average pace, stroke counts, SWOLF, distance per stroke, and just about anything else you can think of in the water.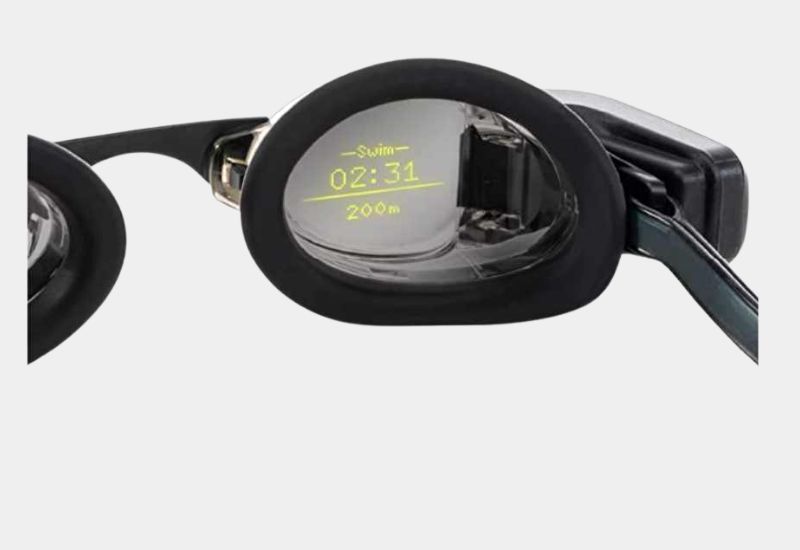 The FORM Goggle's heads-up-display is perfect for open water swimmers as you don't need to stop and check your watch to see how long you've been swimming.
All of the information is right there in front of you. The dashboard in the heads-up-display is customizable, meaning you can view the stats that mean the most to your open water swims.
Not only does the FORM Goggle track all of the analytics and data you can think of, but it's also the most accurate waterproof fitness tracker in the water.
Whether doing 25m sprints in the pool or longer, ocean-based open water swims, the avalanche of actionable and accurate data is perfect for swimmers serious about using data to get faster in the water.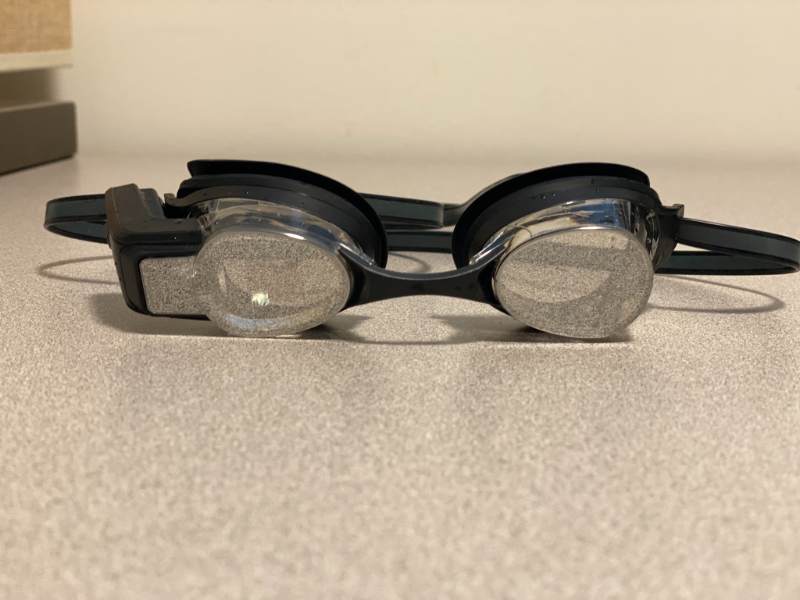 Other key features of the FORM Swim Goggles include:
Heart rate tracking (when paired with a sensor, such as the Polar H10 or watch)
Can be paired with an Apple or Garmin watch to track open water swims via GPS
Online training program that delivers swim workouts from Olympic coaches straight to your goggles (with paid membership)
Excellent battery life – I get about a week's worth of swim practices on a single charge
While incredible in the scope of data collection and tracking capabilities, the FORM Swim Goggles, because of the heads-up-display, means you lose a little peripheral vision in the water.
To be fair, the gain in data and metrics easily outgains the slight loss of field of vision, but it's something to be aware of. Those first couple of laps or minutes of open water swimming with a bunch of data streaming at your face is a new experience.
The FORM Swim Goggles represent a huge advance in goggle technology and swim performance tracking, making them the best open-water swim goggles for the type of athlete who loves to swim in data.
| | |
| --- | --- |
| ✅ PROS | ❌ CONS |
| Best smart swim goggles on the market | Loss of peripheral vision |
| Heads-up-display with real time workout stats | Limited color options |
| Adjustable head-strap and seven nose pieces for custom fit | |
| Can be paired with Garmin or Apple watch | |
| Heads-up-display with real-time workout stats | |
---
3. Arena Cobra Antifog Tri Swim Goggles
🥇 Best anti-fog open-water swimming goggles for racing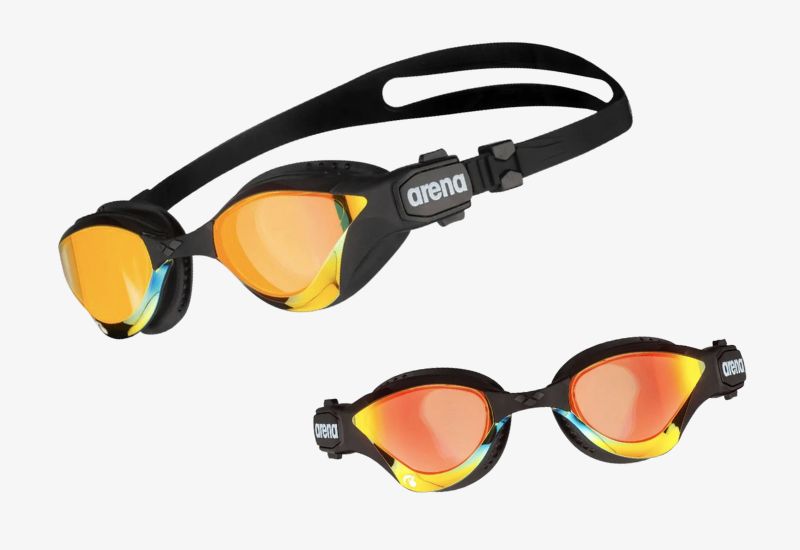 Arena made a big splash in the swimming world when it released the Arena Cobra Ultra Swipe Goggles, the first truly anti-fog swimming goggles for pool swimmers.
The tech is pretty cool: when your swim goggles get foggy, gently wipe the inside of the lens with your fingers to "reset" the anti-fog coating. The goggles were (understandably) such a hit that they followed the pool version up with an open water/tri goggle that has the same anti-fog tech.
The Cobra Antifog Tri Swim Goggles have everything you need for a custom goggle fit, including five nose bridges and adjustable dual head strap that can be quickly adjusted at your temples.
The Cobras are built to handle outdoor swimming, with a polarized lens and extra wide lens to give you an excellent field of vision, making it easy to sight.
In terms of fit, the Cobra Swipes sit nice and deep in the face, which reduces drag and prevents your swim goggles from being a road bump for onrushing water.
Oh, and the Cobras look pretty badass, too.
The only drawback, perhaps, of these swim goggles is that they do run a bit high in terms of cost.
| | |
| --- | --- |
| ✅ PROS | ❌ CONS |
| The best anti-fog open water swim goggles | A bit pricey |
| Polarized and mirrored to reduce glare | |
| Fully adjustable | |
| They look awesome | |
---
4. Aqua Sphere Kayenne Polarized Swim Goggles
🥇 Best swim goggles for ocean swimming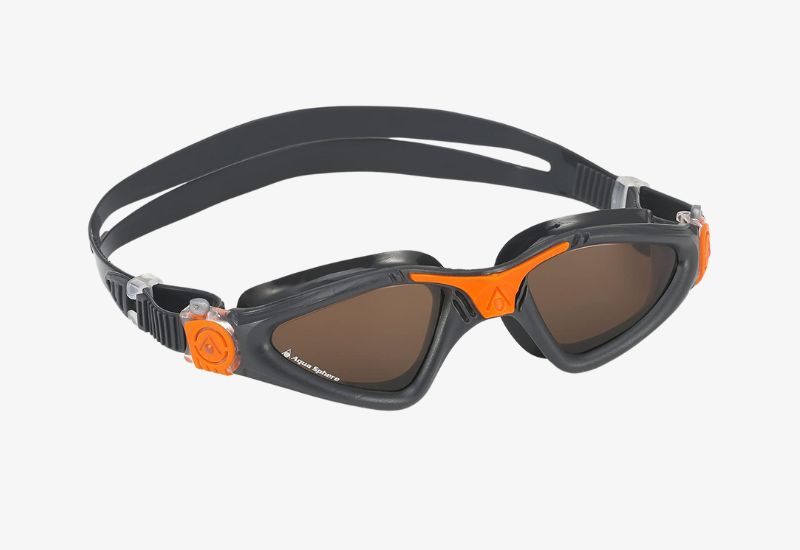 Competitive swimmers might better recognize Aqua Sphere as being the swim products manufacturer that also produces Michael Phelps' line of swim gear, including branded MP Michael Phelps Xceed goggles.
Aqua Sphere is also one of the most popular makers of open water gear, and their Kayenne goggles are among the best and most popular.
The reasons are simple:
Massive field of vision. You can see where you are going, including "up." 180-degree visibility.
Polarized lens so that you can see well in outdoor settings, reducing overall glare. These goggles come in a variety of colors and tints (including clear).
Silicone head straps that are durable and easy to adjust.
The goggles are coated with an anti-fog layer (but as with any goggles, this will degrade over time with exposure to pool chemicals and emergency finger-wiping).
In sum, these goggles provide a great field of vision, are going to last, don't leak, and are comfortable. And that's pretty much all you want.
| | |
| --- | --- |
| ✅ PROS | ❌ CONS |
| Wide peripheral design; perfect for open water | A bit bulky |
| Polarized lens for eliminating glare | |
| Easy-to-adjust silicone straps | |
| Lots of colors to choose from | |
---
5. Speedo Futura Biofuse Flexiseal Goggle
🥇 Best open water and tri goggles for maximum comfort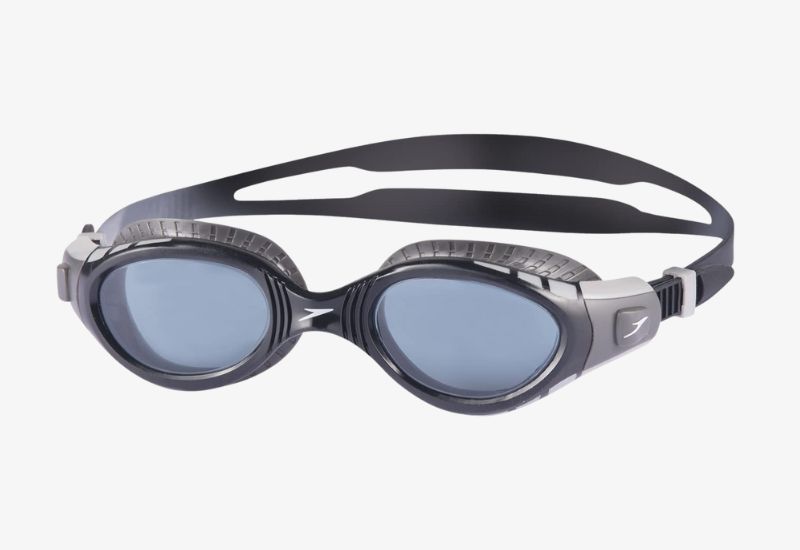 Speedo is one of the—if not the—names when it comes to competitive swimming gear, so we would be remiss not including a set of open water and tri goggles from them.
They've discontinued one of our long-time favorite goggles for open water, the Speedo MDR 2.4, and replaced them with the Futura Biofuse Flexiseal Swim Goggles
The Futuras which are made specifically for open water and tri swimming and are among the most comfortable swim goggles I've ever used.
See Also: 12 Speedo Goggles for Every Kind of Swimming
The soft seal or skirt around the gaskets is what makes these goggles ideal for extended wear. The seal helps the goggles sit softly on the skin, gently suctioning to provide a leak-free fit without digging into the face.
The Futura Biofuse goggles have a polarized lens to crack down on those shimmery shimmers of the sun across the water, the straps can be easy to adjust at the temples, and the panoramic lens gives maximum vision.
Like many goggles that are designed for open water, the Futura's have a fixed nose bridge, so if you have a "hard to fit" face when it comes to swimming goggles, they may not be the right goggle for you.
| | |
| --- | --- |
| ✅ PROS | ❌ CONS |
| Extremely comfortable seal for extended wear | Fixed nose bridge |
| Panoramic lens | |
| Available in a unisex and women's size | |
| Easy to adjust | |
---
6. TYR Special Ops 3.0 Swim Goggles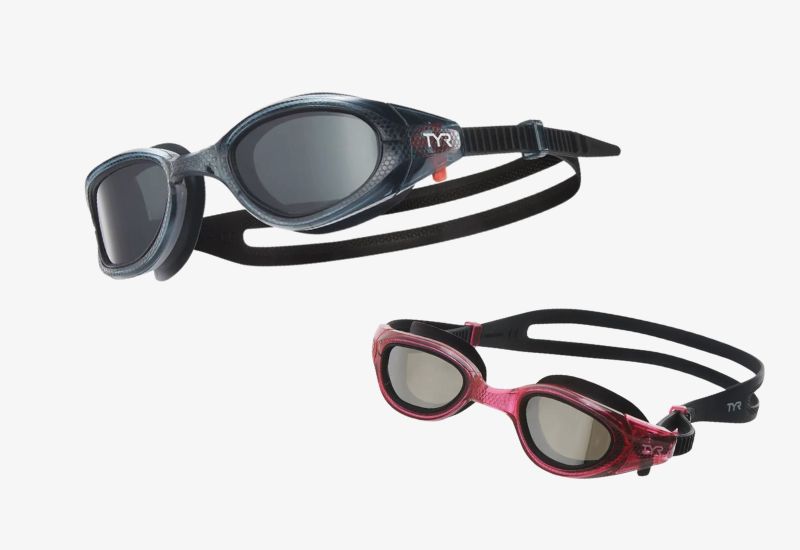 Specifically built for open water swimmers and triathletes, the TYR Special Ops are a polarized goggle designed for conquering outdoor swimming.
The Special Ops 3.0 come in a variety of colors, including a women's size—the Special Ops 3.0 Femme Goggles—and are UV coated to protect your eyes from the sun.
Silicone gaskets create a gentle seal against the skin to keep water from leaking in, and the goggles have the standard anti-fog coating.
And honestly, the TYR Special Ops 3.0 Swim Goggles simply look great. (Look good, swim good, and all that!)
One thing to note, and this comes up frequently in reviews of the goggles, is that the buckles for the straps can frequently come loose, especially compared to previous editions of the Special Ops. This strap loosening causes the swim goggles to lose suction on the face and start to leak.
A staggering 1/3 of reviews on Amazon note this issue, while half of the people who purchase the goggles love them. So, buyer beware.
| | |
| --- | --- |
| ✅ PROS | ❌ CONS |
| Polarized lens to eliminate glare | Strap buckles often loosen on their own |
| Available in men's and women's sizes | |
| Silicone gasket is comfortable on the face | |
---
How to Choose the Best Open Water & Triathlon Goggles
Things to remember when buying open water/triathlon goggles:
⭐ Pool goggles vs. Open water goggles.
When compared side by side, the thing that jumps out is that open water goggles are much larger. This is done to provide a larger field of vision.
Open water and tri goggles are designed for maximum vision—it's critical to be able to sight while swimming, whether it's for other swimmers, a guide boat, the shoreline, or that almighty finish line.
With their wider and curved lenses, open water goggles allow swimmers a more generous field of vision.
Also, almost all open water goggles have rubberized gaskets, whereas some pool goggles don't (Swedes, for instance).
⭐ Tint matters.
It's nice to look cool and all with the dark and mirrored lenses, but remember that a brightly lit pool provides much better underwater vision compared to the murky and dark outdoor swimming holes where open water racing takes place.
This can be a good thing (looking down in open water has always freaked me out a little), but it's something to be aware of, especially once your goggles start to lose that anti-fog. Dark-tinted goggles with no anti-fog is bordering on swimming blind.
Polarized lenses are best for reducing glare on the water, and mirrored swim goggles will help protect your eyes from UV exposure during those long swims outdoors.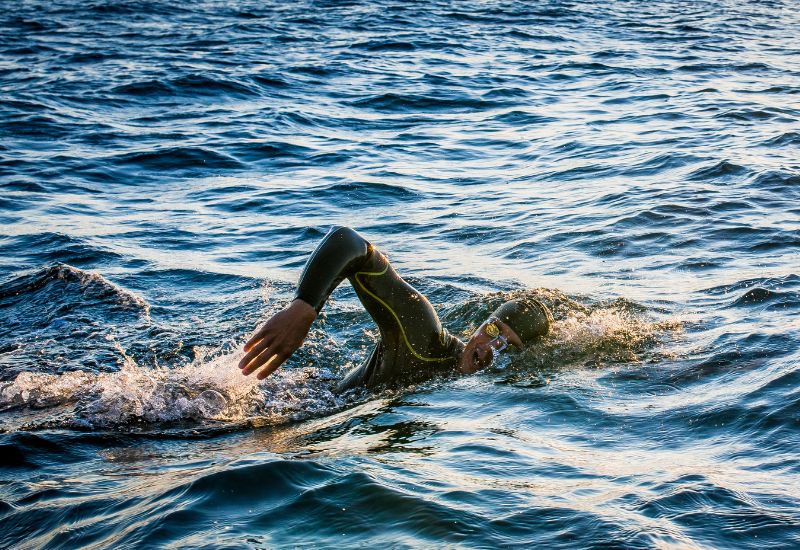 ⭐ UV protection.
Whether you are getting goggles for open water training or a race, be on the lookout for UV protection. Almost all goggles have this feature, but it's worth doubling down on.
On sunny days the glare that crashes across the surface of the water can be difficult to see through, and UV-protection will keep your eyes shielded and your vision manageable in bright conditions. (Pair the appropriate goggles with a waterproof sun screen to protect your eyes and skin.)
⭐ Train using the same goggles you are going to race with.
Open water races are long. There are no walls to stop and adjust and fix your goggles, so make sure that your goggles aren't going to be springing leaks mid-race by training with them for extended periods of time.
This will not only give you a better idea of how tight your goggle fit should be to ensure a lack of leakiness, but you will also get used to wearing them for longer bouts of time.
---
Swim Goggles for Open Water and Triathlons — FAQs
What is the best swim goggle tint for open water swims?
Outdoor swimming goggles should have a mirrored, or even better, polarized lenses. Mirrored swim goggles will help to darken the sun and protect your eyes from UV exposure.
Polarized swim goggles, on the other, do most of that and will also reduce the glare that happens on the surface of the water. Swimming outside is awesome, but not being able to see… well, not so much.
When choosing the best triathlon goggles or ocean swim goggles, look for a polarized lens, which will make it much easier to see across the surface of the water.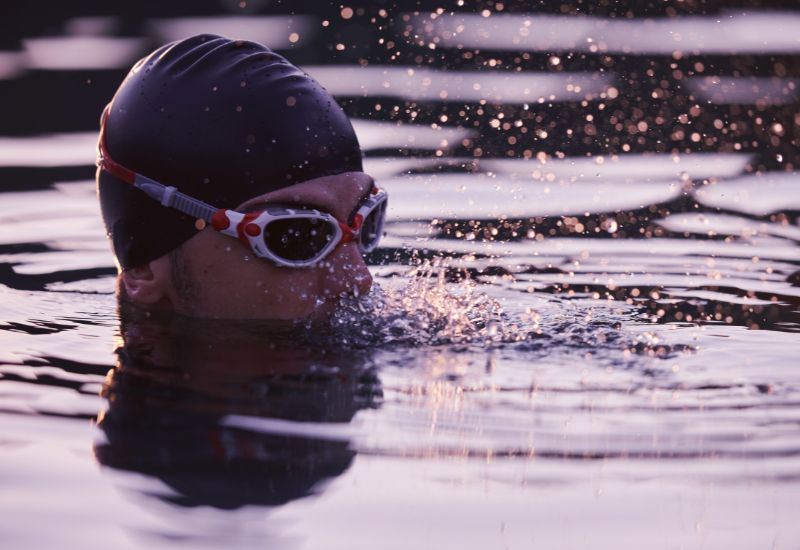 Where is the best place to buy open-water swim goggles?
While there are plenty of online retailers like Amazon and DIck's Sporting Goods that sell swim goggles for open water swimmers and triathletes, the best place to shop for new goggles is at Swim Outlet.
They have the web's largest selection of swim goggles for hitting the open water, and you can view their full line of open water and tri goggles here.
The Bottom Line
At the end of the day, choosing the right goggle can really make or break your swim.
After all, goggles that leak, don't protect your eyes from the sun, and are flat-out uncomfortable can make your swim a miserable experience.
Whether you are looking for a pair of goggles for your first tri, or a leisurely ocean swim, choosing the right tpair will increase visibility and improve your experience paddling around.
To recap our top choices:
✅ The Magic5 Swim Goggles are the best hybrid pool and open water goggle. They have a custom and leak-free fit, are available in a wide range of tints and lens colors, and look awesome.
✅ For swimmers who thrive on data, and want live metrics on distance swum, pace, and so on, the FORM Swim Goggles are an absolute game-changer with its heads-up-display.
✅ When it comes to blinding speed, nothing quite beats the Arena Cobra Antifog Tri Swim Goggles. They are fast, have a slim profile, and have Arena's proprietary anti-fog technology for clear vision on race day.
At the end of the day, there are no "perfect" goggles—just what's perfect for you and your swimming.
Choose the right swim goggles that will help you train and race like a boss in open water and at your next triathlon!
---
More Swim Goggle Resources and Guides…
Didn't find the perfect swim goggles for you?
Below are reviews and guides of various swim goggles that we've done over the years.
The 9 Best Goggles for Swimmers. Looking for the ultimate pair of goggles to dominate the pool? Our comprehensive guide of training and competition goggles has got you covered.
The 5 Best Prescription Goggles for Swimmers. Ready to take on the pool, but want to be able to take your prescription with you? Here are the best prescription goggles for swimming.
8 Best Swim Goggles for Women (for Laps, Open Water, and Racing). Looking for the best women's swim goggles for conquering the water? Here's a look at the best goggles on the pool deck, how to find the right pair for you, and more. Swim on!
8 Best Swimming Goggles for Kids. Looking for the best pair of swim goggles for kids? From backyard splashing to competition, we break down the top goggles for kids to splash around in the pool.