Ready to dominate your open water race? Here's a breakdown of the best swim goggles for open water swimmers and triathletes.
For swimmers and triathletes who compete out in open water, a lot of attention and focus in placed on gear (especially you triathletes!). There is a reason that the triathlete's bag is typically filled to the brim with equipment.
While goggles can seem like a basic piece of swim gear (also doubling as probably the cheapest part of your race and training kit), they can make or break your swim.
The wrong pair or fit will leave you stopping and treading water, trying to adjust and clear the lenses. The right pair sticks to your face as planned and helps you sight and stroke your way to a bad-ass swim.
In this guide to picking out the best open water and triathlon swimming goggles we will cover some of the things to consider while going through the purchasing process, some good goggle habits to keep with you after buying, and of course, a list of top goggles for open water swimming.
Let's get after it.
Key Considerations When Picking Out the Best Open Water & Triathlon Goggles
Things to remember when buying open water/triathlon goggles:
Pool goggles vs. Open water goggles.
When compared side by side the thing that jumps out is that open water goggles are much larger. This is done to provide a larger field of vision.
Open water and tri goggles are designed for max vision—it's critical to be able to sight while swimming, whether it's for other swimmers, a guide boat, the shoreline, or that almighty finish line.
With their wider and curved lenses open water goggles allow swimmers a more generous field of vision. Also, almost all open water goggles have rubberized gaskets, whereas some pool goggles don't (Swedes, for instance).
Tint matters.
It's nice to look cool and all with the dark and mirrored lenses, but remember that a brightly lit pool provides much better underwater vision compared to the murky and dark outdoor swimming holes where open water racing takes place.
This can be a good thing (looking down in open water has always freaked me out a little), but it's something to be aware of, especially once your goggles start to lose that anti-fog. Dark-tinted goggles with no anti-fog is bordering on swimming blind.
UV protection.
Whether you are getting goggles for open water training or a race, be on the lookout for UV protection. Almost all goggles have this feature, but it's worth doubling down on.
On sunny days the glare that crashes across the surface of the water can be difficult to see through, and UV-protection will keep your eyes shielded and your vision manageable in bright conditions. (Pair the appropriate goggles with a waterproof sun screen to protect your eyes and skin.)
Train using the same goggles you are going to race with.
Open water races are long. There are no walls to stop and adjust and fix your goggles, so make sure that your goggles aren't going to be springing leaks mid-race by training with them for extended periods of time.
This will not only give you a better idea of how tight your goggle fit should be to ensure a lack of leakiness, but you will also get used to wearing them for longer bouts of time.
At the end of the day, there are no "perfect" goggles—just what's perfect for you and your swimming. I know plenty of triathletes who race with Swedish goggles, which are the complete antithesis of open water goggles in many respects.

Aqua Sphere Kayenne
Competitive swimmers might better recognize Aqua Sphere as being the swim products manufacturer that also produces Michael Phelps' line of swim gear, including branded MP Michael Phelps Xceed goggles.
Aqua Sphere is also one of the most popular makers of open water gear, and their Kayenne goggles are among the best and most popular.
The reasons are simple:
Massive field of vision. You can see where you are going, including "up." 180-degree visibility.
Polarized lens so that you can see well in outdoor settings, reducing overall glare. These goggles come in a variety of colors and tints (including clear).
Silicone head straps that are durable and easy to adjust.
The goggles are coated with an anti-fog layer (but as with any goggles, this will degrade over time with exposure to pool chemicals and emergency finger-wiping).
In sum, these goggles provide a great field of vision, are going to last, don't leak, and are comfortable. And that's pretty much all you want.
Where to Pick Up the Aqua Sphere Kayenne: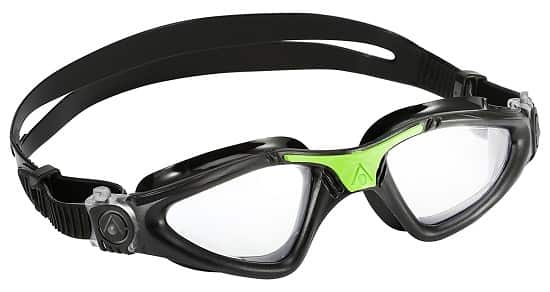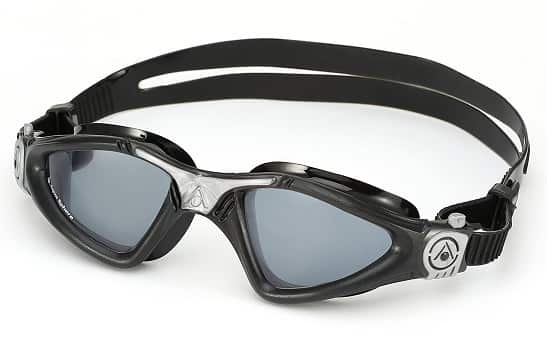 ---
Roka R1
I really like the Roka R1 goggles. They are popular among open water swimmers and triathletes–and with good reason: these goggles are style and function. Roka is a popular brand of triathlon gear, whereas a lot of the other goggle makers on this list stick to swim gear.
Roka followed in the footsteps of Kayenne by producing a pair of goggles that look great, are comfortable, have a massive field of vision, without being overly bulky. (They are actually a little smaller than the Kayennes.)
See Also: 3 Swimming Workouts for Triathletes
With a curved lens on the side, you can see well out the sides and the way the goggle sits in the socket you can see really well upwards as well. The benefit of being able to see upwards better is clear when you consider the critical need of being able to sight easily during your races/training.
This feature is also massively important in pool swimming—being able to anticipate the upcoming walls without having to perpetually be craning your neck keeps you focused on swimming instead of looking up and around and throwing your neck out of alignment.
The Roka R1 is available in a laundry list of colors and tints, from polarized to clear.
Where to Pick Up the Roka R1: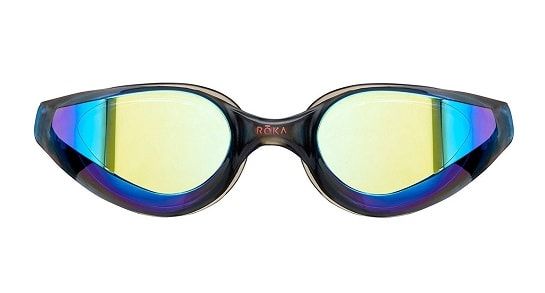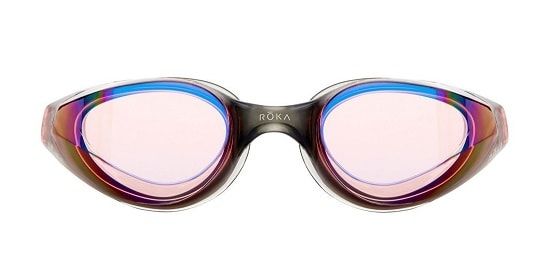 ---
Speedo MDR 2.4 Open Water Goggles
Bright, comfortable, and lightweight, the Speedo MDR 2.4 is the world's biggest swim manufacturer's premium open water and triathlon goggle. It combines almost a century of experience in the industry with a slick color combo that means ya end up looking good with a leak-free and comfortable fit. Giddyup.
The MDR 2.4's come with all the features that you would expect with a top tier goggle:
UV protection and anti-fog coating on the inside of the goggle lens.
Straps are made of long-lasting silicone, and the full goggles and straps are made without latex.
Notice how the rubberized gasket flares out a little bit? This is done to ease pressure on the eye sockets while also keeping a leak-free swim experience. Reduced pressure means that you can wear them for longer and lessen those raccoon eyes that comes from extended goggle wear.
The pink clips on the sides allow for quick strap adjustment.
Where to Buy the Speedo MDR 2.4: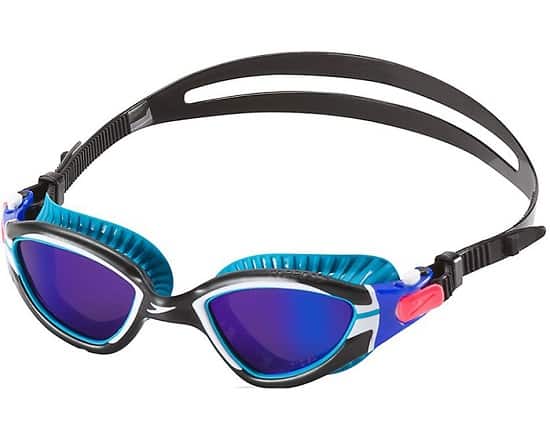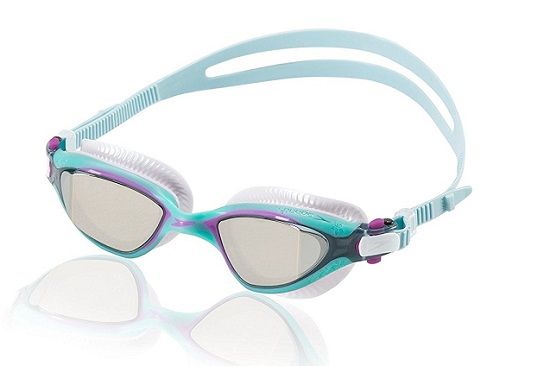 ---
Swans Open Water Seven Mirrored
I really like the look of these goggles—they remind me a ton of one of my favorite pool goggles, the Arena Cobra Ultras. Of course, these bad boys aren't nearly as slim on the front, and offer slightly better peripheral vision, particularly when it comes to being able to look upwards.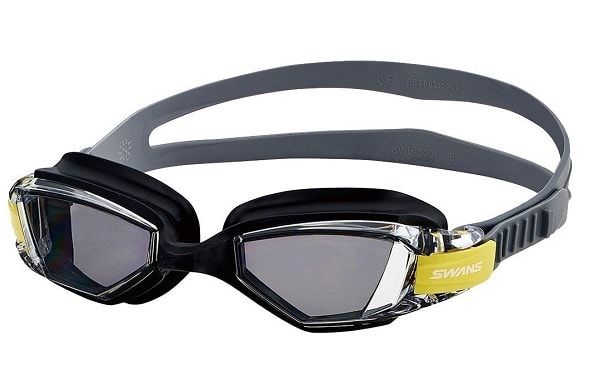 ---
Arena Viper Open Water Goggles
At the tail-end of the pack are the Arena Viper Open Water goggles. I've long been a fan of Arena and their gear, but these goggles weren't anything to write home about.
They were big, kind of clunky, and didn't provide any real benefit for the added size that you couldn't get from the other, smaller goggles on this list. I suppose I was expecting an open water version of the Ultra Cobras.
They come with the usual goodies that you'd expect with open water goggles:
Split strap to help adjust for a comfortable fit. The head straps are made of thick silicone.
The gaskets are very comfortable. Not too much pressure on the socket either.
UV protection and the standard anti-fog coating.
Where to Buy the Arena Viper Open Water Goggles: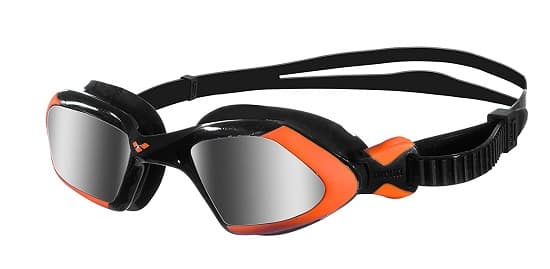 ---
More Swim Goggle Resources and Guides…
The 7 Best Goggles for Swimmers. Looking for the ultimate pair of goggles to dominate the pool? Our comprehensive guide of training and competition goggles has got you covered.
The 5 Best Prescription Goggles for Swimmers. Ready to take on the pool, but want to be able to take your prescription with you? Here are the best prescription goggles for swimming.
5 Best Anti-Fog Sprays for Swim Goggles. Extend the life of your tri and open water swim goggles with an anti-fog spray to help you keep your vision crystal-clear and fog-free in the water.
5 Gift Ideas for Triathletes to Dominate the Swim. Want to give the gift of a faster swim leg for the triathlete in your life? Here are 5 gifts for triathletes that will help them dominate the swim part of the race.
Best Watches for Triathletes and Multi-sport Athletes. Simple in function and powerful in use, these watches for triathletes and multi-sport athletes will take your training and competition to the next level.