Wondering why your swim goggles get fogged up and what to do about it? Here's everything you need to know about the best anti-fog sprays to keep your goggle lens crystal-clear.
So you've searched high and wide for the best pair of swim goggles to match your goals in the water.
You've got your swim workouts lined up, the training suit and a whole bunch of red-hot motivation.
By the end of the first week of training you notice something not-so-awesome—your goggles are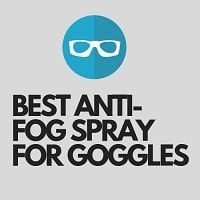 beginning to fog up as you work up a sweat.
You do what we all instinctively do the first time this happens: you wipe the inside of the goggle lens with your fingers to momentarily clean the fog.
Only this is just a quick fix: as you continue to exert yourself the fog quickly returns, only this time it happens faster and faster until you get to a point where you find yourself thumbing the inside of your goggles every couple of minutes in the water and barely able to see the rest of the time.
The solution?
Either throwing those fancy new goggles out and getting a new set or investing in some anti-fog spray.
Here's a full breakdown of what you can do to keep your swim goggles from fogging up and a rundown of the best anti-fog sprays on the market.
Why do swim goggles get fogged up in the first place?
Condensation on the inside of the goggles are the culprit here. It comes from an elevated temperature within your goggle lens (typical when we are kicking butt and working hard in the pool) that causes the water vapor to turn to water droplets.
Because the pool temperature keeps the actual goggle lens cool, this hot-cold meet-up causes the perspiration and water vapor in the goggle lens to turn to water and condensation.
But, but…my goggles say "anti-fog", what gives?
Goggle manufacturers from Speedo to TYR feature anti-fog as standard on their goggles. But although it says that they goggles are anti-fog, this doesn't mean for life, man!
Sadly, all it takes is a couple errant thumb-swipes of the inside of your goggle lenses to wash away the anti-fog layer. Goggles have a delicate silicone film that is sprayed on the inside during production.
This film is rather delicate, which is why you should hold off on wiping the inside of your goggles for as long as you can—the moment you do, you are not only rubbing away condensation but whatever is left of that anti-fog coating. The faster you succumb to the temptation of wiping the inside of the goggle, the faster your anti-fog coating goes bye-bye.
Other fun facts:
Anti-fog coatings naturally wear off over time.
Even if you use an after-market anti-fog spray, you will still have to reapply occasionally.
The harder you work, the more condensation piles up.
If the pool is really hot, and you are really exerting yourself and as a result causing a heap of condensation the anti-fog might not be able to handle all the condensation.
The Best Anti-Fog Sprays for Swim Goggles
Speedo Anti-Fog Spray
Speedo makes just about everything else for swimmers, from swim caps to racing suits to their line of Speedo swim goggles, so it would make sense that they also produce an anti-fog spray.
It comes in a convenient travel size (which means it fits nicely into your swim bag), can be used on diving masks as well as swim goggles, and with each bottle ya get 2.6oz of anti-fog spray.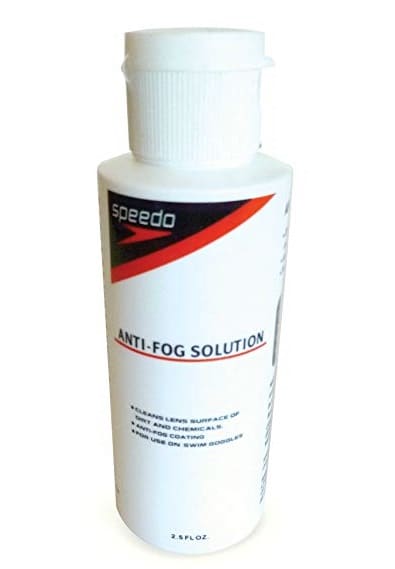 ---
TYR Anti-Fog Spray
Another one of the biggie swim companies, Huntington, California-based TYR serves up their own offering, this one 1.6 fluid ounces of vision-sharpening goodness.
Pro tip: To help the spray work most efficiently spray the inside of the goggles either the night before you head down to the pool, or at least an hour before you hop into the water.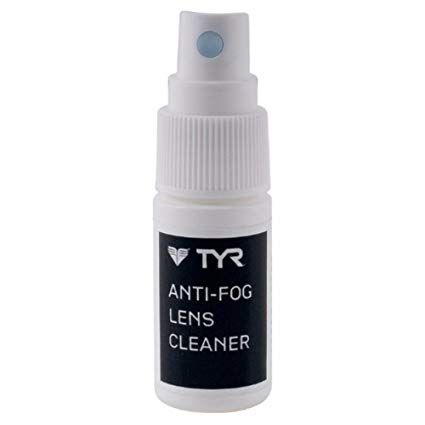 ---
Arena Anti-Fog Spray
Arena is one of my favorite swim equipment companies. I have played around with just about every kind of gear they make for swimmers, from their elite racing goggles, the Cobra Ultra goggles, the Powerskin ST 2.0 racing suit, and their high end racing suit, the Carbon Pro jammer.
Arena's anti-fog spray weighs in a little less than the Speedo and TYR sprays (at 1.4oz).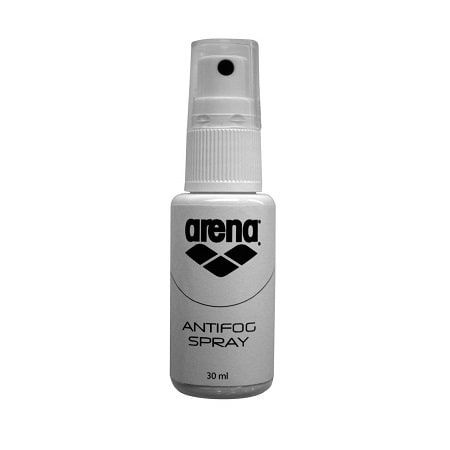 ---
IST Anti-Fog Spray
IST is one of the lesser known swimming equipment manufacturers. Their anti-fog spray is the smallest of all the ones on our "best of" list, tipping the scale at 1 fluid ounce.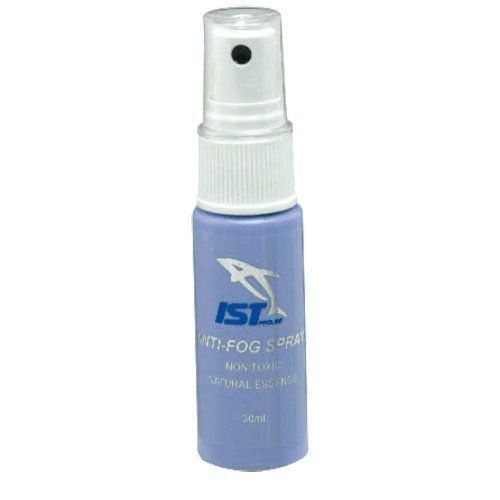 ---
Just Add Water Jaws Quick Spit Antifog Spray
When it comes to who has the best anti-fog name, the Jaws Quick Spit spray takes the cake. Each bottle gives you about two hundred sprays, and when purchased at a discount rate as a 2-pack this means you are getting 400 blasts of anti-fog spray. (This should last you a while.)
This particular spray is branded as being non-toxic and biodegradable. (But not recommended for use with prescription swim goggles.)

---
More Swim Gear Guides:
7 Gift Ideas for Competitive Swimmers. Looking to pick something up for the competitive swimmer in your life? Let our little gift guide show you the way.
The 8 Best Swim Caps for Swimmers. Looking for the best swim cap for training and competition? Here's your ultimate guide to picking out the best swimming cap for you.
The 7 Best Goggles for Competitive Swimmers. Our breakdown of the best training and competition goggles. Includes goggles from SPeedo, MP Michael Phelps, Arena, and more.