There's just about nowhere I would rather be than my local swim pool, cranking out laps.
The benefits of swimming are awesome, from losing weight to working just about every muscle in your body.
But you know what's not so awesome?
That smell of chlorine lingering on your skin for the rest of the day, sometimes for days afterwards.
Fortunately, there are some specially formulated body washes for swimmers that can nuke the pesky smell of chlorine after your swim.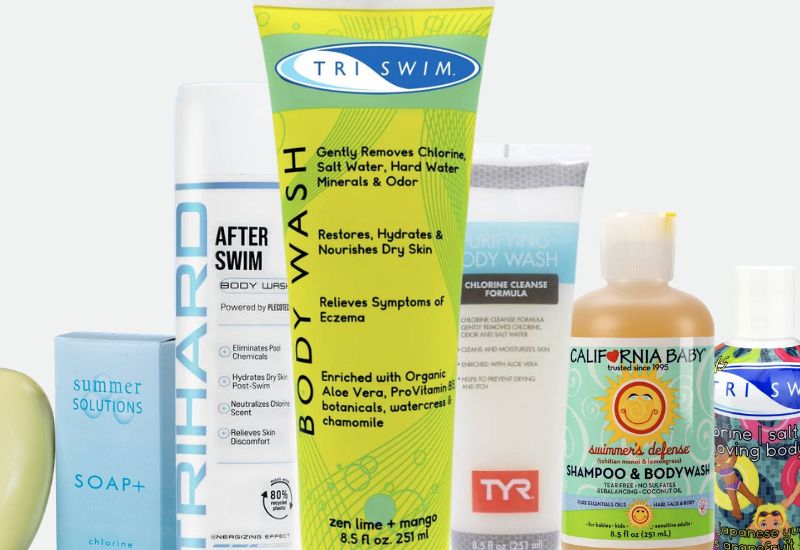 In this round-up of the best body washes for swimmers, we'll look at our favorites, highlight what you need to know when choosing the right one for you, and more.
Let's jump in!
---
Best Body Washes for Swimmers
TRISWIM Body Wash
⭐ Best overall body wash for swimmers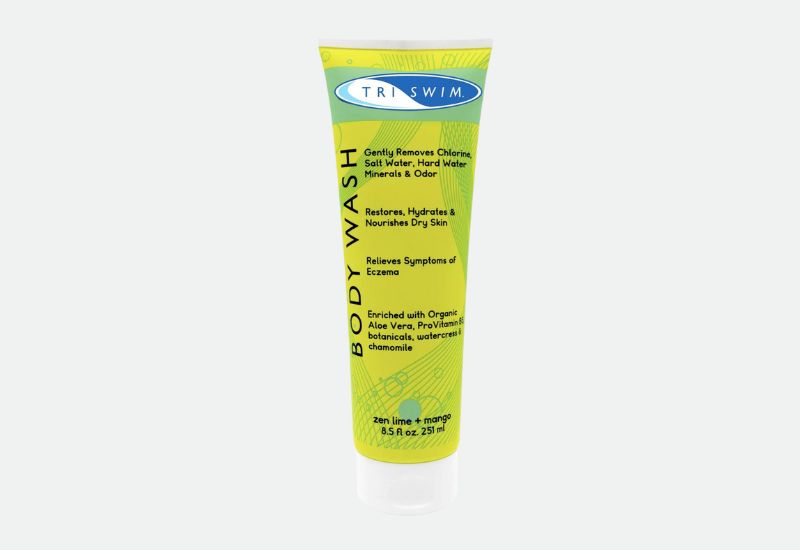 Part body wash, part moisturizer, the TRISWIM Body Wash is all number one when it comes to our favorite body wash for swimmers.
Packed with all-natural ingredients like Vitamin B5 and aloe vera as well "chlorine busters" like EDTA (a common ingredient in swimmer's shampoos) and sodium laureth sulfate. Both of the latter ingredients help to unlock the bond of chlorine from your skin and hair.
Lather up a bit of this stuff and it will nuke chlorine, bromine, even the effects of showering in hard water. (TRISWIM also makes one of our favorite chlorine removal shampoos.)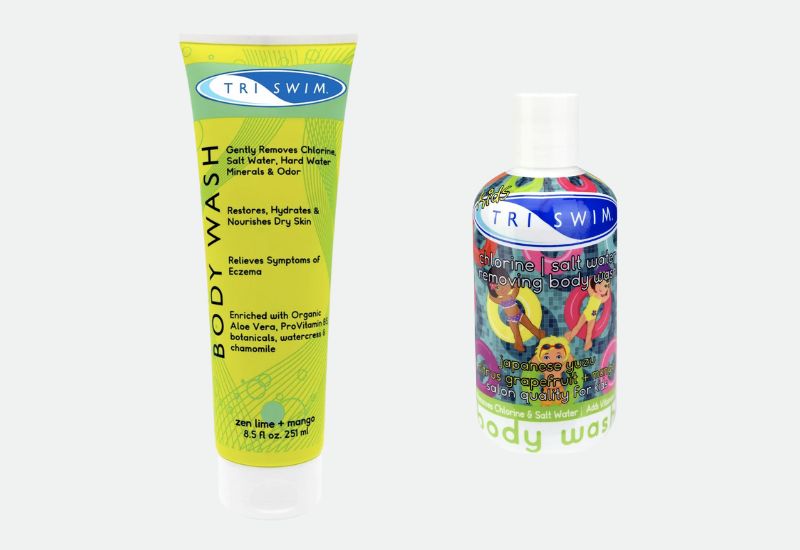 For people who don't love scented products (I am one of those people—don't want to trade one scent in for another), the TRISWIM Body Wash is very lightly scented (citrusy, if I had to describe it in a word) but not aggressively so.
Each bottle of TRISWIM Body Wash is 8.5oz, which will go by quickly for swimmers who are at the pool a lot (TRISWIM does offer the body was in an extra-large 64oz jug as well).
When it comes to getting rid of chlorine from your skin, no one does it better than the folks at TRISWIM, hence why I have a bottle in my swim bag and you should too.
Note: TRISWIM also makes a kids version of this body wash. It is the same formula, just with different packaging. Same same!
---
TRIHARD Body Wash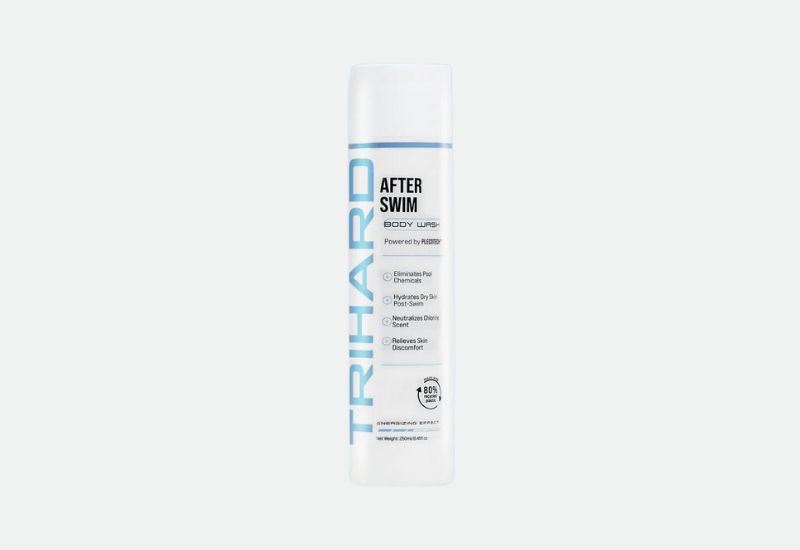 The TRIHARD Body Wash for swimmers is another body wash that is built specifically for aquatic athletes.
The primary ingredients in this body wash include magnesium chloride, dead sea salts, an apricot scrub, red algae, and coconut and almond oil to replenish your skin. This blend covers all the bases when it comes to neutralizing that chlorinated smell on your skin while also helping repair dry skin.
The body wash is a bit scented, with hints of coconut and apricot, but I noticed that there was a streak of menthol that I noticed on use (low and behold, menthol, or rather, peppermint extract, is one of the ingredients in the body wash).
While not as highly reviewed as the TRISWIM Body Wash (some reviewers on Amazon were put off by the smell of the soap), most people will get excellent results.
---
TYR Purifying Body Wash for Swimmers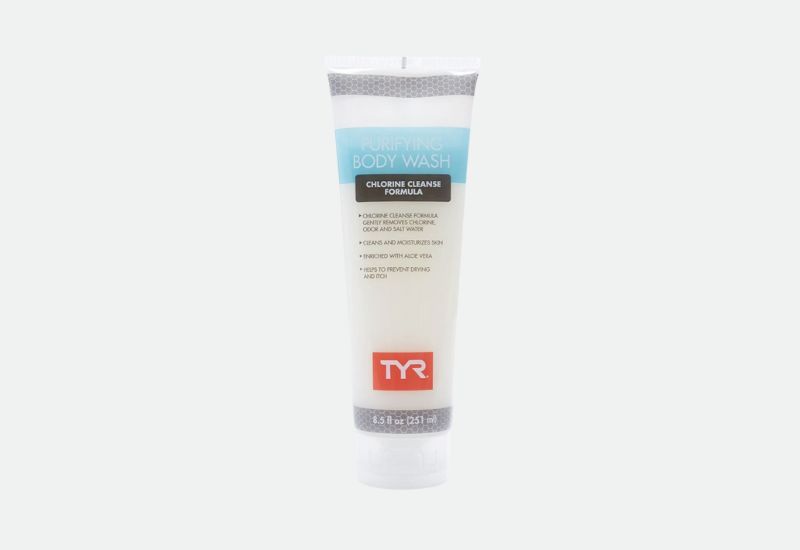 The TYR Purifying Body Wash delivers a 1-2 combo when it comes to removing chlorine from your skin after swim practice.
Like the TRISWIM Body Wash, it has a blend of ingredients that peel away chlorine and help your skin heal.
The primary chlorine-removal ingredient in the TYR Purifying Body Wash is sodium laureth sulfate, which is a surfactant that smashes the bonds between chlorine (and other unwanted stuff) and your skin.
Once the chlorine has been broken down and washed away, the aloe vera and green tea extract get to work, moisturizing the skin and repairing it.
In other words: bye-bye itchy and dry skin and the smell of chlorine after swimming.
---
California Kids Shampoo and Body Wash for Swimmers
⭐ Best body wash (and shampoo) for toddlers and babies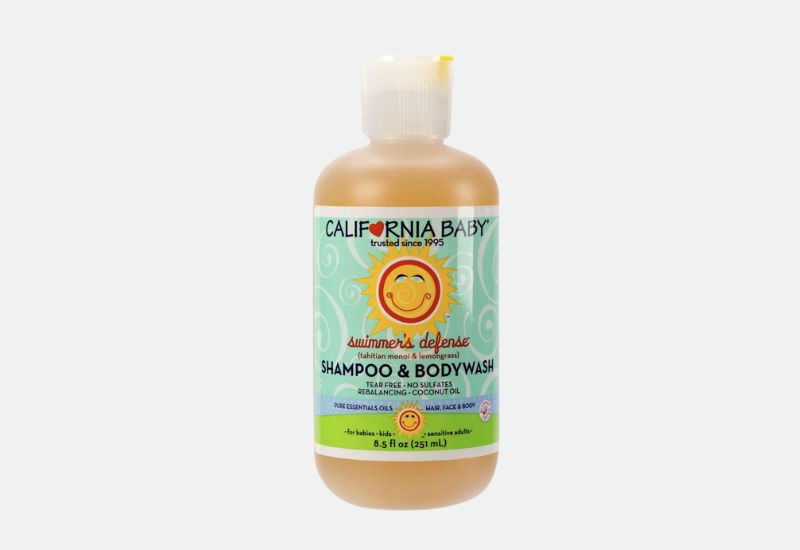 Looking for a wash or soap for younger kids that is tear-free? The California Baby Shampoo and Body Wash is a plant-based soap that is easy on the eyes and helps remove chlorine from the skin and hair.
It's a liquid soap, smells great, and you don't need a ton of it to get great results (lather to get more life out of the bottle, which is only 8.5oz).
The California Kids Shampoo and Body Wash is also great for kids and toddlers with sensitive skin, which helps to justify its higher price tag (at around $11 for 8.5oz, it's almost double the price of most toddler soaps).
Whether your kiddo is getting out of the backyard swim pool or coming back from their first swim lessons, this soap is gentle on the skin, nukes chlorine from hair and skin, and best of all, won't irritate their eyes.
---
Summer Solutions Chlorine Neutralizing Soap
⭐ Best soap for removing chlorine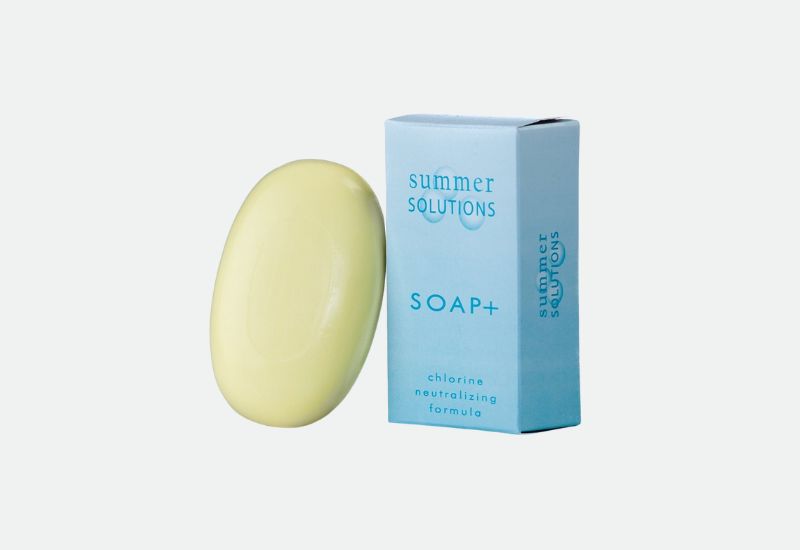 Prefer a bar of soap over a body wash or shower gel? Summer Solutions has a, well, solution, for that.
Once your swim is over, hit the showers and lather up with this bar which is formulated especially to help swimmers neutralize and remove chlorine.
Reviewers note that it can pack a bit of a fragrance punch at first but it fades with use. (The scent is described as "light honeysuckle.")
The Summer Solutions Soap Bar achieves the primary objective—removing chlorine from your skin and body hair—and is great for daily use as it loaded with coconut and palm oils, which will reload your skin of all the essential oils the pool water just stripped it of.
One issue with soap bars is that they can melt quickly when exposed to water—not the case with this soap, which is sturdy and won't melt straight away in the shower.
If you prefer a bar of soap over a gel or body wash, the Summer Solutions is an excellent option.
---
Body Wash for Swimmers – FAQs
What do chlorine removal body washes do?
Whether you are a competitive swimmer or a rec swimmer, you know that your local pool is treated with chlorine (or alternatives like bromine) that disinfect the water and prevent algae and bacteria from flourishing in the water.
But chlorinated water can also be harsh on the skin, causing dry and itchy skin, red bumps on the skin (also known as "pool rash"), and even hives and increased eczema breakouts. Chlorine also is a leading instigator when it comes to frying and fraying body (and head) hair.
Body washes are designed to "unlock" chlorine from hair and skin so that you can a) get rid of that pesky chlorine smell and b) kickstart recovery of your skin and hair with a moisturizer.
The right chlorine removal body wash can also significantly reduce or even eliminate some of the more painful skin reactions that occur from chlorine exposure.
Why is my skin so itchy and dry after swimming?
Your skin gets dry, itchy, and sometimes even cracky after swimming in a chlorinated pool because chlorine is excellent at stripping the oil out of your skin.
While chlorine is awesome at keeping water safe to swim by zapping bacteria and algae, it's also adept at raking our skin (and hair) of essential oils, leaving it dry and feeling like a desert floor.
Fortunately, you can alleviate almost all of these second-order symptoms of a great swim workout with a quick shower, the use a body wash designed for chlorine removal, and a quick application of moisturizer.
The Bottom Line
One of the best parts of my day is going to the pool and putting in a hard workout. How hard chlorine (and other pool chemicals) are on my skin and hair, however, are decidedly not the best.
For swimmers who want to get rid of the smell of chlorine after swimming, help repair dried out skin from being in the water for so long, and to repair damaged skin cells from chlorine/bromine exposure, a quality chlorine removal body wash is a necessity.
To recap our top picks for the best body wash for swimmers:
The TRISWIM Chlorine Removal Body Wash is our runaway favorite. Packed with chlorine busting and skin rejuvenating ingredients, it works like absolute gangbusters at getting rid of post-swim chlorine smell.
For toddlers, the Calfornia Kids Shampoo and Body Wash is perfect with its tear-free formula that breaks down and neutralizes chlorine in the hair and skin of the youngest swimmers.
And for those who prefer a soap bar over a shower gel/body wash, the Summer Solutions Chlorine Neutralizing Bar is our favorite choice for some old-school chlorine scrubbing.
Choose the right body wash for you and your skin and make leaving the pool as excellent as the workout you just had in it.
---
More Stuff Like This
How to Protect Your Hair from Chlorine. Fed up with dry, brittle hair that's been damaged by chlorine? Here is a 3 step plan for protecting your skin and hair and removing chlorine from your hair.
Why You Should Wear a Swim Cap at the Pool. The swim cap is a misunderstood piece of swimming equipment. Here is a detailed look at why you shouldn't hit the local lap pool without one.