Fed up with dry, brittle hair that's been damaged by chlorine? Here is a 3 step plan for protecting your skin and hair and removing chlorine from your hair.
Here's a fun fact you probably already know: Swimming is awesome exercise.
Hopping into the water and banging out a bunch of laps works your cardiovascular system, is easy on the joints, and provides a much needed unplug from real life. By the time you slide out of the water you are feeling great.
You also leave the pool with that unmistakable smell. You know, Chlorine #5.
Whether you are chasing your dreams all the way to the Olympics, or hitting the pool for the occasional swim, dealing with chlorine is something we all work with.
While the smell of chlorine is one thing, it can also be quite corrosive to hair. I've experienced pools that have been so chlorinated that my body hair slowly withered away over the span of a couple months of consistent use.
And of course, not to mention the brittle hair, split ends, green hair (caused by run-off from hard metals in pools, not chlorine) and straw-like composition of our hair when we get out of the pool.
Here's the swimmer's guide to protecting your hair from chlorine, both before you get in the water and after.
How to protect hair from chlorine in pools
The easiest way to get chlorine out of your hair is to limit the amount that gets in there in the first place.
There are two quick and easy things you can do to do this.
Step 1: Wear a swim cap.
Swim caps are funny devices for those who aren't familiar with their actual function. Many newbie swimmers give me the "Heh?" look when I tell them that swim caps don't actually keep your hair dry. And they don't keep water from going into your ears. (That's what swimming earplugs are for.)
Like, at all.
That's not their purpose.
So why should you wear a swim cap at the pool?
For high-performance swimmers there is a resistance/drag effect, but wearing a cap keeps hairs from your head from drifting off into the shared water, clogging up the filtration systems and collecting in asteroid-shaped balls at the bottom of the pool.
In terms of protecting your hair, it also keeps the amount of chlorine-covered water reaching your hair at a minimum.
While lugging your favorite swim cap to the pool won't help you keep your hair perfectly dry, it will safeguard your hair from excessive chlorine exposure.
Staff pick: Arena Soft Silicone Swim Cap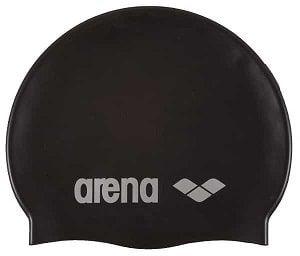 More Swim Cap Guides:
Step 2: Get your hair wet before you jump into the pool.
How often do you actually follow the pool rules and shower off before you get into the water? For many of us, not often enough!
There are two big upsides to doing this—firstly, you rinse off body sweat and product (aftershave, deodorant, etc), keeping them from interacting with chlorine, which makes the pool cloudy and the air worse to breathe.
Secondly, getting your hair wet before you jump into the water actually makes the chlorine harder to break into your locks. When your hair is already is wet, it takes on less water.
Think of pre-soaking your hair before hopping into the pool as putting up a "no vacancy" sign on your head.
Things that work (but you shouldn't do).
There is also the option to lather your hair in conditioner before you get into the water.
I'll admit, doing this flat-out works.
But it's also wildly inconsiderate of your fellow swimmers. The product will leave a smelly oil-slick in the pool, and will interact with chlorine, creating a cloud of chloramines. (Chloramines are a compound derivative of chlorine that makes it harder for people to breathe at pools.)
Unfortunately, this advice is trumpeted around on a lot of health and style websites as a good idea. As a courtesy to other swimmers, and your own breathing, save this strategy for the backyard pool or hot tub, and not shared pools.
How to get chlorine out of hair
Your swim is over, you've wrapped yourself up in your favorite swim towel, and you still have a wet head that is saturated with chlorine. Even though you pre-soaked your hair and wore a cap, some water still seeped in there.
The next step?
Step 3: Use a chlorine removal shampoo.
Our final stop on the chlorine-from-your-hair train is to use a chlorine-removal shampoo.
Specifically designed for swimmers and people who frequent the pool often, swimmer shampoos for chlorine removal are usually made of natural ingredients that are easy on your hair and skin.
Staff pick: UltraSwim Shampoo and Conditioner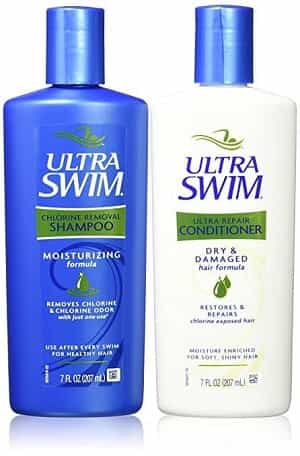 I've been a lifelong user of UltraSwim Shampoo and Conditioner (they even sponsor some of the high-level USA Swimming Grand Prix meets). Paul Mitchell Shampoo Three (Amazon) and Malibu C Swimmer's Shampoo (Amazon) are other good alternatives.
More Stuff Like This
Best Drops for Swimmer's Ear. Keep your ears and healthy and protect yourself from swimmer's ear with our selection of the best swimmer's ear drops.