Confused about what kind of earplugs are best for swimming? Here's what you need to know about choosing the best pair to keep your ears dry.
Over years and years of swimming laps, both competitively and now more at a more recreational speed, I've had the distinct pleasure of having tried every single type of swimming earplugs imaginable.
Earplugs were a necessity from almost day one of my swimming career, and the long line of debilitating earaches I suffered through high school was a constant and painful reminder.
During this time I tried just about every set of earplugs for swimming I could get my hands on. When it came to keeping water out of my ears when swimming, I would try anything. And when those failed, I would always find myself going back to using some ear drops for swimmer's ear. 
As a young age grouper, my parents even dropped a couple of hundred dollars on a set of custom-fitted earplugs. And no, they didn't work well.
And through it all, there's been one pair of earplugs that has stood the test of time, from my earliest days as an 8-year old to this morning's lap session at the local pool.
Here's a breakdown of what you need to know about earplugs for swimming, and which ones are the absolute best.
The Choices: Earplugs for Swimmers
Even though the job is relatively straightforward—keep water out of the ear canal—the solutions vary significantly in effect and cost. Here are the different kinds of swimmers earplugs:
Custom plastic earplugs. Although these were by far the most expensive pair of earplugs I've ever used, they were also the very worst at actually keeping water out of my ear.
They fit great, but not tightly enough against my ear to keep water out. Easily the most expensive option. (Sorry mom and dad.)
Foam earplugs. Foam earplugs, while super cheap (they are the ones that look like little foam fingertips), they are not very useful for water-borne activities.
I've used this particular type of earplug successfully in the past—for getting some peace and quiet while sleeping on an airplane.
Great for blocking out snoring and loud music, not so great for blocking out water.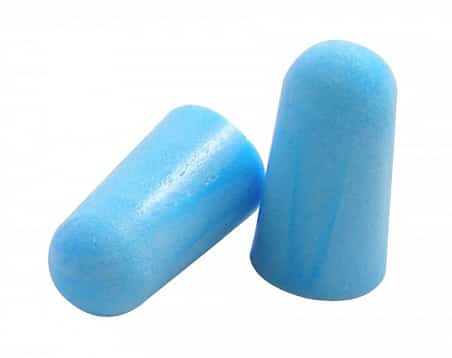 Silicone earplugs. The first of two types of silicone earplugs for swimmers are these ones. The good thing about them is that they are pre-molded, meaning you can wash them after use and get a lot of mileage out of them.
That being said, I've yet to try a pair that stayed in my ears for longer than half a lap. I've tried wrapping my swimming cap around and over my ears (not comfortable), and used every brand I could. None worked.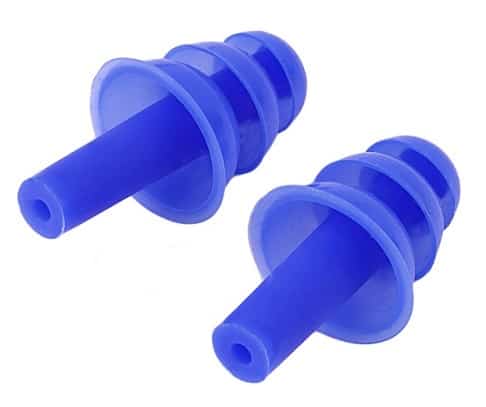 Silicone putty earplugs. These kinds of earplugs, I would say the most popular kind you see with swimmers, are made of usually somewhat clear moldable silicone that you can ball up and jam into your ear, getting a custom fit every time you use them.
Because you can fit the plug to the unique shape of your ear hole you get a tighter, less leaky fit. They are harder to clean and with regular use will only get a few weeks out of each pair.
Several different swim companies produce them (including TYR and Speedo), but there is one that has consistently produced the best ones.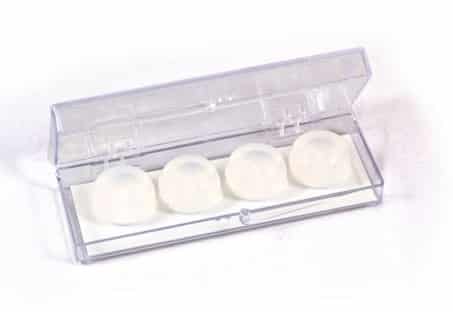 The Best Overall Earplugs for Swimming
Okay, so we've talked at length about how most swimmers earplugs utterly stink at actually keeping water out of your ears. (You have one job, man!)
So who is the champ?
Mack's Pillow Soft Silicone Swimmers Earplugs.
They are my earplug spirit animal.
They've been my old reliable since the very beginning, and even though I strayed at times to see what else was out there, I always come back to Mack's.
Why?
Quite simply, they work the best. Hands down. And they are dirt cheap, making them about as good a swimming earplug as you can ask for.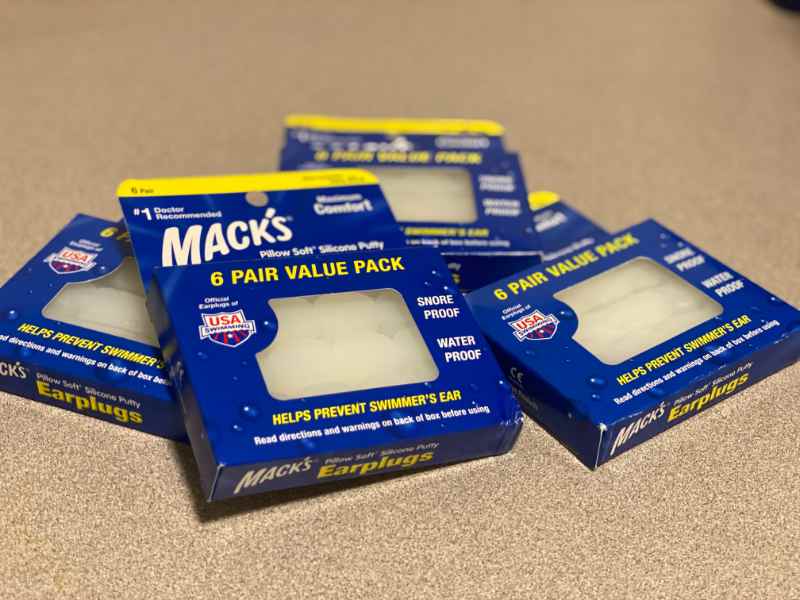 Oddly, none of the pharmacies or sporting stores carry them where I live, so I consistently have to buy them online via Amazon.
If you do end up getting a pair, double-check that you are getting the Pillow Soft Silicone Swimmers Earplugs.
Mack's also produces other kinds of earplugs, with packaging that looks exactly the same, so make sure you are getting your chlorinated hands on the Pillow Soft Silicone plugs.
You can buy a 6-pack (12 plugs in total) for around $7 (check for current prices and deals at SwimOutlet) and load up for months of swimming with confidence and dry-ears. Boom.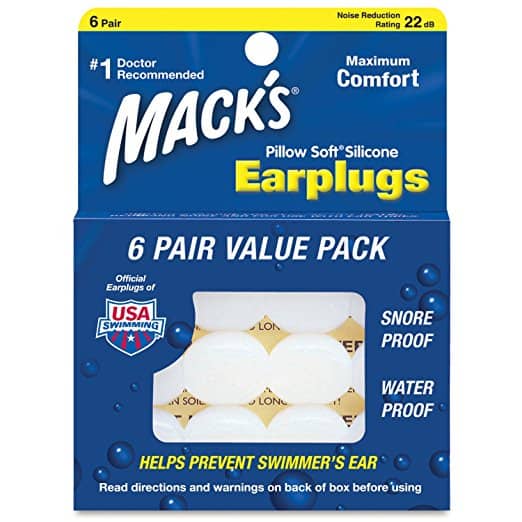 ---
TYR Kids Soft Silicone Earplugs for Swimmers
Best Swimmer's Earplugs for Children
The TYR Kids Soft Silicone earplugs are made specifically for kids under 6 years of age. Each pack comes with six pairs of brightly colored earplugs. They are made of soft, moldable silicone and are sized appropriately for children.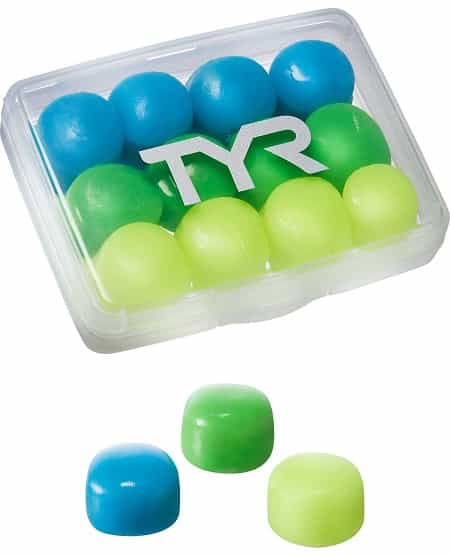 ---
Putty Buddies Swimmers Earplugs for Infants
Another excellent choice when it comes to swimming earplugs for young children is this playful set of earplugs by Putty Buddies. They come in three brightly colored pairs, are easily moldable and comfortable when worn, and can be cleaned and reused for multiple uses. For children with tubes or who are especially prone to ear infections, consider pairing these with an ear band for swimming.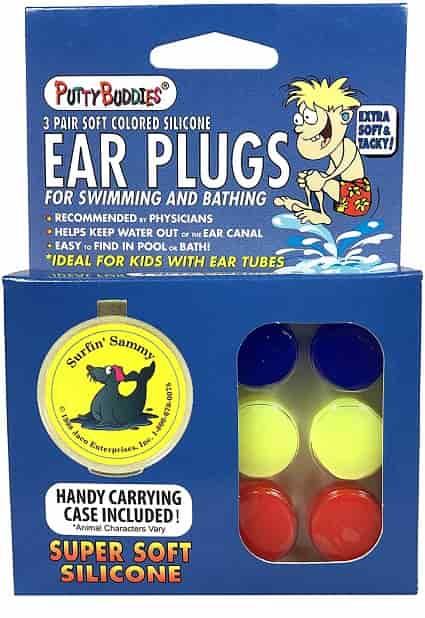 ---
TYR Silicone Molded Earplugs
Best Molded Earplugs for Swimming
If you are looking for an earplug that can be custom molded to your individual ear, the TYR Silicone Molded Earplugs are your best option.
Made of 100% silicone, they feature a hollowed out inside that allows you to hear better (although let's be honest, there are times in the pool when we'd rather not hear our coach yelling at us), are available in blue or pink, and come with a plastic carrying case for easy storage.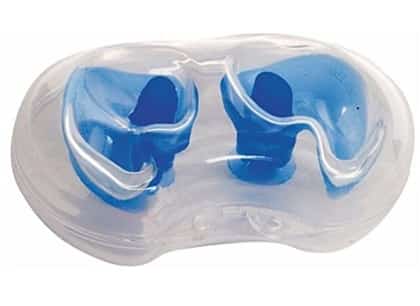 ---
Speedo Silicone Earplugs for Swimmers
Speedo is the most popular and well-known swim gear manufacturer on the planet. While I don't love these earplugs, I have used them from time to time when I don't have my trusty Mack's by my side. They are made of a soft, moldable silicone putty that allows you to create a custom fit and seal.
They come in a four-pack and can be quickly stored with the accompanying plastic case. Warm them slightly before placing them snugly against your ear canal (not in your ear canal).
Wash after use for maximum durability, as earplugs do get dirty and lose some of their elasticity over time.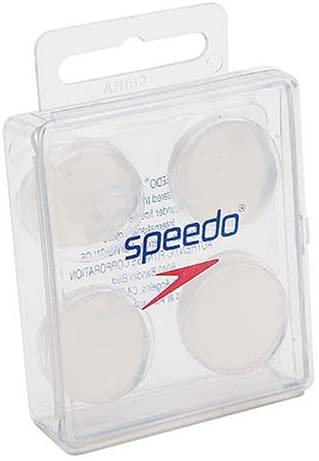 ---
Earplugs for Swimmers – FAQs
What are the benefits of wearing earplugs for swimming?
The benefits of using earplugs while swimming including protecting your ears and eardrums, reducing the noise of loud swim pools, and they can also reduce the sometimes painful changes in pressure when going deeper underwater.
Using earplugs is also a way to make the music of bone-conduction waterproof headphones sound better.
The FINIS Duo, for example, plays music through the jawbone while you swim, and earplugs create a "fuller" sound by eliminating the sound of rushing water.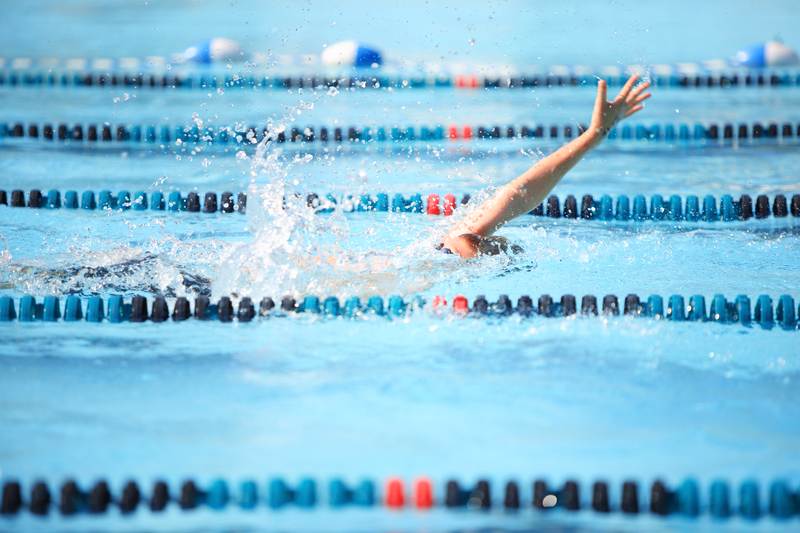 How do I choose the best earplugs for swimming?
There are several key things to look for when you are trying to figure out which waterproof earplugs are going to work best for you:
Custom Fit: Everyone's ears are shaped differently. Look for earplugs that can be molded to the shape and depth of your ear. Silicone putty is hands-down the best option for a custom earplug fit.
Material: Most earplugs designed for swimming are non-toxic and resistant to moisture.
Budget: As far as swimming equipment goes, earplugs are quite inexpensive. For swimmers who hit the pool daily, look for bulk pricing to further drive pricing down.
Storage Case: Earplugs should be stored properly between swims to extend the life of the plugs and allow them to dry. Look for a case when shopping for swimmer's earplugs.
How do I use earplugs while swimming?
Here are some tips for getting the most from your earplugs at the pool:
Wash your hands before inserting earplugs. Hygiene and all that.
Warm your hands. Silicone putty is more malleable when warm. Cold earplugs will have a hard time getting that secure fit in the ear.
Use a cap to help them keep in place. While swim caps are generally terrible at keeping water out of your ears (or even keep your hair dry), they can be effective at helping to keep earplugs in place.
Let them dry and store properly. Earplugs almost always come with a carry case. Don't be like the 8-year old version of me, who stored earplugs in a swim cap between workouts.
Can I use swimmer's earplugs for other activities?
Of course! Earplugs can be useful for other activities ranging from outdoor watersports to simply trying to catch some Z's on an airplane flight. They are effective for protecting the ears from water and reducing noise.
As always, be careful and take the same precautions you would when in the pool and stop using them if there is pain in the ear or discomfort and remember to be aware of your surroundings.
Where is the best place to buy earplugs for swimming?
Most pharmacies carry ear plugs to prevent swimmer's ear. Few carry Mack's Pillow Soft Silicone Earplugs, however.
Both Amazon and Swim Outlet carry Mack's earplugs in value-pack sizing.
The Bottom Line
Earplugs are an excellent way to keep water out of your ears, reduce noise when at the pool, and can make the difference between finishing that swim workout or getting out early.
When choosing the best earplugs for you and your swimming, remember to keep performance, fit and materials in mind.
To recap:
✅ The Mack's Pillow Soft Silicone Earplugs continue to top the list of the best earplugs for swimmers.
✅ The TYR Kids Soft Silicone Earplugs are an excellent option for kids and toddlers thanks to their small size and bright colors.
Choose the right earplugs for you, keep the water out, and finish that swim workout in comfort!
---
More Stuff Like This:
The Best Nose Clips for Swimmers (and Why You Should Wear One). From why you should train and race with a nose clip to the best nose clip for swimming, here's your guide to the tool that plugs your nose in the water!
3 Best Ear Bands for Swimming. An ear band works well when combined with earplugs to provide maximum protection for sensitive ears.