Need a little extra push to crush today's swim practice? Here's your ultimate breakdown of the best waterproof headphones for swimmers.
The cold pool deck. The cold water. And of course, the two-hour-long workout scribbled up on the whiteboard.
Getting in and getting going in the water can be particularly challengey at times. For those gym sessions, we can always rely on our workout playlist to help us push through workouts with a healthy mix of high-tempo BPM and aggressive tunes.
If only we could bring that same musical awesomeness to our swim workouts, right?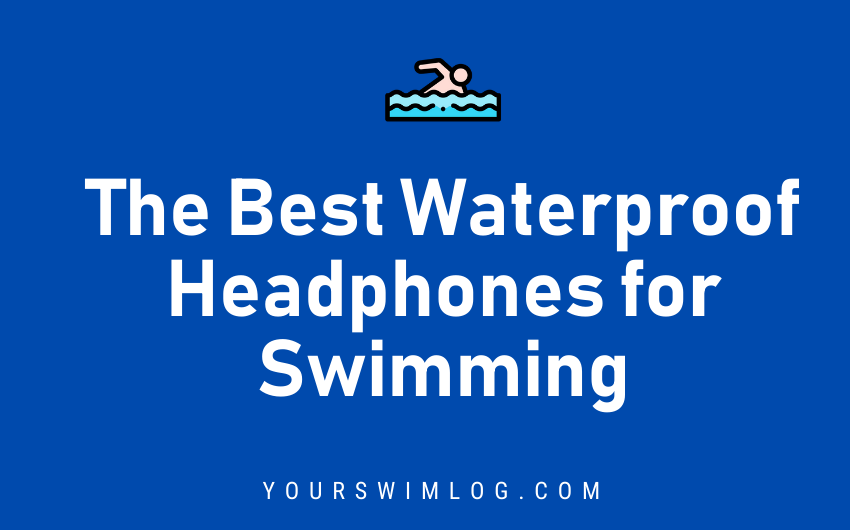 Well, fortunately (at long last), there are quality sounding options for listening to music while we do our laps that don't involve hoping the lifeguard plays something good on the pool's PA system or hopping into the water when the synchro team and their underwater sound system are at the pool.
I've written about the best underwater music players before, but today I am going to review and go over the best waterproof headphones for swimming laps.
If you've ever tried listening to music in the water you already know it's rarely the players that make the difference in listening enjoyment, but how likely the headphones are to stay in your ear canal, not leak, and blast that piping-hot motivational playlist into your face and head.
But where to start? Which of the countless waterproof headphones out there are the best?
Here's a review of the top waterproof headphones available for swimming:
1. Swimbuds Sport Waterproof Earphones
⭐Best earbuds for swimming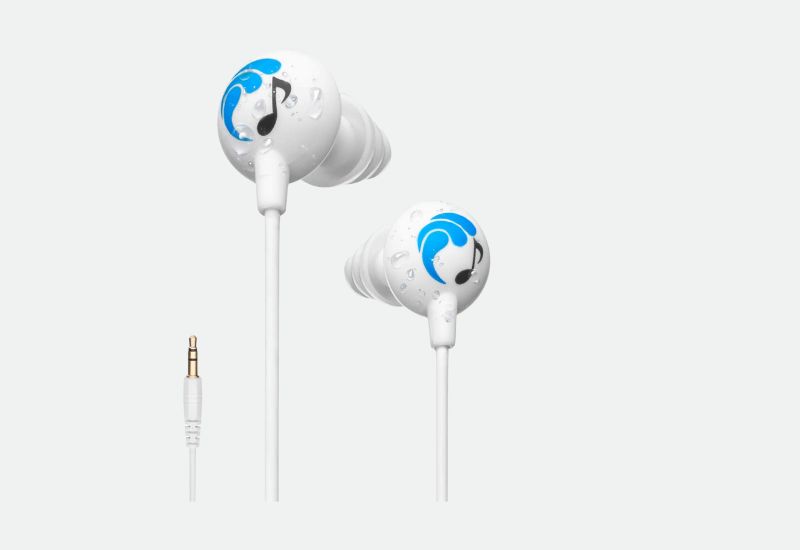 When it comes to versatility and fit, the Swimbuds are hands down the top choice for the best waterproof headphones. (Although it's my top pick for best waterproof headphones, there is also a better option for overall sound quality that I'll outline later.)
The reason the Swimbuds are top dogs is simple: they come in enough shapes to work for each swimmer and their own unique ear shape.
You've got the tree-shaped headphone, the more classic shaped rounds, and my go-to with headphones both in and out of the water, the fin tips, which help secure the plug within your ears and keep them from getting jostled around when you push off or when you are clipping along at a high rate of speed.
With the variety of headphone shapes, you will find one that fits your unique ear hole.
The main problem with underwater music players isn't usually the music quality, but being able to simply keep your earphones in place while swimming.
A poor earbud fit means it's getting jostled loose while you are swimming. It doesn't take much wiggle for water to get in there and muffle the sound coming from the earphones.
Once you get a good fit with your ear canal, the Swimbuds do the rest, piping in your favorite tunes while you swim through the rest of your workout.
Some other notes about these waterproof earphones:
The Swimbuds are good to a depth of 3m.
They come with different chord lengths, with a short 40cm chord length (to avoid tangling and dangling of chords around your face while swimming and turning), along with an added 1m chord if you want to hold it while you swim (on a kick-board for instance) or even if you wanted to wear it in the shower.
Price-wise, they are in the middle of the pack, retailing around $60 (check Amazon for current pricing and availability).
---
2. H2O Audio Surge+ Waterproof Sport Headphones
⭐Best budget waterproof headphones for swimmers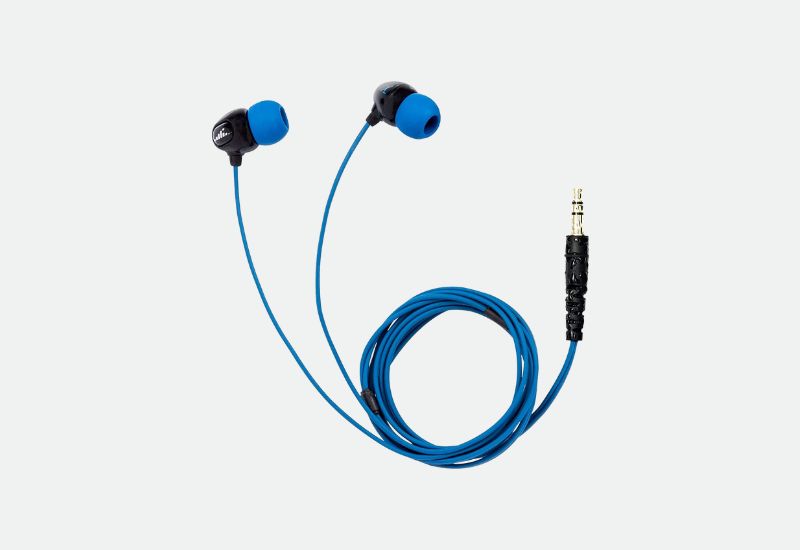 The brand that produces these headphones, H20 Audio is a California-based company that has collaborated with legendary surfer Laird Hamilton and 12-time Olympic medalist Natalie Coughlin.
Michael Phelps was also photographed wearing a set of H20 Audio waterproof headphones back in the day: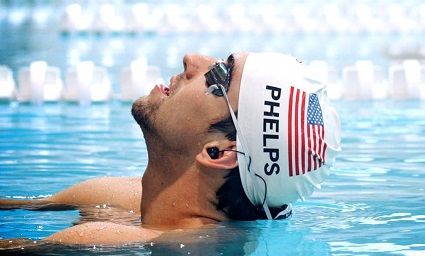 The H20 Audio Surge headphones come with five different shaped tips to maximize fit, comfort and listening awesomeness. The buds come in two different shapes, your classic bud, and the tree-shaped tip set.
Because of the small size of the headphones, they stick in better most of the other headphones out on the market. Listening to music in the water brings with it a unique set of challenges, and one of them is having the passing water jostle and loosen the earphones from your ear.
With the small size and snug fit they stay in quite nicely, and yes, the audio quality is better than average as a result.
Other features and notes about the H20 Audio waterproof headphones:
They are rated as waterproof up to 3.6m (deepest on any on this little list).
They come with a 1-year warranty, which comes in handy if you use your headphones on the regular like most swimmers do.
The headphones are functional out of the water too—making them ideal for you sweaty monsters out there who like doing their fair share of dryland as well.
The H20 Audio Surge is an excellent value pick, with a pair costing around $40 (check Amazon's current price and stock here).
---
3. Hydroactive Waterproof Headphones
⭐ Best wrap-around ear buds for swimming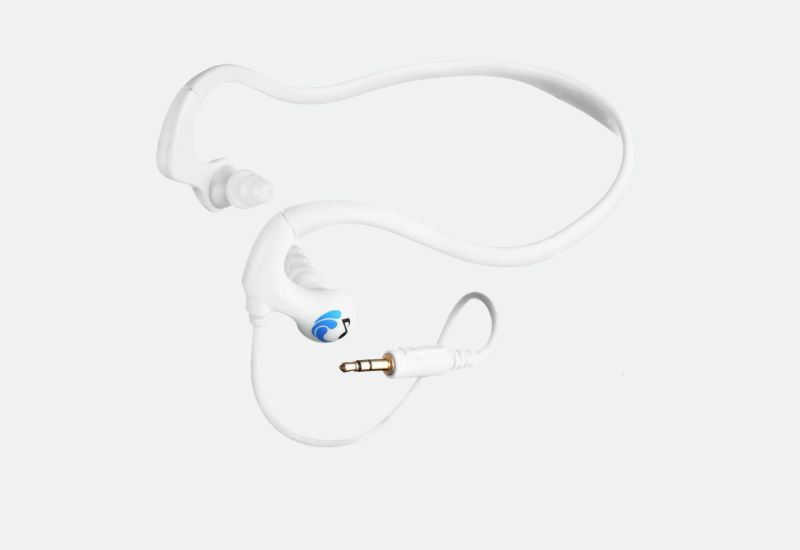 The wrap-around setup of the HydroActive waterproof headphones is the main reason they are on this list.
For swimmers who don't like the over-the-ear headphones, or are tired of having earbuds jostle out of their ears once they pick up speed in the water (or more infuriatingly, when you push off), the wrap-around band on these particular waterproof headphones allow for a more stable and secure fit.
The band itself is made of a memory wire that helps you tweak the fit around the back of your head so that they stay almost completely in place.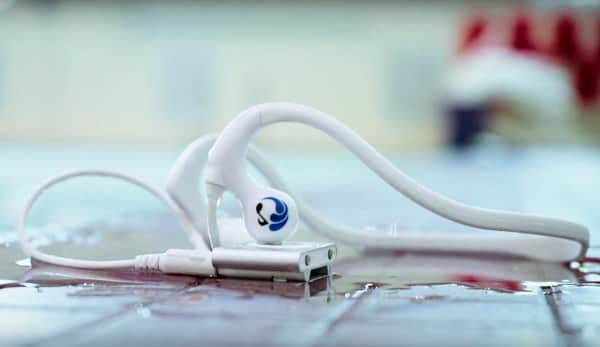 The HydroActive Waterproof headphones also come with four different types of ear-buds, making it usable for dryland activities. Earbuds include trees, fins (these ones worked the best for me with these headphones as well), ergos, and round earbuds (not for use in the water and more suited to everyday use).
While the wrap-around design makes the headphones stable, I found that they still rattled and shook loose on occasion once I picked up speed (speed, in this case, was swimming :29/50m).
But during the easier and cruise swimming? The headphones were snug as a bug, and quite comfortable to swim with.
Hydroactive's headphones are a little bit on the pricey side, costing around $90 (click here to see Amazon's current prices and availability), but if you want a fit that is a little more secure, it's a solid bet for blasting your favorite tunes in the water.
---
4. The FINIS Duo
⭐Best bone conduction headphones for swimming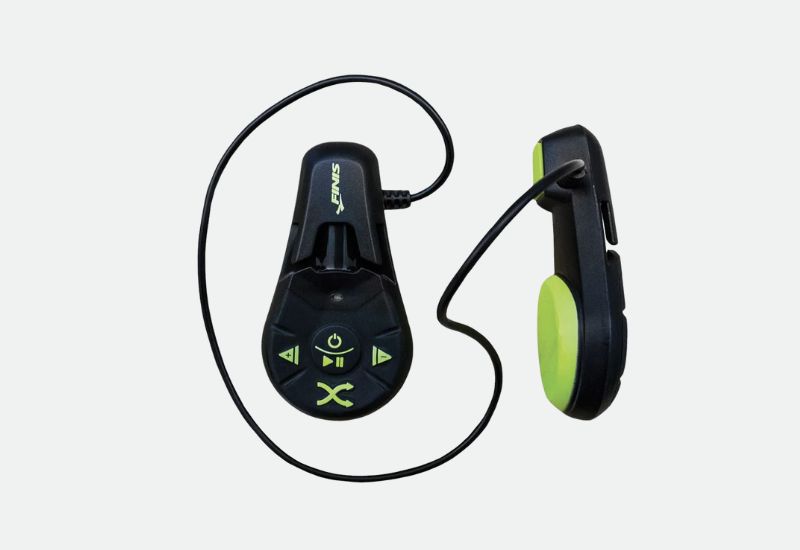 Still not having any luck with getting your headphones to stick in?
Consider trying an underwater mp3 player that uses bone conduction technology, pumping music into your ears and removing the need for wires and headphones altogether.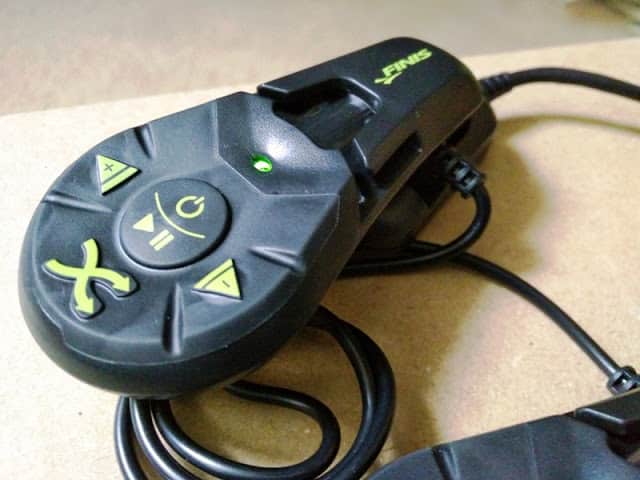 Now, these aren't necessarily just headphones, the FINIS Duo is an all-in-one headphone and music player wrapped into one. The first thing you might be thinking when you look at it is: "But…but…where are the headphones at?"
And that's exactly the point of this bad boy—with no headphones, no wires, and no hassling and trying to figure out an earbud that fits your ear you can get on with the business of crushing laps in the water with quality sound.
There are a lot of perks to the "bud-less" set of headphones, and one of them is geared for swimmers who do laps with earplugs. I have used swimmer's earplugs (Mack's Silicone Putty for life!) since I was a kid because of rampant ear infections, and although it is a pain in the butt most of the time, listening to bone-conducting waterproof headphones like the FINIS Duo while wearing earplugs actually makes the sound FULLER.
The FINIS DUO costs around $100 (check Amazon for current pricing and availability), but when you consider that you are getting a player, headphones, and fuller, better sound, it's easy to see why so many swimmers like these things (including the author).
---
5. H20 Audio Sonar Bone-Conduction Headphones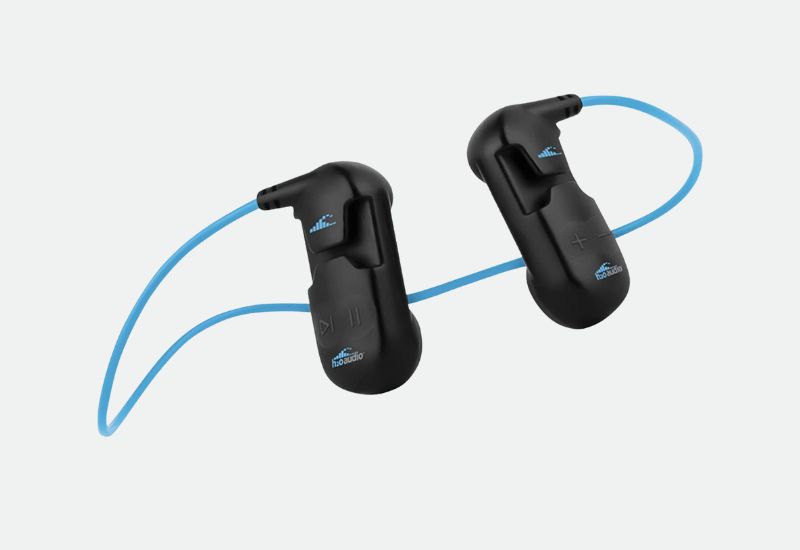 H20 Audio is the leading maker of waterproof headphones and earbuds, and their latest set is the Sonars, which are a direct competitor to the FINIS Duo with its bone-conduction technology.
There are lots of reasons to love bone conduction headphones, especially for swimmers who wear earplugs and wouldn't otherwise be able to listen to music while swimming. (Wearing swimmer's earplugs actually makes the sound "fuller" when listening to bone conduction headphones.)
The H20 Audio Sonars have 8GB of storage for all of your MP3 and M4A music (supports Apple iTunes music) and transferring your music to the device is straightforward and done via drag-and-drop on your computer.
The Sonar can also stream music via Bluetooth, but you will have to do it via your smartwatch (check here for our favorite swim watches for lap swimming) as the range on the headphones is only about 4ft when in the water.
The Sonar can be fully submerged up 12ft of depth and the device can last up to 6-7 hours on a full charge. Raised buttons on the side make it easy to change volume and songs, and the device slides easily onto the head strap of your swimming goggles.
The H20 Audio Sonar waterproof headphones are very identical to the FINIS Duo in performance and in price, retailing for around $100 (check Amazon for current pricing and availability).
---
6. Shokz Xtrainerz Open-Ear Waterproof Headphones for Swimming
⭐Runner-up for top bone conduction headphones for swimming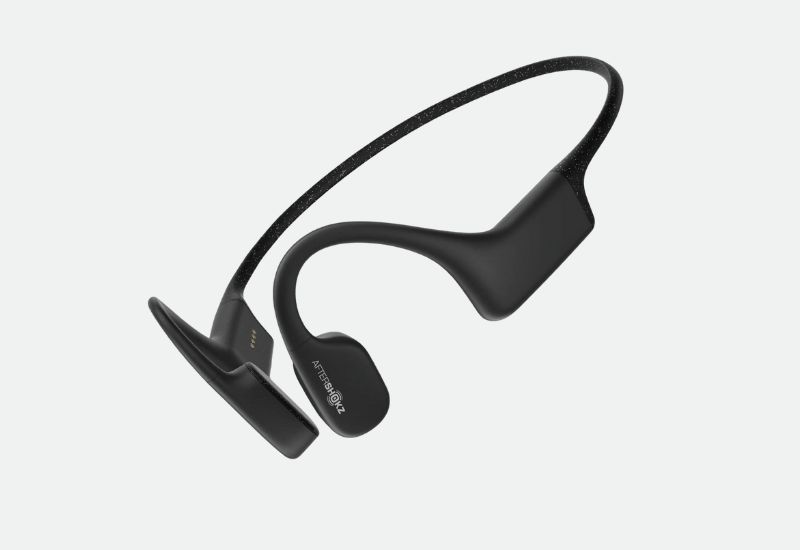 While earbuds are great for physical activity, in the water they can be prone to falling out and getting jostled while moving your head through the water, doing flip-turns, and pushing off of the wall to crush some more laps.
It's one of the reasons that I really like this latest wave of bone-conduction headphones, with the ShokzOpen Swim Wateproof Headphones (formerly known as AfterShokz Xtrainerz) right at the top of the list.
The SHOKZ won't win any spelling awards, but they do thump, creating a full and rich sound via bone-conduction while you swim up and down the pool. They are also more streamlined compared to the FINIS Duo, as the player and the charging unit (the rectangular sections on the housing of the headphones) tuck in behind your ear when swimming.
The SHOKZ OpenSwim are lightweight (only 1oz!) and because they don't have any wires, won't get tagled up in your swim goggles when you are paddling along.
(For a more detailed look at my experience with these bad boys: SHOKZ OpenSwim Waterproof MP3 Player and Bone Conduction Headphones Review.)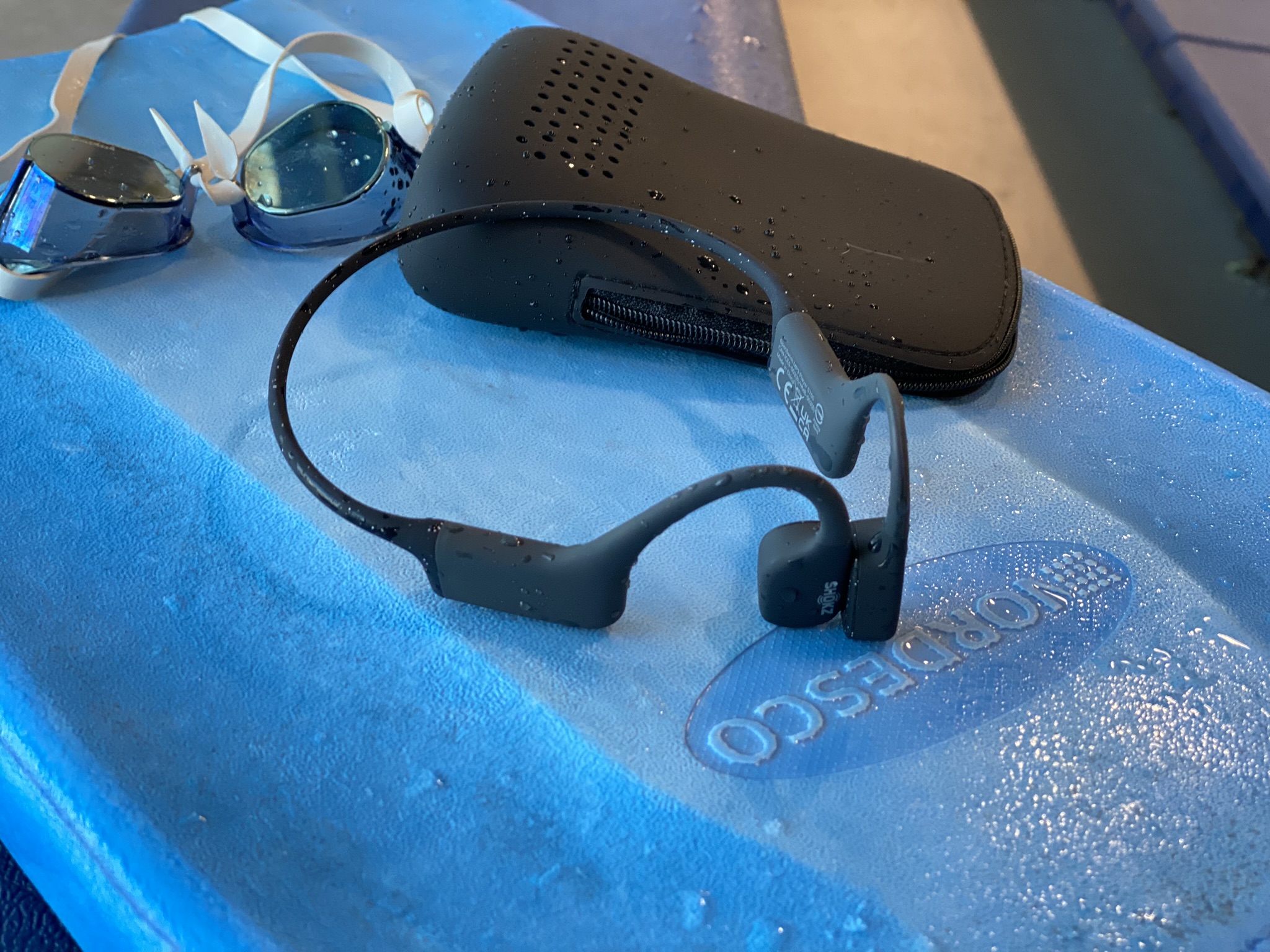 Storage capacity is about half of the H20 Audio Sonar and FINIS Duo, with 4gb of space that can accommodate around 1,200 of your favorite tracks. The battery in the Xtrainerz lasts up to 8 hours on a single charge. And frankly, I really like the clean, one-piece construction and design of this device.
However, there are two big drawbacks to this pair of headphones for swimming.
First, the price. They retail for $149, which is pricier compared to other bone-conduction headphones. And second, unlike the H20 Audio Sonar headphones, they are not Bluetooth compatible and you cannot download Spotify playlists to the device (yet, we are hoping!).
---
7. Pyle Marine Sport Waterproof Headphones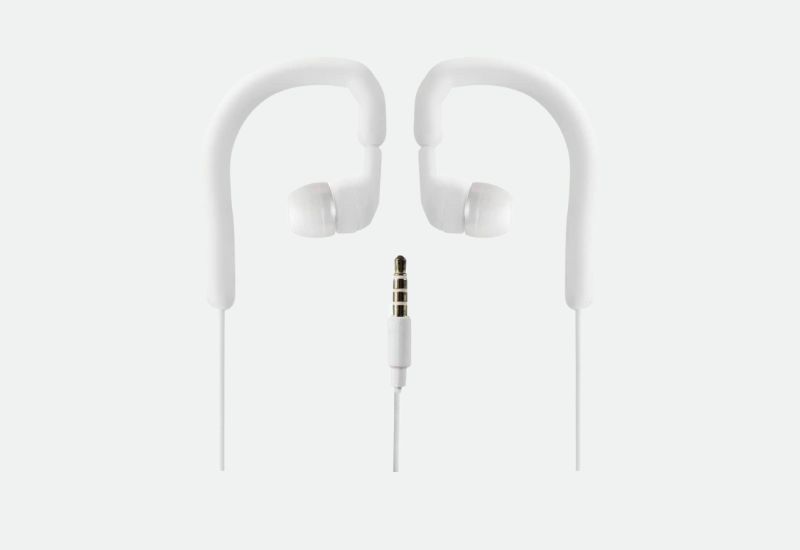 I'll admit it right off the bat—these headphones are not for me. Although the premise of the over-the-ear clasp is promising (and I liked it for a while with my old school Beat sport headphones), they aren't ideal for swimming.
While the earbuds come with a variety of different tip sizes, the clasp isn't adjustable, making securing the earbud challenging. As a result, any time I pushed off the wall with any kind of force they would slide off the side of my head.
Nothing more frustrating than having to stop at the flags every 50m to strap them back onto your head.
Additionally, the cable length is way too long, coming in at four feet in length. This makes it more suitable for activities on dryland where you get really wet or sweaty versus swimming, where more often than not the music player is clasped to our goggle straps, and not, say, our arm or waist.
Nevertheless, this style of headphones may work for some of you out there, and it's also the cheapest option in this guide, so I included it on this list anyway.
Other notes about the Pyle Marine sport waterproof headphones:
Available in black or white.
Comes with three different bud sizes to help get a good fit.
The Pyle headphones are relatively cheap, but they are frequently out stock (check here to see if Amazon has 'em in stock right now).
---
How to Choose the Right Waterproof Headphones
Listening to music when exercising is a proven way to get more out of your workouts. Whether you are doing water jogging or swimming laps at the local pool, the right tunes and the right playlist can make all the difference.
Choosing the right headphones for your water activities comes down to selecting the right features and the right way to deliver that sweet, sweet music into your ears.
Below are some of the key things you want to look for when picking out the right waterproof headphones.
Earbuds or boneless conduction.
Waterproof headphones for swimming have come a long way in recent years. The initial challenge was substantial: how do we get sound into the ear when the water is persistently trying to muffle it?
One ingenious method is to bypass headphones—and the challenge of keeping water out—altogether with bone conduction, which pumps music directly into your head via your cheekbone.
FINIS was the first one on the market with this type of swimming headphone, with several other brands hot on their heels. Another huge benefit to bone conduction is that they reduce the number of wires dangling around your head while swimming.
For swimmers who wear earplugs when swimming (like I do, as mentioned earlier), bone-conduction is a no-brainer.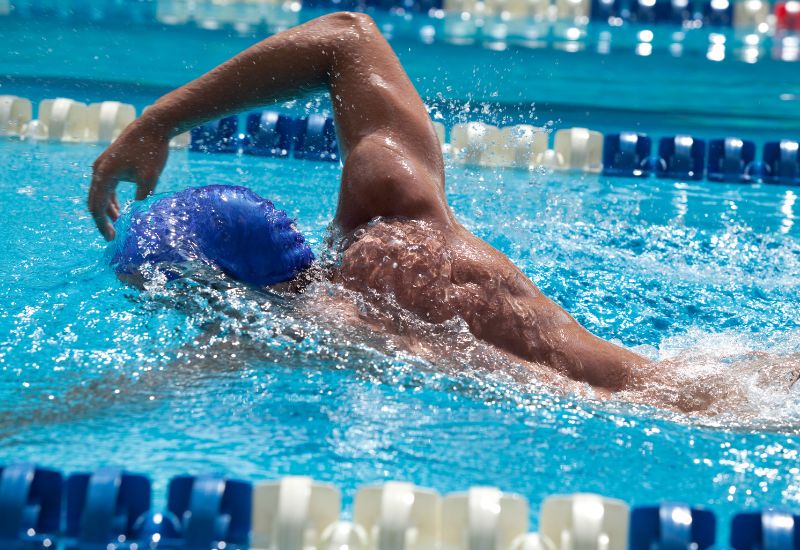 Different earbuds sizes.
For swimmers who prefer to swim laps with earbuds, the challenge becomes finding a pair of headphones that fit their ears.
Ear canals come in all sizes and shapes. It's best to have a variety of sizes on the tips of the earbuds so that you can get a snug and secure fit when swimming.
The headphones listed in this guide almost universally include multiple tip sizes to help give every kind of ear the sound that it deserves.
IPX Rating.
When trying to figure out which headphones are best for you, the main thing you want to look for is waterproofing!
One of the key ways consumers get tripped up when trying to buy electronic gear for their water activities is by lumping water-resistant and waterproof into the same pile.
These are two very different ratings, with water-resistant devices being best suited for moist environments (like if you sweat a lot when you exercise, for example) and are rated IPX3 to IPX7.
For swimming, look for headphones and music players that are rated IPX7 and higher. Anything less is not designed for extended submersion in the water and will damage your device.
Integrated music players.
Headphones for swimmers come either as a standalone device or with an integrated music player. The latter makes your buying decision a little more nuanced as now you are also deciding on what kind of device you are going to use for storing music (MP3, streaming, etc).
While the type of headphones you choose are probably the most important factor, figuring out what kind of device you want to use to store music (and whether it works with your current streaming subscriptions, the format of your music collection, etc) is equally important.
---
Waterproof Headphones for Swimming — FAQs
Do Bluetooth headphones work while swimming?
Bluetooth headphones don't work in the water. They work great through the air but don't go much further than a couple of inches in the water. While we all love the idea of leaving our smartphone at the end of the lane and broadcasting music from our phone to headphones via Bluetooth, this doesn't work.
Swimming with music means we are stuck with having to drag and drop MP3 songs or download playlists to the device (whether that means a stand-alone player or with integrated headphones and player devices).
How do I know if my headphones are waterproof for swimming?
Electronics are tested and rated for how waterproof they are through IP ratings.
The format of the rating is IPXX, with the final digit a measurement of how much protection the device provides against liquids.
A rating of IPX8 indicates that the device has been tested and submerged at a depth of at least 1m.
A rating of IPX7 means that the device has been submerged in depth up to 1m.
Given that most swimmers don't go below 1m when swimming, a rating of IPX7 will work for most swimmers, but for maximum peace of mind, an IPX8 rating is optimal.
Can you wear bone-conduction headphones for swimming?
Bone conduction headphones are the best kind of headphones for swimming.
They eliminate the biggest issue that happens when trying to listen to music while swimming laps—water getting between the earbud and the eardrum, creating tinny and muffled listening experience.
Can listening to waterproof headphones help me swim faster?
Yes–listening to music when swimming absolutely will help you swim faster!
Studies have shown that swimming performance improves when listening to music while doing both sprint efforts and longer distance swims1.
Music has also been shown to improve rhythm and increase stroke rate2, increase power output3, and can boost endurance by up to 15%4.
Not bad!
The Final Lap
Being able to swim and listen to music is a dream realized for lifelong competitive swimmers like myself. While the sound quality isn't the same as when we are on dry land, or running trails, or lifting weights in the gym, there are some excellent options on the market when it comes to swimming headphones.
To recap:
⭐ The FINIS Duo Waterproof Headphones is my best overall pick for the fact that it relies on bone conduction for playing music. No muffled sound, but the plastic housing and the wires can feel a little cumbersome.
⭐ Swimbuds Sport Waterproof Earbuds provide the greatest selection of ear bud tips, ensuring that no matter the size of your ear canal, there is an earbud that will stay securely in your ear while you churn up and down the pool.
Find the right waterproof headphones for you, crank up the tunes, and take your swim workouts to the next level.
---
More Swim + Music Guides
How Music Can Help Your Swim Workouts (Swim Faster, Longer, and With Better Tempo). Wondering if music can help you swim better? Here's how music can help you swim faster, swim longer, and even improve your stroke tempo.
How to Listen to Music While Swimming (5 Best Options). Ready to take that killer playlist to the pool? Here are the best ways to listen to music while swimming.