Need a little extra push to crush today's swim practice? Here's your ultimate breakdown of the best waterproof headphones for swimmers.
The cold pool deck. The cold water. And of course, the two-hour-long workout scribbled up on the white-board.
Getting in and getting going in the water can be particularly challengey at times. For those gym sessions, we can always rely on our workout playlist to help us push through workouts with a healthy mix of high-tempo BPM and aggressive tunes.
If only we could bring that same musical awesomeness to our swim practices, right?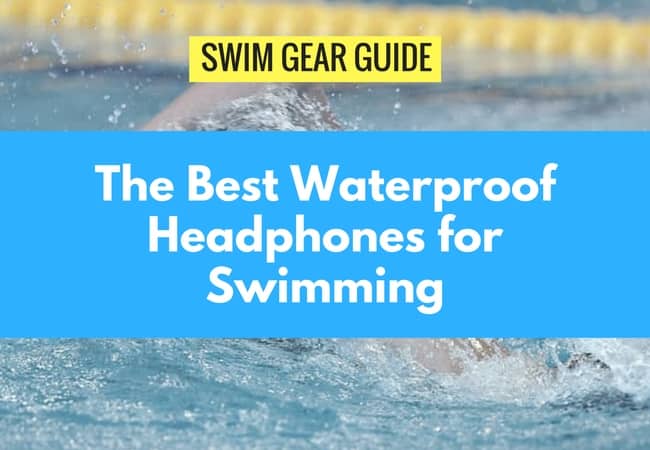 Well, fortunately (at long last), there are quality sounding options for listening to music while we do our laps that don't involve hoping the lifeguard plays something good on the pool's PA system or hopping into the water when the synchro team and their underwater sound system are at the pool.
I've written about the best underwater music players before, but today I am going to review and go over the best waterproof headphones for swimming laps.
If you've ever tried listening to music in the water you already know it's rarely the players that make the difference in listening enjoyment, but how likely the headphones are to stay in your ear canal, not leak, and blast that piping-hot motivational playlist into your face and head.
But where to start? Which of the countless waterproof headphones out there are the best?
Here's a review of some of the top waterproof headphones available for swimming:
1. Swimbuds Sport Waterproof Earphones
When it comes to versatility and fit, the Swimbuds are hands down the top choice for the best waterproof headphones. (Although it's my top pick for best waterproof headphones, there is also a better option for overall sound quality that I'll outline later.)
The reason the Swimbuds are top dogs is simple: they come in enough shapes to work for each swimmer and their own unique ear shape.
You've got the tree-shaped headphone, the more classic shaped rounds, and my go-to with headphones both in and out of the water, the fin tips, which help secure the plug within your ears and keep them from getting jostled around when you push off or when you are clipping along at a high rate of speed.
With the variety of headphone shapes, you will find one that fits your unique ear hole.
The main problem with underwater music players isn't usually the music quality, but being able to simply keep your earphones in place while swimming.
A poor earbud fit means it's getting jostled loose while you are swimming. It doesn't take much wiggle for water to get in there and muffle the sound coming from the earphones.
Once you get a good fit with your ear canal, the Swimbuds do the rest, piping in your favorite tunes while you swim through the rest of your workout.
Some other notes about these waterproof earphones:
The Swimbuds are good to a depth of 3m.
They come with different chord lengths, with a short 40cm chord length (to avoid tangling and dangling of chords around your face while swimming and turning), along with an added 1m chord if you want to hold it while you swim (on a kick-board for instance) or even if you wanted to wear it in the shower.
Price-wise, they are in the middle of the pack, retailing around $60 (check Amazon for current pricing and availability).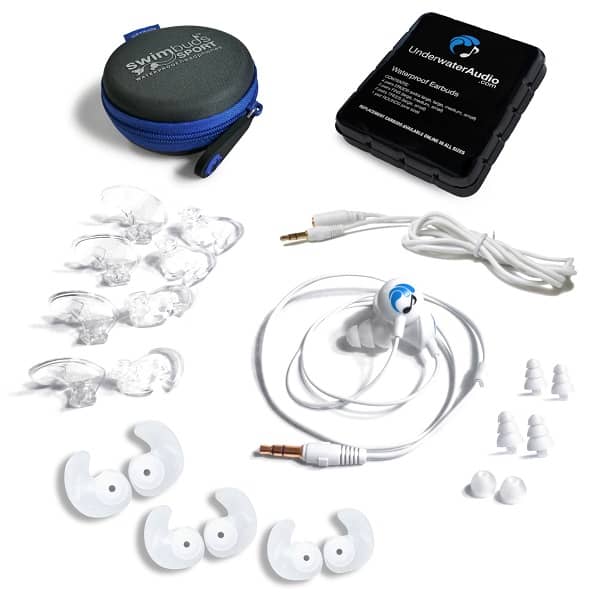 ---
2. H2O Audio Surge+ Waterproof Sport Headphones
The brand that produces these headphones, H20 Audio is a California-based company that has collaborated with legendary surfer Laird Hamilton and 12-time Olympic medalist Natalie Coughlin.
Michael Phelps was also photographed wearing a set of H20 Audio waterproof headphones back in the day: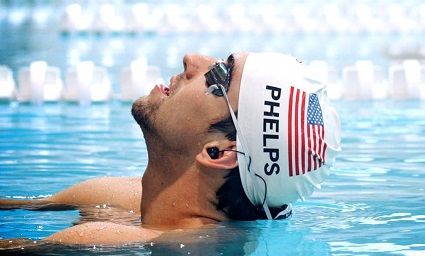 The H20 Audio Surge headphones come with five different shaped tips to maximize fit, comfort and listening awesomeness. The buds come in two different shapes, your classic bud, and the tree-shaped tip set.
Because of the small size of the headphones, they stick in better most of the other headphones out on the market. Listening to music in the water brings with it a unique set of challenges, and one of them is having the passing water jostle and loosen the earphones from your ear.
With the small size and snug fit they stay in quite nicely, and yes, the audio quality is better than average as a result.
Other features and notes about the H20 Audio waterproof headphones:
They are rated as waterproof up to 3.6m (deepest on any on this little list).
They come with a 1-year warranty, which comes in handy if you use your headphones on the regular like most swimmers do.
The headphones are functional out of the water too—making them ideal for you sweaty monsters out there who like doing their fair share of dryland as well.
The H20 Audio Surge is an excellent value pick, with a pair costing around $40 (check Amazon's current price and stock here).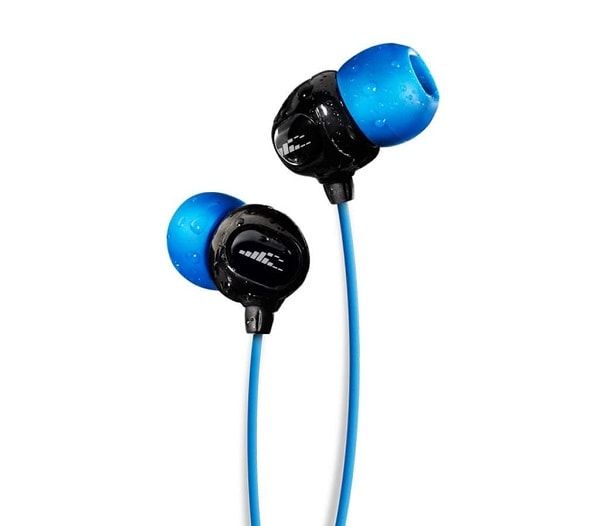 ---
3. Hydroactive Waterproof Headphones
The wrap-around setup of the HydroActive waterproof headphones is the main reason they are on this list.
For swimmers who don't like the over-the-ear headphones, or are tired of having earbuds jostle out of their ears once they pick up speed in the water (or more infuriatingly, when you push off), the wrap-around band on these particular waterproof headphones allow for a more stable and secure fit. The band itself is made of a memory wire that helps you tweak the fit around the back of your head so that they stay almost completely in place.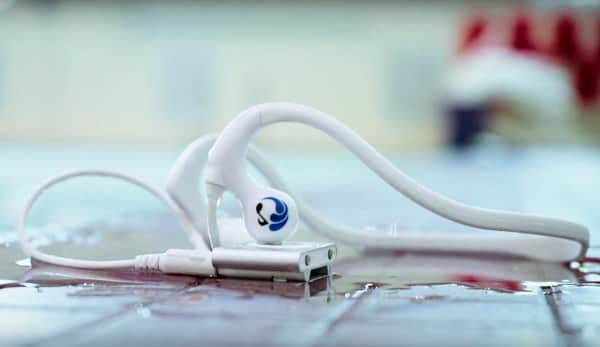 The HydroActive Waterproof headphones also come with four different types of ear-buds, making it usable for dryland activities. Earbuds include trees, fins (these ones worked the best for me with these headphones as well), ergos, and round earbuds (not for use in the water and more suited to everyday use).
While the wrap-around design makes the headphones stable, I found that they still rattled and shook loose on occasion once I picked up speed (speed, in this case, was swimming :29/50m).
But during the easier and cruise swimming? The headphones were snug as a bug, and quite comfortable to swim with.
Hydroactive's headphones are a little bit on the pricey side, costing around $90 (click here to see Amazon's current prices and availability), but if you want a fit that is a little more secure, it's a solid bet for blasting your favorite tunes in the water.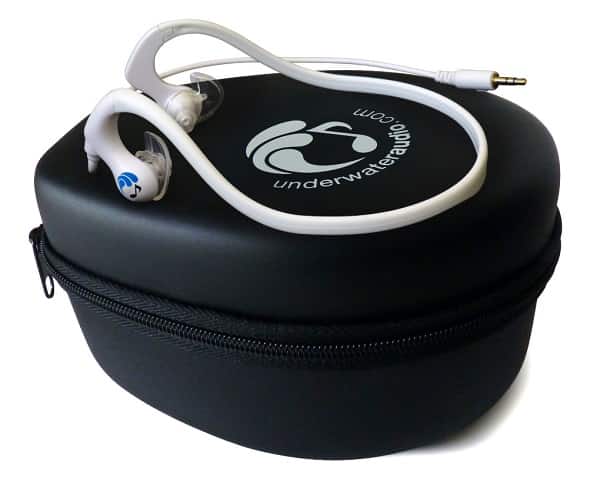 ---
4. The FINIS Duo
Still not having any luck with getting your headphones to stick in?
Consider trying an underwater mp3 player that uses bone conduction technology, pumping music into your ears and removing the need for wires and headphones altogether.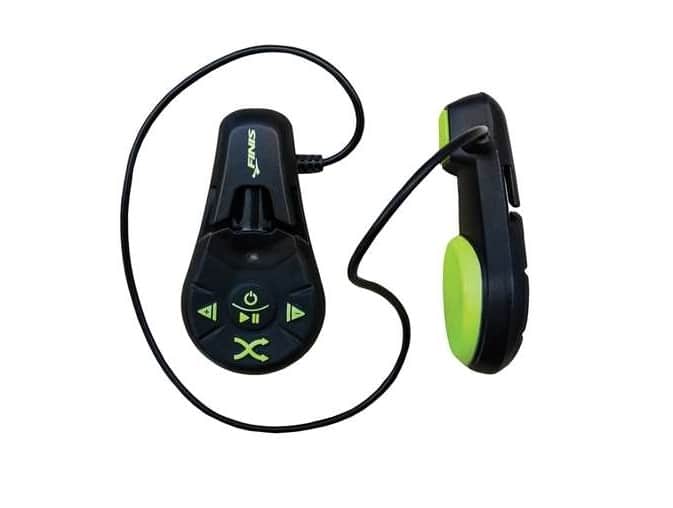 Now, these aren't necessarily just headphones, the FINIS Duo is an all-in-one headphone and music player wrapped into one. The first thing you might be thinking when you look at it is: "But…but…where are the headphones at?"
And that's exactly the point of this bad boy—with no headphones, no wires, and no hassling and trying to figure out an earbud that fits your ear you can get on with the business of crushing laps in the water with quality sound.
There are a lot of perks to the "bud-less" set of headphones, and one of them is geared for swimmers who do laps with earplugs. I have used swimmer's earplugs (Mack's Silicone Putty for life!) since I was a kid because of rampant ear infections, and although it is a pain in the butt most of the time, listening to bone-conducting waterproof headphones like the FINIS Duo while wearing earplugs actually makes the sound FULLER.
The FINIS DUO costs around $100 (check Amazon for current pricing and availability), but when you consider that you are getting a player, headphones, and fuller, better sound, it's easy to see why so many swimmers like these things (including the author).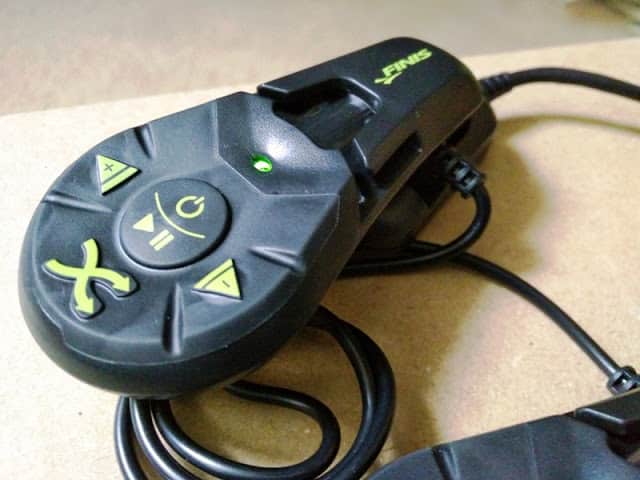 ---
5. Pyle Marine Sport Waterproof Headphones
I'll admit it right off the bat—these headphones are not for me. Although the premise of the over-the-ear clasp is promising (and I liked it for a while with my old school Beat sport headphones), they aren't ideal for swimming.
While the earbuds come with a variety of different tip sizes, the clasp isn't adjustable, making securing the earbud challenging. As a result, any time I pushed off the wall with any kind of force they would slide off the side of my head.
Nothing more frustrating than having to stop at the flags every 50m to strap them back onto your head.
Additionally, the cable length is way too long, coming in at four feet in length. This makes it more suitable for activities on dryland where you get really wet or sweaty versus swimming, where more often than not the music player is clasped to our goggle straps, and not, say, our arm or waist.
Nevertheless, this style of headphone may work for some of you out there, and it's also the cheapest option in this guide, so I included it on this list anyway.
Other notes about the Pyle Marine sport waterproof headphones:
Available in black or white.
Comes with three different bud sizes to help get a good fit.
The Pyle headphones are relatively cheap, but they are frequently out stock (check here to see if Amazon has 'em in stock right now).