One of my favorite parts of competing on race day was putting together a hype playlist.
A package of songs that I could rely on to maximize the adrenaline and pre-race nerves and send me hurtling into new-PB territory.
There were some standbys that always made the cut, including Eminem's "Till I Collapse" (apparently a favorite of Michael Phelps's as well at the Athens Olympics in 2004), Guns n' Roses "Welcome to the Jungle" (which seemed to play at finals during the warm-up at every swim meet I ever went to), and Metallica's "Enter Sandman."
The right tracks had a way of narrowing my focus and channeling the energy and nerves in an aggressive and confident manner. They helped me perk up when I was on session seven of a week-long swim meet. And provided a quick and easy way to block out external distractions.
Now that I spend more of my time exercising on dryland than in the pool, the attention I formerly spent on pre-race playlists (or rather, CDs, and prior to that, mixtapes cause I am old and stuff) has now transitioned to workout playlists.
While those playlists were always something I really looked forward to putting together, they were limited in their ability.
After all, unlike dryland workouts, I couldn't take the music with me into the water.
(Although there are a ton of waterproof and water-resistant electronics available to swimmers presently, including even micro water-resistant tablets, this wasn't always the case. And they aren't helpful in competition.)
Once the referee's whistle blew, or once the main set was explained and teammates started getting into the water, music became a bygone.
But with recent generations of waterproof music players, hitting the (practice) pool with Metallica thumping between my ears is a reality.
Here are some proven benefits to cranking up the tunes while you are in the water.
You will swim faster in practice.
How's that for a benefit? Pretty much as good as it gets. Plus, the increases in performance happen in both sprint and endurance distances.
One study took a group of 24 competitive swimmers and had them swim a bunch of time trials with and without a music player strapped to the side of their head. (The player was a predecessor to the FINIS Duo, a waterproof music player for swimmers that straps to the side of your head and pumps music into your ear via your jaw bone.)
The swimmers performed a series of 50-meter efforts and an 800-meter effort with the music of their choosing. The sprints were performed on average 0.32 seconds faster with music versus without, but the long effort was where the improvement was really noticeable, with a 6.5-second improvement with music.
Interestingly, the athletes were surveyed afterward, and there "was no significant improvement in physical enjoyment with the device."
Pain is pain, I suppose!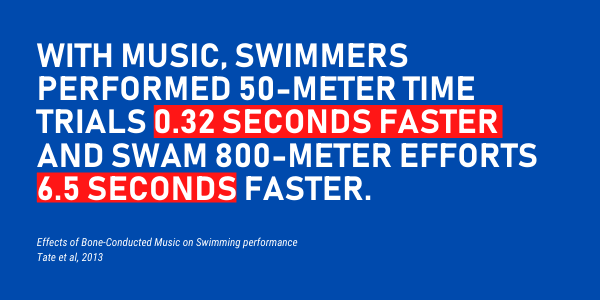 Helps you nail stroke rhythm.
There was a time that Celine Dion helped me finish a workout. No, I am not kidding. I was assigned a distance workout (50×100 free long course @1:30) that was done on my own as the rest of my group was tapering and I was getting back in shape after time off.
On the way to the pool that day the Celine Dion song I'm Alive found its way into my ears. I didn't need waterproof headphones for the song's tempo—and yes, I'll admit it, motivational and aspirational lyrics—to find its way into my stroke. Celine helped me get into a good rhythm that day, with my stroke rolling to the tempo of the song.
Even though the song, err, workout happened 15+ years ago, it feels like yesterday and went down as one of my all-time best sets.
"Basically you get with the beat of the music," says Carl Foster, Ph.D., who over the last couple decades has done research out of the University of Wisconsin on the effects of music on exercise intensity.
One study found that when researchers subtly changed the tempo on background music subjects on stationary bikes increased their tempo and power output, showing that the right beat can boost your tempo and stroke rate.
The right kind of music takes your mind off the discomfort of training.
One of the reasons I have to have music at the gym is that it helps me push through the later stages of a heavy set of squats or on the final round of a punishing circuit. The music, whether it's Eminem or Celine Dion, erm, Metallica, provides a distraction from the ouchies and gives my brain something to focus on besides the thought of giving up and eating doughnut or seven.
There is a sweet spot when it comes to the speed and aggressiveness of the music, however, and the music you are listening to should reflect the intensity of your workout.
"Findings show there is a sweet spot, in terms of tempo, between 120 and 140 beats per minute," says Costas Karageorghis, PhD, who has been studying the power of music on exercise performance for decades.
While upbeat music gives us a welcome distraction—the lyrics, beat and information give our brains something to digest besides the acheys and ouchies—there is a point of diminishing returns. Karageorghis notes that songs that crest over 140 bpm are unlikely to improve performance.
Taking the tunes to the pool
Of course, for swimmers who train with a group and on a team, listening to a waterproof music player isn't super realistic and is a little anti-social. I can just see the frustration on the faces of swim coaches trying to get the attention of a swimmer who is lost in the throes of their favorite jams.
But for the swimmer who is off on their lonesome in the "animal lane" crushing distance workouts? Or the swimmer who trains on their own?
Music just might be the thing to help take their swim workouts to the next level.
More Stuff Like This:
Hard Swim Practice? Hit Go on Recovery Mode Faster with Some Chill Music. Help kickstart recovery and bounce back from stressful workouts with some chill tunes.
6 Best Waterproof Bluetooth Speakers for the Pool. Hit the water and rock out with this hand-picked collection of the best waterproof Bluetooth and floating pool speakers.