Ready to level up your swim workouts with music? Here's a breakdown of the most popular underwater and waterproof iPod/mp3 players on the market today.
One of the most enduring and frustrating aspects of being a competitive swimmer is the inability to reliably listen to music while training.
As an age grouper my in-practice music experiences were limited to when the synchro team was training at the same time, blaring the same song over and over again from their underwater speakers (Enya's "Sail Away" was a popular choice).
I knew that with a decent underwater music player that my swim workouts would be approximately 15% less agonizing.
With the right selection of songs I could maintain my stroke tempo and cadence in the water as well, making it not only less boring but also possibly more effective for my overall swimming.
Fortunately, there are a heap of different underwater music players available, and I have had the chance to give a few different ones a rip.
Below are reviews of four of the more popular ones that I have tried. There is the best, the good, and the sucky.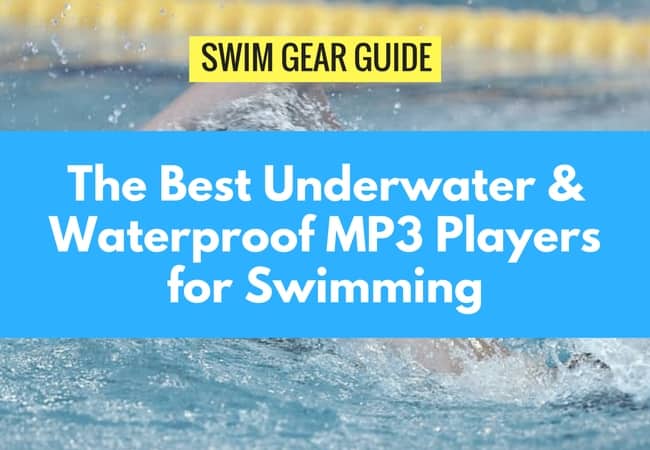 To give you an idea of what kind of swimming I am doing with these things, long course meters, freestyle, averaging around :40 seconds per 50m. Not blitzy fast, but not slow either.
Let's do this. Here's some reviews on some of the best waterproof mp3 music players for swimming.
1. The FINIS Duo.
I've been a FINIS swim gear fanboy for a long time, purchasing their swim snorkels and the Tempo Trainer Pro from the get go.
When you unwrap this bad boy for the first time you will likely experience confusion: there's no headphones! Music is pumped into your inner ear via your cheek bone, removing the need for earphones.
This, in itself, makes the FINIS Duo underwater mp3 player a winner for me. As you will see in the next review, getting a pair of headphones to stick in your ear while swimming is a pain in the butt.
Because there are no headphones with the Duo, there is also no risk of water getting between the music and your inner ear.
This is one of the most frustrating parts of underwater music players, in my opinion—the moment any water gets into your ear canal the music becomes immediately muffled and distorted.
As if that wasn't enough, for someone who wears ear plugs regularly (Mack's for life!), I was pleasantly surprised to learn that wearing them while listening to the FINIS Duo actually improved the listening experience.
That's likely the first and last time I'll ever credit ear plugs to better sound quality. So for that fact alone, I respect you FINIS! You get five happy faces out of five from this life-long swimmer.
They retail for around $100ish, are fully backed by warranty, and you can pick up your own FINIS Duo over at Amazon by clicking here.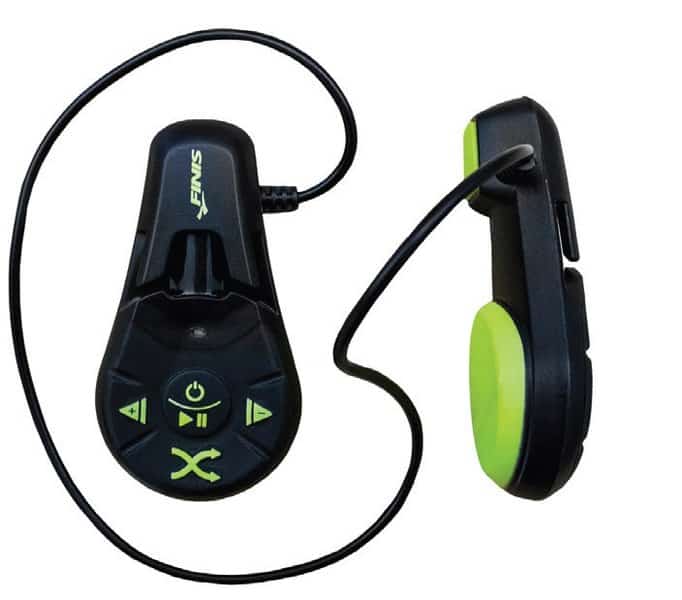 2. The Diver.
I received this one as a gift from my girlfriend's parents last Christmas, so I gave it a proper go at the pool.
I was disappointed all the way through. I hopped into the water, put the ear buds around my ears, and pushed off at about 20% of the intensity that I normally would, and the earbuds immediately fell out.
Tried a couple more times, adjusting it varyingly, with the same result. Tried it using just a kickboard, and the earplug—again—dangled right out of the side of my head. During the moments I was able to keep the headphones in place the sound was tinny, and struggled to hear the music over the sound of regular pool noise.
Straight bush league, was my experience.
I rushed to SwimOutlet and Amazon to see how badly this product was getting bashed, imagining that I was the only one experiencing this level of frustration, but found that it was actually one of the best reviewed products when it came to underwater MP3 players.
WTH.
Anyways. For that reason alone I've kept it on this list. Even though I hated it, and will never use it again there are plenty of swimmers out there who swear by it.
The Diver MP3 Player is also the cheapest player on this list. It's got a 4GB hard drive and is available in blue and pink.
You can learn more about whether the Diver DB-10 is for you by heading over to Amazon by clicking here.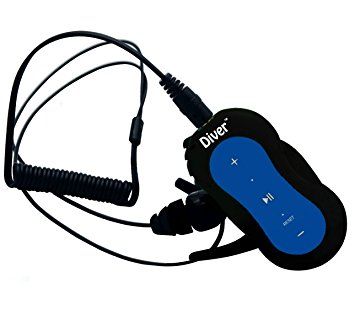 3. Underwater Audio Waterproof iPod (Mega Bundle)
Okay, back to products that deliver. The Underwater Audio Waterproof iPod is exactly as what the title says—an iPod that is wrapped up in a waterproof casing that has been tested to 200 feet.
The good news is that it is an iPod (it comes with the iPod, by the way), so that it will be able to take all of your music from iTunes, not just MP3/WMA files, or just M4A files (Apple's preferred format).
The better news is that it's an iPod, which means you already know how to use it. No screwing around with learning a new software or figuring out how to scroll through playlists.
How about the sound quality?
In terms of headphones, they offer two different kinds; the wrap-around the ear kind which is bulky and not really effective, as well as ear buds that have a shortened chord so you aren't dealing with an extra two feet of headphone cable dangling around your head.
I preferred the ear buds, which can be customized with different-sized tips depending on the width of your ear canal.
The only thing that would make this product better for my own personal use is if it had some sort of bone conduction (like the FINIS Duo). Because water still does get into my ears while using these headphones I've limited it's use to when I am doing long vertical kick sets (like this one that took me an hour) and regular kick sets.
It's the priciest option on this list. But you also get a music player that you can listen to outside of the pool, so there's that benefit as well.
The Underwater Audio Waterproof iPod comes in over a dozen colors, and costs around 160 (including the iPod).
You can shop for these bad boys over at Amazon by clicking here.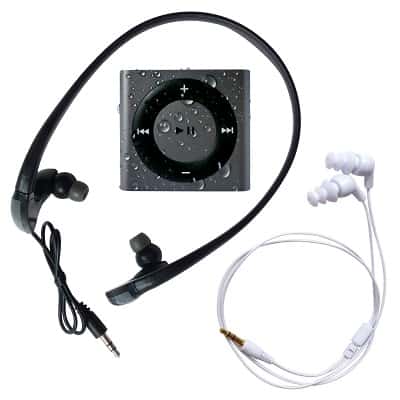 4. H20 Audio Waterproof Headphones and Case
Lastly, we got the H2O Audio.
The buttons on the casing are easy to find (this is key, given that they are strapped to the back of your head), and I found that after trying a couple of the different earplug tips that they could fit quite snugly. It comes with five different tip sizes.
Note: It does not include the iPod Shuffle (unlike the previous reviewed MP3 player). This particular product is the just casing designed for an iPod Shuffle.
How do you know that this underwater MP3 player is legit?
Well, the greatest swimmer of all time managed to use it as well, as captured in the below picture.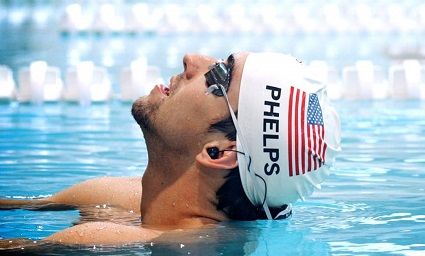 The H2O Audio Waterproof Headphones and Case retail for around $80 (which combined with an iPod Shuffle at retail of $50ish or so is still cheaper than the Underwater Audio Waterproof iPod).
They come with a year-long warranty, and can be picked up via Amazon by clicking here.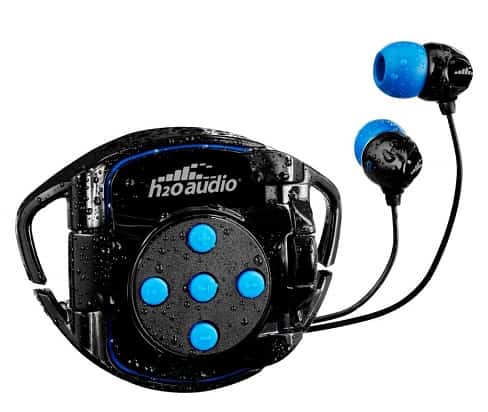 ---
More Gear Guides for Swimmers:
The FINIS Duo: The Best Underwater Music Player for Swimmers. Looking for more information on the Duo? Here's a more detailed breakdown of why this underwater MP3 player is so awesome.
Swim Gear Guide: FINIS Tempo Trainer Pro. It's one of the simplest and effective tools for swimmers looking to master their stroke rate, stroke distance, and more. Here's the dealio on this popular device.
Swim Gear Guide: The Best Waterproof Fitness Trackers. Ready to take your swim workout to the next level? Here's your guide to the best waterproof fitness trackers for swimming.
The 5 Best Waterproof Headphones for Swimming. Ready to take your tunes to the pool? Heck yeah you are. Here's a breakdown of the top waterproof headphones for lap swimming.
The Best Waterproof Fitbits for Swimmers. Fitbit—one of the most popular wearables on the planet—have two waterproof fitness trackers for swimmers. Here are reviews of both of Fitbits waterproof trackers for swimming.