Part waterproof MP3 player, part bone conduction headphones, the Shokz OpenSwim are a swimmer's dream for listening to music in the pool. Here's a hands-on, in-the-water review of the Shokz OpenSwim.
Formerly known as the Aftershokz Xtrainerz, the SHOKZ OpenSwim MP3 Player is a way to listen to music while lap swimming.
The combination of bone conduction headphones, slim profile, and crisp, full sound means you will be able to crank out the beats while also cranking out the laps.
In this review of the Shokz OpenSwim, I am going to highlight my experience using it in the pool.
There were some things that really surprised me about this waterproof MP3 player, including more than a few things that I really liked and one thing that I hope future iterations of the Shokz OpenSwim will address.
By the end, you will have a crystal-clear idea of whether the Shokz OpenSwim Music Player is right for you and your swimming.
Let's dive right in!
Shokz OpenSwim MP3 Bone Conduction Player – Key Specs
MP3, WAV, WMA, AAC and FLAC compatible
4GB storage (~1,200 songs)
IP68 rated (up to 2m of depth for 120 minutes)
8hr battery life
Unit weight of just 1oz
Available in black or blue
Earplugs and nose clip included
Carrying case also included (vented for water drainage)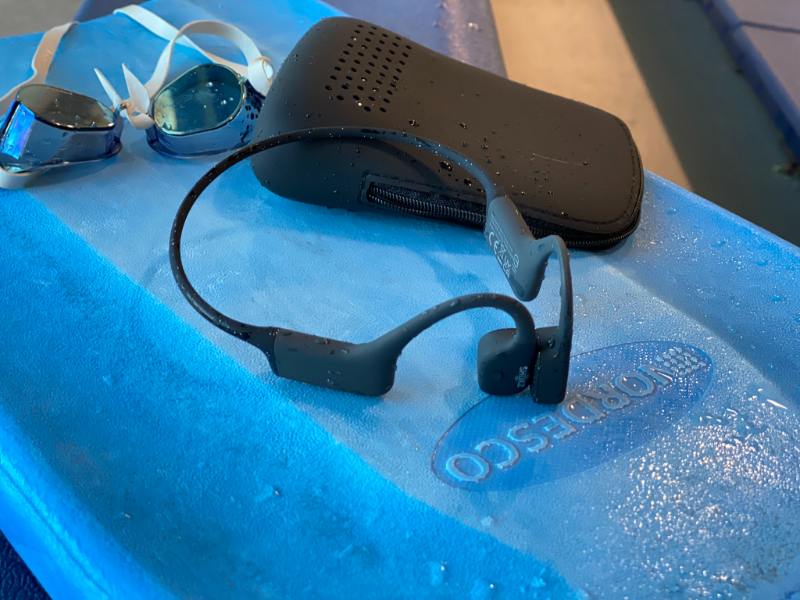 Shokz OpenSwim – The Pros
Having tried nearly every piece of swimming gear over 30+ years in the water, I've seen a lot of fads come and go when it comes to swim equipment and tech.
The AfterShokz OpenSwim are one of the very few things I've used in the water that exceeded expectations.
Here are the things that I really liked about the AfterShokz OpenSwims and how they performed in the water:
✅ Very slim profile
I was very surprised by how low profile and lightweight the AfterShokz OpenSwim was.
The single piece titanium frame, players, and bone conduction headphones were no heavier than my Swedish swim goggles.
This is great news for swimming laps as they create very little drag, and more importantly, won't get jostled around by oncoming water unlike bulkier and heavier players which can "catch" water and move around a lot.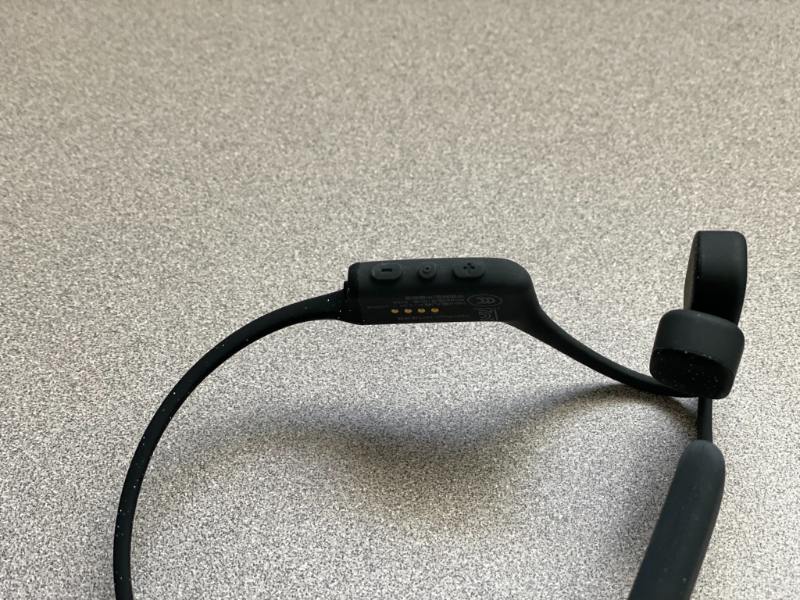 Especially when you start to crank up the speed.
Speed is everything in the water, and the last thing you want while swimming fast is feeling as though you have a snow plow mounted to your head or like the music player is going to fly off your head.
✅ Full, rich sound
The Shokz Open Swim player plays music to your noggin' via bone conduction. This results in crisp, loud, and full sound.
The main gripe that I have with most waterproof headphones—more specifically, the ones that use earbuds—is that water inevitably gets into the ear canal.
This ends up creating a tinny and/or muffled sound as water gets between the eardrum and the earbud.
The Shokz, like its biggest competitor, the FINIS Duo, which we will compare with later in this review, skips this issue entirely by blasting music into your ears via your jawbone.
The result is reliably good sound from the device, whether you are doing kick on a kickboard or pulling away on a long pull buoy + swim paddles set.
✅ Perfect for swimmers who wear earplugs
Swimmer's ear is the worst, and for swimmers who are prone to ear infections (like this guy), this means using a set of swimmer's earplugs when diving into the water.
Which also means that most traditional waterproof MP3 players are kaput as they use earbuds.
Because the Shokz Open Swims use bone conduction, you get the best of both worlds (finally!): no earaches and yes music.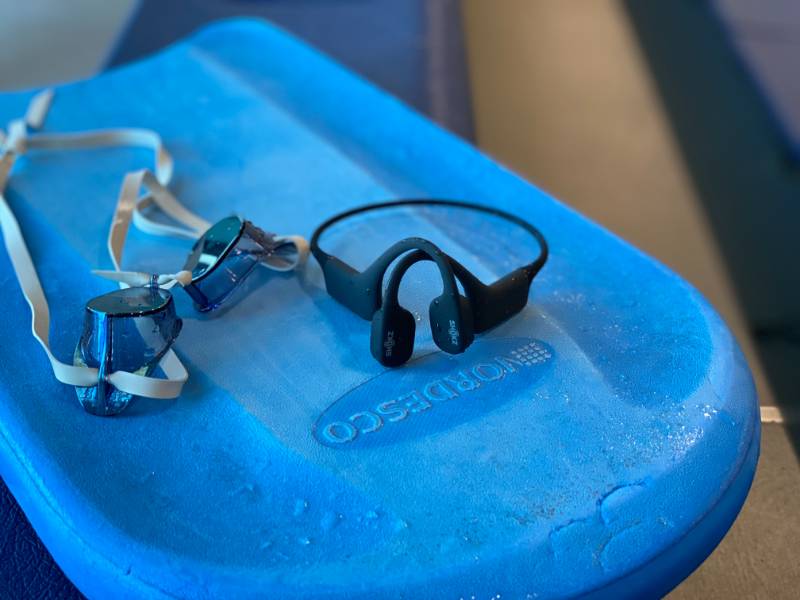 ✅ No wires to get tangled up with
This is the main thing that sets it apart from the FINIS Duo, which has a two-piece headset connected with a wire.
Although it's only one wire, and not the multiple, sometimes overly long wires like those found on some other waterproof music players, it's still a bit of a pain to clip onto your swim goggles and not get them all tangled up with the head straps of the goggle.
The Shokz Open Swim slides onto your head, using your ears as a hook, and you are off to the races.
No clipping, no wires, and no getting the player tangled up with your swim goggles.
I gotta say, I really like how quick and simple putting the player on your head is.
✅ They stay in place when swimming fast!
Okay, so the sound is super cool, there are no wires to mess around with, and it's got a low profile.
But does it stay in place when you are swimming across the pool like your hair is on fire?
Yes. And almost without exception.
No matter if I was doing fast 50s with paddles on, or fast underwater dolphin kick breakouts with fins, the player stayed in place.
(That said, I would probably take it off if I was planning on doing 25s all-out with swim fins and paddles, for instance.)
Shokz OpenSwim Waterproof MP3 Player – The Downsides
While I really like these headphones, there is always room for improvement.
There is one thing I hope that future editions of this kick-ass set of headphones includes, and that is…
❌ No streaming or Bluetooth
The Shokz Open Swim is currently not able to use Spotify or other streaming services for downloading music to the device. Which means it is purely an MP3 (or WMA files) player.
Because it has no Bluetooth connection, the ability to download a Sportify playlist to the device is not currently available, unlike other waterproof music players for swimming like the Underwater Audio Delphin or the H2O Audio Stream 3, which can be used to listen to Spotify, Audible, and so on.
Adding music to the device requires the old-school drag-and-drop method of plugging the Shokz Open Swim into your computer and adding individual MP3/WMA songs manually.
Shokz OpenSwim vs. FINIS Duo
These two devices are the best waterproof MP3 players on the market, and in my opinion, the competition isn't close.
These two devices, thanks to the bone conduction, drag-and-drop functionality, and reliability make them easy winners.
But how do the two devices compare against each other?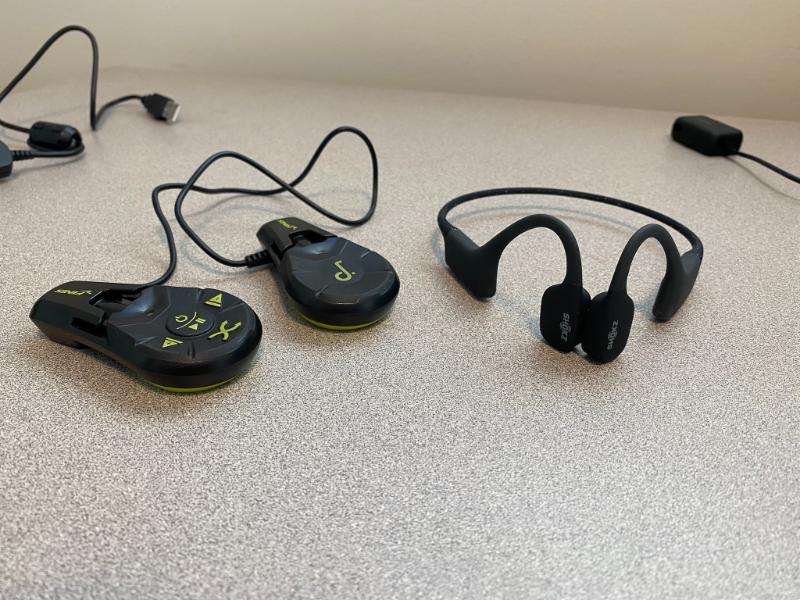 Well, the main difference between the Shokz Open Swim and the FINIS Duo is that the Shokz are wireless.
They have a titanium frame (that is almost hilariously lightweight) that connects the player/bone conduction "headphones" together.
The FINIS Duo, on the other hand, has a wired connection between the two head pieces.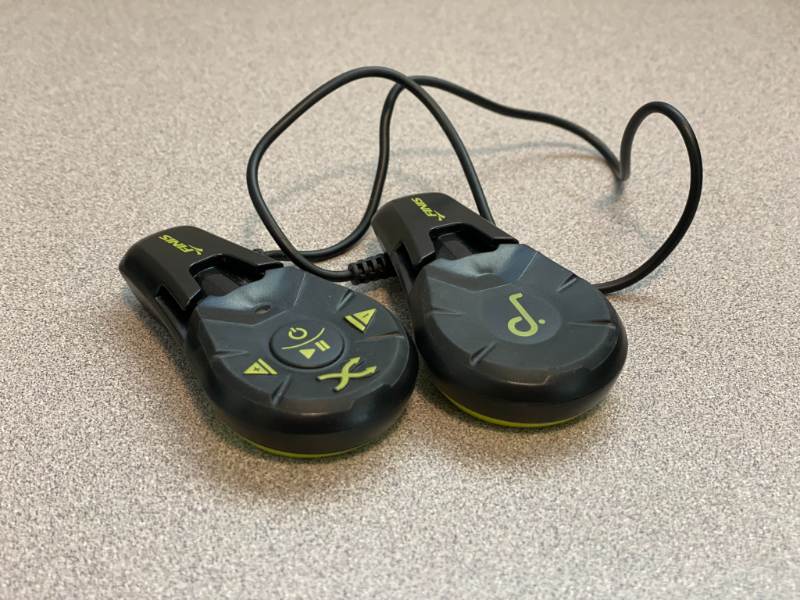 As mentioned earlier, this makes for a messier set-up on your head with the straps from swim goggles.
Additionally, the Shokz Open Swim is more hydrodynamic.
The bulk of the device tucks in behind your ears when swimming, with just the slim "headphones" protruding.
Below is how the two devices compare in other key performance areas:
| | | |
| --- | --- | --- |
|   | Shokz Open Swim | FINIS Duo |
| Price | $149 | $110 |
| Music Format | MP3 | MP3, WMA |
| Battery Life | 8 hours | 7 hours |
| Storage | 4gb | 4gb |
| Waterproof Rating | IP68 | IPX8 |
The Final Verdict
Okay, it's final verdict time…
But if you've read the full review, and not just skipped to the bottom of the review, you likely already know where I stand with the Shokz OpenSwim.
The slim design, comfortable fit, clear and rich sound, and the bone conduction of the music makes it the best waterproof MP3 player for hitting the pool.
For swimmers who want to listen to music in the water, and are fed up with the uneven performance of waterproof earbuds, the Shokz OpenSwim are an excellent addition to your workouts.
| | |
| --- | --- |
| ✅ PROS | ❌ CONS |
| Extremely slim and drag-resistant design | No streaming or Bluetooth |
| Bone conduction headphones clear sound | |
| Very lightweight; weighs just 1oz | |
| IP68 water rated | |
| Wire-free design | |
---
More Articles and Guides Like This
How Music Can Help Your Swim Workouts (Swim Faster, Longer, and With Better Tempo). Wondering if music can help you swim better? Here's how music can help you swim faster, swim longer, and even improve your stroke tempo.