Ready to take that killer playlist to the pool? Here are the best ways to listen to music while swimming. 
Swimming is an excellent way to get in shape, burn fat, and even reduce stress!
But unlike hitting the trails for a run, or lifting heavy weights in the gym, for a long time, listening to your favorite tunes was difficult, if not impossible while in the water.
No longer.
Nowadays, there are plenty of excellent options for listening to music while churning up and down the pool.
Here's a look at the best ways to listen to your favorite tunes while swimming.
Let's dive right in.
1. Bone conduction headphones.
Bone conduction headphones are your best choice for listening to music while swimming laps.
There are a few reasons for this, mainly in line with the limitations of wired headphones and earbuds, which can jar loose when water gets in the ear.
Bone conduction headphones transmit sound through the jawbone, bypassing the ear canal, which can often get filled with water while swimming, rendering sound muffled and tinny.
The FINIS Duo are the best bone-conduction headphones on the market (still!).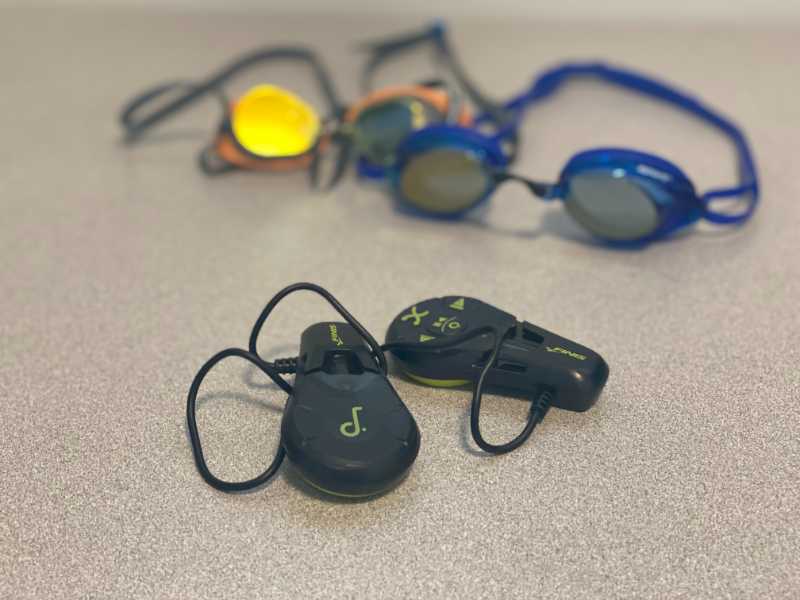 Designed and tested by elite competitive swimmers, the FINIS Duo continues to lead the way when it comes to listening to full, clear sound while swimming.
The Duo uses MP3 or WMA-formatted songs and can hold around 1,000 songs, with about 6-7 hours of use per charge.
Additionally, bone conduction is awesome for swimmers who use swimmer's earplugs inthe water and wouldn't be able to use earbuds.
From my own personal experience with the Duo, I've noticed the sound is also "fuller" when using earplugs with it.
2. Waterproof earbuds.
For swimmers who want to go the route of using earbuds to listen to music, there are some excellent options.
Choose the waterproof music player of your choosing, and then lock in on some waterproof earbuds.
None better than the SwimBuds Sport Waterproof Earphones.
Getting a proper fit in your ears is crucial, as the rushing water will try and jar the earbuds loose when you are swimming.
The SwimBuds have extended silicone tree fittings that can be adjusted to fit the particular shape and width of your ear canals.
More importantly, each set comes with over ten different earbud tips shapes, including trees, fins, ergos, and rounds, so that you can get the best fit possible.
In other words, more time swimming, and less time fidgeting with the earbuds trying to get the sound right.
3. Waterproof Spotify Music Player
Although waterproof MP3 players are great, they do require you to upload songs manually to the device. As you can imagine, this can get tedious when compared to how quickly your playlist(s) can be uploaded via Spotify.
As waterproof music players evolve, more of them are moving towards being compatible with Spotify (and other online music streamers like Apple Music).
The Mighty Vibe Waterproof Music Player is a great example of this. You can download around 1,000 songs worth of your favorite songs and playlists from Spotify (or Amazon Music or Apple Music).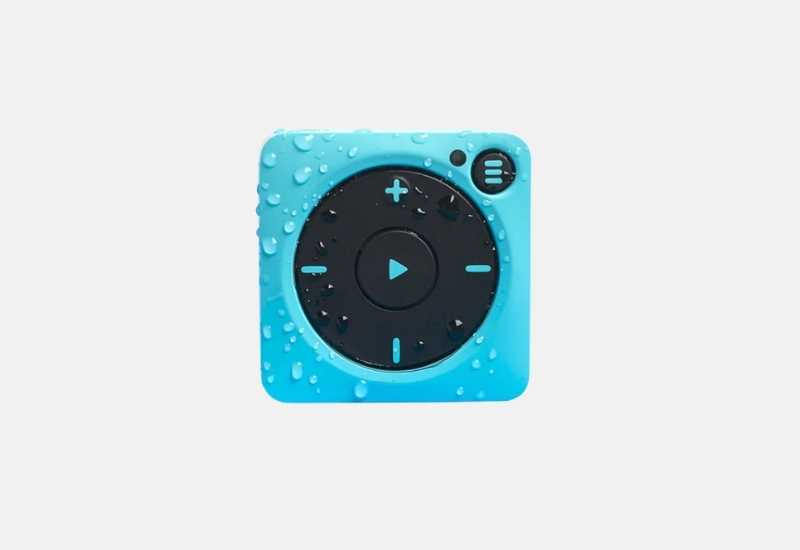 With five hours of play with each charge, custom earbud tips for a leak-free fit, and voice-controlled playlist navigation, you can now take your curated Spotify playlists to the pool with you.
4. Waterproof Bluetooth speakers
If you are planning on doing some laps in your backyard pool—this option obviously won't work with your local public pool—a waterproof Bluetooth speaker is a great choice for blasting some tunes.
Although small, they can pack quite a punch.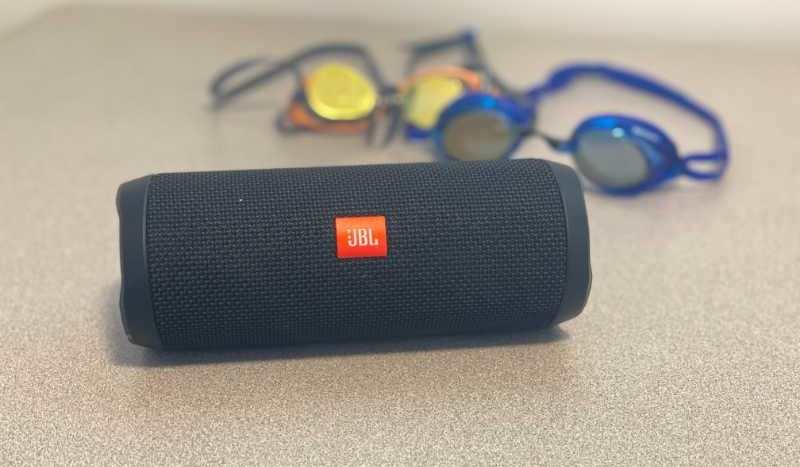 My speaker of choice is the JBL Flip 4, which is IPX7 rated for water (which means you can submerge it), has up to 12 hours of playtime, and although it's only the size of a water bottle, it can drop some serious bass.
(Also, it's available in a ton of different color options.)
My JBL Flip 4 has accompanied me to countless backyard swims over the years, and whether it's floating in the deep end or banging out tunes from the pool deck, it has never failed to deliver crisp, motivation-inducing music.
Where to buy: Amazon has the best deals on the JBL Flip 4 Charge. Click here for current pricing and deals.
5. Waterproof mini tablet.
As the tech for swimmers improves (check out these smart swim goggles that have heads-up-displays!), the more options avail themselves to swimmers looking to listen to music while swimming.
Mini-tablets are part of this wave of tech.
The Delphin Waterproof Touch-Screen Mini Tablet is a perfect example of where we are headed with this kind of swim gear.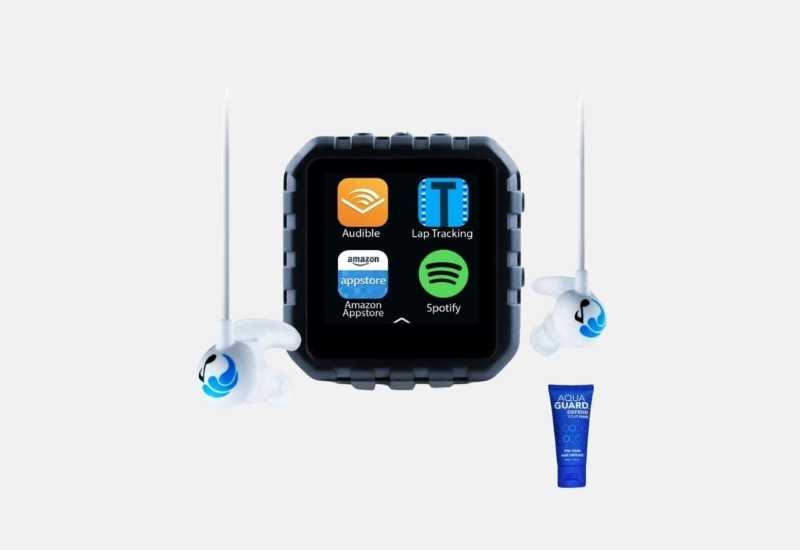 With an 8GB or 16GB hard drive, a 1.5 inch touch screen, you can use the Android OS to install your favorite apps like Spotify, Soundcloud, Pandora, and more for maximum choice when listening to music. The tablet even has a swim lap tracking app.
Although not as good as the apps and tracking you will see with dedicated swim watches, it does a decent job at the basics of counting laps swum in the water.
Delphin has partnered with Underwater Audio, who includes their SwimBuds line of swimming ear buds with each waterproof tablet, guaranteeing a custom fit for your earphones while swimming.
Check current pricing on the Delphin Waterproof Mini-Tablet at Amazon by clicking here.
---
FAQs About Swimming While Listening to Music
Is there a way to listen to music while swimming?
There are several ways to listen to music while swimming, the best of which is bone conduction music players, which avoid the risk of water getting into the ear canal and making the music sound distant and tinny.
Alternatives include waterproof earbuds, waterproof MP3 players, and IPX8 rated Bluetooth speakers, which can be submerged to a depth of 3ft.
How can I listen to audiobooks while swimming?
You can listen to audiobooks while swimming by using a waterproof music player that supports Apple Music and/or Audible.
Alternatively, if you have audiobooks in MP3 format, you can add them to any waterproof MP3 player.
Will listening to music help me swim faster?
Yes!
There is a body of research that shows that listening to music while swimming can help reduce the perception of exertion, increase overall speed1, boost endurance by as much as 15%, and increase stroke tempo in the water2.
Of course, this requires listening to the right kind of music. According to research on the effectiveness of how music can help swimming performance, the best music tempo is in the 120-140 BPM.
The Final Lap
Music and swimming go hand in hand, even though that wasn't always the case back in the day.
As a young age group swimmer, we always had to rely on the PA system in the pool, or hope that the synchro team would pick a good song to practice to that day (they'd be playing the same song over and over for up to 90mins, after all).
But now, there are tons of excellent options for listening to music while at the pool.
Choose the option that works for you, your musical tastes, music format, and get to crushing some laps!
---
More Articles and Guides Like This
Pump Up Songs for Swimmers: How Tunes Can Help You Swim Faster. Want to swim faster? Here is how listening to pump up songs before you swim can help you swim a whole lot awesomer. Unleash the playlist!
7 Best Waterproof Headphones for Swimming. Need a little extra push to crush today's swim practice? Here's your ultimate breakdown of the best waterproof headphones for swimmers.